Real Estate, RESPA, And Reform • Real Estate Advice
Posted by Joe Manausa on Friday, October 16, 2009 at 11:23 AM
By Joe Manausa / October 16, 2009
2 Comments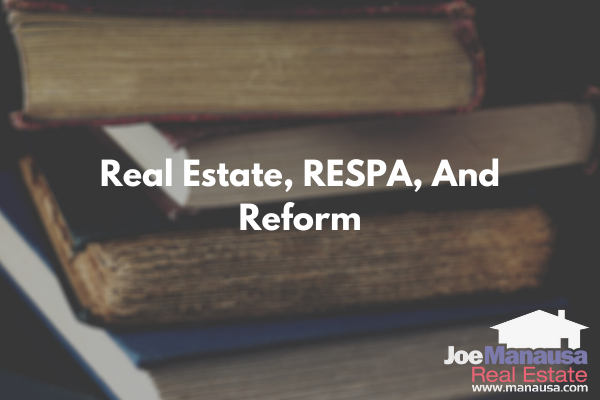 Congress enacted the Real Estate Settlement Procedures Act (RESPA) back in 1974 in order to address problems in the real estate settlement process. It seems that Congress felt that they could legislate fair business practices and reduce fees and costs to home buyers through enlightenment about the settlement process and the associated costs that go with buying a home.
RESPA's mission is to provide consumers with information relevant to the mortgage transaction and the various costs that will occur. The hopes in founding RESPA was that many of the various kick-backs and referral fees, once identified and disclosed, would be reduced.
The irony is that the opposite seems to have occurred. Real estate companies have created "related businesses" and are now in the business of providing loans and conducting their own real estate closings. Mortgage companies now are selling real estate. National referral companies have been formed in real estate, mortgage, and escrow businesses that solely make their income through legal "kick backs" as defined under RESPA.
Referral fees are far more prominent today than they were in the 1970's, prior to RESPA. For example, how do you think companies like "Lending Tree" make money? They get referral fees from the lenders to which they send borrowers. Makes you wonder how they save you money .... Thank you RESPA!
Reforming Real Estate With RESPA Reform
New RESPA rules were updated in November 2008, most of which go into effect during January of 2010. In order to help clarify these changes, the Department of Housing and Urban Development (HUD) published a New RESPA Rule FAQs. The FAQs are organized by subject, cover multiple topics ranging from questions concerning effective dates, to filling out the new Good Faith Estimate (GFE) and escrow settlement (HUD-1) forms.
While I am certain that the intent of everybody involved in RESPA reform, from our politicians to our federal workers, is pure and well-meaning, I do not feel that we will see any real changes from these new initiatives. There are already too many documents involved in a real estate settlement and most home buyers and home sellers are fatigued.
Once this paper-overload fatigue sets in, the consumer will sign anything to be done with the process. This is why TRUST in your settlement company (law firm) and TRUST in your real estate company are so important.
Rely On Your REALTOR®, Not On RESPA
It is not enough that you know your real estate agent, make sure that she or he is a full-time professional working for a top real estate company. It is more common for people to be harmed through neglect and ignorance than it is for crooked business practices to affect the home buyer and/or home seller. Full-time professional REALTORS® stay current on relevant issues that could affect your pocket book in a real estate settlement.
As a reminder for those who subscribe to the Tallahassee Real Estate Blog by email, some embedded pictures and videos might not be appearing in your email and you might need to click the title header to go to your browser where all will be visible. Additionally, if you would like to respond (leave a comment) to this article, you will need to "click through" to the blog site to post your feedback.
Keep checking out the Tallahassee Real Estate Blog every day for updates on real estate in Tallahassee Florida.
Joe Manausa is a real estate blogger, a real estate investor and the Broker and Co-Owner of Joe Manausa Real Estate. He can be reached via e-mail through the Tallahassee Real Estate Website or catch his latest writings on the Tallahassee Florida Real Estate Blog , or by calling (850) 386-2001.
Please Do Us A Small Favor
We work very hard to produce daily content for our long-time readers and first-time visitors. We provide this information for free, hoping to earn your respect and trust and the right to one-day help you when selling or buying a home. Can we get your help spreading the word about our blog?
If you like the content, would you please like it or share it using the Facebook button at the beginning of the post? This simple action will be greatly appreciated! THANK YOU!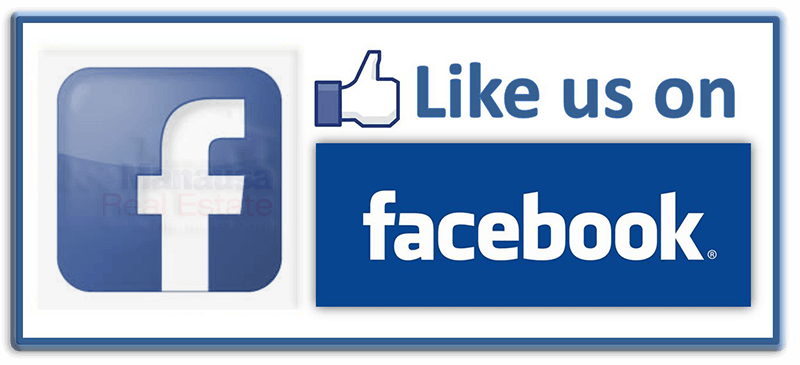 Also like us on Facebook at https://www.facebook.com/joemanausarealestate/
Your Local Expert In Tallahassee
When moving to, in, or from Tallahassee, you will fare better if you work with a local expert. We are here to help. If you have further questions on the Tallahassee real estate market, you can leave a comment below, give us a call at (850) 366-8917, or drop us a note and we'll give you the local information needed to ensure a successful, smooth transaction.
As a local born and raised in Tallahassee with a focus on customer service, I promise you'll find great success when working with Joe Manausa Real Estate, just as have our past customers. You can read thousands of their reviews reported on Google, Facebook and Zillow right here: Real Estate Agent Reviews Tallahassee.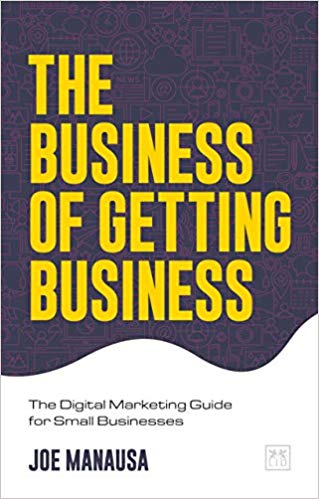 Have you heard about my new book "The Business of Getting Business?" It's a comprehensive guide for small businesses to help them make the move to digital. For those of us who want to survive and thrive in a world where large corporations are taking over, it is a must-read. It's also the perfect guide for how to sell a home in the digital age. You can find The Business Of Getting Business from each of the trusted retailers below.

Think all REALTORS are alike?
Read what people are saying about working with Joe Manausa Real Estate! You can see thousands of real customer reviews reported on Google, Facebook and Zillow at this link: CLICK HERE FOR REAL ESTATE AGENT REVIEWS.