Woodland Drives
Woodland Drives is located off of Lafayette Street near the Magnolia Drive and Apalachee Parkway intersection. It is one of Tallahassee's most historic neighborhoods. It is part of the Myers Park Historic District and only a short distance to restaurants, shopping, downtown, and the State Capitol.
Woodland Drives
September 27, 2023
Under Contract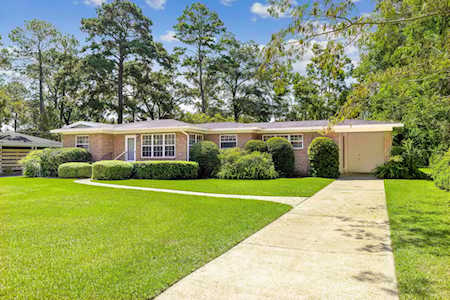 1109 Circle Drive
Tallahassee, FL 32301
About Woodland Drives
In Woodland Drives there are approximately 450 homes that were built from 1875 to recently. The average price of homes in Woodland Drives is $237,700 with the average size of homes ranging from 1,600 to 2,200 square feet.
Residents enjoy not only the history of the neighborhood, but the comradery each neighbor has with each other. Some residents have even had multiple generations reside in the same home.
The neighborhood hosts movie nights and annual picnics at Old Fort Park, which borders the neighborhood. This park is part of the defense that protected Tallahassee during the Civil War.
The residents can also enjoy Chapman Pond Park which is great for bird watching. This pond is located just feet from Myers Park which is Tallahassee's oldest park. It includes a sports complex, nature trails, a picnic area, and a playground. There is also the newly constructed Cascades Park. While not part of the Woodland Drives neighborhood, residents can take advantage of the area as it is very close by.
The residents of Woodland Drive appreciate a wide variety of dining choices. They can choose from: The Edison, The Shell Oyster Bar, Mayuri Indian Restaurant, Sahara Greek & Lebanese Café, Miller's Ale House, The Olive Garden, Chili's Grill & Bar, Buffalo Wild Wings, and so many more.
There are also lots of choices when it comes to shopping. Just across Apalachee Parkway is the Governor's Square Mall. If you want to avoid the hustle and bustle of the mall, you may want to try out the other stores in the area. You'll find: Best Buy, DSW, World Market, Target, Dick's Sporting Goods, Pier 1 Imports, and Kohl's, to name a few.
Woodland Drives Schools
Woodland Drives is zoned for the following Leon County public schools:
Woodland Drives Home Prices
Average home prices in Woodland Drives are near all-time highs, with the average home in 2017 selling for $237,700.
Woodland Drives Home Values
Average home values in Woodland Drives skyrocketed from 2016 to 2017.
Woodland Drives Home Sizes
The average home size sold in Woodland Drives typically falls in a range of 1,600 to 2,200 square feet.
Woodland Drives Home Sales
The following list shows more than 460 home sales in Woodland Drives going back to 1991. You can reorganize the list by simply clicking the column heading for the data category for which you wish to sort.
| Address | Price | Price/SQF | Closing Date | Year Built | SQF | Sale Type |
| --- | --- | --- | --- | --- | --- | --- |
| 2014 S Magnolia Drive | $200,000 | $145 | 2023-09-08 | 1973 | 1,376 | Resale |
| 1808 Old Fort Drive | $265,000 | $156 | 2023-09-01 | 1958 | 1,694 | Resale |
| 1115 Old Fort Drive | $419,000 | $162 | 2023-08-31 | 2004 | 2,581 | Resale |
| 2012 Seminole Drive | $355,000 | $177 | 2023-07-19 | 1951 | 2,009 | Resale |
| 1211 Circle Drive | $349,000 | $175 | 2023-07-13 | 1963 | 2,000 | Resale |
| 1229 Clark Ave. | $420,000 | $169 | 2023-05-19 | 1971 | 2,485 | Resale |
| 841 Circle Drive | $345,000 | $195 | 2023-05-12 | 1987 | 1,769 | Resale |
| 1227 Circle Drive | $289,000 | $157 | 2023-04-07 | 1954 | 1,838 | Resale |
| 2012 Seminole Drive | $368,000 | $177 | 2022-12-29 | 1951 | 2,078 | Resale |
| 1229 Sarasota Drive | $289,000 | $151 | 2022-12-15 | 1953 | 1,918 | Resale |
| 1828 Seminole Dr. | $322,100 | $142 | 2022-09-23 | 1951 | 2,269 | Resale |
| 1206 Sarasota Drive | $325,000 | $176 | 2022-09-16 | 1978 | 1,846 | Resale |
| 1021 Merritt Drive | $238,200 | $115 | 2022-09-13 | 1954 | 2,067 | Resale |
| 2000 Old Fort Drive | $290,000 | $133 | 2022-08-31 | 1964 | 2,177 | Resale |
| 1203 Azalea Drive | $487,000 | $199 | 2022-07-29 | 1957 | 2,445 | Resale |
| 1204 Sarasota Drive | $435,000 | $175 | 2022-06-30 | 1957 | 2,486 | Resale |
| 2003 Old Fort Drive | $400,000 | $215 | 2022-06-29 | 1947 | 1,858 | Resale |
| 1202 Circle Drive | $377,590 | $202 | 2022-06-13 | 1957 | 1,866 | Resale |
| 1205 Old Fort Drive | $228,000 | $140 | 2022-05-31 | 1977 | 1,625 | Resale |
| 1404 S Magnolia Drive | $285,000 | $188 | 2021-12-17 | 1979 | 1,520 | Resale |
| 1226 Circle Drive | $267,000 | $148 | 2021-12-17 | 1958 | 1,804 | Resale |
| 1248 Hemlock Street | $175,000 | $115 | 2021-12-06 | 1977 | 1,526 | Resale |
| 1102 E Magnolia Drive | $245,000 | $146 | 2021-12-03 | 1976 | 1,674 | Resale |
| 1127 Sarasota Drive | $289,000 | $161 | 2021-11-30 | 1953 | 1,792 | Resale |
| 1072 Seminole Drive | $380,000 | $136 | 2021-10-19 | 1952 | 2,788 | Resale |
| 1126 Maple Drive | $326,264 | $152 | 2021-10-08 | 1957 | 2,143 | Resale |
| 2115 Seminole Drive | $189,000 | $120 | 2021-09-17 | 1963 | 1,573 | Resale |
| 1149 Circle Drive | $295,000 | $114 | 2021-09-03 | 1955 | 2,585 | Resale |
| 2116 Seminole Drive | $295,000 | $143 | 2021-08-26 | 1984 | 2,062 | Resale |
| 1417 Country Club Dr | $305,000 | $142 | 2021-08-25 | 1940 | 2,138 | Resale |
| 2025 Sumter Ave | $275,000 | $130 | 2021-07-23 | 1959 | 2,121 | Resale |
| 1105 Sarasota Drive | $287,500 | $142 | 2021-07-21 | 1957 | 2,025 | Resale |
| 1521 Old Fort Drive | $429,000 | $166 | 2021-06-30 | 1953 | 2,577 | Resale |
| 1211 Azalea Drive | $255,000 | $135 | 2021-06-08 | 1955 | 1,892 | Resale |
| 1208 Hemlock Street | $250,000 | $178 | 2021-05-13 | 1970 | 1,407 | Resale |
| 1035 Cherokee Drive | $210,000 | $97 | 2021-05-12 | 1953 | 2,169 | Resale |
| 1101 Seminole Drive | $265,000 | $88 | 2021-04-23 | 1962 | 3,016 | Resale |
| 1102 Seminole Drive | $460,010 | $120 | 2021-04-20 | 1951 | 3,824 | Resale |
| 1210 Camellia Drive | $200,000 | $131 | 2021-04-20 | 1955 | 1,526 | Resale |
| 941 Carlton Drive | $232,000 | $172 | 2021-03-18 | 1950 | 1,350 | Resale |
| 1247 Clark Avenue | $245,000 | $110 | 2021-03-05 | 1971 | 2,224 | Resale |
| 1240 Maple Drive | $219,000 | $161 | 2021-02-12 | 1974 | 1,357 | Resale |
| 1118 Camellia Drive | $172,000 | $115 | 2021-02-10 | 1954 | 1,500 | Resale |
| 2000 Alban Avenue | $190,000 | $124 | 2021-01-20 | 1959 | 1,534 | Resale |
| 1150 Camellia Drive | $215,000 | $103 | 2020-11-13 | 1954 | 2,079 | Resale |
| 1405 Seminole Drive | $280,000 | $138 | 2020-10-07 | 1953 | 2,035 | Resale |
| 1140 Camellia Dr | $200,000 | $128 | 2020-09-04 | 1958 | 1,551 | Resale |
| 1173 Seminole Drive | $289,000 | $112 | 2020-07-17 | 1953 | 2,579 | Resale |
| 1205 Hemlock Street | $320,000 | $134 | 2020-07-17 | 1960 | 2,390 | Resale |
| 1144 Circle Dr | $90,000 | $75 | 2020-07-15 | 1953 | 1,199 | Resale |
| 1230 Circle Drive | $225,000 | $155 | 2020-07-10 | 1959 | 1,456 | Resale |
| 1207 Hemlock Street | $161,500 | $129 | 2020-07-02 | 1971 | 1,248 | Resale |
| 909 Circle Drive | $555,000 | $183 | 2020-03-30 | 1954 | 3,031 | Resale |
| 2014 S Magnolia Dr | $76,500 | $83 | 2019-12-31 | 1973 | 918 | Resale |
| 1717 Old Fort Drive | $224,900 | $163 | 2019-11-27 | 1957 | 1,382 | Resale |
| 1240 Hemlock Street | $173,000 | $122 | 2019-10-31 | 1977 | 1,422 | Resale |
| 1149 Camellia Drive | $218,000 | $96 | 2019-10-15 | 1962 | 2,274 | Resale |
| 1230 Circle Dr | $215,000 | $148 | 2019-10-09 | 1959 | 1,456 | Resale |
| 1102 Old Fort Drive | $325,000 | $156 | 2019-08-20 | 1948 | 2,081 | Resale |
| 1101 Old Fort Dr. | $379,000 | $111 | 2019-07-24 | 1875 | 3,409 | Resale |
| 1804 Old Fort Drive | $289,900 | $147 | 2019-05-31 | 1966 | 1,977 | Resale |
| 1815 Old Fort Drive | $390,000 | $160 | 2019-04-30 | 1954 | 2,439 | Resale |
| 1139 Camellia Drive | $175,000 | $108 | 2019-04-30 | 1957 | 1,620 | Resale |
| 1403 Alban Ave | $298,000 | $127 | 2019-04-19 | 1966 | 2,345 | Resale |
| 1920 Old Fort Drive | $285,000 | $116 | 2019-03-19 | 1965 | 2,460 | Resale |
| 1236 Camellia Drive | $115,000 | $69 | 2019-03-13 | 1955 | 1,666 | Resale |
| 1205 Sarasota Drive | $328,200 | $119 | 2019-03-08 | 1953 | 2,764 | Resale |
| 1117 Myers Park Drive | $625,000 | $134 | 2019-02-08 | 1934 | 4,680 | Resale |
| 1240 Maple Drive | $195,000 | $144 | 2018-12-28 | 1974 | 1,357 | Resale |
| 1118 Circle Dr | $180,000 | $87 | 2018-12-17 | 1959 | 2,069 | Resale |
| 1202 Circle Drive | $270,000 | $145 | 2018-11-13 | 1957 | 1,866 | Resale |
| 1209 Camellia Dr | $305,000 | $155 | 2018-08-14 | 2000 | 1,968 | Resale |
| 1404 S Magnolia Drive | $199,900 | $127 | 2018-07-18 | 1979 | 1,580 | Resale |
| 1236 Maple Dr | $181,200 | $101 | 2018-06-25 | 1958 | 1,792 | Resale |
| 1223 Camellia Drive | $195,000 | $117 | 2018-05-18 | 1960 | 1,664 | Resale |
| 2022 Old Fort Dr | $160,000 | $153 | 2018-05-07 | 1949 | 1,044 | Resale |
| 1238 Camellia Drive | $217,500 | $124 | 2018-04-30 | 1951 | 1,761 | Resale |
| 842 Santa Rosa Drive | $235,000 | $130 | 2018-04-20 | 1988 | 1,803 | Resale |
| 1221 Circle Drive | $235,000 | $112 | 2018-04-13 | 1959 | 2,097 | Resale |
| 1207 Clark Avenue | $232,500 | $111 | 2018-02-09 | 1974 | 2,088 | Resale |
| 1203 Azalea Dr | $160,000 | $67 | 2018-02-06 | 1957 | 2,391 | Resale |
| 1118 Seminole Drive | $253,000 | $72 | 2018-01-17 | 1949 | 3,523 | Resale |
| 1126 S Magnolia Drive | $178,500 | $99 | 2018-01-17 | 1955 | 1,804 | Resale |
| 1124 Camellia Dr | $275,000 | $137 | 2017-12-08 | 1954 | 2,002 | Resale |
| 1230 Camellia Drive | $190,000 | $139 | 2017-12-08 | 1956 | 1,370 | Resale |
| 1521 Old Fort Drive | $286,500 | $111 | 2017-12-08 | 1953 | 2,577 | Resale |
| 1803 Old Fort Drive | $233,000 | $135 | 2017-12-07 | 1971 | 1,728 | Resale |
| 941 Carlton Drive | $192,000 | $142 | 2017-11-17 | 1950 | 1,350 | Resale |
| 1235 Circle Drive | $215,000 | $128 | 2017-07-26 | 1954 | 1,680 | Resale |
| 2003 Old Fort Dr | $285,000 | $160 | 2017-07-10 | 1947 | 1,785 | Resale |
| 2021 Old Fort Drive | $225,000 | $116 | 2017-05-12 | 1950 | 1,943 | Resale |
| 1801 Country Club Dr | $250,000 | $141 | 2016-12-30 | 1983 | 1,768 | Resale |
| 843 Circle Drive | $200,000 | $112 | 2016-12-23 | 1987 | 1,782 | Resale |
| 1150 Camellia Drive | $190,000 | $97 | 2016-11-02 | 1954 | 1,965 | Resale |
| 1132 Camellia Dr | $125,333 | $101 | 2016-10-26 | 1955 | 1,240 | Resale |
| 1402 Old Fort Dr | $170,000 | $92 | 2016-10-06 | 1941 | 1,847 | Resale |
| 2003 Old Fort Dr | $154,900 | $86 | 2016-09-30 | 1947 | 1,785 | Resale |
| 1132 Azalea Dr | $255,000 | $129 | 2016-08-31 | 1979 | 1,976 | Resale |
| 2004 Alban Ave | $195,000 | $114 | 2016-08-12 | 1958 | 1,714 | Resale |
| 1062 Seminole Drive | $160,000 | $113 | 2016-07-11 | 1950 | 1,415 | Resale |
| 1804 Old Fort Drive | $259,900 | $131 | 2016-06-21 | 1966 | 1,977 | Resale |
| 1105 Seminole Drive | $200,000 | $133 | 2016-04-27 | 1952 | 1,499 | Resale |
| 1207 Old Fort Drive | $244,900 | $125 | 2016-04-08 | 1960 | 1,956 | Resale |
| 1238 Camellia Drive | $125,000 | $71 | 2016-01-15 | 1951 | 1,761 | Resale |
| 1101 Clark Avenue | $150,000 | $64 | 2016-01-05 | 1972 | 2,359 | Resale |
| 1514 S Magnolia Dr | $130,000 | $87 | 2015-12-11 | 1953 | 1,486 | Resale |
| 1221 Clark Avenue | $235,000 | $111 | 2015-12-02 | 1972 | 2,120 | Resale |
| 1117 Myers Park Drive | $550,000 | $118 | 2015-11-06 | 1934 | 4,680 | Resale |
| 1230 Hemlock Street | $120,000 | $72 | 2015-10-23 | 1970 | 1,665 | Resale |
| 1177 Old Fort Dr | $265,000 | $109 | 2015-09-29 | 1948 | 2,422 | Resale |
| 1142 Old Fort Drive | $186,000 | $119 | 2015-09-14 | 1951 | 1,564 | Resale |
| 1597 Old Fort Dr | $607,000 | $135 | 2015-09-03 | 1947 | 4,471 | Resale |
| 1102 Sarasota Drive | $257,500 | $86 | 2015-08-31 | 1950 | 3,003 | Resale |
| 941 Carlton Dr | $215,000 | $159 | 2015-08-24 | 1950 | 1,350 | Resale |
| 1051 Cherokee Drive | $210,000 | $110 | 2015-08-07 | 1950 | 1,904 | Resale |
| 2051 Country Club Drive | $221,000 | $103 | 2015-07-29 | 1954 | 2,148 | Resale |
| 1828 Seminole Drive | $155,000 | $68 | 2015-07-10 | 1951 | 2,278 | Resale |
| 1216 Hemlock Street | $247,500 | $129 | 2015-07-10 | 1970 | 1,913 | Resale |
| 1237 Sarasota Drive | $158,000 | $128 | 2015-07-06 | 1953 | 1,237 | Resale |
| 1210 Sarasota Drives | $208,000 | $124 | 2015-06-29 | 1979 | 1,680 | Resale |
| 1212 Maple Dr | $192,000 | $130 | 2015-05-26 | 1955 | 1,472 | Resale |
| 1105 Sarasota Dr Dr | $197,500 | $98 | 2015-05-21 | 1957 | 2,025 | Resale |
| 1126 S Magnolia Dr | $149,000 | $83 | 2015-05-01 | 1955 | 1,804 | Resale |
| 1239 Camellia Dr | $193,000 | $85 | 2015-04-30 | 1960 | 2,274 | Resale |
| 1230 Circle Dr | $154,500 | $106 | 2015-02-16 | 1959 | 1,456 | Resale |
| 1128 Hemlock St | $166,000 | $138 | 2015-01-05 | 1970 | 1,203 | Resale |
| 1126 S Magnolia Dr | $45,000 | $25 | 2014-11-17 | 1955 | 1,804 | Resale |
| 1246 Cherokee Dr | $152,000 | $104 | 2014-11-14 | 1956 | 1,459 | Resale |
| 1044 Cherokee Dr | $210,000 | $122 | 2014-10-30 | 1948 | 1,722 | Resale |
| 1304 S Magnolia Dr | $84,600 | $62 | 2014-10-24 | 1998 | 1,356 | Resale |
| 1801 Country Club Dr | $147,500 | $83 | 2014-10-24 | 1983 | 1,768 | Resale |
| 2016 Old Fort Dr | $305,000 | $176 | 2014-08-18 | 1965 | 1,736 | Resale |
| 1205 Sarasota Dr | $325,000 | $118 | 2014-08-11 | 1953 | 2,764 | Resale |
| 843 Circle Dr | $195,000 | $113 | 2014-08-01 | 1987 | 1,719 | Resale |
| 1240 Maple Dr | $145,000 | $107 | 2014-07-25 | 1974 | 1,357 | Resale |
| 1404 S Magnolia Dr | $103,500 | $86 | 2014-07-09 | 1979 | 1,200 | Resale |
| 2115 Old Fort Dr | $155,000 | $111 | 2014-06-09 | 1959 | 1,400 | Resale |
| 1230 Camellia Dr | $168,500 | $123 | 2014-05-16 | 1956 | 1,370 | Resale |
| 811 Circle Dr | $380,000 | $148 | 2014-05-15 | 1948 | 2,574 | Resale |
| 1236 Maple Dr | $149,000 | $85 | 2014-04-11 | 1958 | 1,758 | Resale |
| 1203 Camellia Dr | $205,000 | $148 | 2014-04-07 | 1955 | 1,389 | Resale |
| 1101 Old Fort Dr | $338,000 | $99 | 2014-03-28 | 1875 | 3,409 | Resale |
| 1135 Circle Dr | $230,000 | $113 | 2014-03-20 | 1954 | 2,040 | Resale |
| 1919 Alban Ave | $165,000 | $96 | 2014-02-25 | 1962 | 1,725 | Resale |
| 1902 Old Fort Dr | $301,000 | $137 | 2014-02-10 | 2006 | 2,192 | Resale |
| 2106 Old Fort Dr | $160,000 | $80 | 2014-01-10 | 1994 | 2,008 | Resale |
| 1410 Alban Ave | $250,000 | $78 | 2013-11-26 | 1957 | 3,192 | Resale |
| 2115 Seminole Dr | $125,000 | $79 | 2013-08-29 | 1963 | 1,573 | Resale |
| 1143 Circle Dr | $263,000 | $99 | 2013-07-31 | 1954 | 2,648 | Resale |
| 1128 Hemlock St | $117,500 | $98 | 2013-07-19 | 1970 | 1,203 | Resale |
| 2022 Seminole Dr | $194,900 | $116 | 2013-07-08 | 1950 | 1,682 | Resale |
| 1120 Maple Dr | $150,000 | $120 | 2013-07-05 | 1953 | 1,251 | Resale |
| 1504 Seminole Dr | $225,000 | $82 | 2013-06-21 | 1974 | 2,758 | Resale |
| 1142 Old Fort Dr | $180,000 | $115 | 2013-06-05 | 1951 | 1,564 | Resale |
| 1144 Circle Dr | $117,000 | $98 | 2013-05-30 | 1953 | 1,199 | Resale |
| 1117 Camellia Dr | $134,500 | $75 | 2013-05-30 | 1957 | 1,788 | Resale |
| 811 Circle Dr | $30,000 | $12 | 2013-05-16 | 1948 | 2,574 | Resale |
| 1044 Seminole Dr | $215,000 | $81 | 2013-05-15 | 1958 | 2,648 | Resale |
| 1503 Old Fort Dr | $175,000 | $86 | 2013-04-30 | 1963 | 2,046 | Resale |
| 1717 Old Fort Dr | $185,000 | $136 | 2013-04-29 | 1957 | 1,364 | Resale |
| 1234 Circle Dr | $159,900 | $102 | 2013-02-28 | 1959 | 1,569 | Resale |
| 1210 Circle Dr | $142,000 | $93 | 2013-02-25 | 1955 | 1,530 | Resale |
| 1816 Old Fort Dr | $196,600 | $87 | 2013-01-31 | 1987 | 2,267 | Resale |
| 2109 Country Club Dr | $65,700 | $21 | 2013-01-28 | 1948 | 3,162 | Resale |
| 1205 Hemlock St | $199,000 | $83 | 2013-01-28 | 1960 | 2,390 | Resale |
| 2024 S Magnolia Dr | $175,000 | $101 | 2012-12-28 | 2007 | 1,739 | Resale |
| 1235 Camellia Dr | $150,000 | $85 | 2012-12-19 | 1957 | 1,756 | Resale |
| 1102 E Magnolia Dr | $128,000 | $83 | 2012-12-10 | 1976 | 1,534 | Resale |
| 2012 Seminole Dr | $191,000 | $117 | 2012-11-13 | 1951 | 1,634 | Resale |
| 2012 S Magnolia Dr | $187,100 | $96 | 2012-08-20 | 2007 | 1,940 | Resale |
| 1208 Hemlock St | $64,000 | $45 | 2012-07-27 | 1970 | 1,407 | Resale |
| 2010 S Magnolia Dr | $243,300 | $147 | 2012-06-29 | 2012 | 1,658 | New |
| 2115 Old Fort Dr | $162,000 | $116 | 2012-06-21 | 1959 | 1,400 | Resale |
| 1051 Cherokee Dr | $180,000 | $95 | 2012-06-15 | 1950 | 1,904 | Resale |
| 2002 Seminole Dr | $155,000 | $75 | 2012-06-08 | 1951 | 2,068 | Resale |
| 2003 Alban Ave | $190,000 | $85 | 2012-05-16 | 1971 | 2,224 | Resale |
| 1825 Country Club Dr | $216,000 | $128 | 2012-04-27 | 1990 | 1,690 | Resale |
| 1128 Hemlock St | $92,500 | $77 | 2012-02-24 | 1970 | 1,203 | Resale |
| 1221 Clark Ave | $185,000 | $122 | 2012-02-17 | 1972 | 1,515 | Resale |
| 2015 Seminole Dr | $178,500 | $67 | 2012-01-25 | 1959 | 2,672 | Resale |
| 1135 Sarasota Dr | $160,000 | $118 | 2012-01-23 | 1953 | 1,355 | Resale |
| 1239 Camellia Dr | $146,000 | $64 | 2011-12-07 | 1960 | 2,274 | Resale |
| 1224 Maple Dr | $150,000 | $57 | 2011-11-22 | 1954 | 2,635 | Resale |
| 1804 Old Fort Dr | $147,500 | $75 | 2011-11-18 | 1966 | 1,977 | Resale |
| 2103 Seminole Dr | $124,000 | $87 | 2011-10-31 | 1958 | 1,430 | Resale |
| 1221 Clark Ave | $65,000 | $43 | 2011-07-28 | 1972 | 1,515 | Resale |
| 1203 Circle Dr | $175,000 | $115 | 2011-07-12 | 1955 | 1,523 | Resale |
| 1211 Hemlock St | $72,000 | $52 | 2011-07-07 | 1960 | 1,377 | Resale |
| 1236 Cherokee Dr | $170,000 | $115 | 2011-05-31 | 1953 | 1,482 | Resale |
| 1207 Old Fort Dr | $265,000 | $135 | 2011-05-06 | 1960 | 1,956 | Resale |
| 837 Circle Dr | $135,000 | $84 | 2010-09-17 | 1986 | 1,612 | Resale |
| 1102 Old Fort Dr | $267,000 | $128 | 2010-09-08 | 1948 | 2,081 | Resale |
| 2012 Seminole Dr | $100,000 | $48 | 2010-07-08 | 1951 | 2,078 | Resale |
| 2025 Sumter Dr | $175,000 | $115 | 2010-06-11 | 1959 | 1,519 | Resale |
| 2103 Old Fort Dr | $120,000 | $56 | 2010-05-28 | 1960 | 2,126 | Resale |
| 1052 Seminole Dr | $159,000 | $125 | 2010-03-02 | 1954 | 1,268 | Resale |
| 1304 Alban Ave | $201,000 | $107 | 2009-12-14 | 1980 | 1,885 | Resale |
| 1229 Clark Ave | $300,000 | $118 | 2009-10-14 | 1971 | 2,550 | Resale |
| 1841 Country Club Dr | $253,000 | $155 | 2009-08-31 | 1940 | 1,637 | Resale |
| 1041 Cherokee Dr | $190,000 | $114 | 2009-07-10 | 1948 | 1,664 | Resale |
| 1204 Cherokee Dr | $190,000 | $120 | 2009-07-10 | 1957 | 1,581 | Resale |
| 2020 Seminole Dr | $235,000 | $109 | 2009-07-02 | 1948 | 2,156 | Resale |
| 1125 Seminole Dr | $292,000 | $145 | 2009-05-14 | 1959 | 2,016 | Resale |
| 1215 Clark Ave | $178,000 | $99 | 2009-02-25 | 1972 | 1,790 | Resale |
| 1155 Seminole Dr | $275,000 | $191 | 2009-02-19 | 1954 | 1,442 | Resale |
| 1230 Camellia Dr | $177,900 | $113 | 2009-01-12 | 1956 | 1,570 | Resale |
| 1711 Country Club Dr | $273,000 | $161 | 2008-08-08 | 1952 | 1,698 | Resale |
| 2106 Old Fort Dr | $254,900 | $127 | 2008-07-18 | 1994 | 2,008 | Resale |
| 1205 Sarasota Dr | $365,000 | $132 | 2008-06-13 | 1953 | 2,764 | Resale |
| 1717 Old Fort Dr | $184,500 | $135 | 2008-05-15 | 1957 | 1,364 | Resale |
| 1246 Cherokee Dr | $180,000 | $123 | 2008-03-31 | 1956 | 1,459 | Resale |
| 1711 Country Club Dr | $191,000 | $112 | 2008-03-17 | 1952 | 1,698 | Resale |
| -- | $210,000 | $79 | 2008-02-18 | 1958 | 2,648 | Resale |
| 1105 Sarasota Dr | $260,000 | $153 | 2007-11-28 | 1957 | 1,701 | Resale |
| 1921 Country Club Dr | $311,000 | $155 | 2007-11-16 | 1960 | 2,006 | Resale |
| 1236 Cherokee Dr | $175,000 | $118 | 2007-10-17 | 1953 | 1,482 | Resale |
| 1210 Circle Dr | $127,500 | $83 | 2007-10-02 | 1955 | 1,530 | Resale |
| 1141 Azalea Dr | $270,000 | $124 | 2007-08-29 | 1960 | 2,185 | Resale |
| 1220 Cherokee Dr | $200,000 | $88 | 2007-08-28 | 1957 | 2,265 | Resale |
| 1124 Circle Dr | $254,000 | $186 | 2007-08-24 | 1956 | 1,369 | Resale |
| 1403 Alban Ave | $288,900 | $149 | 2007-07-24 | 1966 | 1,942 | Resale |
| 2000 Alban Ave | $185,000 | $121 | 2007-06-18 | 1959 | 1,534 | Resale |
| 2128 Seminole Dr | $247,500 | $120 | 2007-06-11 | 1984 | 2,064 | Resale |
| 1207 Old Fort Dr | $315,000 | $161 | 2007-05-14 | 1960 | 1,956 | Resale |
| 2004 Alban Ave | $255,000 | $149 | 2007-05-08 | 1958 | 1,714 | Resale |
| 2016 Old Fort Dr | $302,000 | $174 | 2007-04-13 | 1965 | 1,736 | Resale |
| 1405 Country Club Dr | $250,000 | $150 | 2007-04-11 | 1951 | 1,667 | Resale |
| 1124 Circle Dr | $172,000 | $126 | 2007-03-27 | 1956 | 1,369 | Resale |
| 1163 Seminole Dr | $205,000 | $143 | 2007-03-09 | 1952 | 1,432 | Resale |
| 1212 Cherokee Dr | $235,000 | $119 | 2007-03-06 | 1955 | 1,983 | Resale |
| 1221 Circle Dr | $250,000 | $119 | 2006-10-31 | 1959 | 2,097 | Resale |
| 1120 Maple Dr | $110,000 | $88 | 2006-09-28 | 1953 | 1,251 | Resale |
| 1514 S Magnolia Dr | $160,000 | $108 | 2006-09-21 | 1953 | 1,486 | Resale |
| 1102 Sarasota Dr | $220,000 | $72 | 2006-09-20 | 1950 | 3,055 | Resale |
| 1405 Country Club Dr | $170,000 | $102 | 2006-09-12 | 1951 | 1,667 | Resale |
| 1136 Maple Dr | $250,300 | $157 | 2006-08-31 | 1960 | 1,596 | Resale |
| 1134 Circle Dr | $269,000 | $146 | 2006-08-21 | 1957 | 1,847 | Resale |
| 1101 Seminole Dr | $265,000 | $88 | 2006-08-15 | 1962 | 3,016 | Resale |
| 1237 Sarasota Dr | $177,000 | $143 | 2006-08-04 | 1953 | 1,237 | Resale |
| 1202 Circle Dr | $248,000 | $153 | 2006-07-24 | 1957 | 1,624 | Resale |
| 1205 Sarasota Dr | $365,000 | $132 | 2006-06-19 | 1953 | 2,764 | Resale |
| 1112 Hemlock St | $225,000 | $113 | 2006-06-15 | 1970 | 1,998 | Resale |
| 1203 Circle Dr | $170,000 | $111 | 2006-05-24 | 1955 | 1,528 | Resale |
| 1405 Country Club Dr | $162,000 | $97 | 2006-05-09 | 1951 | 1,667 | Resale |
| 1221 Clark Ave | $240,000 | $158 | 2006-04-28 | 1972 | 1,515 | Resale |
| 835 Circle Dr | $230,000 | $139 | 2006-04-26 | 1986 | 1,660 | Resale |
| 2003 Alban Ave | $305,000 | $138 | 2006-04-20 | 1971 | 2,215 | Resale |
| 1234 Circle Dr | $135,000 | $86 | 2006-04-14 | 1959 | 1,569 | Resale |
| 1120 Old Fort Dr | $245,000 | $154 | 2006-04-07 | 1951 | 1,592 | Resale |
| 1112 Hemlock St | $215,000 | $108 | 2006-03-30 | 1970 | 1,998 | Resale |
| 1221 Sarasota Dr | $215,000 | $93 | 2006-03-13 | 1955 | 2,310 | Resale |
| 1101 Clark Ave | $240,000 | $136 | 2006-03-07 | 1972 | 1,769 | Resale |
| 1902 Old Fort Dr | $405,700 | $185 | 2006-02-28 | 2006 | 2,192 | New |
| 2004 Alban Ave | $235,000 | $137 | 2006-02-28 | 1958 | 1,714 | Resale |
| 1124 Cherokee Dr | $195,000 | $112 | 2006-02-24 | 1955 | 1,734 | Resale |
| 1216 Hemlock St | $267,000 | $278 | 2006-02-24 | 1970 | 960 | Resale |
| 1126 S Magnolia Dr | $225,000 | $132 | 2006-02-16 | 1955 | 1,708 | Resale |
| 2118 Old Fort Dr | $300,000 | $162 | 2005-12-28 | 1948 | 1,854 | Resale |
| 1412 S Magnolia Dr | $159,500 | $133 | 2005-12-19 | 1979 | 1,200 | Resale |
| 1210 Sarasota Dr | $189,900 | $113 | 2005-12-08 | 1979 | 1,680 | Resale |
| 1143 Circle Dr | $290,000 | $110 | 2005-11-23 | 1954 | 2,648 | Resale |
| 1709 Country Club Dr | $242,900 | $114 | 2005-11-18 | 1951 | 2,126 | Resale |
| 2047 Country Club Dr | $143,000 | $93 | 2005-09-20 | 1954 | 1,539 | Resale |
| 1207 Old Fort Dr | $279,900 | $143 | 2005-08-19 | 1960 | 1,956 | Resale |
| 1828 Seminole Dr | $222,600 | $98 | 2005-08-11 | 1951 | 2,269 | Resale |
| 2025 Sumter Dr | $181,000 | $119 | 2005-08-01 | 1959 | 1,519 | Resale |
| 2017 Sumter Dr | $197,500 | $141 | 2005-07-28 | 1963 | 1,400 | Resale |
| 1229 Clark Ave | $259,000 | $102 | 2005-05-16 | 1971 | 2,550 | Resale |
| 1163 Seminole Dr | $168,000 | $117 | 2005-05-12 | 1952 | 1,432 | Resale |
| 1048 Seminole Dr | $160,000 | $119 | 2005-03-31 | 1954 | 1,342 | Resale |
| 1141 Azalea Dr | $200,000 | $92 | 2005-03-28 | 1960 | 2,185 | Resale |
| 1229 Sarasota Dr | $208,000 | $108 | 2005-03-03 | 1953 | 1,924 | Resale |
| 1156 Seminole Dr | $225,000 | $136 | 2005-02-18 | 1948 | 1,659 | Resale |
| -- | $175,000 | $107 | 2005-02-15 | 1940 | 1,637 | Resale |
| 1212 Cherokee Dr | $224,000 | $113 | 2005-01-28 | 1955 | 1,983 | Resale |
| 1131 Old Fort Dr | $100,000 | $94 | 2004-12-29 | 1951 | 1,066 | Resale |
| 1133 Seminole Dr | $292,000 | $105 | 2004-12-17 | 1958 | 2,776 | Resale |
| 1599 Old Fort Rd | $440,000 | $85 | 2004-10-25 | 2004 | 5,152 | New |
| 2003 Old Fort Dr | $228,000 | $128 | 2004-10-04 | 1947 | 1,785 | Resale |
| 2020 Seminole Dr | $170,000 | $79 | 2004-09-13 | 1948 | 2,156 | Resale |
| 1137 Azalea Dr | $200,000 | $86 | 2004-08-06 | 1959 | 2,337 | Resale |
| 1102 E Magnolia Dr | $120,000 | $78 | 2004-08-05 | 1976 | 1,534 | Resale |
| 1221 Clark Ave | $199,500 | $132 | 2004-08-02 | 1972 | 1,515 | Resale |
| -- | $179,000 | $109 | 2004-07-21 | 1940 | 1,637 | Resale |
| 1051 Cherokee Dr | $173,000 | $92 | 2004-07-15 | 1950 | 1,886 | Resale |
| 1837 Country Club Dr | $180,000 | $104 | 2004-07-15 | 1963 | 1,732 | Resale |
| 1223 Camellia Dr | $188,000 | $113 | 2004-05-27 | 1960 | 1,664 | Resale |
| 1105 Seminole Dr | $178,000 | $119 | 2004-05-13 | 1952 | 1,499 | Resale |
| 909 Circle Dr | $257,000 | $105 | 2004-05-03 | 1954 | 2,443 | Resale |
| 909 Circle Dr | $257,000 | $105 | 2004-05-03 | 1954 | 2,443 | Resale |
| 1125 Seminole Dr | $192,000 | $95 | 2004-04-26 | 1959 | 2,016 | Resale |
| 1117 Camellia Dr | $222,500 | $124 | 2004-04-20 | 1957 | 1,788 | Resale |
| 2005 Seminole Dr | $158,000 | $95 | 2004-04-20 | 1961 | 1,662 | Resale |
| 1400 S Magnolia Dr | $132,000 | $94 | 2004-04-16 | 1980 | 1,400 | Resale |
| 1140 Maple Dr | $150,000 | $71 | 2004-04-15 | 1960 | 2,103 | Resale |
| 941 Carlton Dr | $139,000 | $99 | 2004-03-31 | 1950 | 1,399 | Resale |
| 1515 Seminole Dr | $169,200 | $101 | 2004-03-29 | 1978 | 1,682 | Resale |
| 1216 Hemlock St | $212,000 | $221 | 2004-02-23 | 1970 | 960 | Resale |
| 1136 Azalea Dr | $162,000 | $94 | 2003-12-23 | 1967 | 1,719 | Resale |
| 1163 Seminole Dr | $137,000 | $96 | 2003-12-19 | 1952 | 1,432 | Resale |
| 1100 E Magnolia Dr | $149,500 | $101 | 2003-12-12 | 1996 | 1,480 | Resale |
| 1115 Old Fort Dr | $175,000 | $40 | 2003-12-04 | 2003 | 4,414 | New |
| 1143 Myers Park Dr | $340,000 | $141 | 2003-11-17 | 1955 | 2,411 | Resale |
| 1150 Camellia Dr | $170,000 | $111 | 2003-11-14 | 1954 | 1,525 | Resale |
| 1405 Old Fort Dr | $160,000 | $102 | 2003-11-12 | 1951 | 1,566 | Resale |
| 2003 Alban Ave | $175,000 | $79 | 2003-09-26 | 1971 | 2,215 | Resale |
| 1052 Seminole Dr | $145,000 | $116 | 2003-09-26 | 1954 | 1,247 | Resale |
| 1228 Cherokee Dr | $205,000 | $87 | 2003-09-24 | 1953 | 2,356 | Resale |
| 1102 Old Fort Dr | $188,000 | $90 | 2003-09-17 | 1948 | 2,081 | Resale |
| 1120 Hemlock St | $167,000 | $132 | 2003-08-29 | 1970 | 1,269 | Resale |
| 1226 Circle Dr | $154,900 | $106 | 2003-08-28 | 1958 | 1,456 | Resale |
| 1216 Hemlock St | $55,000 | $57 | 2003-08-22 | 1970 | 960 | Resale |
| 1231 Azalea Dr | $132,500 | $96 | 2003-08-19 | 1955 | 1,382 | Resale |
| 2011 Sumter Dr | $150,000 | $111 | 2003-08-08 | 1963 | 1,346 | Resale |
| 838 Santa Rosa Dr | $195,000 | $110 | 2003-08-01 | 1992 | 1,774 | Resale |
| 2025 Sumter Dr | $145,000 | $95 | 2003-07-31 | 1959 | 1,519 | Resale |
| 1061 Seminole Dr | $176,500 | $86 | 2003-06-30 | 1955 | 2,053 | Resale |
| 1101 Old Fort Dr | $69,000 | $26 | 2003-05-02 | 1955 | 2,609 | Resale |
| 2102 Old Fort Dr | $157,000 | $93 | 2003-04-25 | 1968 | 1,686 | Resale |
| 2020 Seminole Dr | $140,000 | $66 | 2003-03-14 | 1948 | 2,108 | Resale |
| 1101 Old Fort Dr | $315,000 | $121 | 2003-02-21 | 1955 | 2,609 | Resale |
| 1155 Seminole Dr | $178,000 | $120 | 2003-02-10 | 1954 | 1,489 | Resale |
| 1223 Camellia Dr | $115,000 | $69 | 2003-02-07 | 1960 | 1,664 | Resale |
| 1124 Camellia Dr | $173,500 | $79 | 2003-01-27 | 1954 | 2,197 | Resale |
| 1121 Sarasota Dr | $165,400 | $83 | 2002-12-19 | 1957 | 1,996 | Resale |
| 1101 Clark Ave | $145,000 | $82 | 2002-11-26 | 1972 | 1,769 | Resale |
| 1144 Azalea Dr | $119,900 | $64 | 2002-11-25 | 1964 | 1,860 | Resale |
| 2115 Old Fort Dr | $142,000 | $101 | 2002-11-15 | 1959 | 1,400 | Resale |
| 1211 Circle Dr | $140,100 | $70 | 2002-10-25 | 1963 | 2,000 | Resale |
| 1056 Seminole Dr | $170,000 | $95 | 2002-10-08 | 1956 | 1,784 | Resale |
| 1205 Sarasota Dr | $264,000 | $96 | 2002-09-30 | 1953 | 2,764 | Resale |
| 1148 Circle Dr | $151,000 | $50 | 2002-09-12 | 1960 | 3,036 | Resale |
| 1500 S Magnolia Dr | $130,000 | $83 | 2002-08-26 | 1964 | 1,575 | Resale |
| 1800 Old Fort Dr | $117,000 | $74 | 2002-08-15 | 1951 | 1,580 | Resale |
| 1202 Maple Dr | $163,000 | $78 | 2002-08-01 | 1955 | 2,102 | Resale |
| 1137 Azalea Dr | $185,000 | $79 | 2002-07-31 | 1959 | 2,337 | Resale |
| 1521 Old Fort Dr | $235,000 | $78 | 2002-07-31 | 1953 | 3,004 | Resale |
| 1119 Clark Ave | $142,000 | $87 | 2002-07-22 | 1971 | 1,625 | Resale |
| 2103 Old Fort Dr | $220,000 | $103 | 2002-06-10 | 1960 | 2,126 | Resale |
| 2116 Seminole Dr | $144,000 | $70 | 2002-05-31 | 1984 | 2,064 | Resale |
| 1514 Seminole Dr | $164,900 | $97 | 2002-05-31 | 1977 | 1,701 | Resale |
| 1123 Maple Dr | $176,800 | $98 | 2002-05-14 | 1953 | 1,801 | Resale |
| 1105 Seminole Dr | $135,000 | $90 | 2002-05-09 | 1952 | 1,499 | Resale |
| 1017 Cherokee Dr | $180,000 | $128 | 2002-04-26 | 1956 | 1,402 | Resale |
| 1202 Circle Dr | $135,000 | $83 | 2002-04-09 | 1957 | 1,624 | Resale |
| 2115 Old Fort Dr | $133,000 | $95 | 2002-04-01 | 1959 | 1,400 | Resale |
| 1215 Clark Ave | $130,500 | $73 | 2002-03-28 | 1972 | 1,790 | Resale |
| 1597 Old Fort Dr | $155,000 | $129 | 2002-02-27 | 1947 | 1,200 | Resale |
| 2119 Old Fort Dr | $123,000 | $68 | 2002-02-26 | 1960 | 1,812 | Resale |
| 1136 Azalea Dr | $95,000 | $55 | 2002-02-25 | 1967 | 1,719 | Resale |
| 1156 Seminole Dr | $174,500 | $105 | 2002-01-10 | 1948 | 1,659 | Resale |
| 1135 Circle Dr | $132,900 | $65 | 2001-12-05 | 1954 | 2,040 | Resale |
| 1210 Camellia Dr | $135,000 | $88 | 2001-10-24 | 1955 | 1,526 | Resale |
| 2003 Old Fort Dr | $169,500 | $95 | 2001-09-28 | 1947 | 1,785 | Resale |
| 1217 Maple Dr | $138,000 | $88 | 2001-08-28 | 1979 | 1,564 | Resale |
| -- | $175,000 | $65 | 2001-08-16 | 1958 | 2,689 | Resale |
| 2106 Old Fort Dr | $160,000 | $80 | 2001-07-25 | 1994 | 2,008 | Resale |
| 1137 Old Fort Dr | $40,300 | $25 | 2001-07-23 | 1956 | 1,642 | Resale |
| 1129 Maple Dr | $185,000 | $86 | 2001-07-03 | 1958 | 2,156 | Resale |
| 1717 Old Fort Dr | $124,500 | $91 | 2001-07-02 | 1957 | 1,364 | Resale |
| 1218 Camellia Dr | $80,800 | $61 | 2001-06-18 | 1954 | 1,316 | Resale |
| 1221 Circle Dr | $174,900 | $83 | 2001-05-31 | 1959 | 2,097 | Resale |
| 1205 Sarasota Dr | $260,000 | $94 | 2001-05-30 | 1953 | 2,764 | Resale |
| 2014 S Magnolia Dr | $119,000 | $130 | 2001-05-22 | 1973 | 918 | Resale |
| 1150 Camellia Dr | $129,000 | $85 | 2001-05-02 | 1954 | 1,525 | Resale |
| 1053 Seminole Dr | $207,500 | $82 | 2001-04-02 | 1955 | 2,530 | Resale |
| 1139 Camellia Dr | $141,200 | $87 | 2001-03-29 | 1957 | 1,620 | Resale |
| 1441 Country Club Dr | $235,000 | $87 | 2001-03-09 | 1940 | 2,696 | Resale |
| 1507 Old Fort Dr | $149,500 | $84 | 2001-02-26 | 1959 | 1,788 | Resale |
| 1105 Circle Dr | $129,000 | $72 | 2000-12-21 | 1952 | 1,781 | Resale |
| 1120 Old Fort Dr | $128,000 | $80 | 2000-10-16 | 1951 | 1,592 | Resale |
| 941 Carlton Dr | $99,900 | $71 | 2000-08-31 | 1950 | 1,399 | Resale |
| 1123 Maple Dr | $157,500 | $87 | 2000-08-21 | 1953 | 1,801 | Resale |
| 1504 Seminole Dr | $180,000 | $63 | 2000-08-03 | 1974 | 2,856 | Resale |
| 1237 Sarasota Dr | $86,500 | $70 | 2000-07-31 | 1953 | 1,237 | Resale |
| 1176 Old Fort Dr | $115,000 | $83 | 2000-07-02 | 1956 | 1,392 | Resale |
| 1212 Cherokee Dr | $152,000 | $77 | 2000-06-26 | 1955 | 1,983 | Resale |
| 1137 Azalea Dr | $150,000 | $64 | 2000-06-26 | 1959 | 2,337 | Resale |
| 1061 Seminole Dr | $142,500 | $69 | 2000-06-23 | 1955 | 2,053 | Resale |
| 1134 Sarasota Dr | $126,800 | $92 | 2000-06-16 | 1954 | 1,371 | Resale |
| 1527 Country Club Dr | $185,000 | $86 | 2000-06-16 | 1950 | 2,149 | Resale |
| 1229 Clark Ave | $164,900 | $65 | 2000-06-09 | 1971 | 2,550 | Resale |
| 1210 Camellia Dr | $122,000 | $80 | 2000-06-07 | 1955 | 1,526 | Resale |
| 1521 Old Fort Dr | $98,000 | $62 | 2000-05-10 | 1953 | 1,584 | Resale |
| 2000 Old Fort Dr | $127,000 | $74 | 2000-04-24 | 1964 | 1,705 | Resale |
| 1138 S Magnolia Dr | $87,000 | $69 | 2000-04-05 | 1959 | 1,261 | Resale |
| 1404 S Magnolia Dr | $96,900 | $81 | 2000-01-28 | 1979 | 1,200 | Resale |
| 1126 Maple Dr | $163,000 | $95 | 2000-01-21 | 1957 | 1,723 | Resale |
| 1801 Country Club Dr | $159,000 | $90 | 1999-12-03 | 1983 | 1,768 | Resale |
| 1105 Seminole Dr | $117,900 | $78 | 1999-11-30 | 1952 | 1,515 | Resale |
| 2017 Sumter Dr | $105,500 | $75 | 1999-10-29 | 1963 | 1,400 | Resale |
| 1056 Seminole Dr | $98,000 | $55 | 1999-10-01 | 1956 | 1,784 | Resale |
| 1154 Seminole Dr | $120,400 | $58 | 1999-09-23 | 1950 | 2,064 | Resale |
| 836 Santa Rosa Dr | $179,000 | $94 | 1999-09-15 | 1992 | 1,897 | Resale |
| 1129 Maple Dr | $157,000 | $73 | 1999-08-13 | 1958 | 2,156 | Resale |
| 1118 Circle Dr | $106,000 | $51 | 1999-07-30 | 1959 | 2,081 | Resale |
| 1101 Old Fort Dr | $198,500 | $76 | 1999-06-30 | 1955 | 2,609 | Resale |
| 1162 Old Fort Dr | $200,000 | -- | 1999-06-21 | 1999 | -- | New |
| 1412 Seminole Dr | $150,000 | $52 | 1999-06-07 | 1953 | 2,880 | Resale |
| 1051 Seminole Dr | $186,800 | $92 | 1999-05-05 | 1974 | 2,021 | Resale |
| 2021 Old Fort Dr | $131,000 | $67 | 1999-04-21 | 1950 | 1,943 | Resale |
| 1906 Seminole Dr | $110,000 | $67 | 1999-04-16 | 1972 | 1,639 | Resale |
| 1121 Sarasota Dr | $140,000 | $70 | 1999-04-12 | 1957 | 1,996 | Resale |
| 1162 Old Fort Dr | $37,000 | -- | 1999-02-23 | -- | -- | Resale |
| 1162 Old Fort Dr | $25,000 | -- | 1999-02-09 | -- | -- | Resale |
| 1117 Myers Park Dr | $347,000 | $79 | 1998-12-29 | -- | 4,414 | Resale |
| 1125 Azalea Dr | $122,000 | $61 | 1998-12-23 | -- | 2,008 | Resale |
| 2000 Alban Ave | $111,200 | $72 | 1998-10-30 | 1959 | 1,534 | Resale |
| 1504 Seminole Dr | $165,000 | $58 | 1998-10-06 | 1974 | 2,856 | Resale |
| 1117 Azalea Dr | $101,000 | $65 | 1998-09-25 | -- | 1,560 | Resale |
| 1105 Seminole Dr | $48,000 | $32 | 1998-09-24 | 1952 | 1,515 | Resale |
| 1211 Seminole Dr | $152,000 | $86 | 1998-08-28 | -- | 1,776 | Resale |
| 2102 Old Fort Dr | $124,000 | $74 | 1998-08-14 | 1968 | 1,686 | Resale |
| 2115 Old Fort Dr | $105,000 | $75 | 1998-07-30 | 1959 | 1,400 | Resale |
| 1709 Country Club Dr | $124,900 | $59 | 1998-07-16 | 1951 | 2,126 | Resale |
| 1156 Seminole Dr | $140,000 | $84 | 1998-06-29 | 1948 | 1,659 | Resale |
| 1804 Old Fort Dr | $68,000 | $35 | 1998-06-22 | 1966 | 1,970 | Resale |
| 1239 Camellia Dr | $127,000 | $56 | 1998-05-27 | 1960 | 2,274 | Resale |
| 1140 Maple Dr | $120,600 | $57 | 1998-03-02 | 1960 | 2,103 | Resale |
| 1920 Seminole Dr | $150,000 | $62 | 1998-02-27 | -- | 2,405 | Resale |
| 1207 Old Fort Dr | $148,500 | $76 | 1998-02-20 | 1960 | 1,956 | Resale |
| 1240 Maple Dr | $82,500 | $59 | 1998-02-19 | 1974 | 1,403 | Resale |
| 1205 Sarasota Dr | $175,000 | $63 | 1998-02-18 | 1953 | 2,764 | Resale |
| 1240 Maple Dr | $82,200 | $59 | 1998-01-22 | 1974 | 1,403 | Resale |
| 2004 Alban Ave | $115,000 | $67 | 1997-12-10 | 1958 | 1,714 | Resale |
| 1229 Clark Ave | $156,000 | $61 | 1997-12-01 | 1971 | 2,550 | Resale |
| 1122 Seminole Dr | $157,500 | $60 | 1997-11-11 | -- | 2,621 | Resale |
| 1203 Camellia Dr | $97,500 | $70 | 1997-09-16 | 1955 | 1,389 | Resale |
| 1404 S Magnolia Dr | $90,000 | $75 | 1997-09-08 | 1979 | 1,200 | Resale |
| 1231 Azalea Dr | $85,600 | $62 | 1997-08-28 | 1955 | 1,382 | Resale |
| 1155 Seminole Dr | $89,000 | $60 | 1997-08-04 | 1954 | 1,489 | Resale |
| 1521 Old Fort Dr | $97,000 | $61 | 1997-08-01 | 1953 | 1,584 | Resale |
| 1717 Old Fort Dr | $93,300 | $68 | 1997-07-31 | 1957 | 1,364 | Resale |
| 1126 Sarasota Dr | $109,000 | $75 | 1997-07-14 | -- | 1,448 | Resale |
| 845 Circle Dr | $140,000 | $79 | 1997-07-03 | -- | 1,762 | Resale |
| 1148 Circle Dr | $167,000 | $55 | 1997-06-27 | 1960 | 3,036 | Resale |
| 1163 Seminole Dr | $88,000 | $61 | 1997-06-13 | 1952 | 1,432 | Resale |
| 833 Circle Dr | $119,500 | $78 | 1997-06-09 | -- | 1,533 | Resale |
| 1136 Azalea Dr | $104,000 | $61 | 1997-05-20 | 1967 | 1,719 | Resale |
| 1509 Country Club Dr | $149,000 | $75 | 1997-05-05 | -- | 1,999 | Resale |
| 1137 Azalea Dr | $140,000 | $60 | 1997-04-17 | 1959 | 2,337 | Resale |
| 2000 Alban Ave | $103,500 | $67 | 1997-03-31 | 1959 | 1,534 | Resale |
| 2016 Old Fort Dr | $146,000 | $84 | 1997-03-31 | 1965 | 1,736 | Resale |
| 1230 Camellia Dr | $94,500 | $60 | 1997-02-28 | 1956 | 1,570 | Resale |
| 1205 Old Fort Dr | $116,900 | $71 | 1997-02-27 | -- | 1,650 | Resale |
| 2015 Seminole Dr | $146,500 | $55 | 1997-02-05 | 1959 | 2,672 | Resale |
| 1240 Maple Dr | $85,000 | $61 | 1997-02-03 | 1974 | 1,403 | Resale |
| 1120 Old Fort Dr | $109,000 | $68 | 1997-01-30 | 1951 | 1,592 | Resale |
| 838 Santa Rosa Dr | $153,000 | $86 | 1996-12-17 | 1992 | 1,774 | Resale |
| 844 Santa Rosa Dr | $139,000 | $79 | 1996-08-30 | -- | 1,769 | Resale |
| 1134 Sarasota Dr | $99,900 | $73 | 1996-08-30 | 1954 | 1,371 | Resale |
| 1211 Seminole Dr | $131,900 | $74 | 1996-07-12 | -- | 1,776 | Resale |
| 2000 Old Fort Dr | $114,900 | $67 | 1996-06-27 | 1964 | 1,705 | Resale |
| 1202 Camellia Dr | $170,000 | $82 | 1996-06-07 | -- | 2,062 | Resale |
| 1060 Seminole Dr | $105,500 | $53 | 1996-04-29 | -- | 1,973 | Resale |
| 1126 Maple Dr | $113,000 | $66 | 1996-04-18 | 1957 | 1,723 | Resale |
| 2005 Seminole Dr | $104,000 | $63 | 1996-03-20 | 1961 | 1,662 | Resale |
| 837 Circle Dr | $123,000 | $76 | 1996-03-20 | 1986 | 1,612 | Resale |
| 2000 Alban Ave | $102,900 | $67 | 1996-02-29 | 1959 | 1,534 | Resale |
| 1207 Seminole Dr | $139,900 | $76 | 1996-02-21 | -- | 1,835 | Resale |
| 1209 Seminole Dr | $115,000 | $54 | 1996-02-15 | -- | 2,112 | Resale |
| 1148 Circle Dr | $170,000 | $56 | 1996-01-22 | 1960 | 3,036 | Resale |
| 2115 Old Fort Dr | $81,500 | $58 | 1995-12-29 | 1959 | 1,400 | Resale |
| 2022 Old Fort Dr | $92,000 | $88 | 1995-12-01 | -- | 1,044 | Resale |
| 1123 Maple Dr | $112,000 | $62 | 1995-11-30 | 1953 | 1,801 | Resale |
| 2021 Old Fort Dr | $118,000 | $61 | 1995-10-30 | 1950 | 1,943 | Resale |
| 1404 S Magnolia Dr | $48,000 | $40 | 1995-09-19 | 1979 | 1,200 | Resale |
| -- | $96,000 | $77 | 1995-09-01 | -- | 1,250 | Resale |
| 1156 Seminole Dr | $114,000 | $69 | 1995-08-26 | 1948 | 1,659 | Resale |
| 1143 Myers Park Dr | $141,900 | $59 | 1995-06-19 | 1955 | 2,411 | Resale |
| 1911 Old Fort Dr | $101,500 | $54 | 1995-05-19 | 1951 | 1,879 | Resale |
| 2005 Seminole Dr | $103,000 | $62 | 1995-05-15 | 1961 | 1,662 | Resale |
| 1208 Hemlock St | $79,900 | $57 | 1995-05-09 | 1970 | 1,407 | Resale |
| 1163 Seminole Dr | $85,000 | $59 | 1995-04-27 | 1952 | 1,432 | Resale |
| 836 Santa Rosa Dr | $149,500 | $79 | 1995-03-31 | 1992 | 1,897 | Resale |
| 1515 Seminole Dr | $105,000 | $62 | 1995-03-07 | 1978 | 1,682 | Resale |
| 1044 Cherokee Dr | $105,000 | $61 | 1995-02-24 | 1948 | 1,722 | Resale |
| 2005 Old Fort Dr | $100,000 | $47 | 1995-01-05 | -- | 2,119 | Resale |
| 1207 Clark Ave | $98,900 | $66 | 1995-01-04 | 1974 | 1,508 | Resale |
| 2020 S Magnolia Dr | $70,500 | $39 | 1994-12-13 | -- | 1,808 | Resale |
| 1120 Old Fort Dr | $84,700 | $53 | 1994-12-12 | 1951 | 1,592 | Resale |
| 834 Santa Rosa Dr | $185,000 | -- | 1994-11-18 | -- | -- | Resale |
| 1212 Cherokee Dr | $111,000 | $56 | 1994-10-27 | 1955 | 1,983 | Resale |
| 1139 Camellia Dr | $86,000 | $53 | 1994-09-26 | 1957 | 1,620 | Resale |
| 2104 Seminole Dr | $159,000 | $52 | 1994-09-07 | -- | 3,043 | Resale |
| 1221 Circle Dr | $106,300 | $51 | 1994-07-05 | 1959 | 2,097 | Resale |
| 1208 Hemlock St | $78,500 | $56 | 1994-06-06 | 1970 | 1,407 | Resale |
| 1597 Old Fort Dr | $139,900 | $117 | 1994-06-03 | 1947 | 1,200 | Resale |
| 1163 Old Fort Dr | $96,500 | $60 | 1994-06-02 | -- | 1,617 | Resale |
| 1144 Seminole Dr | $87,000 | $59 | 1994-06-01 | -- | 1,475 | Resale |
| 1173 Seminole Dr | $136,000 | $57 | 1994-05-13 | -- | 2,405 | Resale |
| 1837 Country Club Dr | $25,000 | $14 | 1994-05-04 | 1963 | 1,732 | Resale |
| 1837 Country Club Dr | $130,000 | $75 | 1994-05-04 | 1963 | 1,732 | Resale |
| 1104 E Magnolia Dr | $88,000 | $58 | 1994-05-03 | -- | 1,524 | Resale |
| 1153 Old Fort Dr | $93,000 | $65 | 1994-04-11 | -- | 1,439 | Resale |
| 1003 Maple Dr | $87,800 | $59 | 1994-03-16 | -- | 1,499 | Resale |
| 1003 Maple Dr | $87,800 | $59 | 1994-03-16 | -- | 1,499 | Resale |
| 2102 Old Fort Dr | $103,000 | $61 | 1994-03-08 | 1968 | 1,686 | Resale |
| 2000 Alban Ave | $98,000 | $64 | 1994-02-25 | 1959 | 1,534 | Resale |
| 1120 Hemlock St | $77,000 | $61 | 1994-02-14 | 1970 | 1,269 | Resale |
| 1206 Sarasota Dr | $140,000 | $77 | 1993-12-16 | -- | 1,811 | Resale |
| 1122 S Magnolia Dr | $89,900 | $39 | 1993-11-24 | -- | 2,300 | Resale |
| 1514 Seminole Dr | $128,000 | $75 | 1993-11-24 | 1977 | 1,701 | Resale |
| 2020 S Magnolia Dr | $88,000 | $49 | 1993-10-12 | -- | 1,808 | Resale |
| 1209 Seminole Dr | $105,000 | $50 | 1993-09-17 | -- | 2,112 | Resale |
| 2109 Country Club Dr | $195,800 | $65 | 1993-09-13 | 1948 | 3,001 | Resale |
| 1210 Seminole Dr | $102,000 | $58 | 1993-09-03 | -- | 1,767 | Resale |
| 1210 Camellia Dr | $83,000 | $54 | 1993-08-16 | 1955 | 1,526 | Resale |
| 1202 Camellia Dr | $124,500 | $60 | 1993-08-05 | -- | 2,062 | Resale |
| 1139 Camellia Dr | $82,000 | $51 | 1993-07-02 | 1957 | 1,620 | Resale |
| 2005 Seminole Dr | $95,000 | $57 | 1993-06-29 | 1961 | 1,662 | Resale |
| 1507 Old Fort Dr | $108,300 | $61 | 1993-06-28 | 1959 | 1,788 | Resale |
| 2019 Old Fort Dr | $87,500 | $58 | 1993-06-17 | -- | 1,513 | Resale |
| 2103 Seminole Dr | $75,000 | $52 | 1993-06-14 | 1958 | 1,430 | Resale |
| 1102 Old Fort Dr | $112,000 | $54 | 1993-05-06 | 1948 | 2,081 | Resale |
| 2025 Sumter Dr | $100,000 | $66 | 1993-04-29 | 1959 | 1,519 | Resale |
| 1219 Camellia Dr | $83,500 | $57 | 1993-04-01 | -- | 1,476 | Resale |
| 2020 S Magnolia Dr | $86,000 | $48 | 1993-01-29 | -- | 1,808 | Resale |
| 1127 Sarasota Dr | $86,000 | $48 | 1993-01-04 | -- | 1,792 | Resale |
| 1101 Old Fort Dr | $133,000 | $51 | 1992-11-24 | 1875 | 2,609 | Resale |
| 1107 Sumter Dr | $89,300 | $49 | 1992-11-23 | -- | 1,832 | Resale |
| -- | $87,500 | $33 | 1992-11-13 | -- | 2,689 | Resale |
| 1156 Seminole Dr | $95,000 | $57 | 1992-11-03 | 1948 | 1,659 | Resale |
| -- | $73,500 | $59 | 1992-10-27 | -- | 1,250 | Resale |
| 1176 Old Fort Dr | $104,000 | $75 | 1992-07-16 | 1956 | 1,392 | Resale |
| 2015 Seminole Dr | $125,000 | $47 | 1992-07-06 | 1959 | 2,672 | Resale |
| 1210 Circle Dr | $77,900 | $51 | 1992-07-01 | 1955 | 1,530 | Resale |
| 2000 Alban Ave | $84,500 | $55 | 1992-06-26 | 1959 | 1,534 | Resale |
| 1709 Old Fort Dr | $95,000 | $41 | 1992-06-26 | -- | 2,295 | Resale |
| -- | $79,900 | -- | 1992-04-30 | -- | -- | Resale |
| 1202 Camellia Dr | $123,000 | $60 | 1992-04-24 | -- | 2,062 | Resale |
| 2021 Old Fort Dr | $108,000 | $56 | 1992-04-24 | 1950 | 1,943 | Resale |
| 1207 Old Fort Dr | $108,000 | $55 | 1992-04-08 | 1960 | 1,956 | Resale |
| 2103 Seminole Dr | $75,600 | $53 | 1992-03-30 | 1958 | 1,430 | Resale |
| 1239 Camellia Dr | $75,000 | $33 | 1992-03-19 | 1960 | 2,274 | Resale |
| 1412 S Magnolia Dr | $63,000 | $53 | 1992-03-18 | 1979 | 1,200 | Resale |
| 834 Santa Rosa Dr | $144,400 | -- | 1992-03-16 | -- | -- | Resale |
| 1441 Country Club Dr | $155,000 | $57 | 1992-01-24 | 1940 | 2,696 | Resale |
| 1107 Clark Ave | $97,000 | $61 | 1992-01-06 | -- | 1,582 | Resale |
| 1205 Old Fort Dr | $92,000 | $56 | 1991-10-02 | -- | 1,650 | Resale |
| 1207 Maple Dr | $108,000 | $61 | 1991-09-16 | -- | 1,769 | Resale |
| 1122 S Magnolia Dr | $85,000 | $37 | 1991-09-12 | -- | 2,300 | Resale |
| 1229 Clark Ave | $120,000 | $47 | 1991-09-11 | 1971 | 2,550 | Resale |
| 1107 Myers Park Dr | $160,000 | $43 | 1991-07-03 | -- | 3,715 | Resale |
| 1154 Seminole Dr | $92,000 | $45 | 1991-06-13 | 1950 | 2,064 | Resale |
| 1502 Seminole Dr | $89,500 | $54 | 1991-06-03 | -- | 1,670 | Resale |
| 1140 Camellia Dr | $78,200 | $50 | 1991-05-29 | -- | 1,558 | Resale |
| -- | $112,000 | $82 | 1991-05-13 | -- | 1,365 | Resale |
| 2109 Country Club Dr | $190,000 | $63 | 1991-04-05 | 1948 | 3,001 | Resale |