Tallahassee Housing Report For Each Public High School
Posted by Joe Manausa on Monday, February 25, 2019 at 5:55 AM
By Joe Manausa / February 25, 2019
Comment
When we work with homebuyers, the topic of school zones often becomes one of great interest.
High school zones, in particular, seem to hold the most weight of concern these days, so we keep an eye on the housing market in each of Tallahassee's five public high school zones.
Tallahassee Housing Report By High School Zone
The following graph shows how the homes in each high school zone fared in 2018.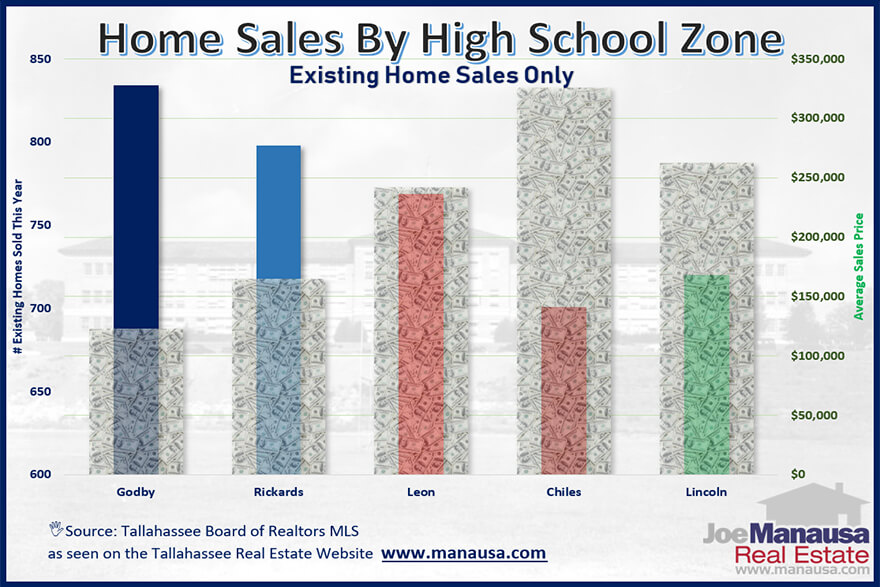 Each high school is shown with both the number of homes sold in 2018 (measured on the left vertical axis) as well as the average home price (measured on the right vertical axis).
The Godby High School zone had the most sales and the lowest prices, while the Chiles High School zone had the fewest sales and highest prices.
Home Price Change From 2017 To 2018
Each high school zone was more expensive for buyers last year:
Godby: +6.5%
Rickards: +9.7%
Leon: +8.5%
Chiles: +9.6%
Lincoln: +8.7%
Shop Homes For Sale By High School Zone
We have created the following convenient links to allow you to shop homes for sale by your targeted high school zone:
Get Our Free Market Update
Other buyers, sellers, lenders, and real estate agents have this critical information, and now you can too!
Get immediate access to our most recent newsletter.
Let nearly 30 years of experience work for you with charts, graphs, and analysis of the Tallahassee housing market.
Each Monday morning we send out a simple, one-page report that provides a snapshot of the Tallahassee housing market. It only takes 2 minutes to read, but it gives you better market intelligence than most real estate agents possess. Just tell us where to send it below!
Thoughts On School Zones And Homebuying
If there is a high school that you would like your child to attend, it is wise to buy a home in that zone. Even though school choice is a policy that allows your student to attend out-of-zone schools, there must be a seat available for it to happen. The safest way to assure an available seat is to own a home in the appropriate school zone.
But what if you do not have school-aged children or perhaps you wish to send your children to private schools, should you still target a particular school zone to guarantee the future value of your home for when it comes time to sell?
This is an important topic to consider before buying a home. I have often seen people with no plans on utilizing a school pay more for a home in a perceived "good school zone," instead of buying a much better value in a perceived "not as good school zone." Their rationale was it would help resale value. I believe this is a huge mistake.
If you buy a home in the perceived good school zone, then you are assuming the perception will be the same in ten or so years when you sell it. But what happens if new schools are built and the new perception is that your school zone is no longer the best?
Similarly, if you buy a home in the perceived "not so good" school zone, then one day when you sell it, you are expecting it to remain "not so good." But what if the schools improve?
The fact is that homes in school zones with great ratings have no upside potential (based upon school perception changes), yet those in the "not so good" zones have the potential to improve. Why pay for being in a perceived good school zone if you are not going to use the schools?
There are criteria other than school zones that you will include when buying a home, and they are important too. But if school zones are not important for you, you should open yourself up to the other opportunities around Tallahassee that could very well get you more house for the money and better upside potential for beating the market appreciation rate during your time of ownership.
Real Estate Market Information Can Be Overwhelming
That's why Joe breaks the data down into easy-to-understand concepts. Whether you're buying, selling, investing or just interested in the market, sign up for Joe's blog to get the latest Tallahassee real estate updates, straight to your inbox.