Residential Lot Prices Move Higher (Again)
Posted by Joe Manausa on Thursday, February 21, 2019 at 5:57 AM
By Joe Manausa / February 21, 2019
Comment
Land is one of the costliest expenses when building a home, and our lot cost tracker suggests that Tallahassee is poised for an explosion in new home costs.
The housing market recovery created a period in time where we had a surplus of developed lots, so they often sold below cost over the past ten years. But this is all about to change.
Tallahassee Residential Lot Sales
The graph below plots the monthly trend of the number of lot sales and prices each month, and it appears as if we might be approaching the end of cheap lots leftover from the housing market expansion from 2002 through 2006.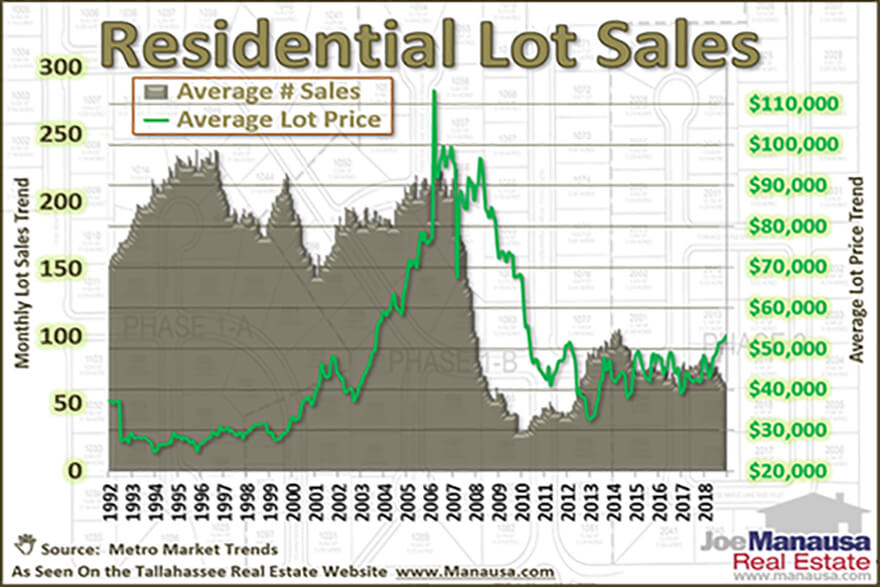 The brown area shows the average number of lot sales each month, while the green line shows the average lot price.
What jumps out to me right away is just how slow lot sales have become since the collapse of the housing market. Tallahassee averaged more than 200 lot sales per month in the 1990s, but we've seen fewer than 70 per month over the past ten years.
Lot prices soared during the housing market boom, averaging over $90K per lot in 2006 and 2007. Last year, lot prices on average were more than 14% higher than those sold the year prior, and we should expect this trend to continue higher as demand for new homes remains solid.
Lots And Land For Sale In Tallahassee
The following listings for lots and land in Tallahassee range from $4,200 to $1.8M, so there is quite a range of offerings:
Buying Land In Tallahassee
If you are planning on building a home, it might be prudent to make your land purchase today if you want to secure the location that you desire. Even with the carrying costs you'll add by purchasing early, the price differential will likely work in your favor buying now versus buying when you are ready to build.
If this is something you would like to explore, give us a call at (850) 366-8917 or drop us a note and we will be in touch right away to help you further investigate your best options.
Get Our Free Market Update
Other buyers, sellers, lenders, and real estate agents have this critical information, and now you can too!
Get immediate access to our most recent newsletter.
Let nearly 30 years of experience work for you with charts, graphs, and analysis of the Tallahassee housing market.
Each Monday morning we send out a simple, one-page report that provides a snapshot of the Tallahassee housing market. It only takes 2 minutes to read, but it gives you better market intelligence than most real estate agents possess. Just tell us where to send it below!