How Low Mortgage Interest Rates Are Shaping The Real Estate Market
Posted by Joe Manausa on Thursday, January 28, 2021 at 5:51 AM
By Joe Manausa / January 28, 2021
Comment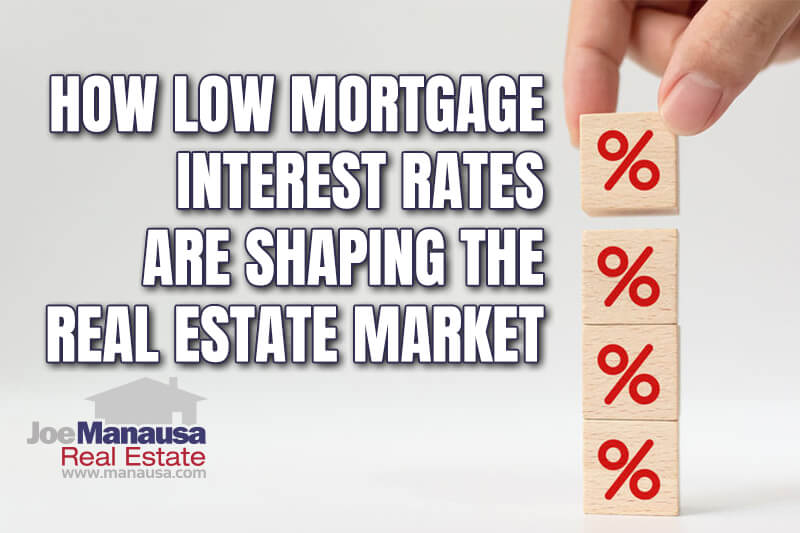 Historic low mortgage interest rates are redefining the housing market and we will see the impact of today's mortgages last long into the future.
If you haven't been paying attention to real estate and the mortgage market, then I want to encourage you to take a few minutes to consider some options they present and how your decisions today are going to affect you financially in the future.
In today's post, I'll show you examples of how homeowners have been impacted by changing mortgage interest rates, give you a glimpse of the future real estate market, and show you two great ways to prepare for these changes today.
Hear It Direct From The Source
Current Mortgage Interest Rates
The following graph shows a monthly plot of mortgage interest rates for more than fifty years.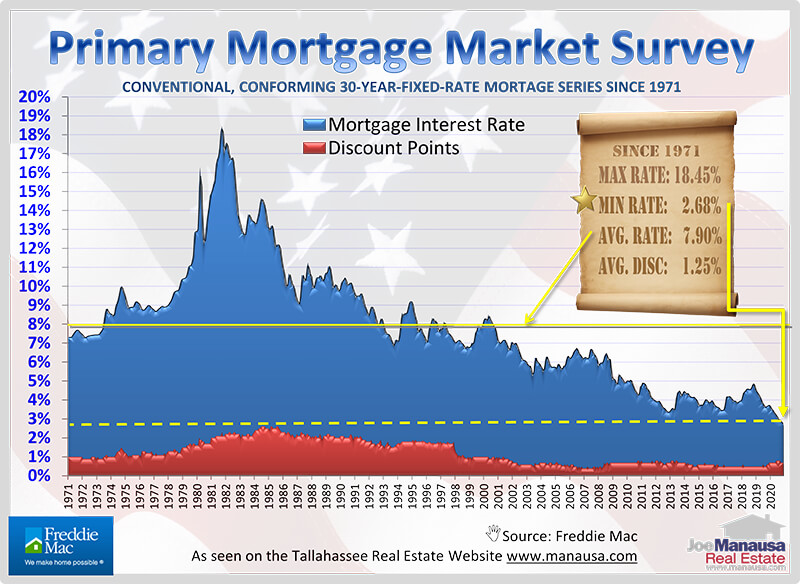 The mortgage information in the graph above is provided by Freddie Mac (Freddie Mac is a government-owned corporation that buys mortgages and packages them into mortgage-backed securities. Its official title is the Federal Home Loan Mortgage Corporation or FHLMC. Banks use the funds received from Freddie to make new loans to homebuyers). It shows the average monthly mortgage interest rate since the beginning of 1971.
I included the graph above to demonstrate the significance of today's low mortgage interest rates. They are not merely "slightly" lower than the historical norms, they are significantly the lowest interest rates on record.
In order to put this into perspective, I have produced some numbers to show how the typical homeowner (or homebuyer) will be impacted by today's low rates.
How Today's Low Rates Are Impacting Homebuyer Behavior
I was motivated to prepare this article after receiving a few questions on my latest luxury homes report. In case you missed the article and video, 2020 posted the most luxury home sales ever recorded, so I wanted to further explore the impact of low mortgage interest rates on this fragile segment of the housing market.
When the cost of money declines, home affordability (initially) rises. Buoyed by low mortgage interest rates, buyers can qualify for, and afford, more home based upon the monthly payment they can handle. In order to demonstrate this, I want to compare two separate buyers.
The first buyer will be referred to as the "Y2K Buyer," as this person will be buying a home at the prevailing mortgage interest rates back in the year 2000. The second buyer is "Today's Buyer" who will be purchasing at an incredibly low market rate of 2.25% (which we've seen a few times lately with buyers we helped in their acquisition of a new home).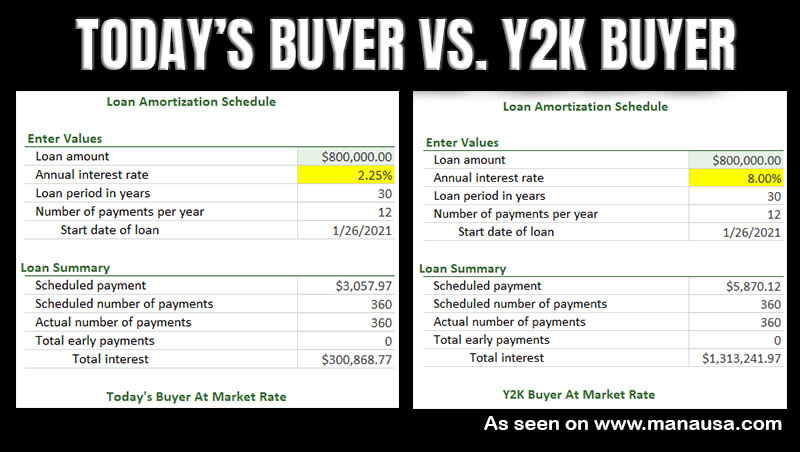 The table above compares borrowing $800,000 at two different rates. The table on the left is today's super-low rate of 2.25% while the table on the right is the 8.00% rate that buyers were happy to get back in 2000.
Today's buyer will save $1M in interest payments over the life of the loan when compared to the Y2K buyer (who's payment is 92% higher in order to include the extra interest required to repay the loan).
Can you see why there are more luxury home buyers today? When you drop $1M off the mortgage interest requirement, it opens the door to a lot more people. The table below explores this even further.

While the first table revealed the principle and interest differences for the two buyers, this table looks at affordability by including real estate taxes and homeowners insurance which will be included in the monthly mortgage payment. Furthermore, there is an entry to show what today's buyers would be able to afford at the Y2K rate (keeping the principle and interest the same as with today's rate).
The circle in the table above shows the total monthly payment required by each buyer, while the information to the right of the circle estimates the income requirements for each in order to qualify for the loan. The Y2K buyer would have needed a household income a full $100K per year higher to buy a luxury home than does today's buyer, and this is one reason that luxury home sales are so strong right now.
The bottom line in the table shows that today's buyer, if limited to the 8% mortgage interest rate that we saw in Y2K, would only qualify to borrow $417,000 (just over 1/2 the luxury home amount).
Below, I share what I believe the future holds for the housing market and mortgage interest rates as well as my top 2 tips for EVERYBODY (renters, homeowners, and homesteaders).
There are a lot of people who endorse Joe for the job of selling your home, from Barbara Corcoran (Star of ABC's Shark Tank) to Preston Scott (host of Tallahassee's top daily "Audio Magazine," as well as the thousands of happy customers Joe has helped in the past. Listen why!
I recently stumbled upon your latest Carrabelle listing. I must say, a home on Florida's Forgotten Coast is bound to be snatched up quickly. Best of luck with getting it under contract soon!

Posted by Barbara Corcoran on Thursday, June 15, 2023
The Future Of The Housing Market
If there is one thing we can be certain of, it's that mortgage interest rates will rise again someday. Probably not too soon, as the economy has major strides remaining to recover from the economic impact of the COVID-19 pandemic.
But rates will rise. Hopefully, we'll see rates move higher at a very slow pace, allowing the market to adapt over time. But if we see a quick jump in rates, we'll see home affordability plummet and buyers (demand) will drop like a rock.
This will impact all segments of the real estate market, but more so at the very top of the market. So many of today's luxury home buyers are empowered by low mortgage interest rates, so the first segment to see a quick reduction in buyers will be at the very top of the market.
Will Loan Assumptions Return?
Many of today's loans are assumable, meaning future buyers will have the ability to (with a fee) assume the seller's loan on the home. While this might sound like a market-saving process, the fact is, without some changes to current loan conditions, this will not help many in the market. Why?
Because of equity. The loan being assumed will not cover the entirety of the purchase, so tomorrow's buyers who want to assume a loan will have to come up with the cash to offset the difference between the purchase price and closings costs versus the remaining loan balance.
The following table highlights an example of how this would play out.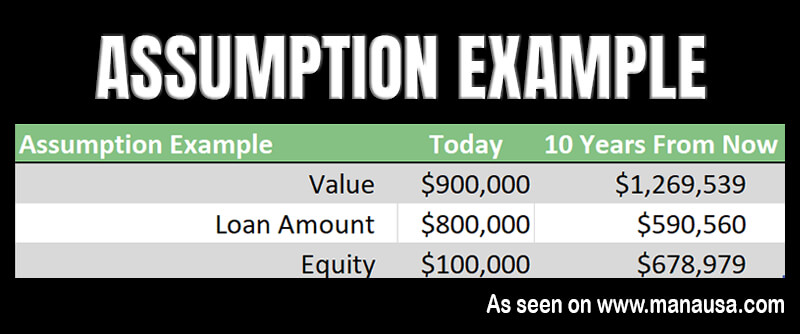 In the left column, we see a purchase today using the same interest rates and values as used in our previous tables. Assuming property values appreciate at an annual rate of 3.5%, the homeowner will have paid down the loan enough that the buyer would need to come to closing with $679K plus closing costs. That equates to a down-payment of 53%, which is far beyond what the typical buyer can scrape together.
So with today's assumable loans, it's not likely we see assumptions ten years down the road ... unless, the loans are modified to allow secondary financing. This would give today's loans great shelf life, because (in the example above), the buyer can bring a normal ten to twenty percent down payment, borrow money as a second mortgage at the future market rate, and then assume the first mortgage at today's low rate. The resulting "blended rate" for the future borrower would be well below prevailing rates at that time.
Will this be possible? I wouldn't bet on it, because it's not likely going to be in the best interest of the note holder to keep a low-interest rate loan on the books. But if the housing market is in a bad way, I would not be surprised to see some action by the government that might make it beneficial so that the housing market can transition back to normal.
Mortgage Interest Rate Change - The Big Variable
The big variable to everything I laid out above will be the pace at which mortgage interest rates move higher. If they move too rapidly, sticker shock will all but shut down demand from buyers.
People will be mortgage-locked in their homes, as the cost of new money will make moving a financial hardship. The market will rely heavily on people who have to move, thus we'll see values likely decline to offset the home affordability gap.
If mortgage interest rates rise slowly, the housing market will be able to move forward as "normal," albeit at a slower rate of sales than what we are accustomed to seeing.
What You Should Do Now
The question of mortgage interest rates rising starts with "when?" not "if?" You just have to know that these historic low rates are not the new normal. Perhaps we see them continue for another three months, a year, three years, who knows. But the economy will recover, the Fed will raise the Fed Funds Rate, and mortgage interest rates will rise.
Without even factoring in our growing population (which means more new homes will be built), skyrocketing construction costs, skyrocketing wage increases, and rising development costs), we know the future cost to produce new homes is going to rise at a rate faster than what we have observed over the past thirty years. In other words, when cost is a factor, homes will be more expensive.
I believe everybody should put some effort (today) in examining their current housing condition.
If you are happy with your home and believe you will be happy with it for the long-haul, you should evaluate your mortgage refinancing options. Speak with a trusted lender to see what kind of loan you can get on your home, whether you owe money now or own your home free and clear. If somebody is going to lend you money for less than 3% on your home, you might want to pull out your equity to pay off all other debt and perhaps invest the rest of it. I'm not simply saying that you should borrow the money, I'm saying you should look into it so that you make the best decision possible for you and your family.
On the other hand, if you know your home will not solve your needs (or wants) in the next few years, you really should look into buying your future home today. Costs are lower, both in terms of home values as well as mortgage interest rates. You might push yourself into uncomfortable territory with a larger mortgage, but there's a near certainty that several years from now you won't be able to handle the move. The next home will cost significantly more, and the money you borrow to purchase it will be at a much higher rate. Again, I'm not saying you should move at all costs today, I'm recommending you take a serious look at doing so.
The fact that today's mortgage interest rates are incredibly low means that there is an opportunity for those that take action. Don't let the "future you" be upset with the "present you" because you failed to take action when you had the chance!
Your Local Expert In Tallahassee
When moving to, in, or from Tallahassee, you will fare better if you work with a local expert. We are here to help. If you have further questions on the Tallahassee real estate market, you can leave a comment below, give us a call at (850) 366-8917, or drop us a note and we'll give you the local information needed to ensure a successful, smooth transaction.
As a local born and raised in Tallahassee with a focus on customer service, I promise you'll find great success when working with Joe Manausa Real Estate, just as have our past customers. You can read thousands of their reviews reported on Google, Facebook and Zillow right here: Real Estate Agent Reviews Tallahassee.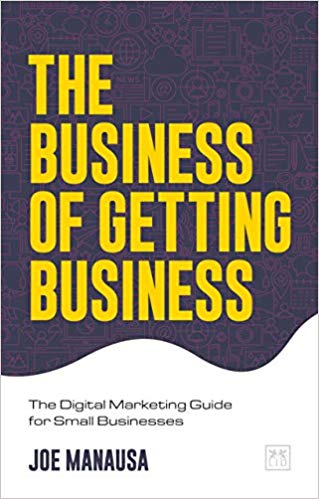 Have you heard about my new book "The Business of Getting Business?" It's a comprehensive guide for small businesses to help them make the move to digital. For those of us who want to survive and thrive in a world where large corporations are taking over, it is a must-read. It's also the perfect guide for how to sell a home in the digital age. You can find The Business Of Getting Business by clicking on any of the trusted retailers below.

Think all REALTORS are alike?
Read what people are saying about working with Joe Manausa Real Estate! You can see thousands of real customer reviews reported on Google, Facebook and Zillow at this link: CLICK HERE FOR REAL ESTATE AGENT REVIEWS.
I recently stumbled upon your latest Carrabelle listing. I must say, a home on Florida's Forgotten Coast is bound to be snatched up quickly. Best of luck with getting it under contract soon!

Posted by Barbara Corcoran on Thursday, June 15, 2023