Waverly Hills Listings And Home Market Report January 2021
Posted by Joe Manausa on Friday, January 29, 2021 at 5:56 AM
By Joe Manausa / January 29, 2021
Comment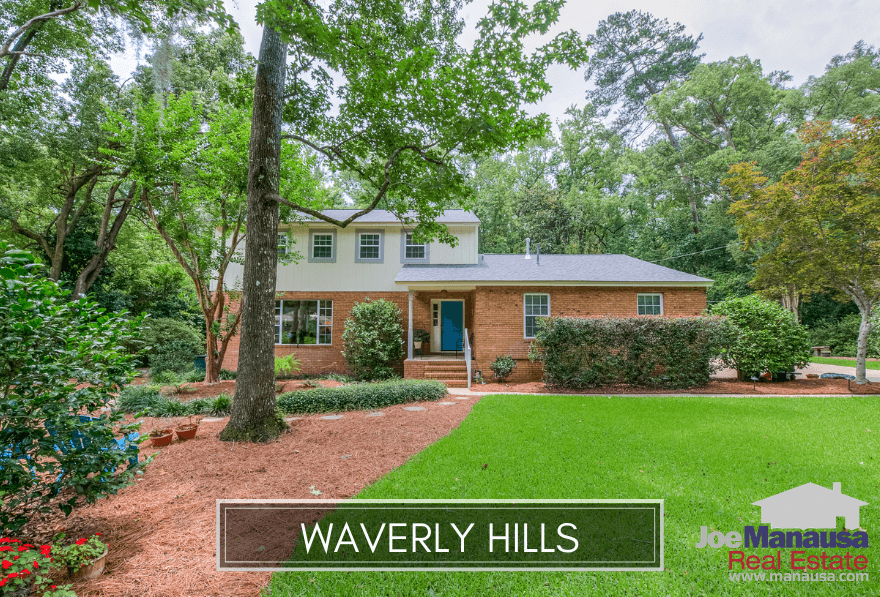 Waverly Hills in Midtown Tallahassee features 377 older five, four, and three-bedroom homes on nice-sized lots and is a hot "buy and renovate" neighborhood.
This popular destination for buyers seeking a Midtown location is just minutes away from everything to include shopping, parks, dining, entertainment, and major traffic thoroughfares.
Homes For Sale In Waverly Hills
Waverly Hills Schools
Waverly Hills is zoned for the following Leon County Schools:
In this report, we review average home prices, average home values, and average home sizes in Waverly Hills, as well as show all of the closed home sales going back to 1991.
For each of the three real estate graphs found in this report, you will find the number of closed home sales for each year (red columns, measured on the left vertical axis), and an important real estate statistic shown in blue (measured on the right vertical axis).
It is important to note that the narrative contained below is for sales through December for all previous years but late January in 2021. The graphs and the closed sales table will be continuously updated into the future (meaning bookmark this page if you always want to know the current status of homes in Waverly Hills).
Waverly Hills Home Price Trends
The average home price in Waverly Hills rose roughly 7% in 2020, but 2021 has started off with a sale priced below $300K. The days of seeing homes sell here below $300,000, in any condition, have nearly expired.
Home sales activity in Waverly Hills is smoking hot. Sellers should know that there are buyers waiting for your home to hit the market and you should prepare for multiple offers right away if marketed correctly.
A strong marketing plan is all it takes, as the buyers are standing by and will allow you to negotiate against more than a single buyer to get you top dollar. Currently, there are five homes for sale in Waverly Hills and four are already under contract with a buyer.
Home Value Trends
Average home values in Waverly Hills in 2020 rose slightly in 2020, trailing the market which posted more than 9% appreciation for the year. Does this mean that there is something wrong with Waverly Hills?
Absolutely not. This is a high-demand community with homes of all sizes, effective ages, and styles. When a modernized, updated home is sold, it goes at a very high value, while older, outdated homes will continue to be below the average value. Each year's average value is heavily influenced by how many updated homes are sold (versus older, outdated homes).
The average value of a home sold in Waverly Hills in 2020 is $141 per square foot.
There are a lot of people who endorse Joe for the job of selling your home, from Barbara Corcoran (Star of ABC's Shark Tank) to Preston Scott (host of Tallahassee's top daily "Audio Magazine," as well as the thousands of happy customers Joe has helped in the past. Listen why!
I recently stumbled upon your latest Carrabelle listing. I must say, a home on Florida's Forgotten Coast is bound to be snatched up quickly. Best of luck with getting it under contract soon!

Posted by Barbara Corcoran on Thursday, June 15, 2023
Home Size Trends
The average size of homes sold in Waverly Hills typically falls in a range of 2,000 to 2,500 square feet, but homes got bigger in 2020.
The 23 homes sold in Waverly Hills in 2020 were measured at an average size of 2,627 square feet in size, setting up to be an all-time high average year.
30 Years Of Home Sales In Waverly Hills
The following list shows more than 550 past home sales in Waverly Hills going back to 1991.
| Address | Price | Price/SQF | Closing Date | Year Built | SQF | Sale Type |
| --- | --- | --- | --- | --- | --- | --- |
| 2809 Sterling Drive | $550,000 | $176 | 2023-09-08 | 1959 | 3,129 | Resale |
| 718 Kenilworth Road | $489,250 | $128 | 2023-09-06 | 1954 | 3,824 | Resale |
| 2807 Sterling Drive | $525,000 | $176 | 2023-08-22 | 1962 | 2,985 | Resale |
| 505 Coldstream Dr | $247,500 | $163 | 2023-08-15 | 1958 | 1,510 | Resale |
| 1014 Lothian Drive | $544,705 | $187 | 2023-08-04 | 1994 | 2,919 | Resale |
| 1004 Lasswade Drive | $439,900 | $187 | 2023-06-09 | 1965 | 2,352 | Resale |
| 705 Kenilworth Road | $735,000 | $211 | 2023-03-31 | 1959 | 3,477 | Resale |
| 605 Lothian Drive | $355,000 | $111 | 2023-02-23 | 1957 | 3,195 | Resale |
| 916 Ivanhoe Road | $455,000 | $132 | 2023-01-30 | 1966 | 3,453 | Resale |
| 1119 Lasswade Dr | $445,000 | $183 | 2022-10-26 | 1969 | 2,426 | Resale |
| 701 Lothian Dr | $630,000 | $211 | 2022-09-15 | 1984 | 2,981 | Resale |
| 907 Kenilworth Drive | $576,000 | $285 | 2022-08-15 | 1961 | 2,024 | Resale |
| 2804 Sterling Drive | $465,000 | $225 | 2022-06-30 | 1958 | 2,071 | Resale |
| 1017 Lothian Drive | $490,000 | $133 | 2022-06-01 | 1967 | 3,694 | Resale |
| 2806 Rebecca Dr | $410,000 | $153 | 2022-05-20 | 1958 | 2,678 | Resale |
| 2936 Brandemere Drive | $679,900 | $226 | 2022-05-17 | 1969 | 3,010 | Resale |
| 2802 Saint Leonard Dr | $435,000 | $156 | 2022-05-09 | 1960 | 2,775 | Resale |
| 1107 Ivanhoe Road | $340,000 | $157 | 2022-04-28 | 1963 | 2,170 | Resale |
| 914 Waverly Rd | $318,000 | $163 | 2022-04-27 | 1957 | 1,943 | Resale |
| 707 Lothian Drive | $440,000 | $210 | 2022-04-21 | 1954 | 2,091 | Resale |
| 906 Lasswade Drive | $630,000 | $216 | 2022-04-14 | 1963 | 2,918 | Resale |
| 1001 Lothian Drive | $679,900 | $208 | 2022-04-01 | 1976 | 3,273 | Resale |
| 2912 Lasswade Drive | $425,000 | $143 | 2022-03-30 | 1963 | 2,970 | Resale |
| 1106 Lasswade Drive | $460,000 | $209 | 2022-03-18 | 1964 | 2,200 | Resale |
| 2906 Brandemere Dr | $380,000 | $184 | 2022-02-03 | 1969 | 2,062 | Resale |
| 503 Coldstream Drive | $390,000 | $207 | 2021-12-14 | 1955 | 1,882 | Resale |
| 2909 Ivanhoe Road | $425,000 | $142 | 2021-11-30 | 1958 | 3,000 | Resale |
| 441 Waverly Road | $360,000 | $149 | 2021-10-15 | 1975 | 2,424 | Resale |
| 2917 Woodside Drive | $410,000 | $196 | 2021-10-04 | 1954 | 2,088 | Resale |
| 1103 Kenilworth Road | $500,000 | $159 | 2021-09-08 | 1967 | 3,151 | Resale |
| 1013 Lothian Drive | $555,000 | $205 | 2021-08-19 | 1967 | 2,708 | Resale |
| 2809 Saint Leonard Dr | $367,500 | $175 | 2021-08-06 | 1963 | 2,091 | Resale |
| 2809 Aberdeen Dr | $300,000 | $164 | 2021-08-06 | 1959 | 1,828 | Resale |
| 1005 Waverly Road | $365,000 | $157 | 2021-07-15 | 2009 | 2,329 | Resale |
| 409 Coldstream Dr | $338,000 | $199 | 2021-07-15 | 1961 | 1,692 | Resale |
| 2909 Brandemere Drive | $643,300 | $240 | 2021-07-12 | 1965 | 2,680 | Resale |
| 1113 Lothian Drive | $580,000 | $152 | 2021-06-30 | 1986 | 3,805 | Resale |
| 2936 Brandemere | $367,500 | $122 | 2021-06-18 | 1969 | 3,010 | Resale |
| 907 Lasswade Drive | $525,000 | $177 | 2021-06-17 | 1962 | 2,972 | Resale |
| 3009 Brandemere Drive | $415,000 | $175 | 2021-06-11 | 1971 | 2,376 | Resale |
| 2802 Saint Leonard Drive | $421,000 | $152 | 2021-06-02 | 1960 | 2,775 | Resale |
| 2921 Ivanhoe Road | $439,750 | $173 | 2021-05-27 | 1961 | 2,535 | Resale |
| 902 Waverly Rd | $250,000 | $118 | 2021-05-27 | 1957 | 2,118 | Resale |
| 801 Waverly Road | $415,000 | $127 | 2021-05-25 | 1961 | 3,264 | Resale |
| 919 Waverly Road | $385,000 | $176 | 2021-04-16 | 1958 | 2,188 | Resale |
| 501 Coldstream Drive | $305,000 | $143 | 2021-04-14 | 1959 | 2,129 | Resale |
| 1111 Mercer Drive | $492,000 | $179 | 2021-03-31 | 1973 | 2,752 | Resale |
| 1109 Lothian Drive | $399,900 | $172 | 2021-03-15 | 1968 | 2,320 | Resale |
| 906 Lasswade Drive | $325,000 | $105 | 2021-03-12 | 1963 | 3,110 | Resale |
| 1014 Lothian Drive | $479,000 | $164 | 2021-02-12 | 1994 | 2,919 | Resale |
| 2904 Ivanhoe Road | $406,000 | $195 | 2021-02-11 | 1975 | 2,084 | Resale |
| 2809 Saint Leonard Drive | $275,000 | $132 | 2021-02-08 | 1963 | 2,091 | Resale |
| 2901 Brandemere Drive | $295,000 | $143 | 2021-01-08 | 1968 | 2,064 | Resale |
| 2921 Lasswade Drive | $316,000 | $139 | 2020-12-30 | 1963 | 2,266 | Resale |
| 1001 Lothian Drive | $295,000 | $105 | 2020-12-22 | 1976 | 2,803 | Resale |
| 903 Lasswade Drive | $755,000 | $231 | 2020-12-03 | 2015 | 3,268 | Resale |
| 922 Lothian Dr | $400,000 | $148 | 2020-10-19 | 1972 | 2,690 | Resale |
| 1129 Mercer Drive | $375,000 | $175 | 2020-10-09 | 1966 | 2,138 | Resale |
| 612 Lothian Drive | $300,000 | $192 | 2020-10-02 | 1958 | 1,560 | Resale |
| 3009 Brandemere | $375,000 | $158 | 2020-09-22 | 1971 | 2,376 | Resale |
| 605 Waverly Road | $410,000 | $159 | 2020-09-03 | 1957 | 2,580 | Resale |
| 1001 Kenilworth Road | $378,000 | $183 | 2020-08-31 | 1963 | 2,063 | Resale |
| 1008 Kenilworth Road | $342,000 | $107 | 2020-08-21 | 1960 | 3,186 | Resale |
| 2912 Abbotsford Way | $358,000 | $158 | 2020-07-24 | 1970 | 2,263 | Resale |
| 1110 Lasswade Drive | $269,900 | $133 | 2020-07-16 | 1962 | 2,027 | Resale |
| 2926 Woodside Drive | $361,000 | $155 | 2020-06-01 | 1965 | 2,328 | Resale |
| 1111 Mercer Drive | $450,000 | $164 | 2020-05-15 | 1973 | 2,752 | Resale |
| 1122 Mercer Drive | $337,500 | $164 | 2020-05-15 | 1965 | 2,055 | Resale |
| 1117 Lothian Dr | $305,000 | $118 | 2020-03-31 | 1974 | 2,576 | Resale |
| 2929 Woodside Drive | $340,000 | $107 | 2020-03-13 | 1977 | 3,182 | Resale |
| 1230 Waverly Road | $286,000 | $151 | 2020-03-06 | 1978 | 1,891 | Resale |
| 909 Kenilworth Drive | $309,900 | $122 | 2020-03-02 | 1971 | 2,539 | Resale |
| 2809 Sterling Drive | $335,000 | $107 | 2020-02-21 | 1959 | 3,129 | Resale |
| 1006 Lasswade Drive | $270,000 | $102 | 2020-01-29 | 1966 | 2,650 | Resale |
| 914 Ivanhoe Road | $328,200 | $102 | 2020-01-24 | 1961 | 3,228 | Resale |
| 1117 Waverly Road | $286,640 | $191 | 2019-12-11 | 1958 | 1,500 | Resale |
| 1122 Lothian Drive | $300,000 | $128 | 2019-12-06 | 1966 | 2,349 | Resale |
| 908 Kenilworth Road | $318,000 | $131 | 2019-12-03 | 1962 | 2,436 | Resale |
| 2806 Aberdeen Drive | $420,000 | $160 | 2019-10-15 | 1959 | 2,633 | Resale |
| 1022 Lothian Dr | $365,000 | $119 | 2019-10-08 | 1968 | 3,064 | Resale |
| 702 Waverly | $318,000 | $124 | 2019-09-27 | 1954 | 2,563 | Resale |
| 1106 Lothian Drive | $410,000 | $169 | 2019-09-23 | 1964 | 2,425 | Resale |
| 2802 Sterling Drive | $300,000 | $137 | 2019-08-23 | 1959 | 2,188 | Resale |
| 1216 Waverly Road | $382,000 | $155 | 2019-07-15 | 1974 | 2,468 | Resale |
| 2906 Coldstream Drive | $300,000 | $155 | 2019-07-12 | 1977 | 1,936 | Resale |
| 2918 Coldstream Drive | $282,900 | $180 | 2019-07-10 | 1976 | 1,571 | Resale |
| 715 Kenilworth Road | $490,000 | $154 | 2019-07-08 | 1972 | 3,192 | Resale |
| 1106 Lothian Drive | $112,000 | $48 | 2019-03-28 | 1964 | 2,354 | Resale |
| 2913 Brandemere Drive | $340,000 | $93 | 2019-03-15 | 1969 | 3,671 | Resale |
| 907 Lasswade Drive | $359,900 | $134 | 2019-03-08 | 1962 | 2,695 | Resale |
| 1201 Kenilworth Road | $385,000 | $187 | 2018-11-21 | 1967 | 2,054 | Resale |
| 511 Waverly Road | $345,000 | $139 | 2018-11-05 | 1977 | 2,483 | Resale |
| 707 Lothian Drive | $340,000 | $163 | 2018-10-30 | 1954 | 2,091 | Resale |
| 2907 Coldstream Dr | $289,000 | $125 | 2018-09-28 | 1972 | 2,311 | Resale |
| 1114 Mercer Drive | $300,000 | $154 | 2018-09-28 | 1968 | 1,942 | Resale |
| 2905 Lasswade Drive | $283,500 | $156 | 2018-09-13 | 1959 | 1,818 | Resale |
| 900 Lasswade Dr | $265,000 | $152 | 2018-09-11 | 1958 | 1,740 | Resale |
| 913 Waverly Road | $231,500 | $139 | 2018-08-30 | 1956 | 1,671 | Resale |
| 1103 Kenilworth Road | $380,000 | $121 | 2018-08-13 | 1967 | 3,151 | Resale |
| 1001 Kenilworth Road | $245,000 | $119 | 2018-07-17 | 1963 | 2,063 | Resale |
| 804 Waverly Road | $252,500 | $155 | 2018-07-12 | 1957 | 1,631 | Resale |
| 910 Lothian Drive | $315,000 | $141 | 2018-06-01 | 1966 | 2,236 | Resale |
| 2909 Brandemere Drive | $270,000 | $106 | 2018-05-31 | 1965 | 2,540 | Resale |
| 400 Meridian Place | $329,000 | $66 | 2018-05-18 | 1977 | 4,977 | Resale |
| 2902 Woodside Dr | $350,000 | $145 | 2018-05-16 | 1960 | 2,412 | Resale |
| 1218 Waverly Road | $250,000 | $127 | 2018-04-30 | 1973 | 1,971 | Resale |
| 409 Coldstream Drive | $287,500 | $164 | 2018-04-30 | 1961 | 1,757 | Resale |
| 605 Waverly Road | $104,000 | $54 | 2018-04-30 | 1957 | 1,927 | Resale |
| 1110 Waverly Road | $285,000 | $160 | 2018-04-27 | 1956 | 1,786 | Resale |
| 402 Coldstream Drive | $244,000 | $107 | 2018-03-29 | 1975 | 2,278 | Resale |
| 1022 Lothian Drive | $225,000 | $73 | 2018-03-28 | 1968 | 3,062 | Resale |
| 705 Waverly Road | $655,500 | $199 | 2018-03-21 | 1954 | 3,294 | Resale |
| 1108 Lasswade Drive | $235,000 | $135 | 2018-03-07 | 1962 | 1,735 | Resale |
| 2916 Abbotsford Way | $320,000 | $129 | 2018-03-05 | 1970 | 2,488 | Resale |
| 2925 Brandemere Drive | $342,500 | $146 | 2018-02-28 | 1965 | 2,349 | Resale |
| 2930 Woodside Drive | $330,000 | $120 | 2018-01-04 | 1978 | 2,760 | Resale |
| 2805 Rebecca Drive | $284,900 | $161 | 2017-10-30 | 1958 | 1,772 | Resale |
| 911 Ivanhoe Rd | $334,000 | $165 | 2017-09-07 | 1962 | 2,028 | Resale |
| 2906 Abbotsford Way | $280,000 | $98 | 2017-08-10 | 1972 | 2,851 | Resale |
| 1109 Lasswade Drive | $265,000 | $138 | 2017-07-28 | 1962 | 1,920 | Resale |
| 1117 Mercer Dr | $320,000 | $167 | 2017-07-14 | 1964 | 1,917 | Resale |
| 1004 Lasswade Drive | $275,000 | $117 | 2017-06-29 | 1965 | 2,352 | Resale |
| 1125 Waverly Road | $250,000 | $144 | 2017-06-19 | 1958 | 1,742 | Resale |
| 2917 Brandemere Drive | $363,000 | $155 | 2017-05-31 | 1968 | 2,345 | Resale |
| 905 Lasswade Drive | $248,210 | $130 | 2017-05-15 | 1961 | 1,913 | Resale |
| 1104 Ivanhoe Road | $330,000 | $134 | 2017-04-24 | 1963 | 2,465 | Resale |
| 806 Lothian Drive | $272,000 | $107 | 2017-04-03 | 1957 | 2,547 | Resale |
| 2913 N Meridian | $185,000 | $81 | 2017-03-28 | 1974 | 2,292 | Resale |
| 904 Lasswade Drive | $370,000 | $109 | 2017-03-08 | 1963 | 3,394 | Resale |
| 726 Ivanhoe Road | $330,000 | $145 | 2017-02-28 | 1959 | 2,280 | Resale |
| 911 Lasswade Drive | $280,000 | $143 | 2017-02-28 | 1964 | 1,956 | Resale |
| 705 Waverly Road | $320,000 | $110 | 2017-01-31 | 1954 | 2,904 | Resale |
| 2905 Brandemere Drive | $295,000 | $124 | 2016-11-23 | 1968 | 2,386 | Resale |
| 912 Lasswade Drive | $420,000 | $125 | 2016-09-29 | 1962 | 3,349 | Resale |
| 1002 Lasswade Drive | $400,000 | $143 | 2016-09-23 | 1965 | 2,788 | Resale |
| 1205 Kenilworth Rd | $446,000 | $128 | 2016-09-21 | 1995 | 3,486 | Resale |
| 919 Waverly Rd | $299,000 | $137 | 2016-09-01 | 1958 | 2,188 | Resale |
| 911 Lasswade Dr | $278,000 | $142 | 2016-08-29 | 1964 | 1,956 | Resale |
| 1207 Kenilworth Road | $289,000 | $123 | 2016-08-29 | 1973 | 2,342 | Resale |
| 919 Waverly Rd | $299,000 | $270 | 2016-08-22 | 1958 | 1,108 | Resale |
| 2941 Brandemere Dr | $360,000 | $112 | 2016-07-29 | 1965 | 3,219 | Resale |
| 2913 Lasswade Drive | $325,000 | $110 | 2016-07-22 | 1960 | 2,955 | Resale |
| 2911 Coldstream Dr | $229,000 | $97 | 2016-07-21 | 1971 | 2,352 | Resale |
| 608 Lothian | $304,000 | $135 | 2016-07-20 | 1959 | 2,246 | Resale |
| 608 Lothian Dr | $304,000 | $184 | 2016-07-19 | 1959 | 1,655 | Resale |
| 1006 Lothian Drive | $219,000 | $101 | 2016-07-15 | 1967 | 2,170 | Resale |
| 914 Lothian Dr | $245,000 | $103 | 2016-07-12 | 1964 | 2,388 | Resale |
| 1113 Lasswade Drive | $450,000 | $122 | 2016-06-29 | 1962 | 3,675 | Resale |
| 913 Waverly Road | $215,000 | $128 | 2016-05-18 | 1956 | 1,676 | Resale |
| 1105 Waverly Road | $223,500 | $119 | 2016-05-05 | 1958 | 1,884 | Resale |
| 1111 Mercer Drive | $325,000 | $118 | 2016-04-29 | 1973 | 2,752 | Resale |
| 726 Ivanhoe Rd | $200,000 | $88 | 2016-04-26 | 1959 | 2,280 | Resale |
| 406 Coldstream Drive | $192,500 | $120 | 2016-04-22 | 1955 | 1,608 | Resale |
| 2813 Rebecca Drive | $425,000 | $139 | 2016-04-15 | 1960 | 3,057 | Resale |
| 2904 Ivanhoe Rd | $305,000 | $146 | 2015-12-11 | 1975 | 2,084 | Resale |
| 912 Ivanhoe Rd | $280,000 | $131 | 2015-12-04 | 1992 | 2,134 | Resale |
| 922 Waverly Rd. | $219,000 | $129 | 2015-11-30 | 1955 | 1,704 | Resale |
| 911 Lothian Drive | $345,000 | $109 | 2015-11-04 | 1968 | 3,160 | Resale |
| 1001 Lasswade Drive | $299,000 | $83 | 2015-10-14 | 1963 | 3,597 | Resale |
| 1109 Ivanhoe Rd Road | $210,000 | $88 | 2015-10-05 | 1964 | 2,387 | Resale |
| 2804 Rebecca Dr | $400,000 | $155 | 2015-09-30 | 1971 | 2,572 | Resale |
| 910 Lasswade Drive | $285,500 | $92 | 2015-09-04 | 1961 | 3,106 | Resale |
| 1109 Waverly Road | $215,000 | $105 | 2015-08-15 | 1960 | 2,040 | Resale |
| 2810 Woodside Drive | $305,000 | $94 | 2015-07-24 | 1958 | 3,235 | Resale |
| 2917 Brandemere Dr | $190,000 | $81 | 2015-07-15 | 1968 | 2,332 | Resale |
| 2917 Ivanhoe Rd | $435,000 | $149 | 2015-07-08 | 1957 | 2,925 | Resale |
| 707 Lothian Drive | $312,000 | $149 | 2015-06-12 | 1954 | 2,091 | Resale |
| 1117 Mercer Drive | $223,000 | $116 | 2015-06-04 | 1964 | 1,917 | Resale |
| 1106 Lasswade Dr | $325,001 | $148 | 2015-05-20 | 1964 | 2,200 | Resale |
| 2807 St. Leonard Dr | $380,000 | $120 | 2015-04-30 | 1965 | 3,176 | Resale |
| 1110 Lothian Dr | $525,000 | $140 | 2015-04-16 | 1968 | 3,746 | Resale |
| 503 Coldstream Dr | $209,900 | $112 | 2015-03-27 | 1955 | 1,882 | Resale |
| 2912 Lasswade Dr | $270,000 | $91 | 2015-03-18 | 1963 | 2,970 | Resale |
| 1101 Waverly Rd | $284,500 | $162 | 2015-02-27 | 1958 | 1,752 | Resale |
| 2908 Lasswade Dr | $145,000 | $85 | 2014-12-09 | 1955 | 1,702 | Resale |
| 706 Waverly Rd | $285,000 | $117 | 2014-10-31 | 1954 | 2,433 | Resale |
| 1026 Lothian Dr | $356,000 | $134 | 2014-10-22 | 1965 | 2,654 | Resale |
| 905 Lothian Dr | $342,000 | $156 | 2014-10-10 | 1964 | 2,194 | Resale |
| 907 Kenilworth Rd | $325,000 | $174 | 2014-09-26 | 1961 | 1,869 | Resale |
| 901 Lothian Dr | $330,000 | $116 | 2014-07-25 | 1979 | 2,833 | Resale |
| 612 Lothian Dr | $165,000 | $106 | 2014-07-16 | 1958 | 1,560 | Resale |
| 1106 Lasswade Dr | $289,000 | $249 | 2014-06-26 | 1964 | 1,161 | Resale |
| 2807 St Leonard Dr | $359,000 | $198 | 2014-05-16 | 1965 | 1,814 | Resale |
| 2906 Brandemere Dr | $255,000 | $124 | 2014-05-13 | 1969 | 2,062 | Resale |
| 2922 Ivanhoe Rd | $400,000 | $102 | 2014-05-05 | 1987 | 3,904 | New |
| 2802 Coldstream Dr | $177,000 | $88 | 2014-05-01 | 1958 | 2,019 | Resale |
| 907 Kenilworth Rd | $199,000 | $106 | 2014-03-10 | 1961 | 1,869 | Resale |
| 1112 Ivanhoe Rd | $260,000 | $101 | 2014-02-28 | 1979 | 2,562 | Resale |
| 1101 Waverly Rd | $136,800 | $78 | 2014-02-28 | 1958 | 1,752 | Resale |
| 2933 Brandemere Dr | $178,700 | $77 | 2014-01-27 | 1964 | 2,311 | Resale |
| 503 Coldstream Dr | $79,700 | $42 | 2014-01-23 | 1955 | 1,882 | Resale |
| 911 Lothian Dr | $285,000 | $104 | 2013-12-03 | 1968 | 2,728 | Resale |
| 1121 Mercer Dr | $200,000 | $89 | 2013-11-15 | 1965 | 2,241 | Resale |
| 905 Lothian Dr | $325,000 | $148 | 2013-10-25 | 1964 | 2,194 | Resale |
| 918 Waverly Rd | $375,000 | $144 | 2013-10-21 | 2013 | 2,612 | New |
| 2809 Aberdeen Dr | $185,000 | $101 | 2013-09-20 | 1959 | 1,828 | Resale |
| 1014 Lothian Dr | $320,000 | $169 | 2013-08-16 | 1994 | 1,897 | Resale |
| 2920 Abbotsford Way | $355,000 | $106 | 2013-08-07 | 1970 | 3,334 | Resale |
| 406 Coldstream Dr | $177,500 | $129 | 2013-07-31 | 1955 | 1,380 | Resale |
| 1006 Ivanhoe Rd | $190,000 | $103 | 2013-07-30 | 1963 | 1,846 | Resale |
| 2904 Ivanhoe Rd | $275,000 | $132 | 2013-07-29 | 1975 | 2,084 | Resale |
| 2803 Aberdeen Dr | $250,000 | $112 | 2013-06-10 | 1956 | 2,236 | Resale |
| 809 Kenilworth Rd | $137,500 | $60 | 2013-06-07 | 1957 | 2,299 | Resale |
| 903 Lasswade Dr | $500,000 | $106 | 2013-05-27 | 2013 | 4,713 | New |
| 511 Waverly Rd | $261,500 | $105 | 2013-05-15 | 1977 | 2,483 | Resale |
| 601 Lothian Dr | $375,000 | $144 | 2013-05-14 | 1988 | 2,603 | Resale |
| 2906 Ivanhoe Rd | $230,000 | $109 | 2013-05-14 | 1954 | 2,105 | Resale |
| 1013 Lothian Dr | $289,700 | $114 | 2013-04-11 | 1967 | 2,532 | Resale |
| 1107 Kenilworth Rd | $215,000 | $84 | 2013-02-22 | 1970 | 2,556 | Resale |
| 2906 Brandemere Dr | $254,900 | $124 | 2013-02-08 | 1969 | 2,062 | Resale |
| 905 Lasswade Dr | $205,000 | $104 | 2012-12-14 | 1961 | 1,967 | Resale |
| 2805 Woodside Dr | $187,900 | $85 | 2012-11-06 | 1958 | 2,200 | Resale |
| 1009 Waverly Rd | $167,000 | $52 | 2012-10-18 | 1956 | 3,189 | Resale |
| 709 Waverly Rd | $310,000 | $134 | 2012-09-28 | 1954 | 2,314 | Resale |
| 2906 Coldstream Dr | $215,000 | $111 | 2012-09-12 | 1977 | 1,936 | Resale |
| 2804 Rebecca Dr | $300,000 | $117 | 2012-08-10 | 1971 | 2,572 | Resale |
| 2808 Sterling Dr | $244,900 | $122 | 2012-07-31 | 1959 | 2,015 | Resale |
| 1106 Lasswade Dr | $272,500 | $235 | 2012-07-24 | 1964 | 1,161 | Resale |
| 1117 Lasswade Dr | $340,000 | $127 | 2012-06-29 | 1962 | 2,686 | Resale |
| 701 Lothian Dr | $300,000 | $101 | 2012-06-29 | 1984 | 2,967 | Resale |
| 1115 Lasswade Dr | $265,000 | $134 | 2012-06-26 | 1962 | 1,982 | Resale |
| 715 Kenilworth Rd | $362,500 | $114 | 2012-06-14 | 1972 | 3,192 | Resale |
| 1207 Kenilworth Rd | $198,000 | $95 | 2012-05-31 | 1973 | 2,088 | Resale |
| 1102 Waverly Rd | $210,000 | $117 | 2012-05-30 | 1955 | 1,795 | Resale |
| 2921 Lasswade Dr | $215,000 | $129 | 2012-05-22 | 1963 | 1,672 | Resale |
| 1110 Mercer Dr | $257,000 | $118 | 2012-05-11 | 1969 | 2,184 | Resale |
| 919 Waverly Rd | $283,200 | $256 | 2012-03-30 | 1958 | 1,108 | Resale |
| 1106 Lasswade Dr | $85,000 | $73 | 2012-03-29 | 1964 | 1,161 | Resale |
| 410 Coldstream Dr | $139,000 | $114 | 2012-03-29 | 1955 | 1,220 | Resale |
| 913 Lasswade Dr | $260,000 | $126 | 2012-02-24 | 1962 | 2,068 | Resale |
| 431 Waverly Rd | $210,000 | $126 | 2012-02-17 | 1973 | 1,662 | Resale |
| 2908 Lasswade Dr | $110,000 | $65 | 2011-12-29 | 1955 | 1,702 | Resale |
| 511 Waverly Rd | $141,500 | $57 | 2011-11-21 | 1977 | 2,483 | Resale |
| 1103 Kenilworth Rd | $229,500 | $96 | 2011-11-07 | 1967 | 2,382 | Resale |
| 918 Lothian Dr | $167,000 | $91 | 2011-10-21 | 1964 | 1,829 | Resale |
| 2912 Brandemere Dr | $270,000 | $91 | 2011-10-03 | 1964 | 2,967 | Resale |
| 2905 Lasswade Dr | $170,000 | $95 | 2011-09-20 | 1959 | 1,788 | Resale |
| 503 Coldstream Dr | $170,000 | $90 | 2011-08-30 | 1955 | 1,882 | Resale |
| 2916 Abbotsford Way | $295,000 | $119 | 2011-08-22 | 1970 | 2,488 | Resale |
| 907 Lasswade Dr | $319,000 | $185 | 2011-08-12 | 1962 | 1,725 | Resale |
| 2910 Coldstream Dr | $260,000 | $103 | 2011-08-10 | 1976 | 2,527 | Resale |
| 922 Waverly Rd | $162,000 | $125 | 2011-02-28 | 1955 | 1,296 | Resale |
| 818 Lothian Dr | $310,000 | $112 | 2011-02-18 | 2006 | 2,772 | Resale |
| 2944 Brandemere Dr | $227,500 | $121 | 2010-12-21 | 1964 | 1,878 | Resale |
| 1014 Waverly Rd | $535,000 | $182 | 2010-09-15 | 2005 | 2,945 | Resale |
| 1115 Lasswade Dr | $260,000 | $131 | 2010-08-11 | 1962 | 1,982 | Resale |
| 1125 Waverly Rd | $185,000 | $106 | 2010-07-26 | 1959 | 1,742 | Resale |
| 1210 Waverly Rd | $174,000 | $80 | 2010-03-12 | 1965 | 2,170 | Resale |
| 2917 Woodside Dr | $295,000 | $170 | 2009-12-11 | 1954 | 1,740 | Resale |
| 2815 Rebecca Dr | $475,000 | $209 | 2009-10-15 | 1969 | 2,270 | Resale |
| 602 Waverly Rd | $187,600 | $145 | 2009-08-03 | 1955 | 1,293 | Resale |
| 814 Lothian Dr | $190,000 | $109 | 2009-07-31 | 1957 | 1,740 | Resale |
| 2808 Aberdeen Dr | $50,400 | $25 | 2009-07-24 | 1957 | 2,044 | Resale |
| 2909 Lasswade Dr | $232,000 | $135 | 2009-06-25 | 1958 | 1,724 | Resale |
| 1002 Lasswade Dr | $320,000 | $136 | 2009-04-16 | 1965 | 2,356 | Resale |
| 605 Lothian Dr | $225,000 | $97 | 2009-02-18 | 1957 | 2,326 | Resale |
| 1002 Kenilworth Rd | $300,000 | $100 | 2008-11-21 | 1962 | 3,003 | Resale |
| 2804 Sterling Dr | $210,000 | $135 | 2008-11-21 | 1958 | 1,551 | Resale |
| 1216 Waverly Rd | $307,000 | $124 | 2008-10-30 | 1974 | 2,468 | Resale |
| 1005 Waverly Rd | $300,000 | $96 | 2008-10-27 | 1956 | 3,138 | New |
| 901 Kenilworth Rd | $246,000 | $132 | 2008-10-17 | 1960 | 1,860 | Resale |
| 2804 Sterling Dr | $160,000 | $103 | 2008-09-30 | 1958 | 1,551 | Resale |
| 608 Lothian Dr | $320,000 | $193 | 2008-07-21 | 1959 | 1,655 | Resale |
| 905 Waverly Rd | $211,000 | $145 | 2008-07-15 | 1958 | 1,452 | Resale |
| 1113 Waverly Rd | $238,000 | $133 | 2008-06-30 | 1958 | 1,795 | Resale |
| 1114 Lasswade Dr | $242,500 | $137 | 2008-06-30 | 1962 | 1,768 | Resale |
| 2805 Saint Leonard Dr | $350,000 | $140 | 2008-06-10 | 1962 | 2,492 | Resale |
| 705 Kenilworth Rd | $380,000 | $121 | 2008-05-23 | 1959 | 3,152 | Resale |
| 709 Waverly Rd | $310,000 | $100 | 2008-05-23 | 1954 | 3,101 | Resale |
| 2902 Woodside Dr | $325,000 | $135 | 2008-05-14 | 1960 | 2,412 | Resale |
| -- | $310,000 | $165 | 2008-04-30 | 1975 | 1,876 | Resale |
| 406 Coldstream Dr | $175,000 | $127 | 2008-04-30 | 1955 | 1,380 | Resale |
| 601 Waverly Rd | $312,000 | $121 | 2008-03-10 | 1988 | 2,574 | Resale |
| 504 Coldstream Dr | $345,000 | $108 | 2008-02-05 | 1961 | 3,189 | Resale |
| 2906 Coldstream Dr | $285,000 | $147 | 2008-01-22 | 1977 | 1,936 | Resale |
| 601 Waverly Rd | $344,500 | $134 | 2007-12-14 | 1988 | 2,574 | Resale |
| 911 Lothian Dr | $360,000 | $132 | 2007-11-30 | 1968 | 2,728 | Resale |
| 1005 Waverly Rd | $240,000 | $75 | 2007-10-03 | 1956 | 3,189 | Resale |
| 1110 Ivanhoe Rd | $432,000 | $116 | 2007-08-06 | 1976 | 3,730 | Resale |
| 1116 Lasswade Dr | $235,000 | $150 | 2007-06-21 | 1963 | 1,566 | Resale |
| 616 Lothian Dr | $320,000 | $177 | 2007-05-11 | 1958 | 1,804 | Resale |
| 2919 Abbotsford Way | $355,000 | $152 | 2007-04-17 | 1971 | 2,336 | Resale |
| 409 Coldstream Dr | $315,800 | $187 | 2007-03-14 | 1961 | 1,692 | Resale |
| 1005 Lothian Dr | $315,000 | $127 | 2007-03-06 | 1966 | 2,479 | Resale |
| 2937 Brandemere Dr | $325,000 | $116 | 2007-01-18 | 1966 | 2,797 | Resale |
| 905 Lothian Dr | $350,000 | $160 | 2007-01-02 | 1964 | 2,194 | Resale |
| 2804 Sterling Dr | $201,000 | $130 | 2006-12-27 | 1958 | 1,551 | Resale |
| 2921 Coldstream Dr | $467,500 | -- | 2006-12-08 | -- | -- | Resale |
| 2804 Saint Leonard Dr | $390,900 | $175 | 2006-12-05 | 1963 | 2,232 | Resale |
| 2919 Abbotsford Way | $402,500 | $172 | 2006-10-25 | 1971 | 2,336 | Resale |
| 2937 Brandemere Dr | $280,500 | $100 | 2006-09-26 | 1966 | 2,797 | Resale |
| 807 Kenilworth Rd | $375,900 | $146 | 2006-08-31 | 1958 | 2,581 | Resale |
| 2807 Woodside Dr | $339,000 | $151 | 2006-07-28 | 1958 | 2,242 | Resale |
| 2930 Abbotsford Way | $725,000 | $188 | 2006-07-14 | 2000 | 3,858 | Resale |
| 2806 Aberdeen Dr | $430,000 | $206 | 2006-07-05 | 1959 | 2,086 | Resale |
| 913 Lasswade Dr | $215,000 | $104 | 2006-06-23 | 1962 | 2,068 | Resale |
| 2806 Saint Leonard Dr | $200,000 | $98 | 2006-06-21 | 1962 | 2,048 | Resale |
| 805 Lothian Dr | $320,000 | $148 | 2006-06-21 | 1958 | 2,155 | Resale |
| 2813 Rebecca Dr | $380,000 | $158 | 2006-06-16 | 1960 | 2,399 | Resale |
| 2807 Aberdeen Dr | $250,000 | $138 | 2006-05-26 | 1958 | 1,815 | Resale |
| 1008 Kenilworth Rd | $338,000 | $212 | 2006-05-15 | 1960 | 1,593 | Resale |
| 1126 Lothian Dr | $445,000 | $129 | 2006-05-02 | 1964 | 3,442 | Resale |
| 1018 Lothian Dr | $388,000 | $132 | 2006-05-01 | 1968 | 2,948 | Resale |
| 904 Lasswade Dr | $415,000 | $247 | 2006-05-01 | 1963 | 1,682 | Resale |
| 2810 Sterling Dr | $420,000 | $193 | 2006-04-20 | 1961 | 2,179 | Resale |
| 2921 Ivanhoe Rd | $415,000 | $164 | 2006-04-17 | 1961 | 2,531 | Resale |
| 2804 Saint Leonard Dr | $303,000 | $136 | 2006-04-04 | 1963 | 2,232 | Resale |
| 2909 Woodside Dr | $250,000 | $119 | 2006-03-15 | 1954 | 2,108 | Resale |
| 408 Saint Dunston Ct | $230,000 | $119 | 2006-01-10 | 1973 | 1,927 | Resale |
| 1111 Mercer Dr | $355,000 | $158 | 2005-12-29 | 1973 | 2,246 | Resale |
| 802 Waverly Rd | $309,000 | $148 | 2005-12-05 | 1957 | 2,093 | Resale |
| 1125 Waverly Rd | $235,500 | $135 | 2005-12-02 | 1959 | 1,742 | Resale |
| 1010 Lothian Dr | $324,000 | $153 | 2005-11-23 | 1965 | 2,112 | Resale |
| 1122 Waverly Rd | $250,000 | $143 | 2005-11-22 | 1955 | 1,743 | Resale |
| 1115 Lasswade Dr | $305,000 | $159 | 2005-11-18 | 1962 | 1,919 | Resale |
| 2918 Woodside Dr | $285,000 | $170 | 2005-11-16 | 1959 | 1,672 | Resale |
| 1121 Waverly Rd | $270,000 | $117 | 2005-11-14 | 1958 | 2,304 | Resale |
| 608 Lothian Dr | $244,900 | $148 | 2005-08-30 | 1959 | 1,655 | Resale |
| 2902 Abbotsford Way | $290,000 | $123 | 2005-08-25 | 1972 | 2,360 | Resale |
| 2916 Lasswade Dr | $75,000 | $53 | 2005-08-24 | 1958 | 1,425 | Resale |
| 2909 Woodside Dr | $200,000 | $95 | 2005-08-19 | 1954 | 2,108 | Resale |
| 407 Saint Dunston Ct | $218,900 | $130 | 2005-08-10 | 1972 | 1,682 | Resale |
| 600 Lothian Dr | $222,000 | $146 | 2005-07-29 | 1958 | 1,525 | Resale |
| 600 Lothian Dr | $222,000 | $146 | 2005-07-29 | 1958 | 1,525 | Resale |
| 1109 Lothian Dr | $350,000 | $221 | 2005-07-25 | 1968 | 1,583 | Resale |
| 1117 Waverly Rd | $210,800 | $141 | 2005-07-01 | 1958 | 1,500 | Resale |
| 2940 Brandemere Dr | $315,000 | $114 | 2005-06-30 | 1966 | 2,760 | Resale |
| 2930 Woodside Dr | $335,000 | $121 | 2005-06-24 | 1978 | 2,760 | Resale |
| 2922 Ivanhoe Rd | $702,000 | $231 | 2005-06-15 | 1987 | 3,036 | Resale |
| 1114 Lothian Dr | $379,900 | $140 | 2005-06-14 | 1966 | 2,716 | Resale |
| -- | $380,000 | $203 | 2005-05-17 | 1975 | 1,876 | Resale |
| 1111 Mercer Dr | $255,000 | $114 | 2005-04-14 | 1973 | 2,246 | Resale |
| 1103 Lasswade Dr | $419,900 | $210 | 2005-04-12 | 1963 | 2,001 | Resale |
| 1202 Waverly Rd | $195,000 | $123 | 2005-03-24 | 1955 | 1,586 | Resale |
| 605 Lothian Dr | $225,000 | $97 | 2005-03-18 | 1957 | 2,326 | Resale |
| 2806 Saint Leonard Dr | $131,200 | $64 | 2005-02-24 | 1962 | 2,048 | Resale |
| 2806 Aberdeen Dr | $310,000 | $149 | 2005-02-24 | 1959 | 2,086 | Resale |
| 1113 Lothian Dr | $419,000 | $124 | 2005-02-15 | 1986 | 3,375 | Resale |
| 2909 Woodside Dr | $172,000 | $82 | 2005-01-20 | 1954 | 2,108 | Resale |
| 2920 Lasswade Dr | $300,000 | $188 | 2004-12-09 | 1960 | 1,599 | Resale |
| 2949 Brandemere Dr | $343,000 | $180 | 2004-11-30 | 1966 | 1,906 | Resale |
| 2934 Abbotsford Way | $242,500 | $122 | 2004-11-08 | 1977 | 1,986 | Resale |
| 2808 Woodside Dr | $274,500 | $156 | 2004-10-20 | 1958 | 1,760 | Resale |
| 2906 Brandemere Dr | $254,900 | $124 | 2004-09-02 | 1969 | 2,062 | Resale |
| 1114 Lothian Dr | $265,000 | $98 | 2004-07-29 | 1966 | 2,716 | Resale |
| 2921 Ivanhoe Rd | $307,100 | $126 | 2004-07-26 | 1961 | 2,447 | Resale |
| 2916 Lasswade Dr | $190,000 | $133 | 2004-07-22 | 1958 | 1,425 | Resale |
| 2920 Abbotsford Way | $260,000 | $78 | 2004-07-01 | 1970 | 3,334 | Resale |
| 2810 Saint Leonard Dr | $365,000 | $193 | 2004-06-07 | 1965 | 1,896 | Resale |
| 1112 Ivanhoe Rd | $28,200 | $11 | 2004-06-01 | 1979 | 2,562 | Resale |
| 1115 Lasswade Dr | $250,000 | $130 | 2004-04-30 | 1962 | 1,919 | Resale |
| 1114 Waverly Rd | $228,900 | $135 | 2004-04-14 | 1955 | 1,701 | Resale |
| 2803 Saint Leonard Dr | $245,000 | $118 | 2004-04-02 | 1962 | 2,071 | Resale |
| 1014 Waverly Rd | $300,000 | $69 | 2004-04-01 | 2005 | 4,350 | New |
| 2808 Rebecca Dr | $331,000 | $178 | 2004-03-26 | 1969 | 1,860 | Resale |
| 707 Kenilworth Rd | $259,900 | $155 | 2004-03-26 | 1958 | 1,682 | Resale |
| 401 Waverly Rd | $278,900 | $228 | 2004-03-12 | 2004 | 1,221 | New |
| 2904 Ivanhoe Rd | $247,000 | $119 | 2004-03-12 | 1975 | 2,084 | Resale |
| 402 Coldstream Dr | $220,000 | $123 | 2004-02-25 | 1975 | 1,782 | Resale |
| 1209 Waverly Rd | $205,000 | $80 | 2004-02-13 | 1968 | 2,575 | Resale |
| 2804 Rebecca Dr | $300,000 | $117 | 2004-01-27 | 1971 | 2,572 | Resale |
| 2944 Brandemere Dr | $205,000 | $109 | 2003-12-12 | 1964 | 1,878 | Resale |
| 2811 Saint Leonard Dr | $194,000 | $89 | 2003-11-10 | 1963 | 2,175 | Resale |
| 1109 Lothian Dr | $173,000 | $109 | 2003-10-31 | 1968 | 1,583 | Resale |
| 608 Lothian Dr | $195,000 | $118 | 2003-10-30 | 1959 | 1,655 | Resale |
| 2802 Coldstream Dr | $189,000 | $94 | 2003-09-25 | 1958 | 2,019 | Resale |
| 814 Lothian Dr | $170,000 | $98 | 2003-08-29 | 1957 | 1,740 | Resale |
| 2806 Rebecca Dr | $186,000 | $89 | 2003-08-07 | 1958 | 2,082 | Resale |
| 410 Coldstream Dr | $199,900 | $164 | 2003-06-30 | 1955 | 1,220 | Resale |
| 915 Ivanhoe Rd | $175,000 | $49 | 2003-05-16 | 2003 | 3,574 | New |
| 1109 Lasswade Dr | $189,000 | $98 | 2003-05-06 | 1962 | 1,920 | Resale |
| 724 Kenilworth Rd | $155,000 | $88 | 2003-04-29 | 1959 | 1,760 | Resale |
| 2906 Coldstream Dr | $204,000 | $105 | 2003-04-18 | 1977 | 1,936 | Resale |
| 1103 Lasswade Dr | $172,000 | $86 | 2003-04-18 | 1963 | 2,001 | Resale |
| 2810 Sterling Dr | $255,000 | $117 | 2003-03-28 | 1961 | 2,179 | Resale |
| 2917 Woodside Dr | $192,500 | $111 | 2003-03-28 | 1954 | 1,740 | Resale |
| 926 Lothian Dr | $220,000 | $97 | 2003-03-28 | 1972 | 2,258 | Resale |
| 1109 Ivanhoe Rd | $172,000 | $95 | 2003-02-26 | 1964 | 1,807 | Resale |
| 511 Waverly Rd | $245,500 | $99 | 2002-12-20 | 1977 | 2,483 | Resale |
| 2921 Brandemere Dr | $280,000 | $97 | 2002-11-07 | 1966 | 2,896 | Resale |
| 602 Waverly Rd | $155,000 | $120 | 2002-10-31 | 1955 | 1,293 | Resale |
| 926 Waverly Rd | $189,900 | $85 | 2002-10-18 | 1960 | 2,233 | Resale |
| 505 Waverly Rd | $142,000 | $76 | 2002-10-04 | 1964 | 1,874 | Resale |
| 605 Lothian Dr | $125,000 | $54 | 2002-09-12 | 1957 | 2,326 | Resale |
| 2803 Sterling Dr | $216,000 | $102 | 2002-08-28 | 1959 | 2,122 | Resale |
| 2912 Ivanhoe Rd | $200,000 | $82 | 2002-08-15 | 1955 | 2,447 | Resale |
| 2913 Brandemere Dr | $234,000 | $97 | 2002-07-26 | 1969 | 2,419 | Resale |
| 2808 Woodside Dr | $189,000 | $107 | 2002-07-24 | 1958 | 1,760 | Resale |
| 1018 Lothian Dr | $227,500 | $99 | 2002-06-20 | 1968 | 2,305 | Resale |
| 718 Kenilworth Rd | $212,000 | $55 | 2002-06-20 | 1954 | 3,824 | Resale |
| 2803 Saint Leonard Dr | $186,900 | $90 | 2002-06-12 | 1962 | 2,071 | Resale |
| 1113 Lothian Dr | $375,000 | $111 | 2002-06-07 | 1986 | 3,375 | Resale |
| 718 Kenilworth Rd | $72,000 | $19 | 2002-06-05 | 1954 | 3,824 | Resale |
| 2861 N Meridian Rd | $179,500 | $85 | 2002-05-30 | 1994 | 2,101 | Resale |
| 906 Kenilworth Rd | $225,000 | $93 | 2002-05-20 | 1964 | 2,416 | Resale |
| 2905 Lasswade Dr | $169,900 | $95 | 2002-04-25 | 1959 | 1,788 | Resale |
| 904 Lasswade Dr | $137,000 | $81 | 2002-04-12 | 1963 | 1,682 | Resale |
| 814 Lothian Dr | $145,000 | $83 | 2002-04-12 | 1957 | 1,740 | Resale |
| 718 Kenilworth Rd | $225,000 | $59 | 2002-04-11 | 1954 | 3,824 | Resale |
| 2944 Brandemere Dr | $174,500 | $93 | 2002-04-05 | 1964 | 1,878 | Resale |
| 802 Waverly Rd | $177,000 | $85 | 2002-03-21 | 1957 | 2,093 | Resale |
| 1004 Ivanhoe Rd | $205,000 | $110 | 2002-03-19 | 1964 | 1,860 | Resale |
| 901 Lothian Dr | $268,000 | $95 | 2002-02-28 | 1979 | 2,833 | Resale |
| 701 Kenilworth Rd | $206,000 | $97 | 2002-01-25 | 1965 | 2,113 | Resale |
| 2807 Aberdeen Dr | $155,000 | $85 | 2002-01-11 | 1958 | 1,815 | Resale |
| 2806 Walter Scott Rd | $200,000 | $78 | 2001-12-18 | 1976 | 2,564 | Resale |
| 912 Lasswade Dr | $222,500 | $95 | 2001-11-30 | 1962 | 2,349 | Resale |
| 701 Lothian Dr | $285,000 | $96 | 2001-08-15 | 1984 | 2,967 | Resale |
| 441 Waverly Rd | $144,900 | $68 | 2001-07-27 | 1975 | 2,142 | Resale |
| 2808 Saint Leonard Dr | $240,000 | $91 | 2001-07-23 | 1963 | 2,645 | Resale |
| 2801 Sterling Dr | $175,000 | $105 | 2001-07-20 | 1959 | 1,659 | Resale |
| 911 Ivanhoe Rd | $204,000 | $101 | 2001-07-18 | 1962 | 2,028 | Resale |
| 1021 Lothian Dr | $193,000 | $66 | 2001-07-13 | 1969 | 2,909 | Resale |
| 1018 Lothian Dr | $225,000 | $98 | 2001-07-13 | 1968 | 2,305 | Resale |
| 2805 Rebecca Dr | $170,000 | $96 | 2001-06-29 | 1958 | 1,772 | Resale |
| 1002 Kenilworth Rd | $235,000 | $78 | 2001-06-27 | 1962 | 3,003 | Resale |
| 409 Coldstream Dr | $145,900 | $86 | 2001-05-31 | 1961 | 1,692 | Resale |
| 925 Waverly Rd | $159,000 | $64 | 2001-05-31 | 1958 | 2,493 | Resale |
| 2916 Ivanhoe Rd | $173,400 | $84 | 2001-05-30 | 1952 | 2,076 | Resale |
| 2913 Ivanhoe Rd | $183,000 | $101 | 2001-05-23 | 1955 | 1,808 | Resale |
| 2810 Sterling Dr | $237,000 | $109 | 2001-05-17 | 1961 | 2,179 | Resale |
| 2803 Sterling Dr | $167,500 | $79 | 2001-04-26 | 1959 | 2,122 | Resale |
| 2949 Brandemere Dr | $149,000 | $78 | 2001-02-28 | 1966 | 1,906 | Resale |
| 805 Lothian Dr | $156,000 | $72 | 2001-02-28 | 1958 | 2,155 | Resale |
| 1026 Lothian Dr | $193,700 | $73 | 2001-01-30 | 1965 | 2,654 | Resale |
| 1103 Ivanhoe Rd | $164,000 | $85 | 2001-01-08 | 1976 | 1,928 | Resale |
| 2806 Sterling Dr | $149,000 | $81 | 2000-12-28 | 1959 | 1,836 | Resale |
| 402 Coldstream Dr | $127,000 | $71 | 2000-12-27 | 1975 | 1,782 | Resale |
| 410 Coldstream Dr | $89,500 | $73 | 2000-12-19 | 1955 | 1,220 | Resale |
| 2861 N Meridian Rd | $157,000 | $75 | 2000-11-17 | 1994 | 2,101 | Resale |
| 2808 Saint Leonard Dr | $199,000 | $75 | 2000-11-13 | 1963 | 2,645 | Resale |
| 1109 Lasswade Dr | $167,000 | $87 | 2000-10-26 | 1962 | 1,920 | Resale |
| 2921 Brandemere Dr | $223,500 | $77 | 2000-10-20 | 1966 | 2,896 | Resale |
| 2804 Rebecca Dr | $192,500 | $75 | 2000-08-17 | 1971 | 2,572 | Resale |
| 1106 Lothian Dr | $180,000 | $76 | 2000-07-31 | 1964 | 2,354 | Resale |
| 804 Waverly Rd | $165,000 | $101 | 2000-07-14 | 1957 | 1,631 | Resale |
| 707 Kenilworth Rd | $173,000 | $103 | 2000-06-29 | 1958 | 1,682 | Resale |
| 715 Kenilworth Rd | $205,000 | $64 | 2000-06-08 | 1972 | 3,192 | Resale |
| 824 Kenilworth Rd | $154,000 | $89 | 2000-06-02 | 1961 | 1,740 | Resale |
| 1115 Lasswade Dr | $184,000 | $96 | 2000-05-19 | 1962 | 1,919 | Resale |
| 910 Lasswade Dr | $225,000 | $142 | 2000-05-05 | 1961 | 1,586 | Resale |
| 616 Lothian Dr | $143,000 | $79 | 2000-05-04 | 1958 | 1,804 | Resale |
| 601 Waverly Rd | $210,000 | $82 | 2000-04-28 | 1988 | 2,574 | Resale |
| 1121 Waverly Rd | $168,000 | $73 | 2000-04-13 | 1958 | 2,304 | Resale |
| 2808 Walter Scott Rd | $201,500 | $75 | 2000-03-31 | 1964 | 2,689 | Resale |
| 1102 Ivanhoe Rd | $203,000 | $82 | 2000-02-28 | 1963 | 2,465 | Resale |
| 1102 Waverly Rd | $134,900 | $75 | 2000-02-25 | 1955 | 1,795 | Resale |
| 2941 Brandemere Dr | $225,000 | $83 | 2000-01-20 | 1965 | 2,719 | Resale |
| 1015 Waverly Rd | $128,500 | $66 | 1999-12-16 | 1960 | 1,939 | Resale |
| 912 Ivanhoe Rd | $190,000 | $89 | 1999-12-15 | 1992 | 2,134 | Resale |
| 1105 Kenilworth Rd | $149,000 | $73 | 1999-11-10 | 1969 | 2,028 | Resale |
| 702 Waverly Rd | $160,000 | $62 | 1999-11-08 | 1954 | 2,563 | Resale |
| 2809 Sterling Dr | $190,000 | $97 | 1999-09-30 | 1959 | 1,965 | Resale |
| 1101 Waverly Rd | $125,000 | $71 | 1999-09-10 | 1958 | 1,752 | Resale |
| 714 Lothian Dr | $114,300 | $85 | 1999-09-10 | 1955 | 1,342 | Resale |
| 1112 Ivanhoe Rd | $195,000 | $76 | 1999-07-28 | 1979 | 2,562 | Resale |
| 2806 Aberdeen Dr | $221,000 | $106 | 1999-07-26 | 1959 | 2,086 | Resale |
| 906 Kenilworth Rd | $155,000 | $64 | 1999-07-01 | 1964 | 2,416 | Resale |
| 714 Lothian Dr | $107,000 | $80 | 1999-06-30 | 1955 | 1,342 | Resale |
| 1002 Kenilworth Rd | $213,000 | $71 | 1999-06-30 | 1962 | 3,003 | Resale |
| 1112 Lasswade Dr | $129,500 | $77 | 1999-06-11 | 1962 | 1,682 | Resale |
| 2921 Coldstream Dr | $199,900 | -- | 1999-05-28 | -- | -- | Resale |
| 2906 Woodside Dr | $161,000 | $71 | 1999-05-24 | 1955 | 2,270 | Resale |
| 1005 Lothian Dr | $145,000 | $58 | 1999-05-21 | 1966 | 2,479 | Resale |
| 2917 Brandemere Dr | $172,500 | $74 | 1999-04-30 | 1968 | 2,332 | Resale |
| 2902 Abbotsford Way | $164,000 | $69 | 1999-03-30 | 1972 | 2,360 | Resale |
| 919 Waverly Rd | $153,500 | $139 | 1999-03-25 | 1958 | 1,108 | Resale |
| 701 Kenilworth Rd | $152,900 | $72 | 1999-03-19 | 1965 | 2,113 | Resale |
| 2805 Coldstream Dr | $135,000 | $93 | 1999-02-26 | 1960 | 1,448 | Resale |
| 408 Saint Dunston Ct | $100,000 | $52 | 1999-02-19 | 1973 | 1,927 | Resale |
| 2811 Saint Leonard Dr | $152,000 | $70 | 1999-01-11 | 1963 | 2,175 | Resale |
| 1021 Lothian Dr | $158,000 | $54 | 1999-01-07 | 1969 | 2,909 | Resale |
| 911 Lasswade Dr | $166,000 | $85 | 1998-12-28 | 1964 | 1,956 | Resale |
| 2805 Saint Leonard Dr | $173,000 | $69 | 1998-12-14 | 1962 | 2,492 | Resale |
| 616 Lothian Dr | $124,900 | $69 | 1998-11-20 | 1958 | 1,804 | Resale |
| 2804 Sterling Dr | $102,000 | $66 | 1998-11-10 | 1958 | 1,551 | Resale |
| 408 Saint Dunston Ct | $75,000 | $39 | 1998-10-22 | 1973 | 1,927 | Resale |
| 806 Ivanhoe Rd | $180,000 | $99 | 1998-10-20 | -- | 1,818 | Resale |
| 413 Coldstream Dr | $112,500 | $67 | 1998-10-15 | -- | 1,689 | Resale |
| 925 Waverly Rd | $154,000 | $62 | 1998-10-01 | 1958 | 2,493 | Resale |
| 1110 Lothian Dr | $162,000 | $89 | 1998-09-25 | -- | 1,816 | Resale |
| 805 Lothian Dr | $40,000 | $19 | 1998-08-27 | 1958 | 2,155 | Resale |
| 718 Kenilworth Rd | $231,400 | $61 | 1998-08-17 | 1954 | 3,824 | Resale |
| 1017 Lothian Dr | $186,300 | $59 | 1998-08-14 | -- | 3,153 | Resale |
| 1115 Lasswade Dr | $172,000 | $90 | 1998-07-30 | 1962 | 1,919 | Resale |
| 2925 Brandemere Dr | $175,000 | $87 | 1998-07-30 | -- | 2,004 | Resale |
| 905 Waverly Rd | $127,000 | $87 | 1998-07-27 | 1958 | 1,452 | Resale |
| 921 Lothian Dr | $175,000 | $57 | 1998-06-24 | -- | 3,045 | Resale |
| 2808 Woodside Dr | $145,000 | $82 | 1998-06-22 | 1958 | 1,760 | Resale |
| 2917 Woodside Dr | $143,000 | $82 | 1998-05-01 | 1954 | 1,740 | Resale |
| 421 Waverly Rd | $175,000 | $79 | 1998-04-29 | 1972 | 2,207 | Resale |
| 608 Lothian Dr | $156,000 | $94 | 1998-04-03 | 1959 | 1,655 | Resale |
| 1129 Mercer Dr | $158,000 | $76 | 1998-03-31 | -- | 2,068 | Resale |
| 1004 Ivanhoe Rd | $160,000 | $86 | 1998-03-18 | 1964 | 1,860 | Resale |
| 2918 Woodside Dr | $140,000 | $84 | 1998-03-16 | 1959 | 1,672 | Resale |
| 2921 Woodside Dr | $250,000 | $97 | 1998-03-02 | -- | 2,582 | Resale |
| 1203 Kenilworth Rd | $281,500 | $87 | 1998-02-26 | -- | 3,220 | Resale |
| 2912 Abbotsford Way | $155,000 | $68 | 1998-02-05 | -- | 2,263 | Resale |
| 1121 Waverly Rd | $137,500 | $60 | 1998-01-30 | 1958 | 2,304 | Resale |
| 2920 Ivanhoe Rd | $259,900 | $73 | 1997-11-17 | -- | 3,575 | Resale |
| 901 Lothian Dr | $223,900 | $79 | 1997-10-24 | 1979 | 2,833 | Resale |
| 2815 Rebecca Dr | $180,000 | $79 | 1997-10-24 | 1969 | 2,270 | Resale |
| 1013 Lothian Dr | $175,000 | $69 | 1997-10-03 | 1967 | 2,532 | Resale |
| 2906 Abbotsford Way | $184,500 | $65 | 1997-08-29 | -- | 2,851 | Resale |
| 802 Waverly Rd | $160,000 | $76 | 1997-08-28 | 1957 | 2,093 | Resale |
| 2807 Saint Leonard Dr | $179,900 | $99 | 1997-07-24 | -- | 1,814 | Resale |
| 2921 Brandemere Dr | $204,000 | $70 | 1997-07-03 | 1966 | 2,896 | Resale |
| 2941 Brandemere Dr | $195,000 | $72 | 1997-07-03 | 1965 | 2,719 | Resale |
| 912 Ivanhoe Rd | $189,500 | $89 | 1997-06-27 | 1992 | 2,134 | Resale |
| 2934 Abbotsford Way | $152,500 | $77 | 1997-06-24 | 1977 | 1,986 | Resale |
| 1014 Lothian Dr | $249,500 | $132 | 1997-06-20 | 1994 | 1,897 | Resale |
| 2905 Lasswade Dr | $139,900 | $78 | 1997-03-28 | 1959 | 1,788 | Resale |
| 1103 Kenilworth Rd | $172,200 | $72 | 1997-03-27 | 1967 | 2,382 | Resale |
| 1109 Ivanhoe Rd | $156,800 | $87 | 1997-03-27 | 1964 | 1,807 | Resale |
| 1013 Waverly Rd | $90,000 | $54 | 1996-12-26 | -- | 1,655 | Resale |
| 1016 Waverly Rd | $120,000 | $61 | 1996-12-04 | -- | 1,963 | Resale |
| 908 Lasswade Dr | $146,900 | $86 | 1996-11-27 | -- | 1,702 | Resale |
| 2918 Coldstream Dr | $118,900 | $76 | 1996-10-15 | -- | 1,571 | Resale |
| 2933 Abbotsford Way | $230,000 | $70 | 1996-10-03 | 1996 | 3,272 | New |
| 1112 Ivanhoe Rd | $180,000 | $70 | 1996-07-31 | 1979 | 2,562 | Resale |
| 1109 Lasswade Dr | $145,000 | $76 | 1996-06-28 | 1962 | 1,920 | Resale |
| 1013 Waverly Rd | $45,000 | $27 | 1996-04-30 | -- | 1,655 | Resale |
| 909 Kenilworth Rd | $147,000 | $86 | 1996-04-30 | -- | 1,708 | Resale |
| 2802 Coldstream Dr | $128,700 | $64 | 1996-04-12 | 1958 | 2,019 | Resale |
| 1002 Waverly Rd | $132,000 | $79 | 1996-03-29 | -- | 1,672 | Resale |
| 2913 Lasswade Dr | $160,000 | $86 | 1996-02-28 | -- | 1,860 | Resale |
| 1125 Waverly Rd | $113,500 | $65 | 1996-02-12 | 1959 | 1,742 | Resale |
| 1121 Waverly Rd | $134,000 | $58 | 1996-01-31 | 1958 | 2,304 | Resale |
| 1118 Waverly Rd | $211,000 | $123 | 1995-12-28 | -- | 1,714 | Resale |
| 2919 Abbotsford Way | $131,000 | $56 | 1995-12-20 | 1971 | 2,336 | Resale |
| 1101 Waverly Rd | $127,000 | $72 | 1995-10-31 | 1958 | 1,752 | Resale |
| 2913 Ivanhoe Rd | $160,000 | $88 | 1995-10-13 | 1955 | 1,808 | Resale |
| 1111 Mercer Dr | $150,000 | $67 | 1995-10-05 | 1973 | 2,246 | Resale |
| 2801 Sterling Dr | $130,000 | $78 | 1995-10-05 | 1959 | 1,659 | Resale |
| 2945 Brandemere Dr | $126,500 | $52 | 1995-09-29 | -- | 2,413 | Resale |
| 908 Lasswade Dr | $119,900 | $70 | 1995-08-29 | -- | 1,702 | Resale |
| 905 Lasswade Dr | $116,000 | $59 | 1995-08-15 | 1961 | 1,967 | Resale |
| 1107 Lasswade Dr | $128,000 | $71 | 1995-08-08 | -- | 1,797 | Resale |
| 1115 Lasswade Dr | $142,000 | $74 | 1995-07-20 | 1962 | 1,919 | Resale |
| 413 Saint Dunston Ct | $165,000 | $73 | 1995-07-17 | -- | 2,261 | Resale |
| 1216 Waverly Rd | $157,000 | $64 | 1995-06-29 | 1974 | 2,468 | Resale |
| 2925 Brandemere Dr | $145,000 | $72 | 1995-05-17 | -- | 2,004 | Resale |
| 2805 Coldstream Dr | $126,900 | $88 | 1995-05-08 | 1960 | 1,448 | Resale |
| 718 Lothian Dr | $130,000 | $69 | 1995-04-13 | -- | 1,892 | Resale |
| 1205 Kenilworth Rd | $235,000 | $69 | 1995-01-20 | 1994 | 3,430 | New |
| 718 Kenilworth Rd | $202,300 | $53 | 1994-11-23 | 1954 | 3,824 | Resale |
| 2911 Coldstream Dr | $146,000 | $62 | 1994-10-13 | -- | 2,352 | Resale |
| 804 Waverly Rd | $130,000 | $80 | 1994-09-30 | 1957 | 1,631 | Resale |
| 441 Waverly Rd | $125,500 | $59 | 1994-09-23 | 1975 | 2,142 | Resale |
| 910 Lasswade Dr | $145,000 | $91 | 1994-09-06 | 1961 | 1,586 | Resale |
| 400 Meridian Pl | $165,000 | $56 | 1994-08-16 | -- | 2,960 | Resale |
| 2861 N Meridian Rd | $137,500 | $65 | 1994-08-15 | 1994 | 2,101 | New |
| 1005 Kenilworth Rd | $185,000 | $65 | 1994-08-15 | -- | 2,861 | Resale |
| 2917 Lasswade Dr | $159,000 | $85 | 1994-07-01 | -- | 1,861 | Resale |
| 1107 Lasswade Dr | $115,800 | $64 | 1994-05-10 | -- | 1,797 | Resale |
| 909 Lasswade Dr | $120,000 | $68 | 1994-04-18 | -- | 1,752 | Resale |
| 709 Waverly Rd | $215,000 | $69 | 1994-04-15 | 1954 | 3,101 | Resale |
| 1117 Lasswade Dr | $157,000 | $58 | 1994-04-12 | 1962 | 2,686 | Resale |
| 714 Lothian Dr | $97,500 | $73 | 1994-02-21 | 1955 | 1,342 | Resale |
| 715 Kenilworth Rd | $165,000 | $52 | 1994-01-20 | 1972 | 3,192 | Resale |
| 2916 Ivanhoe Rd | $130,000 | $63 | 1994-01-19 | 1952 | 2,076 | Resale |
| 414 Coldstream Dr | $104,000 | $56 | 1993-11-24 | -- | 1,843 | Resale |
| 2905 Lasswade Dr | $125,900 | $70 | 1993-11-02 | 1959 | 1,788 | Resale |
| 1203 Kenilworth Rd | $53,000 | $16 | 1993-10-29 | -- | 3,220 | Resale |
| 707 Lothian Dr | $128,000 | $71 | 1993-10-26 | -- | 1,812 | Resale |
| 1009 Lothian Dr | $149,900 | $55 | 1993-10-21 | -- | 2,729 | Resale |
| 601 Waverly Rd | $185,000 | $72 | 1993-09-29 | 1988 | 2,574 | Resale |
| 1002 Waverly Rd | $120,000 | $72 | 1993-09-28 | -- | 1,672 | Resale |
| -- | $122,000 | -- | 1993-09-27 | -- | -- | Resale |
| 502 Coldstream Dr | $112,000 | $56 | 1993-09-20 | -- | 1,998 | Resale |
| 2920 Ivanhoe Rd | $215,000 | $60 | 1993-09-17 | -- | 3,575 | Resale |
| 2801 Sterling Dr | $110,000 | $66 | 1993-09-03 | 1959 | 1,659 | Resale |
| 1113 Waverly Rd | $100,000 | $56 | 1993-07-09 | 1958 | 1,795 | Resale |
| 1206 Waverly Rd | $121,000 | $67 | 1993-05-12 | -- | 1,810 | Resale |
| 1105 Waverly Rd | $100,000 | $67 | 1993-04-30 | -- | 1,500 | Resale |
| 711 Kenilworth Rd | $112,000 | $75 | 1993-04-20 | -- | 1,498 | Resale |
| 1002 Kenilworth Rd | $215,000 | $72 | 1993-03-12 | 1962 | 3,003 | Resale |
| 1001 Kenilworth Rd | $126,000 | $56 | 1993-02-24 | 1963 | 2,250 | Resale |
| 2905 Lasswade Dr | $105,000 | $59 | 1993-02-02 | 1959 | 1,788 | Resale |
| 1109 Lothian Dr | $129,200 | $82 | 1993-01-29 | 1968 | 1,583 | Resale |
| 1109 Lothian Dr | $129,200 | $82 | 1993-01-29 | 1968 | 1,583 | Resale |
| 1101 Kenilworth Rd | $147,500 | $70 | 1993-01-26 | -- | 2,119 | Resale |
| 1001 Lasswade Dr | $162,000 | $62 | 1993-01-12 | -- | 2,619 | Resale |
| 718 Lothian Dr | $115,000 | $61 | 1992-12-31 | -- | 1,892 | Resale |
| 2906 Coldstream Dr | $130,000 | $67 | 1992-12-23 | 1977 | 1,936 | Resale |
| 2910 Woodside Dr | $108,000 | $52 | 1992-12-14 | -- | 2,077 | Resale |
| 2815 Rebecca Dr | $160,000 | $70 | 1992-11-23 | 1969 | 2,270 | Resale |
| 2803 Woodside Dr | $160,000 | $57 | 1992-10-19 | -- | 2,786 | Resale |
| 914 Waverly Rd | $114,000 | $59 | 1992-07-06 | -- | 1,940 | Resale |
| 912 Lasswade Dr | $182,000 | $77 | 1992-07-01 | 1962 | 2,349 | Resale |
| 926 Lothian Dr | $130,000 | $58 | 1992-06-16 | 1972 | 2,258 | Resale |
| 1101 Waverly Rd | $105,000 | $60 | 1992-05-21 | 1958 | 1,752 | Resale |
| 1129 Mercer Dr | $138,900 | $67 | 1992-05-15 | -- | 2,068 | Resale |
| 2810 Saint Leonard Dr | $144,000 | $76 | 1992-04-24 | 1965 | 1,896 | Resale |
| 2917 Lasswade Dr | $148,000 | $80 | 1992-04-14 | -- | 1,861 | Resale |
| 813 Kenilworth Rd | $162,500 | $69 | 1992-03-30 | -- | 2,348 | Resale |
| 2904 Ivanhoe Rd | $140,000 | $67 | 1992-03-02 | 1975 | 2,084 | Resale |
| 2906 Woodside Dr | $134,900 | $59 | 1992-01-24 | 1955 | 2,270 | Resale |
| 2806 Aberdeen Dr | $89,000 | $43 | 1992-01-10 | 1959 | 2,086 | Resale |
| 2807 Aberdeen Dr | $115,000 | $63 | 1991-12-10 | 1958 | 1,815 | Resale |
| 1105 Lasswade Dr | $124,400 | $70 | 1991-10-14 | -- | 1,770 | Resale |
| 1104 Kenilworth Rd | $130,000 | $73 | 1991-09-16 | -- | 1,781 | Resale |
| 701 Lothian Dr | $235,000 | $79 | 1991-06-14 | 1984 | 2,967 | Resale |
| 2900 Coldstream Dr | $99,900 | $83 | 1991-03-21 | -- | 1,207 | Resale |
| 1110 Lothian Dr | $106,000 | $58 | 1991-03-05 | -- | 1,816 | Resale |
| 1117 Waverly Rd | $80,300 | $54 | 1991-01-31 | 1958 | 1,500 | Resale |
| 2801 Sterling Dr | $99,900 | $60 | 1991-01-30 | 1959 | 1,659 | Resale |
| 2912 Abbotsford Way | $138,000 | $61 | 1991-01-29 | -- | 2,263 | Resale |
| 2930 Woodside Dr | $128,000 | $46 | 1991-01-02 | 1978 | 2,760 | Resale |