Are Home Prices Heading for a Crash? The Latest Insights and Analysis
Posted by Joe Manausa on Monday, March 27, 2023 at 6:00 AM
By Joe Manausa / March 27, 2023
Comment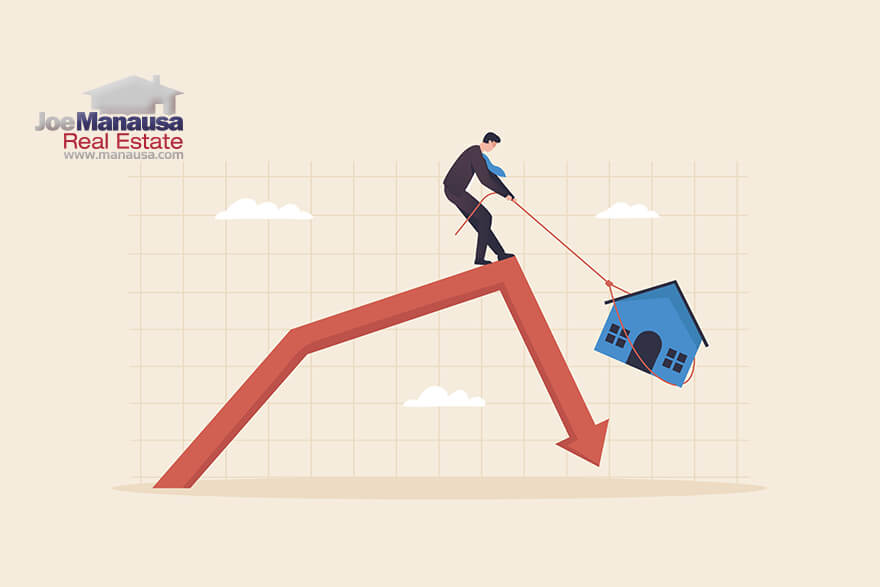 The US housing market has been a frequent topic in the news, but a crucial factor is often overlooked when determining the direction of home prices. This factor is the current months of supply of homes for sale.
In this article, we'll delve into the fascinating connection between supply and demand in the housing market and how it affects the rise and fall of home prices nationwide. We'll also accurately assess what to expect from home prices for the remainder of 2023.
From the bustling cities to the quiet suburbs, we'll examine the current state of the US housing market and provide insights into what it means for buyers, sellers, and investors alike.
The Reason Home Prices Rise And Fall
Due to the memories of the Housing Bubble and the Great Recession, many people anticipate a decline in home prices (learn more about recency bias here). As a result, I conducted a thorough analysis of the leading markets in the United States to demonstrate the flaws in many reports that attempt to predict the direction of home prices. It is important to note that I am not referring to the usual fluctuations in home prices but rather a sustained changing trend over an extended period, not just a few months.
In general, home prices will only experience a decline lasting a year or more if the balance between supply and demand shifts towards an excess of inventory. This can happen in a few ways: demand may decrease to the point where the existing supply exceeds market needs, supply may increase far beyond demand, or both supply and demand may shift in a way that results in an oversupply of homes.
When there is an excessive number of homes for sale, the market is driven by buyers, resulting in a decline in home prices. In the opposite scenario, when there is a limited number of homes for sale, the market is driven by sellers. While various factors may influence the housing market, the supply and demand dynamic is the only factor that has a lasting impact on home prices in each local market. There are no other significant influences.
So let's see what the latest numbers reveal about the current supply and demand dynamic in 992 of the metropolitan areas tracked by the Zillow data machine.
Median Home Price Declines
The latest reports from Zillow and other reporting agencies show that (year-over-year) home prices fell for the first time in ten years. This fact has led to amateur speculation of home prices dropping by 30%, 40%, and even as much as 50%. You must wonder, are home prices going to crash?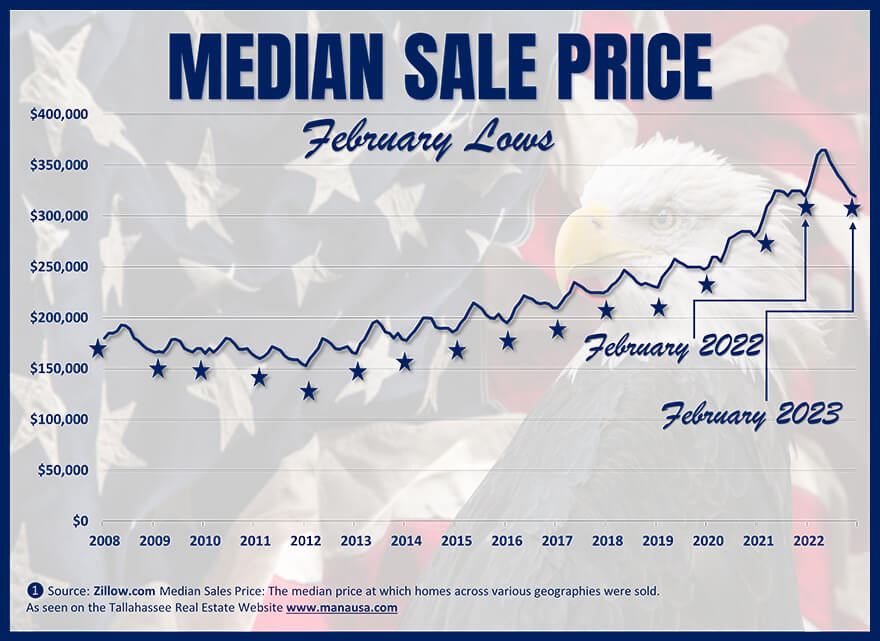 This graph illustrates Zillow's US median home price measurement from 2008 until now.
At the far right end of the graph, it can be observed that the median home price in the US dropped by $100, which is equivalent to 99.97% of the previous year's median price, by the start of February. The graph's two most recent "stars" indicate that the gains made in median home price throughout 2022 have been nullified due to an equivalent decline in median home price.
I emplaced the blue stars on the graph to show that the median home price tends to decline at the start of every year, typically through February, and then rises from that point forward. While many reports call for continued price declines, history tells us we should expect the median to rise.
Of course, who needs expectations when we can measure the supply and demand for homes!
Keep Up With New Trends In Tallahassee!
Get The Tallahassee Real Estate Newsletter
Don't be the one that doesn't know what's going on when you sell a home or buy a home in Tallahassee.
Other buyers, sellers, lenders, and real estate agents have this critical information, and now you can too!
Get immediate access to our most recent newsletter.
Let more than 30 years of experience work for you with charts, graphs, and analysis of the Tallahassee housing market.
Buyers' Market Conditions Remain Rare
After acquiring Zillow's latest data on housing inventory and monthly sales, I discovered that out of the 992 markets that Zillow tracks, I could compare the balance between supply and demand in 94 of the metropolitan areas. The resulting graph isn't pretty, but it sure speaks volumes.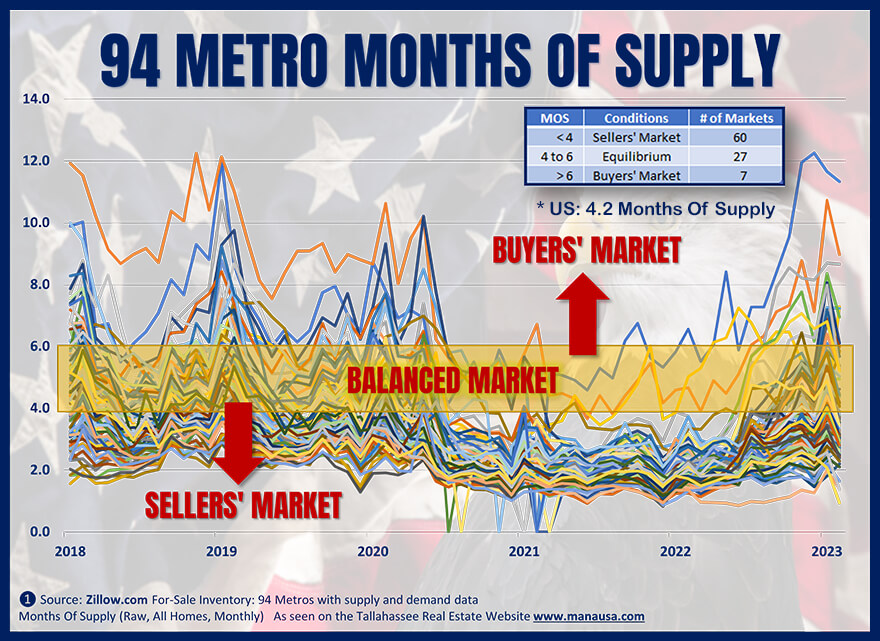 This graph plots the months of supply of homes for sale in 94 key metropolitan areas tracked by Zillow. Overall, it shows that the average months of supply of homes for sale across the US is 4.2 months of supply, a level that historically would be considered a sellers' market.
But if you have seen my past articles on how Digital has impacted home sales, then you know that I believe housing market equilibrium has changed. In order to keep today's article brief, I will encourage our readers to check out Market Equilibrium: How The Balance Has Changed In Real Estate for a thorough analysis of why we should measure market equilibrium at four months of supply rather than the historical six months of supply.
This graph shows market equilibrium (the relationship between supply and demand that produces historically normal rates of growth) ranging from four to six months. Any result above the yellow field is in a strong buyers' market, any result below the yellow field is in a strong sellers' market, while those within the yellow field are near equilibrium.
Current measurements indicate that just seven markets (out of 94) are in clear buyers' market conditions, while sixty markets (nearly 2/3rds) remain in sellers' market conditions, and roughly a quarter of the markets are in equilibrium. Does this look like a US housing market poised for major home price declines? [Hint: NO!]
Unhealthy Housing Market
Despite home prices appearing to be resistant to a substantial correction, this does not imply that the housing market in the United States is in good condition. In fact, I believe that it may be in its worst state ever.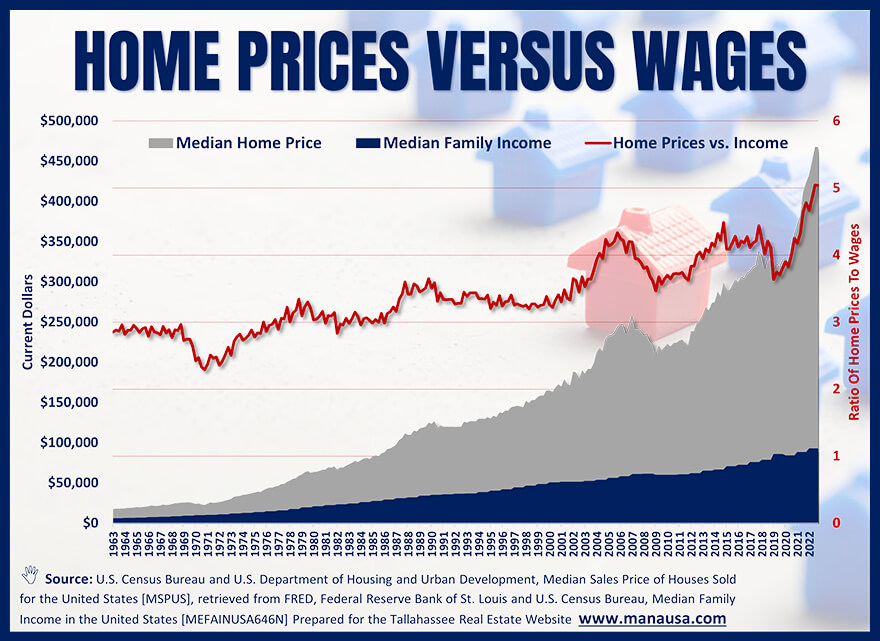 This graph compares the median home price with the median family income over time. The median home price is plotted in gray while the median family income is shown in blue. The resulting ratio of home prices to income is shown in gray.
For at least fifty years prior to 2000, the median home price fluctuated between 2.5 and 3.5 times the median family income. From 2000 to 2016, this ratio grew to 3.5 to 4.5 times income and recently has shot above 5. Families today are spending twice as much on housing as they did fifty years ago, and the reason (if you follow my blog) is clear.
The US does not have enough homes to house its growing population.
There Is Only One Market
To conduct a thorough analysis of the housing market, it's important to recognize that there is only one market. There isn't a distinct market for single-family detached homes because buyers have the option to choose a condominium or townhouse instead. Similarly, there isn't a separate rental market because tenants can become buyers and vice versa.
To evaluate the potential of the housing market, it's necessary to examine all parties involved, including buyers, tenants, sellers, and landlords. One cannot argue that there is a shortage of homes being built if a record-level number of apartment buildings are currently under construction and reaching new heights in terms of units.
Rental Rates Continue Higher
We must study the trends in rents and prices to find the supply and demand dynamic that most likely exposes a market change. The signal is loud and clear when prices and rents move in the same direction (higher or lower). When they are moving in opposite directions, the signal is clear too.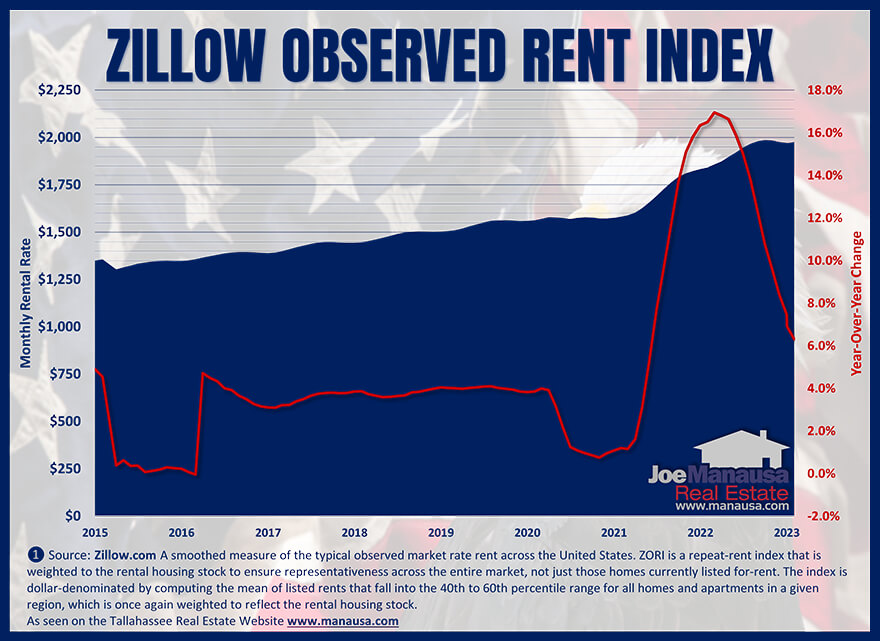 The graph displays two variables: the median monthly rental rate and the year-over-year change in rents. The blue area represents the median monthly rental rate, while the red line indicates the year-over-year change in rents. Currently, the year-over-year change in rents is more than six percent growth since this time last year.
Both home prices and rental rates have soared higher in recent years, a signal that there is not enough shelter in the US. Some local markets are not facing these conditions, but the US is short on housing overall. With prices flat or falling and rents rising, it suggests something is impacting home affordability.
Reflecting on the housing bubble and the Great Recession, it's intriguing that rental rates didn't decrease despite the fall in home prices. As inventory moved from the "for sale" market to the "for rent" market, rental rates continued to rise.
This observation is significant because it suggests that the cause of the housing crisis was not overbuilding (we did not have too much shelter). Instead, it was a shift in the government's traditional lending standards that limited demand from homebuyers. The government's actions did not impact the need for shelter but rather made it challenging for people to secure home loans, which led them to consider renting properties instead.
Expect Home Prices To Recover In 2023
The evidence is clear. The demand for homes has fallen, but so has the supply of homes for sale. When we look at the data that Zillow has collected on the existing inventory of homes for sale, coupled with recent home sales, it is clear that the months of supply of homes is such that we should expect home prices to rise at historically normal rates (3.5% to 4.5%).
Fewer than 10% of markets should expect to see home prices fall, while roughly one-half of all markets should experience home price appreciation above the historical norm.
The US housing market is experiencing a significant shortage of available homes for sale in most local markets. This lack of supply is expected to result in a continued rise in home prices throughout 2023. While this may seem daunting for potential homebuyers, it also presents an opportunity for current homeowners to maximize the value of their investment.
As the housing market continues to evolve, it's essential to stay informed and adapt to changing conditions to make the best decisions for your financial future. Whether you're looking to buy or sell, understanding the trends and factors that impact the US housing market is crucial for success.
There are a lot of people who endorse Joe for the job of selling your home, from Barbara Corcoran (Star of ABC's Shark Tank) to Preston Scott (host of Tallahassee's top daily "Audio Magazine," as well as the thousands of happy customers Joe has helped in the past. Listen why!