Some Folks Just Don't Get It
Posted by Joe Manausa on Thursday, May 6, 2010 at 11:08 AM
By Joe Manausa / May 6, 2010
3 Comments
Choosing to sell a home "For Sale By Owner" is not working very well these days. I certainly understand wanting to save money. This is a very tough economy and every dollar matters to most families, so don't for a second think that I don't understand why somebody would try to sell a home without having to pay for a REALTOR. I get it. I understand.
Trying to save money is wise, knowing how to do it might be a whole bunch tougher than some people might think. For our regular visitors here at the Tallahassee Real Estate Web Site, it is known that currently 73% of the homes that were listed for sale last year failed to sell. That's right, 3 out of 4 home owners who thought they were going to sell their home ended up going the whole term of their listing agreement and failed to get a contract. Why could that be?
Home Sellers Currently Outnumber Home Buyers
The fact is, home sellers currently outnumber home buyers. It is a very competitive market for home sellers, and only the very well informed and prepared are finding success. Knowing how to get it done using the internet is critical (to which 73% can sadly attest). But most our readers already know this, so what prompted me to write on this topic today?
I received the following "marketing" material yesterday from a "For Sale By Owner." Sadly, this is so flawed, in so many ways, that I felt it would provide for solid educational material for people considering selling a home in Tallahassee.
Hi I am a home owner trying to sell my house located at PROPERTY ADDRESS. The property is located at PROPERTY ADDRESS. The Open House is on 16th and 23 rd May from 10 a.m to 4 p.m. Info about the house along with pictures can be found at - Link to property listing on an aggregate site

If any of your clients wants to buy a house please bring them by, I will pay 2% at closing.

Thanks Seller Name Seller Phone Number
Doesn't that great piece of marketing make you want to find out more? I guess I was "targeted" because the seller got my email address from the Tallahassee Board Of REALTORS. Needless to say, this is not very good. In fact, this bit of "For sale by owner" spam was so poor that it did nothing to help sell the home. By the numbers, let's see where this seller missed it:
Mass spamming REALTORS is a good way to get solicited by people wanting your business (they want to list your home), but they are not going to buy it.
There is no compelling message about the property here. Why would I want to know more?
This message is all about the seller, where is the benefit to me or a buyer? Good marketing is based upon reader benefits, not writer benefits.
The closing line is the best. This seller is telling me that there are 5,400 homes in the MLS that will pay a higher commission than he will pay.
One thing you need to understand right up front is that the only differences between you and a real estate professional or another "For Sale By Owner" are knowledge and experience. Experience is tough to gain but knowledge is available here.
I talk to people regularly that sell on their own. It's hard work, involves a lot of time, some expenses, and requires a sound plan. This book will help you develop a winning plan and empower you to collect all of the equity in your home. Just tell us where to send it!
Some Folks Just Don't Get It
The year is 2010, and people are not standing in line to buy a home. Sure, five years ago a sign in the yard was all it took, but .... that was five years ago.
Because I decided to use this spam as my focal point today, I went ahead and clicked through to check out the house. Again, the "For Sale by Owner" put himself at a gross disadvantage in this very tough market. What did I find?
The home was over-priced by more than 20% (we've seen average declines of over 20% ... more if the home was new when purchased last time like this one)
There were no compelling reasons listed to purchase the home. The market was Joe Friday "just the facts, ma'am."
There was no virtual tour, which we know increases views on the aggregate sites that this is listed on.
Most "For Sale By Owners" are overpriced because the real estate agents they spoke to wouldn't put the home on the market at that price ... because buyers won't buy at that price!
Don't let this be you! If you are highly motivated in needing to sell your home, sit down with an expert in the housing market and do what it takes to sell your home. If you are not highly motivated, stay out of the market so that we can find a balance between supply and demand. With 73% of sellers failing to sell their home, we really don't need 1 more homeowner testing the market!
---
*Joe Manausa Real Estate is a brokerage company headquartered in Tallahassee, Florida. Its unique business model provides specialists to both home sellers and home buyers, and the results speak for themselves. JMRE has significantly more 5-star reviews on Google than any other local competitor. Joe Manausa Real Estate is a leader in internet marketing and utilizes search engine optimization, email marketing, social media, and data analytics to get their clients' home sold faster and for more money than any other Tallahassee brokerage firm. For more information, visit www.manausa.com or call us at (850) 366-8917.
YOU CAN SELL A HOME ON YOUR OWN!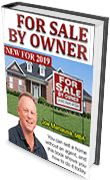 One thing you need to understand right up front is that the only differences between you and a real estate professional or another "For Sale By Owner" are knowledge and experience. Experience is tough to gain but knowledge is available right here.
Tell us to whom and where to send our 59-page resource book below, and we'll help you get started gaining the knowledge you need.