Existing Homes For Sale In Tallahassee November 2022
Posted by Joe Manausa on Monday, November 14, 2022 at 6:00 AM
By Joe Manausa / November 14, 2022
Comment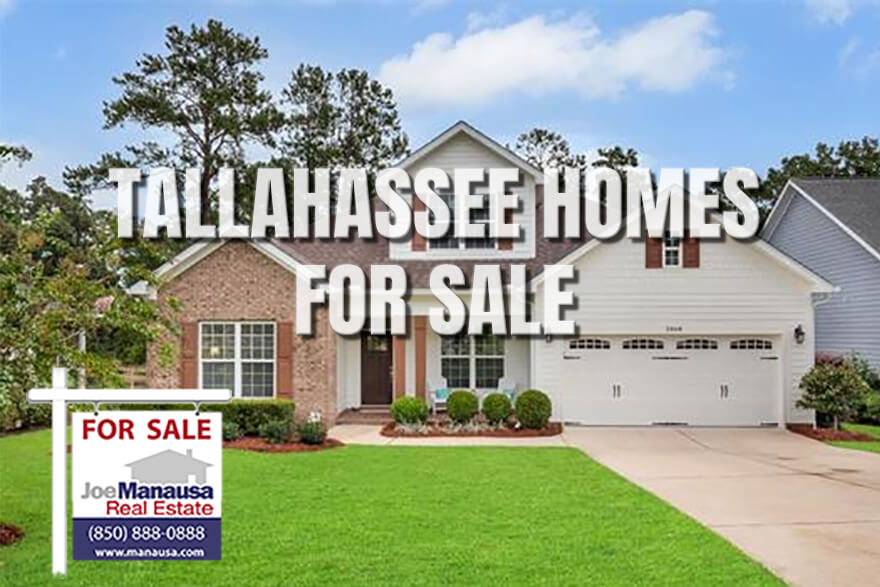 The number of homes for sale in Tallahassee remains far too few, measuring below 900 properties and just above 500 when you remove those already under contract with buyers.
When we zero in on the existing homes market, we find 422 homes for sale that are available today. Our report analyzes the existing homes market in Tallahassee, revealing what you will find, where you will find it, and what you can expect to pay on average to live in Florida's Capital City.
Homes For Sale In Tallahassee
The following list includes all homes for sale actively listed in the Tallahassee MLS, including new-construction homes.
Today's housing report includes four graphs. One that reports the number of existing homes for sale in Tallahassee, segmented by price range, one that shows how many existing homes are listed in each quadrant of Tallahassee, one that reveals the average price and average price per square foot of the listings in each quadrant, and one that identifies the percentage of homes by price range that are under contract or have reduced asking prices.
There are two quirks in today's report that are not accidental. First, the price ranges I've used are uncommon but very helpful. Rather than typical reports that segment prices on "zero numbers" (like $100,000 and $200,000), I've terminated each $100K price segment at the $98K point. This puts those "999" listings back into the category where they belong.
Many ignorant real estate agents price homes "just under" the zero level because they see gas stations do the same. When searching through the listings, you'll find quite a few homes for sale at $399K or $499K, etc. This strategy is foolish and hurts home sellers. If you'd like to know more about "pricing on the 9s," I've included a video below the graph that explains it all. If you want to fetch top dollar, DO NOT price your home on the 9s!
Number Of Existing Homes For Sale
This graph plots the number of homes for sale in Tallahassee by price range.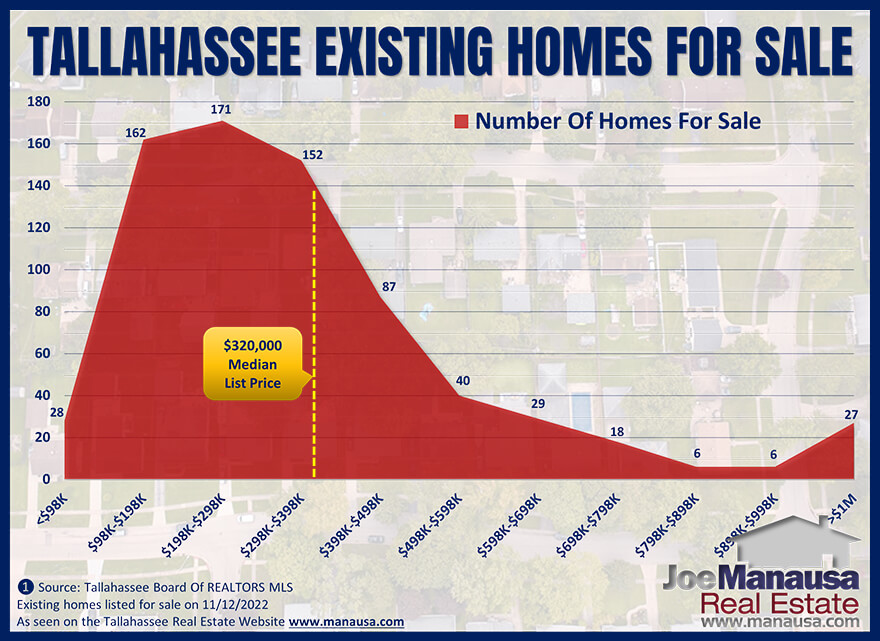 The graph is the perfect example of how high-end home sales skew the average. The median home list price is $320,000, calculated as the middle home's list price when sorting all listings by list price. The average list price of $364,472 is 14% higher and is calculated as the sum of all list prices divided by the total number of listings.
Most of the reports I produce use the median rather than the average because it more accurately reflects true market behavior. The median reduces the impact of a handful of very pricey home sales (and very cheap home sales) so that we gain a better understanding of what is going on.
Another great takeaway from this graph is the low availability of homes. For example, if you are moving to Tallahassee to work for Amazon's management team and have an $850K budget for your home, there are only six homes available today. That's not many homes for people coming from a larger market area.
Where The Existing Homes For Sale Are Located
This graph segments the Tallahassee real estate market into its four intercardinal directions by price range of available listings.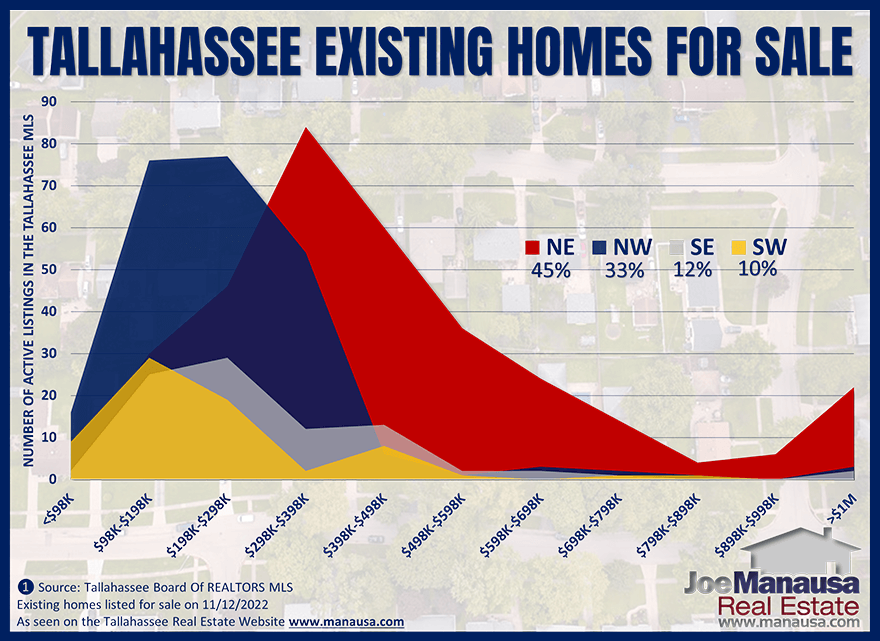 Northeast Tallahassee dominates our local housing market in terms of the number of homes that exist (and thus that are listed and sold). Nearly 80% of the homes in Tallahassee are located on the north side of town, with just 12% and 10% in Southeast and Southwest Tallahassee, respectively.
If you plan on purchasing a home over $500K, you'll likely find it in Tallahassee's northeast quadrant.
Get Our Free Market Update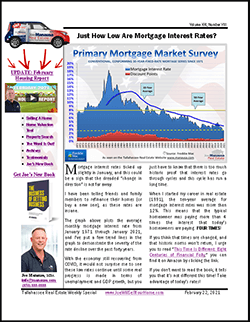 Other buyers, sellers, lenders, and real estate agents have this critical information, and now you can too!
Get immediate access to our most recent newsletter.
Let more than 30 years of experience work for you with charts, graphs, and analysis of the Tallahassee housing market.
Each Monday morning we send out a simple, one-page report that provides a snapshot of the Tallahassee housing market. It only takes 2 minutes to read, but it gives you better market intelligence than most real estate agents possess. Just tell us where to send it below!
The Average Price Of The Existing Homes For Sale
This next graph reveals the average home price and the average price per square foot of listings in each of the four intercardinal segments of the Tallahassee real estate market.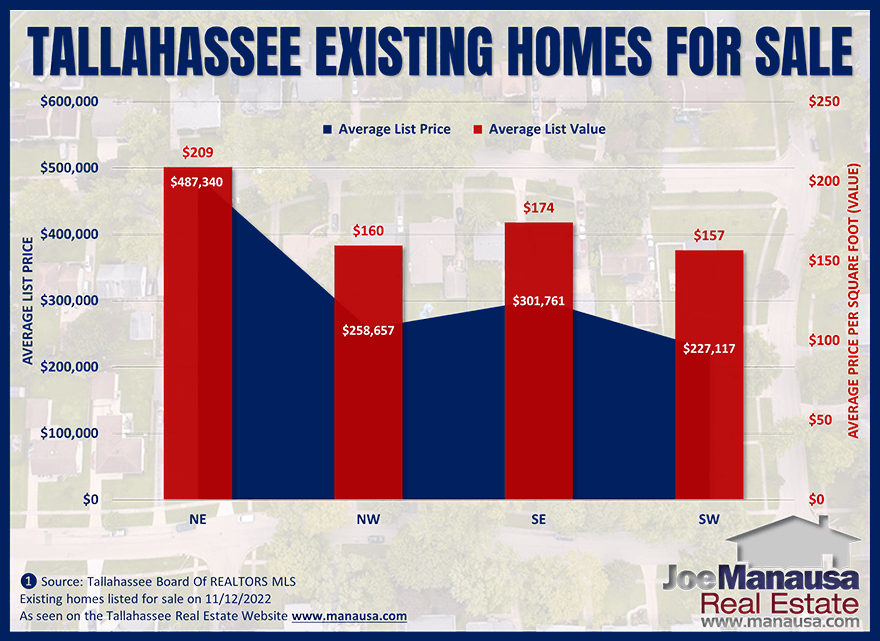 The blue area reports the average list price in each quadrant (measured on the left vertical axis) while the red bars display the average value (reported in price per square foot on the right vertical axis).
The most expensive homes are found in Northeast Tallahassee, where the average list price is approaching $500K (with values of $209 per square foot), while the least expensive homes are found in Southwest Tallahassee, with an average list price of $227 (and values of $157 per square foot).
If you have little experience with the Tallahassee real estate market, ensure you work with a real estate agent who is a home pricing expert because real estate prices and values are hyper-local. The old saying that real estate is local is confirmed in Tallahassee.
Existing Homes For Sale With Reduced Prices
This next graph segments the active existing home listings by price range and reports the percentage of each under contract and the percentage of the listings that have lowered asking prices. Both statistics are often discussed in online reports, but one is completely bogus and should be taken with a grain of salt.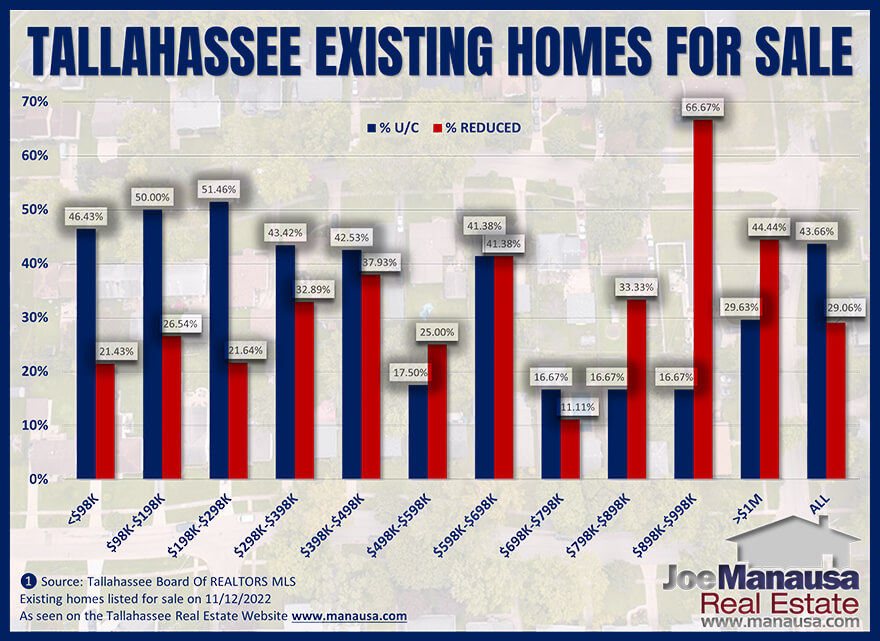 The blue bars report the number of listings in each price range that are already under contract with buyers, while the red bars appear to reveal the percentage of active listings that have lowered asking prices.
Nearly 1/2 of all active listings priced below $500K are already under contract with buyers. This means when buyers go shopping for median-priced homes, half of the active listings are not really available as other buyers have already secured those homes with contracts. It's hard enough to be a homebuyer in a limited-inventory market, but having the inventory halved makes it even worse, and thus we are still seeing bidding wars despite mortgage interest rates doubling in less than a year.
The bogus statistic reported in this graph is the percentage of homes that have reported price reductions. I've included it here for two reasons. First, to point out the unreliability of certain data from MLS systems, and second, because it's asked about fairly often.
One must understand that MLS systems were not designed as data-first systems, rather, they were designed to help Realtors market their listings to other Realtors. While I only have experience with a few MLS systems, I can tell you that I've never found one that removes duplicate information accurately. Additionally, most cannot accurately calculate reduction rates and market time because agents can cancel and "re-start" a listing at any time with a new MLS number, a new start date, and a new initial asking price. Here's an example of how that corrupts certain data points.
On January 1, 2022: Agent "Bob" enters a listing for 123 Main Street for $325,000. After 30 days, Bob cancels the listing and starts a new one to appear as a "just listed" home. 30 days later, still unsold, Bob convinces the seller to lower the asking price to $300,000. 30 days later, the frustrated home seller fires Bob and hires Agent "Mary."
Mary lists the home for $290,000. 30 days later, she gets the seller to lower the price to $275,000, and she cancels the listing and starts the new one at the new price. The next day, a buyer goes to contract on the home. 29 days later, the home closes at the full asking price of $275,000. So what does the MLS report?
The sales price to list price ratio is 100% (instead of 95% of Mary's initial asking price or 85% of Bob's initial asking price.
The market time is shown as 1 day (instead of 31 days with Mary or 121 days with Bob and Mary).
The listing will also show no price reductions, even though Bob reduced it once, and Mary secured two more reductions.
The net effect of how the MLS system works is that a home that took 121 days to sell for 84.6% of the initial asking price after 3 price reductions shows up as a one-day, full-price sale. If you look through as much MLS data as I have since the MLS went digital 20+ years ago, you would know that raw MLS reports, as pulled by the national real estate reporting agencies, are full of bad data.
The next time you see a report that discusses the median time on the market or average sales price to list price ratio, know that it's likely built with bogus data. You have to wonder if the reporter is ignorant or attempting to mislead you. Neither is worthy of your attention.
What To Know About Tallahassee Homes For Sale Today
This is the craziest real estate market I have seen in my 31+ years of selling homes in Tallahassee. It "feels" like the market crash that began in 2006, yet the supply of homes for sale is near an all-time low. Mortgage interest rates are up 100%+ since this time last year, and we've seen them even higher in the past 30 days.
The Fed has promised to raise its Federal Funds Rate again this year, so we're expecting mortgage interest rates to move higher again before the year's end. Despite plummeting demand due to home affordability issues, prices have moved more than 10% higher since last year.
If you are somebody renting, you've probably seen your lease renewals include double-digit growth rates for the past few years. If not, beware, it is coming. There is a lack of homes available in both the for-rent and the for-sale markets, so both rents and home prices are expected to continue higher. New construction is not bringing the needed shelter to most US housing markets, and Tallahassee is no exception.
If you are in a must-move situation, ensure you take the time to hire an experienced and highly active real estate agent to get the best advice and accurate information. There are areas and price ranges where the homes are competitive, and multiple offers are still the norm, yet there are others where that is not the case despite what the MLS is reporting. It's critical to align your negotiation strategy with the reality of your local area and price point.
If you are planning a move in the Tallahassee area, we would love the opportunity to earn your business and demonstrate how we can put our five-star-rated services to work for you.
Your Local Expert In Tallahassee
When moving to, in, or from Tallahassee, you will fare better if you work with a local expert. We are here to help. If you have further questions on the Tallahassee real estate market, you can leave a comment below, give us a call at (850) 366-8917, or drop us a note and we'll give you the local information needed to ensure a successful, smooth transaction.
As a local born and raised in Tallahassee with a focus on customer service, I promise you'll find great success when working with Joe Manausa Real Estate, just as have our past customers. You can read thousands of their reviews reported on Google, Facebook and Zillow right here: Real Estate Agent Reviews Tallahassee.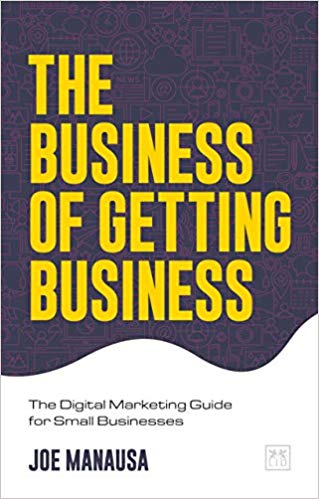 Have you heard about my new book "The Business of Getting Business?" It's a comprehensive guide for small businesses to help them make the move to digital. For those of us who want to survive and thrive in a world where large corporations are taking over, it is a must-read. It's also the perfect guide for how to sell a home in the digital age. You can find The Business Of Getting Business by clicking on any of the trusted retailers below.

Think all REALTORS are alike?
Read what people are saying about working with Joe Manausa Real Estate! You can see thousands of real customer reviews reported on Google, Facebook and Zillow at this link: CLICK HERE FOR REAL ESTATE AGENT REVIEWS.