Buy A Home Now Or Wait To Save For A Larger Down Payment?
Posted by Joe Manausa on Tuesday, June 25, 2019 at 5:57 AM
By Joe Manausa / June 25, 2019
Comment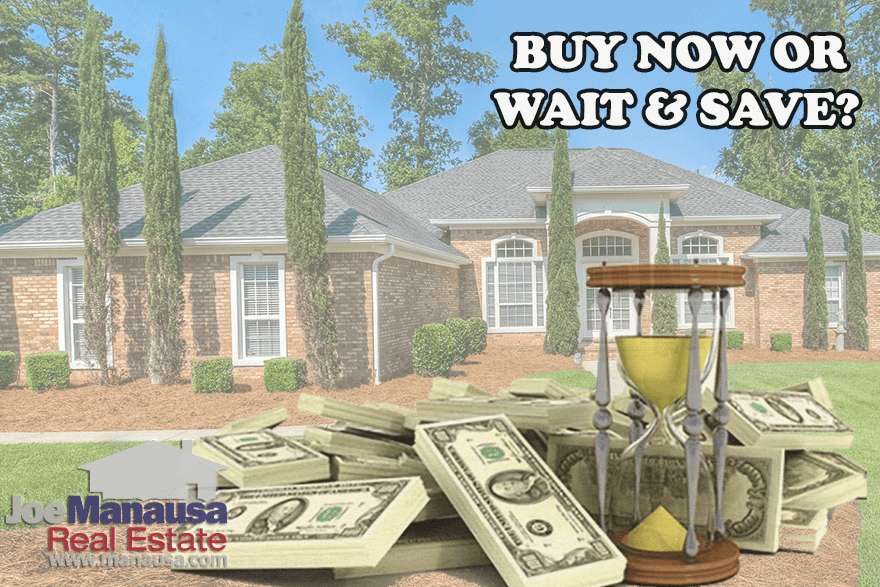 If you have been considering making a move and are thinking about waiting, you should really check out the current state of the Tallahassee real estate market. This post was inspired by a conversation with a recent buyer who explained: "I want to wait until I can save 20% before we buy."
At face value, that seems to be a reasonable, rational decision, but when you consider the variables from today's housing market, you will quickly see this buyer would lose tens of thousands of dollars by pursuing this course of action.
Let's take an analytical look at the consequences of waiting.
Should You Save For A Large Downpayment?
There are several considerations when deciding on the timing of buying your next home. Nobody has a crystal ball to forecast the future, but the next best thing is having a great handle on the Tallahassee housing market.
A study of supply and demand for homes like the one you would like to buy (and the one you have to sell) are an important first step. I am going to state that the market is poised for higher-than-historically-normal appreciation for the next several years, but if you want to see the supporting evidence for this statement, you could read our weekly newsletters (see them here), or you can look at this recent market report here. Both the article as well as all the reports are derived from real market data, not merely the biased opinion of a real estate broker.
Another consideration that should be included in your decision making is mortgage interest rates. Interest rates are going to have a significant impact on the market for selling your existing home as well as the competitiveness of the home you would like to buy. If rates go higher, the amount of home you will be able to afford will be less.
Unlike my market report (where I am the subject matter expert for real estate in Tallahassee), my opinions on the mortgage market are far less educated. You should do some background reading on mortgage interest rates and develop your own opinion on what they will do in the future.
My two-cents on interest rates is that they will be moving higher over the next ten years, likely beginning near the end of this year. Why? Because mortgage interest rates have been hovering around historically low levels for many years, and history shows us that interest rates always return to "normal." Mathematicians might refer to this as a reversion to the mean. There are far more reasons why rates will go up than there are for them staying low or going lower.
If rates do go up, then so too will your cost of buying a home. Even after saving up for a larger down payment, you likely will see a higher payment due to higher mortgage interest rates than you would with a beefier down payment (lower loan amount, but higher interest rates). If you do believe mortgage interest rates are moving higher, you want to lock into a loan as soon as possible so that your next 30 years of payments will be at a lower rate.
Something tells us you're just … well … smarter than most people looking to buy a home.
Introducing Home Buying For Smart People
Here's what we've got for you:
A systematic, simple process to use modern technology to help you find the right home, at the right price.

A clear tutorial approach to the "Manausa method" of making sure that you see ALL of the homes that fit your needs without exposing yourself to the serious mistakes that many homebuyers make.

A sure-fire way to win the negotiation ... don't let a weak agent allow you to miss out on the home of your dreams!
Home Buying For Smart People is a free multi-part course and ongoing email newsletter. Join the thousands of other "smart people" who saved thousands of dollars when buying a home in a careful and prepared manner.
How Real Estate Appreciation Can Impact You
The following graph is useful to see the impact of appreciation. For simplicity, it assumes you live in a $200K home and wish to move to a $300K home, a typical move-up scenario for which we often help Tallahassee home buyers.
The yellow bars track the appreciating value of your current home, while the blue bars track the appreciating value of the home you want to buy. The green line shows the difference between the two homes each year.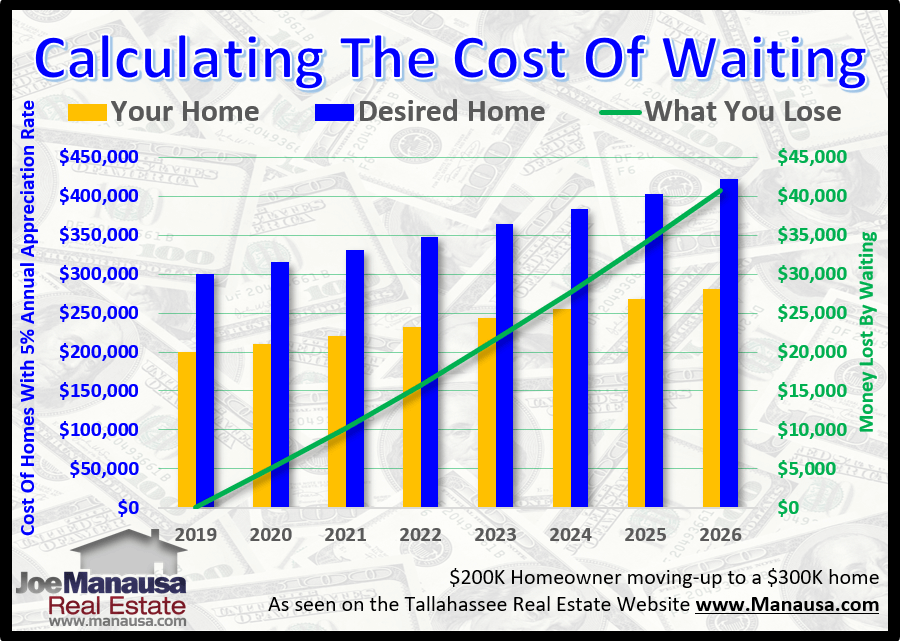 Assuming you need another five years to save up for a larger down payment, it will cost you an additional $28K for your next home (the additional difference in value between the two homes). Now couple that with the likely higher mortgage interest rates and you can see this is not necessarily the prudent plan.
There are times when the real estate market outlook is for low appreciation (when inventory levels are high), and mortgage interest rates are high so it makes sense to wait until they head back down. During those times it might make for a sound decision to save for a larger downpayment. But current conditions are opposite of this, as mortgage interest rates are still low, housing inventory levels are far too low and values are moving higher at a faster pace than what we are accustomed to in Tallahassee (and the rest of the US).
I hope this analysis on buying now versus waiting in order to save for a larger down payment has given you the information you were looking for. If not, you can give us a call at (850) 366-8917 or drop us a note and we'll help you with your specific Tallahassee real estate needs.
As someone born and raised in Tallahassee with a focus on customer service, I promise you'll find great success when working with Joe Manausa Real Estate, just as have our past customers. You can read thousands of their reviews reported on Google, Facebook and Zillow right here: Real Estate Agent Reviews Tallahassee.
Real Estate Market Information Can Be Overwhelming
That's why Joe breaks the data down into easy-to-understand concepts. Whether you're buying, selling, investing or just interested in the market, sign up for Joe's blog to get the latest Tallahassee real estate updates, straight to your inbox.