Bannerman Commons Listings And Sales Report June 2023
Posted by Joe Manausa on Tuesday, June 6, 2023 at 6:00 AM
By Joe Manausa / June 6, 2023
Comment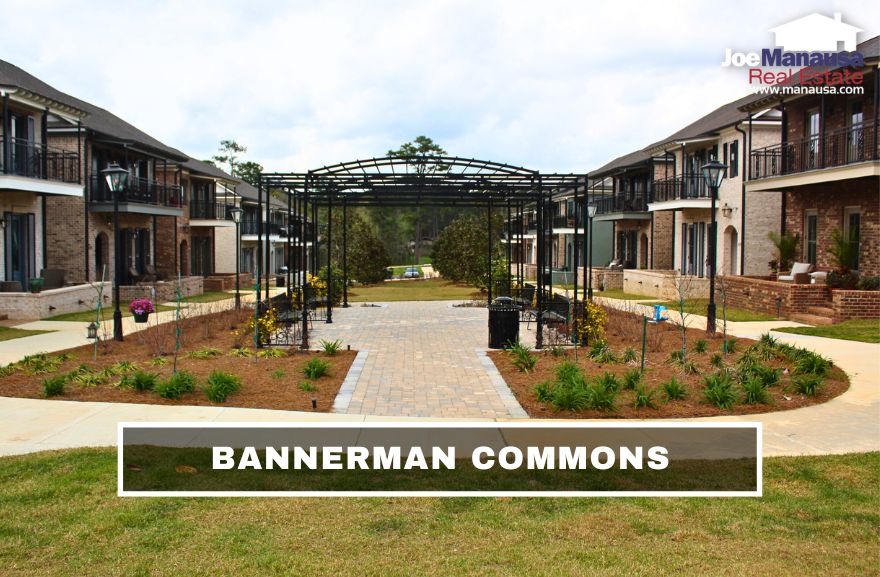 Bannerman Commons is a new construction neighborhood nestled in the Bradfordville area of north Tallahassee, offering residents a highly sought-after location with one of the best walkability scores in Tallahassee.
Within the neighborhood itself, residents can enjoy a range of amenities that cater to their daily needs. Local shops, restaurants, and cafes are scattered throughout, offering various dining and shopping options.
Bannerman Commons Schools
Bannerman Commons is zoned for the following Leon County public schools:
This Bannerman Commons neighborhood report includes charts and graphs that display average home prices, home values, home sizes, and a list of the most recent closed home sales in Bannerman Commons.
For each of the three real estate graphs found in this Tallahassee housing report, you will find the number of closed home sales for each year (red columns, measured on the left vertical axis) and an important real estate statistic shown in blue (measured on the right vertical axis).
It is important to note that the narrative contained below is for sales through May in 2023. The graphs and the closed sales table will be continuously updated in the future (meaning, bookmark this page if you always want to know the current status of homes in Bannerman Commons).
Bannerman Commons Home Prices
The average home price in Bannerman Commons in 2023 is $775K.
Currently, there are five homes for sale in Bannerman Commons, and two are under contract with buyers.
Home Values In Bannerman Commons
The average home value in Bannerman Commons in 2023 is as high as in any neighborhood that we track (with all units new construction, this is not a great surprise).
The average home value in Bannerman Commons in 2023 is $270 per square foot.
Keep Up With New Trends In Tallahassee!
Get The Tallahassee Real Estate Newsletter
Don't be the one that doesn't know what's going on when you sell a home or buy a home in Tallahassee.
Other buyers, sellers, lenders, and real estate agents have this critical information, and now you can too!
Get immediate access to our most recent newsletter.
Let more than 30 years of experience work for you with charts, graphs, and analysis of the Tallahassee housing market.
Bannerman Commons Home Sizes
The average size of homes sold in Bannerman Commons typically falls between 2,600 to 3,300 square feet.
The three homes sold in 2023 were measured at an average size of 1,566 square feet.
Recent Home Sales In Bannerman Commons
The following list shows all home sales in Bannerman Commons since 2023, the first year that sales began here. Note that you can arrange the list by simply clicking the column heading for the data you wish to sort by.
| Address | Price | Price/SQF | Closing Date | Year Built | SQF | Sale Type |
| --- | --- | --- | --- | --- | --- | --- |
| 3024 Gentilly Street | $725,000 | $272 | 2023-06-12 | 2022 | 2,667 | New |
| 3014 Gentilly Street | $725,000 | $272 | 2023-04-05 | 2023 | 2,667 | New |
| 6726 Carandolet Lane | $874,000 | $266 | 2023-03-15 | 2023 | 3,291 | New |
| 3018 Gentilly Street | $725,000 | $272 | 2023-03-01 | 2022 | 2,667 | New |