Is The Supply Of Homes For Sale Finally Rising?
Posted by Joe Manausa on Monday, June 6, 2022 at 5:51 AM
By Joe Manausa / June 6, 2022
Comment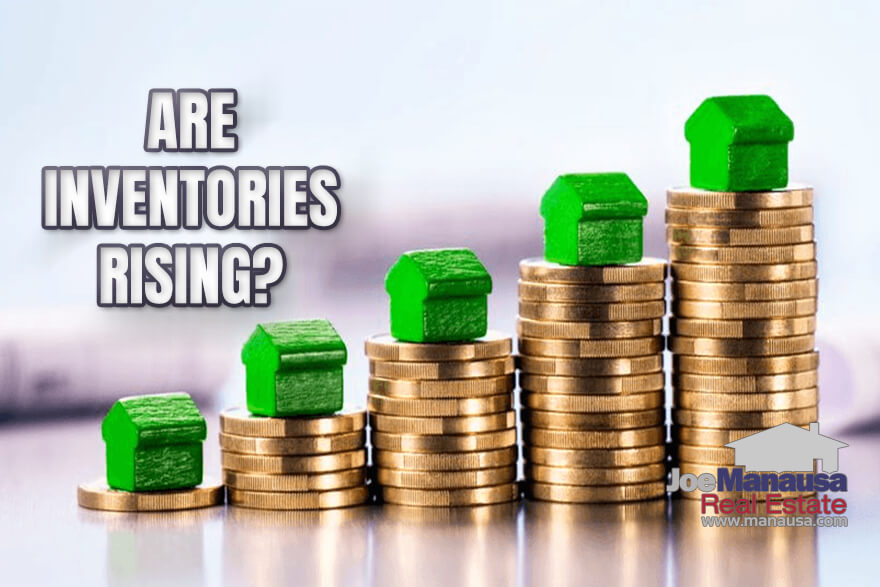 With the jump in mortgage interest rates, many reports of rising home inventories are popping up around the internet.
Some say we'll see home prices crash soon, while others say prices will stabilize. Nearly none of these reports actually evaluate the circumstances that are needed to forecast price movement in the housing market.
Today, we examine the supply of homes for sale in the US and report on the fundamentals that will determine price movement now and in the near future for US homes.
Is the supply of homes for sale actually rising? What will home prices do? Five simple graphs reveal everything we need to know to forecast changes in the supply of homes for sale as well as accurately forecasting the changes in home prices.
The first step in determining whether or not the supply of homes for sale is rising is to evaluate the current supply and demand for homes in the United States.
Supply Of Existing Homes For Sale
This graph plots the current supply and demand for homes in the US. The blue bars measure the number of active home listings on the left vertical axis, while the red line plots the months of supply of homes by using current sales data (and reported on the right vertical axis). Finally, the gray dashed-line measures the one-year average of the months of supply.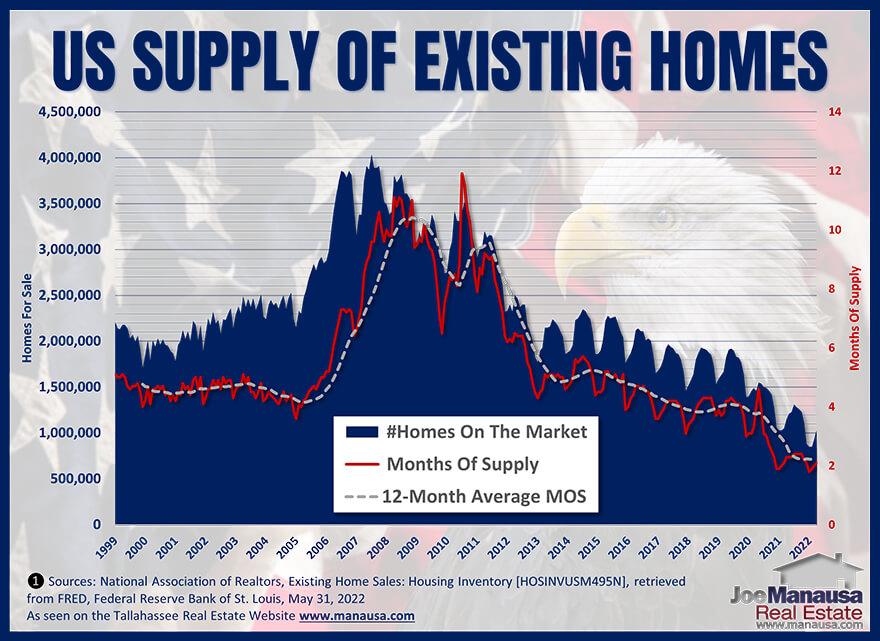 Unfortunately, through the production of this report, we see the trend still falling in the supply of homes relative to the current rate of demand. So reports that have been warning of rising inventories are either wrong, or very local to specific markets.
Currently, the supply of homes for sale (relative to the current rate of demand) is still falling. When we look at the far right of the graph, the blue bars show that the current inventory of homes is right at one million homes.
Contrast today's supply with the four million plus homes in inventory at it's highest point back in June of 2007. That means today's supply is 75% lower than what the market observed at its peak and lower than any time going back 23 years.
Now, to further investigate signs of inventory growth, let's look at the new construction pipeline to see what's on the way.
One quick way to see what the future of new home construction will look like is to examine the number of building permits that have been filed.
US Home Building Permits
This graph plots the average number of housing units permitted each month for more than 60 years.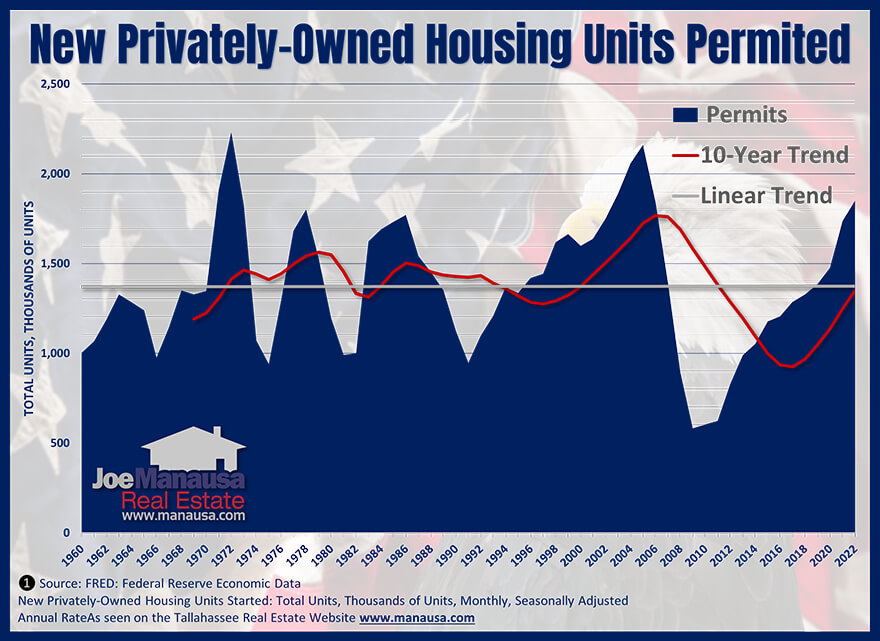 The blue bars show the average number of monthly permits filed, the red line plots the ten-year average of monthly permits filed, while the gray line shows the linear trend for the whole period of time. Amazingly, the trend has not changed one-bit over the past sixty years, meaning we've averaged the same number of permits each month for sixty years!
The fluctuations that occur annually are obvious, as too are the ten-year trends. But shouldn't we see a rising linear trend from 1960 through today? After all, the population of the US has nearly doubled from 181 million to 335 million people over that time span, so shouldn't the growth rate of new homes be rising too?
The good news from this graph is that our current rate of permitting is the highest we've seen since 2006 and if it continues to climb we might actually start to see growth in the inventory of homes for sale.
Measuring building permits indicates the intention to build homes, but we need to dig deeper to find out how many homes are actually being built, and we do this by measuring a statistic known as "housing starts."
US Housing Starts
Housing starts is an economic indicator that reflects the number of privately owned new houses on which construction has been started during a given time period for single-family houses, townhouses or small condos, and apartment buildings with five or more units.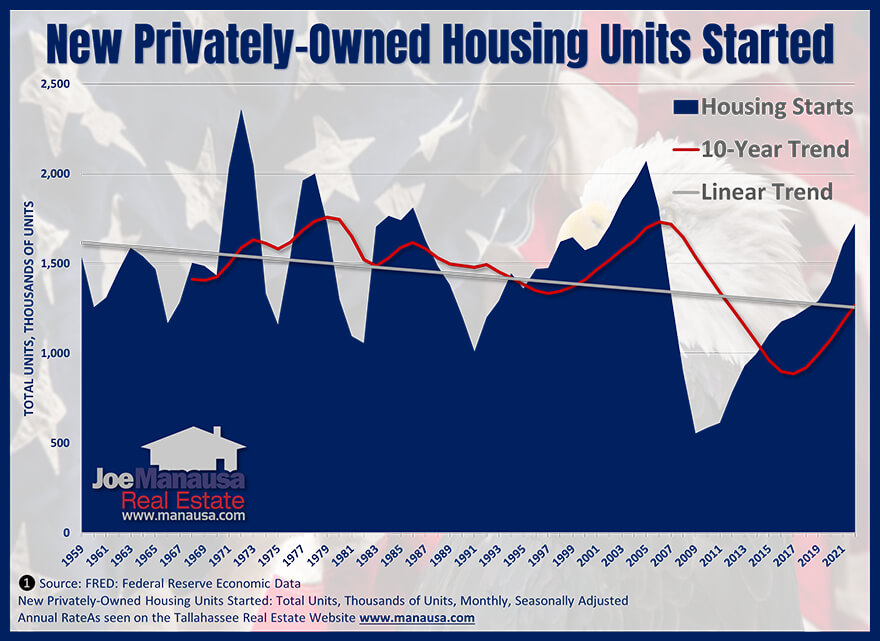 This graph plots the average number of housing starts each month in blue and the ten-year trend of monthly starts in red. Like the last graph, this one shows the linear trend in gray, but it is declining. Simply put, over the past 60-plus years, we've seen a decline in the number of households started in the US, even though our population has been growing during those years.
This is a great picture of the problem with the US housing market, it is grossly underbuilt for our growing population. One would expect a growing population to show growth in the formation of new households, but the plunge in new home construction starting fifteen years ago has brought about a very bad situation where shelter is scarce and both home prices and rents are soaring to very unaffordable levels.
US New Home Construction Materials Costs
One way we can forecast the ability to correct the imbalance between supply and demand is to examine the current cost to build new homes. This graph plots the producer price index of construction materials for the past twenty-two years, and it very clearly shows a problem that our market cannot overcome any time soon.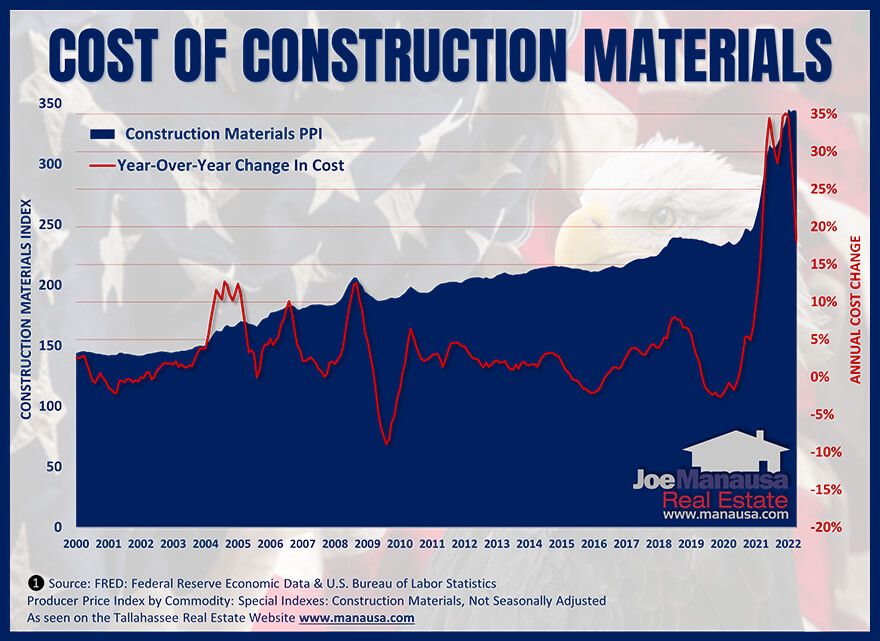 In this graph, the blue bars report the producer price index (PPI) for construction materials since 2000. The value of 100 was set in 1982, and all values moving forward have been compared to 1982 prices. The red line reports the year-over-year change in the PPI.
From 2000 through 2021, construction costs fluctuated very close to 2.6% annually. When we look back even further (not shown in the graph), we find that the year-over-year change in the PPI for construction materials averaged 3.6%. But look at what the current market is dealing with today!
The PPI for construction materials has averaged a whopping 26.7% year-over-year change since the beginning of 2021. How do we bring affordable homes to the market when construction costs are soaring? The reality is that builders can build homes, but they cannot build them at prices the majority of home buyers can afford.
There is a ray of hope that can be seen here though. Much of the recent soaring costs can be attributed to supply chain issues that began when COVID hit the US, and we've seen the rate of growth begin to fall in 2022. Bear in mind, this is NOT costs declining, rather it is the rate of growth that is declining. The PPI is still on the rise!
The big question here is whether all of the soaring costs can be attributed to COVID, or if there are other factors in play. One such cause for rising prices is likely to be found in the numerous jumps in the minimum wage that we're seeing in many states. I believe this is also a factor and it is not one that we will find relief from, so we should expect higher building costs due to wage increases for the foreseeable future.
I do believe we'll eventually see construction costs stabilize and come down, though I'm not confident we'll see costs fall below the level reported prior to COVID. If I'm right, it will be very difficult to make up the lack of supply with new construction homes unless we see significant wage growth among most of the middle class in the United States.
Get Our Free Market Update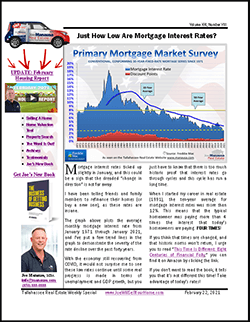 Other buyers, sellers, lenders, and real estate agents have this critical information, and now you can too!
Get immediate access to our most recent newsletter.
Let more than 30 years of experience work for you with charts, graphs, and analysis of the Tallahassee housing market.
Each Monday morning we send out a simple, one-page report that provides a snapshot of the Tallahassee housing market. It only takes 2 minutes to read, but it gives you better market intelligence than most real estate agents possess. Just tell us where to send it below!
In many of my videos, I get comments from people who believe that prices are poised to fall (solely because they have risen so fast). I always tell them that there is a litmus test that we use to predict these rising prices. Here's how it works.
First of all, home prices WILL NOT RISE until we see a dramatic change in the supply and demand dynamic in housing. If the supply remains below demand, home prices will continue to rise. For this to happen, we need to see one or more of the following:
The demand for homes has to drop so low that the existing supply becomes "too much."
The demand for homes has to drop while the supply of homes is rising until such a time that the market swings in favor of buyers.
The supply of homes has to explode far higher than demand can sustain.
That's about it. Any one of those (or a combination of them) can switch us from a seller's market to a buyer's market. I believe we are seeing the demand for homes drop due to rising mortgage interest rates, but if rates fall, we'll see this trend reverse.
The final two points require the supply to rise, and it's just not in the cards due to the exhorbitant cost of construction materials. On this point, I've had people comment that there are millions of homes in foreclosures that will flood the market. This is simply not true.
Default levels in the US have dropped well-below pre-COVID figures, and these homes are sitting on equity (meaning they can be sold on an open market and the homeowners will still get a check at closing, despite being behind in their payments). The owners might be facing a hardship, but it's one that can be cured through a sale.
Another recent comment I've received is that investors are sitting on millions of homes that will soon flood the market. My response: "I wish!" This too is simply not true. We've seen significant growth from institutional investor activity in the housing market, and they are here to stay. If you want to know more about this, take a look at Invitation Homes, its model is working and is a serious threat to home affordability. They are not buying to flip, they are buying for the long-term cash flows that housing provides.
US Rental Rates
The second part of our litmus test for the potential for rising home prices is the study of rental rates in the US. It is common for a segment of the housing market to sway back and forth from the "for rent" market to the "for sale" market.
When the supply of homes for sale goes to high, some homes shift to the "for rent" market so that the owners do not sit on vacant, unwanted homes. When the opposite is true, homes shift to the "for sale" market so that the owners can get their full equity and get out of the landlord business.
So our litmus test requires us to examine the trend of rental rates to determine the supply and demand dynamic in the "for rent" market. If rents are falling, the rental market is oversupplied and we can expect to find inventory streaming in to the "for sale" market. The opposite is true too. If rents are soaring, we can expect more investment in the "for sale" market to turn homes into rental properties.
Our final graph in today's report unfortunately shows that there will be additional supply streaming in from the rental market. Even as home prices are soaring, so too are rental rates.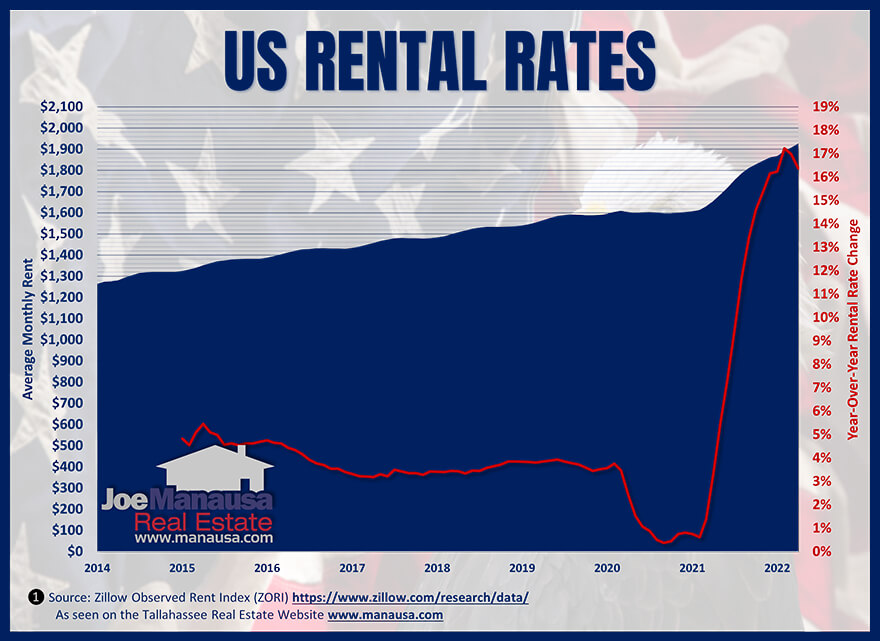 This graph measures the typical observed market rental rate, something Zillow produces from its immense database each month. It uses a segment of the middle of the rental market to approximate the median rent and it shows that just like home prices, home rental rates are soaring too.
The blue area measures the rental rate index each month (median rent) while the red line plots the year-over-year percentage change each month. It is this red line that assures us the rental market is no more healthy than is the for sale market.
As the inventory of homes for sale has declined, so too has the inventory of homes for rent. How do we know rental inventory is dropping (without actually having a dataset of rental unit supply)?
We can deduce this because rental rates are soaring. The median rental rate las month was more than 16% higher than the median rental rate of one year ago. People who are renting today are facing huge increases when their leases renew, and this means that home affordability for tenants is tanking as quickly as it is for homeowners.
This means our litmus test is producing very clear results. There are not enough homes in the US to house our growing population, and something needs to be done soon!
How To Thrive As Home Affordability Declines
It used to be easy to become a tenant when home affordability declined, but that solution is not working today. With rents rising (even faster) than home prices, people are going to find more of their disposable income being allocated to shelter.
We're seeing a rise in the homeless rate in the US, but I believe it's just the tip of the iceberg. The solution to the housing mess will likely be wage inflation, but that takes time to kick in. The US is facing a home affordability crisis that is going to require either a reduction in the population or an increase in the number of housing units (or a combination of both).
The way to thrive in this environment over the next few years is to acquire real estate if you can. Real estate will beat inflation, and you can leverage it with a mortgage to surpass the rate of return you'll find on most investments and with far lower risks.
If you cannot afford a home, try to get into a long-term lease that protects you against the coming rate hikes (for example, get a five-year lease with a rate that only rises 3% per year). These will be trying times for many American families and the time to act is now.
If you have any questions or comments that you would like addressed, I've included a short form below that you can use. We wish every American the right and ability to afford a home, but we acknowledge that this does and will continue to present a huge challenge for many.
Your Local Expert In Tallahassee
When moving to, in, or from Tallahassee, you will fare better if you work with a local expert. We are here to help. If you have further questions on the Tallahassee real estate market, you can leave a comment below, give us a call at (850) 366-8917, or drop us a note and we'll give you the local information needed to ensure a successful, smooth transaction.
As a local born and raised in Tallahassee with a focus on customer service, I promise you'll find great success when working with Joe Manausa Real Estate, just as have our past customers. You can read thousands of their reviews reported on Google, Facebook and Zillow right here: Real Estate Agent Reviews Tallahassee.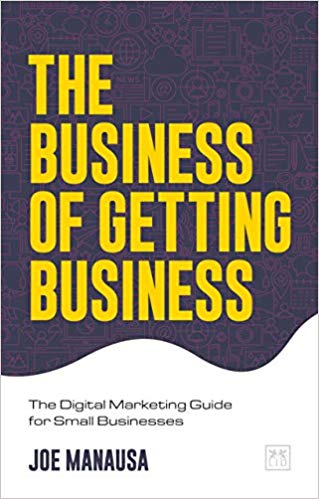 Have you heard about my new book "The Business of Getting Business?" It's a comprehensive guide for small businesses to help them make the move to digital. For those of us who want to survive and thrive in a world where large corporations are taking over, it is a must-read. It's also the perfect guide for how to sell a home in the digital age. You can find The Business Of Getting Business by clicking on any of the trusted retailers below.

Think all REALTORS are alike?
Read what people are saying about working with Joe Manausa Real Estate! You can see thousands of real customer reviews reported on Google, Facebook and Zillow at this link: CLICK HERE FOR REAL ESTATE AGENT REVIEWS.
I recently stumbled upon your latest Carrabelle listing. I must say, a home on Florida's Forgotten Coast is bound to be snatched up quickly. Best of luck with getting it under contract soon!

Posted by Barbara Corcoran on Thursday, June 15, 2023