The Simple Way To Stay On Top Of The Tallahassee Real Estate Market
Posted by Joe Manausa on Monday, September 19, 2016 at 6:02 AM
By Joe Manausa / September 19, 2016
Comment
Whether you are looking to sell a home in Tallahassee, buy a home in Tallahassee, or both, we always recommend you gain some market insight before you make your move.
The ability to sniff out a deal as a buyer or to get top dollar for your home when selling requires an awareness of real valuations among the current list of homes for sale in Tallahassee.
Fortunately, we have created a "5 minutes per week" way for you to stay on top of housing market conditions in Tallahassee.

Negotiate From Strength
One huge mistake I see made (over and over again), by both sellers and buyers alike, is those that go into a real estate transaction ill prepared to negotiate. Sure, they have an idea of what they want, but they are totally clueless about current valuations.
How can you negotiate on a home if you do not know its current value?
The fact is, professionals in every industry rely on up-to-the-date information on the goods and services for which they negotiate. You cannot have an understanding of how the "other side" is going to react without the context of the entire market. In other words, will others buyers and sellers be interested at the asking price/offer price?
Get Our Free Market Update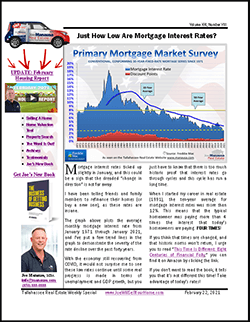 Other buyers, sellers, lenders, and real estate agents have this critical information, and now you can too!
Get immediate access to our most recent newsletter.
Let more than 30 years of experience work for you with charts, graphs, and analysis of the Tallahassee housing market.
Each Monday morning we send out a simple, one-page report that provides a snapshot of the Tallahassee housing market. It only takes 2 minutes to read, but it gives you better market intelligence than most real estate agents possess. Just tell us where to send it below!