Is This Proof Of Runaway Appreciation For Homes?
Posted by Joe Manausa on Monday, November 22, 2021 at 5:51 AM
By Joe Manausa / November 22, 2021
Comment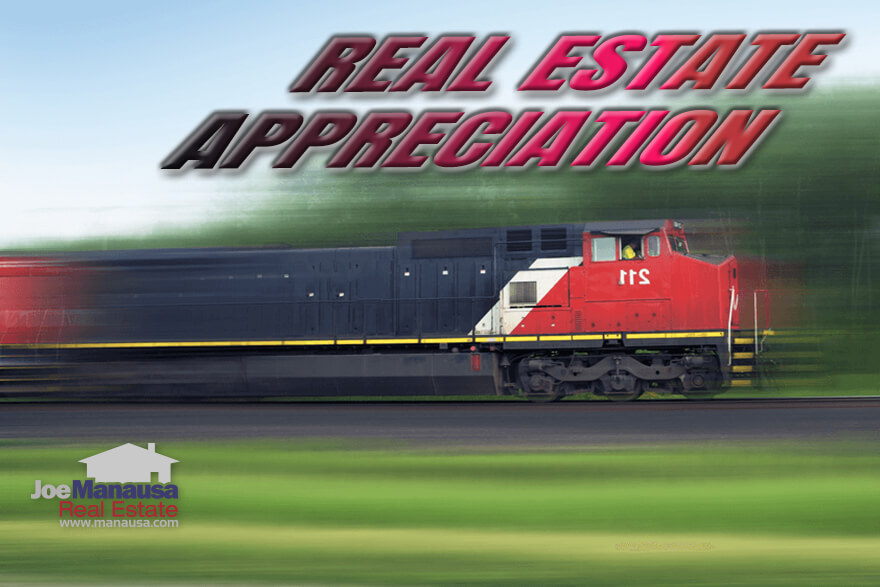 As a homeowner, I am happy when home values move higher, but is there a point where it becomes too much of a good thing?
Over the years, we've come to expect "normal" real estate appreciation to be just over 3%, but homes are appreciating much faster than a normal rate. Home values are moving higher fast enough to cause alarm bells to ring, and today's report will show you exactly how the housing market has performed and where we are likely headed from here.
So hold on to your seat, take a look at a few of the median-priced homes for sale in Tallahassee, then prepare to be accurately informed on the changes to the median homes in Tallahassee.
Median Priced Homes For Sale
Proof Of Runaway Appreciation In Real Estate?
When reporting on single-family homes, most real estate reporters combine the sales of single-family detached homes, townhomes, and condominiums. This is useful information, but you seldom see these reports dig into value trends, rather they focus too often on price trends. Also, our report today will use the median home value, rather than merely the average.
The Median Home Value In Tallahassee
The first of four graphs in today's median home report segments the market by property type. The red lines plot the median single-family detached home value, while the solid blue line plots the median townhome value, and the dashed-blue line plots the median condominium value.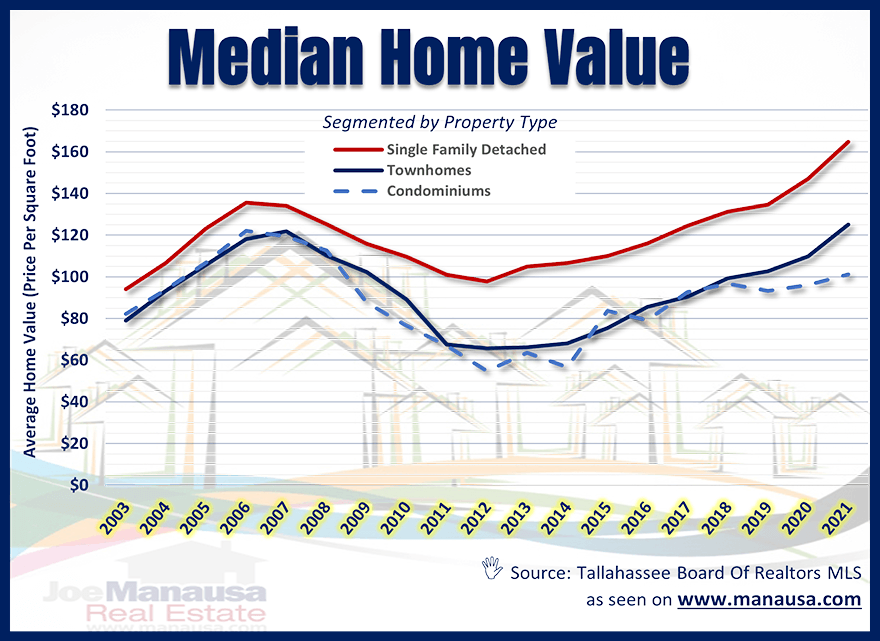 This segmentation is great because most people only own one home. This breaks the market into three separate categories and each homeowner can assess their specific market situation.
What's very clear in this graph is that the value of single-family detached homes and townhomes are soaring higher, while condominium values do not appear to be moving much at all.
Of the three property types, condominiums have the most fluctuation in what falls into the category. As I write this report, there have been 416 condominium sales in Tallahassee this year, priced from as low as $35K for a 700 square foot student rental to as high as $725K for a penthouse unit in the Tennyson in downtown Tallahassee.
Additionally, there have been many units sold in new condominium neighborhoods that look very much like a traditional single-family detached home, but the neighborhoods were set up as condominiums. These are fetching from $300K to over $500K, so they definitely skew the median higher. For this reason, we could see a huge jump in the median condominium value should the number of student rental sales fall below the downtown and new condominium unit sales.
New Versus Existing Homes
This next graph segments the market between new and existing homes, reporting the collective median value for single-family detached homes, townhomes, and condominiums.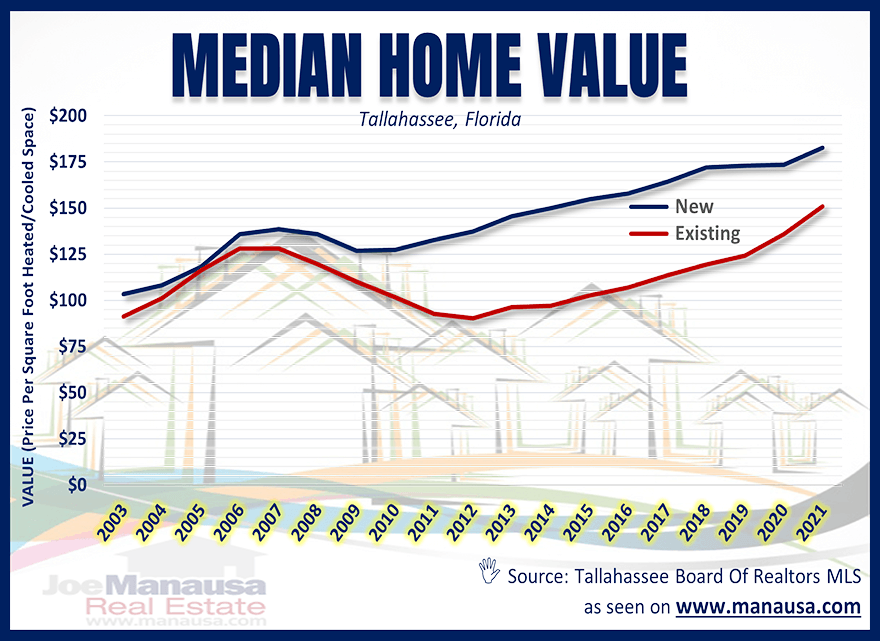 They say that a picture is worth a thousand words, and this graph might be doubly so. Even with no arrows or annotations, I believe we all can see why today's market conditions are nothing like what we saw in 2006 when the housing bubble burst.
Back in the housing market expansion phase from 2003 through 2006, builders were able to bring homes to the market at values many buyers could afford. In fact, they were so affordable that there was very little difference in values between new and used homes. But times change!
The value differential between new and used homes has resulted in the builders not being able to bring homes to the heart of the market, rather they are only servicing the top 20% or so of homebuyers. Existing home values still remain far behind what builders can supply today, so the receding inventory is not being resupplied. There has been a new construction shortage of several thousand homes going back to 2016 when the market hit equilibrium.
Get Our Free Market Update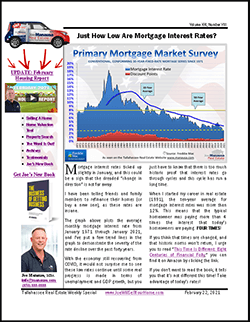 Other buyers, sellers, lenders, and real estate agents have this critical information, and now you can too!
Get immediate access to our most recent newsletter.
Let more than 30 years of experience work for you with charts, graphs, and analysis of the Tallahassee housing market.
Each Monday morning we send out a simple, one-page report that provides a snapshot of the Tallahassee housing market. It only takes 2 minutes to read, but it gives you better market intelligence than most real estate agents possess. Just tell us where to send it below!
For our readers who want to know what buyers are spending today, the median home price graph below segments the market between new and existing homes.
Median Home Price
Much like we saw with the previous graph, the middle of the market prices are soaring in 2021.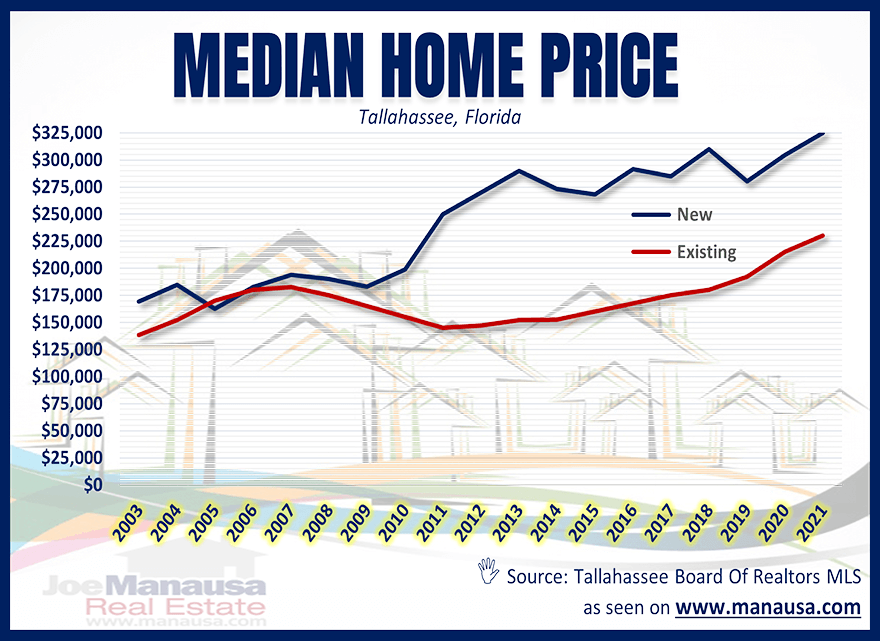 From 1991 through 2010, the median new-home price and median existing-home price were usually within $50K of each other. But oh how things have changed.
By 2013, the median new home price was nearly double the median existing-home price, making it very difficult for local homebuilders to supply the most active segment of the housing market. With low mortgage interest rates fueling demand and builders not being able to deliver the supply, we've seen the median existing-home price soar. But so too are new home prices.
There are too many underlying factors that suggest the divide between new and used will remain, as inflation and the rising cost of wages have already heavily impacted the market. Couple that with the lack of developed lots and there is plenty of reason to fear the median new home price will push above $400K in the next few years.
Runaway Appreciation In Real Estate
At the beginning of this post, I pondered whether the rapid appreciation of homes was too much of a good thing. I believe the final graph and explanation make it clear that yes, it has been far too much of a good thing.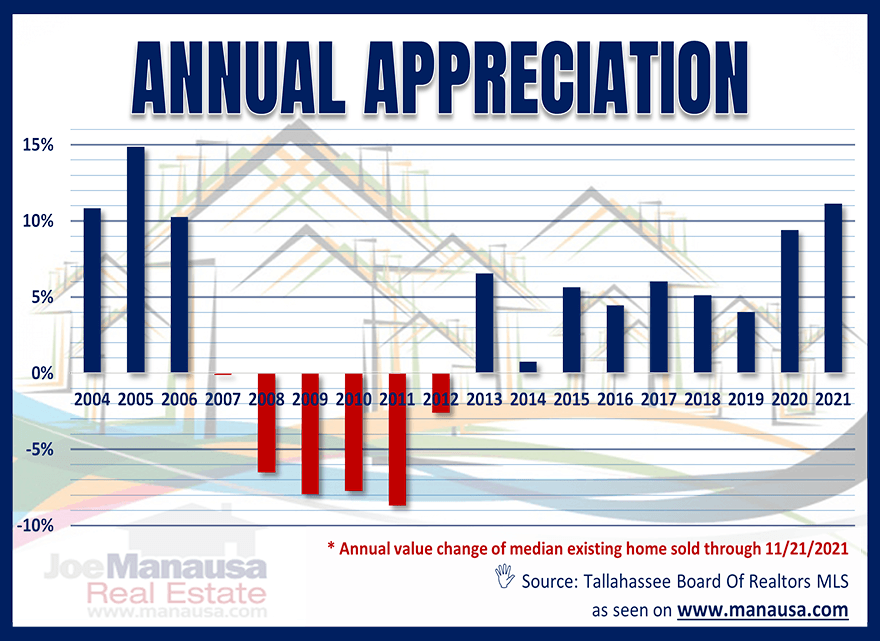 The graph above plots the median home value each year and reveals the impact that the diminished inventory of homes for sale is having on home values. The market has been undersupplied since the end of 2016, so home values continue to move higher at an accelerating rate.
When the year began, I forecast double-double-digit appreciation. Through mid-November, the median home value has risen more than 11% which is an annualized rate of nearly 13%. The demand for homes is approaching the peak market years of 2005 and 2006, but new construction is far lower today than what the market has consumed, so the supply of homes continues to trail demand.
The lack of inventory is only going to increase the pressure on home values. Yes, it's nice to see home values rise, but double-digit appreciation is going to eventually destroy home affordability and convert our market to one of haves and have nots.
The relative supply of homes is stuck near an all-time low, and the bidding wars are making it very difficult to buy a home today. We need builders to step up the production and give the market the homes it needs, all the while paying attention to mortgage interest rate movement which will eventually slow demand.
Joe's Recent Housing Report Videos
Your Local Expert In Tallahassee
When moving to, in, or from Tallahassee, you will fare better if you work with a local expert. We are here to help. If you have further questions on the Tallahassee real estate market, you can leave a comment below, give us a call at (850) 366-8917, or drop us a note and we'll give you the local information needed to ensure a successful, smooth transaction.
As a local born and raised in Tallahassee with a focus on customer service, I promise you'll find great success when working with Joe Manausa Real Estate, just as have our past customers. You can read thousands of their reviews reported on Google, Facebook and Zillow right here: Real Estate Agent Reviews Tallahassee.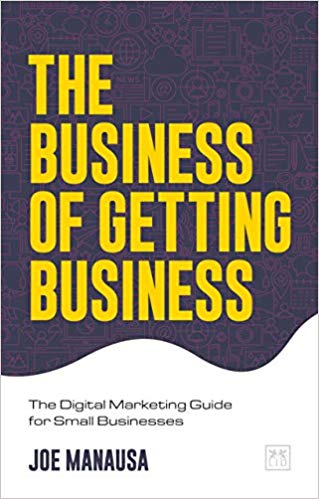 Have you heard about my new book "The Business of Getting Business?" It's a comprehensive guide for small businesses to help them make the move to digital. For those of us who want to survive and thrive in a world where large corporations are taking over, it is a must-read. It's also the perfect guide for how to sell a home in the digital age. You can find The Business Of Getting Business by clicking on any of the trusted retailers below.

Think all REALTORS are alike?
Read what people are saying about working with Joe Manausa Real Estate! You can see thousands of real customer reviews reported on Google, Facebook and Zillow at this link: CLICK HERE FOR REAL ESTATE AGENT REVIEWS.
I recently stumbled upon your latest Carrabelle listing. I must say, a home on Florida's Forgotten Coast is bound to be snatched up quickly. Best of luck with getting it under contract soon!

Posted by Barbara Corcoran on Thursday, June 15, 2023