Ox Bow Listings And Luxury Housing Report November 2023
Posted by Joe Manausa on Thursday, November 16, 2023 at 6:00 AM
By Joe Manausa / November 16, 2023
Comment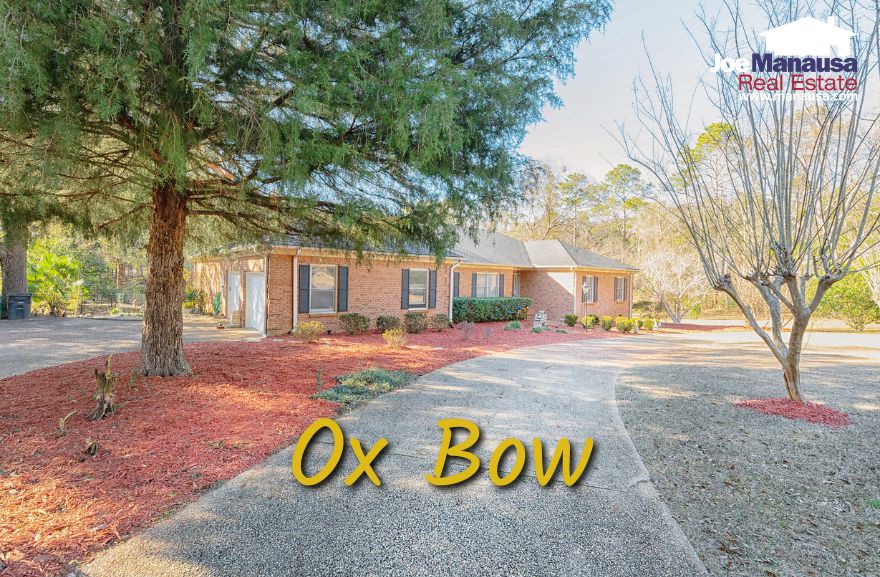 Homes For Sale In Ox Bow
Ox Bow, situated in the desirable northeast section of Tallahassee, offers residents large homes on expansive lots, providing a rare mix of privacy and easy access to city conveniences within the boundaries of Leon County.
Located in the sought-after 32312 zip code, residents of Ox Bow benefit from highly-rated schools and convenient commuting routes along Thomasville Road or Meridian Road. The neighborhood represents the perfect balance between a peaceful, secluded residence and quick entry to city life and its amenities.
Ox Bow Schools
Ox Bow is zoned for the following A-rated schools in Leon County:
The next part of this report features detailed graphs showing the progression of home prices, values, and sizes in Ox Bow, along with a detailed, sortable table that records all completed sales of luxury homes since 1991.
Each graph includes two main elements: the red columns, which indicate the yearly number of completed home sales, plotted against the left vertical axis, and the blue line, which charts a key real estate metric, scaled on the right vertical axis.
It's important to point out that the discussion that follows includes sales data up to the end of each previous year, and for 2023, it covers up until the first week of November. We will continue to update the graphs and the comprehensive sales table periodically, so bookmarking this page would be beneficial for those interested in the most current information on the Ox Bow real estate market.
Ox Bow Home Prices
Ox Bow offers a rich variety of homes, each with unique amenities, styles, and sizes. Therefore, any "average" figures should be viewed with an understanding of the wide-ranging nature of the properties in the area.
In 2023, the average selling price of homes in Ox Bow is $852K, which is a decrease of over 7% from the average in the previous year.
The housing market activity in Ox Bow has been somewhat quieter compared to the last decade's average. However, sellers who utilize a well-rounded, omnichannel marketing approach, with a strong focus on pre-marketing, can still sell their homes swiftly and at prime prices.
At the moment, there are two homes listed for sale in Ox Bow, with one already pending sale.
Ox Bow Home Values
In 2023, the average home value in Ox Bow has experienced a decline of nearly 12%.
This year, homes in Ox Bow have sold for an average value of $222 per square foot.
Keep Up With New Trends In Tallahassee!
Get The Tallahassee Real Estate Newsletter
Don't be the one that doesn't know what's going on when you sell a home or buy a home in Tallahassee.
Other buyers, sellers, lenders, and real estate agents have this critical information, and now you can too!
Get immediate access to our most recent newsletter.
Let more than 30 years of experience work for you with charts, graphs, and analysis of the Tallahassee housing market.
Average Ox Bow Home Sizes
Ox Bow is home to a selection of large properties, with the usual home size sold ranging from 3,000 to 5,000 square feet.
The average size of the four properties sold in Ox Bow in 2023 is 3,808 square feet.
Ox Bow Home Sales
Below is a list that details the home sales in Ox Bow, dating back to the year 1991.
| Neighborhood | Address | Price | Price/SQF | Closing Date | Year Built | SQF | Sale Type |
| --- | --- | --- | --- | --- | --- | --- | --- |
| Ox Bottom | 1725 Evening Breeze Lane | $960,000 | $280 | 2023-09-26 | 1991 | 3,426 | Resale |
| Ox Bottom | 1725 Evening Breeze Ln | $500,000 | $157 | 2023-04-10 | 1991 | 3,170 | Resale |
| Sleepy Hollow | 7101 Sleepy Hollow Circle | $882,000 | $222 | 2023-03-22 | 2006 | 3,965 | Resale |
| Ox Bottom | 1887 Ox Bow Trace | $1,065,000 | $228 | 2023-03-15 | 2004 | 4,671 | Resale |
| Ox Bottom | 7207 Ox Bow Circle | $1,350,500 | $290 | 2022-12-27 | 2000 | 4,658 | Resale |
| Sleepy Hollow | 7133 Sleepy Hollow Circle | $963,600 | $303 | 2022-11-10 | 2022 | 3,179 | New |
| Ox Bottom | 489 Meadow Ridge Drive | $660,000 | $219 | 2022-07-28 | 1997 | 3,017 | Resale |
| Sleepy Hollow | 7100 Sleepy Hollow | $999,500 | $302 | 2022-05-31 | 2022 | 3,309 | New |
| Ox Bottom | 7059 Ox Bow Road | $825,000 | $201 | 2022-05-19 | 1999 | 4,103 | Resale |
| Ox Bottom | 7099 Ox Bow Road | $725,000 | $198 | 2022-05-06 | 1996 | 3,661 | Resale |
| Ox Bottom | 8023 Evening Star Lane | $640,850 | $146 | 2021-12-30 | 1988 | 4,375 | Resale |
| Ox Bottom | 6451 Ox Bow Court | $939,000 | $238 | 2021-10-08 | 2002 | 3,940 | Resale |
| Ox Bottom | 7322 Ox Bow Circle | $950,000 | $205 | 2021-09-30 | 2000 | 4,642 | Resale |
| Sleepy Hollow | 7100 Sleepy Hollow Cir | $800,000 | $153 | 2021-07-19 | 2021 | 5,223 | New |
| Ox Bottom | 8039 Evening Star Lane | $655,000 | $168 | 2021-06-21 | 1988 | 3,894 | Resale |
| Ox Bow Estates | 7150 Ox Bow Circle | $792,500 | $168 | 2021-06-02 | 1989 | 4,713 | Resale |
| Ox Bottom | 8063 Evening Star Lane | $630,000 | $250 | 2021-06-01 | 1992 | 2,522 | Resale |
| Ox Bottom | 6357 Ox Bow Run | $361,900 | $78 | 2021-04-23 | 2004 | 4,626 | Resale |
| Ox Bottom | 6351 Ox Bow Run | $790,000 | $168 | 2021-02-26 | 2008 | 4,713 | Resale |
| Ox Bottom | 7392 Ox Bow Circle | $1,125,000 | $220 | 2021-02-18 | 2006 | 5,103 | Resale |
| Ox Bottom | 1881 Ox Bow Trace | $900,000 | $170 | 2021-01-15 | 2007 | 5,286 | Resale |
| Ox Bottom | 7237 Ox Bow Circle | $795,000 | $209 | 2021-01-08 | 1999 | 3,800 | Resale |
| Ox Bottom | 6357 Ox Bow Run | $617,400 | $133 | 2020-12-08 | 2004 | 4,646 | Resale |
| Ox Bottom | 8047 Evening Star Lane | $565,000 | $165 | 2020-11-30 | 1988 | 3,417 | Resale |
| Sleepy Hollow | 7110 Sleepy Hollow Circle | $850,000 | $270 | 2020-10-31 | 2020 | 3,150 | New |
| Quail Ridge | 6322 Covey Crossing | $515,000 | $183 | 2020-10-28 | 2003 | 2,817 | Resale |
| Sleepy Hollow | 7117 Sleepy Hollow Circle | $1,100,000 | $237 | 2020-08-10 | 2020 | 4,648 | New |
| Ox Bow Estates | 7230 Ox Bow Circle | $477,000 | $172 | 2020-07-01 | 1990 | 2,776 | Resale |
| Ox Bottom | 7310 Ox Bow Circle | $645,000 | $157 | 2020-06-01 | 2000 | 4,100 | Resale |
| Sleepy Hollow | 7223 Sleepy Hollow Circle | $649,000 | $194 | 2019-06-14 | 2016 | 3,353 | Resale |
| Ox Bottom | 7059 Ox Bow Road | $547,500 | $133 | 2019-05-29 | 1999 | 4,103 | Resale |
| Ox Bow Estates | 7138 Ox Bow Circle | $668,000 | $222 | 2019-04-30 | 1989 | 3,015 | Resale |
| Ox Bottom | 6036 Boynton Homestead | $470,000 | $146 | 2019-03-08 | 1990 | 3,211 | Resale |
| Ox Bottom | 7345 Ox Bow Circle | $650,000 | $186 | 2019-01-18 | 2004 | 3,499 | Resale |
| Ox Bottom | 7073 Ox Bow Road | $545,000 | $171 | 2018-12-18 | 2001 | 3,179 | Resale |
| Quail Ridge | 6082 Covey Crossing | $572,619 | $184 | 2018-10-18 | 1994 | 3,117 | Resale |
| Ox Bottom | 7207 Ox Bow Circle | $640,000 | $137 | 2018-09-05 | 2000 | 4,658 | Resale |
| Ox Bottom | 7339 Ox Bow Circle | $690,000 | $190 | 2018-08-24 | 1999 | 3,627 | Resale |
| Sleepy Hollow | 7197 Sleepy Hollow Circle | $565,000 | $188 | 2018-07-20 | 2016 | 3,000 | New |
| Ox Bottom | 7084 Ox Bow Rd | $425,000 | $137 | 2018-06-13 | 1997 | 3,107 | Resale |
| Ox Bottom | 1881 Ox Bow Trace | $840,000 | $159 | 2018-06-01 | 2007 | 5,286 | Resale |
| Ox Bottom | 8015 Evening Star | $670,000 | $166 | 2018-05-30 | 1990 | 4,042 | Resale |
| Ox Bottom | 7316 Ox Bow Circle | $905,000 | $191 | 2018-05-15 | 2007 | 4,731 | Resale |
| Sleepy Hollow | 7180 Sleepy Hollow Cir | $611,000 | $191 | 2018-02-22 | 2008 | 3,203 | Resale |
| Ox Bottom | 7322 Ox Bow Circle | $950,000 | $205 | 2017-11-17 | 2000 | 4,642 | Resale |
| Ox Bottom | 7213 Ox Bow Circle | $665,000 | $149 | 2017-08-11 | 1998 | 4,454 | Resale |
| Ox Bottom | 7219 Ox Bow Cir | $1,000,000 | $186 | 2017-07-28 | 2001 | 5,385 | Resale |
| Ox Bottom | 7063 Ox Bow Rd | $520,000 | $145 | 2017-07-17 | 1998 | 3,598 | Resale |
| Ox Bottom | 8055 Evening Star Lane | $520,000 | $158 | 2017-06-15 | 1993 | 3,299 | Resale |
| Ox Bottom | 6351 Ox Bow Run | $795,000 | $169 | 2017-06-09 | 2008 | 4,713 | Resale |
| Ox Bottom | 7103 Ox Bow | $1,070,000 | $241 | 2017-05-01 | 2017 | 4,444 | New |
| Sleepy Hollow | 7223 Sleepy Hollow Cir | $376,200 | $134 | 2016-10-17 | 2016 | 2,800 | New |
| Ox Bottom | 1385 White Star Ln | $965,000 | $170 | 2016-10-07 | 2001 | 5,667 | Resale |
| Sleepy Hollow | 7231 Sleepy Hollow Circle | $784,000 | $245 | 2016-08-15 | 2016 | 3,200 | New |
| Ox Bottom | 7352 Ox Bow Circle | $500,000 | $149 | 2016-06-15 | 1998 | 3,346 | Resale |
| Sleepy Hollow | 7125 Sleepy Hollow | $592,500 | $154 | 2016-06-07 | 2006 | 3,836 | Resale |
| Ox Bottom | 1716 Evening Breeze Ln | $445,000 | $151 | 2016-03-11 | 1989 | 2,952 | Resale |
| Ox Bottom | 1817 Morning Star Lane | $590,000 | $158 | 2016-03-01 | 1992 | 3,726 | Resale |
| Ox Bow Estates | 7104 Ox Bow Circle | $370,000 | $164 | 2016-02-12 | 1985 | 2,261 | Resale |
| Sleepy Hollow | 7207 Sleepy Hollow Circle | $458,000 | $138 | 2015-11-06 | 2016 | 3,325 | New |
| Ox Bow Estates | 7150 Ox Bow Circle | $615,000 | $130 | 2015-10-30 | 1989 | 4,713 | Resale |
| Ox Bow Estates | 1417 White Star | $500,000 | $144 | 2015-10-01 | 1995 | 3,469 | Resale |
| Ox Bottom | 8072 Evening Star Ln | $500,000 | $140 | 2015-08-14 | 2002 | 3,570 | Resale |
| Ox Bottom | 7392 Ox Bow Circle | $950,000 | $174 | 2015-07-20 | 2006 | 5,449 | Resale |
| Ox Bow Estates | 7137 Ox Bow Circle | $495,000 | $119 | 2015-07-13 | 1988 | 4,177 | Resale |
| Ox Bottom | 8063 Evening Star Lane | $435,000 | $172 | 2015-06-30 | 1992 | 2,522 | Resale |
| Sleepy Hollow | 7192 Sleepy Hollow | $375,000 | $99 | 2015-06-19 | 2006 | 3,792 | Resale |
| Ox Bottom | 7310 Ox Bow Circle | $575,000 | $140 | 2015-05-11 | 2000 | 4,100 | Resale |
| Ox Bottom | 7316 Ox Bow Circle | $825,000 | $174 | 2015-04-10 | 2007 | 4,731 | Resale |
| Ox Bottom | 6369 Ox Bow Run | $670,000 | $167 | 2015-03-20 | 2011 | 4,001 | Resale |
| Ox Bottom | 7090 Ox Bow Rd | $526,000 | $112 | 2014-12-18 | 1996 | 4,692 | Resale |
| Ox Bottom | 7056 Ox Bow Rd | $500,000 | $130 | 2014-12-15 | 1989 | 3,852 | Resale |
| Ox Bottom | 6370 Ox Bow Run | $670,000 | -- | 2014-10-28 | -- | -- | Resale |
| Ox Bow Estates | 7187 Ox Bow Cir | $517,500 | $192 | 2014-09-08 | 1993 | 2,692 | Resale |
| Ox Bow Estates | 7230 Ox Bow Cir | $378,000 | $135 | 2014-08-11 | 1990 | 2,797 | Resale |
| Ox Bottom | 7983 Evening Star Ln | $425,000 | $124 | 2014-07-14 | 1992 | 3,418 | Resale |
| Ox Bottom | 8024 Evening Star Ln | $465,000 | $150 | 2014-05-09 | 1990 | 3,091 | Resale |
| Ox Bottom | 8039 Evening Star Ln | $485,000 | $125 | 2014-03-21 | 1988 | 3,894 | Resale |
| Ox Bottom | 7079 Ox Bow Rd | $700,000 | $194 | 2014-02-27 | 2010 | 3,610 | Resale |
| Ox Bottom | 8072 Evening Star Ln | $475,000 | $152 | 2013-12-19 | 2002 | 3,120 | Resale |
| Quail Ridge | 7164 Heartland Cir | $280,000 | $148 | 2013-12-05 | 1988 | 1,897 | Resale |
| Ox Bottom | 1205 Equestrian Way | $675,000 | $175 | 2013-11-14 | 2000 | 3,855 | Resale |
| Ox Bottom | 8063 Evening Star Ln | $390,000 | $153 | 2013-09-10 | 1992 | 2,552 | Resale |
| Sleepy Hollow | 7263 Sleepy Hollow Cir | $385,000 | $87 | 2013-09-09 | 2013 | 4,438 | New |
| Ox Bottom | 7085 Ox Bow Rd | $725,000 | $171 | 2013-06-07 | 1990 | 4,249 | Resale |
| Ox Bottom | 6358 Ox Bow Run | $633,600 | $161 | 2013-05-21 | 2013 | 3,932 | New |
| Ox Bottom | 7047 Ox Bow Rd | $400,000 | -- | 2012-12-24 | 2012 | -- | New |
| Sleepy Hollow | 7247 Sleepy Hollow Cir | $450,000 | $70 | 2012-12-17 | 2012 | 6,432 | New |
| Ox Bottom | 7403 Ox Bow Cir | $1,050,000 | $122 | 2012-10-15 | 2005 | 8,587 | Resale |
| Ox Bottom | 6370 Ox Bow Run | $380,000 | -- | 2012-09-03 | 2012 | -- | New |
| Ox Bottom | 7213 Ox Bow Cir | $500,000 | $134 | 2012-07-27 | 1998 | 3,724 | Resale |
| Ox Bottom | 8024 Evening Star Ln | $560,000 | $181 | 2012-07-16 | 1990 | 3,089 | Resale |
| Ox Bottom | 7316 Ox Bow Cir | $800,000 | $181 | 2012-06-25 | 2007 | 4,423 | Resale |
| Ox Bottom | 1709 Evening Breeze Ln | $408,000 | $115 | 2012-03-14 | 1989 | 3,551 | Resale |
| Ox Bottom | 6363 Ox Bow Run | $485,000 | $126 | 2011-12-07 | 2006 | 3,858 | Resale |
| Sleepy Hollow | 7101 Sleepy Hollow Cir | $460,000 | $116 | 2011-10-28 | 2006 | 3,965 | Resale |
| Ox Bottom | 7075 Ox Bow Rd | $487,400 | $130 | 2011-08-18 | 1994 | 3,760 | Resale |
| Ox Bottom | 7339 Ox Bow Cir | $530,000 | $146 | 2011-07-15 | 1999 | 3,627 | Resale |
| Ox Bottom | 7402 Ox Bow Cir | $939,000 | -- | 2011-07-11 | 2011 | -- | New |
| Sleepy Hollow | 7174 Sleepy Hollow Cir | $440,000 | -- | 2011-03-25 | 2011 | -- | New |
| Ox Bottom | 6378 Ox Bow Run | $571,000 | $113 | 2010-11-09 | 2005 | 5,039 | Resale |
| Ox Bottom | 6369 Ox Bow Run | $378,000 | -- | 2010-07-26 | 2010 | -- | New |
| Ox Bow Estates | 7138 Ox Bow Cir | $278,500 | $134 | 2010-04-09 | 1989 | 2,082 | Resale |
| Ox Bottom | 1869 Ox Bow Trce | $695,000 | -- | 2009-10-13 | -- | -- | Resale |
| Ox Bottom | 7207 Ox Bow Cir | $775,000 | $196 | 2009-05-22 | 2000 | 3,958 | Resale |
| Ox Bottom | 1809 Morning Star Ln | $510,000 | $140 | 2009-04-30 | 1988 | 3,634 | Resale |
| Ox Bottom | 6000 Boynton Homestead | $555,000 | $131 | 2009-04-28 | 1990 | 4,237 | Resale |
| Ox Bottom | 7079 Ox Bow Rd | $575,000 | $159 | 2008-11-10 | 2010 | 3,610 | New |
| Ox Bottom | 6000 Boynton Homestead | $530,000 | $125 | 2008-09-18 | 1990 | 4,255 | Resale |
| Ox Bottom | 6000 Boynton Homestead | $500,000 | $118 | 2008-05-14 | 1990 | 4,255 | Resale |
| Ox Bottom | 8015 Evening Star Ln | $437,400 | $142 | 2008-04-09 | 1990 | 3,072 | Resale |
| Ox Bottom | 6000 Boynton Homestead | $475,000 | $112 | 2007-12-17 | 1990 | 4,255 | Resale |
| Ox Bow Estates | 7183 Ox Bow Cir | $505,000 | $205 | 2007-12-11 | 1991 | 2,464 | Resale |
| Ox Bottom | 7333 Ox Bow Cir | $462,500 | $152 | 2007-11-14 | 2002 | 3,035 | Resale |
| Sleepy Hollow | 7180 Sleepy Hollow | $394,266 | $84 | 2007-07-30 | 2007 | 4,684 | New |
| Ox Bottom | 7376 Ox Bow Cir | $800,000 | -- | 2007-06-04 | 2007 | -- | New |
| Ox Bottom | -- | $625,000 | $165 | 2007-04-04 | 1994 | 3,796 | Resale |
| Ox Bow Estates | 7112 Ox Bow Cir | $895,000 | $259 | 2007-03-15 | 1986 | 3,460 | Resale |
| Ox Bottom | 6351 Ox Bow Run | $700,000 | -- | 2007-03-13 | 2007 | -- | New |
| Ox Bottom | 7368 Ox Bow Cir | $600,000 | -- | 2007-01-16 | 2006 | -- | New |
| Ox Bottom | 8015 Evening Star Ln | $210,000 | $74 | 2007-01-12 | 1990 | 2,820 | Resale |
| Ox Bottom | 1881 Ox Bow Trc | $770,000 | -- | 2006-10-31 | 2006 | -- | New |
| Ox Bottom | 8072 Evening Star Ln | $585,000 | $188 | 2006-08-22 | 2002 | 3,120 | Resale |
| Ox Bottom | 8039 Evening Star Ln | $607,600 | $170 | 2006-06-16 | 1988 | 3,582 | Resale |
| Ox Bottom | 7316 Ox Bow Cir | $634,000 | $143 | 2006-05-10 | 2007 | 4,423 | New |
| Ox Bottom | 7365 Ox Box Cir | $600,000 | -- | 2006-04-03 | 2006 | -- | New |
| Ox Bottom | 7360 Ox Bow Cir | $750,000 | -- | 2006-03-21 | 2006 | -- | New |
| Ox Bottom | 6378 Ox Bow Run | $1,800,000 | $357 | 2006-03-13 | 2005 | 5,039 | Resale |
| Sleepy Hollow | 7192 Sleepy Hollow | $300,000 | $62 | 2005-12-05 | 2005 | 4,835 | New |
| Ox Bottom | 1863 Ox Bow Trce | $710,000 | $193 | 2005-10-13 | 2005 | 3,673 | Resale |
| Quail Ridge | 6032 Covey Xing | $565,000 | $200 | 2005-08-25 | 1999 | 2,831 | Resale |
| Ox Bottom | 7073 Ox Bow Rd | $565,000 | $178 | 2005-06-03 | 2001 | 3,179 | Resale |
| Sleepy Hollow | 7125 Sleepy Hollow Cir | $370,000 | $106 | 2005-05-20 | 1970 | 3,494 | Resale |
| Ox Bow Estates | 7159 Ox Bow Cir | $387,500 | $177 | 2005-05-12 | 1990 | 2,184 | Resale |
| Sleepy Hollow | 7198 Sleepy Hollow Cir | $380,000 | $75 | 2005-04-13 | 2005 | 5,100 | New |
| Ox Bottom | 7339 Ox Bow Cir | $645,000 | $178 | 2005-03-31 | 1999 | 3,627 | Resale |
| Ox Bottom | 1875 Ox Bow Trace | $428,900 | -- | 2005-01-10 | 2004 | -- | New |
| Ox Bottom | 1857 Ox Bow Trce | $650,000 | $180 | 2004-11-30 | 2004 | 3,611 | New |
| Ox Bottom | 7335 Ox Bow Cir | $100,000 | $61 | 2004-10-18 | 2004 | 1,652 | New |
| Ox Bottom | 6378 Ox Bow Run | $300,000 | $43 | 2004-10-11 | 2005 | 7,026 | New |
| Ox Bottom | 1863 Ox Bow Terr | $240,000 | $51 | 2004-09-29 | 2004 | 4,682 | New |
| Ox Bottom | 8015 Evening Star Ln | $350,000 | $124 | 2004-08-06 | 1990 | 2,820 | Resale |
| Ox Bottom | 7056 Ox Bow Rd | $700,000 | $182 | 2004-07-30 | 1989 | 3,840 | Resale |
| Ox Bottom | 6004 Boynton Homestead | $480,000 | $140 | 2004-07-09 | 1995 | 3,440 | Resale |
| Ox Bottom | 6456 Ox Bow Ct | $397,000 | -- | 2004-07-06 | 2004 | -- | New |
| Ox Bottom | 7090 Ox Bow Rd | $520,000 | $111 | 2004-06-22 | 1996 | 4,692 | Resale |
| Ox Bottom | 7373 Ox Box Cir | $500,000 | -- | 2003-12-23 | 2003 | -- | New |
| Ox Bottom | 6357 Ox Bow Run | $370,000 | $67 | 2003-11-05 | 2003 | 5,512 | New |
| Ox Bottom | 7225 Ox Bow Cir | $400,000 | $51 | 2003-10-15 | 2003 | 7,914 | New |
| Ox Bottom | 7345 Ox Bow Cir | $450,000 | -- | 2003-09-22 | 2003 | -- | New |
| Quail Ridge | 6322 Covey Crossing | $150,000 | $52 | 2003-08-28 | 2003 | 2,865 | New |
| Ox Bow Estates | 7112 Ox Bow Cir | $400,500 | $97 | 2003-06-26 | 1986 | 4,131 | Resale |
| Ox Bottom | 7219 Ox Bow Cir | $645,000 | $138 | 2003-06-25 | 2001 | 4,665 | Resale |
| Ox Bow Estates | 7159 Ox Bow Cir | $275,000 | $126 | 2003-05-12 | 1990 | 2,184 | Resale |
| Ox Bottom | 7073 Ox Bow Rd | $480,000 | $151 | 2003-05-07 | 2001 | 3,179 | Resale |
| Ox Bow Estates | Ox Bow Trace | $450,000 | $107 | 2003-01-31 | 2002 | 4,200 | New |
| Ox Bow Estates | 7193 Ox Bow Cir | $100,000 | $83 | 2002-09-04 | 1974 | 1,200 | New |
| Ox Bottom | 7384 Ox Bow Cir | $170,000 | $24 | 2002-05-23 | -- | 7,218 | Resale |
| Ox Bottom | 1732 Evening Breeze Ln | $335,000 | $96 | 2002-04-10 | 1988 | 3,481 | Resale |
| Ox Bottom | 6451 Ox Bow Ct | $375,000 | $75 | 2002-02-20 | 2001 | 4,982 | New |
| Ox Bottom | 7064 Ox Bow Rd | $465,000 | $110 | 2001-12-28 | 1992 | 4,217 | Resale |
| Ox Bottom | 7201 Ox Bow Cir | $396,000 | $65 | 2001-11-19 | 2001 | 6,065 | New |
| Ox Bottom | 8072 Evening Star Lane | $288,000 | $63 | 2001-11-06 | 2001 | 4,571 | New |
| Ox Bottom | 7093 Ox Bow Rd | $488,400 | $101 | 2001-09-21 | 1996 | 4,814 | Resale |
| Ox Bottom | 7043 Ox Bow | $279,500 | $64 | 2001-07-09 | 2001 | 4,388 | New |
| Ox Bottom | 8016 Evening Star Ln | $285,000 | $97 | 2001-06-15 | 1990 | 2,948 | Resale |
| Ox Bottom | 6004 Boynton Homestead | $375,000 | $109 | 2001-06-05 | 1995 | 3,440 | Resale |
| Ox Bottom | 7055 Ox Bow Rd | $300,000 | $45 | 2001-04-27 | 2001 | 6,644 | New |
| Ox Bottom | 7329 Ox Bow Cir | $314,000 | -- | 2001-03-09 | 2001 | -- | New |
| Ox Bottom | 7073 Ox Bow Rd | $280,000 | $63 | 2001-01-08 | 2001 | 4,419 | New |
| Ox Bottom | 8039 Evening Star Ln | $340,000 | $95 | 2000-12-12 | 1988 | 3,582 | Resale |
| Ox Bottom | 7335 Ox Bow Cir | $400,000 | $82 | 2000-11-22 | 2000 | 4,907 | New |
| Ox Bow Estates | -- | $500,000 | $87 | 2000-07-25 | 2000 | 5,778 | New |
| Ox Bottom | 7219 Ox Bow Cir | $450,000 | $82 | 2000-05-31 | 2001 | 5,508 | New |
| Ox Bottom | -- | $272,357 | $69 | 2000-04-25 | 2000 | 3,951 | New |
| Ox Bottom | 1402 White Star Ln | $483,000 | $92 | 2000-04-10 | 1995 | 5,245 | Resale |
| Ox Bottom | 7322 Ox Bow Cir | $520,000 | $86 | 2000-03-06 | 2000 | 6,021 | New |
| Ox Bow Estates | 7328 Ox Bow Circle | $250,000 | $63 | 2000-02-08 | 1999 | 3,995 | New |
| Ox Bottom | 7339 Ox Bow Cir | $353,000 | $97 | 2000-01-10 | 1999 | 3,627 | Resale |
| Ox Bottom | 7059 Ox Bow Rd | $397,900 | $97 | 1999-11-22 | 1999 | 4,103 | New |
| Ox Bottom | 7310 Ox Bow Cir | $449,793 | $84 | 1999-11-10 | 2000 | 5,364 | New |
| Ox Bottom | 7207 Ox Bow Cir | $345,846 | $69 | 1999-11-02 | 2000 | 4,997 | New |
| Ox Bottom | 1817 Morning Star Ln | $322,800 | $108 | 1999-07-16 | 1992 | 2,984 | Resale |
| Ox Bottom | 8048 Evening Star Ln | $245,000 | $96 | 1999-05-28 | 1994 | 2,542 | Resale |
| Ox Bottom | 7339 Ox Bow Cir | $300,000 | $70 | 1999-05-24 | 1999 | 4,309 | New |
| Ox Bottom | 8004 Evening Star Ln | $256,000 | $42 | 1999-05-18 | 1999 | 6,091 | New |
| Ox Bottom | 7336 Ox Bow Cir | $300,000 | $63 | 1999-04-22 | 1999 | 4,738 | New |
| Ox Bottom | 6035 Boynton Homestead | $200,000 | $93 | 1999-04-01 | 1999 | 2,150 | New |
| Ox Bow Estates | 7104 Ox Bow Cir | $215,000 | $95 | 1999-03-18 | 1985 | 2,254 | Resale |
| Ox Bottom | 8056 Evening Star Ln | $300,000 | $64 | 1999-01-14 | 1998 | 4,672 | New |
| Ox Bottom | 1733 Evening Breeze Ln | $300,000 | $69 | 1998-12-22 | -- | 4,331 | Resale |
| Quail Ridge | 6242 Covey Crossing | $205,000 | $47 | 1998-12-18 | 1998 | 4,396 | New |
| Ox Bow Estates | 7184 Ox Bow Cir | $187,100 | $95 | 1998-10-16 | -- | 1,970 | Resale |
| Ox Bottom | 8047 Evening Star Ln | $270,000 | $87 | 1998-07-31 | -- | 3,111 | Resale |
| Quail Ridge | 6032 Covey Crossing | $240,000 | $63 | 1998-06-18 | 1998 | 3,784 | New |
| Ox Bottom | 7237 Ox Bow Cir | $200,000 | $44 | 1998-06-15 | 1998 | 4,539 | New |
| Ox Bottom | 8100 Evening Star Ln | $287,500 | $91 | 1998-05-28 | -- | 3,164 | Resale |
| Ox Bottom | 1708 Evening Breeze Ln | $300,000 | $98 | 1998-05-26 | -- | 3,070 | Resale |
| Ox Bottom | 1204 Equestrian Way | $390,000 | $78 | 1998-05-15 | -- | 4,972 | Resale |
| Ox Bottom | 7056 Ox Bow Rd | $320,000 | $83 | 1998-05-13 | 1989 | 3,840 | Resale |
| Ox Bottom | 7063 Ox Bow Rd | $345,000 | $96 | 1998-04-15 | 1998 | 3,602 | New |
| Ox Bottom | 7213 Ox Bow Cir | $140,000 | $37 | 1998-03-12 | 1998 | 3,757 | New |
| Ox Bow Estates | 7120 Ox Bow Cir | $50,000 | $22 | 1997-12-29 | 1985 | 2,238 | Resale |
| Ox Bottom | 1732 Evening Breeze Ln | $359,000 | $103 | 1997-11-21 | 1988 | 3,489 | Resale |
| Ox Bottom | 1403 White Star Ln | $273,000 | $98 | 1997-11-13 | -- | 2,785 | Resale |
| Quail Ridge | -- | $271,000 | $94 | 1997-11-07 | -- | 2,880 | Resale |
| Ox Bottom | 6364 Belgrand Dr | $160,000 | $51 | 1997-09-22 | 1997 | 3,128 | New |
| Ox Bottom | 7081 Ox Bow Rd | $389,000 | $99 | 1997-08-29 | -- | 3,933 | Resale |
| Ox Bottom | 1725 Evening Breeze Ln | $319,500 | $101 | 1997-08-12 | -- | 3,170 | Resale |
| Ox Bottom | 7352 Ox Bow Cir | $400,000 | $81 | 1997-06-23 | 1997 | 4,911 | New |
| Ox Bow Estates | 7188 Ox Bow Cir | $200,000 | $44 | 1997-02-28 | 1997 | 4,575 | New |
| Ox Bottom | 7084 Ox Bow Rd | $190,000 | $50 | 1997-02-25 | 1996 | 3,824 | New |
| Ox Bottom | 6007 Boynton Homestead | $240,000 | $49 | 1997-01-31 | 1996 | 4,911 | New |
| Ox Bottom | 7050 Ox Bow Rd | $210,000 | $49 | 1996-06-04 | 1996 | 4,296 | New |
| Ox Bottom | 8031 Evening Star Ln | $232,000 | $76 | 1996-04-04 | -- | 3,038 | Resale |
| Ox Bottom | 7099 Ox Bow Rd | $332,600 | $91 | 1996-04-03 | -- | 3,661 | Resale |
| Ox Bottom | 7072 Ox Bow Rd | $200,000 | $40 | 1996-01-08 | 1995 | 5,060 | New |
| Ox Bottom | 7095 Ox Bow Rd | $195,000 | $44 | 1995-12-27 | 1995 | 4,414 | New |
| Ox Bottom | 6000 Boynton Homestead | $250,000 | $59 | 1995-12-20 | 1990 | 4,255 | Resale |
| Ox Bottom | 7090 Ox Bow Road | $258,000 | $52 | 1995-04-24 | 1995 | 5,004 | New |
| Ox Bottom | 6005 Boynton Homestead | $427,904 | $70 | 1995-04-17 | 1995 | 6,084 | New |
| Ox Bottom | 7099 Ox Bow Rd | $195,000 | $45 | 1995-04-11 | 1995 | 4,312 | New |
| Ox Bow Estates | 7159 Ox Bow Cir | $185,000 | $85 | 1995-02-27 | 1990 | 2,184 | Resale |
| Ox Bottom | 7091 Ox Bow Rd | $170,000 | $91 | 1994-11-15 | 1994 | 1,876 | New |
| Ox Bottom | 6016 Ox Bow Rd | $300,000 | $57 | 1994-09-13 | 1994 | 5,272 | New |
| Ox Bottom | 1417 White Star Lane | $230,000 | $48 | 1994-09-12 | 1994 | 4,743 | New |
| Ox Bow Estates | 7183 Ox Bow Cir | $210,000 | $85 | 1994-07-13 | 1991 | 2,464 | Resale |
| Ox Bottom | 1713 Evening Breeze Ln | $287,000 | $85 | 1994-06-02 | -- | 3,377 | Resale |
| Ox Bow Estates | 6998 Ox Trail | $160,000 | $49 | 1994-05-24 | 1994 | 3,272 | New |
| Ox Bow Estates | 7125 Ox Bow Cir | $199,500 | $68 | 1994-03-17 | -- | 2,950 | Resale |
| Ox Bottom | 1713 Evening Breeze Ln | $160,000 | $40 | 1993-09-09 | 1993 | 3,953 | New |
| Ox Bow Estates | 7183 Ox Bow Cir | $169,000 | $69 | 1993-08-09 | 1991 | 2,464 | Resale |
| Ox Bottom | 1733 Evening Breeze Ln | $335,000 | $77 | 1993-08-03 | -- | 4,331 | Resale |
| Ox Bottom | 1204 Equestrain Way | $210,630 | $35 | 1993-06-30 | 1993 | 6,018 | New |
| Ox Bottom | 8055 Evening Star Ln | $200,000 | $61 | 1993-05-19 | 1993 | 3,299 | New |
| Ox Bottom | 7081 Ox Bow Road | $247,360 | $54 | 1993-03-01 | 1993 | 4,614 | New |
| Ox Bow Estates | 7187 Ox Bow Lane | $181,462 | $65 | 1993-02-25 | 1992 | 2,789 | New |
| Ox Bottom | Morning Star Lane | $210,000 | $49 | 1993-01-22 | 1992 | 4,317 | New |
| Ox Bottom | 7071 Ox Bow Road | $212,000 | $49 | 1992-12-31 | 1992 | 4,315 | New |
| Ox Bottom | 1716 Evening Breeze Ln | $225,000 | $76 | 1992-07-22 | 1989 | 2,952 | Resale |
| Ox Bottom | 7064 Ox Bow Rd | $316,000 | $75 | 1992-05-21 | 1992 | 4,217 | New |
| Ox Bottom | 6035 Boynton Homestead | $480,000 | $83 | 1992-05-08 | 1992 | 5,789 | New |
| Ox Bottom | 1808 Morning Star Ln | $204,000 | $75 | 1992-03-12 | 1992 | 2,738 | New |
| Ox Bottom | 8063 Evening Star Ln | $200,000 | $70 | 1992-02-11 | 1992 | 2,842 | New |
| Ox Bottom | 7983 Evening Star Ln | $214,000 | $63 | 1991-10-08 | 1992 | 3,418 | New |
| Ox Bottom | 6000 Boynton Homestead | $309,000 | $73 | 1991-08-30 | 1990 | 4,255 | New |
| Ox Bow Estates | 7149 Ox Bow Cir | $167,500 | $77 | 1991-07-26 | 1988 | 2,187 | Resale |
| Ox Bow Estates | 7138 Ox Bow Cir | $172,000 | $159 | 1991-06-18 | 1989 | 1,083 | Resale |
| Ox Bottom | 7050 Ox Bow Rd | $73,000 | $20 | 1991-04-11 | 1991 | 3,629 | New |
| Ox Bottom | 1809 Morning Star Ln | $310,000 | $85 | 1991-03-11 | 1988 | 3,634 | Resale |
Luxury Home Sales Reports