Killearn Lakes Plantation Listings And Home Sales November 2023
Posted by Joe Manausa on Friday, November 17, 2023 at 6:00 AM
By Joe Manausa / November 17, 2023
Comment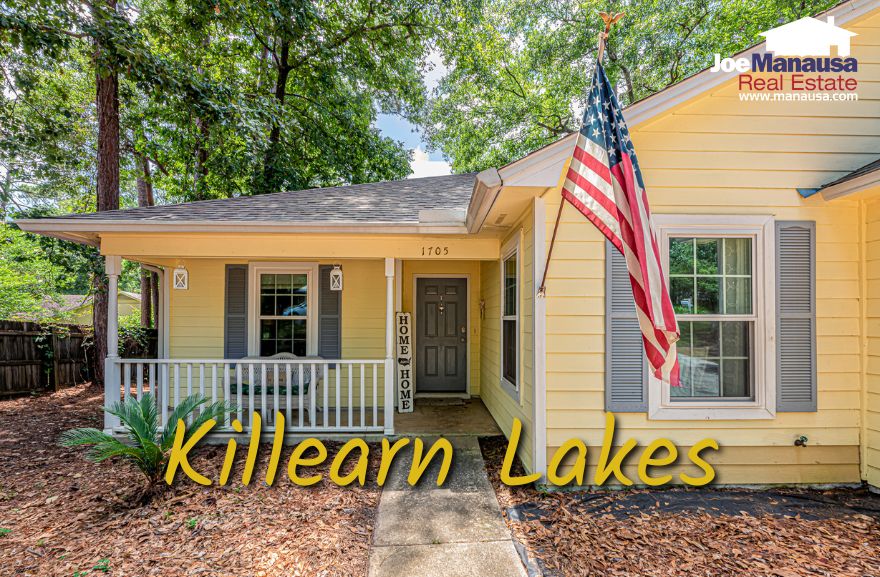 Killearn Lakes Plantation, set in Tallahassee's northeast, is celebrated for its serene and family-oriented atmosphere, drawing young families, working professionals, and retirees.
Surrounded by nature, including several lakes, this community is rich with greenery, providing parks and trails for outdoor enthusiasts who enjoy hiking, jogging, fishing, and boating.
The neighborhood is known for its strong sense of community, hosting regular events such as block parties, holiday festivities, and clean-up days. Its location offers convenience to local shopping, dining, and entertainment and is just a short drive from downtown Tallahassee and major educational institutions like Florida State University.
Killearn Lakes Plantation is more than just a place to live; it's a community that offers a sense of belonging, natural splendor, and a strategic location, making it a top choice for those looking to put down roots.
Homes For Sale In Killearn Lakes Plantation
Killearn Lakes Schools
Killearn Lakes Plantation is zoned for the following A-rated schools in Leon County:
This report offers an in-depth look at the Killearn Lakes neighborhood, with detailed graphs on home prices, values, sizes, and a comprehensive listing of all home sales closed since 1991.
The real estate graphs featured in the report show the number of closed home sales each year (represented by red columns on the left vertical axis) and a key real estate metric in blue (tracked on the right vertical axis).
It's important to recognize that the following analysis includes sales data up to the end of December for previous years, while for 2023, it encompasses information up through the first week of November. The graphs and the sales table will be updated on a regular basis. Make sure to bookmark this page to keep abreast of the latest on home statuses in Killearn Lakes Plantation.
Killearn Lakes Plantation
Home Prices
The average sale price of homes in Killearn Lakes Plantation in 2023 has increased by nearly 4% from the 2022 average.
The average price for a home in Killearn Lakes now stands at $370K.
While the market in Killearn Lakes Plantation is healthy, there is a slight dip in momentum. Sellers leveraging strong pre-marketing techniques can quickly sell their homes at advantageous prices. At present, there are 34 homes on the market in Killearn Lakes Plantation, with 12—or about 35%—under contract with buyers (versus 59% under-contract in July).
Killearn Lakes Plantation Home Values
The average home value in Killearn Lakes has seen an uptick of close to 5% in 2023.
This year, homes in Killearn Lakes Plantation have sold for an average of $201 per square foot.
Keep Up With New Trends In Tallahassee!
Get The Tallahassee Real Estate Newsletter
Don't be the one that doesn't know what's going on when you sell a home or buy a home in Tallahassee.
Other buyers, sellers, lenders, and real estate agents have this critical information, and now you can too!
Get immediate access to our most recent newsletter.
Let more than 30 years of experience work for you with charts, graphs, and analysis of the Tallahassee housing market.
Home Sizes In Killearn Lakes Plantation
Homes in Killearn Lakes Plantation typically sell within the 1,650 to 1,850 square-foot range, a trend that has continued in 2023.
The 98 homes sold in Killearn Lakes Plantation this year have an average size of 1,845 square feet.
Killearn Lakes Plantation Home Sales
The list below displays the most recent 1,000 home sales in Killearn Lakes Plantation. You can sort the list by clicking on any column header.
| Address | Price | Price/SQF | Closing Date | Year Built | SQF | Sale Type |
| --- | --- | --- | --- | --- | --- | --- |
| 8524 Heathcliff Court | $590,000 | $210 | 2023-11-30 | 2000 | 2,806 | Resale |
| 11092 Wildlife Trail | $500,000 | $250 | 2023-11-29 | 2023 | 2,002 | New |
| 8539 Heathcliff Court | $635,000 | $197 | 2023-11-21 | 2000 | 3,226 | Resale |
| 1837 Folkstone Road | $315,000 | $207 | 2023-11-17 | 1990 | 1,520 | Resale |
| 7219 Jaffrey Court | $275,000 | $202 | 2023-11-16 | 1995 | 1,360 | Resale |
| 8368 Innsbrook Drive | $320,000 | $227 | 2023-11-15 | 2003 | 1,409 | Resale |
| 7908 W Briarcreek Road | $310,000 | $200 | 2023-11-13 | 1985 | 1,550 | Resale |
| 10037 Journeys End | $1,025,000 | $268 | 2023-11-13 | 2011 | 3,819 | Resale |
| 9456 Buck Haven Trail | $328,500 | $185 | 2023-11-07 | 1993 | 1,772 | Resale |
| 3500 Cedarwood | $260,000 | $189 | 2023-11-01 | 1986 | 1,376 | Resale |
| 9658 Deer Valley Drive | $935,000 | $248 | 2023-10-31 | 2003 | 3,765 | Resale |
| 2029 Heatherbrook Dr | $320,000 | $172 | 2023-10-25 | 1995 | 1,864 | Resale |
| 9722 Prestancia Way | $1,250,000 | $271 | 2023-10-20 | 2005 | 4,620 | Resale |
| 9158 Mcdougal Court | $310,000 | $185 | 2023-10-20 | 1999 | 1,678 | Resale |
| 9704 Waters Meet Drive | $773,000 | $223 | 2023-10-19 | 1988 | 3,473 | Resale |
| 1537 Chadwick | $380,000 | $204 | 2023-10-13 | 1991 | 1,860 | Resale |
| 8355 Hinsdale Way | $322,000 | $229 | 2023-10-12 | 2003 | 1,409 | Resale |
| 9020 Glen Eagle Way | $890,000 | $272 | 2023-10-10 | 1992 | 3,271 | Resale |
| 8321 Chickasaw Trail | $354,900 | $207 | 2023-10-06 | 1986 | 1,717 | Resale |
| 8712 Spring Shore Trail | $575,000 | $254 | 2023-10-06 | 1997 | 2,266 | Resale |
| 9326 Tuscany Drive | $375,000 | $194 | 2023-10-05 | 2004 | 1,938 | Resale |
| 3012 Killearn Pointe Court | $615,000 | $261 | 2023-10-02 | 2002 | 2,359 | Resale |
| 3224 Fawn Hill Trail | $299,900 | $231 | 2023-09-29 | 1986 | 1,301 | Resale |
| 9313 Tuscany Drive | $334,000 | $210 | 2023-09-28 | 2003 | 1,592 | Resale |
| 8376 Innsbrook Drive | $305,000 | $216 | 2023-09-26 | 2003 | 1,409 | Resale |
| 8324 Chickasaw Trail | $300,000 | $206 | 2023-09-22 | 1992 | 1,457 | Resale |
| 8615 Milford Court | $290,000 | $206 | 2023-09-15 | 2003 | 1,409 | Resale |
| 8393 Inverness Drive | $789,000 | $252 | 2023-09-06 | 1999 | 3,127 | Resale |
| 1726 Folkstone Road | $254,655 | $192 | 2023-08-31 | 1994 | 1,323 | Resale |
| 8311 Hunters Ridge | $310,000 | $221 | 2023-08-31 | 1993 | 1,400 | Resale |
| 2383 Tuscavilla Rd | $290,000 | $198 | 2023-08-28 | 1992 | 1,464 | Resale |
| 3472 Rosemont Ridge Road | $325,000 | $233 | 2023-08-25 | 1986 | 1,396 | Resale |
| 9108 Bithlo Lane | $290,000 | $204 | 2023-08-25 | 1993 | 1,420 | Resale |
| 1828 Log Ridge Trail | $468,000 | $207 | 2023-08-25 | 1992 | 2,256 | Resale |
| 1234 Pheasant Run Dr | $307,000 | $135 | 2023-08-25 | 1996 | 2,259 | Resale |
| 1234 Pheasant Run Drive | $307,000 | $136 | 2023-08-25 | 1996 | 2,259 | Resale |
| 13028 Gopher Wood Trail | $345,000 | $204 | 2023-08-23 | 1992 | 1,688 | Resale |
| 12000 Cedar Bluff Trail | $463,000 | $209 | 2023-08-23 | 1989 | 2,215 | Resale |
| 1601 Norwood Lane | $425,000 | $191 | 2023-08-23 | 1992 | 2,231 | Resale |
| 2684 Wharton Circle | $699,900 | $234 | 2023-08-23 | 1998 | 2,995 | Resale |
| 8542 Charrington Forest Boulevard | $338,200 | $190 | 2023-08-21 | 2004 | 1,784 | Resale |
| 3387 Micanopy Trail | $305,000 | $218 | 2023-08-18 | 2002 | 1,398 | Resale |
| 1837 Folkstone Road | $235,500 | $160 | 2023-08-16 | 1990 | 1,473 | Resale |
| 1773 Broken Bow Trail | $300,000 | $205 | 2023-08-11 | 1991 | 1,462 | Resale |
| 3409 Treaty Oak Trail | $335,000 | $211 | 2023-08-04 | 1985 | 1,584 | Resale |
| 1705 Indian Town Lane | $270,000 | $215 | 2023-08-02 | 1990 | 1,257 | Resale |
| 3479 Hawks Hill Trail | $533,000 | $218 | 2023-08-01 | 2018 | 2,443 | Resale |
| 1705 Indian Town Ln | $270,000 | $214 | 2023-07-31 | 1990 | 1,257 | Resale |
| 1613 Cherry Hill Lane | $325,000 | $180 | 2023-07-31 | 1991 | 1,804 | Resale |
| 2814 Royal Isle Drive | $829,000 | $274 | 2023-07-28 | 1999 | 3,030 | Resale |
| 9037 Muirfield Court | $850,000 | $201 | 2023-07-28 | 1987 | 4,228 | Resale |
| 8550 Charrington Forest Blvd | $240,000 | $135 | 2023-07-28 | 2003 | 1,770 | Resale |
| 7422 Heide Hill Trace | $266,500 | $205 | 2023-07-25 | 1998 | 1,298 | Resale |
| 8704 Minnow Creek Drive | $285,000 | $188 | 2023-07-21 | 1990 | 1,520 | Resale |
| 3208 Wind Lake Lane | $550,000 | $220 | 2023-07-21 | 2021 | 2,497 | Resale |
| 3544 Rosemont Ridge Road | $368,000 | $215 | 2023-07-21 | 2007 | 1,708 | Resale |
| 1737 Copperfield Circle | $345,000 | $202 | 2023-07-21 | 1991 | 1,705 | Resale |
| 1706 Broken Bow Trail | $318,000 | $190 | 2023-07-17 | 1993 | 1,675 | Resale |
| 8300 Innsbrook Dr | $300,000 | $212 | 2023-07-14 | 2002 | 1,409 | Resale |
| 8774 Minnow Creek Drive | $384,000 | $243 | 2023-07-13 | 2023 | 1,582 | New |
| 2578 Heathrow Drive | $335,000 | $222 | 2023-07-13 | 2004 | 1,511 | Resale |
| 9676 Deer Valley Drive | $1,375,000 | $239 | 2023-07-10 | 2004 | 5,758 | Resale |
| 1862 Log Ridge Trail | $372,000 | $197 | 2023-07-07 | 1999 | 1,889 | Resale |
| 2277 Tuscavilla Road | $242,000 | $168 | 2023-07-06 | 1988 | 1,444 | Resale |
| 1809 Bitter Root Trail | $425,000 | $172 | 2023-06-30 | 1989 | 2,469 | Resale |
| 8531 Congressional Drive | $624,000 | $170 | 2023-06-30 | 1989 | 3,670 | Resale |
| 8905 Winged Foot Drive | $460,000 | $175 | 2023-06-30 | 1995 | 2,633 | Resale |
| 7989 Briarcreek Rd S | $410,000 | $236 | 2023-06-30 | 2014 | 1,736 | Resale |
| 7989 S Briarcreek Road | $410,000 | $236 | 2023-06-30 | 2014 | 1,736 | Resale |
| 3457 Cedarwood Trail | $320,000 | $204 | 2023-06-30 | 1986 | 1,567 | Resale |
| 8545 Hannary Circle | $305,000 | $216 | 2023-06-29 | 1996 | 1,412 | Resale |
| 8254 Charrington Forest Boulevard | $330,000 | $212 | 2023-06-28 | 2000 | 1,554 | Resale |
| 7219 Jaffrey Ct | $186,500 | $137 | 2023-06-27 | 1995 | 1,360 | Resale |
| 1245 Pheasant Run Drive | $442,500 | $211 | 2023-06-27 | 1996 | 2,094 | Resale |
| 8545 Heathcliff Court | $675,000 | $213 | 2023-06-23 | 2001 | 3,175 | Resale |
| 2328 Tuscavilla Road | $360,000 | $233 | 2023-06-20 | 1991 | 1,545 | Resale |
| 9683 Pebble Beach Way | $850,000 | $250 | 2023-06-16 | 2005 | 3,401 | Resale |
| 9200 Shoal Creek Drive | $765,000 | $243 | 2023-06-16 | 2005 | 3,143 | Resale |
| 2113 Doral Drive | $630,000 | $207 | 2023-06-16 | 1998 | 3,047 | Resale |
| 2215 Gates Drive | $549,000 | $217 | 2023-06-15 | 2000 | 2,532 | Resale |
| 3201 Horseshoe Trail | $540,000 | $202 | 2023-06-08 | 1987 | 2,677 | Resale |
| 2433 Bass Bay Drive | $702,000 | $259 | 2023-06-06 | 1985 | 2,706 | Resale |
| 3400 Birchwood Manor | $610,000 | $202 | 2023-06-02 | 1988 | 3,022 | Resale |
| 7944 Briarcreek Rd S | $300,500 | $189 | 2023-05-31 | 1987 | 1,587 | Resale |
| 7944 S Briarcreek Road | $300,500 | $189 | 2023-05-31 | 1987 | 1,587 | Resale |
| 8341 Innsbrook Drive | $300,000 | $211 | 2023-05-31 | 2002 | 1,419 | Resale |
| 1508 Breamstone Ridge | $455,000 | $183 | 2023-05-31 | 1991 | 2,480 | Resale |
| 1595 Copperfield Circle | $385,000 | $205 | 2023-05-30 | 1991 | 1,875 | Resale |
| 2521 Heathrow Drive | $320,000 | $210 | 2023-05-30 | 2003 | 1,527 | Resale |
| 3400 Birchwood Mnr | $610,000 | $201 | 2023-05-30 | 1988 | 3,022 | Resale |
| 2131 Golden Eagle Dr W | $1,450,000 | $219 | 2023-05-26 | 1993 | 6,593 | Resale |
| 2131 W Golden Eagle Drive | $1,450,000 | $220 | 2023-05-26 | 1993 | 6,593 | Resale |
| 12029 Cedar Bluff Trail | $335,000 | $191 | 2023-05-26 | 1990 | 1,751 | Resale |
| 10508 Lake Iamonia Drive | $540,000 | $163 | 2023-05-22 | 1985 | 3,321 | Resale |
| 12021 Otter Creek Trail | $400,000 | $159 | 2023-05-19 | 1990 | 2,508 | Resale |
| 3584 Rosemont Ridge Road | $425,000 | $239 | 2023-05-17 | 2017 | 1,778 | Resale |
| 3554 Dogwood Valley Trail | $327,000 | $228 | 2023-05-16 | 2003 | 1,435 | Resale |
| 7401 Laurel Ridge Lane | $327,000 | $214 | 2023-05-16 | 2004 | 1,530 | Resale |
| 1537 Chadwick Way | $341,000 | $183 | 2023-05-10 | 1991 | 1,860 | Resale |
| 7421 Candlewood Ln | $290,000 | $199 | 2023-05-09 | 2001 | 1,452 | Resale |
| 7501 Beaver Ford Road | $510,000 | $255 | 2023-05-05 | 2023 | 2,002 | New |
| 8379 Chickasaw Trail | $325,000 | $212 | 2023-05-02 | 1986 | 1,531 | Resale |
| 1803 Folkstone Rd | $250,000 | $178 | 2023-05-01 | 1993 | 1,400 | Resale |
| 8251 Chickasaw Trail | $260,000 | $216 | 2023-04-28 | 1990 | 1,206 | Resale |
| 9923 Waters Meet Drive | $615,000 | $174 | 2023-04-28 | 1986 | 3,527 | Resale |
| 3212 Horseshoe Trail | $515,000 | $194 | 2023-04-28 | 1987 | 2,650 | Resale |
| 9309 Royal Troon Drive | $375,000 | $192 | 2023-04-26 | 2004 | 1,952 | Resale |
| 2249 Pine Landing Ct | $190,000 | $147 | 2023-04-25 | 2001 | 1,284 | Resale |
| 8996 Glen Eagle Way | $785,000 | $195 | 2023-04-21 | 1994 | 4,034 | Resale |
| 3308 Micanopy Trail | $491,000 | $234 | 2023-04-12 | 2015 | 2,096 | Resale |
| 8045 Briarcreek Road | $265,000 | $182 | 2023-04-11 | 2007 | 1,456 | Resale |
| 3510 Turkey Run | $569,900 | $246 | 2023-04-06 | 2023 | 2,318 | New |
| 8105 Blue Quill Trl | $305,000 | $181 | 2023-04-05 | 1988 | 1,676 | Resale |
| 3230 Pablo Creek Way | $580,000 | $236 | 2023-04-05 | 2004 | 2,462 | Resale |
| 2008 Castle Crown Lane | $340,000 | $197 | 2023-04-05 | 1990 | 1,724 | Resale |
| 3608 Little Fox Lane | $307,000 | $180 | 2023-04-03 | 1986 | 1,702 | Resale |
| 9640 Deer Valley Drive | $1,050,000 | $260 | 2023-03-31 | 2007 | 4,035 | Resale |
| 2284 Heathrow Drive | $347,000 | $208 | 2023-03-30 | 2003 | 1,672 | Resale |
| 3405 Rosemont Ridge Road | $190,000 | $157 | 2023-03-24 | 1985 | 1,208 | Resale |
| 8341 Elan Drive | $349,000 | $202 | 2023-03-21 | 1998 | 1,728 | Resale |
| 8538 Charrington Forest Boulevard | $345,000 | $224 | 2023-03-20 | 2003 | 1,543 | Resale |
| 9591 Deer Valley Drive | $1,005,000 | $218 | 2023-03-13 | 2009 | 4,600 | Resale |
| 9682 Deer Valley Drive | $1,199,000 | $198 | 2023-03-10 | 2005 | 6,064 | Resale |
| 9692 Prestancia Way | $645,000 | $212 | 2023-03-10 | 2006 | 3,049 | Resale |
| 8810 Minnow Creek Drive | $260,000 | $159 | 2023-03-10 | 1994 | 1,638 | Resale |
| 2260 Ten Oaks Drive | $760,000 | $186 | 2023-03-08 | 1994 | 4,083 | Resale |
| 2838 Royal Isle Drive | $575,000 | $200 | 2023-03-06 | 1998 | 2,875 | Resale |
| 9018 Winged Foot Drive | $585,000 | $188 | 2023-02-28 | 1991 | 3,111 | Resale |
| 3525 Dogwood Valley Trail | $255,000 | $190 | 2023-02-28 | 1981 | 1,344 | Resale |
| 8335 Hinsdale Way | $336,500 | $192 | 2023-02-27 | 2003 | 1,751 | Resale |
| 3413 Treaty Oak Trail | $280,000 | $219 | 2023-02-24 | 1985 | 1,281 | Resale |
| 3443 Rosemont Ridge Road | $270,000 | $200 | 2023-02-24 | 1984 | 1,348 | Resale |
| 3488 Valley Creek Drive | $450,000 | $215 | 2023-02-23 | 1983 | 2,093 | Resale |
| 8259 Chickasaw Trl | $286,600 | $189 | 2023-02-22 | 1986 | 1,515 | Resale |
| 3322 Barrow Hill Trl | $125,000 | $89 | 2023-02-20 | 1976 | 1,400 | Resale |
| 1744 Copperfield Circle | $325,000 | $182 | 2023-02-07 | 1989 | 1,786 | Resale |
| 2429 Bass Bay Dr | $787,000 | -- | 2023-01-31 | 2021 | 3,818 | New |
| 2321 Tuscavilla Road | $195,000 | $193 | 2023-01-25 | 1984 | 1,008 | Resale |
| 10564 Winters Run | $282,500 | $177 | 2023-01-25 | 1994 | 1,594 | Resale |
| 8836 Winged Foot Drive | $779,000 | $189 | 2023-01-20 | 1995 | 4,120 | Resale |
| 7877 Briarcreek Road | $310,000 | $209 | 2023-01-06 | 1984 | 1,481 | Resale |
| 8208 Hunters Ridge Trail | $295,000 | $192 | 2023-01-06 | 1993 | 1,538 | Resale |
| 2340 Heathrow Drive | $310,000 | $208 | 2023-01-05 | 2002 | 1,492 | Resale |
| 1724 Broken Bow | $308,000 | $147 | 2022-12-30 | 1986 | 2,098 | Resale |
| 2830 Turkey Hill Trail | $709,000 | $214 | 2022-12-30 | 1990 | 3,310 | Resale |
| 1709 Indian Town Lane | $330,000 | $161 | 2022-12-29 | 1989 | 2,045 | Resale |
| 3428 Cedarwood Trail | $315,000 | $176 | 2022-12-22 | 1986 | 1,788 | Resale |
| 3418 Cherokee Ridge Trail | $307,500 | $197 | 2022-12-22 | 1987 | 1,564 | Resale |
| 9580 Deer Valley Dr | $1,700,000 | $295 | 2022-12-21 | 2016 | 5,750 | Resale |
| 2507 Double Eagle Court | $900,000 | $183 | 2022-12-20 | 2002 | 4,922 | Resale |
| 9125 Hickorynut Hill | $245,000 | $153 | 2022-12-19 | 1992 | 1,604 | Resale |
| 3544 Oak Hill Trail | $374,000 | $209 | 2022-12-13 | 2003 | 1,786 | Resale |
| 2968 Saint Stevens Drive | $620,000 | $192 | 2022-12-09 | 1995 | 3,230 | Resale |
| 3220 Fawn Hill Trail | $290,000 | $181 | 2022-12-07 | 2005 | 1,600 | Resale |
| 7993 S Briarcreek Road | $285,000 | $244 | 2022-12-05 | 1986 | 1,170 | Resale |
| 2445 Bass Bay Drive | $703,000 | $267 | 2022-11-21 | 1990 | 2,635 | Resale |
| 3505 Turkey Run Lane | $585,000 | $238 | 2022-11-18 | 2022 | 2,459 | New |
| 7993 Briarcreek Rd S | $285,000 | $251 | 2022-11-17 | 1986 | 1,134 | Resale |
| 7858 Briarcreek Rd W | $277,000 | $227 | 2022-11-16 | 1992 | 1,220 | Resale |
| 7858 W Briarcreek Road | $277,000 | $227 | 2022-11-16 | 1992 | 1,220 | Resale |
| 8342 Hunters Ridge | $265,000 | $202 | 2022-11-16 | 1994 | 1,310 | Resale |
| 10526 Blue Wing Court | $475,000 | $194 | 2022-11-16 | 1992 | 2,444 | Resale |
| 7849 W Briarcreek | $315,000 | $225 | 2022-11-15 | 2002 | 1,399 | Resale |
| 7849 Briarcreek Rd N | $315,000 | $225 | 2022-11-15 | 2002 | 1,399 | Resale |
| 8379 Chickasaw Trail | $205,000 | $138 | 2022-11-14 | 1986 | 1,488 | Resale |
| 9552 Buck Haven Trail | $285,000 | $204 | 2022-11-04 | 1989 | 1,397 | Resale |
| 7316 Hollis Street | $250,000 | $171 | 2022-11-03 | 1998 | 1,461 | Resale |
| 3444 Briar Branch Trail | $325,000 | $181 | 2022-11-02 | 1974 | 1,792 | Resale |
| 3445 Cedarwood Trail | $305,000 | $217 | 2022-10-31 | 1984 | 1,406 | Resale |
| 9484 Buck Haven Trail | $336,000 | $199 | 2022-10-27 | 1990 | 1,689 | Resale |
| 9196 Shoal Creek Drive | $660,000 | $181 | 2022-10-25 | 2004 | 3,637 | Resale |
| 7400 Laurel Ridge Lane | $310,000 | $185 | 2022-10-14 | 1985 | 1,678 | Resale |
| 3421 Valley Creek Drive | $435,000 | $220 | 2022-10-13 | 1975 | 1,979 | Resale |
| 2958 St. Stevens Drive | $950,000 | $270 | 2022-10-10 | 2021 | 3,524 | New |
| 2256 Heathrow Drive | $355,000 | $206 | 2022-10-07 | 2004 | 1,720 | Resale |
| 2326 Haverhill Road | $300,720 | $138 | 2022-10-07 | 1988 | 2,172 | Resale |
| 7115 Summit Ridge Drive | $295,000 | $211 | 2022-10-07 | 2004 | 1,400 | Resale |
| 8321 Chickasaw Trl | $285,000 | $165 | 2022-09-30 | 1986 | 1,717 | Resale |
| 1848 Bridgemont Trail | $293,000 | $206 | 2022-09-29 | 1993 | 1,425 | Resale |
| 2308 Tuscavilla Road Road | $310,000 | $172 | 2022-09-28 | 1988 | 1,800 | Resale |
| 2576 Bishops Green Trail | $655,000 | $204 | 2022-09-26 | 2000 | 3,213 | Resale |
| 1541 Breamstone Ridge | $469,900 | $232 | 2022-09-23 | 2020 | 2,022 | Resale |
| 8612 Oak Forest Trail | $289,000 | $197 | 2022-09-23 | 1988 | 1,469 | Resale |
| 2029 Heatherbrook Drive | $317,000 | $170 | 2022-09-16 | 1995 | 1,864 | Resale |
| 2216 Tuscavilla Road | $275,000 | $183 | 2022-09-15 | 1985 | 1,504 | Resale |
| 2962 Golden Eagle Drive East | $592,500 | $191 | 2022-09-14 | 1987 | 3,110 | Resale |
| 9318 Tuscany Drive | $375,000 | $220 | 2022-09-13 | 2004 | 1,701 | Resale |
| 8316 Innsbrook Drive | $350,000 | $196 | 2022-09-13 | 2001 | 1,784 | Resale |
| 3416 Cherokee Ridge Trail | $495,000 | $215 | 2022-09-12 | 2019 | 2,307 | Resale |
| 1679 Folkstone Road | $287,500 | $196 | 2022-09-08 | 1997 | 1,468 | Resale |
| 9326 Tuscany Drive | $361,000 | $186 | 2022-09-06 | 2004 | 1,938 | Resale |
| 9405 Windam Way | $315,000 | $214 | 2022-09-06 | 2002 | 1,472 | Resale |
| 1768 Folkstone Road | $270,000 | $197 | 2022-08-31 | 1991 | 1,373 | Resale |
| 2325 Haverhill Road | $480,000 | $186 | 2022-08-31 | 1984 | 2,577 | Resale |
| 8303 Hunters Ridge Trail | $245,000 | $205 | 2022-08-30 | 1985 | 1,196 | Resale |
| 9324 Royal Troon | $344,000 | $201 | 2022-08-29 | 2003 | 1,708 | Resale |
| 9270 Shoal Creek Drive | $735,000 | $243 | 2022-08-29 | 2016 | 3,023 | Resale |
| 8241 Bridge Water Trail | $340,000 | $210 | 2022-08-26 | 1986 | 1,620 | Resale |
| 9325 Buck Haven Trail | $393,000 | $171 | 2022-08-26 | 1994 | 2,292 | Resale |
| 9216 Shoal Creek Drive | $817,000 | $255 | 2022-08-25 | 2015 | 3,199 | Resale |
| 2305 Tuscavilla Road | $307,500 | $206 | 2022-08-25 | 1990 | 1,496 | Resale |
| 9331 Royal Troon Dr | $325,000 | $194 | 2022-08-24 | 2004 | 1,667 | Resale |
| 1828 Log Ridge Trail | $370,000 | $164 | 2022-08-23 | 1992 | 2,256 | Resale |
| 1604 Norwood Lane | $385,000 | $208 | 2022-08-19 | 1992 | 1,850 | Resale |
| 3018 Golden Eagle Drive East | $860,000 | $235 | 2022-08-19 | 1987 | 3,660 | Resale |
| 9504 Buck Haven Trail | $300,000 | $173 | 2022-08-18 | 1991 | 1,734 | Resale |
| 3208 Horseshoe Trail | $467,500 | $187 | 2022-08-12 | 1987 | 2,505 | Resale |
| 8204 Hunters Ridge Trail | $335,000 | $202 | 2022-08-12 | 2003 | 1,655 | Resale |
| 7000 Quail Common Drive | $290,000 | $231 | 2022-08-11 | 2009 | 1,255 | Resale |
| 1858 Folkstone Road | $270,000 | $200 | 2022-08-11 | 1992 | 1,349 | Resale |
| 9508 Buck Haven Trail | $385,000 | $185 | 2022-08-08 | 1992 | 2,076 | Resale |
| 9120 Birch Run Lane | $300,000 | $197 | 2022-08-05 | 1990 | 1,526 | Resale |
| 8181 Blue Quill Trail | $590,000 | $253 | 2022-08-05 | 2015 | 2,330 | Resale |
| 8272 Hunters Ridge Trail | $270,000 | $189 | 2022-08-04 | 1990 | 1,432 | Resale |
| 9461 Buck Haven Trail | $429,000 | $187 | 2022-08-01 | 1991 | 2,293 | Resale |
| 3352 Micanopy Trail | $295,000 | $206 | 2022-08-01 | 1987 | 1,433 | Resale |
| 1709 Broken Bow Trail | $335,000 | $199 | 2022-08-01 | 2008 | 1,686 | Resale |
| 3448 Osprey Ridge Court | $786,000 | $247 | 2022-08-01 | 2017 | 3,185 | Resale |
| 9021 Glen Eagle Way | $530,000 | $217 | 2022-08-01 | 1990 | 2,446 | Resale |
| 1616 Chadwick Way | $365,000 | $214 | 2022-07-29 | 1991 | 1,705 | Resale |
| 2047 Sunny Dale Drive | $325,000 | $189 | 2022-07-28 | 2004 | 1,721 | Resale |
| 8272 Hunters Ridge Trl | $270,000 | $188 | 2022-07-28 | 1990 | 1,432 | Resale |
| 3352 Micanopy Trl | $295,000 | $209 | 2022-07-25 | 1987 | 1,409 | Resale |
| 1751 Newman Lane | $285,000 | $235 | 2022-07-25 | 1998 | 1,214 | Resale |
| 1600 Folkstone Road | $257,000 | $188 | 2022-07-25 | 1991 | 1,370 | Resale |
| 8656 Oak Forest Trail | $460,000 | $235 | 2022-07-22 | 2014 | 1,960 | Resale |
| 3204 Wind Lake Lane | $356,500 | $217 | 2022-07-21 | 1986 | 1,643 | Resale |
| 3509 Cherokee Ridge Trail | $455,000 | $225 | 2022-07-21 | 2019 | 2,022 | Resale |
| 9699 Pebble Beach Way | $729,900 | $213 | 2022-07-19 | 2003 | 3,425 | Resale |
| 1704 Chestnut Hill | $314,900 | $192 | 2022-07-18 | 1993 | 1,638 | Resale |
| 1764 Folkstone Road | $305,000 | $202 | 2022-07-15 | 1991 | 1,513 | Resale |
| 1859 Folkstone Road | $270,000 | $193 | 2022-07-14 | 1988 | 1,397 | Resale |
| 13039 Gopher Wood Trail | $385,000 | $174 | 2022-07-14 | 1992 | 2,207 | Resale |
| 1616 Folkstone Road | $280,000 | $216 | 2022-07-11 | 1985 | 1,296 | Resale |
| 9701 Waters Meet Drive | $545,000 | $174 | 2022-07-08 | 1986 | 3,126 | Resale |
| 3401 Cedarwood Trail | $313,000 | $212 | 2022-07-06 | 2001 | 1,476 | Resale |
| 3467 Rosemont Ridge | $329,000 | $205 | 2022-07-01 | 1986 | 1,608 | Resale |
| 2713 Waterford Glen Court | $618,800 | $224 | 2022-07-01 | 1996 | 2,767 | Resale |
| 10559 Winters Run | $416,000 | $190 | 2022-06-30 | 1997 | 2,189 | Resale |
| 1673 Copperfield Circle | $403,000 | $175 | 2022-06-30 | 1989 | 2,307 | Resale |
| 8401 Wellesly Place | $280,000 | $225 | 2022-06-30 | 1996 | 1,246 | Resale |
| 9117 Hickorynut Hill | $325,000 | $186 | 2022-06-29 | 1987 | 1,743 | Resale |
| 8239 Chickasaw Trl | $250,000 | $180 | 2022-06-24 | 1988 | 1,387 | Resale |
| 9912 Turtle Dove Way | $475,000 | $191 | 2022-06-24 | 1989 | 2,481 | Resale |
| 7728 Briarcreek Rd N | $275,000 | $195 | 2022-06-24 | 2001 | 1,406 | Resale |
| 7730 Briarcreek Road | $275,000 | $196 | 2022-06-24 | 2001 | 1,406 | Resale |
| 9722 Prestancia Way | $1,017,000 | $220 | 2022-06-24 | 2005 | 4,620 | Resale |
| 3305 Cherokee Ridge Trail | $355,000 | $189 | 2022-06-23 | 1983 | 1,880 | Resale |
| 7116 Towner Trace | $230,000 | $190 | 2022-06-22 | 1997 | 1,213 | Resale |
| 8316 Chickasaw Trail | $285,000 | $164 | 2022-06-22 | 1995 | 1,737 | Resale |
| 1741 Copperfield Circle | $395,000 | $190 | 2022-06-21 | 1990 | 2,083 | Resale |
| 1524 Chadwick Way | $383,000 | $202 | 2022-06-21 | 1992 | 1,894 | Resale |
| 3429 Hawks Hill Trail | $338,000 | $196 | 2022-06-20 | 2008 | 1,724 | Resale |
| 1628 Flint Ridge Lane | $275,000 | $213 | 2022-06-17 | 1987 | 1,290 | Resale |
| 8368 Chickasaw Trail | $312,500 | $208 | 2022-06-16 | 1990 | 1,499 | Resale |
| 9812 Thunder Hill Trl | $396,000 | $164 | 2022-06-16 | 1991 | 2,414 | Resale |
| 2404 Hares Den | $770,000 | $144 | 2022-06-15 | 1982 | 5,339 | Resale |
| 2814 Turkey Hill Trail | $600,000 | $182 | 2022-06-10 | 1988 | 3,301 | Resale |
| 3418 Osprey Ridge Court | $935,000 | $236 | 2022-06-10 | 2007 | 3,957 | Resale |
| 2325 Heathrow Drive | $330,000 | $207 | 2022-06-10 | 2004 | 1,595 | Resale |
| 3204 Fawn Hill Trail | $300,000 | $213 | 2022-06-09 | 1985 | 1,406 | Resale |
| 2714 Wharton Circle | $615,000 | $205 | 2022-06-06 | 2002 | 3,004 | Resale |
| 10509 Lake Iamonia Drive | $330,000 | $196 | 2022-06-06 | 1987 | 1,684 | Resale |
| 12021 Cedar Bluff Trail | $340,000 | $198 | 2022-06-02 | 1996 | 1,719 | Resale |
| 2964 Glen Ives Dr | $275,000 | $180 | 2022-06-02 | 1995 | 1,524 | Resale |
| 2245 Tuscavilla Road | $275,000 | $200 | 2022-06-01 | 1995 | 1,372 | Resale |
| 9305 Royal Troon | $345,000 | $178 | 2022-05-31 | 2004 | 1,938 | Resale |
| 7805 Thornhill Lane | $500,000 | $206 | 2022-05-31 | 1974 | 2,423 | Resale |
| 9677 Deer Valley Drive | $666,000 | $259 | 2022-05-27 | 2002 | 2,572 | Resale |
| 2972 Medinah Court | $515,000 | $218 | 2022-05-26 | 1990 | 2,360 | Resale |
| 10568 Winters Run | $409,000 | $191 | 2022-05-26 | 1994 | 2,145 | Resale |
| 8287 Hunters Ridge Trail | $251,000 | $204 | 2022-05-24 | 1992 | 1,232 | Resale |
| 2830 Turkey Hill Trl | $351,000 | $106 | 2022-05-23 | 1990 | 3,310 | Resale |
| 2830 Ne Turkey Hill Trail | $351,000 | $106 | 2022-05-23 | 1990 | 3,310 | Resale |
| 8252 Chickasaw Trail | $362,500 | $211 | 2022-05-20 | 1993 | 1,721 | Resale |
| 7793 Briarcreek N Road | $452,000 | $236 | 2022-05-16 | 2015 | 1,916 | Resale |
| 8225 Bridge Water Trail | $560,000 | $180 | 2022-05-13 | 2016 | 3,104 | Resale |
| 1544 Copperfield Circle | $471,500 | $227 | 2022-05-12 | 1991 | 2,080 | Resale |
| 9405 Windam Way | $368,000 | $250 | 2022-05-12 | 2002 | 1,472 | Resale |
| 9115 Mcdougal Ct | $105,100 | $57 | 2022-05-09 | 2000 | 1,831 | Resale |
| 8814 Minnow Creek Drive | $305,000 | $186 | 2022-05-06 | 1994 | 1,638 | Resale |
| 3416 Cedarwood Trail | $445,000 | $177 | 2022-05-06 | 2004 | 2,519 | Resale |
| 1765 Copperfield Circle | $425,000 | $221 | 2022-05-06 | 1993 | 1,921 | Resale |
| 1917 Willow Run Drive | $525,000 | $164 | 2022-05-05 | 1987 | 3,207 | Resale |
| 8804 Edenrock Lane | $345,000 | $155 | 2022-04-29 | 1986 | 2,219 | Resale |
| 3508 Willow Springs Lane | $245,000 | $133 | 2022-04-27 | 1976 | 1,844 | Resale |
| 3520 Cherokee Ridge Trail | $292,500 | $200 | 2022-04-27 | 1981 | 1,461 | Resale |
| 3517 Larkspur Lane | $300,000 | $207 | 2022-04-22 | 1985 | 1,446 | Resale |
| 3360 Micanopy Trail | $532,000 | $241 | 2022-04-18 | 2016 | 2,210 | Resale |
| 1866 Newman Ln | $247,500 | $193 | 2022-04-18 | 1998 | 1,282 | Resale |
| 8546 Charrington Forest Blvd | $126,000 | $89 | 2022-04-15 | 2003 | 1,409 | Resale |
| 9019 Winged Foot Drive | $805,000 | $210 | 2022-04-15 | 2001 | 3,842 | Resale |
| 1609 Cherry Hill Lane | $385,000 | $189 | 2022-04-15 | 1993 | 2,038 | Resale |
| 8875 Winged Foot Drive | $720,000 | $255 | 2022-04-14 | 2000 | 2,827 | Resale |
| 1545 Copperfield Circle | $397,000 | $186 | 2022-04-13 | 1991 | 2,138 | Resale |
| 9698 Prestancia Way | $700,000 | $244 | 2022-04-12 | 2019 | 2,864 | Resale |
| 10502 Blue Wing Court | $350,000 | $193 | 2022-04-11 | 1992 | 1,815 | Resale |
| 1583 Copperfield Circle | $385,000 | $175 | 2022-04-08 | 1991 | 2,198 | Resale |
| 2305 Tuscavilla Road | $198,000 | $142 | 2022-04-08 | 1990 | 1,396 | Resale |
| 7325 Hollis Street | $249,900 | $171 | 2022-04-04 | 1997 | 1,462 | Resale |
| 9908 Waters Meet Drive | $675,000 | $196 | 2022-03-30 | 1985 | 3,436 | Resale |
| 3444 Briar Branch Trl | $180,000 | $100 | 2022-03-30 | 1974 | 1,792 | Resale |
| 3444 Briar Branch Trl | $197,000 | $109 | 2022-03-30 | 1974 | 1,792 | Resale |
| 3237 Fawn Hill Trail | $310,750 | $218 | 2022-03-30 | 1983 | 1,424 | Resale |
| 3528 Oak Hill Trail | $386,500 | $220 | 2022-03-30 | 2007 | 1,753 | Resale |
| 8104 Blue Quill Trail | $310,000 | $177 | 2022-03-30 | 1987 | 1,747 | Resale |
| 1805 Bitter Root Trail | $350,000 | $150 | 2022-03-29 | 1990 | 2,326 | Resale |
| 13024 Gopher Wood Trail | $384,900 | $127 | 2022-03-25 | 1990 | 3,033 | Resale |
| 8316 Thornridge Lane | $336,000 | $196 | 2022-03-25 | 1987 | 1,718 | Resale |
| 8364 Chickasaw Trail | $282,000 | $148 | 2022-03-25 | 1986 | 1,903 | Resale |
| 8603 Milford Ct | $310,000 | $191 | 2022-03-24 | 2001 | 1,623 | Resale |
| 3512 Cherokee Ridge Trail | $316,000 | $219 | 2022-03-24 | 1982 | 1,440 | Resale |
| 3303 Micanopy Trail | $310,000 | $220 | 2022-03-22 | 2003 | 1,407 | Resale |
| 9341 Tuscany Drive | $355,000 | $225 | 2022-03-18 | 2002 | 1,579 | Resale |
| 9208 Shoal Creek Drive | $660,000 | $224 | 2022-03-11 | 2007 | 2,942 | Resale |
| 8204 Chickasaw Trail | $269,000 | $188 | 2022-03-11 | 1989 | 1,432 | Resale |
| 2325 Gates Drive | $699,000 | $220 | 2022-03-10 | 1999 | 3,178 | Resale |
| 3509 Oak Hill Trail | $380,600 | $183 | 2022-03-07 | 1987 | 2,078 | Resale |
| 3530 Dogwood Valley Trl | $355,000 | $173 | 2022-03-04 | 1983 | 2,048 | Resale |
| 8228 Bridge Water Trail | $330,000 | $188 | 2022-03-04 | 1985 | 1,756 | Resale |
| 8326 Hinsdale Way | $335,000 | $188 | 2022-03-04 | 2002 | 1,784 | Resale |
| 10037 Leafwood Drive | $379,900 | $193 | 2022-02-28 | 2001 | 1,971 | Resale |
| 7100 Towner Trace | $230,000 | $175 | 2022-02-25 | 1996 | 1,312 | Resale |
| 3421 Valley Creek Drive | $235,000 | $119 | 2022-02-25 | 1975 | 1,979 | Resale |
| 1620 Cherry Hill Lane | $325,000 | $196 | 2022-02-22 | 1992 | 1,661 | Resale |
| 8326 Hinsdale Way | $335,000 | $187 | 2022-02-18 | 2002 | 1,784 | Resale |
| 1233 Pheasant Run Dr | $255,000 | $129 | 2022-02-17 | 1996 | 1,973 | Resale |
| 1216 Pheasant Run Drive | $370,000 | $201 | 2022-02-15 | 2000 | 1,841 | Resale |
| 7862 Briarcreek Road | $320,000 | $207 | 2022-02-14 | 1985 | 1,545 | Resale |
| 3404 Rosemont Ridge | $435,000 | $229 | 2022-02-08 | 2021 | 1,896 | New |
| 1725 Broken Bow Trail | $285,100 | $192 | 2022-02-04 | 1997 | 1,488 | Resale |
| 7116 Summit Ridge Drive | $349,900 | $205 | 2022-02-02 | 1985 | 1,708 | Resale |
| 9882 Deerlake N | $708,775 | $221 | 2022-02-02 | 2021 | 3,200 | New |
| 9882 N Deerlake | $708,775 | $221 | 2022-02-02 | 2021 | 3,200 | New |
| 3472 Valley Creek Dr | $490,000 | $152 | 2022-01-31 | 1990 | 3,222 | Resale |
| 7952 Briarcreek Road | $275,000 | $199 | 2022-01-28 | 1987 | 1,382 | Resale |
| 9677 Pebble Beach Way | $785,000 | $207 | 2022-01-27 | 2005 | 3,801 | Resale |
| 3036 Killearn Pointe Ct | $490,000 | $206 | 2022-01-21 | 1999 | 2,373 | Resale |
| 8736 Minnow Creek Drive | $215,000 | $188 | 2022-01-21 | 1989 | 1,144 | Resale |
| 9197 Shoal Creek Drive | $470,000 | $159 | 2022-01-20 | 2006 | 2,953 | Resale |
| 9944 Beaver Ridge Trail | $315,000 | $190 | 2022-01-18 | 1990 | 1,656 | Resale |
| 3444 Cedarwood Trail | $268,000 | $191 | 2022-01-14 | 2003 | 1,406 | Resale |
| 2120 Heathrow Drive | $209,000 | $166 | 2022-01-13 | 1998 | 1,261 | Resale |
| 2929 Golden Eagle Drive | $890,000 | $185 | 2022-01-07 | 1991 | 4,818 | Resale |
| 7701 Bass Ridge Trail | $259,000 | $158 | 2022-01-06 | 1974 | 1,635 | Resale |
| 3017 E Golden Eagle Drive | $960,000 | $202 | 2021-12-31 | 1993 | 4,760 | Resale |
| 2508 Heathrow Drive | $319,000 | $167 | 2021-12-30 | 2004 | 1,912 | Resale |
| 1991 Sunny Dale Drive | $329,000 | $167 | 2021-12-30 | 2004 | 1,975 | Resale |
| 1769 Broken Bow Trail | $299,900 | $193 | 2021-12-30 | 1992 | 1,553 | Resale |
| 1841 Log Ridge Trail | $330,000 | $150 | 2021-12-30 | 1992 | 2,207 | Resale |
| 1242 Pheasant Run Drive | $360,500 | $197 | 2021-12-30 | 1996 | 1,834 | Resale |
| 1560 Copperfield Circle | $380,000 | $169 | 2021-12-30 | 1991 | 2,244 | Resale |
| 1689 Copperfield Circle | $350,000 | $150 | 2021-12-29 | 1990 | 2,332 | Resale |
| 1133 Blackhawk Way | $363,000 | $181 | 2021-12-28 | 1996 | 2,006 | Resale |
| 8931 Winged Foot Drive | $620,000 | $227 | 2021-12-23 | 2000 | 2,736 | Resale |
| 8519 Congressional Drive | $1,250,000 | $303 | 2021-12-23 | 1993 | 4,131 | Resale |
| 8388 Innsbrook Dr Drive | $305,000 | $188 | 2021-12-22 | 2003 | 1,624 | Resale |
| 7125 Towner Trce | $250,000 | $187 | 2021-12-21 | 1996 | 1,339 | Resale |
| 2205 Wood Duck Way | $275,000 | $162 | 2021-12-21 | 1990 | 1,700 | Resale |
| 9084 Shoal Creek Drive | $722,000 | $207 | 2021-12-20 | 1997 | 3,482 | Resale |
| 9721 Waters Meet Drive | $475,000 | $163 | 2021-12-20 | 1993 | 2,919 | Resale |
| 8392 Inverness Drive | $675,000 | $228 | 2021-12-17 | 2015 | 2,964 | Resale |
| 2662 Heathrow Drive | $325,000 | $174 | 2021-12-15 | 2004 | 1,868 | Resale |
| 9923 Waters Meet Drive | $550,000 | $162 | 2021-12-15 | 1986 | 3,388 | Resale |
| 1657 Copperfield Circle | $308,000 | $181 | 2021-12-14 | 1989 | 1,703 | Resale |
| 2236 Ten Oaks Drive | $445,000 | $208 | 2021-12-10 | 1987 | 2,137 | Resale |
| 8455 Heritage Commons Drive | $418,000 | $146 | 2021-12-10 | 2000 | 2,859 | Resale |
| 12017 Otter Creek Trail | $390,000 | $163 | 2021-12-09 | 1999 | 2,398 | Resale |
| 7115 Summit Ridge Drive | $249,395 | $178 | 2021-12-07 | 2004 | 1,400 | Resale |
| 3405 Treaty Oak Trail | $347,500 | $200 | 2021-12-07 | 1986 | 1,737 | Resale |
| 3292 Horseshoe Trail | $359,900 | $181 | 2021-12-06 | 1987 | 1,992 | Resale |
| 2177 Gates Drive | $515,000 | $174 | 2021-12-06 | 2000 | 2,954 | Resale |
| 1875 Log Ridge Trail | $280,000 | $158 | 2021-12-01 | 1993 | 1,773 | Resale |
| 2429 Bass Bay Dr | $553,000 | $144 | 2021-11-26 | 2021 | 3,818 | New |
| 8604 Oak Forest Trail | $235,000 | $183 | 2021-11-22 | 1990 | 1,284 | Resale |
| 7915 S Briarcreek Road | $326,000 | $181 | 2021-11-19 | 1985 | 1,798 | Resale |
| 2465 Heathrow Drive | $284,000 | $189 | 2021-11-19 | 2003 | 1,502 | Resale |
| 2384 Tuscavilla Road | $243,000 | $190 | 2021-11-15 | 1992 | 1,280 | Resale |
| 3400 Blue Quill Lane | $290,000 | $150 | 2021-11-10 | 1986 | 1,927 | Resale |
| 3348 Micanopy Trail | $391,000 | $183 | 2021-11-08 | 2008 | 2,142 | Resale |
| 12024 Otter Creek Trail | $299,000 | $177 | 2021-11-08 | 1995 | 1,685 | Resale |
| 2325 Heathrow Drive | $276,000 | $173 | 2021-11-04 | 2004 | 1,595 | Resale |
| 3400 Birchwood Manor | $510,000 | $169 | 2021-11-03 | 1988 | 3,022 | Resale |
| 9922 Waters Meet Dr | $534,000 | $174 | 2021-11-02 | 2002 | 3,068 | Resale |
| 1644 Copperfield Circle | $380,000 | $185 | 2021-11-01 | 1995 | 2,052 | Resale |
| 1608 Southbrook Lane | $379,900 | $216 | 2021-10-29 | 1990 | 1,760 | Resale |
| 9922 Waters Meet Dr | $534,000 | $174 | 2021-10-29 | 2002 | 3,068 | Resale |
| 9100 Bithlo Lane | $240,000 | $183 | 2021-10-29 | 1992 | 1,312 | Resale |
| 2763 Whitmore Court | $275,000 | $180 | 2021-10-29 | 2001 | 1,527 | Resale |
| 7956 S Briarcreek Road | $233,100 | $155 | 2021-10-29 | 1983 | 1,500 | Resale |
| 8785 Minnow Creek Drive | $290,000 | $184 | 2021-10-27 | 1991 | 1,574 | Resale |
| 2218 Ten Oaks Drive | $397,500 | $164 | 2021-10-25 | 1989 | 2,424 | Resale |
| 2306 Tuscavilla Road | $245,000 | $181 | 2021-10-25 | 1988 | 1,357 | Resale |
| 2013 Herb Court | $489,000 | $198 | 2021-10-20 | 1999 | 2,474 | Resale |
| 10549 Winters Run | $316,027 | $194 | 2021-10-19 | 2000 | 1,626 | Resale |
| 7700 Briarcreek Road | $265,000 | $185 | 2021-10-19 | 2003 | 1,435 | Resale |
| 7500 Beaver Ford Road | $393,000 | $199 | 2021-10-19 | 2017 | 1,970 | Resale |
| 3377 Barrow Hill Trail | $260,000 | $155 | 2021-10-15 | 1976 | 1,679 | Resale |
| 3225 Fawn Hill Trail | $234,900 | $203 | 2021-10-13 | 1985 | 1,158 | Resale |
| 9376 Buck Haven Trail | $283,000 | $168 | 2021-10-13 | 1993 | 1,685 | Resale |
| 2732 Oakleigh Court | $215,000 | $168 | 2021-10-12 | 1998 | 1,280 | Resale |
| 2316 Haverhill Road | $470,000 | $216 | 2021-10-12 | 1986 | 2,174 | Resale |
| 8538 Charrington Forest Boulevard | $283,000 | $183 | 2021-10-11 | 2003 | 1,543 | Resale |
| 8366 Hinsdale Way | $329,000 | $181 | 2021-10-08 | 2003 | 1,814 | Resale |
| 8368 Hunters Ridge Trail | $240,000 | $194 | 2021-10-08 | 1989 | 1,240 | Resale |
| 8535 Congressional Drive | $557,000 | $182 | 2021-10-08 | 2001 | 3,063 | Resale |
| 8712 Spring Shore Trl | $500,000 | $220 | 2021-10-07 | 1997 | 2,266 | Resale |
| 3212 Wind Lake Lane | $294,000 | $123 | 2021-10-06 | 1991 | 2,394 | Resale |
| 8327 Hunters Ridge Trail | $212,500 | $177 | 2021-10-04 | 1993 | 1,200 | Resale |
| 2292 Tuscavilla Road | $262,000 | $190 | 2021-10-04 | 1992 | 1,378 | Resale |
| 1763 Newman Lane | $265,000 | $157 | 2021-10-01 | 1999 | 1,683 | Resale |
| 1814 Newman Lane | $279,900 | $193 | 2021-09-30 | 1999 | 1,449 | Resale |
| 7400 Heide Hill Trace | $205,000 | $165 | 2021-09-30 | 1995 | 1,240 | Resale |
| 3208 Wind Lake Lane | $530,000 | $214 | 2021-09-29 | 2021 | 2,475 | New |
| 9099 Stonehenge Trail | $265,000 | $185 | 2021-09-29 | 1999 | 1,434 | Resale |
| 3447 Briar Branch Trail | $310,000 | $201 | 2021-09-24 | 1974 | 1,539 | Resale |
| 7788 Briarcreek Road | $365,000 | $189 | 2021-09-24 | 1984 | 1,930 | Resale |
| 1608 Flint Ridge Lane | $300,000 | $187 | 2021-09-21 | 1990 | 1,603 | Resale |
| 1713 Chestnut Hill | $349,900 | $186 | 2021-09-17 | 1994 | 1,884 | Resale |
| 2368 Heathrow Drive | $269,000 | $175 | 2021-09-17 | 2002 | 1,534 | Resale |
| 3463 Rosemont Ridge Road | $320,000 | $185 | 2021-09-16 | 2002 | 1,732 | Resale |
| 9325 Tuscany Drive | $269,000 | $175 | 2021-09-15 | 2003 | 1,541 | Resale |
| 9212 Shoal Creek Drive | $665,000 | $196 | 2021-09-15 | 2018 | 3,400 | Resale |
| 3212 Pablo Creek Way | $660,000 | $200 | 2021-09-14 | 2014 | 3,299 | Resale |
| 9409 Windam Way | $262,000 | $171 | 2021-09-08 | 2002 | 1,534 | Resale |
| 8402 Chickasaw Trl | $260,000 | $177 | 2021-09-08 | 1986 | 1,466 | Resale |
| 9541 Buck Haven Trl | $265,000 | $180 | 2021-09-03 | 1990 | 1,466 | Resale |
| 9413 Windam Way | $261,000 | $186 | 2021-09-01 | 2002 | 1,406 | Resale |
| 9318 Tuscany Drive | $325,000 | $191 | 2021-09-01 | 2004 | 1,701 | Resale |
| 9138 Stonehenge Trail | $248,000 | $200 | 2021-08-31 | 1998 | 1,239 | Resale |
| 9413 Windam Way | $261,000 | $185 | 2021-08-31 | 2002 | 1,406 | Resale |
| 8652 Oak Forest Trail | $235,000 | $169 | 2021-08-31 | 1994 | 1,389 | Resale |
| 3064 E Saint Andrews Way | $925,000 | $213 | 2021-08-30 | 2007 | 4,338 | Resale |
| 3064 St. Andrews Way | $925,000 | $213 | 2021-08-30 | 2007 | 4,338 | Resale |
| 1547 Chadwick Way | $332,000 | $177 | 2021-08-27 | 1992 | 1,880 | Resale |
| 3420 Briar Branch Trail | $283,000 | $204 | 2021-08-27 | 1978 | 1,390 | Resale |
| 3285 Lilburn Court | $330,000 | $147 | 2021-08-27 | 1998 | 2,244 | Resale |
| 8026 Briarcreek Road East | $225,000 | $167 | 2021-08-27 | 1983 | 1,350 | Resale |
| 3520 Dogwood Valley Trail | $438,000 | $195 | 2021-08-25 | 2005 | 2,250 | Resale |
| 13040 Gopher Wood Trail | $450,000 | $165 | 2021-08-25 | 1992 | 2,732 | Resale |
| 2312 Gates Drive | $606,000 | $177 | 2021-08-25 | 1997 | 3,419 | Resale |
| 3512 Cherokee Ridge Trail | $222,000 | $154 | 2021-08-24 | 1982 | 1,440 | Resale |
| 9903 Beaver Ridge Trail | $295,000 | $181 | 2021-08-24 | 1991 | 1,627 | Resale |
| 3513 Larkspur Lane | $333,900 | $177 | 2021-08-23 | 2008 | 1,883 | Resale |
| 1882 Log Ridge Trl | $350,000 | $174 | 2021-08-21 | 1992 | 2,002 | Resale |
| 2027 Sunny Dale Drive | $269,000 | $179 | 2021-08-20 | 2004 | 1,502 | Resale |
| 7745 Briarcreek Rd N | $255,000 | $179 | 2021-08-19 | 1995 | 1,417 | Resale |
| 7745 N Briarcreek Road | $255,000 | $180 | 2021-08-19 | 1995 | 1,417 | Resale |
| 9310 Tuscany Drive | $310,000 | $160 | 2021-08-16 | 2004 | 1,938 | Resale |
| 8198 Glenmore Drive | $760,000 | $222 | 2021-08-16 | 1999 | 3,422 | Resale |
| 1551 Breamstone Ridge | $375,000 | $182 | 2021-08-16 | 1993 | 2,064 | Resale |
| 1133 Blackhawk Way | $200,000 | $100 | 2021-08-13 | 1996 | 2,006 | Resale |
| 1133 Blackhawk Way | $220,000 | $109 | 2021-08-13 | 1996 | 2,006 | Resale |
| 3436 Cedarwood Trail | $289,900 | $144 | 2021-08-13 | 1987 | 2,020 | Resale |
| 3409 Treaty Oak Trail | $292,000 | $184 | 2021-08-11 | 1985 | 1,584 | Resale |
| 3201 Horseshoe Trail | $475,000 | $177 | 2021-08-10 | 1987 | 2,677 | Resale |
| 3475 Rosemont Ridge | $235,000 | $162 | 2021-08-06 | 1984 | 1,449 | Resale |
| 8283 Chickasaw Trail | $399,000 | $209 | 2021-08-06 | 2017 | 1,910 | Resale |
| 2122 Golden Eagle Drive | $625,000 | $176 | 2021-08-06 | 1989 | 3,555 | Resale |
| 8208 Bridge Water Trail | $258,000 | $209 | 2021-08-04 | 1986 | 1,236 | Resale |
| 2437 Bass Bay Drive | $645,000 | $248 | 2021-07-30 | 2001 | 2,604 | Resale |
| 3448 Osprey Ridge Court | $696,450 | $225 | 2021-07-30 | 2017 | 3,089 | Resale |
| 8889 Caledonian Court | $520,000 | $188 | 2021-07-30 | 2001 | 2,765 | Resale |
| 1849 Log Ridge | $285,000 | $174 | 2021-07-30 | 1994 | 1,634 | Resale |
| 1804 Thunder Hill Way | $426,000 | $185 | 2021-07-29 | 1991 | 2,301 | Resale |
| 1605 Copperfield Circle | $420,000 | $185 | 2021-07-29 | 1993 | 2,276 | Resale |
| 3440 Edgemont Trail | $395,000 | $201 | 2021-07-29 | 2013 | 1,961 | Resale |
| 3437 Cherokee Ridge Trail | $308,000 | $204 | 2021-07-29 | 1984 | 1,512 | Resale |
| 8705 Minnow Creek Drive | $292,500 | $193 | 2021-07-29 | 1991 | 1,513 | Resale |
| 9949 Beaver Ridge Trail | $250,000 | $165 | 2021-07-29 | 1993 | 1,513 | Resale |
| 9617 Deer Valley Drive | $722,000 | $213 | 2021-07-28 | 2004 | 3,384 | Resale |
| 2592 Heathrow Drive | $252,500 | $180 | 2021-07-23 | 2004 | 1,406 | Resale |
| 9300 Buck Haven Trail | $422,500 | $184 | 2021-07-23 | 1990 | 2,292 | Resale |
| 8373 Hunters Ridge Trl | $209,100 | $148 | 2021-07-23 | 1993 | 1,405 | Resale |
| 9226 Mcdougal Court | $270,000 | $160 | 2021-07-19 | 1999 | 1,689 | Resale |
| 7865 Briarcreek Rd W | $235,000 | $171 | 2021-07-19 | 1983 | 1,369 | Resale |
| 7865 W Briarcreek Road | $235,000 | $151 | 2021-07-19 | 1983 | 1,554 | Resale |
| 1706 Broken Bow Trail | $300,000 | $179 | 2021-07-19 | 1993 | 1,675 | Resale |
| 1812 Folkstone Road | $245,000 | $158 | 2021-07-16 | 1992 | 1,553 | Resale |
| 11001 Copperfield Way | $345,000 | $195 | 2021-07-16 | 1991 | 1,769 | Resale |
| 7343 Hollis Street | $230,600 | $178 | 2021-07-16 | 1997 | 1,298 | Resale |
| 8305 Pegwood Way | $340,000 | $189 | 2021-07-16 | 1997 | 1,802 | Resale |
| 11065 Wildlife Trl | $260,000 | $163 | 2021-07-15 | 1995 | 1,588 | Resale |
| 3200 Pablo Creek Way | $800,000 | $214 | 2021-07-15 | 2005 | 3,732 | Resale |
| 8252 Chickasaw Trl | $200,000 | $123 | 2021-07-14 | 1993 | 1,626 | Resale |
| 9457 Buck Haven Trail | $370,000 | $181 | 2021-07-13 | 1991 | 2,044 | Resale |
| 9215 Shoal Creek Drive | $650,000 | $228 | 2021-07-12 | 2017 | 2,853 | Resale |
| 9037 Muirfield Court | $674,900 | $160 | 2021-07-09 | 1987 | 4,228 | Resale |
| 8368 Inverness Drive | $485,000 | $182 | 2021-07-09 | 1998 | 2,658 | Resale |
| 7116 Summit Ridge Dr | $185,000 | $108 | 2021-07-09 | 1985 | 1,708 | Resale |
| 3616 Little Fox Lane | $290,000 | $200 | 2021-07-02 | 1984 | 1,448 | Resale |
| 9023 Winged Foot Drive | $575,000 | $144 | 2021-07-02 | 1987 | 3,987 | Resale |
| 12061 Cedar Bluff Trail | $418,000 | $180 | 2021-07-02 | 1991 | 2,328 | Resale |
| 2266 Pine Landing Court | $200,000 | $156 | 2021-07-01 | 2001 | 1,284 | Resale |
| 2218 Pine Landing Court | $196,500 | $153 | 2021-06-30 | 2001 | 1,284 | Resale |
| 8348 Innsbrook Drive | $284,000 | $175 | 2021-06-30 | 2003 | 1,623 | Resale |
| 3501 Larkspur Lane | $295,000 | $181 | 2021-06-30 | 1985 | 1,626 | Resale |
| 1870 Log Ridge Trail | $390,000 | $202 | 2021-06-30 | 1989 | 1,931 | Resale |
| 2227 Ten Oaks Drive | $480,000 | $176 | 2021-06-30 | 1988 | 2,726 | Resale |
| 1846 Newman Ln | $220,000 | $177 | 2021-06-30 | 1999 | 1,239 | Resale |
| 9226 Mcdougal Ct | $270,000 | $159 | 2021-06-29 | 1999 | 1,689 | Resale |
| 7000 Quail Common Dr | $235,000 | $187 | 2021-06-23 | 2009 | 1,255 | Resale |
| 3479 Hawks Hill Trail | $435,000 | $178 | 2021-06-23 | 2017 | 2,443 | Resale |
| 7764 Bass Ridge Trail | $305,000 | $155 | 2021-06-22 | 1976 | 1,974 | Resale |
| 2328 Tuscavilla Road | $255,000 | $165 | 2021-06-22 | 1991 | 1,545 | Resale |
| 10502 Winters Run | $334,900 | $186 | 2021-06-21 | 1995 | 1,804 | Resale |
| 2232 Ten Oaks Dr | $818,000 | $163 | 2021-06-18 | 2000 | 5,005 | Resale |
| 1678 Copperfield Circle | $337,600 | $197 | 2021-06-18 | 1994 | 1,717 | Resale |
| 2382 Heathrow Drive | $272,000 | $181 | 2021-06-18 | 2003 | 1,502 | Resale |
| 3432 Briar Branch Trail | $280,000 | $177 | 2021-06-18 | 1977 | 1,580 | Resale |
| 3530 Dogwood Valley Trl | $152,500 | $100 | 2021-06-15 | 1983 | 1,514 | Resale |
| 9524 Buck Haven Trail | $377,500 | $178 | 2021-06-15 | 1991 | 2,117 | Resale |
| 8369 Hunters Ridge Trail | $235,000 | $161 | 2021-06-15 | 1988 | 1,456 | Resale |
| 9244 Shoal Creek Drive | $650,000 | $225 | 2021-06-15 | 2016 | 2,887 | Resale |
| 2708 Wharton Circle | $510,000 | $192 | 2021-06-14 | 1997 | 2,652 | Resale |
| 9658 Deer Valley Drive | $810,000 | $215 | 2021-06-11 | 2003 | 3,765 | Resale |
| 7773 Briarcreek Rd N | $263,700 | $152 | 2021-06-11 | 1986 | 1,740 | Resale |
| 8252 Chickasaw Trl | $140,000 | $86 | 2021-06-10 | 1993 | 1,626 | Resale |
| 8740 Minnow Creek Drive | $191,000 | $143 | 2021-06-10 | 1995 | 1,336 | Resale |
| 1524 Breamstone Ridge | $403,000 | $177 | 2021-06-10 | 1992 | 2,276 | Resale |
| 9397 Windam Way | $245,000 | $140 | 2021-06-09 | 2002 | 1,748 | Resale |
| 8331 Hinsdale Way | $299,000 | $184 | 2021-06-07 | 2003 | 1,628 | Resale |
| 7220 Jaffrey Court | $198,000 | $146 | 2021-06-04 | 1995 | 1,360 | Resale |
| 3309 Wildwood Trail | $282,000 | $187 | 2021-06-04 | 1986 | 1,505 | Resale |
| 2006 Herb Court | $639,000 | $208 | 2021-06-04 | 1999 | 3,067 | Resale |
| 10430 Merribrook Ln | $305,000 | $170 | 2021-06-04 | 1996 | 1,784 | Resale |
| 3288 Horseshoe Trail | $328,000 | $155 | 2021-06-03 | 1986 | 2,110 | Resale |
| 2272 Tuscavilla Road | $310,000 | $183 | 2021-06-02 | 1992 | 1,692 | Resale |
| 8846 Glen Abby Drive | $527,500 | $114 | 2021-06-02 | 2003 | 4,618 | Resale |
| 8969 Winged Foot Drive | $540,000 | $181 | 2021-06-01 | 1993 | 2,986 | Resale |
| 1616 Flint Ridge Ln | $175,000 | $143 | 2021-06-01 | 1992 | 1,220 | Resale |
| 7421 Heide Hill Trce | $185,000 | $145 | 2021-06-01 | 2000 | 1,271 | Resale |
| 7142 Towner Trace | $208,000 | $171 | 2021-05-28 | 1996 | 1,213 | Resale |
| 3493 Cedarwood Trail | $396,000 | $200 | 2021-05-28 | 2017 | 1,980 | Resale |
| 1850 Folkstone | $214,000 | $167 | 2021-05-28 | 1986 | 1,282 | Resale |
| 3089 E Saint Andrews Way | $612,000 | $182 | 2021-05-28 | 2004 | 3,347 | Resale |
| 2162 Golden Eagle Dr W | $610,000 | $159 | 2021-05-27 | 1995 | 3,819 | Resale |
| 2242 Heathrow Drive | $262,000 | $190 | 2021-05-27 | 2004 | 1,380 | Resale |
| 7862 Briarcreek Rd W | $145,000 | $93 | 2021-05-27 | 1985 | 1,545 | Resale |
| 8605 Milford Court | $258,000 | $151 | 2021-05-21 | 2001 | 1,712 | Resale |
| 2043 Sunny Dale Drive | $290,000 | $171 | 2021-05-20 | 2004 | 1,700 | Resale |
| 2416 Bass Bay Drive | $575,000 | $176 | 2021-05-19 | 1987 | 3,264 | Resale |
| 1604 Southbrook Lane | $439,000 | $187 | 2021-05-17 | 1992 | 2,346 | Resale |
| 2003 Sunny Dale Drive | $289,900 | $164 | 2021-05-14 | 2003 | 1,773 | Resale |
| 10678 Lake Iamonia Dr | $240,000 | $64 | 2021-05-14 | 1993 | 3,715 | Resale |
| 9100 Bithlo Lane | $236,500 | $180 | 2021-05-12 | 1992 | 1,312 | Resale |
| 9252 Shoal Creek Drive | $675,000 | $221 | 2021-05-10 | 2004 | 3,049 | Resale |
| 8554 Congressional Drive | $538,529 | $195 | 2021-05-07 | 1988 | 2,760 | Resale |
| 10671 Lake Iamonia Drive | $567,000 | $168 | 2021-05-07 | 1994 | 3,366 | Resale |
| 2124 Heathrow Dr | $225,000 | $156 | 2021-05-06 | 1997 | 1,441 | Resale |
| 1853 Log Ridge Trail | $290,000 | $177 | 2021-04-29 | 1995 | 1,638 | Resale |
| 3335 Micanopy Trail | $335,000 | $156 | 2021-04-29 | 1985 | 2,143 | Resale |
| 7102 Towner Trace | $200,000 | $159 | 2021-04-27 | 1996 | 1,257 | Resale |
| 9226 Mcdougal Ct | $225,100 | $133 | 2021-04-27 | 1999 | 1,689 | Resale |
| 1504 Breamstone Rdg | $300,000 | $128 | 2021-04-26 | 1992 | 2,328 | Resale |
| 2391 Tuscavilla Road | $242,500 | $185 | 2021-04-23 | 1991 | 1,314 | Resale |
| 7705 Bass Ridge Trail | $334,779 | $195 | 2021-04-23 | 1984 | 1,714 | Resale |
| 3328 Barrow Hill Trail | $290,000 | $158 | 2021-04-22 | 1985 | 1,835 | Resale |
| 8708 Minnow Creek Drive | $265,000 | $192 | 2021-04-22 | 1996 | 1,378 | Resale |
| 8321 Chickasaw Trl | $132,100 | $76 | 2021-04-20 | 1986 | 1,717 | Resale |
| 1863 Folkstone Road | $257,000 | $192 | 2021-04-19 | 1996 | 1,336 | Resale |
| 8869 Glen Abby | $670,000 | $207 | 2021-04-07 | 1995 | 3,242 | Resale |
| 3095 E Saint Andrews Way | $618,000 | $184 | 2021-04-02 | 2003 | 3,342 | Resale |
| 3520 Larkspur Lane | $239,900 | $144 | 2021-04-02 | 1987 | 1,662 | Resale |
| 8085 Briarcreek Road | $218,000 | $146 | 2021-04-01 | 1984 | 1,492 | Resale |
| 12045 Cedar Bluff Trail | $330,000 | $157 | 2021-04-01 | 1990 | 2,106 | Resale |
| 1576 Copperfield Circle | $436,251 | $192 | 2021-03-31 | 2020 | 2,277 | New |
| 2424 Heathrow Drive | $317,000 | $160 | 2021-03-31 | 2003 | 1,980 | Resale |
| 8212 Chickasaw Trail | $235,000 | $173 | 2021-03-30 | 1987 | 1,360 | Resale |
| 8239 Hunters Ridge Trail | $249,500 | $195 | 2021-03-30 | 1989 | 1,282 | Resale |
| 9373 Buck Haven Trail | $349,000 | $147 | 2021-03-26 | 1992 | 2,374 | Resale |
| 2326 Heathrow | $247,000 | $176 | 2021-03-26 | 2002 | 1,406 | Resale |
| 2021 Ascot Way | $250,000 | $152 | 2021-03-26 | 1999 | 1,644 | Resale |
| 8728 Minnow Creek Drive | $255,000 | $178 | 2021-03-23 | 2001 | 1,430 | Resale |
| 7426 Heide Hill Trace | $215,000 | $170 | 2021-03-18 | 2000 | 1,265 | Resale |
| 1699 Folkstone Road | $215,000 | $152 | 2021-03-16 | 1991 | 1,416 | Resale |
| 3329 Micanopy Trail | $398,000 | $199 | 2021-03-15 | 2020 | 2,002 | Resale |
| 3321 Micanopy Trail | $285,000 | $173 | 2021-03-15 | 2007 | 1,651 | Resale |
| 1662 Copperfield Circle | $310,000 | $194 | 2021-03-12 | 1989 | 1,601 | Resale |
| 1681 Copperfield Circle | $343,900 | $157 | 2021-03-11 | 1989 | 2,192 | Resale |
| 10531 Blue Wing Court | $410,000 | $158 | 2021-03-10 | 2002 | 2,596 | Resale |
| 7836 W Briarcreek Road | $365,000 | $189 | 2021-03-10 | 2015 | 1,933 | Resale |
| 3376 Barrow Hill Trail | $302,500 | $190 | 2021-03-05 | 2000 | 1,596 | Resale |
| 2147 Golden Eagle West Drive | $1,315,000 | $187 | 2021-03-03 | 2002 | 7,048 | Resale |
| 9022 Winged Foot Drive | $533,000 | $195 | 2021-03-02 | 1988 | 2,740 | Resale |
| 7700 Bass Ridge Trail | $290,000 | $162 | 2021-02-26 | 1982 | 1,792 | Resale |
| 9904 Waters Meet Drive | $635,000 | $213 | 2021-02-23 | 2020 | 2,984 | New |
| 8616 Oak Forest Trail | $224,900 | $183 | 2021-02-23 | 2000 | 1,232 | Resale |
| 3400 Cherokee Ridge Trail | $195,000 | $163 | 2021-02-18 | 1985 | 1,200 | Resale |
| 8167 Glenmore Drive | $771,500 | $186 | 2021-02-16 | 2000 | 4,147 | Resale |
| 1616 Copperfield Circle | $350,000 | $189 | 2021-02-16 | 1990 | 1,856 | Resale |
| 3517 Larkspur Lane | $217,000 | $160 | 2021-02-10 | 1985 | 1,355 | Resale |
| 9146 Mcdougal Court | $292,000 | $170 | 2021-02-09 | 2000 | 1,720 | Resale |
| 2953 E Golden Eagle Drive | $892,500 | $205 | 2021-02-09 | 1992 | 4,364 | Resale |
| 2025 Ascot Way | $251,000 | $151 | 2021-02-09 | 1998 | 1,658 | Resale |
| 9698 Prestancia Way | $600,900 | $210 | 2021-02-05 | 2019 | 2,864 | Resale |
| 1140 Blackhawk Way | $349,900 | $152 | 2021-02-05 | 1996 | 2,300 | Resale |
| 3437 Cedarwood Trail | $274,000 | $156 | 2021-02-04 | 2008 | 1,756 | Resale |
| 7728 Bass Ridge Trail | $230,000 | $108 | 2021-02-03 | 1978 | 2,124 | Resale |
| 9905 Beaver Ridge Trail | $319,000 | $163 | 2021-02-03 | 2002 | 1,960 | Resale |
| 8635 Milford Court | $270,000 | $167 | 2021-02-03 | 2001 | 1,613 | Resale |
| 8227 Chickasaw Trail | $200,000 | $154 | 2021-01-29 | 1985 | 1,302 | Resale |
| 1838 Log Ridge Trail | $318,000 | $170 | 2021-01-27 | 1990 | 1,876 | Resale |
| 1628 Flint Ridge Lane | $231,000 | $179 | 2021-01-22 | 1987 | 1,290 | Resale |
| 3001 Golden Eagle Drive | $830,000 | $181 | 2021-01-15 | 2003 | 4,576 | Resale |
| 8001 Briarcreek Rd S | $285,000 | $173 | 2021-01-15 | 2008 | 1,650 | Resale |
| 9812 Thunder Hill Trail | $351,451 | $146 | 2021-01-14 | 1991 | 2,414 | Resale |
| 1823 Folkstone Road | $245,000 | $164 | 2021-01-11 | 1993 | 1,498 | Resale |
| 1804 Folkstone Road | $225,000 | $172 | 2021-01-08 | 1991 | 1,308 | Resale |
| 8243 Hunters Ridge Trail | $249,000 | $180 | 2021-01-08 | 2001 | 1,382 | Resale |
| 3352 Micanopy Trail | $238,000 | $166 | 2021-01-06 | 1987 | 1,433 | Resale |
| 8338 Inverness Drive | $527,000 | $173 | 2020-12-31 | 1999 | 3,044 | Resale |
| 3420 Rosemont Ridge Road | $179,000 | $143 | 2020-12-30 | 1984 | 1,256 | Resale |
| 3488 Rosemont Ridge Road | $246,000 | $165 | 2020-12-30 | 2009 | 1,487 | Resale |
| 8320 Thornridge Lane | $170,000 | $136 | 2020-12-30 | 1991 | 1,246 | Resale |
| 7215 Jaffrey Court | $204,000 | $147 | 2020-12-30 | 1996 | 1,392 | Resale |
| 8272 Chickasaw Trail | $193,100 | $192 | 2020-12-28 | 1985 | 1,008 | Resale |
| 3313 Wildwood Trail | $258,000 | $174 | 2020-12-28 | 1985 | 1,479 | Resale |
| 8391 Chickasaw Trail | $215,000 | $177 | 2020-12-23 | 1987 | 1,214 | Resale |
| 10419 Merribrook Lane | $240,000 | $137 | 2020-12-23 | 1996 | 1,752 | Resale |
| 1580 Copperfield Circle | $417,555 | $186 | 2020-12-18 | 2020 | 2,248 | New |
| 3296 Horseshoe Trail | $351,000 | $150 | 2020-12-18 | 1987 | 2,338 | Resale |
| 8807 Minnow Creek Drive | $224,900 | $172 | 2020-12-17 | 1988 | 1,308 | Resale |
| 10502 Blue Wing Court | $289,000 | $153 | 2020-12-15 | 1992 | 1,895 | Resale |
| 1504 Breamstone Ridge | $300,000 | $129 | 2020-12-15 | 1992 | 2,328 | Resale |
| 2320 Tuscavilla Road | $230,000 | $135 | 2020-12-15 | 1986 | 1,703 | Resale |
| 10519 Blue Wing Court | $425,000 | $170 | 2020-12-11 | 2003 | 2,498 | Resale |
| 9233 Shoal Creek Drive | $470,000 | $180 | 2020-12-11 | 2007 | 2,618 | Resale |
| 8341 Chickasaw Trail | $218,000 | $141 | 2020-12-11 | 1994 | 1,548 | Resale |
| 7328 Hollis Street | $200,000 | $131 | 2020-12-11 | 1997 | 1,521 | Resale |
| 3220 Fawn Hill | $262,000 | $164 | 2020-12-11 | 2005 | 1,600 | Resale |
| 2272 Pine Landing Court | $193,000 | $150 | 2020-12-10 | 2001 | 1,284 | Resale |
| 9336 Royal Troon Drive | $258,200 | $152 | 2020-12-10 | 2003 | 1,701 | Resale |
| 9010 Bob O Link Court | $486,000 | $168 | 2020-12-09 | 1988 | 2,898 | Resale |
| 9274 Shoal Creek Drive | $650,000 | $195 | 2020-12-04 | 2019 | 3,334 | New |
| 2375 Tuscavilla Road | $228,000 | $181 | 2020-12-04 | 1994 | 1,260 | Resale |
| 7993 S Briarcreek Road | $238,000 | $203 | 2020-12-04 | 1986 | 1,170 | Resale |
| 8255 Charrington Forest Boulevard | $258,000 | $148 | 2020-12-03 | 1999 | 1,744 | Resale |
| 8243 Chickasaw Trail | $235,000 | $158 | 2020-12-01 | 1990 | 1,490 | Resale |
| 3325 Cherokee Ridge Trail | $325,000 | $191 | 2020-12-01 | 2016 | 1,703 | Resale |
| 1709 Broken Bow Trail | $258,500 | $153 | 2020-11-30 | 2008 | 1,686 | Resale |
| 11104 Wildlife Trail | $369,900 | $110 | 2020-11-20 | 1990 | 3,371 | Resale |
| 2158 W Golden Eagle Drive | $740,000 | $177 | 2020-11-20 | 1995 | 4,172 | Resale |
| 2820 Turkey Hill Trail | $338,000 | $160 | 2020-11-20 | 1987 | 2,118 | Resale |
| 3436 Edgemont Trail | $245,000 | $153 | 2020-11-20 | 1984 | 1,600 | Resale |
| 7000 Quail Common Drive | $235,000 | $187 | 2020-11-20 | 2009 | 1,255 | Resale |
| 3325 Micanopy Trail | $221,000 | $144 | 2020-11-19 | 1985 | 1,540 | Resale |
| 8317 Innsbrook Drive | $293,000 | $161 | 2020-11-18 | 2002 | 1,815 | Resale |
| 1677 Copperfield Circle | $355,000 | $156 | 2020-11-17 | 1999 | 2,278 | Resale |
| 2012 Herb Court | $426,000 | $161 | 2020-11-16 | 2004 | 2,648 | Resale |
| 9149 Shoal Creek Drive | $475,000 | $162 | 2020-11-13 | 1996 | 2,932 | Resale |
| 8798 Minnow Creek Drive | $263,900 | $160 | 2020-11-13 | 1991 | 1,651 | Resale |
| 3365 Barrow Hill Trail | $320,000 | $188 | 2020-11-13 | 2005 | 1,706 | Resale |
| 3568 Oak Hill Trail | $239,000 | $157 | 2020-11-13 | 1985 | 1,518 | Resale |
| 1758 Newman Lane | $266,000 | $161 | 2020-11-12 | 1999 | 1,654 | Resale |
| 9078 Shoal Creek Drive | $577,500 | $158 | 2020-11-10 | 2000 | 3,653 | Resale |
| 2988 Killearn Pointe Court | $499,000 | $216 | 2020-11-10 | 1999 | 2,315 | Resale |
| 10012 Leafwood Drive | $265,000 | $162 | 2020-11-09 | 1995 | 1,634 | Resale |
| 2494 Heathrow Drive | $286,500 | $148 | 2020-11-06 | 2003 | 1,938 | Resale |
| 3492 Valley Creek Drive | $450,000 | $177 | 2020-11-06 | 1995 | 2,549 | Resale |
| 9109 Birch Run Lane | $240,000 | $183 | 2020-11-06 | 1990 | 1,313 | Resale |
| 7111 Towner Trace | $210,000 | $157 | 2020-10-30 | 1996 | 1,339 | Resale |
| 9531 Buck Haven Trail | $330,000 | $157 | 2020-10-30 | 2001 | 2,108 | Resale |
| 2439 Bass Bay Drive | $475,000 | $168 | 2020-10-30 | 2007 | 2,828 | Resale |
| 3435 Briar Branch Trail | $314,900 | $176 | 2020-10-30 | 2013 | 1,793 | Resale |
| 13040 Gopher Wood Trail | $375,000 | $137 | 2020-10-30 | 1992 | 2,732 | Resale |
| 1850 Log Ridge Trail | $365,000 | $144 | 2020-10-29 | 1991 | 2,542 | Resale |
| 3604 Deer Hill Trail | $285,000 | $148 | 2020-10-28 | 1985 | 1,925 | Resale |
| 2961 Medinah | $425,000 | $146 | 2020-10-26 | 1988 | 2,907 | Resale |
| 2911 Royal Isle Drive | $950,000 | $185 | 2020-10-23 | 2004 | 5,133 | Resale |
| 1604 Norwood Lane | $305,000 | $165 | 2020-10-23 | 1992 | 1,850 | Resale |
| 8753 Minnow Creek Drive | $258,000 | $158 | 2020-10-23 | 2004 | 1,635 | Resale |
| 8349 Hunters Ridge Trail | $245,100 | $171 | 2020-10-23 | 1991 | 1,434 | Resale |
| 8487 Congressional Drive | $455,000 | $184 | 2020-10-22 | 1992 | 2,476 | Resale |
| 1707 Folkstone Road | $263,000 | $151 | 2020-10-21 | 1989 | 1,743 | Resale |
| 10507 Blue Wing Court | $412,500 | $142 | 2020-10-20 | 1991 | 2,898 | Resale |
| 2308 Haverhill Road | $400,000 | $158 | 2020-10-19 | 1990 | 2,534 | Resale |
| 7741 Briarcreek Rd N | $234,500 | $166 | 2020-10-16 | 1984 | 1,408 | Resale |
| 3501 Cedarwood Trail | $335,000 | $196 | 2020-10-16 | 2013 | 1,709 | Resale |
| 8151 Charrington Forest | $225,000 | $126 | 2020-10-15 | 2000 | 1,784 | Resale |
| 9097 Shoal Creek Drive | $579,000 | $154 | 2020-10-15 | 2000 | 3,755 | Resale |
| 7741 N Briarcreek Road | $234,500 | $167 | 2020-10-14 | 1984 | 1,408 | Resale |
| 1829 Log Ridge Trail | $280,000 | $143 | 2020-10-09 | 1988 | 1,962 | Resale |
| 1827 Folkstone Road | $243,000 | $161 | 2020-10-07 | 1992 | 1,505 | Resale |
| 2104 Waters Meet Drive | $660,000 | $195 | 2020-10-07 | 1989 | 3,388 | Resale |
| 9952 Beaver Ridge Trail | $295,000 | $139 | 2020-10-06 | 1991 | 2,124 | Resale |
| 8735 Minnow Creek Drive | $218,500 | $168 | 2020-10-05 | 1991 | 1,300 | Resale |
| 7877 W Briarcreek Road | $234,900 | $159 | 2020-09-30 | 1984 | 1,481 | Resale |
| 7877 Briarcreek Rd W | $234,900 | $158 | 2020-09-30 | 1984 | 1,481 | Resale |
| 3333 Cherokee Ridge Trail | $215,000 | $132 | 2020-09-30 | 1983 | 1,630 | Resale |
| 3321 Cherokee Ridge Trail | $244,900 | $165 | 2020-09-30 | 1985 | 1,484 | Resale |
| 1887 Folkstone Road | $167,500 | $121 | 2020-09-30 | 1995 | 1,382 | Resale |
| 1858 Newman Lane | $230,000 | $174 | 2020-09-30 | 1998 | 1,319 | Resale |
| 8611 Milford Ct | $244,500 | $151 | 2020-09-30 | 2003 | 1,615 | Resale |
| 2508 Heathrow Drive | $268,000 | $140 | 2020-09-29 | 2004 | 1,912 | Resale |
| 7828 Briarcreek Rd W | $210,000 | $143 | 2020-09-28 | 1985 | 1,464 | Resale |
| 8208 Bridge Water Trail | $130,150 | $105 | 2020-09-28 | 1986 | 1,236 | Resale |
| 2755 Whitmore Court | $260,000 | $149 | 2020-09-25 | 1999 | 1,748 | Resale |
| 9142 Stonehenge Trail | $250,000 | $173 | 2020-09-23 | 1997 | 1,441 | Resale |
| 10598 Lake Iamonia Dr. | $355,000 | $136 | 2020-09-23 | 1996 | 2,601 | Resale |
| 7217 Jaffrey Court | $190,000 | $148 | 2020-09-21 | 1995 | 1,287 | Resale |
| 3338 Wildwood Trail | $315,000 | $153 | 2020-09-18 | 2000 | 2,054 | Resale |
| 8191 Glenmore Drive | $625,000 | $187 | 2020-09-17 | 1998 | 3,337 | Resale |
| 1751 Newman Lane | $195,000 | $161 | 2020-09-16 | 1998 | 1,214 | Resale |
| 2392 Tuscavilla Road | $228,000 | $168 | 2020-09-15 | 1989 | 1,356 | Resale |
| 9018 Bob O Link Court | $749,900 | $163 | 2020-09-10 | 1989 | 4,592 | Resale |
| 10125 Twisting Vine Court | $235,000 | $156 | 2020-09-10 | 1997 | 1,508 | Resale |
| 8764 Minnow Creek Drive | $217,000 | $161 | 2020-09-08 | 1992 | 1,348 | Resale |
| 9381 Buck Haven Trail | $320,000 | $144 | 2020-09-04 | 1994 | 2,228 | Resale |
| 1764 Folkstone Road | $250,000 | $165 | 2020-09-04 | 1991 | 1,513 | Resale |
| 1935 Willow Run Drive | $515,000 | $173 | 2020-09-02 | 1985 | 2,976 | Resale |
| 2230 Ten Oaks Drive | $605,000 | $206 | 2020-09-02 | 2020 | 2,939 | New |
| 3406 Osprey Ridge Court | $693,000 | $201 | 2020-09-01 | 2004 | 3,452 | Resale |
| 9019 Shoal Creek Drive | $526,000 | $144 | 2020-08-27 | 1997 | 3,660 | Resale |
| 3572 Rosemont Ridge Road | $215,000 | $147 | 2020-08-26 | 1995 | 1,467 | Resale |
| 3427 Cedarwood Trl | $263,000 | $165 | 2020-08-25 | 2003 | 1,587 | Resale |
| 7425 Laurel Ridge Lane | $265,000 | $153 | 2020-08-20 | 2007 | 1,727 | Resale |
| 2343 Haverhill Road | $679,900 | $151 | 2020-08-20 | 1998 | 4,489 | Resale |
| 1568 Copperfield Circle | $319,900 | $153 | 2020-08-20 | 1994 | 2,094 | Resale |
| 2172 Heathrow Dr | $265,000 | $135 | 2020-08-17 | 2002 | 1,962 | Resale |
| 1607 Flint Ridge Lane | $215,000 | $173 | 2020-08-14 | 1995 | 1,246 | Resale |
| 13021 Gopher Wood Trail | $375,000 | $156 | 2020-08-14 | 1990 | 2,410 | Resale |
| 1801 Bridgemont Trail | $231,500 | $163 | 2020-08-14 | 1991 | 1,421 | Resale |
| 7120 Towner Trace | $195,500 | $149 | 2020-08-14 | 1997 | 1,312 | Resale |
| 8900 Winged Foot Drive | $470,000 | $130 | 2020-08-13 | 1999 | 3,615 | Resale |
| 3387 Micanopy Trail | $229,000 | $164 | 2020-08-12 | 2002 | 1,398 | Resale |
| 2225 Pine Landing Court | $187,000 | $146 | 2020-08-07 | 2001 | 1,284 | Resale |
| 9104 Hickorynut Hill | $225,000 | $173 | 2020-08-07 | 1990 | 1,303 | Resale |
| 7713 Briarcreek Rd North Road | $225,000 | $157 | 2020-08-06 | 1985 | 1,430 | Resale |
| 1624 Copperfield Circle | $270,000 | $158 | 2020-08-06 | 1990 | 1,705 | Resale |
| 2018 Heather Brook Drive | $270,000 | $156 | 2020-08-05 | 1996 | 1,736 | Resale |
| 9025 Glen Eagle Way | $495,000 | $157 | 2020-08-05 | 1991 | 3,149 | Resale |
| 2648 Heathrow Dr | $255,000 | $147 | 2020-08-05 | 2004 | 1,729 | Resale |
| 2128 Heathrow Drive | $251,000 | $171 | 2020-08-04 | 1998 | 1,467 | Resale |
| 8732 Minnow Creek Dr | $212,500 | $165 | 2020-08-03 | 1990 | 1,282 | Resale |
| 3589 Rosemont Ridge Rd | $332,000 | $142 | 2020-07-31 | 1990 | 2,333 | Resale |
| 12022 Cedar Bluff | $284,900 | $148 | 2020-07-31 | 1990 | 1,928 | Resale |
| 3447 Briar Branch Trail | $250,000 | $162 | 2020-07-30 | 1974 | 1,539 | Resale |
| 3409 Rosemont Ridge Road | $374,900 | $185 | 2020-07-29 | 2020 | 2,022 | New |
| 8232 Hunters Ridge Trail | $210,000 | $132 | 2020-07-29 | 1991 | 1,588 | Resale |
| 1650 Folkstone Road | $210,000 | $147 | 2020-07-29 | 1993 | 1,426 | Resale |
| 3009 E Golden Eagle Drive | $580,000 | $147 | 2020-07-29 | 1997 | 3,941 | Resale |
| 3009 Golden Eagle Dr E | $580,000 | $175 | 2020-07-29 | 1997 | 3,311 | Resale |
| 1525 Chadwick Way | $290,000 | $148 | 2020-07-28 | 1991 | 1,958 | Resale |
| 3335 Micanopy Trail | $218,000 | $106 | 2020-07-27 | 1985 | 2,062 | Resale |
| 8467 Hannary Drive | $235,000 | $179 | 2020-07-24 | 1997 | 1,312 | Resale |
| 3441 Cedarwood Trail | $259,900 | $159 | 2020-07-23 | 2008 | 1,636 | Resale |
| 7939 Briarcreek Rd | $249,900 | $174 | 2020-07-20 | 1984 | 1,440 | Resale |
| 7939 S Briarcreek Road | $249,900 | $164 | 2020-07-20 | 1984 | 1,523 | Resale |
| 8609 Oak Forest Trail | $185,000 | $166 | 2020-07-20 | 1993 | 1,112 | Resale |
| 2034 Heather Brook Drive | $236,500 | $107 | 2020-07-20 | 1998 | 2,205 | Resale |
| 8498 Congressional Drive | $575,000 | $142 | 2020-07-20 | 1989 | 4,063 | Resale |
| 2228 Gates Drive | $445,000 | $163 | 2020-07-17 | 1999 | 2,730 | Resale |
| 2205 Wood Duck Way | $250,000 | $147 | 2020-07-17 | 1990 | 1,700 | Resale |
| 11021 Wildlife Trail | $297,000 | $169 | 2020-07-17 | 1992 | 1,762 | Resale |
| 2035 Sunny Dale Drive | $250,000 | $137 | 2020-07-15 | 2004 | 1,819 | Resale |
| 2216 Ten Oaks Dr. | $320,000 | $182 | 2020-07-10 | 1987 | 1,761 | Resale |
| 1667 Folkstone Road | $212,500 | $150 | 2020-07-09 | 1991 | 1,418 | Resale |
| 1608 Copperfield Circle | $276,000 | $156 | 2020-07-08 | 1988 | 1,773 | Resale |
| 2631 Wharton Circle | $640,000 | $205 | 2020-07-03 | 2001 | 3,118 | Resale |
| 2292 Cobb Drive | $625,000 | $165 | 2020-07-02 | 2004 | 3,778 | Resale |
| 8701 Minnow Creek Drive | $209,900 | $157 | 2020-07-01 | 1998 | 1,340 | Resale |
| 9112 Birch Run Lane | $255,000 | $158 | 2020-07-01 | 1987 | 1,614 | Resale |
| 7866 Briarcreek Rd | $220,000 | $130 | 2020-07-01 | 1985 | 1,687 | Resale |
| 7866 W Briarcreek Road | $220,000 | $130 | 2020-07-01 | 1985 | 1,687 | Resale |
| 2212 Pine Landing Court | $167,000 | $130 | 2020-06-30 | 2001 | 1,284 | Resale |
| 2307 Gates Drive | $520,000 | $166 | 2020-06-30 | 1999 | 3,142 | Resale |
| 2667 Wharton Circle | $590,000 | $181 | 2020-06-30 | 1997 | 3,252 | Resale |
| 9154 Stonehenge Trail | $225,000 | $167 | 2020-06-30 | 1998 | 1,344 | Resale |
| 1624 Chadwick Way | $319,000 | $149 | 2020-06-30 | 1993 | 2,134 | Resale |
| 1785 Broken Bow Trail | $190,000 | $146 | 2020-06-30 | 1990 | 1,300 | Resale |
| 2108 Waters Meet Drive | $373,000 | $161 | 2020-06-29 | 1988 | 2,311 | Resale |
| 10412 Merribrook Ln | $270,000 | $142 | 2020-06-26 | 1996 | 1,897 | Resale |
| 3213 Pablo Creek Way | $525,000 | $157 | 2020-06-26 | 2006 | 3,337 | Resale |
| 8005 Briarcreek Road | $245,000 | $153 | 2020-06-26 | 2005 | 1,600 | Resale |
| 3030 Killearn Pointe Ct | $425,000 | $190 | 2020-06-26 | 2000 | 2,234 | Resale |
| 8826 Minnow Creek Drive | $202,000 | $116 | 2020-06-25 | 1988 | 1,740 | Resale |
| 8637 Oak Forest Trail | $223,000 | $153 | 2020-06-24 | 1990 | 1,460 | Resale |
| 7829 Briarcreek Rd N | $256,000 | $163 | 2020-06-24 | 1987 | 1,569 | Resale |
| 7829 W Briarcreek Road | $256,000 | $163 | 2020-06-24 | 1987 | 1,569 | Resale |
| 3520 Dogwood Valley Trail | $375,000 | $167 | 2020-06-24 | 2005 | 2,250 | Resale |
| 9328 Royal Troon Drive | $268,100 | $139 | 2020-06-19 | 2003 | 1,923 | Resale |
| 2013 Castle Crown Lane | $332,000 | $137 | 2020-06-19 | 1989 | 2,418 | Resale |
| 1777 Broken Bow Trail | $207,500 | $153 | 2020-06-19 | 1992 | 1,358 | Resale |
| 1734 Folkstone Road | $220,000 | $160 | 2020-06-15 | 1990 | 1,371 | Resale |
| 1750 Newman Lane | $225,000 | $172 | 2020-06-11 | 1998 | 1,307 | Resale |
| 2138 Amanda Mae | $665,000 | $186 | 2020-06-10 | 1997 | 3,578 | Resale |
| 3425 Hawks Hill Trail | $215,000 | $153 | 2020-06-10 | 1984 | 1,404 | Resale |
| 3435 Rosemont Ridge Road | $330,000 | $138 | 2020-06-05 | 2009 | 2,400 | Resale |
| 8386 Chickasaw Trail | $210,000 | $153 | 2020-06-02 | 1985 | 1,369 | Resale |
| 2227 Ten Oaks Drive | $395,000 | $145 | 2020-06-02 | 1988 | 2,726 | Resale |
| 8770 Dunblane Court | $500,000 | $142 | 2020-06-01 | 1993 | 3,516 | Resale |
| 9580 Deer Valley Dr | $1,160,000 | $201 | 2020-06-01 | 2016 | 5,750 | Resale |
| 9568 Deer Valley Drive | $1,500,000 | $293 | 2020-06-01 | 2019 | 5,122 | Resale |
| 9154 Mcdougal Ct | $230,000 | $137 | 2020-05-29 | 1999 | 1,673 | Resale |
| 7326 Hollis Street | $193,000 | $155 | 2020-05-28 | 1997 | 1,243 | Resale |
| 8620 Oak Forest Trail | $322,000 | $143 | 2020-05-22 | 1988 | 2,250 | Resale |
| 7736 Bass Ridge Trail | $235,500 | $114 | 2020-05-22 | 1976 | 2,070 | Resale |
| 9002 Glen Eagle Way | $699,000 | $166 | 2020-05-22 | 1987 | 4,208 | Resale |
| 1920 Willow Run Dr | $400,000 | $114 | 2020-05-22 | 2020 | 3,500 | New |
| 8125 Glenmore Drive | $504,900 | $169 | 2020-05-20 | 1998 | 2,991 | Resale |
| 7968 Briarcreek Road | $227,000 | $139 | 2020-05-18 | 1984 | 1,639 | Resale |
| 7873 Briarcreek Rd W | $235,000 | $146 | 2020-05-18 | 2005 | 1,600 | Resale |
| 8278 Charrington Forest Boulevard | $220,000 | $147 | 2020-05-15 | 2001 | 1,500 | Resale |
| 9030 Shoal Creek Drive | $665,000 | $162 | 2020-05-15 | 1996 | 4,100 | Resale |
| 2301 Haverhill Road | $359,000 | $143 | 2020-05-15 | 2003 | 2,517 | Resale |
| 10695 Lake Iamonia Drive | $450,000 | $133 | 2020-05-15 | 1996 | 3,395 | Resale |
| 2421 Bass Bay Drive | $500,304 | $197 | 2020-05-14 | 1995 | 2,536 | Resale |
| 8104 Blue Quill Trail | $243,000 | $145 | 2020-05-13 | 1987 | 1,681 | Resale |
| 1741 Copperfield Circle | $285,000 | $137 | 2020-05-08 | 1990 | 2,083 | Resale |
| 1705 Chestnut Hill | $255,000 | $112 | 2020-05-07 | 1991 | 2,277 | Resale |
| 3457 Cedarwood Trail | $225,000 | $144 | 2020-05-07 | 1986 | 1,567 | Resale |
| 3512 Willow Springs Lane | $247,000 | $152 | 2020-05-06 | 1976 | 1,628 | Resale |
| 10418 Merribrooke Lane | $321,000 | $161 | 2020-05-01 | 1996 | 1,994 | Resale |
| 11004 Copperfield Way | $245,000 | $137 | 2020-04-30 | 1988 | 1,786 | Resale |
| 1532 Chadwick Way | $315,000 | $146 | 2020-04-30 | 1992 | 2,165 | Resale |
| 1706 Broken Bow Trail | $240,000 | $143 | 2020-04-30 | 1993 | 1,675 | Resale |
| 9224 Shoal Creek Drive | $553,000 | $193 | 2020-04-30 | 2012 | 2,869 | Resale |
| 1817 Bridgemont Trail | $189,000 | $147 | 2020-04-27 | 1989 | 1,288 | Resale |
| 1541 Breamstone Ridge | $370,990 | $186 | 2020-04-24 | 2019 | 2,000 | New |
| 9468 Buck Haven Trail | $295,000 | $161 | 2020-04-23 | 1999 | 1,834 | Resale |
| 8352 Innsbrook Dr | $220,000 | $123 | 2020-04-22 | 2002 | 1,784 | Resale |
| 3608 Deer Hill Trail | $240,000 | $160 | 2020-04-20 | 1977 | 1,500 | Resale |
| 1708 Indian Town Lane | $198,000 | $150 | 2020-04-20 | 1987 | 1,324 | Resale |
| 9421 Windham Way | $272,000 | $151 | 2020-04-20 | 2005 | 1,804 | Resale |
| 8030 Briarcreek Rd E | $215,000 | $117 | 2020-04-16 | 1983 | 1,834 | Resale |
| 2281 Cobb Drive | $480,000 | $159 | 2020-04-14 | 2000 | 3,022 | Resale |
| 9212 Shoal Creek Drive | $595,000 | $175 | 2020-04-08 | 2018 | 3,400 | New |
| 9368 Buck Haven Trail | $270,000 | $119 | 2020-04-08 | 1990 | 2,263 | Resale |
| 2127 Golden Eagle Dr W | $715,000 | $175 | 2020-04-06 | 2001 | 4,082 | Resale |
| 7505 Beaver Ford Road | $243,000 | $161 | 2020-04-03 | 1986 | 1,510 | Resale |
| 3405 Blue Quill Lane | $340,000 | $124 | 2020-04-03 | 1987 | 2,738 | Resale |
| 8239 Chickasaw Trail | $210,000 | $151 | 2020-04-01 | 1988 | 1,387 | Resale |
| 9509 Buck Haven Trail | $300,000 | $128 | 2020-04-01 | 1991 | 2,349 | Resale |
| 9912 Turtle Dove Way | $320,000 | $126 | 2020-04-01 | 1989 | 2,532 | Resale |
| 9604 Deer Valley Drive | $869,000 | $223 | 2020-04-01 | 2005 | 3,898 | Resale |
| 3280 Horseshoe Trail | $350,000 | $139 | 2020-03-31 | 1988 | 2,511 | Resale |
| 9191 Mcdougal Court | $313,000 | $157 | 2020-03-30 | 2007 | 1,990 | Resale |
| 3238 Pine Brook Court | $525,000 | $170 | 2020-03-30 | 2006 | 3,084 | Resale |
| 1805 Bridgemont Trail | $225,000 | $162 | 2020-03-30 | 1987 | 1,392 | Resale |
| 1882 Log Ridge Trail | $306,000 | $138 | 2020-03-30 | 1992 | 2,211 | Resale |
| 1886 Log Ridge Trail | $285,000 | $122 | 2020-03-27 | 1991 | 2,337 | Resale |
| 1808 Folkstone Road | $222,500 | $163 | 2020-03-27 | 1987 | 1,364 | Resale |
| 1805 Log Ridge Trail | $314,900 | $129 | 2020-03-27 | 1994 | 2,432 | Resale |
| 3408 Edgemont Trail | $242,000 | $158 | 2020-03-27 | 2003 | 1,533 | Resale |
| 9203 Shoal Creek Drive | $615,000 | $167 | 2020-03-26 | 2004 | 3,674 | Resale |
| 8212 Hunters Ridge Trail | $200,000 | $160 | 2020-03-24 | 2010 | 1,250 | Resale |
| 2214 Gates Drive | $459,000 | $172 | 2020-03-23 | 2000 | 2,669 | Resale |
| 2569 Bishops Green Trail | $490,000 | $154 | 2020-03-20 | 2001 | 3,175 | Resale |
| 9150 Stonehenge Trail | $246,500 | $168 | 2020-03-18 | 1998 | 1,466 | Resale |
| 1612 Copperfield Circle | $282,500 | $167 | 2020-03-17 | 1990 | 1,689 | Resale |
| 2010 Heather Brook Drive | $270,000 | $135 | 2020-03-13 | 1999 | 1,993 | Resale |
| 2005 Packwood Lane | $210,000 | $161 | 2020-03-10 | 1992 | 1,302 | Resale |
| 1600 Chadwick Way | $300,000 | $154 | 2020-03-10 | 1989 | 1,951 | Resale |
| 3509 Turkey Run Lane | $349,500 | $98 | 2020-03-10 | 1974 | 3,575 | Resale |
| 3212 Horseshoe Trail | $350,000 | $134 | 2020-03-06 | 1987 | 2,614 | Resale |
| 9924 Beaver Ridge Trail | $242,500 | $155 | 2020-03-06 | 1989 | 1,560 | Resale |
| 1759 Newman Lane | $215,000 | $156 | 2020-03-06 | 2000 | 1,374 | Resale |
| 3226 Pablo Creek Way | $520,000 | $184 | 2020-02-28 | 2006 | 2,825 | Resale |
| 1117 Blackhawk Way | $280,000 | $139 | 2020-02-28 | 1996 | 2,015 | Resale |
| 2729 Oakleigh Court | $275,000 | $131 | 2020-02-28 | 1999 | 2,094 | Resale |
| 3428 Rosemont Ridge | $219,500 | $125 | 2020-02-28 | 1987 | 1,762 | Resale |
| 7108 Summit Ridge Drive | $215,000 | $155 | 2020-02-26 | 2002 | 1,391 | Resale |
| 8649 Milford Court | $232,500 | $152 | 2020-02-26 | 2003 | 1,534 | Resale |
| 7768 Briarcreek Rd N | $195,000 | $158 | 2020-02-25 | 1983 | 1,232 | Resale |
| 7768 N Briarcreek Road | $195,000 | $158 | 2020-02-25 | 1983 | 1,232 | Resale |
| 9461 Buck Haven Trail | $280,000 | $128 | 2020-02-21 | 1991 | 2,187 | Resale |
| 7412 Heide Hill Trace | $176,500 | $136 | 2020-02-21 | 1998 | 1,298 | Resale |
| 9018 Bob O Link Court | $340,000 | $87 | 2020-02-21 | 1989 | 3,906 | Resale |
| 1835 Newman Lane | $224,000 | $150 | 2020-02-21 | 1998 | 1,489 | Resale |
| 2508 Double Eagle Court | $625,000 | $177 | 2020-02-14 | 2001 | 3,526 | Resale |
| 8707 Spring Shore Trail | $480,000 | $160 | 2020-02-14 | 2003 | 3,007 | Resale |
| 3540 Cherokee Ridge Trail | $380,000 | $181 | 2020-02-14 | 2016 | 2,105 | Resale |
| 8785 Minnow Creek Drive | $217,000 | $138 | 2020-02-07 | 1991 | 1,574 | Resale |
| 9652 Deer Valley Drive | $765,000 | $166 | 2020-02-07 | 2002 | 4,610 | Resale |
| 1701 Greenridge Trail | $198,000 | $129 | 2020-02-07 | 1984 | 1,537 | Resale |
| 1780 Folkstone Road | $185,000 | $121 | 2020-01-31 | 1992 | 1,524 | Resale |
| 3556 Rosemont Ridge Road | $289,000 | $161 | 2020-01-31 | 2007 | 1,800 | Resale |
| 3459 Hawks Hill Trl | $221,000 | $151 | 2020-01-29 | 2001 | 1,462 | Resale |
| 9244 Shoal Creek Drive | $560,000 | $194 | 2020-01-27 | 2016 | 2,887 | Resale |
| 9060 Shoal Creek Drive | $765,000 | $198 | 2020-01-24 | 2001 | 3,872 | Resale |
| 9477 Buck Haven Trail | $280,000 | $157 | 2020-01-23 | 1994 | 1,785 | Resale |
| 1910 Willow Run Dr | $150,000 | $125 | 2020-01-17 | 0 | 1,200 | New |
| 1635 Chadwick Way | $300,000 | $157 | 2020-01-17 | 1990 | 1,906 | Resale |
| 1640 Flint Ridge Lane | $182,500 | $134 | 2020-01-17 | 1991 | 1,366 | Resale |
| 7009 Foxglove Lane | $260,000 | $133 | 2020-01-15 | 1977 | 1,950 | Resale |
| 3321 Micanopy Trail | $253,000 | $156 | 2019-12-31 | 2007 | 1,622 | Resale |
| 1925 Willow Run | $480,000 | $139 | 2019-12-31 | 1991 | 3,442 | Resale |
| 8620 Heartwood Court | $276,000 | $121 | 2019-12-30 | 1989 | 2,284 | Resale |
| 8227 Hunter Ridge Trail | $190,000 | $135 | 2019-12-27 | 1993 | 1,404 | Resale |
| 3509 Cherokee Ridge Trail | $369,000 | $182 | 2019-12-23 | 2019 | 2,022 | New |
| 3204 Horseshoe Trail | $457,500 | $170 | 2019-12-20 | 2003 | 2,688 | Resale |
| 3465 Cedarwood Trail | $194,900 | $172 | 2019-12-20 | 1986 | 1,130 | Resale |
| 8149 Glenmore Drive | $489,000 | $163 | 2019-12-20 | 2013 | 2,998 | Resale |
| 11080 Wildlife Trail | $305,000 | $145 | 2019-12-19 | 1993 | 2,098 | Resale |
| 7738 Briarcreek Rd N | $199,900 | $155 | 2019-12-18 | 1985 | 1,288 | Resale |
| 7738 N Briarcreek Road | $199,900 | $155 | 2019-12-18 | 1985 | 1,288 | Resale |
| 2944 Glen Ives Drive | $200,000 | $130 | 2019-12-13 | 1996 | 1,538 | Resale |
| 8656 Oak Forest Trail | $329,000 | $168 | 2019-12-13 | 2014 | 1,960 | Resale |
| 9146 Stonehenge Trail | $220,000 | $168 | 2019-12-13 | 1997 | 1,312 | Resale |
| 12021 Cedar Bluff Trail | $235,000 | $137 | 2019-12-13 | 1996 | 1,719 | Resale |
| 1857 Log Ridge Trail | $260,000 | $131 | 2019-12-13 | 1993 | 1,984 | Resale |
| 1737 Broken Bow Trail | $240,000 | $165 | 2019-12-13 | 1990 | 1,454 | Resale |
| 9329 Tuscany Dr | $223,200 | $165 | 2019-12-13 | 2002 | 1,350 | Resale |
| 1804 Folkstone Rd | $158,000 | $121 | 2019-12-11 | 1991 | 1,308 | Resale |
| 9120 Hickorynut Hl | $161,500 | $111 | 2019-12-11 | 1986 | 1,461 | Resale |
| 2138 Golden Eagle Drive | $690,000 | $155 | 2019-12-10 | 1999 | 4,449 | Resale |
| 8893 Winged Foot Drive | $520,000 | $168 | 2019-12-05 | 1992 | 3,095 | Resale |
| 1871 Folkstone Road | $216,000 | $147 | 2019-12-05 | 1991 | 1,468 | Resale |
| 9067 Shoal Creek | $450,000 | $135 | 2019-12-04 | 2000 | 3,330 | Resale |
| 9914 Waters Meet Drive | $339,900 | $152 | 2019-12-04 | 1980 | 2,230 | Resale |
| 7837 Briarcreek Rd N | $220,000 | $149 | 2019-12-03 | 1987 | 1,476 | Resale |
| 7837 W Briarcreek Road | $220,000 | $149 | 2019-12-03 | 1987 | 1,476 | Resale |
| 2613 Wharton Cir | $690,000 | $189 | 2019-12-03 | 2001 | 3,653 | Resale |
| 2025 Heatherbrook Drive | $319,000 | $144 | 2019-11-26 | 1996 | 2,219 | Resale |
| 8188 Blue Quill Trail | $289,900 | $127 | 2019-11-26 | 1988 | 2,287 | Resale |
| 7400 Candlewood Lane | $225,000 | $117 | 2019-11-26 | 1986 | 1,927 | Resale |
| 8528 Hannary Circle | $251,500 | $139 | 2019-11-25 | 1999 | 1,805 | Resale |
| 9318 Tuscany Drive | $267,000 | $157 | 2019-11-22 | 2004 | 1,701 | Resale |
| 7869 Briarcreek Rd W | $250,000 | $138 | 2019-11-21 | 1985 | 1,814 | Resale |
| 8552 Hannary Circle | $215,900 | $149 | 2019-11-15 | 1997 | 1,445 | Resale |
| 9016 Glen Eagle Way | $399,900 | $138 | 2019-11-15 | 1989 | 2,890 | Resale |
| 1616 Folkstone Road | $150,000 | $116 | 2019-11-15 | 1985 | 1,296 | Resale |
| 3231 Pablo Creek Way | $590,000 | $183 | 2019-11-08 | 2015 | 3,217 | Resale |
| 3480 Valley Creek Dr | $245,000 | $142 | 2019-11-08 | 1986 | 1,723 | Resale |
| 3552 Rosemont Ridge | $305,000 | $163 | 2019-11-07 | 2014 | 1,869 | Resale |
| 2024 Herb Court | $455,000 | $137 | 2019-11-07 | 1999 | 3,325 | Resale |
| 8609 Heartwood Court | $350,000 | $138 | 2019-11-05 | 1988 | 2,534 | Resale |
| 8526 Charrington Forest Boulevard | $234,000 | $140 | 2019-11-04 | 2003 | 1,671 | Resale |
| 3509 Willow Springs Lane | $280,000 | $123 | 2019-11-01 | 1979 | 2,270 | Resale |
| 8605 Milford Court | $232,500 | $136 | 2019-10-31 | 2001 | 1,712 | Resale |
| 2237 Pine Landing Court | $160,000 | $125 | 2019-10-31 | 2001 | 1,284 | Resale |
| 2243 Pine Landing Court | $160,000 | $125 | 2019-10-31 | 2001 | 1,284 | Resale |
| 9037 Muirfield Court | $517,000 | $133 | 2019-10-31 | 1987 | 3,880 | Resale |
| 1507 Breamstone Ridge | $269,000 | $163 | 2019-10-30 | 2000 | 1,646 | Resale |
| 8017 Briarcreek Rd S | $211,500 | $143 | 2019-10-30 | 1986 | 1,482 | Resale |
| 8017 E Briarcreek Road | $211,500 | $121 | 2019-10-29 | 1986 | 1,752 | Resale |
| 8924 Winged Foot Drive | $570,000 | $133 | 2019-10-28 | 1994 | 4,289 | Resale |
| 1565 Copperfield Cir | $277,696 | $126 | 2019-10-24 | 2005 | 2,212 | Resale |
| 3505 Oak Hill Trail | $275,000 | $134 | 2019-10-24 | 1986 | 2,056 | Resale |
| 3469 Hawks Hill Trail | $198,000 | $111 | 2019-10-24 | 2008 | 1,777 | Resale |
| 9908 Beaver Ridge Trail | $288,400 | $134 | 2019-10-23 | 1992 | 2,150 | Resale |
| 8284 Chickasaw Trail | $215,000 | $152 | 2019-10-23 | 1994 | 1,412 | Resale |
| 3525 Larkspur Lane | $230,000 | $153 | 2019-10-22 | 1985 | 1,500 | Resale |
| 9683 Deer Valley Drive | $500,000 | $154 | 2019-10-22 | 2003 | 3,242 | Resale |
| 9670 Deer Valley Drive | $815,000 | $191 | 2019-10-18 | 2003 | 4,259 | Resale |
| 7424 Heide Hill Trace | $185,000 | $142 | 2019-10-11 | 2000 | 1,300 | Resale |
| 8214 Charrington Forest Boulevard | $230,000 | $151 | 2019-10-10 | 1999 | 1,527 | Resale |
| 1516 Copperfield Circle | $248,000 | $137 | 2019-10-09 | 1989 | 1,804 | Resale |
| 8352 Elan Drive | $205,000 | $134 | 2019-10-08 | 1997 | 1,530 | Resale |
| 3309 Micanopy Trail | $290,000 | $161 | 2019-10-07 | 2004 | 1,802 | Resale |
| 8602 Milford Court | $248,000 | $150 | 2019-10-04 | 2003 | 1,649 | Resale |
| 9162 Mcdougal Court | $245,000 | $146 | 2019-10-04 | 1999 | 1,673 | Resale |
| 10639 Lake Iamonia Drive | $265,000 | $74 | 2019-10-02 | 1996 | 3,595 | Resale |
| 1975 Sunny Dale Drive | $247,000 | $126 | 2019-09-30 | 2005 | 1,958 | Resale |
| 8238 Charrington Forest Boulevard | $225,000 | $148 | 2019-09-30 | 1999 | 1,521 | Resale |
| 8247 Charrington Forest Boulevard | $212,000 | $134 | 2019-09-27 | 2000 | 1,580 | Resale |
| 2011 Sunny Dale Drive | $215,000 | $142 | 2019-09-27 | 2003 | 1,509 | Resale |
| 9569 Deer Valley Drive | $510,000 | $156 | 2019-09-27 | 2004 | 3,264 | Resale |
| 8463 Hannary Drive | $225,000 | $148 | 2019-09-25 | 1999 | 1,521 | Resale |
| 11010 Wildlife Trail | $360,000 | $163 | 2019-09-24 | 2018 | 2,210 | Resale |
| 1658 Folkstone Road | $205,000 | $156 | 2019-09-23 | 1989 | 1,314 | Resale |
| 3009 Golden Eagle Dr E | $325,300 | $98 | 2019-09-23 | 1997 | 3,311 | Resale |
| 8533 Hannary Circle | $239,500 | $161 | 2019-09-20 | 1997 | 1,490 | Resale |
| 3508 Larkspur Lane | $219,000 | $149 | 2019-09-20 | 2002 | 1,470 | Resale |
| 8316 Innsbrook Drive | $252,000 | $141 | 2019-09-17 | 2001 | 1,784 | Resale |
| 2330 Haverhill Rd | $424,000 | $158 | 2019-09-17 | 1988 | 2,681 | Resale |
| 8402 Chickasaw Trl | $124,300 | $84 | 2019-09-16 | 1986 | 1,466 | Resale |
| 3025 Eagle Point Way | $535,000 | $186 | 2019-09-13 | 2012 | 2,869 | Resale |
| 8888 Saltcoates Court | $492,500 | $150 | 2019-09-12 | 1992 | 3,282 | Resale |
| 3200 Horseshoe Trail | $396,500 | $156 | 2019-09-12 | 2003 | 2,549 | Resale |
| 7747 Briarcreek Rd N | $235,000 | $179 | 2019-09-10 | 2009 | 1,311 | Resale |
| 7747 N Briarcreek Road | $235,000 | $179 | 2019-09-10 | 2009 | 1,311 | Resale |
| 2760 Whitmore Court | $226,000 | $149 | 2019-09-06 | 2001 | 1,521 | Resale |
| 8381 Hunters Ridge Trail | $245,000 | $151 | 2019-09-06 | 1990 | 1,621 | Resale |
| 8978 Winged Foot Dr | $492,500 | $152 | 2019-09-06 | 2002 | 3,250 | Resale |
| 1823 Folkstone Rd | $167,000 | $111 | 2019-09-06 | 1993 | 1,498 | Resale |
| 2257 Tuscavilla Road | $181,000 | $130 | 2019-09-05 | 1990 | 1,394 | Resale |
| 3418 Cherokee Ridge | $212,572 | $148 | 2019-09-05 | 1987 | 1,432 | Resale |
| 8121 Holly Ridge Trail | $220,000 | $142 | 2019-08-30 | 1986 | 1,550 | Resale |
| 8572 Hannary Circle | $232,500 | $130 | 2019-08-30 | 1995 | 1,787 | Resale |
| 7100 Towner Trace | $180,000 | $137 | 2019-08-30 | 1996 | 1,312 | Resale |
| 1700 Indian Town Lane | $204,000 | $118 | 2019-08-30 | 1985 | 1,725 | Resale |
| 1709 Indian Town Lane | $295,000 | $144 | 2019-08-30 | 1989 | 2,045 | Resale |
| 9224 Shoal Creek Drive | $550,000 | $192 | 2019-08-30 | 2012 | 2,869 | Resale |
| 7334 Hollis Street | $185,000 | $141 | 2019-08-29 | 1998 | 1,316 | Resale |
| 8199 Charrington Forest Boulevard | $229,000 | $145 | 2019-08-29 | 2000 | 1,575 | Resale |
| 1719 Folkstone Road | $158,000 | $125 | 2019-08-27 | 1992 | 1,260 | Resale |
| 3423 Briar Branch Trail | $215,700 | $136 | 2019-08-26 | 1977 | 1,582 | Resale |
| 2025 Ascot Way | $250,000 | $151 | 2019-08-25 | 1998 | 1,658 | Resale |
| 9405 Windam Way | $230,000 | $156 | 2019-08-23 | 2002 | 1,472 | Resale |
| 8973 Winged Foot Drive | $380,000 | $107 | 2019-08-23 | 1989 | 3,560 | Resale |
| 1596 Chadwick Way | $316,000 | $154 | 2019-08-23 | 1995 | 2,056 | Resale |
| 2392 Tuscavilla Road Road | $206,000 | $148 | 2019-08-23 | 1989 | 1,388 | Resale |
| 2391 Tuscavilla Road | $199,000 | $151 | 2019-08-23 | 1991 | 1,314 | Resale |
| 7804 Thornhill Lane | $50,000 | $33 | 2019-08-23 | 1976 | 1,518 | Resale |
| 3501 Cedarwood Trail | $285,900 | $167 | 2019-08-20 | 2013 | 1,709 | Resale |
| 1769 Folkstone Road | $215,000 | $150 | 2019-08-19 | 1993 | 1,434 | Resale |
| 9029 Glen Eagle Way | $383,000 | $140 | 2019-08-16 | 1992 | 2,740 | Resale |
| 2655 Wharton Circle | $970,000 | $180 | 2019-08-16 | 2005 | 5,375 | Resale |