New Home Construction Report August 2021
Posted by Joe Manausa on Monday, August 16, 2021 at 5:51 AM
By Joe Manausa / August 16, 2021
Comment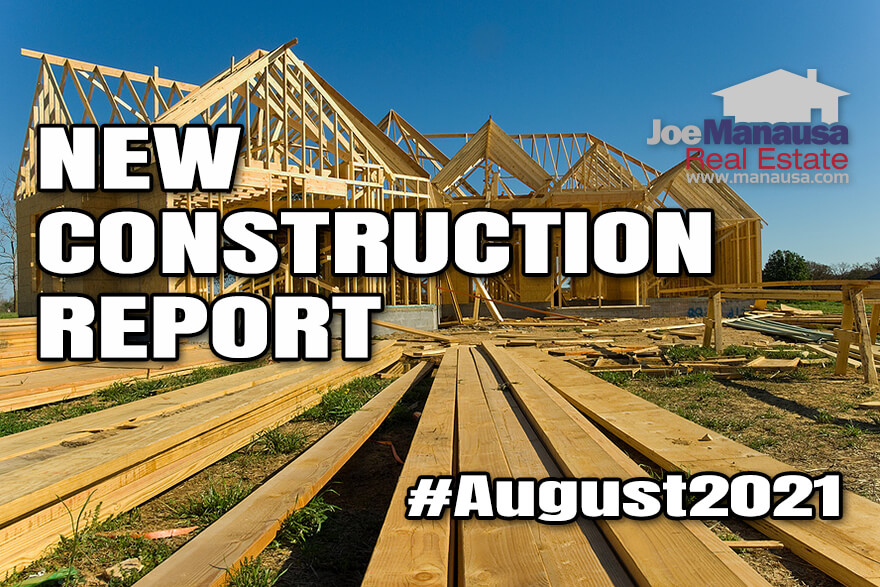 Tallahassee's population has grown more than 50% since I began my career selling homes in Tallahassee back in 1991. It's hard to believe we've seen that much change.
A growing population needs more homes, so today we're going to review the new home construction market in Tallahassee in order to see where we stand as well as forecast of a future that you should know about.
Our report begins with a look at the active listings of new construction homes for sale.
New Construction Homes For Sale In Tallahassee
In order to provide context for the relative strength of the new homes market, let's start with a quick analysis of overall market conditions. Today's report comes from data from Metro Market Trends through June, so we have all the home sales in Leon County, Florida, not merely home sales from the Tallahassee Realtor Multiple Listing Service.
Housing Market Overview
The following graph shows Leon County home sales from January through June of each year, going back to 1991.
Year To Date Home Sales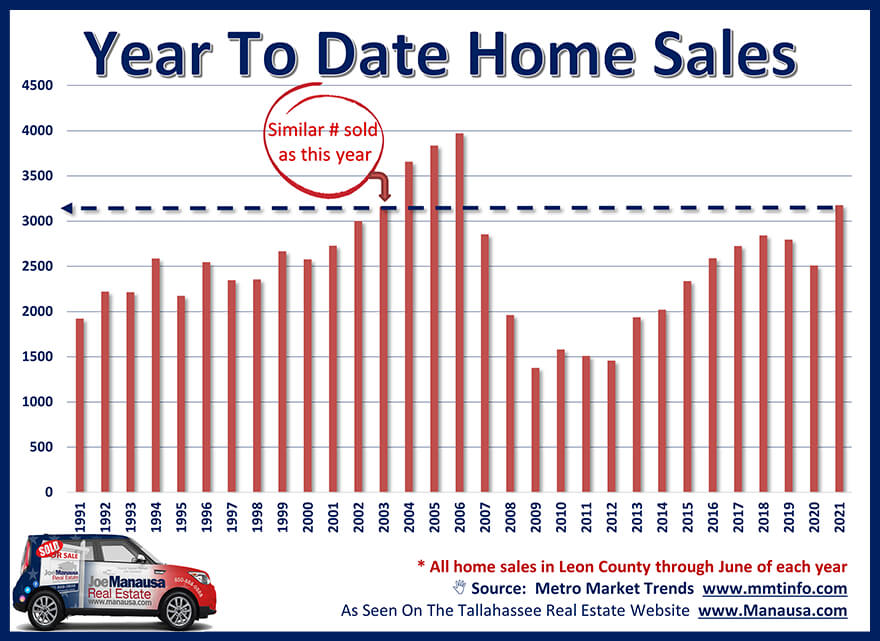 Thus far in 2021, home sales are similar in number to what was recorded in 2003 and better than any year going back to 2007.
Here's why this matters. Our population has grown nearly 20% since 2003, so the fact that home sales are the same 18 years later is an indication that this market is not "oversold." More people, in general, buy more homes than do "fewer" people.
The message to take from this graph is that the current demand for homes is stronger than we've seen in 14 years but not so high that we should be worried about sustainability related to the number of buyers in the market.
Year Over Year Home Sales
The next graph shows the percentage change in year-over-year home sales. We compare each month of the year with its corresponding month from the year prior in order to see the non-seasonal changes occurring in the housing market. For example, we compare June of the present year with June of the previous year.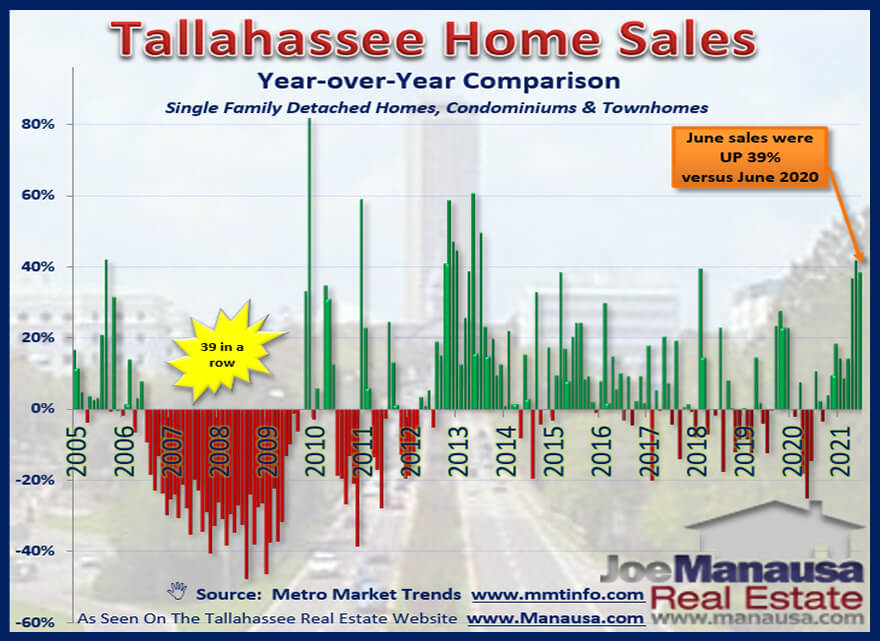 How's this for some crazy sales figures? April, May, and June were up 37%, 42%, and 39% respectively when compared to the same months last year. Does this surprise you?
Well, it shouldn't. April through June of last year were these first months that were strongly impacted by COVID coursing through our local community. Many home sales were canceled or delayed as everybody tried to get a handle on how things would proceed during a pandemic. So the huge change recorded is mostly due to very strong declines from April through June of last year.
Real Estate Prices
Before we look at specific new construction data, we need to understand what buyers are currently paying for real estate in our market.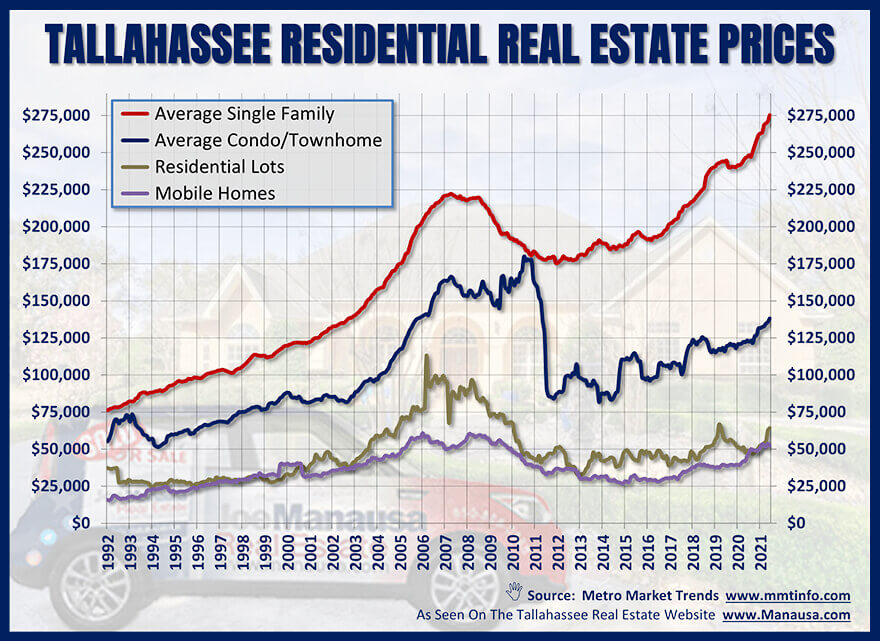 Not surprisingly, the price of single-family detached and attached homes, residential lots, and mobile homes is rising. Real estate is appreciating in all residential sectors.
One element that I pay close attention to in this graph is the average residential lot price (brown line). The average price of a residential lot once hit $112K back in 2006, and it appears as if we are starting to move back in that direction now ($62K).
Lot prices were very low for the past ten years due to the abundance of foreclosed developments that were filled with cheap lots, but those days are numbered. The future developments coming out of the ground will be ones that sell for pennies on the dollar, so expect that land costs will be a large driver of soaring new home construction prices.
Tallahassee Home Values & Appreciation
The final graph in our overview of the Tallahassee housing market shows average home values each month for the past 30+ years. Value is calculated by using the price per square foot of heated and cooled space of the homes that were sold.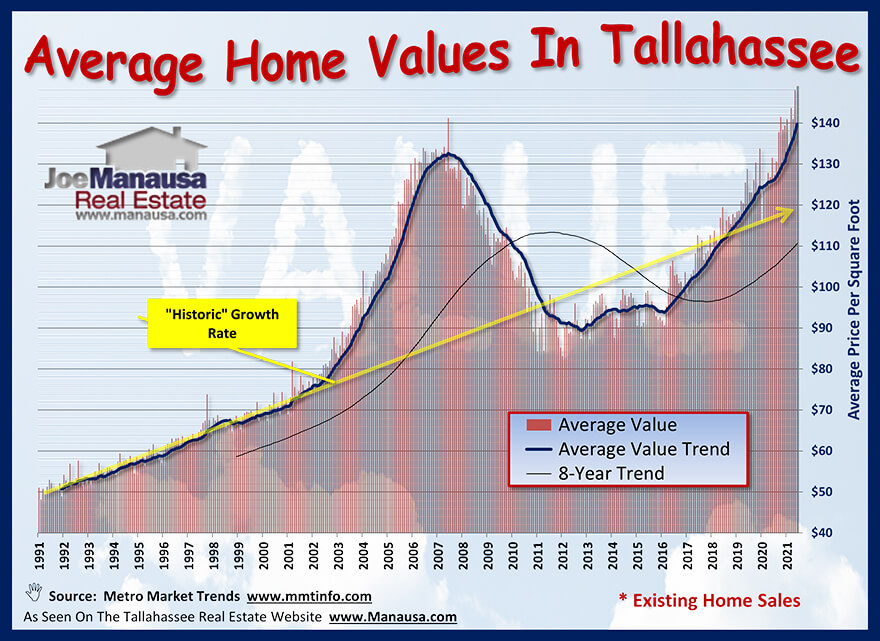 The average price per square foot of homes sold each month is plotted as a red vertical bar. The dark blue line reports the one-year average home values, while the thin black line returns the 8-year average value. Finally, the yellow line shows a progression of values during the 1990s through today.
There are a couple of interesting points I find in this graph. First, values today are finally higher than ever, after spending nearly 15 years with 2006 home values sitting as the highest ever recorded.
Second, the yellow line shows where values would be today if homes just kept moving higher at the "historic" growth rate. Today's values are about 18% higher than what would have been forecast 20 years ago. Does this mean that home values have surged higher so fast that we should expect them to come back down like they did 15 years ago?
This is a question that I have pondered in recent posts and recent videos so I will not spend a lot of time with it here (for more on values, see this article). I believe we are in an inflationary period and home values will continue to move higher at alarmingly high rates and will NOT come back down.
Now that we have a good understanding of what has happened in the housing market through June 2021, let's drill down and take a closer look at the new homes market.
Please Do Us A Small Favor
We work very hard to produce daily content for our long-time readers and first-time visitors. We provide this information for free, hoping to earn your respect and trust and the right to one-day help you when selling or buying a home. Can we get your help spreading the word about our blog?
If you like the content, would you please like it or share it using the Facebook button at the beginning of the post? This simple action will be greatly appreciated! THANK YOU!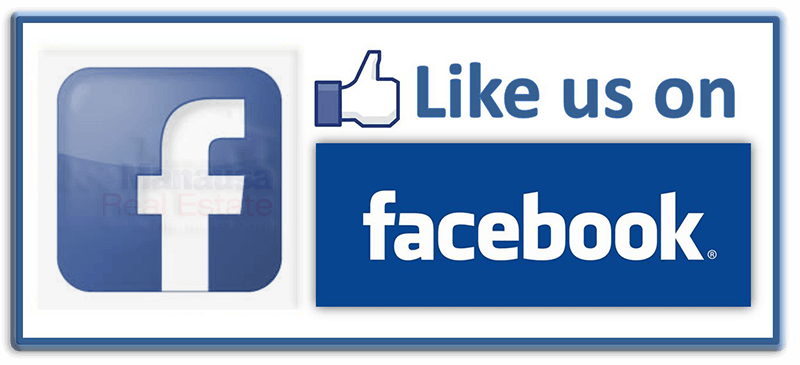 Also like us on Facebook at https://www.facebook.com/joemanausarealestate/
Long-Term Trend For New Home Sales
This graph shows the total number of new construction homes sold each month for the past thirty years.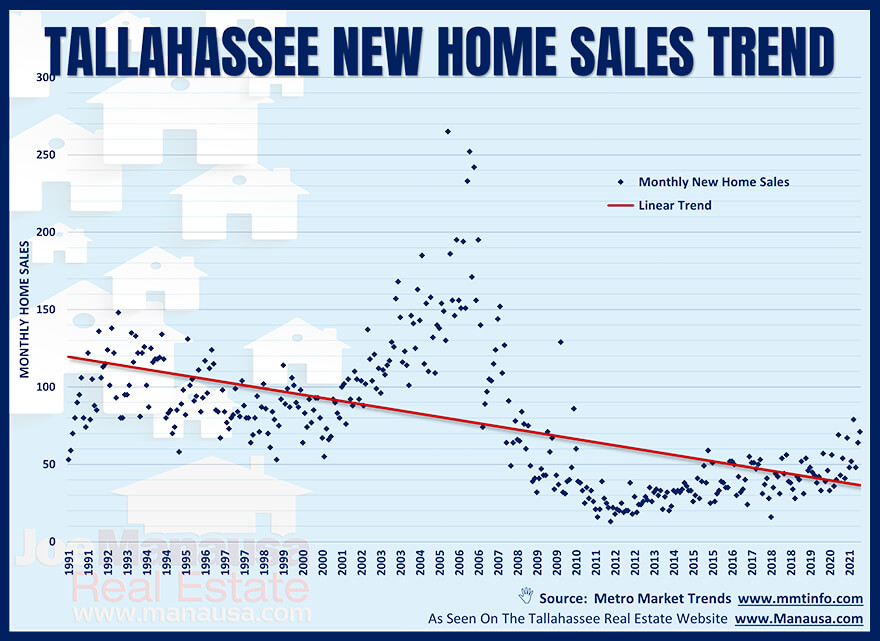 The red line tracks the linear trend of new home sales for thirty years, and it is clearly falling. Yet we know that the population in Tallahassee has grown by more than 50% during that period of time, so how is it that we're building fewer homes today than we were thirty years ago?
Tallahassee New And Used Home Values
This graph plots the average price per square foot of homes sold each month in order to determine the difference between existing home values and new home values.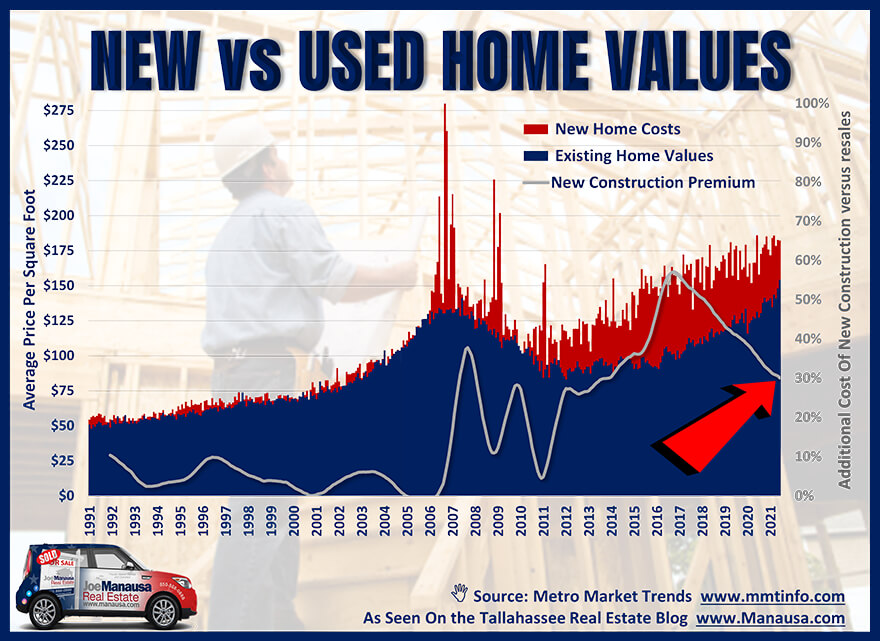 In the graph above, the average price per square foot (value) of existing homes is plotted in blue each month, while new home values are plotted in red. The difference between the two is measured in gray and recorded on the right vertical axis (and we refer to this as the new construction premium).
The red arrow points to where the current premium that buyers pay for new homes has fallen below 30% for the first time in 7 years but is still too high. During the 1990s, the median new home cost (on average) was just 5% more than existing home values, though it was not uncommon to see this jump above 10% for small periods of time.
As the market began to falter in 2006, the new construction premium rose. By mid-2007, it had pushed higher than 40% and continued even higher to more than 55% in 2016. When the market finally balanced in 2016, we saw the premium begin the gradual decline which has now fallen below 30% today.
The large difference between new and existing home values has builders acting cautiously and building slowly, resulting in a growing supply imbalance which has lead to existing home values moving higher at a faster rate.
Over the past five years (when the market reached equilibrium), builders have been producing fewer homes than the growing population has demanded, so we've seen the premium drop to just below 30%. Right now, with the market containing far too few homes for today's heightened rate of demand, existing homes are appreciating so fast that we might see the premium return to the 10% to 20% level within the next few months.
New Construction Share Of Housing
The graph plots new versus existing home sales each year and then reports the percentage market share held by new construction.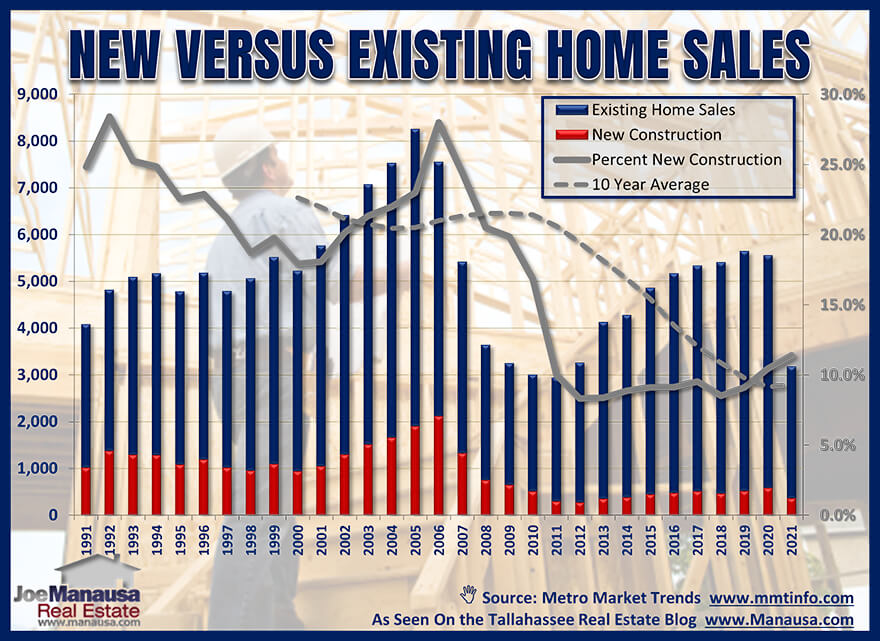 The gray line reveals that roughly 12% of all home sales through June in 2021 have been newly constructed homes. The share for new construction is rising, but it is still far too low.
The dashed-gray line shows that the average market share for new construction in the 199s was about 24% (meaning nearly 1 in every 4 homes sold in the 1990s was new construction). The new construction share dropped to about 22% for the next decade, but the most recent decade saw the average drop below 9%.
The market was overbuilt from 2003 through 2006, and builders had to slow down significantly for about 10 years before the market could consume the glut of inventory. But that all changed in 2016, and we're not producing enough new homes today to meet the growing needs of our population.
New Construction Permits For Single-Family Homes
This next graph tracks the new single-family home permits recorded each month in order to help us forecast future new home sales.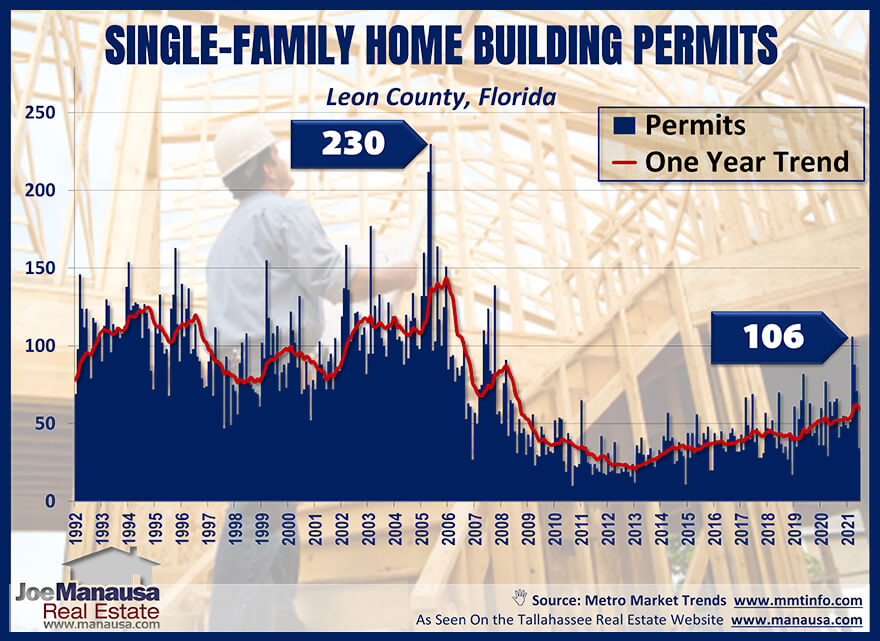 The months of March and April found more new home permits than any months going back to 2007, a sign that we should expect to see some growth in the new homes market. If you are worried about overbuilding, take a look at the two arrows in the graph. The strongest month of the past 14 years saw less than 1/2 the number of permits than did the strongest month at the peak of the market in 2005.
New Construction Permits And Sales
This next graph plots new construction permits and sales in order to compare their relationship over time.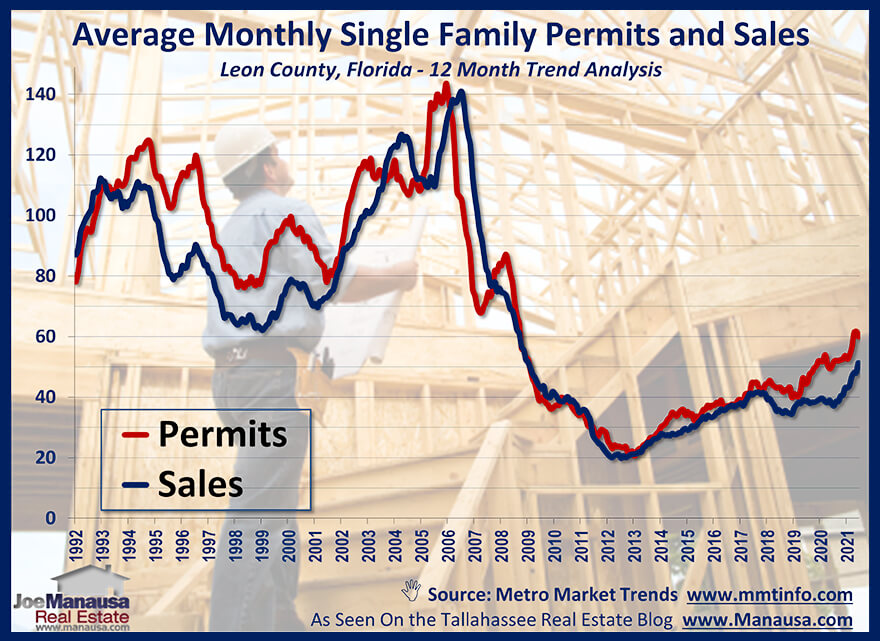 The number of permits pulled each month is shown in red while the number of new construction homes sold is shown in blue.
Notice how far apart the two lines are in the 1990s versus how tightly they have hung together over the past ten-plus years! The former indicates a looser climate where speculative building was the norm, while the latter shows tight purse strings and far less risk be taken by builders.
I like to refer to the space between the two as the speculation gap, where the large the space, the more speculation is impacting the supply-side of the housing market. When that gap narrows, it means that there is very little speculation occurring. What's nice to see in recent years is this gap opening back up after closing in 2009.
Residential Lot Sales In Tallahassee
The final graph in today's report plots the average monthly number of residential lots that have sold as well as the average lot price trend.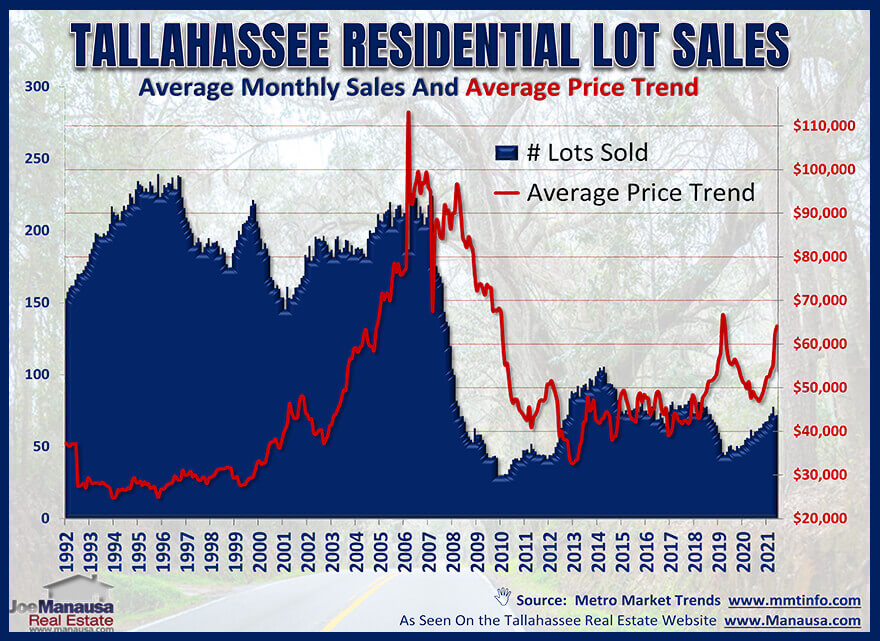 When we look at the cost of new construction homes in Tallahassee, we typically find that the land beneath the home represents 20% to 35% of the total cost of the home. The cost of land is no small matter when looking at the new construction market.
I believe that lot prices are (and are going to be) a huge shock to the market. Let me explain why.
The graph above shows the average number of lot sales in blue, and the average lot price in red. Follow along the red line from 1991 through 2021.
The Florida Comprehensive Land Use Plan launched in the 1980s allowed large property owners to "grandfather" property under prior designations into future residential property and thus created a glut of residential lots.
In the 1990s, the average lot price hovered around $30K for the entire decade. Those lots were finally consumed in the early 2000s, and we saw the price for developed lots surge higher, up to more than $110,000 average reached in 2005! Builders and Developers were operating at peak levels, and too much land was developed. This resulted in expensive lots being foreclosed upon and resold to the market multiple times. For the next ten years with very limited new construction occurring, lot sales plummeted and lot prices dropped below $40K again.
Again the market was flooded with lot inventory, and these lots were selling far below the cost to develop new lots. But I believe those "old" lots have all been consumed and newly developed lots are going to cost a premium and I won't be surprised to see us hit triple digits on lot prices in the next few years.
Rising land costs will result in rising new home construction costs. Just with the land alone, we'll see new construction costing 15% to 20% over the next few years. Of course, I have concerns with the cost of materials and labor too due to the 75% rise in the minimum wage over the next five years.
The future of new home construction will be strongly impacted by inflation. We are going to see costs accelerate at paces not observed in the past 30 years. If you are interested in buying a new home (or building one), you should act on it now.
If you delay, not only will the cost of materials, labor, and land be higher, but so too will be the cost of borrowing money as interest rates rise to help slow the impact of inflation that surely is in our fairly near-term future.
Recent Housing Market Reports
Your Local Expert In Tallahassee
When moving to, in, or from Tallahassee, you will fare better if you work with a local expert. We are here to help. If you have further questions on the Tallahassee real estate market, you can leave a comment below, give us a call at (850) 366-8917, or drop us a note and we'll give you the local information needed to ensure a successful, smooth transaction.
As a local born and raised in Tallahassee with a focus on customer service, I promise you'll find great success when working with Joe Manausa Real Estate, just as have our past customers. You can read thousands of their reviews reported on Google, Facebook and Zillow right here: Real Estate Agent Reviews Tallahassee.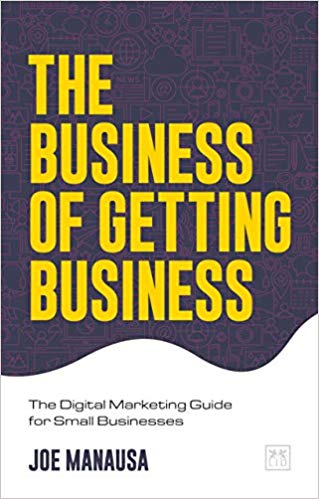 Have you heard about my new book "The Business of Getting Business?" It's a comprehensive guide for small businesses to help them make the move to digital. For those of us who want to survive and thrive in a world where large corporations are taking over, it is a must-read. It's also the perfect guide for how to sell a home in the digital age. You can find The Business Of Getting Business by clicking on any of the trusted retailers below.

Think all REALTORS are alike?
Read what people are saying about working with Joe Manausa Real Estate! You can see thousands of real customer reviews reported on Google, Facebook and Zillow at this link: CLICK HERE FOR REAL ESTATE AGENT REVIEWS.
I recently stumbled upon your latest Carrabelle listing. I must say, a home on Florida's Forgotten Coast is bound to be snatched up quickly. Best of luck with getting it under contract soon!

Posted by Barbara Corcoran on Thursday, June 15, 2023