Marry the Home, Date the Rate: A Modern Guide to Homebuying
Posted by Joe Manausa on Monday, November 20, 2023 at 6:00 AM
By Joe Manausa / November 20, 2023
Comment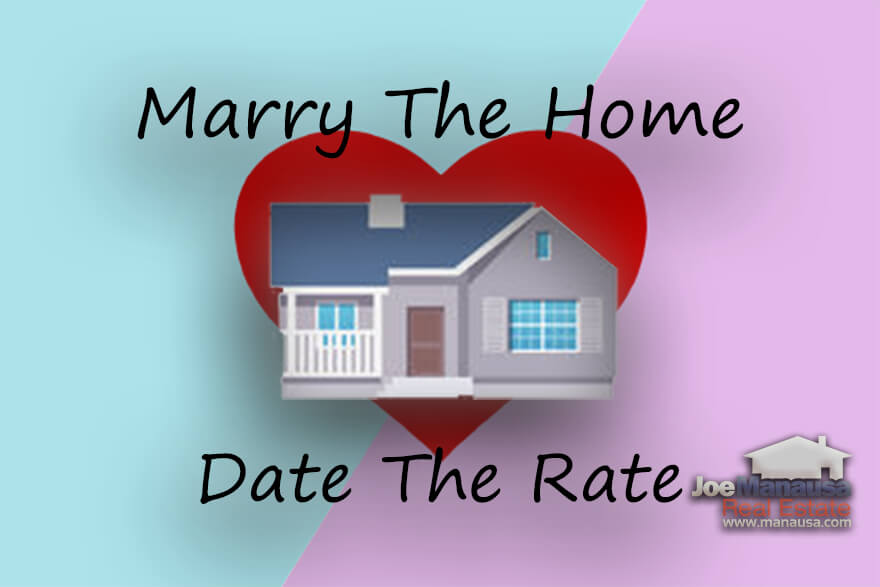 In the dynamic world of real estate, one phrase has gained traction among homebuyers and industry experts alike: "Marry the home, date the rate."
This catchy saying is more than just a trend; it's a guiding principle for making one of life's most significant decisions—purchasing a home. As we navigate through fluctuating markets and ever-changing economic landscapes, understanding and applying this wisdom could be the key to making a fulfilling and financially sound homebuying choice.
Understanding the Phrase
At its core, "Marry the home, date the rate" encapsulates a balanced approach to home buying.
Marrying the home means seeking a property that resonates with your long-term personal and financial goals—a place where you can envision building a life, growing a family, or enjoying your golden years. It's about commitment, foreseeing future needs, and falling in love with a place you can truly call home.
On the other hand, dating the rate refers to the more flexible aspect of homebuying—the mortgage rate. This part of the phrase advises against fixating on current mortgage rates, as they are subject to change and can often be refinanced. It's a reminder that while favorable rates are desirable, they shouldn't be the sole deciding factor in your home choice.
Our Best Tips For Home Buyers
Importance of Choosing the Right Home
Choosing a home is a decision that impacts your life on multiple levels. It's not just a financial investment; it's an emotional one. When searching for a home, consider factors like location, proximity to work or family, community atmosphere, and potential for appreciation. These elements are crucial to your day-to-day happiness and the home's long-term value.
A home is more than just a structure; it's a haven, a place where memories are made and dreams are nurtured. Therefore, it's essential to find a property that not only suits your current needs but also has the potential to adapt to your evolving life stages.
Navigating Mortgage Rates
Mortgage rates are an integral part of the home buying process but are also one of its most volatile elements. Understanding that rates fluctuate based on market conditions and economic factors can help you approach them with a flexible mindset.
Securing a good mortgage rate can save you thousands over the life of your loan, so it's wise to work with a highly regarded local mortgage lender (like Mitch and Amber in Tallahassee). However, it's also important to remember that rates can often be refinanced. This means if you find your dream home but the rates aren't ideal at the moment, there's potential for adjustment in the future.

Speak To An Expert!
Elevate your confidence by trusting Joe and his team led by US armed forces Veterans. Unmatched dedication, expertise, and professionalism drive their success, as their thousands of 5-star reviews confirm.
Their proven track record showcases precise navigation of the market. Choosing Joe means gaining access to extensive knowledge and networks and prioritizing YOUR unique needs. Experience the power of dedicated commitment in real estate. Trust Joe and his team of military Veterans to be your partners in achieving your dreams.
Case Studies/Real-Life Examples
Consider the story of Emma and Alex, who purchased their first home in 2021. They found a charming house in a neighborhood they loved but were initially hesitant due to higher interest rates. Deciding to prioritize the home over the rate, they went ahead with the purchase. A year later, they were able to refinance at a significantly lower rate, affirming their decision to focus on the house's long-term value and appeal.
Another example is the Johnson family, who prioritized a low mortgage rate over the suitability of the home. They soon realized that the house didn't meet their growing family's needs and ended up relocating after mortgage rates had doubled, incurring additional costs and stress.
Key Takeaways
The "Marry the home, date the rate" philosophy offers a balanced and pragmatic approach to one of the most important decisions you'll make. It serves as a guiding principle for navigating the complex real estate landscape. It encapsulates a two-fold wisdom:
First, it encourages a deep, long-lasting commitment to finding a home that truly resonates with your heart and needs, akin to a lifelong partnership.
Second, it highlights the more transient nature of mortgage rates, suggesting a flexible approach where you're not bound to the initial rate forever. You have the freedom to 'break up' with your current rate and seek a better one through refinancing.
This dual strategy underlines the importance of prioritizing the emotional value of your home, while also staying astute about the financial aspects of homebuying.
Frequently Asked Questions, Answered
There are a lot of people who endorse Joe for the job of selling your home, from Barbara Corcoran (Star of ABC's Shark Tank) to Preston Scott (host of Tallahassee's top daily "Audio Magazine," as well as the thousands of happy customers Joe has helped in the past. Listen why!