Lakeside Listings And Housing Report February 2021
Posted by Joe Manausa on Wednesday, February 17, 2021 at 5:56 AM
By Joe Manausa / February 17, 2021
Comment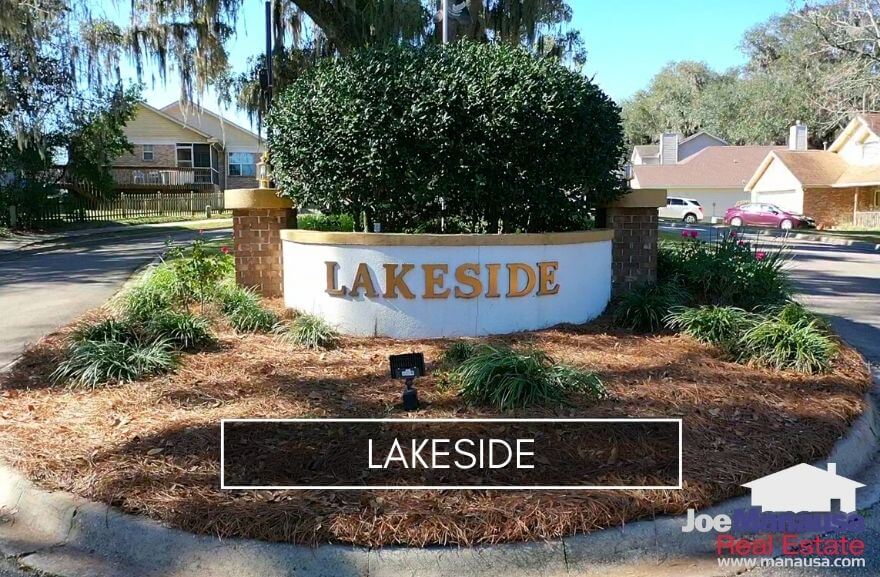 Lakeside is a popular NW Tallahassee neighborhood located off North Monroe Street across from Jackson View Landing on Lake Jackson.
Filled with 140 four and three-bedroom single-family detached homes all built within the past 25 years, Lakeside has great access to both downtown and great fishing too.
Homes For Sale In Lakeside
Lakeside

Schools

Lakeside is zoned for the following Leon County public schools:

This Lakeside neighborhood report includes charts and graphs that display average home prices, home values, and home sizes, as well as a list of the most recent closed home sales in Lakeside.

For each of the three real estate graphs found in this Tallahassee housing report, you will find the number of closed home sales for each year (red columns, measured on the left vertical axis), and an important real estate statistic shown in blue (measured on the right vertical axis).

It is important to note that the narrative contained below is for sales through December for all previous years but through the middle of February in 2021. The graphs and the closed sales table will be continuously updated into the future (meaning bookmark this page if you always want to know the current status of homes in Lakeside).
Lakeside

Home Prices

The average home price in Lakeside set a new all-time high annual average in 2020 at $202K.

Activity in Lakeside will be controlled by current homeowners. If somebody decides to move and they hire the company with an omnichannel marketing plan that emphasizes pre-marketing, they will receive multiple offers the day the home hits the market. Currently, there are two homes for sale in Lakeside, one of which is under contract with a buyer.
Home Values In
Lakeside
The average home value in Lakeside shot up more than 8% in 2020 and is expected to move much higher in 2021 (even though the first sale was quite a bit lower).
The average home value in Lakeside in 2020 was $132 per square foot.
There are a lot of people who endorse Joe for the job of selling your home, from Barbara Corcoran (Star of ABC's Shark Tank) to Preston Scott (host of Tallahassee's top daily "Audio Magazine," as well as the thousands of happy customers Joe has helped in the past. Listen why!
I recently stumbled upon your latest Carrabelle listing. I must say, a home on Florida's Forgotten Coast is bound to be snatched up quickly. Best of luck with getting it under contract soon!

Posted by Barbara Corcoran on Thursday, June 15, 2023
Lakeside

Home Sizes

The average size of homes sold in Lakeside typically falls within a range of 1,450 to 1,650 square feet, and 2020 was no different.

The seven homes sold in 2020 were measured at an average size of 1,542 square feet.
Recent Home Sales In
Lakeside
The following list shows more than 430 home sales in Lakeside since 1995, the first year that sales began here. Note that you can reorganize the list by simply clicking the column heading for the data you wish to sort by.
| Address | Price | Price/SQF | Closing Date | Year Built | SQF | Sale Type |
| --- | --- | --- | --- | --- | --- | --- |
| 4360 Cool Emerald Drive | $289,900 | $199 | 2023-08-28 | 1997 | 1,454 | Resale |
| 4366 Cool View Drive | $307,000 | $208 | 2023-07-25 | 1995 | 1,473 | Resale |
| 4254 Little Osprey Drive | $300,000 | $173 | 2023-07-24 | 1996 | 1,738 | Resale |
| 4359 Cool View Drive | $285,000 | $161 | 2023-04-17 | 1996 | 1,774 | Resale |
| 4344 Cool View Drive | $272,000 | $167 | 2023-02-10 | 1995 | 1,627 | Resale |
| 4464 Cool Emerald Drive | $247,500 | $179 | 2022-12-02 | 1995 | 1,383 | Resale |
| 4440 Cool Emerald Drive | $250,000 | $178 | 2022-11-07 | 1995 | 1,402 | Resale |
| 4375 Cool View Drive | $261,000 | $167 | 2022-07-28 | 1995 | 1,560 | Resale |
| 4276 Cool Emerald Drive | $245,000 | $171 | 2022-05-06 | 1996 | 1,432 | Resale |
| 4255 Cool Emerald Drive | $285,695 | $162 | 2022-04-29 | 2006 | 1,767 | Resale |
| 4324 Cool Emerald Drive | $240,000 | $166 | 2022-03-04 | 1997 | 1,448 | Resale |
| 4363 Cool View Drive | $230,000 | $150 | 2021-12-17 | 2002 | 1,532 | Resale |
| 4374 Cool View Drive | $219,000 | $154 | 2021-12-09 | 1995 | 1,423 | Resale |
| 4282 Little Osprey Drive | $227,500 | $152 | 2021-10-15 | 1995 | 1,498 | Resale |
| 4359 Cool View Drive | $229,900 | $130 | 2021-07-14 | 1996 | 1,764 | Resale |
| 4408 Cool Emerald Drive | $225,000 | $156 | 2021-06-15 | 1995 | 1,440 | Resale |
| 4251 Little Osprey Drive | $218,000 | $128 | 2021-04-06 | 1995 | 1,697 | Resale |
| 4353 Cool Emerald Drive | $200,000 | $145 | 2021-03-01 | 1995 | 1,383 | Resale |
| 4465 Cool Emerald Drive | $200,000 | $123 | 2021-01-06 | 1996 | 1,620 | Resale |
| 4324 Cool Emerald Drive | $203,000 | $140 | 2020-11-30 | 1997 | 1,450 | Resale |
| 4448 Cool Emerald Drive | $199,900 | $133 | 2020-10-30 | 1995 | 1,500 | Resale |
| 4492 Cool Emerald Drive | $207,800 | $145 | 2020-09-16 | 2004 | 1,434 | Resale |
| 4440 Cool Emerald Drive | $190,000 | $132 | 2020-06-30 | 1995 | 1,442 | Resale |
| 4349 Cool Emerald Drive | $200,000 | $138 | 2020-06-19 | 1998 | 1,445 | Resale |
| 4405 Cool Emerald Dr | $193,000 | $127 | 2020-05-15 | 1996 | 1,512 | Resale |
| 4333 Cool Emerald Drive | $220,000 | $109 | 2020-05-01 | 1996 | 2,013 | Resale |
| 4417 Cool Emerald Drive | $203,000 | $130 | 2019-12-20 | 1997 | 1,557 | Resale |
| 4312 Cool Emerald Drive | $199,000 | $104 | 2019-12-19 | 1995 | 1,916 | Resale |
| 4449 Cool Emerald Drive | $187,000 | $133 | 2019-11-22 | 1999 | 1,409 | Resale |
| 4461 Cool Emerald Dr | $175,000 | $118 | 2019-10-29 | 1995 | 1,487 | Resale |
| 4366 Cool View Drive | $204,000 | $138 | 2019-07-29 | 1995 | 1,473 | Resale |
| 4389 Cool Emerald Drive | $169,000 | $110 | 2019-04-30 | 1995 | 1,540 | Resale |
| 4452 Cool Emerald Drive | $170,000 | $112 | 2019-04-26 | 1995 | 1,523 | Resale |
| 4441 Cool Emerald Drive | $185,000 | $139 | 2019-04-12 | 1995 | 1,329 | Resale |
| 4366 Cool View Dr | $150,100 | $102 | 2019-03-19 | 1995 | 1,473 | Resale |
| 4357 Cool Emerald Dr | $167,545 | $118 | 2019-03-13 | 1996 | 1,418 | Resale |
| 4343 Cool View Drive | $175,000 | $120 | 2019-03-06 | 2005 | 1,464 | Resale |
| 4349 Cool Emerald Drive | $205,000 | $142 | 2019-02-08 | 1998 | 1,445 | Resale |
| 4484 Cool Emerald Drive | $195,000 | $118 | 2018-12-07 | 2006 | 1,656 | Resale |
| 4276 Cool Emerald Drive | $180,000 | $126 | 2018-10-30 | 1996 | 1,432 | Resale |
| 4243 Little Osprey Drive | $185,000 | $135 | 2018-10-26 | 1995 | 1,371 | Resale |
| 4417 Cool Emerald Drive | $193,000 | $124 | 2018-10-05 | 1997 | 1,557 | Resale |
| 4256 Cool Emerald Drive | $190,000 | $120 | 2018-09-26 | 1997 | 1,581 | Resale |
| 4349 Cool Emerald Drive | $138,500 | $96 | 2018-09-07 | 1998 | 1,445 | Resale |
| 4349 Cool Emerald Dr | $138,500 | $95 | 2018-08-31 | 1998 | 1,445 | Resale |
| 4449 Cool Emerald Drive | $184,000 | $131 | 2018-07-23 | 1999 | 1,409 | Resale |
| 4262 Little Osprey Drive | $165,000 | $110 | 2018-07-09 | 1995 | 1,494 | Resale |
| 4416 Cool Emerald Drive | $199,000 | $132 | 2018-06-01 | 1995 | 1,504 | Resale |
| 4309 Cool Emerald Drive | $195,000 | $124 | 2018-03-05 | 1995 | 1,577 | Resale |
| 4400 Cool Emerald Drive | $198,600 | $118 | 2018-02-01 | 1995 | 1,690 | Resale |
| 4497 Cool Emerald Drive | $213,000 | $133 | 2018-01-12 | 1995 | 1,604 | Resale |
| 4255 Cool Emerald Drive | $192,000 | $109 | 2018-01-12 | 2006 | 1,767 | Resale |
| 4363 Cool View Drive | $164,500 | $107 | 2017-11-29 | 2002 | 1,532 | Resale |
| 4260 Cool Emerald Drive | $212,000 | $111 | 2017-11-06 | 1998 | 1,915 | Resale |
| 4280 Cool Emerald Dr | $192,500 | $112 | 2017-09-29 | 2000 | 1,723 | Resale |
| 4400 Cool Emerald Dr | $135,000 | $80 | 2017-08-22 | 1995 | 1,690 | Resale |
| 4282 Little Osprey Drive | $175,000 | $117 | 2017-08-14 | 1995 | 1,498 | Resale |
| 4353 Cool Emerald Dr | $159,000 | $117 | 2017-06-21 | 1995 | 1,360 | Resale |
| 4254 Little Osprey Drive | $190,000 | $109 | 2017-05-25 | 1996 | 1,738 | Resale |
| 4361 Cool Emerald Drive | $155,000 | $109 | 2017-03-17 | 1997 | 1,416 | Resale |
| 4362 Cool View Drive | $168,000 | $101 | 2017-03-16 | 1997 | 1,663 | Resale |
| 4291 Cool Emerald Drive | $160,250 | $109 | 2017-02-28 | 1995 | 1,466 | Resale |
| 4488 Cool Emerald Drive | $147,400 | $89 | 2017-02-24 | 1999 | 1,656 | Resale |
| 4242 Little Osprey Drive | $163,000 | $112 | 2017-01-31 | 1996 | 1,457 | Resale |
| 4441 Cool Emerald Drive | $148,900 | $112 | 2016-12-12 | 1995 | 1,329 | Resale |
| 4295 Cool Emerald Drive | $143,000 | $91 | 2016-10-25 | 1995 | 1,565 | Resale |
| 4428 Cool Emerald Drive | $167,900 | $117 | 2016-10-07 | 1997 | 1,436 | Resale |
| 4448 Cool Emerald Drive | $151,500 | $101 | 2016-10-05 | 1995 | 1,500 | Resale |
| 4456 Cool Emerald Dr | $165,000 | $92 | 2016-09-27 | 1995 | 1,800 | Resale |
| 4352 Cool Emerald Drive | $172,000 | $109 | 2016-09-26 | 1998 | 1,585 | Resale |
| 4492 Cool Emerald Drive | $145,000 | $101 | 2016-09-15 | 2004 | 1,434 | Resale |
| 4441 Cool Emerald Dr | $100,000 | $75 | 2016-07-25 | 1995 | 1,329 | Resale |
| 4457 Cool Emerald Drive | $140,000 | $91 | 2016-07-08 | 1995 | 1,532 | Resale |
| 4464 Cool Emerald Drive | $155,000 | $112 | 2016-06-17 | 1995 | 1,383 | Resale |
| 4424 Cool Emerald Dr | $160,000 | $107 | 2016-06-02 | 1996 | 1,494 | Resale |
| 4312 Cool Emerald Drive | $132,000 | $69 | 2016-03-30 | 1995 | 1,916 | Resale |
| 4348 Cool Emerald Dr | $139,000 | $92 | 2016-01-21 | 1998 | 1,500 | Resale |
| 4360 Cool Emerald Dr | $120,000 | $82 | 2015-12-03 | 1997 | 1,454 | Resale |
| 4274 Little Osprey Drive | $175,000 | $115 | 2015-11-20 | 1998 | 1,528 | Resale |
| 4444 Cool Emerald Drive | $168,000 | $98 | 2015-11-20 | 1995 | 1,716 | Resale |
| 4324 Cool Emerald Drive | $143,000 | $99 | 2015-09-22 | 1997 | 1,450 | Resale |
| 4412 Cool Emerald Drive | $160,000 | $89 | 2015-09-10 | 1995 | 1,808 | Resale |
| 4339 Cool View Drive | $162,000 | $88 | 2015-08-14 | 1996 | 1,842 | Resale |
| 4371 Cool View Drive Drive | $154,000 | $108 | 2015-08-04 | 1997 | 1,426 | Resale |
| 4392 Cool Emerald Drive | $168,000 | $105 | 2015-07-17 | 1995 | 1,606 | Resale |
| 4476 Cool Emerald Drive | $155,000 | $106 | 2015-06-30 | 1995 | 1,457 | Resale |
| 4409 Cool Emerald Dr | $149,000 | $101 | 2015-05-20 | 1996 | 1,474 | Resale |
| 4396 Cool Emerald Dr | $157,632 | $81 | 2015-05-08 | 1999 | 1,956 | Resale |
| 4366 Cool View Dr | $155,000 | $105 | 2015-03-27 | 1995 | 1,473 | Resale |
| 4373 Cool Emerald Dr | $121,000 | $86 | 2015-01-27 | 1995 | 1,400 | Resale |
| 4497 Cool Emerald Dr | $124,500 | $78 | 2015-01-23 | 1995 | 1,604 | Resale |
| 4283 Cool Emerald Dr | $125,000 | $86 | 2014-11-24 | 1996 | 1,448 | Resale |
| 4292 Cool Emerald Dr | $150,500 | $83 | 2014-10-23 | 1995 | 1,808 | Resale |
| 4373 Cool Emerald Dr | $121,000 | $86 | 2014-10-21 | 1995 | 1,400 | Resale |
| 4344 Cool View Dr | $155,000 | $95 | 2014-08-18 | 1995 | 1,627 | Resale |
| 4316 Cool Emerald Dr | $118,000 | $71 | 2014-07-31 | 1996 | 1,669 | Resale |
| 4373 Cool Emerald Dr | $108,700 | $78 | 2014-07-28 | 1995 | 1,400 | Resale |
| 4399 Cool View Dr | $148,300 | $94 | 2014-06-30 | 1995 | 1,573 | Resale |
| 4412 Cool Emerald Dr | $157,500 | $87 | 2014-05-30 | 1995 | 1,808 | Resale |
| 4364 Cool Emerald Dr | $155,000 | $86 | 2014-03-24 | 1996 | 1,806 | Resale |
| 4276 Cool Emerald Dr | $142,000 | $99 | 2013-10-31 | 1996 | 1,432 | Resale |
| 4408 Cool Emerald Dr | $144,000 | $100 | 2013-10-08 | 1995 | 1,440 | Resale |
| 4254 Little Osprey Dr | $115,400 | $71 | 2013-10-01 | 1996 | 1,621 | Resale |
| 4460 Cool Emerald Dr | $126,000 | $82 | 2013-07-03 | 1996 | 1,542 | Resale |
| 4404 Cool Emerald Dr | $145,500 | $96 | 2013-06-19 | 2002 | 1,521 | Resale |
| 4290 Little Osprey Dr | $139,000 | $96 | 2012-12-14 | 1997 | 1,446 | Resale |
| 4304 Cool Emerald Dr | $155,000 | $84 | 2012-12-07 | 1996 | 1,837 | Resale |
| 4371 Cool View Dr | $105,000 | $74 | 2012-11-16 | 1997 | 1,426 | Resale |
| 4272 Cool Emerald Dr | $126,000 | $84 | 2012-10-25 | 2003 | 1,505 | Resale |
| 4333 Cool Emerald Dr | $177,000 | $98 | 2012-09-11 | 1996 | 1,805 | Resale |
| 4428 Cool Emerald Dr | $136,000 | $95 | 2012-09-05 | 1997 | 1,436 | Resale |
| 4432 Cool Emerald Dr | $115,000 | $79 | 2012-08-31 | 1997 | 1,454 | Resale |
| 4408 Cool Emerald Dr | $147,000 | $102 | 2012-08-17 | 1995 | 1,440 | Resale |
| 4424 Cool Emerald Dr | $106,000 | $71 | 2012-07-27 | 1996 | 1,494 | Resale |
| 4401 Cool Emerald Dr | $82,700 | $53 | 2012-06-26 | 1995 | 1,572 | Resale |
| 4488 Cool Emerald Dr | $115,000 | $69 | 2012-05-25 | 1999 | 1,656 | Resale |
| 4408 Cool Emerald Dr | $104,800 | $73 | 2012-05-02 | 1995 | 1,440 | Resale |
| 4350 Cool View Dr | $135,000 | $85 | 2012-03-30 | 1997 | 1,587 | Resale |
| 4398 Cool View Dr | $149,000 | $98 | 2012-02-10 | 1995 | 1,517 | Resale |
| 4247 Little Osprey Dr | $130,000 | $83 | 2011-11-04 | 1996 | 1,569 | Resale |
| 4229 Little Osprey Dr | $145,000 | $100 | 2011-09-20 | 1998 | 1,448 | Resale |
| 4448 Cool Emerald Dr | $156,000 | $104 | 2011-08-30 | 1995 | 1,500 | Resale |
| 4359 Cool View Dr | $134,000 | $84 | 2011-08-19 | 1996 | 1,594 | Resale |
| 4255 Cool Emerald Dr | $152,000 | $86 | 2011-07-15 | 2006 | 1,767 | Resale |
| 4440 Cool Emerald Dr | $139,000 | $99 | 2011-05-27 | 1995 | 1,402 | Resale |
| 4400 Cool Emerald Dr | $156,500 | $93 | 2011-05-18 | 1995 | 1,690 | Resale |
| 4448 Cool Emerald Dr | $85,000 | $57 | 2011-02-25 | 1995 | 1,500 | Resale |
| 4391 Cool View Dr | $158,100 | $98 | 2011-01-21 | 2001 | 1,608 | Resale |
| 4366 Cool View Dr | $150,000 | $102 | 2010-11-10 | 1995 | 1,473 | Resale |
| 4276 Cool Emerald Dr | $148,000 | $103 | 2010-06-03 | 1996 | 1,432 | Resale |
| 4231 Little Osprey Dr | $145,000 | $105 | 2010-04-27 | 1995 | 1,380 | Resale |
| 4234 Little Osprey Dr | $165,000 | $97 | 2010-04-16 | 1998 | 1,697 | Resale |
| 4324 Cool Emerald Dr | $141,000 | $97 | 2010-04-02 | 1997 | 1,448 | Resale |
| 4324 Cool Emerald Dr | $134,000 | $93 | 2010-03-30 | 1997 | 1,448 | Resale |
| 4243 Little Osprey Dr | $135,000 | $98 | 2009-11-20 | 1995 | 1,371 | Resale |
| 4320 Cool Emerald Dr | $184,500 | $118 | 2009-08-25 | 1995 | 1,569 | Resale |
| 4361 Cool Emerald Dr | $165,000 | $117 | 2009-05-22 | 1997 | 1,416 | Resale |
| 4290 Little Osprey Dr | $173,800 | $120 | 2009-05-19 | 1997 | 1,446 | Resale |
| 4333 Cool Emerald Dr | $229,000 | $127 | 2009-04-10 | 1996 | 1,805 | Resale |
| 4282 Little Osprey Dr | $150,900 | $101 | 2008-12-18 | 1995 | 1,498 | Resale |
| 4262 Little Osprey Dr | $182,000 | $122 | 2008-12-05 | 1995 | 1,494 | Resale |
| 4386 Cool View Dr | $160,000 | $98 | 2008-12-04 | 1995 | 1,641 | Resale |
| 4370 Cool View Dr | $182,500 | $129 | 2008-09-19 | 1998 | 1,417 | Resale |
| 4377 Cool View Dr | $253,000 | $148 | 2008-06-30 | 1996 | 1,711 | Resale |
| 4291 Cool Emerald Dr | $194,000 | $134 | 2008-05-12 | 1995 | 1,450 | Resale |
| 4350 Cool View Dr | $199,000 | $125 | 2008-04-30 | 1997 | 1,587 | Resale |
| 4413 Cool Emerald Dr | $177,000 | $111 | 2008-03-14 | 1996 | 1,589 | Resale |
| 4469 Cool Emerald Dr | $150,000 | $104 | 2008-02-26 | 1996 | 1,436 | Resale |
| 4357 Cool Emerald Dr | $184,000 | $120 | 2008-02-19 | 1996 | 1,532 | Resale |
| 4344 Cool Emerald Dr | $170,000 | $108 | 2008-02-18 | 1997 | 1,568 | Resale |
| 4364 Cool Emerald Dr | $195,000 | $108 | 2008-02-15 | 1996 | 1,806 | Resale |
| 4247 Little Osprey Dr | $205,000 | $131 | 2007-08-20 | 1996 | 1,569 | Resale |
| -- | $190,700 | $142 | 2007-08-02 | 1998 | 1,346 | Resale |
| 4247 Little Osprey Dr | $185,000 | $118 | 2007-06-20 | 1996 | 1,569 | Resale |
| 4328 Cool Emerald Dr | $194,500 | $135 | 2007-06-18 | 1996 | 1,442 | Resale |
| 4258 Little Osprey Dr | $170,000 | $106 | 2007-06-15 | 1995 | 1,606 | Resale |
| 4464 Cool Emerald Dr | $151,000 | $109 | 2007-05-23 | 1995 | 1,383 | Resale |
| 4251 Little Osprey Dr | $220,000 | $130 | 2007-04-25 | 1995 | 1,697 | Resale |
| 4457 Cool Emerald Dr | $212,000 | $138 | 2007-04-12 | 1995 | 1,532 | Resale |
| 4476 Cool Emerald Dr | $185,000 | $127 | 2007-03-20 | 1995 | 1,457 | Resale |
| 4359 Cool View Dr | $214,900 | $135 | 2007-02-26 | 1996 | 1,594 | Resale |
| 4231 Little Osprey Dr | $189,900 | $138 | 2007-02-23 | 1995 | 1,380 | Resale |
| 4292 Cool Emerald Dr | $210,000 | $116 | 2006-12-27 | 1995 | 1,808 | Resale |
| 4344 Cool View Dr | $180,000 | $111 | 2006-11-30 | 1995 | 1,627 | Resale |
| 4388 Cool Emerald Dr | $199,000 | $128 | 2006-11-11 | 1996 | 1,550 | Resale |
| 4288 Cool Emerald Dr | $219,900 | $137 | 2006-10-30 | 1996 | 1,605 | Resale |
| 4328 Cool Emerald Dr | $185,000 | $128 | 2006-09-29 | 1996 | 1,442 | Resale |
| 4282 Little Osprey Dr | $185,000 | $123 | 2006-09-15 | 1995 | 1,498 | Resale |
| 4254 Little Osprey Dr | $200,100 | $123 | 2006-09-14 | 1996 | 1,621 | Resale |
| 4361 Cool Emerald Dr | $188,000 | $133 | 2006-09-12 | 1997 | 1,416 | Resale |
| 4276 Cool Emerald Dr | $201,500 | $141 | 2006-08-18 | 1996 | 1,432 | Resale |
| -- | $180,000 | $118 | 2006-08-15 | 1995 | 1,528 | Resale |
| 4333 Cool Emerald Dr | $265,000 | $147 | 2006-06-30 | 1996 | 1,805 | Resale |
| 4484 Cool Emerald Dr | $249,900 | -- | 2006-06-30 | -- | -- | Resale |
| 4372 Cool Emerald Dr | $215,000 | $142 | 2006-06-15 | 1995 | 1,512 | Resale |
| -- | $180,000 | $134 | 2006-06-09 | 1998 | 1,346 | Resale |
| 4255 Cool Emerald Dr | $177,000 | $100 | 2006-06-07 | 2006 | 1,767 | New |
| 4373 Cool Emerald Dr | $175,000 | $125 | 2006-05-12 | 1995 | 1,400 | Resale |
| 4243 Little Osprey Dr | $170,000 | $124 | 2006-04-10 | 1995 | 1,371 | Resale |
| 4238 Little Osprey Dr | $194,000 | $126 | 2006-03-28 | 1995 | 1,536 | Resale |
| 4229 Little Osprey Dr | $180,000 | $124 | 2006-03-15 | 1998 | 1,448 | Resale |
| 4371 Cool View Dr | $186,000 | $130 | 2006-02-22 | 1997 | 1,426 | Resale |
| 4386 Cool View Dr | $200,000 | $122 | 2005-12-07 | 1995 | 1,641 | Resale |
| 4343 Cool View Dr | $195,000 | $133 | 2005-11-14 | 2005 | 1,464 | New |
| 4445 Cool Emerald Dr | $178,000 | $125 | 2005-11-10 | 1995 | 1,424 | Resale |
| 4349 Cool Emerald Dr | $185,000 | $128 | 2005-11-04 | 1998 | 1,445 | Resale |
| 4448 Cool Emerald Dr | $181,500 | $121 | 2005-10-27 | 1995 | 1,500 | Resale |
| 4251 Little Osprey Dr | $210,000 | $124 | 2005-10-21 | 1995 | 1,697 | Resale |
| 4280 Cool Emerald Dr | $215,000 | $125 | 2005-10-03 | 2000 | 1,723 | Resale |
| 4412 Cool Emerald Dr | $209,900 | $116 | 2005-08-31 | 1995 | 1,808 | Resale |
| 4296 Cool Emerald Dr | $178,500 | $109 | 2005-08-12 | 1996 | 1,635 | Resale |
| 4341 Cool Emerald Dr | $103,200 | $71 | 2005-08-03 | 1997 | 1,452 | Resale |
| 4291 Cool Emerald Dr | $187,500 | $129 | 2005-07-27 | 1995 | 1,450 | Resale |
| 4409 Cool Emerald Dr | $184,900 | $125 | 2005-07-15 | 1996 | 1,474 | Resale |
| 4377 Cool View Dr | $229,000 | $134 | 2005-06-24 | 1996 | 1,711 | Resale |
| 4378 Cool View Dr | $166,000 | $117 | 2005-06-23 | 1995 | 1,415 | Resale |
| 4404 Cool Emerald Dr | $177,500 | $117 | 2005-06-15 | 2002 | 1,521 | Resale |
| 4448 Cool Emerald Dr | $160,000 | $107 | 2005-06-15 | 1995 | 1,500 | Resale |
| 4417 Cool Emerald Dr | $179,000 | $115 | 2005-05-31 | 1997 | 1,557 | Resale |
| 4484 Cool Emerald Dr | $100,000 | -- | 2005-05-11 | 2005 | -- | New |
| 4363 Cool View Dr | $172,000 | $112 | 2005-05-05 | 2002 | 1,532 | Resale |
| 4460 Cool Emerald Dr | $177,000 | $115 | 2005-04-18 | 1996 | 1,542 | Resale |
| 4374 Cool View Dr | $177,000 | $124 | 2005-04-18 | 1995 | 1,423 | Resale |
| 4270 Little Osprey Dr | $162,500 | $96 | 2005-04-07 | 1997 | 1,686 | Resale |
| 4372 Cool Emerald Dr | $31,500 | $21 | 2005-03-30 | 1995 | 1,512 | Resale |
| 4366 Cool View Dr | $165,000 | $112 | 2005-03-18 | 1995 | 1,473 | Resale |
| 4242 Little Osprey Dr | $150,000 | $88 | 2005-01-28 | 1996 | 1,712 | Resale |
| -- | $178,900 | $107 | 2005-01-18 | 1995 | 1,669 | Resale |
| 4294 Little Osprey Dr | $150,000 | $106 | 2004-12-20 | 1998 | 1,414 | Resale |
| 4281 Little Osprey Dr | $165,000 | $108 | 2004-12-10 | 1995 | 1,527 | Resale |
| 4254 Little Osprey Dr | $176,400 | $109 | 2004-11-16 | 1996 | 1,621 | Resale |
| 4382 Cool View Dr | $175,000 | $112 | 2004-10-19 | 1995 | 1,559 | Resale |
| 4231 Little Osprey Dr | $156,600 | $113 | 2004-09-29 | 1995 | 1,380 | Resale |
| 4284 Cool Emerald Dr | $176,000 | $101 | 2004-09-15 | 1998 | 1,751 | Resale |
| 4469 Cool Emerald Dr | $163,000 | $114 | 2004-09-01 | 1996 | 1,436 | Resale |
| 4349 Cool Emerald Dr | $165,000 | $114 | 2004-08-20 | 1998 | 1,445 | Resale |
| 4353 Cool Emerald Dr | $145,000 | $107 | 2004-08-19 | 1995 | 1,360 | Resale |
| 4316 Cool Emerald Dr | $165,000 | $99 | 2004-07-19 | 1996 | 1,669 | Resale |
| 4492 Cool Emerald Dr | $162,900 | $114 | 2004-07-16 | 2004 | 1,434 | New |
| 4424 Cool Emerald Dr | $154,500 | $103 | 2004-06-10 | 1996 | 1,494 | Resale |
| 4292 Cool Emerald Dr | $173,000 | $96 | 2004-05-28 | 1995 | 1,808 | Resale |
| 4333 Cool Emerald Dr | $179,900 | $100 | 2004-05-28 | 1996 | 1,805 | Resale |
| 4239 Little Osprey Dr | $165,900 | $100 | 2004-05-28 | 1996 | 1,654 | Resale |
| 4444 Cool Emerald Dr | $150,000 | $104 | 2004-05-27 | 1995 | 1,440 | Resale |
| 4432 Cool Emerald Dr | $155,000 | $107 | 2004-04-28 | 1997 | 1,454 | Resale |
| 4341 Cool Emerald Dr | $136,900 | $94 | 2004-04-23 | 1997 | 1,452 | Resale |
| 4383 Cool View Dr | $167,400 | $111 | 2004-04-12 | 2004 | 1,506 | New |
| 4384 Cool Emerald Dr | $149,900 | $99 | 2004-03-30 | 1996 | 1,519 | Resale |
| 4324 Cool Emerald Dr | $150,900 | $104 | 2004-03-23 | 1997 | 1,448 | Resale |
| 4408 Cool Emerald Dr | $149,900 | $104 | 2004-02-12 | 1995 | 1,440 | Resale |
| 4283 Cool Emerald Dr | $148,800 | $103 | 2004-02-05 | 1996 | 1,448 | Resale |
| 4288 Cool Emerald Dr | $166,000 | $103 | 2004-01-15 | 1996 | 1,605 | Resale |
| 4372 Cool Emerald Dr | $154,500 | $102 | 2003-12-17 | 1995 | 1,512 | Resale |
| 4361 Cool Emerald Dr | $143,000 | $101 | 2003-11-14 | 1997 | 1,416 | Resale |
| 4497 Cool Emerald Dr | $165,000 | $103 | 2003-11-10 | 1995 | 1,604 | Resale |
| 4276 Cool Emerald Dr | $144,500 | $101 | 2003-10-23 | 1996 | 1,432 | Resale |
| 4268 Cool Emerald Dr | $144,900 | $98 | 2003-09-30 | 1996 | 1,472 | Resale |
| 4339 Cool View Dr | $164,000 | $89 | 2003-09-29 | 1996 | 1,842 | Resale |
| 4374 Cool View Dr | $138,000 | $97 | 2003-09-12 | 1995 | 1,423 | Resale |
| 4368 Cool Emerald Dr | $153,500 | $112 | 2003-06-27 | 1996 | 1,370 | Resale |
| 4344 Cool Emerald Dr | $139,900 | $89 | 2003-06-02 | 1997 | 1,568 | Resale |
| 4272 Cool Emerald Dr | $102,000 | $67 | 2003-05-12 | 2003 | 1,527 | New |
| 4401 Cool Emerald Dr | $139,000 | $88 | 2003-04-24 | 1995 | 1,572 | Resale |
| 4365 Cool Emerald Dr | $131,500 | $94 | 2003-02-27 | 1996 | 1,406 | Resale |
| 4424 Cool Emerald Dr | $135,000 | $90 | 2003-02-26 | 1996 | 1,494 | Resale |
| 4262 Little Osprey Dr | $140,000 | $94 | 2003-02-07 | 1995 | 1,494 | Resale |
| 4286 Little Osprey Dr | $139,000 | $77 | 2003-01-09 | 1995 | 1,796 | Resale |
| 4357 Cool Emerald Dr | $135,000 | $88 | 2003-01-03 | 1996 | 1,532 | Resale |
| 4304 Cool Emerald Dr | $155,000 | $84 | 2002-12-30 | 1996 | 1,837 | Resale |
| 4234 Little Osprey Dr | $143,900 | $85 | 2002-12-27 | 1998 | 1,697 | Resale |
| 4456 Cool Emerald Dr | $153,900 | $86 | 2002-11-25 | 1995 | 1,800 | Resale |
| 4352 Cool Emerald Dr | $142,900 | $90 | 2002-11-15 | 1998 | 1,585 | Resale |
| 4251 Little Osprey Dr | $148,900 | $88 | 2002-11-08 | 1995 | 1,697 | Resale |
| 4358 Cool View Dr | $134,500 | $91 | 2002-10-31 | 1997 | 1,480 | Resale |
| 4347 Cool View Dr | $142,700 | $86 | 2002-10-31 | 2002 | 1,652 | New |
| 4416 Cool Emerald Dr | $118,000 | $85 | 2002-10-28 | 1995 | 1,392 | Resale |
| 4235 Little Osprey Dr | $139,900 | $89 | 2002-10-14 | 1995 | 1,565 | Resale |
| 4374 Cool View Dr | $129,900 | $91 | 2002-10-07 | 1995 | 1,423 | Resale |
| 4371 Cool View Dr | $131,900 | $92 | 2002-10-03 | 1997 | 1,426 | Resale |
| 4377 Cool Emerald Dr | $135,900 | $87 | 2002-09-27 | 1998 | 1,554 | Resale |
| 4445 Cool Emerald Dr | $121,800 | $86 | 2002-09-13 | 1995 | 1,424 | Resale |
| 4436 Cool Emerald Dr | $138,000 | $87 | 2002-08-27 | 2000 | 1,592 | Resale |
| 4290 Little Osprey Dr | $124,000 | $86 | 2002-08-06 | 1997 | 1,446 | Resale |
| -- | $148,300 | $89 | 2002-08-01 | 1995 | 1,669 | Resale |
| 4290 Little Osprey Dr | $126,800 | $88 | 2002-07-01 | 1997 | 1,446 | Resale |
| 4347 Cool View Dr | $90,000 | $39 | 2002-07-01 | 2002 | 2,326 | New |
| 4363 Cool View Dr | $127,500 | $83 | 2002-06-28 | 2002 | 1,532 | New |
| 4262 Little Osprey Dr | $134,000 | $90 | 2002-06-24 | 1995 | 1,494 | Resale |
| 4413 Cool Emerald Dr | $138,000 | $87 | 2002-05-01 | 1996 | 1,589 | Resale |
| 4409 Cool Emerald Dr | $130,400 | $88 | 2002-04-15 | 1996 | 1,474 | Resale |
| 4404 Cool Emerald Dr | $90,000 | $59 | 2002-04-08 | 2002 | 1,521 | New |
| 4250 Little Osprey Dr | $129,000 | $85 | 2002-03-29 | 1996 | 1,519 | Resale |
| 4366 Cool View Dr | $107,000 | $73 | 2002-02-15 | 1995 | 1,473 | Resale |
| 4395 Cool View Dr | $123,500 | -- | 2002-01-15 | 2001 | -- | New |
| 4312 Cool Emerald Dr | $149,000 | $93 | 2002-01-14 | 1995 | 1,604 | Resale |
| -- | $129,900 | -- | 2001-12-20 | 2001 | -- | New |
| 4468 Cool Emerald Dr | $116,300 | $85 | 2001-11-29 | 1995 | 1,371 | Resale |
| 4328 Cool Emerald Dr | $127,500 | $77 | 2001-11-28 | 1996 | 1,656 | Resale |
| 4375 Cool View Dr | $125,000 | $80 | 2001-11-15 | 1995 | 1,560 | Resale |
| 4333 Cool Emerald Dr | $165,000 | $91 | 2001-11-05 | 1996 | 1,805 | Resale |
| 4296 Cool Emerald Dr | $126,800 | $78 | 2001-11-01 | 1996 | 1,635 | Resale |
| 4274 Little Osprey Dr | $133,000 | $87 | 2001-10-31 | 1998 | 1,528 | Resale |
| 4312 Cool Emerald Dr | $130,000 | $81 | 2001-10-26 | 1995 | 1,604 | Resale |
| 4281 Little Osprey Dr | $127,000 | $83 | 2001-09-28 | 1995 | 1,527 | Resale |
| 4377 Cool View Dr | $175,000 | $102 | 2001-08-31 | 1996 | 1,711 | Resale |
| 4359 Cool View Dr | $138,400 | $87 | 2001-08-21 | 1996 | 1,594 | Resale |
| 4291 Cool Emerald Dr | $131,800 | $91 | 2001-08-17 | 1995 | 1,450 | Resale |
| 4351 Cool View Dr | $120,000 | $85 | 2001-07-30 | 1995 | 1,404 | Resale |
| 4254 Little Osprey Dr | $116,000 | $72 | 2001-07-19 | 1996 | 1,621 | Resale |
| -- | $127,900 | $89 | 2001-06-29 | 1996 | 1,436 | Resale |
| 4355 Cool View Dr | $125,000 | $73 | 2001-05-02 | 1998 | 1,722 | Resale |
| 4391 Cool View Dr | $129,900 | $81 | 2001-04-30 | 2001 | 1,608 | New |
| 4417 Cool Emerald Dr | $127,000 | $82 | 2001-04-03 | 1997 | 1,557 | Resale |
| 4362 Cool View Dr | $118,000 | $83 | 2001-03-29 | 1997 | 1,429 | Resale |
| -- | $134,500 | $81 | 2000-11-30 | 1995 | 1,669 | Resale |
| -- | $110,000 | $82 | 2000-11-30 | 1998 | 1,346 | Resale |
| 4321 Cool Emerald Dr | $138,000 | $84 | 2000-11-10 | 1995 | 1,642 | Resale |
| 4370 Cool View Dr | $111,500 | $79 | 2000-10-31 | 1998 | 1,417 | Resale |
| 4308 Cool Emerald Dr | $138,000 | $79 | 2000-10-25 | 1999 | 1,748 | Resale |
| 4298 Little Osprey Dr | $110,900 | $74 | 2000-08-14 | 1997 | 1,494 | Resale |
| 4436 Cool Emerald Dr | $129,100 | $81 | 2000-07-13 | 2000 | 1,592 | New |
| 4235 Little Osprey Dr | $118,000 | $75 | 2000-07-03 | 1995 | 1,565 | Resale |
| 4469 Cool Emerald Dr | $100,000 | $70 | 2000-06-28 | 1996 | 1,436 | Resale |
| 4364 Cool Emerald Dr | $139,000 | $77 | 2000-06-27 | 1996 | 1,806 | Resale |
| 4425 Cool Emerald Dr | $119,500 | $87 | 2000-06-02 | 1995 | 1,373 | Resale |
| 4288 Cool Emerald Dr | $135,000 | $84 | 2000-05-17 | 1996 | 1,605 | Resale |
| 4460 Cool Emerald Dr | $109,000 | $71 | 2000-04-20 | 1996 | 1,542 | Resale |
| 4280 Cool Emerald Dr | $136,000 | $79 | 2000-03-30 | 2000 | 1,723 | Resale |
| 4243 Little Osprey Dr | $109,500 | $80 | 2000-01-20 | 1995 | 1,371 | Resale |
| 4396 Cool Emerald Dr | $136,900 | $80 | 2000-01-07 | 1999 | 1,720 | Resale |
| 4351 Cool View Dr | $110,000 | $78 | 1999-11-04 | 1995 | 1,404 | Resale |
| 4283 Cool Emerald Dr | $102,500 | $71 | 1999-10-20 | 1996 | 1,448 | Resale |
| 4332 Cool Emerald Dr | $115,000 | $74 | 1999-08-31 | 1998 | 1,550 | Resale |
| 4235 Little Osprey Dr | $111,000 | $71 | 1999-08-20 | 1995 | 1,565 | Resale |
| 4373 Cool Emerald Dr | $102,000 | $73 | 1999-08-03 | 1995 | 1,400 | Resale |
| 4230 Little Osprey Dr | $110,000 | $78 | 1999-06-17 | 1997 | 1,416 | New |
| 4308 Cool Emerald Dr | $138,100 | $79 | 1999-05-25 | 1999 | 1,748 | Resale |
| 4294 Little Osprey Dr | $85,900 | $61 | 1999-04-27 | 1998 | 1,414 | Resale |
| 4488 Cool Emerald Dr | $119,400 | $72 | 1999-04-09 | 1999 | 1,656 | New |
| -- | $108,000 | $80 | 1999-03-03 | 1998 | 1,346 | New |
| 4274 Little Osprey Dr | $116,000 | $76 | 1999-02-10 | 1998 | 1,528 | New |
| -- | $80,000 | $52 | 1999-02-09 | 1995 | 1,528 | Resale |
| 4401 Cool Emerald Dr | $109,900 | $70 | 1999-01-29 | 1995 | 1,572 | Resale |
| -- | $95,300 | $62 | 1999-01-28 | 1995 | 1,528 | Resale |
| -- | $119,900 | $83 | 1999-01-22 | 1996 | 1,436 | Resale |
| 4332 Cool Emerald Dr | $119,000 | $77 | 1999-01-15 | 1998 | 1,550 | New |
| 4284 Cool Emerald Dr | $123,000 | $70 | 1998-12-15 | 1998 | 1,751 | New |
| 4398 Cool View Dr | $122,500 | $74 | 1998-11-30 | 1995 | 1,649 | Resale |
| 4246 Little Osprey Dr | $107,000 | $75 | 1998-10-27 | -- | 1,436 | Resale |
| 4294 Little Osprey Dr | $88,000 | $62 | 1998-09-25 | 1998 | 1,414 | New |
| 4290 Little Osprey Dr | $105,000 | $73 | 1998-09-23 | 1997 | 1,446 | New |
| 4345 Cool Emerald Dr | $105,500 | $77 | 1998-09-11 | -- | 1,371 | Resale |
| 4497 Cool Emerald Dr | $127,500 | $79 | 1998-09-11 | 1995 | 1,604 | Resale |
| 4370 Cool View Dr | $106,500 | $75 | 1998-08-26 | 1998 | 1,417 | New |
| 4352 Cool Emerald Dr | $123,000 | $78 | 1998-08-21 | 1998 | 1,585 | New |
| 4349 Cool Emerald Dr | $106,400 | $74 | 1998-07-17 | 1998 | 1,445 | New |
| 4321 Cool Emerald Dr | $132,500 | $81 | 1998-06-30 | 1995 | 1,642 | Resale |
| 4348 Cool Emerald Dr | $105,000 | $70 | 1998-05-29 | 1998 | 1,500 | New |
| 4376 Cool Emerald Dr | $109,900 | $71 | 1998-05-29 | 1998 | 1,552 | New |
| 4287 Cool Emerald Dr | $106,300 | $75 | 1998-05-15 | 1998 | 1,411 | New |
| 4444 Cool Emerald Dr | $94,000 | $65 | 1998-04-29 | 1995 | 1,440 | Resale |
| 4234 Little Osprey Dr | $115,000 | $68 | 1998-04-23 | 1998 | 1,697 | Resale |
| 4377 Cool Emerald Dr | $117,400 | $76 | 1998-04-09 | 1998 | 1,554 | Resale |
| 4350 Cool View Dr | $123,000 | $78 | 1998-03-31 | 1997 | 1,587 | New |
| 4300 Cool Emerald Dr | $129,900 | $81 | 1998-03-10 | -- | 1,599 | Resale |
| 4358 Cool View Dr | $109,000 | $74 | 1998-02-13 | 1997 | 1,480 | New |
| 4340 Cool Emerald Dr | $108,400 | $70 | 1998-02-02 | 1997 | 1,545 | Resale |
| 4316 Cool Emerald Dr | $125,000 | $75 | 1998-01-15 | 1996 | 1,669 | New |
| 4256 Cool Emerald Dr | $120,000 | $76 | 1997-11-26 | -- | 1,581 | Resale |
| 4398 Cool View Dr | $98,000 | $59 | 1997-11-05 | 1995 | 1,649 | Resale |
| 4399 Cool View Dr | $110,000 | $70 | 1997-10-30 | 1995 | 1,573 | New |
| 4420 Cool Emerald Dr | $118,500 | $75 | 1997-10-23 | 1997 | 1,570 | New |
| 4324 Cool Emerald Dr | $103,000 | $71 | 1997-10-23 | 1997 | 1,448 | New |
| 4371 Cool View Dr | $102,100 | $72 | 1997-08-29 | 1997 | 1,426 | New |
| 4270 Little Osprey Dr | $129,900 | $77 | 1997-07-31 | 1997 | 1,686 | Resale |
| 4300 Cool Emerald Dr | $90,000 | $39 | 1997-07-14 | 1997 | 2,282 | New |
| 4464 Cool Emerald Dr | $100,000 | $72 | 1997-06-09 | 1995 | 1,383 | Resale |
| 4333 Cool Emerald Dr | $135,500 | $75 | 1997-05-28 | 1996 | 1,805 | New |
| 4364 Cool Emerald Dr | $137,500 | $76 | 1997-05-19 | 1996 | 1,806 | Resale |
| 4357 Cool Emerald Dr | $109,900 | $72 | 1997-04-30 | 1996 | 1,532 | New |
| 4361 Cool Emerald Dr | $108,000 | $76 | 1997-04-30 | 1997 | 1,416 | New |
| 4341 Cool Emerald Dr | $107,500 | $74 | 1997-04-29 | 1997 | 1,452 | New |
| 4360 Cool Emerald Dr | $106,000 | $72 | 1997-03-28 | 1997 | 1,468 | New |
| 4432 Cool Emerald Dr | $100,500 | $69 | 1997-03-28 | 1997 | 1,454 | New |
| 4428 Cool Emerald Dr | $99,900 | $70 | 1997-02-27 | 1997 | 1,436 | New |
| 4374 Cool View Dr | $102,900 | $72 | 1997-02-27 | 1995 | 1,423 | New |
| 4298 Little Osprey Dr | $96,000 | $64 | 1997-02-25 | 1997 | 1,494 | New |
| 4382 Cool View Dr | $115,000 | $74 | 1997-02-12 | 1995 | 1,559 | New |
| 4417 Cool Emerald Dr | $50,000 | $25 | 1997-02-07 | 1997 | 1,997 | New |
| 4344 Cool Emerald Dr | $80,000 | $40 | 1997-02-04 | 1997 | 1,990 | New |
| 4380 Cool Emerald Dr | $121,000 | $77 | 1997-01-31 | 1996 | 1,581 | New |
| 4368 Cool Emerald Dr | $117,000 | $85 | 1996-12-30 | 1996 | 1,370 | New |
| 4266 Little Osprey Dr | $80,000 | $56 | 1996-12-11 | 1996 | 1,416 | New |
| 4477 Cool Emerald Dr | $110,000 | $78 | 1996-12-05 | 1996 | 1,402 | New |
| 4283 Cool Emerald Dr | $99,900 | $69 | 1996-12-02 | 1996 | 1,448 | New |
| 4424 Cool Emerald Dr | $95,500 | $64 | 1996-11-06 | 1996 | 1,494 | New |
| 4496 Cool Emerald Dr | $106,500 | $65 | 1996-10-25 | 1996 | 1,632 | New |
| 4469 Cool Emerald Dr | $107,900 | $75 | 1996-10-11 | 1996 | 1,436 | New |
| 4375 Cool View Dr | $112,000 | $72 | 1996-10-09 | 1995 | 1,560 | New |
| 4288 Cool Emerald Dr | $123,900 | $77 | 1996-09-27 | 1996 | 1,605 | New |
| 4457 Cool Emerald Dr | $109,900 | $72 | 1996-09-18 | 1995 | 1,532 | New |
| 4452 Cool Emerald Dr | $100,000 | $66 | 1996-09-13 | 1996 | 1,523 | New |
| 4409 Cool Emerald Dr | $105,100 | $71 | 1996-09-13 | 1996 | 1,474 | New |
| 4344 Cool View Dr | $125,000 | $77 | 1996-09-13 | 1995 | 1,627 | New |
| 4270 Little Osprey Dr | $68,000 | $33 | 1996-09-11 | 1997 | 2,090 | New |
| 4405 Cool Emerald Dr | $107,000 | $71 | 1996-09-06 | 1996 | 1,512 | New |
| 4239 Little Osprey Dr | $108,900 | $77 | 1996-08-29 | 1996 | 1,422 | New |
| 4367 Cool View Dr | $110,000 | $72 | 1996-08-21 | 1995 | 1,522 | New |
| 4291 Cool Emerald Dr | $117,100 | $81 | 1996-07-15 | 1995 | 1,450 | New |
| 4251 Little Osprey Dr | $138,000 | $81 | 1996-06-28 | 1995 | 1,697 | Resale |
| 4336 Cool Emerald Dr | $135,000 | $86 | 1996-06-06 | 1996 | 1,572 | New |
| 4246 Little Osprey Dr | $105,900 | $74 | 1996-05-29 | 1996 | 1,436 | New |
| 4364 Cool Emerald Dr | $80,000 | $35 | 1996-05-24 | 1996 | 2,300 | New |
| 4354 Cool View Dr | $115,000 | $65 | 1996-05-20 | 1996 | 1,766 | New |
| 4388 Cool Emerald Dr | $109,500 | $71 | 1996-05-02 | 1996 | 1,550 | New |
| 4231 Little Osprey Dr | $99,000 | $72 | 1996-04-05 | 1995 | 1,380 | Resale |
| 4256 Cool Emerald Dr | $100,000 | $51 | 1996-04-02 | 1996 | 1,975 | New |
| 4379 Cool View Dr | $117,700 | $76 | 1996-03-29 | 1996 | 1,547 | New |
| 4453 Cool Emerald Dr | $119,900 | $76 | 1996-03-29 | 1996 | 1,576 | New |
| 4465 Cool Emerald Dr | $113,200 | $70 | 1996-03-29 | 1996 | 1,620 | New |
| 4365 Cool Emerald Dr | $104,500 | $74 | 1996-03-28 | 1996 | 1,406 | New |
| -- | $106,500 | $74 | 1996-03-28 | 1996 | 1,436 | New |
| 4268 Cool Emerald Dr | $108,900 | $74 | 1996-03-27 | 1996 | 1,472 | New |
| 4380 Cool Emerald Dr | $100,000 | $51 | 1996-03-15 | 1996 | 1,975 | New |
| 4413 Cool Emerald Dr | $119,600 | $75 | 1996-03-06 | 1996 | 1,589 | New |
| 4247 Little Osprey Dr | $114,300 | $73 | 1996-02-28 | 1996 | 1,569 | New |
| 4250 Little Osprey Dr | $119,900 | $79 | 1996-02-28 | 1996 | 1,519 | New |
| 4276 Cool Emerald Dr | $103,900 | $73 | 1996-02-20 | 1996 | 1,432 | New |
| 4231 Little Osprey Dr | $112,000 | $81 | 1996-02-16 | 1995 | 1,380 | New |
| -- | $110,000 | -- | 1996-01-17 | 1995 | -- | New |
| -- | $110,000 | -- | 1996-01-17 | 1995 | -- | New |
| -- | $104,900 | -- | 1996-01-02 | 1995 | -- | New |
| -- | $118,900 | -- | 1995-12-29 | 1995 | -- | New |
| -- | $111,000 | -- | 1995-12-12 | 1995 | -- | New |
| -- | $104,500 | -- | 1995-12-08 | 1995 | -- | New |
| 4337 Cool Emerald Dr | $74,000 | $37 | 1995-11-29 | 1995 | 1,974 | New |
| -- | $100,000 | -- | 1995-11-15 | -- | -- | Resale |
| -- | $110,000 | -- | 1995-11-09 | -- | -- | Resale |
| -- | $136,400 | -- | 1995-11-06 | 1995 | -- | New |
| -- | $124,900 | -- | 1995-10-31 | 1995 | -- | New |
| -- | $112,500 | -- | 1995-10-23 | 1995 | -- | New |
| -- | $116,700 | -- | 1995-10-13 | 1995 | -- | New |
| -- | $114,900 | -- | 1995-10-05 | 1995 | -- | New |
| -- | $135,900 | -- | 1995-09-29 | -- | -- | Resale |
| -- | $103,000 | -- | 1995-09-29 | 1995 | -- | New |
| -- | $135,000 | -- | 1995-09-26 | 1995 | -- | New |
| -- | $116,900 | -- | 1995-09-21 | 1995 | -- | New |
| -- | $97,300 | -- | 1995-09-14 | 1995 | -- | New |
| -- | $122,000 | -- | 1995-08-31 | 1995 | -- | New |
| -- | $122,500 | -- | 1995-08-31 | 1995 | -- | New |
| -- | $99,900 | -- | 1995-08-30 | 1995 | -- | New |
| -- | $116,500 | -- | 1995-08-25 | 1995 | -- | New |
| -- | $125,000 | -- | 1995-08-22 | 1995 | -- | New |
| -- | $105,000 | -- | 1995-08-18 | 1995 | -- | New |
| -- | $118,000 | -- | 1995-08-18 | 1995 | -- | New |
| -- | $110,000 | -- | 1995-08-17 | 1995 | -- | New |
| -- | $118,000 | -- | 1995-08-17 | 1995 | -- | New |
| -- | $105,000 | -- | 1995-08-15 | 1995 | -- | New |
| -- | $107,000 | -- | 1995-08-11 | 1995 | -- | New |
| -- | $129,900 | -- | 1995-08-07 | 1995 | -- | New |
| -- | $120,000 | -- | 1995-08-01 | 1995 | -- | New |
| -- | $113,900 | -- | 1995-07-31 | 1995 | -- | New |
| -- | $116,500 | -- | 1995-07-31 | 1995 | -- | New |
| -- | $121,900 | -- | 1995-07-28 | 1995 | -- | New |
| -- | $122,900 | -- | 1995-07-21 | 1995 | -- | New |
| -- | $108,000 | -- | 1995-07-10 | 1995 | -- | New |
| -- | $113,900 | -- | 1995-06-30 | 1995 | -- | New |
| -- | $122,400 | -- | 1995-06-23 | 1995 | -- | New |
| -- | $122,500 | -- | 1995-06-23 | 1995 | -- | New |
| -- | $119,900 | -- | 1995-06-02 | 1995 | -- | New |
| -- | $124,000 | -- | 1995-05-19 | -- | -- | Resale |
| -- | $104,900 | -- | 1995-05-02 | 1995 | -- | New |
| 4251 Little Osprey Dr | $70,000 | $32 | 1995-03-09 | 1995 | 2,156 | New |
| 4321 Cool Emerald Dr | $70,000 | $34 | 1995-03-09 | 1995 | 2,056 | New |
| 4400 Cool Emerald Dr | $85,000 | $38 | 1995-03-06 | 1995 | 2,227 | New |
| 4309 Cool Emerald Dr | $75,000 | $37 | 1995-01-23 | 1994 | 2,038 | New |