Last Chance For Winter Prices On Homes With A Swimming Pool
Posted by Joe Manausa on Thursday, February 18, 2021 at 5:41 AM
By Joe Manausa / February 18, 2021
Comment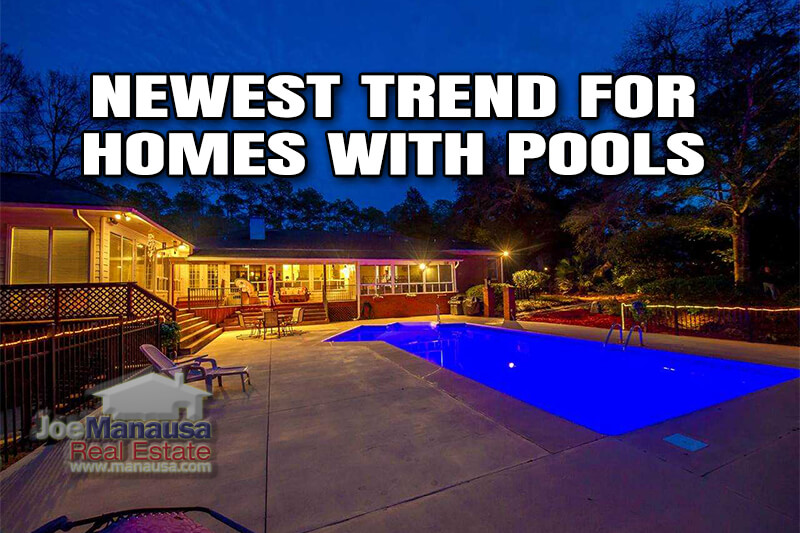 If you are planning to buy a home with a swimming pool in 2021, then you should know that there is a market trend that seeks your attention.
As you probably know, there are market cycles within market cycles, and there happen to be two trends right now that pool-home buyers should consider before buying a pool. Whether you wanted to buy now or wait until later in the year, make sure you understand these trends.
Single-Family Detached Homes With Pools For Sale
The following list shows all single-family detached homes for sale with swimming pools. Take a moment to check them out and then follow along with the report that follows. It's information that pool home buyers should know today!
The homes are currently sorted by newest on the market first, but you can use the "Sort" function at the top right of the listings to change the order for which the homes are displayed.
2 Trends Impacting Homes For Sale With Swimming Pools
2021 has started the year off as the strongest-ever seller's market on record. This means that there are far more buyers than sellers and the competition among buyers for the best homes will be feverish.
The first trend you should know is that properly marketed homes with swimming pools (priced under $600K), do not remain on the market very long. In fact, those that are aggressively pre-marketed will likely have buyers with offers on the first day.
When we look at the MLS today, we find 80 homes for sale with swimming pools, and 49 of them (61%) are already under contract with buyers. When we limit this list to those priced below $600K, nearly 70% are already under contract with buyers.
Pool homes are doing very well in this seller's market, so if you see one you like, you had better write a very strong offer (fast). This first trend requires you to have "a need for speed," but this next trend is something that probably will surprise you.

Speak To An Expert!
Elevate your confidence by trusting Joe and his team led by US armed forces Veterans. Unmatched dedication, expertise, and professionalism drive their success, as their thousands of 5-star reviews confirm.
Their proven track record showcases precise navigation of the market. Choosing Joe means gaining access to extensive knowledge and networks and prioritizing YOUR unique needs. Experience the power of dedicated commitment in real estate. Trust Joe and his team of military Veterans to be your partners in achieving your dreams.
How Much (Extra) Do You Pay For A Home With A Pool?
As I wrote earlier in this post, there are market cycles within market cycles. Some can be explained by outside influencers (new local jobs, new special loan products, etc.), but some are harder to explain.
When we look at a graph of home prices and compare those with pools to those without, we can see one of these cycles within a cycle.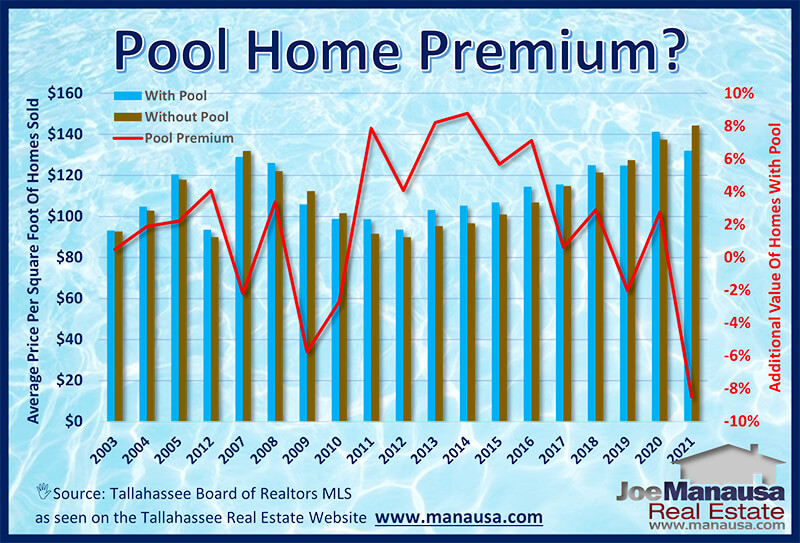 For some reason (unknown to me), buyers have been getting great deals (compared to the overall market) on homes with pools thus far in early 2021. The graph above plots the average price per square foot of homes sold each year, with homes with pools plotted in blue and homes without pools plotted in brown.
Over the past ten years, homes with pools sold at values roughly 4.6% higher than homes without pools. Of course, there are a lot of other factors that determine a home's value, but over time, we can watch this trend for opportunities.
Well, how's this for an opportunity? Homes with pools have been selling for 8.5% less than homes without pools. This means that the "market cycle within a market cycle" suggests that pool homes are a "buy" right now, and buying one before the market returns to a more normal valuation could put big money in your pocket.
I believe we will see this graph revert to a more normal figure before year's end, and that would mean homes with pools are going to get more expensive faster than those without pools. And therein lies your opportunity.
If you were planning on waiting to buy a home with a pool this Summer, you will very likely save tens of thousands of dollars by purchasing it now. Go back and look at those listed for sale and let us know if there is a home you would like to see!
Your Local Expert In Tallahassee
When moving to, in, or from Tallahassee, you will fare better if you work with a local expert. We are here to help. If you have further questions on the Tallahassee real estate market, you can leave a comment below, give us a call at (850) 366-8917, or drop us a note and we'll give you the local information needed to ensure a successful, smooth transaction.
As a local born and raised in Tallahassee with a focus on customer service, I promise you'll find great success when working with Joe Manausa Real Estate, just as have our past customers. You can read thousands of their reviews reported on Google, Facebook and Zillow right here: Real Estate Agent Reviews Tallahassee.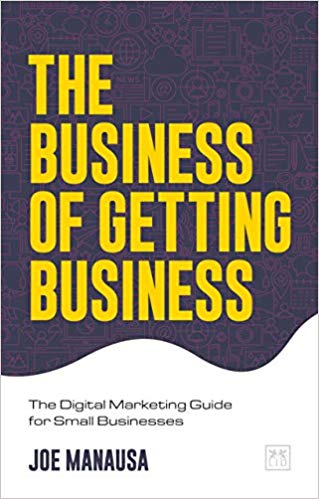 Have you heard about my new book "The Business of Getting Business?" It's a comprehensive guide for small businesses to help them make the move to digital. For those of us who want to survive and thrive in a world where large corporations are taking over, it is a must-read. It's also the perfect guide for how to sell a home in the digital age. You can find The Business Of Getting Business by clicking on any of the trusted retailers below.

Think all REALTORS are alike?
Read what people are saying about working with Joe Manausa Real Estate! You can see thousands of real customer reviews reported on Google, Facebook and Zillow at this link: CLICK HERE FOR REAL ESTATE AGENT REVIEWS.