SHOCKING! Here's Where Home Prices & Mortgage Payments Are Heading
Posted by Joe Manausa on Monday, February 1, 2021 at 5:51 AM
By Joe Manausa / February 1, 2021
Comment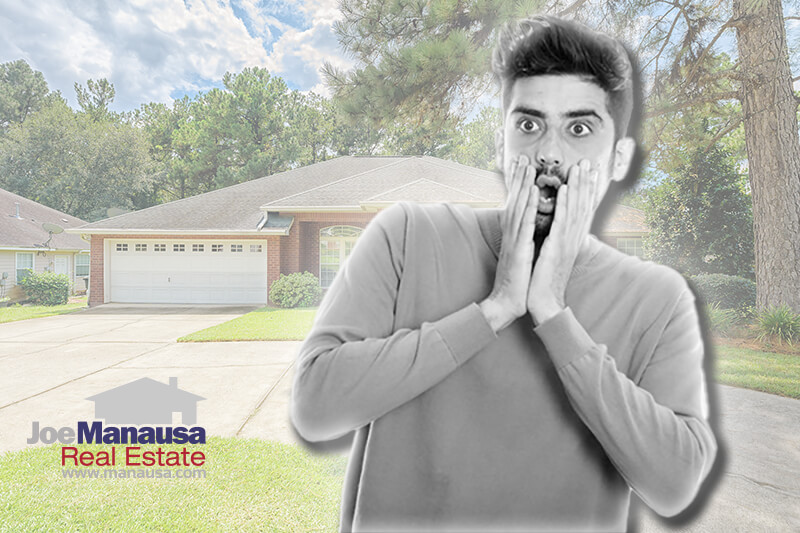 There is a pair of opposing market forces battling it out today that we are monitoring in order to determine how affordable homes will be in 2021 and beyond.
On one hand, you have historic-low mortgage interest rates, but on the other hand, you've got soaring home prices.
The former makes homes more affordable, while the latter has the opposite effect. Today's long-term housing market forecast paints a scary picture of what is certain to come.
Median Homes For Sale In Tallahassee
The following homes for sale in Tallahassee are priced very close to the median of the market, giving our readers a feel for the average home revealed in our report.
Video Report With Animation
Tallahassee Home Affordability Graph
This graph shows the relationship between home prices and monthly mortgage payments (principal and interest) over time.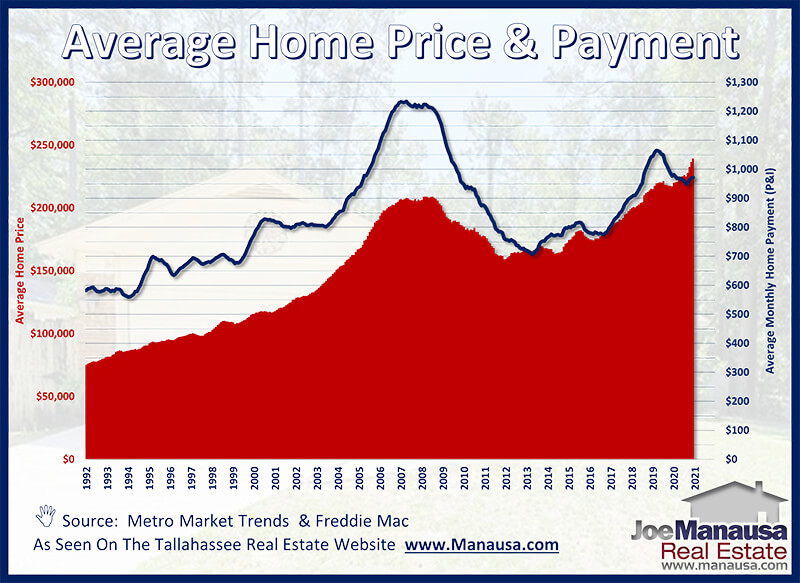 The graph above plots the average home price in red (measured on the left vertical axis) and the corresponding average mortgage payment in blue (right vertical axis). If there were not such a thing as housing market cycles and mortgage interest rate fluctuations, we would expect the blue line to rise with inflation over time.
Alas, both market cycles and interest rate changes are a fact of life. By plotting them together, we can see what the average homeowner in Tallahassee has paid (principal and interest) for the past thirty years.
So just how "affordable" are homes today, and what should we expect moving forward? Let's just say that what I share below means that you have been forewarned and advised on how to proceed!
Speak To A Local Expert!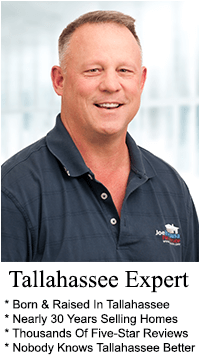 Joe was born and raised in Tallahassee and has been selling real estate for over 30 years.
Let us show you how to use our local knowledge of Tallahassee and the current state of the housing market to your advantage, ensuring you the best deal possible when selling or buying a home.
His past customers speak volumes (you will see Joe's past-customer reviews after you submit the form) on why you should hire Joe to be your real estate agent.
Talk to us today about helping you negotiate a better deal, with better terms, when selling or buying your home. You'll be glad you did!
What Home Affordability Analysis Tells Us
If you think that homes are expensive today, then you have not been viewing the real estate market through my crystal ball. Consider this:
From January 1991 through December 2020, the average home price went from $75K to $239K, an annual average change of 3.94%. During that same period of time, the average monthly mortgage payment moved from $582 to $971, an annual change of 1.72%. In fact, roughly 6 of the past 30 years have seen higher payments than what today's buyers are finding, so without even looking forward one should understand that this is not a bad time to buy a home.
But when we look forward, we see ample evidence that home affordability is about to be blown away.
Future Market Forces Impacting Home Affordability
If we plot a graph of market drivers, a simple yet startling conclusion becomes clear.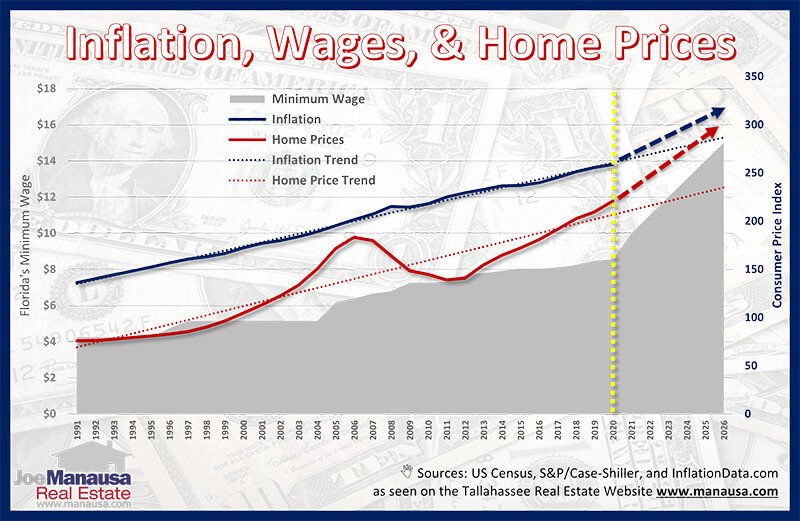 When viewing the graph, note that the long-term inflation trend (blue dotted line) is tracking with the long-term home price trend (red dotted line). The yellow dotted line represents where we are now.
The gray area explodes 75% higher starting this year, as the minimum wage increase has been voted upon and approved. This will have an impact on every cost-item in the construction of new homes with the likely exception of land and development.
Because of the huge increase in wage growth, I project the future rate of home price growth to be higher than what we have seen in the past. Furthermore, I believe we should expect inflation to grow as well, though this might not be relevant to real estate prices.
Mortgage Interest Rates Will Rise Again
The average mortgage interest rate over the past 50 years is just under 8%, down to well under 3% today and as high as 18.5% in 1981. In fact, were it not for the low rates of the past ten years, the long-term average would be closer to 9%.
While I would love to see low-interest rates last forever, that wishful thinking could lead me to great disappointment sometime in the next few (years?). Mortgage interest rates will rise again.
So let's take a look at that first graph again, but this time with a conservative estimate of increased prices and increased mortgage interest rates. While my time estimates are purely speculative, history tells us this will happen at some point relatively soon.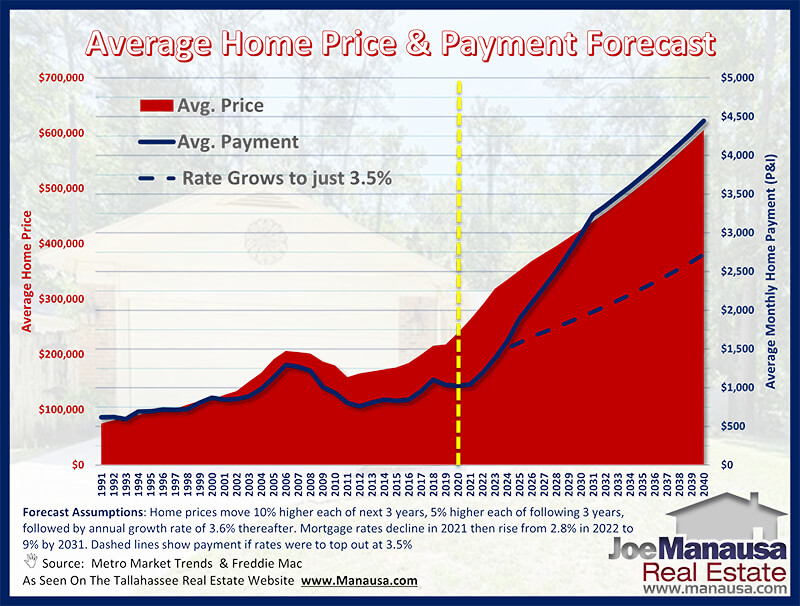 The graph above shows a forecast for future home prices (red) and the monthly mortgage payment buyers will get when buying these homes (solid blue). If you live with the hopes that the government will step in and keep mortgage interest rates low for the next 20 years, then you can just follow the blue dotted line.
Of course, there will be cycles that come and we won't see the perfectly straight lines that the graph produces, but from my experience, we will get where it's going. And I believe this is conservative.
Look at the solid blue line in the graph. Falling interest rates have kept mortgage payments (over the past ten years) at or lower than what people were paying in the 1990s. Do we really think this can last forever?
Look at home affordability today (yellow dashed line) and recognize why now is the best time to buy a home that you'll likely encounter ever again. Historic low mortgage interest rates, coupled with the relatively low price of homes gives today's buyer an advantage.
Even if you believe a market crash is in the future (near or far), do you really think we'll see interest rates drop below 2.5% to counter it? We didn't see that happen following the 2006 collapse.
Whether moving up or moving down, do it today so that you can lock in these crazy-low, history-changing mortgage interest rates, the "future you" will love you for it!
Your Local Expert In Tallahassee
When moving to, in, or from Tallahassee, you will fare better if you work with a local expert. We are here to help. If you have further questions on the Tallahassee real estate market, you can leave a comment below, give us a call at (850) 366-8917, or drop us a note and we'll give you the local information needed to ensure a successful, smooth transaction.
As a local born and raised in Tallahassee with a focus on customer service, I promise you'll find great success when working with Joe Manausa Real Estate, just as have our past customers. You can read thousands of their reviews reported on Google, Facebook and Zillow right here: Real Estate Agent Reviews Tallahassee.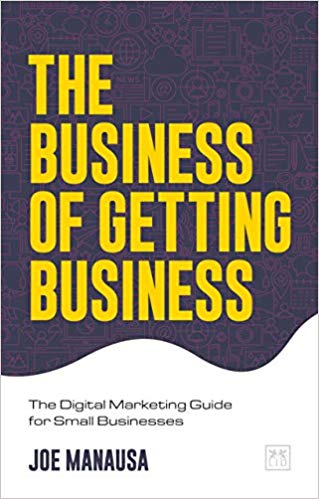 Have you heard about my new book "The Business of Getting Business?" It's a comprehensive guide for small businesses to help them make the move to digital. For those of us who want to survive and thrive in a world where large corporations are taking over, it is a must-read. It's also the perfect guide for how to sell a home in the digital age. You can find The Business Of Getting Business by clicking on any of the trusted retailers below.

Think all REALTORS are alike?
Read what people are saying about working with Joe Manausa Real Estate! You can see thousands of real customer reviews reported on Google, Facebook and Zillow at this link: CLICK HERE FOR REAL ESTATE AGENT REVIEWS.
I recently stumbled upon your latest Carrabelle listing. I must say, a home on Florida's Forgotten Coast is bound to be snatched up quickly. Best of luck with getting it under contract soon!

Posted by Barbara Corcoran on Thursday, June 15, 2023