High-End Homes Market Update April 2019
Posted by Joe Manausa on Monday, April 22, 2019 at 5:55 AM
By Joe Manausa / April 22, 2019
Comment
If you own a high-end home or perhaps wish to buy one, today's article will give you the background information that will help you make some informed decisions.
High-end homes are defined relative to their local market conditions, so today's report on these properties in Tallahassee uses existing home sales priced among the top 2.5% of the Tallahassee real estate market.
We focus on existing homes so as not to confused the going rate of new versus used homes, something that commonly misleads homeowners to improper pricing and marketing. Our report includes all high-end homes for sale in Tallahassee and then provides solid market data and analysis to help our readers succeed when transactionally involved in the housing market.
High-End Homes For Sale
High-End Homes - Current Market Conditions
The market for high-end homes is as hot as ever. The graph below shows all existing home sales in the Tallahassee MLS, priced above $600K, going back to 2003.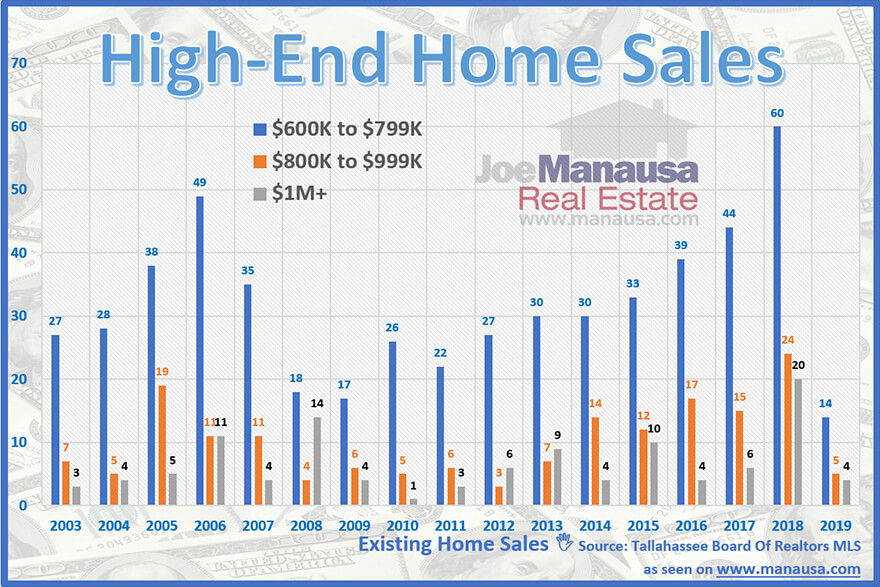 Home sales above $600K in the graph above are broken down to three distinct price ranges: $600K to $799K, $800K to $999K, and $1M+. 2018 was a record year in each category, and you might notice that $1M+ homes in 2019 have already achieved an average year (and this is just through Mid-April).
The high-end homes market is on fire. Low-interest rates continue to fuel demand, and so long as we continue to enjoy money being lent at 4%, the top of the market is going to thrive. But we do need to pay close attention to mortgage interest rates, as the higher they go, the smaller the buyer pool becomes for high-end homes.
How To Sell A High-End Home
Despite strong demand from buyers, the high-end homes market remains awash with too much supply. There are still far more sellers than buyers at the very top of the market. Even as the majority of home sellers in Tallahassee enjoy a sellers' market, high-end home sellers are still whittling away at the inventory and also face competition from new home builders.
To get a high-end home sold fast and for top dollar, homeowners should select the agent with the greatest marketing reach. The pool of high-end buyers is not so vast, and to get the most money possible, high-end sellers need to have multiple buyers competing for their homes.
Is Your Agent Too Broke To Be Your Broker?
Most Real Estate Agents Have No Marketing Budget
The average real estate agent in Tallahassee will only sell five homes this year, and more than half will sell two or fewer. This means they do not earn enough money to spend the significant amount it takes to attract MANY buyers to your home.
They certainly cannot spend the type of money needed each day to promote your home and generate the buzz you need to attract MULTIPLE buyers.
We are effective. And we spend more money each month marketing our listings than most agents earn in a year.
Let us show you how we can get your home sold for MORE MONEY than anybody else in the market!
Contact Joe to start your home selling preparation, you'll be glad you did!
If you are being told that the high-end market takes time, then you need to seek another opinion (soon). The graph above does not lie, the high-end market is better than it has ever been, but it is being buoyed by low mortgage interest rates that could rise at any time.
Roughly one of every ten high-end homes are selling each month, so that means that nine of every ten are failing to sell. Whether you want advice on which of the ten you should buy, or how to be the one of ten that sells, we want to interview for the job of being your Realtor.
Please take the time to check us out, you'll be glad that you did. Here's what thousands of our past customers reported on Google, Facebook and Zillow: http://www.manausa.com/testimonials.
Noto Recommends You Read Joe's Book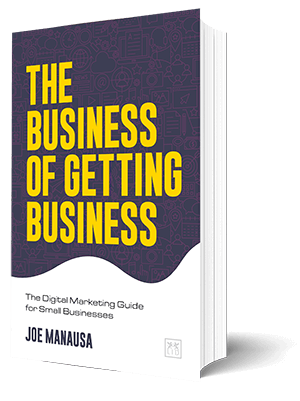 "Location, location, location' is no longer a competitive advantage. Digital marketing and going direct to consumer have made all geographical boundaries obsolete. The Business of Getting Business is a must-read modern-day survival guide for any local business to get to the next decade. Local businesses are on death ground.
They can either take a stand and re-invent themselves by embracing the digital frontier and have a chance to survive the overwhelming odds of digital direct-to-consumer capabilities that have erased all local and national business distinctions, or they can choose business as usual and accept certain death.
The Business of Getting Business is the critical survival guide for those that choose to dig in and fight."
– Anthony Noto, CEO, SoFi and former COO, Twitter
Get the book that explains it all, in a manner that is understanding to all, even technology neophytes. It's available on Amazon, a trusted source for consumers.