Hampton Creek Listings And Home Sales Report August 2022
Posted by Joe Manausa on Tuesday, August 23, 2022 at 5:55 AM
By Joe Manausa / August 23, 2022
Comment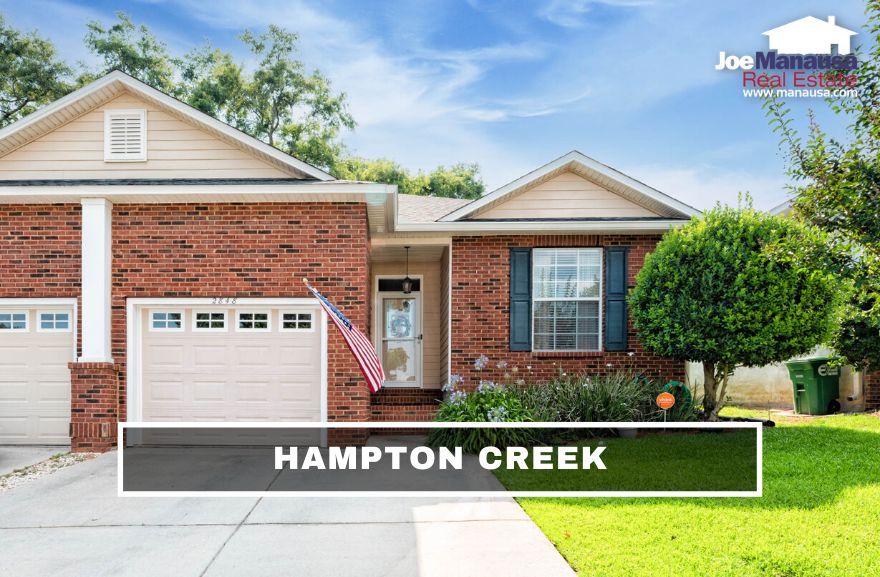 Hampton Creek residents tell us they love this neighborhood because of its relatively small size, excellent walkability, and its pet-friendly atmosphere.
Located off Apalachee Parkway and right down the street from the Capital Circle SE intersection, Hampton Creek residents enjoy quick and easy access to downtown Tallahassee.
Homes For Sale In Hampton Creek
Under Contract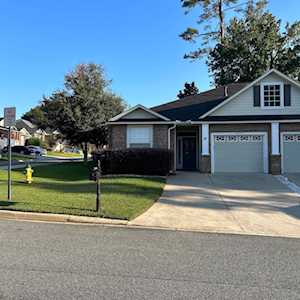 5430 Hampton Hill Circle
Tallahassee, FL 32311
Hampton Creek Schools
Hampton Creek is zoned for the following Leon County public schools:
The remaining report shows graphs that include the long-term average home price trends, value trends, and size trends of homes sold in Hampton Creek and finishes with a table of ALL closed home sales going back to the first year that homes went on the market here (2005).
For each of the three graphs utilized in this report, we plot the number of closed home sales for each year (red columns, measured on the left vertical axis), and an important real estate trend shown in blue (measured on the right vertical axis).
It is important to note that the narrative contained below is for sales through December for all previous years but through three weeks of August in 2022. The graphs and the closed sales table will be continuously updated in the future (meaning bookmark this page if you always want to know the current status of homes in Hampton Creek).
Hampton Creek Home Prices
The average home price in Hampton Creek has risen just over 13% thus far in 2022, setting a new all-time high annual average for the first time since 2006.
Currently, there are three homes for sale in Hampton Creek, and two are already under contract with buyers.
Hampton Creek Home Values
The average home value in Hampton Creek has risen 17% in fewer than eight full months in 2022 and an astounding 49% since the start of 2019.
The average value of a home sold in Hampton Creek thus far in 2022 is $179 per square foot.
Get Our Free Market Update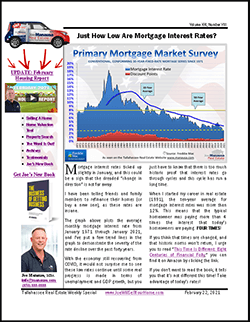 Other buyers, sellers, lenders, and real estate agents have this critical information, and now you can too!
Get immediate access to our most recent newsletter.
Let more than 30 years of experience work for you with charts, graphs, and analysis of the Tallahassee housing market.
Each Monday morning we send out a simple, one-page report that provides a snapshot of the Tallahassee housing market. It only takes 2 minutes to read, but it gives you better market intelligence than most real estate agents possess. Just tell us where to send it below!
Hampton Creek Home Sizes
The average size of the homes sold in Hampton Creek typically falls in the range of 1,200 to 1,500 square feet, and this year has been no different.
The seven homes sold thus far in 2022 were measured at an average size of 1,319 square feet.
Hampton Creek Home Sales
The following list shows more than 440 home sales in Hampton Creek going back to the very first one which sold in 2005.
| Address | Price | Price/SQF | Closing Date | Year Built | SQF | Sale Type |
| --- | --- | --- | --- | --- | --- | --- |
| 5030 Hampton Ridge Avenue | $235,000 | $203 | 2023-09-25 | 2010 | 1,160 | Resale |
| 5506 Hampton Woods Way | $250,000 | $176 | 2023-07-19 | 2005 | 1,418 | Resale |
| 5543 Hampton Woods Way | $290,000 | $185 | 2023-06-27 | 2006 | 1,571 | Resale |
| 5562 Hampton Hills Circle | $277,000 | $194 | 2023-06-16 | 2006 | 1,430 | Resale |
| 5613 Hampton Hill Circle | $254,000 | $219 | 2023-06-13 | 2007 | 1,160 | Resale |
| 2848 Hampton Meadow Drive | $264,900 | $215 | 2023-06-01 | 2007 | 1,231 | Resale |
| 5050 Hampton Ridge Avenue | $275,000 | $174 | 2023-04-27 | 2007 | 1,578 | Resale |
| 5456 Hampton Hill Circle | $230,000 | $164 | 2023-04-26 | 2007 | 1,402 | Resale |
| 2878 Hampton Meadow Drive | $245,000 | $199 | 2023-02-10 | 2010 | 1,231 | Resale |
| 2876 Hampton Meadow Drive | $240,000 | $195 | 2022-12-16 | 2009 | 1,231 | Resale |
| 5445 Hampton Hill Circle | $239,000 | $169 | 2022-11-17 | 2006 | 1,418 | Resale |
| 5524 Hampton Woods Way | $250,000 | $178 | 2022-10-05 | 2006 | 1,402 | Resale |
| 5579 Hampton Hill Circle | $255,000 | $148 | 2022-09-23 | 2006 | 1,722 | Resale |
| 2836 Hampton Meadow Drive | $245,000 | $199 | 2022-08-31 | 2007 | 1,231 | Resale |
| 5613 Hampton Hill Circle | $220,000 | $190 | 2022-07-18 | 2007 | 1,160 | Resale |
| 5515 Hampton Woods Way | $231,000 | $163 | 2022-07-06 | 2005 | 1,418 | Resale |
| 2848 Hampton Meadow Drive | $243,000 | $197 | 2022-06-27 | 2007 | 1,231 | Resale |
| 5542 Hampton Woods Way | $310,000 | $182 | 2022-06-03 | 2006 | 1,706 | Resale |
| 5505 Hampton Oak Place | $210,000 | $181 | 2022-04-15 | 2007 | 1,160 | Resale |
| 5503 Hampton Oak Place | $206,600 | $178 | 2022-03-21 | 2007 | 1,160 | Resale |
| 5434 Hampton Hill Circle | $225,000 | $160 | 2022-02-03 | 2006 | 1,402 | Resale |
| 5582 Hampton Hill Circle | $269,900 | $172 | 2021-12-17 | 2006 | 1,571 | Resale |
| 5455 Hampton Hill Circle | $209,500 | $149 | 2021-12-15 | 2006 | 1,402 | Resale |
| 5509 Hampton Oak Place | $190,000 | $164 | 2021-11-30 | 2007 | 1,160 | Resale |
| 5028 Hampton Ridge Avenue | $190,400 | $164 | 2021-11-19 | 2007 | 1,160 | Resale |
| 5539 Hampton Woods Way | $269,900 | $157 | 2021-11-16 | 2006 | 1,722 | Resale |
| 5053 Hampton Ridge Avenue | $250,000 | $159 | 2021-11-01 | 2007 | 1,571 | Resale |
| 2898 Hampton Meadow Drive | $224,000 | $182 | 2021-10-14 | 2012 | 1,231 | Resale |
| 5521 Hampton Woods Way | $207,500 | $146 | 2021-09-30 | 2005 | 1,418 | Resale |
| 5440 Hampton Hill Circle | $206,000 | $145 | 2021-09-28 | 2006 | 1,418 | Resale |
| 2870 Hampton Meadow Drive | $207,000 | $168 | 2021-09-15 | 2009 | 1,231 | Resale |
| 5611 Hampton Hill Circle | $190,000 | $164 | 2021-09-08 | 2007 | 1,160 | Resale |
| 2860 Hampton Meadow Drive | $205,000 | $167 | 2021-08-25 | 2008 | 1,231 | Resale |
| 5048 Hampton Ridge Avenue | $260,800 | $153 | 2021-08-18 | 2006 | 1,706 | Resale |
| 5516 Hampton Woods Way | $220,000 | $157 | 2021-08-17 | 2005 | 1,402 | Resale |
| 5524 Hampton Woods Way | $210,000 | $150 | 2021-08-17 | 2006 | 1,402 | Resale |
| 5043 Hampton Ridge Avenue | $200,000 | $144 | 2021-08-09 | 2005 | 1,390 | Resale |
| 5585 Hampton Hill Cir | $180,000 | $104 | 2021-07-29 | 2006 | 1,722 | Resale |
| 2882 Hampton Meadow Drive | $197,500 | $160 | 2021-07-28 | 2010 | 1,231 | Resale |
| 5527 Hampton Woods Way | $212,500 | $152 | 2021-07-09 | 2006 | 1,402 | Resale |
| 2868 Hampton Meadows Drive | $206,000 | $153 | 2021-07-07 | 2008 | 1,343 | Resale |
| 5501 Hampton Oak Place | $180,000 | $155 | 2021-06-28 | 2006 | 1,160 | Resale |
| 5564 Hampton Hill Circle | $260,000 | $165 | 2021-06-14 | 2006 | 1,578 | Resale |
| 5505 Hampton Woods Way | $191,000 | $136 | 2021-05-21 | 2005 | 1,402 | Resale |
| 5581 Hampton Hill Circle | $236,000 | $150 | 2021-05-13 | 2006 | 1,578 | Resale |
| 2846 Hampton Meadow Drive | $190,500 | $155 | 2021-05-03 | 2007 | 1,231 | Resale |
| 5435 Hampton Hill Circle | $205,700 | $145 | 2021-04-30 | 2006 | 1,418 | Resale |
| 5584 Hampton Hill Circle | $225,000 | $161 | 2021-03-19 | 2006 | 1,401 | Resale |
| 5522 Hampton Woods Way | $203,000 | $143 | 2021-02-05 | 2005 | 1,418 | Resale |
| 5509 Hampton Woods Way | $195,250 | $138 | 2021-02-05 | 2005 | 1,418 | Resale |
| 5517 Hampton Woods Way | $185,000 | $130 | 2021-01-25 | 2005 | 1,418 | Resale |
| 5511 Hampton Oak Place | $169,900 | $146 | 2021-01-04 | 2007 | 1,160 | Resale |
| 5021 Hampton Ridge Avenue | $193,500 | $136 | 2020-12-31 | 2005 | 1,418 | Resale |
| 2900 Hampton Meadow Drive | $189,000 | $154 | 2020-12-14 | 2012 | 1,231 | Resale |
| 5602 Hampton Hill Circle | $178,900 | $145 | 2020-10-23 | 2010 | 1,231 | Resale |
| 5457 Hampton Hill Circle | $179,000 | $127 | 2020-10-05 | 2006 | 1,404 | Resale |
| 5443 Hampton Hill Circle | $182,000 | $128 | 2020-10-02 | 2006 | 1,418 | Resale |
| 5547 Hampton Woods Way | $216,000 | $119 | 2020-09-25 | 2006 | 1,817 | Resale |
| 5454 Hampton Hill Circle | $185,900 | $133 | 2020-08-20 | 2007 | 1,402 | Resale |
| 5610 Hampton Hill Circle | $175,000 | $142 | 2020-08-05 | 2011 | 1,231 | Resale |
| 5566 Hampton Hill Circle | $220,500 | $128 | 2020-07-31 | 2006 | 1,722 | Resale |
| 5522 Hampton Oak Place | $162,000 | $140 | 2020-07-21 | 2007 | 1,160 | Resale |
| 5436 Hampton Hill Circle | $189,000 | $135 | 2020-07-17 | 2006 | 1,402 | Resale |
| 2890 Hampton Meadow Drive | $182,900 | $149 | 2020-06-12 | 2012 | 1,231 | Resale |
| 2894 Hampton Meadow Drive | $177,900 | $145 | 2020-05-15 | 2012 | 1,231 | Resale |
| 2886 Hampton Meadow Dr | $176,900 | $143 | 2020-04-03 | 2012 | 1,231 | Resale |
| 5610 Hampton Hill Cir | $175,000 | $142 | 2020-03-27 | 2011 | 1,231 | Resale |
| 2834 Hampton Meadow Drive | $165,000 | $134 | 2020-03-25 | 2007 | 1,231 | Resale |
| 5603 Hampton Hill Circle | $165,000 | $142 | 2020-03-24 | 2007 | 1,160 | Resale |
| 5060 Hampton Ridge Avenue | $210,000 | $134 | 2020-03-16 | 2007 | 1,571 | Resale |
| 5510 Hampton Woods Way | $174,150 | $123 | 2020-02-21 | 2005 | 1,418 | Resale |
| 2878 Hampton Meadow Drive | $175,000 | $142 | 2020-01-31 | 2010 | 1,231 | Resale |
| 5598 Hampton Hill Circle | $174,900 | $142 | 2020-01-29 | 2009 | 1,231 | Resale |
| 5014 Hampton Ridge Avenue | $161,000 | $139 | 2020-01-19 | 2007 | 1,160 | Resale |
| 5513 Hampton Woods Way | $176,500 | $124 | 2019-12-20 | 2005 | 1,418 | Resale |
| 5572 Hampton Hill Circle | $228,000 | $125 | 2019-12-05 | 2006 | 1,817 | Resale |
| 5451 Hampton Hill Circle | $175,500 | $124 | 2019-11-27 | 2006 | 1,418 | Resale |
| 5501 Hampton Oak Pl | $50,000 | $43 | 2019-11-15 | 2007 | 1,160 | Resale |
| 5017 Hampton Ridge Avenue | $172,000 | $123 | 2019-11-13 | 2005 | 1,402 | Resale |
| 5054 Hampton Ridge Avenue | $208,000 | $121 | 2019-11-13 | 2006 | 1,722 | Resale |
| 5452 Hampton Hill Circle | $184,000 | $130 | 2019-10-11 | 2007 | 1,418 | Resale |
| 5052 Hampton Ridge Ave | $209,000 | $123 | 2019-10-04 | 2007 | 1,706 | Resale |
| 5514 Hampton Woods Way | $177,000 | $126 | 2019-10-02 | 2005 | 1,402 | Resale |
| 5030 Hampton Ridge Avenue | $165,000 | $142 | 2019-08-16 | 2010 | 1,160 | Resale |
| 5538 Hampton Woods Way | $206,000 | $119 | 2019-08-08 | 2005 | 1,725 | Resale |
| 5431 Hampton Hill Circle | $177,500 | $127 | 2019-07-22 | 2006 | 1,402 | Resale |
| 5512 Hampton Woods Way | $158,200 | $112 | 2019-07-15 | 2005 | 1,418 | Resale |
| 5509 Hampton Oak Place | $153,000 | $132 | 2019-06-21 | 2007 | 1,160 | Resale |
| 5516 Hampton Woods Way | $177,000 | $126 | 2019-06-05 | 2005 | 1,402 | Resale |
| 5526 Hampton Woods Way | $170,000 | $120 | 2019-05-28 | 2007 | 1,418 | Resale |
| 5504 Hampton Woods Way | $157,000 | $111 | 2019-04-30 | 2005 | 1,418 | Resale |
| 5520 Hampton Oak Place | $151,600 | $131 | 2019-04-01 | 2007 | 1,160 | Resale |
| 5057 Hampton Ridge Avenue | $192,000 | $112 | 2019-03-22 | 2005 | 1,708 | Resale |
| 5604 Hampton Hill Circle | $165,000 | $134 | 2018-12-21 | 2010 | 1,231 | Resale |
| 5039 Hampton Ridge Ave | $157,000 | $135 | 2018-12-07 | 2013 | 1,160 | Resale |
| 5064 Hampton Ridge Avenue | $205,000 | $130 | 2018-10-22 | 2007 | 1,571 | Resale |
| 2864 Hampton Meadow Drive | $165,000 | $134 | 2018-10-16 | 2008 | 1,231 | Resale |
| 2854 Hampton Meadow Drive | $165,000 | $134 | 2018-08-31 | 2008 | 1,231 | Resale |
| 5062 Hampton Ridge Avenue | $216,900 | $126 | 2018-08-22 | 2007 | 1,722 | Resale |
| 5043 Hampton Ridge Ave | $163,500 | $118 | 2018-08-17 | 2005 | 1,390 | Resale |
| 5590 Hampton Hill Circle | $165,000 | $134 | 2018-08-10 | 2008 | 1,231 | Resale |
| 5592 Hampton Hill Circle | $169,000 | $137 | 2018-08-08 | 2007 | 1,231 | Resale |
| 5539 Hampton Woods Way | $195,000 | $113 | 2018-07-09 | 2006 | 1,722 | Resale |
| 5559 Hampton Woods Way | $219,000 | $128 | 2018-06-27 | 2005 | 1,708 | Resale |
| 5542 Hampton Woods Way | $195,000 | $114 | 2018-06-20 | 2006 | 1,706 | Resale |
| 5433 Hampton Hill Circle | $159,000 | $113 | 2018-06-15 | 2006 | 1,402 | Resale |
| 2876 Hampton Meadow Drive | $167,000 | $136 | 2018-05-30 | 2009 | 1,231 | Resale |
| 5583 Hampton Hill Circle | $170,000 | $121 | 2018-05-30 | 2006 | 1,403 | Resale |
| 5569 Hampton Hill Circle | $206,000 | $131 | 2018-05-22 | 2006 | 1,577 | Resale |
| 5010 Hampton Ridge Avenue | $147,000 | $127 | 2018-05-15 | 2007 | 1,160 | Resale |
| 5042 Hampton Ridge Avenue | $158,500 | $129 | 2018-05-10 | 2007 | 1,231 | Resale |
| 5509 Hampton Woods Way | $165,000 | $118 | 2018-03-09 | 2005 | 1,399 | Resale |
| 5609 Hampton Hill Circle | $152,000 | $131 | 2018-03-09 | 2007 | 1,160 | Resale |
| 5019 Hampton Ridge Ave | $154,000 | $110 | 2018-03-02 | 2005 | 1,402 | Resale |
| 5546 Hampton Woods Way | $198,000 | $119 | 2018-03-01 | 2005 | 1,668 | Resale |
| 2872 Hampton Meadow Dr | $156,000 | $126 | 2018-02-16 | 2009 | 1,231 | Resale |
| 5019 Hampton Ridge Ave | $154,000 | $109 | 2018-02-07 | 2005 | 1,402 | Resale |
| 5457 Hampton Hill Cir | $164,000 | $117 | 2018-02-02 | 2006 | 1,402 | Resale |
| 5562 Hampton Hill Circle | $204,000 | $143 | 2018-01-31 | 2006 | 1,430 | Resale |
| 5533 Hampton Woods Way | $157,595 | $111 | 2018-01-31 | 2005 | 1,421 | Resale |
| 5593 Hampton Hill Circle | $150,000 | $129 | 2018-01-11 | 2007 | 1,160 | Resale |
| 5511 Hampton Woods Way | $149,000 | $105 | 2018-01-05 | 2005 | 1,418 | Resale |
| 5545 Hampton Woods Way | $198,500 | $116 | 2017-12-29 | 2006 | 1,706 | Resale |
| 5602 Hampton Hill Cr. | $158,000 | $128 | 2017-12-21 | 2010 | 1,231 | Resale |
| 5586 Hampton Hill Circle | $205,000 | $119 | 2017-11-01 | 2006 | 1,722 | Resale |
| 2844 Hampton Meadow Drive | $161,000 | $131 | 2017-10-09 | 2007 | 1,228 | Resale |
| 5528 Hampton Woods Wy. | $153,000 | $108 | 2017-09-15 | 2007 | 1,418 | Resale |
| 5430 Hampton Hill Circle | $159,900 | $113 | 2017-09-13 | 2006 | 1,418 | Resale |
| 5573 Hampton Hill Cir | $207,900 | $113 | 2017-08-31 | 2007 | 1,832 | Resale |
| 5057 Hampton Ridge Avenue | $187,000 | $109 | 2017-08-28 | 2005 | 1,708 | Resale |
| 5507 Hampton Woods Way | $149,000 | $106 | 2017-08-21 | 2005 | 1,402 | Resale |
| 5543 Hampton Woods Way | $195,000 | $124 | 2017-07-27 | 2006 | 1,571 | Resale |
| 5509 Hampton Oak Place | $149,900 | $135 | 2017-07-24 | 2007 | 1,114 | Resale |
| 2868 Hampton Meadow Drive | $156,700 | $127 | 2017-07-19 | 2008 | 1,231 | Resale |
| 5564 Hampton Hill Circle | $199,000 | $126 | 2017-06-16 | 2006 | 1,578 | Resale |
| 5036 Hampton Ridge Ave Avenue | $155,900 | $134 | 2017-06-07 | 2011 | 1,160 | Resale |
| 5023 Hampton Ridge Avenue | $151,500 | $107 | 2017-06-05 | 2005 | 1,418 | Resale |
| 5030 Hampton Ridge Ave | $149,900 | $129 | 2017-04-20 | 2010 | 1,160 | Resale |
| 5514 Hampton Oak Place | $140,000 | $121 | 2017-03-17 | 2007 | 1,160 | Resale |
| 5439 Hampton Hill Cir | $162,000 | $116 | 2017-02-27 | 2006 | 1,402 | Resale |
| 5039 Hampton Ridge Avenue | $155,000 | $134 | 2017-02-10 | 2013 | 1,160 | Resale |
| 5450 Hampton Hill Circle | $160,500 | $113 | 2017-01-17 | 2007 | 1,418 | Resale |
| 5578 Hampton Hill Circle Circle | $218,000 | $127 | 2016-12-30 | 2006 | 1,722 | Resale |
| 5525 Hampton Woods Way | $159,000 | $113 | 2016-12-09 | 2006 | 1,402 | Resale |
| 5607 Hampton Hill Circle | $140,000 | $121 | 2016-11-29 | 2007 | 1,160 | Resale |
| 5566 Hampton Hill | $205,000 | $119 | 2016-11-21 | 2006 | 1,722 | Resale |
| 5439 Hampton Hill Circle | $123,000 | $88 | 2016-10-21 | 2006 | 1,402 | Resale |
| 5437 Hampton Hill Circle | $159,900 | $113 | 2016-09-15 | 2006 | 1,418 | Resale |
| 5596 Hampton Hill Circle | $145,000 | $118 | 2016-09-08 | 2005 | 1,231 | Resale |
| 5028 Hampton Ridge Ave | $140,000 | $121 | 2016-08-31 | 2008 | 1,160 | Resale |
| 5532 Hampton Woods Way | $205,000 | $105 | 2016-08-10 | 2005 | 1,956 | Resale |
| 5451 Hampton Hill Cir. | $157,000 | $111 | 2016-07-29 | 2006 | 1,418 | Resale |
| 5500 Hampton Oak Place | $136,000 | $117 | 2016-07-15 | 2006 | 1,160 | Resale |
| 5041 Hampton Ridge Avenue | $155,000 | $112 | 2016-07-07 | 2005 | 1,390 | Resale |
| 5038 Hampton Ridge Avenue | $144,500 | $130 | 2016-06-10 | 2011 | 1,114 | Resale |
| 5016 Hampton Ridge Avenue | $139,000 | $120 | 2016-05-27 | 2007 | 1,160 | Resale |
| 5056 Hampton Ridge Avenue | $181,000 | $115 | 2016-05-20 | 2007 | 1,578 | Resale |
| 5502 Hampton Woods Way | $135,095 | $95 | 2016-05-13 | 2005 | 1,418 | Resale |
| 5511 Hampton Oak Pl | $137,500 | $119 | 2016-05-09 | 2007 | 1,160 | Resale |
| 5522 Hampton Woods Way | $160,000 | $113 | 2016-05-05 | 2005 | 1,418 | Resale |
| 5516 Hampton Woods Way | $162,500 | $116 | 2016-04-29 | 2005 | 1,402 | Resale |
| 2886 Hampton Meadow Drive | $159,500 | $130 | 2016-04-29 | 2012 | 1,231 | Resale |
| 5444 Hampton Hill Cir | $147,000 | $104 | 2016-03-18 | 2006 | 1,418 | Resale |
| 5615 Hampton Hill Circle | $135,500 | $117 | 2016-02-29 | 2007 | 1,160 | Resale |
| 5434 Hampton Hill Circle | $166,500 | $119 | 2016-02-26 | 2006 | 1,402 | Resale |
| 5057 Hampton Ridge Avenue | $180,000 | $105 | 2016-02-17 | 2005 | 1,708 | Resale |
| 5014 Hampton Ridge Ave | $139,000 | $120 | 2015-12-31 | 2007 | 1,160 | Resale |
| 5020 Hampton Ridge Avenue | $135,000 | $116 | 2015-12-30 | 2007 | 1,160 | Resale |
| 5061 Hampton Ridge Avenue | $169,900 | $120 | 2015-12-01 | 2005 | 1,421 | Resale |
| 2900 Hampton Meadow Drive | $154,000 | $125 | 2015-10-19 | 2012 | 1,231 | Resale |
| 5441 Hampton Hill Cr. | $137,000 | $97 | 2015-09-28 | 2006 | 1,406 | Resale |
| 5020 Hampton Ridge Ave | $35,100 | $30 | 2015-09-01 | 2007 | 1,160 | Resale |
| 5594 Hampton Hill Circle | $155,000 | $126 | 2015-07-24 | 2008 | 1,228 | Resale |
| 5579 Hampton Hill Circle | $168,000 | $98 | 2015-06-11 | 2006 | 1,722 | Resale |
| 5030 Hampton Ridge Avenue | $142,000 | $122 | 2015-06-09 | 2010 | 1,160 | Resale |
| 5022 Hampton Ridge Avenue | $136,900 | $123 | 2015-05-29 | 2007 | 1,114 | Resale |
| 5031 Hampton Ridge Avenue | $130,000 | $92 | 2015-05-08 | 2005 | 1,418 | Resale |
| 5454 Hampton Hill Circle | $152,000 | $108 | 2015-04-30 | 2007 | 1,404 | Resale |
| 5518 Hampton Oak Place | $133,000 | $115 | 2015-03-31 | 2007 | 1,160 | Resale |
| 5572 Hampton Hill Cir | $185,000 | $102 | 2015-03-20 | 2006 | 1,817 | Resale |
| 5609 Hampton Hill Circle | $125,400 | $108 | 2015-03-18 | 2007 | 1,160 | Resale |
| 5610 Hampton Hill Cir | $150,000 | $122 | 2015-02-13 | 2011 | 1,231 | Resale |
| 5052 Hampton Ridge Ave | $174,000 | $102 | 2014-12-30 | 2007 | 1,706 | Resale |
| 5039 Hampton Ridge Ave | $147,000 | $127 | 2014-12-29 | 2013 | 1,160 | Resale |
| 5604 Hampton Hill Cir | $150,000 | $122 | 2014-12-29 | 2010 | 1,231 | Resale |
| 5024 Hampton Ridge Ave | $140,000 | $121 | 2014-11-25 | 2008 | 1,160 | Resale |
| 5430 Hampton Hill Cir | $122,900 | $87 | 2014-06-24 | 2006 | 1,418 | Resale |
| 5448 Hampton Hill Cir | $124,000 | $88 | 2014-05-30 | 2006 | 1,402 | Resale |
| 5043 Hampton Ridge Ave | $149,900 | $106 | 2014-05-30 | 2005 | 1,418 | Resale |
| 5612 Hampton Hill Cir | $145,000 | $118 | 2014-04-28 | 2011 | 1,231 | New |
| 5442 Hampton Hill Cir | $145,000 | $102 | 2014-04-18 | 2006 | 1,418 | Resale |
| 5522 Hampton Oak Pl | $140,000 | $121 | 2014-02-28 | 2007 | 1,160 | Resale |
| 2903 Hampton Meadow Dr | $155,000 | $126 | 2014-01-16 | 2012 | 1,231 | Resale |
| 5611 Hampton Hill Cir | $120,500 | $104 | 2013-11-26 | 2007 | 1,160 | Resale |
| 2886 Hampton Meadow Dr | $147,000 | $119 | 2013-11-25 | 2012 | 1,231 | New |
| 2900 Hampton Meadow Dr | $150,000 | $122 | 2013-10-29 | 2012 | 1,231 | Resale |
| 5453 Hampton Hill Cir | $160,000 | $113 | 2013-09-27 | 2006 | 1,418 | Resale |
| 2900 Hampton Meadow Dr | $150,000 | $122 | 2013-09-17 | 2012 | 1,231 | Resale |
| 5014 Hampton Ridge Ave | $129,900 | $112 | 2013-08-23 | 2007 | 1,160 | Resale |
| 5064 Hampton Ridge Ave | $172,000 | $109 | 2013-07-31 | 2007 | 1,571 | Resale |
| 2888 Hampton Meadow Dr | $144,900 | $118 | 2013-07-08 | 2012 | 1,231 | New |
| 2897 Hampton Meadow Dr | $153,500 | $125 | 2013-06-28 | 2013 | 1,231 | New |
| 2894 Hampton Meadow Dr | $145,000 | $118 | 2013-06-14 | 2013 | 1,231 | New |
| 2896 Hampton Meadow Dr | $145,000 | $118 | 2013-05-21 | 2013 | 1,231 | New |
| 2898 Hampton Meadow Dr | $144,900 | $118 | 2013-04-15 | 2012 | 1,231 | New |
| 5037 Hampton Ridge Ave | $135,000 | $116 | 2013-03-22 | 2013 | 1,160 | New |
| 5613 Hampton Hill Cir | $118,000 | $102 | 2013-03-22 | 2007 | 1,160 | Resale |
| 5039 Hampton Ridge Ave | $135,000 | $116 | 2013-03-07 | 2013 | 1,160 | New |
| 2892 Hampton Meadow Dr | $145,000 | $118 | 2013-03-05 | 2012 | 1,231 | New |
| 5065 Hampton Ridge Ave | $150,000 | $96 | 2013-01-17 | 2005 | 1,569 | Resale |
| 2890 Hampton Meadow Dr | $145,000 | $118 | 2012-12-07 | 2012 | 1,231 | New |
| 5584 Hampton Hill Cir | $155,000 | $111 | 2012-11-13 | 2006 | 1,401 | Resale |
| 5614 Hampton Hill Cir | $145,000 | $118 | 2012-10-18 | 2011 | 1,231 | New |
| 5519 Hampton Woods Way | $137,000 | $98 | 2012-09-21 | 2005 | 1,402 | Resale |
| 5510 Hampton Woods Way | $140,000 | $99 | 2012-08-31 | 2005 | 1,418 | Resale |
| 5518 Hampton Oak Pl | $119,900 | $103 | 2012-08-30 | 2007 | 1,160 | Resale |
| 5502 Hampton Oak Pl | $115,000 | $99 | 2012-08-29 | 2006 | 1,160 | Resale |
| 2901 Hampton Meadow Dr | $144,900 | $118 | 2012-08-24 | 2012 | 1,231 | New |
| 2903 Hampton Meadow Dr | $150,000 | $122 | 2012-08-22 | 2012 | 1,231 | New |
| 5569 Hampton Hill Cir | $140,000 | $89 | 2012-08-10 | 2006 | 1,571 | Resale |
| 5038 Hampton Ridge Ave | $135,000 | $116 | 2012-07-31 | 2011 | 1,160 | New |
| 5500 Hampton Oak Pl | $119,000 | $103 | 2012-07-09 | 2006 | 1,160 | Resale |
| 5040 Hampton Ridge Ave | $134,900 | $116 | 2012-07-02 | 2011 | 1,160 | New |
| 5580 Hampton Hill Cir | $175,000 | $102 | 2012-05-31 | 2006 | 1,722 | Resale |
| 2900 Hampton Meadow Dr | $145,000 | $118 | 2012-05-24 | 2012 | 1,231 | New |
| 5513 Hampton Woods Way | $141,000 | $99 | 2012-04-30 | 2005 | 1,418 | Resale |
| 5582 Hampton Hill Cir | $140,000 | $89 | 2012-04-09 | 2006 | 1,571 | Resale |
| 2882 Hampton Meadow Dr | $150,000 | $122 | 2012-03-16 | 2010 | 1,231 | New |
| 5580 Hampton Hill Cir | $240,000 | $139 | 2012-01-12 | 2006 | 1,722 | Resale |
| 5610 Hampton Hill Cir | $150,000 | $122 | 2011-12-12 | 2011 | 1,231 | New |
| 5576 Hampton Hill Cir | $147,000 | $105 | 2011-09-30 | 2006 | 1,401 | Resale |
| 5616 Hampton Hill Cir | $149,900 | $122 | 2011-09-28 | 2011 | 1,231 | New |
| 5036 Hampton Ridge Ave | $139,900 | $121 | 2011-09-23 | 2011 | 1,160 | New |
| 5065 Hampton Ridge Ave | $145,000 | $92 | 2011-09-12 | 2005 | 1,569 | Resale |
| 5431 Hampton Hill Cir | $136,000 | $97 | 2011-08-31 | 2006 | 1,404 | Resale |
| 5034 Hampton Ridge Ave | $139,900 | $121 | 2011-08-05 | 2011 | 1,160 | New |
| 2880 Hampton Meadow Dr | $150,000 | $122 | 2011-06-29 | 2010 | 1,231 | New |
| 5445 Hampton Hill Cir | $148,400 | $105 | 2011-05-31 | 2006 | 1,418 | Resale |
| 2884 Hampton Meadow Dr | $149,000 | $121 | 2011-05-02 | 2010 | 1,231 | New |
| 5032 Hampton Ridge Ave | $140,000 | $121 | 2011-03-15 | 2010 | 1,160 | New |
| 2872 Hampton Meadow Dr | $147,500 | $120 | 2011-03-11 | 2009 | 1,231 | Resale |
| 5030 Hampton Ridge Ave | $142,500 | $123 | 2011-02-15 | 2010 | 1,160 | New |
| 5062 Hampton Ridge Ave | $200,000 | $116 | 2010-12-20 | 2007 | 1,722 | New |
| 5023 Hampton Ridge Ave | $122,000 | $86 | 2010-12-14 | 2005 | 1,418 | Resale |
| Hampton Hill Cir | $160,000 | $114 | 2010-09-09 | 2010 | 1,404 | New |
| 5457 Hampton Hill Cir | $166,900 | $119 | 2010-08-31 | 2006 | 1,404 | Resale |
| 5042 Hampton Ridge Ave | $160,000 | $138 | 2010-08-27 | 2007 | 1,160 | New |
| 2848 Hampton Meadow Dr | $135,000 | $116 | 2010-08-13 | 2007 | 1,160 | Resale |
| 5438 Hampton Hill Cir | $140,000 | $99 | 2010-07-30 | 2006 | 1,418 | Resale |
| Hampton Hill Cir | $159,900 | $114 | 2010-07-30 | 2010 | 1,404 | New |
| 5453 Hampton Hill Cir | $160,000 | $113 | 2010-07-02 | 2006 | 1,418 | Resale |
| 5604 Hampton Hill Cir | $160,000 | $130 | 2010-05-28 | 2010 | 1,231 | New |
| 5522 Hampton Woods Way | $162,500 | $115 | 2010-05-26 | 2005 | 1,418 | Resale |
| 2878 Hampton Meadow Dr | $160,000 | $130 | 2010-04-20 | 2010 | 1,231 | New |
| 5443 Hampton Hill Cir | $144,000 | $102 | 2010-02-12 | 2006 | 1,418 | Resale |
| 2876 Hampton Meadow Dr | $160,000 | $130 | 2009-11-18 | 2009 | 1,231 | New |
| 5507 Hampton Oak Pl | $145,500 | $125 | 2009-11-13 | 2007 | 1,160 | Resale |
| 5544 Hampton Woods Way | $185,000 | $101 | 2009-11-03 | 2006 | 1,832 | Resale |
| 5598 Hampton Hill Cir | $167,000 | $136 | 2009-10-29 | 2009 | 1,231 | New |
| 2862 Hampton Meadow Dr | $160,000 | $130 | 2009-10-23 | 2008 | 1,231 | New |
| 2874 Hampton Meadow Dr | $160,000 | $130 | 2009-09-24 | 2009 | 1,231 | New |
| 5509 Hampton Oak Pl | $143,500 | $124 | 2009-09-04 | 2007 | 1,160 | Resale |
| 5600 Hampton Hill Cir | $166,000 | $135 | 2009-07-15 | 2009 | 1,231 | New |
| 5056 Hampton Ridge Ave | $200,000 | $127 | 2009-06-15 | 2007 | 1,578 | New |
| Hampton Hill Cir | $155,000 | $110 | 2009-05-29 | 2006 | 1,404 | Resale |
| 5574 Hampton Hill Cir | $214,000 | $124 | 2009-05-15 | 2006 | 1,722 | Resale |
| 2872 Hampton Meadow Dr | $160,000 | $130 | 2009-04-22 | 2009 | 1,231 | New |
| 2870 Hampton Meadow Dr | $160,000 | $130 | 2009-04-22 | 2009 | 1,231 | New |
| 5060 Hampton Ridge Ave | $200,000 | $127 | 2009-03-30 | 2007 | 1,571 | New |
| 5594 Hampton Hill Cir | $161,400 | $131 | 2009-01-30 | 2008 | 1,228 | New |
| 5058 Hampton Ridge Ave | $207,000 | $121 | 2008-12-29 | 2007 | 1,706 | New |
| 5596 Hampton Hill Cir | $166,600 | $135 | 2008-11-14 | 2008 | 1,231 | New |
| 5026 Hampton Ridge Ave | $156,000 | $134 | 2008-10-15 | 2008 | 1,160 | New |
| 2866 Hampton Meadow Dr | $169,900 | $138 | 2008-09-30 | 2008 | 1,231 | New |
| 2840 Hampton Meadow Dr | $160,000 | $130 | 2008-09-25 | 2007 | 1,231 | Resale |
| 5016 Hampton Ridge Ave | $156,000 | $134 | 2008-09-22 | 2007 | 1,160 | New |
| 5022 Hampton Ridge Ave | $155,000 | $134 | 2008-09-03 | 2008 | 1,160 | New |
| 5024 Hampton Ridge Ave | $156,000 | $134 | 2008-08-29 | 2008 | 1,160 | New |
| 2868 Hampton Meadow Dr | $170,000 | $138 | 2008-08-08 | 2008 | 1,231 | New |
| 2864 Hampton Meadow Dr | $175,100 | $142 | 2008-07-29 | 2008 | 1,231 | New |
| 5028 Hampton Ridge Ave | $155,000 | $134 | 2008-07-25 | 2008 | 1,160 | New |
| 5590 Hampton Hill Cir | $177,500 | $144 | 2008-06-25 | 2008 | 1,231 | New |
| 2858 Hampton Meadow Dr | $172,000 | $140 | 2008-05-07 | 2008 | 1,231 | New |
| 5592 Hampton Hill Cir | $177,500 | $144 | 2008-04-25 | 2008 | 1,231 | New |
| 5584 Hampton Hill Cir | $220,000 | $157 | 2008-04-23 | 2006 | 1,401 | Resale |
| 2854 Hampton Meadow Dr | $172,000 | $140 | 2008-03-28 | 2008 | 1,231 | New |
| 2856 Hampton Meadow Dr | $173,000 | $141 | 2008-03-14 | 2008 | 1,231 | New |
| 5586 Hampton Hill Cir | $233,000 | $135 | 2008-02-28 | 2006 | 1,722 | Resale |
| 5507 Hampton Woods Way | $183,000 | $130 | 2008-02-27 | 2005 | 1,404 | Resale |
| 5044 Hampton Ridge Ave | $170,000 | $138 | 2008-02-15 | 2007 | 1,231 | New |
| 5043 Hampton Ridge Ave | $185,000 | $130 | 2008-02-05 | 2005 | 1,418 | New |
| 2848 Hampton Meadow Dr | $173,000 | $149 | 2007-12-19 | 2007 | 1,160 | New |
| 5014 Hampton Ridge Ave | $160,000 | $138 | 2007-12-17 | 2007 | 1,160 | New |
| 2846 Hampton Meadow Dr | $170,000 | $138 | 2007-12-14 | 2007 | 1,231 | New |
| 2852 Hampton Meadow Dr | $170,000 | $138 | 2007-12-13 | 2007 | 1,231 | New |
| 5051 Hampton Ridge Ave | $244,500 | $149 | 2007-12-12 | 2005 | 1,640 | New |
| 5442 Hampton Hill Cir | $190,000 | $134 | 2007-12-12 | 2006 | 1,418 | Resale |
| 5020 Hampton Ridge Ave | $164,000 | $141 | 2007-11-29 | 2007 | 1,160 | New |
| 2844 Hampton Meadow Dr | $169,500 | $138 | 2007-11-29 | 2007 | 1,231 | New |
| 5018 Hampton Ridge Ave | $163,500 | $141 | 2007-11-15 | 2007 | 1,160 | New |
| 2838 Hampton Meadow Dr | $170,000 | $138 | 2007-11-02 | 2007 | 1,231 | New |
| 2840 Hampton Meadow Dr | $169,500 | $138 | 2007-10-29 | 2007 | 1,231 | New |
| 5010 Hampton Ridge Ave | $165,500 | $143 | 2007-10-05 | 2007 | 1,160 | New |
| 5048 Hampton Ridge Ave | $233,000 | $137 | 2007-09-28 | 2006 | 1,706 | New |
| 2842 Hampton Meadow Dr | $170,000 | $138 | 2007-09-24 | 2007 | 1,231 | New |
| 5012 Hampton Ridge Ave | $163,500 | $141 | 2007-09-14 | 2007 | 1,160 | New |
| 5547 Hampton Woods Way | $243,000 | $134 | 2007-08-31 | 2006 | 1,817 | New |
| 5053 Hampton Ridge Ave | $209,000 | $133 | 2007-08-30 | 2007 | 1,571 | New |
| 2836 Hampton Meadow Dr | $170,600 | $139 | 2007-08-27 | 2007 | 1,231 | New |
| 2832 Hampton Meadow Dr | $175,900 | $143 | 2007-08-24 | 2007 | 1,231 | New |
| 5526 Hampton Woods Way | $204,100 | $144 | 2007-08-17 | 2007 | 1,418 | New |
| 5452 Hampton Hill Cir | $192,000 | $135 | 2007-08-13 | 2007 | 1,418 | New |
| 2834 Hampton Meadow Dr | $170,000 | $138 | 2007-08-08 | 2007 | 1,231 | New |
| 5601 Hampton Hill Cir | $164,500 | $142 | 2007-07-27 | 2007 | 1,160 | New |
| 5591 Hampton Hill Cir | $161,300 | $139 | 2007-07-26 | 2007 | 1,160 | New |
| 5603 Hampton Hill Cir | $156,600 | $135 | 2007-07-23 | 2007 | 1,160 | New |
| 5593 Hampton Hill Cir | $156,000 | $134 | 2007-07-20 | 2007 | 1,160 | New |
| 5611 Hampton Hill Cir | $162,100 | $140 | 2007-07-19 | 2007 | 1,160 | New |
| 5456 Hampton Hill Cir | $194,000 | $138 | 2007-07-06 | 2007 | 1,402 | New |
| 5566 Hampton Hill Cir | $255,000 | $148 | 2007-07-03 | 2006 | 1,722 | Resale |
| 5454 Hampton Hill Cir | $200,500 | $143 | 2007-06-22 | 2007 | 1,402 | New |
| 5609 Hampton Hill Cir | $163,700 | $141 | 2007-06-15 | 2007 | 1,160 | New |
| 5613 Hampton Hill Cir | $165,500 | $143 | 2007-06-11 | 2007 | 1,160 | New |
| 5512 Hampton Oak Pl | $165,900 | $143 | 2007-05-31 | 2007 | 1,160 | New |
| 5605 Hampton Hill Cir | $162,000 | $140 | 2007-05-25 | 2007 | 1,160 | New |
| 5607 Hampton Hill Cir | $156,600 | $135 | 2007-05-24 | 2007 | 1,160 | New |
| 5535 Hampton Woods Way | $225,000 | $143 | 2007-05-24 | 2005 | 1,569 | Resale |
| 5615 Hampton Hill Cir | $157,400 | $136 | 2007-05-23 | 2007 | 1,160 | New |
| 5050 Hampton Ridge Ave | $225,500 | $143 | 2007-04-30 | 2007 | 1,578 | New |
| 5518 Hampton Oak Pl | $160,500 | $138 | 2007-04-27 | 2007 | 1,160 | New |
| 5499 Hampton Oak Pl | $160,000 | $138 | 2007-04-20 | 2007 | 1,160 | New |
| 5450 Hampton Hill Cir | $199,900 | $141 | 2007-04-11 | 2007 | 1,418 | New |
| 5514 Hampton Oak Pl | $152,000 | $131 | 2007-03-30 | 2007 | 1,160 | New |
| 5507 Hampton Oak Pl | $163,300 | $141 | 2007-03-22 | 2007 | 1,160 | New |
| 5509 Hampton Oak Pl | $154,500 | $133 | 2007-03-16 | 2007 | 1,160 | New |
| 5439 Hampton Hill Cir | $188,000 | $134 | 2007-03-09 | 2006 | 1,402 | New |
| 5505 Hampton Oak Pl | $163,900 | $141 | 2007-03-07 | 2007 | 1,160 | New |
| 5584 Hampton Hill Cir | $220,800 | $158 | 2007-03-05 | 2006 | 1,401 | New |
| 5448 Hampton Hill Cir | $184,000 | $131 | 2007-03-02 | 2006 | 1,402 | New |
| 5562 Hampton Hill Cir | $217,300 | $155 | 2007-02-28 | 2006 | 1,401 | New |
| 5440 Hampton Hill Cir | $189,700 | $134 | 2007-02-26 | 2006 | 1,418 | New |
| 5436 Hampton Hill Cir | $184,800 | $132 | 2007-02-16 | 2006 | 1,402 | New |
| 5503 Hampton Oak Pl | $164,500 | $142 | 2007-02-15 | 2007 | 1,160 | New |
| 5511 Hampton Oak Pl | $159,500 | $138 | 2007-02-09 | 2007 | 1,160 | New |
| 5513 Hampton Oak Pl | $158,500 | $137 | 2007-01-31 | 2007 | 1,160 | New |
| 5501 Hampton Oak Pl | $154,000 | $133 | 2007-01-31 | 2007 | 1,160 | New |
| 5522 Hampton Oak Pl | $166,800 | $144 | 2007-01-31 | 2007 | 1,160 | New |
| 5434 Hampton Hill Cir | $196,500 | $140 | 2007-01-26 | 2006 | 1,402 | New |
| 5516 Hampton Oak Pl | $158,300 | $136 | 2007-01-10 | 2007 | 1,160 | New |
| 5520 Hampton Oak Pl | $157,500 | $136 | 2007-01-04 | 2007 | 1,160 | New |
| 5583 Hampton Hill Cir | $220,000 | $157 | 2006-12-27 | 2006 | 1,401 | New |
| 5054 Hampton Ridge Ave | $252,500 | $147 | 2006-12-13 | 2006 | 1,722 | New |
| 5510 Hampton Oak Pl | $150,000 | $129 | 2006-11-21 | 2006 | 1,160 | New |
| 5508 Hampton Oak Pl | $157,500 | $136 | 2006-11-21 | 2006 | 1,160 | New |
| 5544 Hampton Woods Way | $255,300 | $139 | 2006-11-17 | 2006 | 1,832 | New |
| 5502 Hampton Oak Pl | $150,000 | $129 | 2006-11-08 | 2006 | 1,160 | New |
| 5504 Hampton Oak Pl | $161,500 | $139 | 2006-11-07 | 2006 | 1,160 | New |
| 5445 Hampton Hill Cir | $199,500 | $141 | 2006-10-27 | 2006 | 1,418 | New |
| 5447 Hampton Hill Cir | $189,000 | $133 | 2006-10-27 | 2006 | 1,418 | New |
| 5511 Hampton Woods Way | $198,900 | $140 | 2006-10-26 | 2005 | 1,418 | Resale |
| 5500 Hampton Oak Pl | $163,500 | $141 | 2006-10-20 | 2006 | 1,160 | New |
| 5457 Hampton Hill Cir | $199,500 | $142 | 2006-09-28 | 2006 | 1,404 | New |
| 5581 Hampton Hill Cir | $247,700 | $157 | 2006-09-21 | 2006 | 1,578 | New |
| 5586 Hampton Hill Cir | $267,700 | $155 | 2006-09-15 | 2006 | 1,722 | New |
| 5574 Hampton Hill Cir | $255,800 | $149 | 2006-08-23 | 2006 | 1,722 | New |
| 5580 Hampton Hill Cir | $259,000 | $150 | 2006-08-18 | 2006 | 1,722 | New |
| 5585 Hampton Hill Cir | $254,100 | $148 | 2006-08-11 | 2006 | 1,722 | New |
| 5579 Hampton Hill Cir | $247,600 | $144 | 2006-07-28 | 2006 | 1,722 | New |
| 5455 Hampton Hill Cir | $194,000 | $138 | 2006-07-28 | 2006 | 1,402 | New |
| 5576 Hampton Hill Cir | $229,900 | $164 | 2006-07-24 | 2006 | 1,401 | New |
| 5430 Hampton Hill Cir | $200,000 | $141 | 2006-07-14 | 2006 | 1,418 | New |
| 5029 Hampton Ridge Ave | $185,000 | $130 | 2006-07-13 | 2005 | 1,418 | Resale |
| 5582 Hampton Hill Cir | $238,000 | $151 | 2006-07-11 | 2006 | 1,571 | New |
| 5578 Hampton Hill Cir | $256,400 | $149 | 2006-06-30 | 2006 | 1,722 | New |
| 5568 Hampton Hill Cir | $234,000 | $149 | 2006-06-30 | 2006 | 1,571 | New |
| 5449 Hampton Hill Cir | $203,200 | $143 | 2006-06-16 | 2006 | 1,418 | New |
| 5442 Hampton Hill Cir | $199,500 | $141 | 2006-06-08 | 2006 | 1,418 | New |
| 5508 Hampton Woods Way | $189,000 | $133 | 2006-06-02 | 2005 | 1,418 | Resale |
| 5453 Hampton Hill Cir | $208,300 | $147 | 2006-05-31 | 2006 | 1,418 | New |
| 5569 Hampton Hill Cir | $240,500 | $153 | 2006-05-26 | 2006 | 1,571 | New |
| 5451 Hampton Hill Cir | $194,900 | $137 | 2006-05-25 | 2006 | 1,418 | New |
| 5517 Hampton Woods Way | $187,500 | $134 | 2006-05-24 | 2005 | 1,404 | Resale |
| Hampton Hill Cir | $199,500 | $142 | 2006-05-17 | 2006 | 1,404 | New |
| 5563 Hampton Hill Cir | $248,500 | $144 | 2006-05-15 | 2006 | 1,722 | New |
| 5444 Hampton Hill Cir | $194,000 | $137 | 2006-05-05 | 2006 | 1,418 | New |
| 5443 Hampton Hill Cir | $196,900 | $139 | 2006-05-03 | 2006 | 1,418 | New |
| 5506 Hampton Woods Way | $191,500 | $135 | 2006-04-26 | 2005 | 1,418 | Resale |
| 5572 Hampton Hill Cir | $272,900 | $150 | 2006-03-24 | 2006 | 1,817 | New |
| 5570 Hampton Hill Cir | $221,000 | $158 | 2006-03-22 | 2006 | 1,401 | New |
| 5566 Hampton Hill Cir | $248,300 | $144 | 2006-03-16 | 2006 | 1,722 | New |
| 5438 Hampton Hill Cir | $203,900 | $144 | 2006-03-10 | 2006 | 1,418 | New |
| 5441 Hampton Hill Cir | $197,000 | $141 | 2006-03-02 | 2006 | 1,402 | New |
| 5437 Hampton Hill Cir | $197,400 | $139 | 2006-02-23 | 2006 | 1,418 | New |
| 5435 Hampton Hill Cir | $194,000 | $137 | 2006-02-23 | 2006 | 1,418 | New |
| 5564 Hampton Hill Cir | $223,000 | $141 | 2006-02-23 | 2006 | 1,578 | New |
| 5560 Hampton Hill Cir | $237,000 | $139 | 2006-02-10 | 2006 | 1,706 | New |
| 5431 Hampton Hill Cir | $194,900 | $139 | 2006-02-10 | 2006 | 1,404 | New |
| 5433 Hampton Hill Cir | $194,600 | $139 | 2006-01-30 | 2006 | 1,402 | New |
| 5545 Hampton Woods Way | $242,500 | $142 | 2006-01-27 | 2006 | 1,706 | New |
| 5525 Hampton Woods Way | $182,000 | $130 | 2006-01-25 | 2006 | 1,402 | New |
| 5527 Hampton Woods Way | $191,000 | $136 | 2006-01-18 | 2006 | 1,402 | New |
| 5432 Hampton Hill Cir | $190,500 | $134 | 2006-01-17 | 2006 | 1,418 | New |
| 5543 Hampton Woods Way | $226,500 | $144 | 2006-01-13 | 2006 | 1,571 | New |
| 5539 Hampton Woods Way | $231,000 | $134 | 2006-01-09 | 2006 | 1,722 | New |
| 5542 Hampton Woods Way | $236,000 | $138 | 2006-01-05 | 2006 | 1,706 | New |
| 5521 Hampton Woods Way | $185,300 | $131 | 2005-12-29 | 2005 | 1,418 | New |
| 5536 Hampton Woods Way | $223,000 | $142 | 2005-12-28 | 2005 | 1,569 | New |
| 5524 Hampton Woods Way | $182,000 | $128 | 2005-12-21 | 2005 | 1,418 | New |
| 5523 Hampton Woods Way | $194,200 | $137 | 2005-12-18 | 2005 | 1,418 | New |
| 5537 Hampton Woods Way | $260,000 | $139 | 2005-12-16 | 2005 | 1,868 | New |
| 5522 Hampton Woods Way | $192,300 | $136 | 2005-12-16 | 2005 | 1,418 | New |
| 5519 Hampton Woods Way | $185,400 | $132 | 2005-12-16 | 2005 | 1,404 | New |
| 5517 Hampton Woods Way | $177,000 | $126 | 2005-12-16 | 2005 | 1,404 | New |
| 5540 Hampton Woods Way | $203,000 | $141 | 2005-12-13 | 2005 | 1,440 | New |
| 5518 Hampton Woods Way | $184,600 | $130 | 2005-12-09 | 2005 | 1,418 | New |
| 5510 Hampton Woods Way | $178,900 | $126 | 2005-12-09 | 2005 | 1,418 | New |
| 5520 Hampton Woods Way | $181,000 | $128 | 2005-12-02 | 2005 | 1,418 | New |
| 5505 Hampton Woods Way | $185,000 | $132 | 2005-11-30 | 2005 | 1,404 | Resale |
| 5513 Hampton Woods Way | $180,300 | $127 | 2005-11-23 | 2005 | 1,418 | New |
| 5515 Hampton Woods Way | $190,300 | $134 | 2005-11-23 | 2005 | 1,418 | New |
| 5538 Hampton Woods Way | $232,800 | $140 | 2005-11-23 | 2005 | 1,668 | New |
| 5532 Hampton Woods Way | $250,000 | $128 | 2005-11-18 | 2005 | 1,956 | New |
| 5503 Hampton Woods Way | $189,900 | $134 | 2005-11-18 | 2005 | 1,418 | Resale |
| 5514 Hampton Woods Way | $179,700 | $128 | 2005-11-16 | 2005 | 1,404 | New |
| 5559 Hampton Woods Way | $249,800 | $146 | 2005-11-16 | 2005 | 1,708 | New |
| 5516 Hampton Woods Way | $178,900 | $127 | 2005-11-10 | 2005 | 1,404 | New |
| 5507 Hampton Woods Way | $166,700 | $119 | 2005-11-10 | 2005 | 1,404 | New |
| 5511 Hampton Woods Way | $176,800 | $125 | 2005-11-04 | 2005 | 1,418 | New |
| 5534 Hampton Woods Way | $238,900 | $140 | 2005-11-04 | 2005 | 1,708 | New |
| 5509 Hampton Woods Way | $170,000 | $120 | 2005-11-02 | 2005 | 1,418 | New |
| 5555 Hampton Woods Way | $240,400 | $144 | 2005-10-24 | 2005 | 1,668 | New |
| 5535 Hampton Woods Way | $217,600 | $139 | 2005-10-21 | 2005 | 1,569 | New |
| 5512 Hampton Woods Way | $180,000 | $127 | 2005-10-21 | 2005 | 1,418 | New |
| 5546 Hampton Woods Way | $239,000 | $143 | 2005-10-18 | 2005 | 1,668 | New |
| 5505 Hampton Woods Way | $162,000 | $115 | 2005-10-14 | 2005 | 1,404 | New |
| 5533 Hampton Woods Way | $201,000 | $141 | 2005-10-07 | 2005 | 1,421 | New |
| 5557 Hampton Woods Way | $211,800 | $147 | 2005-09-30 | 2005 | 1,440 | New |
| 5508 Hampton Woods Way | $165,000 | $116 | 2005-09-30 | 2005 | 1,418 | New |
| 5506 Hampton Woods Way | $169,700 | $120 | 2005-09-30 | 2005 | 1,418 | New |
| 5503 Hampton Woods Way | $166,700 | $118 | 2005-09-29 | 2005 | 1,418 | New |
| 5501 Hampton Woods Way | $162,000 | $114 | 2005-09-23 | 2005 | 1,418 | New |
| 5502 Hampton Woods Way | $167,600 | $118 | 2005-09-16 | 2005 | 1,418 | New |
| 5059 Hampton Ridge Ave | $236,000 | $141 | 2005-09-16 | 2005 | 1,668 | New |
| 5035 Hampton Ridge Ave | $185,000 | $132 | 2005-09-06 | 2005 | 1,404 | New |
| 5033 Hampton Ridge Ave | $172,000 | $123 | 2005-09-02 | 2005 | 1,404 | New |
| 5504 Hampton Woods Way | $177,000 | $125 | 2005-09-01 | 2005 | 1,418 | New |
| 5031 Hampton Ridge Ave | $185,000 | $130 | 2005-08-26 | 2005 | 1,418 | New |
| 5061 Hampton Ridge Ave | $195,000 | $137 | 2005-08-23 | 2005 | 1,421 | New |
| 5065 Hampton Ridge Ave | $205,000 | $131 | 2005-08-23 | 2005 | 1,569 | New |
| 5029 Hampton Ridge Ave | $160,000 | $113 | 2005-08-22 | 2005 | 1,418 | New |
| 5063 Hampton Ridge Ave | $230,700 | $135 | 2005-08-19 | 2005 | 1,708 | New |
| 5027 Hampton Ridge Ave | $168,000 | $118 | 2005-08-12 | 2005 | 1,418 | New |
| 5025 Hampton Ridge Ave | $163,200 | $115 | 2005-08-12 | 2005 | 1,418 | New |
| 5019 Hampton Ridge Ave | $174,900 | $125 | 2005-08-08 | 2005 | 1,404 | New |
| 5023 Hampton Ridge Ave | $164,700 | $116 | 2005-08-05 | 2005 | 1,418 | New |
| 5021 Hampton Ridge Ave | $160,000 | $113 | 2005-08-03 | 2005 | 1,418 | New |
| 5057 Hampton Ridge Ave | $222,000 | $130 | 2005-08-01 | 2005 | 1,708 | New |
| 5017 Hampton Ridge Ave | $163,000 | $116 | 2005-07-22 | 2005 | 1,404 | New |
| 5055 Hampton Ridge Ave | $209,700 | $134 | 2005-07-18 | 2005 | 1,569 | New |
| 5531 Hampton Woods Way | $238,500 | $143 | 2005-01-10 | 2005 | 1,668 | New |