Bailing Out The Banks? Actually Bailing Out America!
Posted by Joe Manausa on Monday, September 29, 2008 at 11:09 AM
By Joe Manausa / September 29, 2008
2 Comments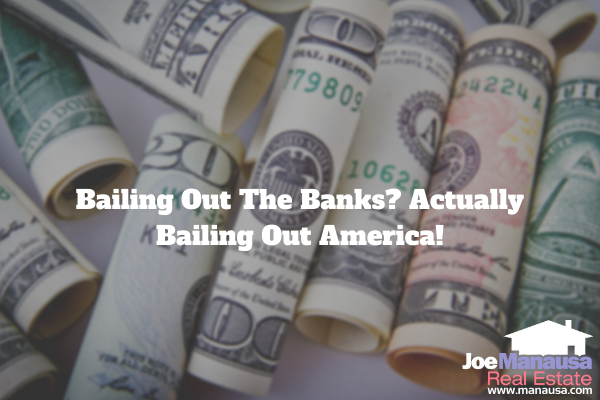 Today's Tallahassee real estate blog is going to be completely different than most our readers have come to expect. I will summarize a letter that I received from Jay Hill of Hill Commercial Capital, explaining in layman's terms why the big bailout must occur. I respect Jay's intellect and insight in the money markets and I think our readers have much to gain from his view.
There Is More Than One Type Of Bank
In order to understand the mess the credit markets are in, one must understand how the tier of banks exist in our country. They are:
Commercial Banks

- These are the large banks that work by taking deposits from consumers and converting them into loans with interest as profit plus a reward to the depositors. Such banks include Credit Suisse, Key Bank, and the Royal Bank of Canada.

Investment Banks

- These are the large "Wall Street" banks that you hear and read about in the financial news all of the time. They are banks like Goldman Sachs, Lehman Brothers, and JP Morgan. They most often work as an intermediary between buyers and sellers of stocks and bonds.
Mortgage Banks - These are the banks that originates, sells and services mortgage loans. Such banks include Countrywide, Washington Mutual, IndyMac, and Wells Fargo.

Local and Regional Banks

- These are the commercial banks that exist more on "Main Street" than on "Wall Street." In Tallahassee, you might know these as BB&T, FMB, Wakulla Bank, Superior Bank and Prime Meridian, to name a few. They will not be any part of the "Bailout," but they certainly should be (as you will later see).
The Chronology Of The Banking System Failure
Commercial and Investment Banks urged Mortgage Banks to make home loans

- The top tier of banks (the Commercial and Investment Banks) enticed the lower tier banks to generate more home loans. In some cases, they were even providing the capital for them to make the home loans.

Residential Mortgage Backed Securities (RMBS) were created To Send Money From Commercial and Investment Banks to Mortgage Banks

- In order to facilitate greater mortgage market investment, the Commercial and Investment banks created RMBS to broaden the range of potential investors of mortgage pools by increasing the capital available to GNMA, FHLMC, FNMA.

Tranches were introduced and categorized by risk, reducing origination liability

- RMBS pools together mortgages and separates them into short, medium and long term positions (called tranches). Tranches are set up to pay different rates of interest depending upon their maturity and structure.

Rating Agencies rated each Tranch, but based ratings on faulty logic

- In order to create these tranches, rating agencies used 1990s housing data to predict loan defaults. The best quality loans (where borrower had a greater likelihood of repaying the loan) received the highest ratings, while the opposite end of the spectrum received the lowest ratings.

Booming Mortgage Business lead to competitive pressures creating "crazy" loans

-The additional liquidity provided by RMBS created a market frenzy, introducing loans that had not previously existed. Loans requiring little or no documentation were created, as were loans with teaser rates that doubled or more after a year. As lending standards dropped to satisfy a hungrier RMBS pool, the credit ratings formula based upon 1990s default rates, was not adjusted. This means that the inevitable increase of defaults from new "junk" loans was never priced into the market.

Commercial and Investment Banks were also buying Commercial Mortgaged Backed Securities (CMBS) "Conduit Loans" in the commercial real estate industry. These were similar to RMBS, but lent on a much tighter lending guidelines

-Ironically, the CMBS market saw little, if any, of the crazy junk loans that sprouted up in the RBMS market. Unfortunately, when the market started seeing the default rates rise in the residential mortgage market, the tremors were felt in the commercial markets.

Lack of Control in the Ratings and Valuation Process Create A Self-Corrupting Market

-

The loan ratings were not adjust to keep up with the new loan products. Higher default rates should have been incorporated into the valuation process of the newly originated loans, but instead, historical data provided by the Commercial and Investment Banks were used by the rating agencies as "sufficient" data. Jay Hill used the analogy of the students writing the test for which the teachers would grade them as an expression of how broken the credit rating system was.

Mortgage Banks Ignore Obvious Signs Of Trouble and continue originating new loans

-

Because the RMBS process created such great liquidity, Mortgage Banks continued to write new loans as fast as they could. Banks like IndyMac, Coutrywide and Washington Mutual knew they were going to sell the originated loans as quickly as they could write them, therefore lending standards were ignored. Since everybody was certain the newly written loans would be purchased, they had no fear of holding loans that they could not sell.

RMBS freezes, locking up the entire credit pipeline

-Finally, when the losses were too staggering for the RMBS market to consume, it completely froze. The Mortgage Banks with loans to sell no longer had buyers. The liquidity from the RMBS was no longer available and banks such as Coutnrywide, Washington Mutual and IndyMac literally ran out of money.
The $700 Billion Bailout Is required to free-up capital for the commercial lines which run this country
It's not just home mortgages that are frozen. The U.S. trades on credit. The CMBS markets have been slowed and they help finance business credit lines. The reason why this Bailout has to happen is that it is not just bad mortgage lending that is seized up... it's also lines of credit for businesses, major manufacturers' lines of credit that they use to operate on a daily basis, borrowing and paying up and down lines to transact business every day. On a large scale, that's Ford Motor Company's payroll that comes in on lines of credit to cover the individual payroll of the workers. If that market tightens any further and seizes up, it will have an unmanageable trickle-down effect to the pocket book of every individual. It's going to seize up the ability of the major manufacturers, the major employers, to function on a day-to-day basis. Retailers use those lines of credit to buy goods from wholesalers. They buy all of their goods on credit! You see, it's not "Bailing Out The Banks" it is "Bailing Out America."
---
As a reminder for those who subscribe to the Tallahassee Real Estate Blog by email, some embedded pictures and videos might not be appearing in your email and you might need to click the title header to go to your browser where all will be visible. Additionally, if you would like to respond (leave a comment) to this article, you will need to "click through" to the blog site to post your feedback.
Keep checking out the Tallahassee Real Estate Blog every day for updates that include charts, graphs, and analysis of the Tallahassee real estate market.
If you like this Article then please subscribe to my
blog through a full
RSS feed
,
or you can
. You will be able to stay informed about the happenings in the Tallahassee Real Estate Market. You can also subscribe to this blog and have it delivered by
Email.
Please Do Us A Small Favor
We work very hard to produce daily content for our long-time readers and first-time visitors. We provide this information for free, hoping to earn your respect and trust and the right to one-day help you when selling or buying a home. Can we get your help spreading the word about our blog?
If you like the content, would you please like it or share it using the Facebook button at the beginning of the post? This simple action will be greatly appreciated! THANK YOU!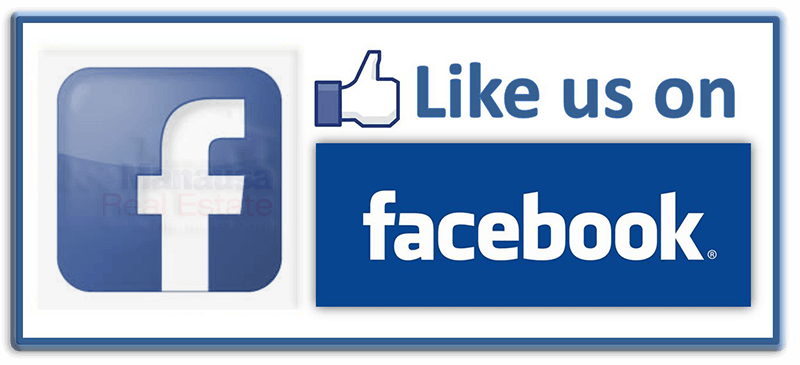 Also like us on Facebook at https://www.facebook.com/joemanausarealestate/
Joe Wrote The Book On How To Sell A Home Today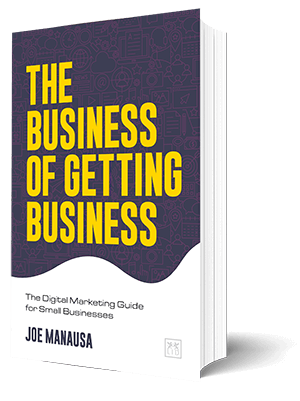 "Location, location, location' is no longer a competitive advantage. Digital marketing and going direct to consumer have made all geographical boundaries obsolete. The Business of Getting Business is a must-read modern-day survival guide for any local business to get to the next decade. Local businesses are on death ground.
They can either take a stand and re-invent themselves by embracing the digital frontier and have a chance to survive the overwhelming odds of digital direct-to-consumer capabilities that have erased all local and national business distinctions, or they can choose business as usual and accept certain death.
The Business of Getting Business is the critical survival guide for those that choose to dig in and fight."
– Anthony Noto, CEO, SoFi and former COO, Twitter
Get the book that explains it all, in a manner that is understanding to all, even technology neophytes. It's available on Amazon, a trusted source for consumers.

Think all REALTORS are alike?
Read what people are saying about working with Joe Manausa Real Estate! You can see thousands of real customer reviews reported on Google, Facebook and Zillow at this link: CLICK HERE FOR REAL ESTATE AGENT REVIEWS.