4 Bedroom Homes Under $400K
Posted by Joe Manausa on Wednesday, April 10, 2019 at 5:59 AM
By Joe Manausa / April 10, 2019
Comment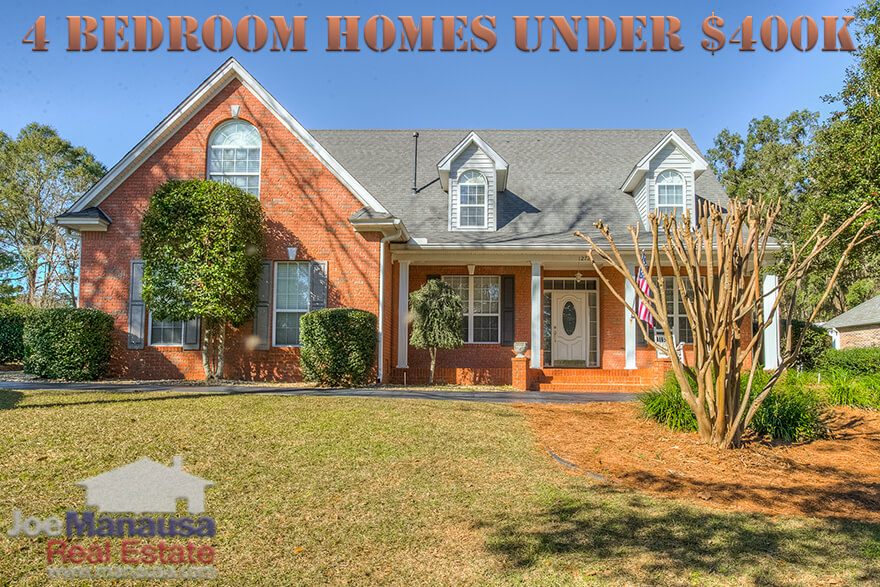 Our property search tool is used by thousands of people every day, and one of the frequent searches that our visitors choose is "4 BR homes for sale under $400K."
Today's post features all active listings in Tallahassee that are priced from $400,000 and below that all have at least four bedrooms. This is a popular search and it currently yields the following 281 results:
4 BR Homes For Sale Under $400K
Why Four Bedroom Homes Are So Popular
For most families, a home with four bedrooms seems to house everybody comfortably. Sure, there are some larger families that might desire more room, but the majority of homebuyers these days are looking for an optimal number of 4.
Even a family with three children can put the two younger kids in one room while (usually) putting the older child alone in a bedroom. This leaves a room open for an office and/or as a guest room.
Many of the homes that were built within the last twenty years have four or more bedrooms, and often times a buyer that would be happy with a 3 bedroom home finds they like the style and amenities of a newer home that also happens to have 4 bedrooms. Regardless of the reason for selection,
As I write this report on 4 BR homes for sale in Tallahassee, more than one-third of the 281 homes for sale are already under contract with buyers (including this one we just were hired to sell).

Speak To An Expert!
The average agent in Tallahassee sells 6 homes per year.
Joe and his team (led by military Veterans) are on track to sell 600 homes this year.
Don't you want that kind of dedicated commitment working for you?
4 BR Home Statistics You Might Want To Know
When I look at the 4 bedroom homes for sale listed in the Tallahassee MLS, I see that that the average price is $290K and the median price is $300K, meaning buyers should have no problem finding a good buy on a 4 bedroom home, well under $400K.
If you want more information on 4 bedroom homes in Tallahassee, whether selling, buying, or both, simply give us a call at (850) 366-8917 or drop us a note and we will be in touch right away.
If you wonder what it's like to work with the hard-working employees and agents at Joe Manausa Real Estate, here's what thousands of people are saying about our services, you can see their reviews reported on Google, Facebook and Zillow right here: http://www.manausa.com/testimonials.