Year-Over-Year Home Values Surge Higher
Posted by Joe Manausa on Monday, August 2, 2021 at 5:52 AM
By Joe Manausa / August 2, 2021
Comment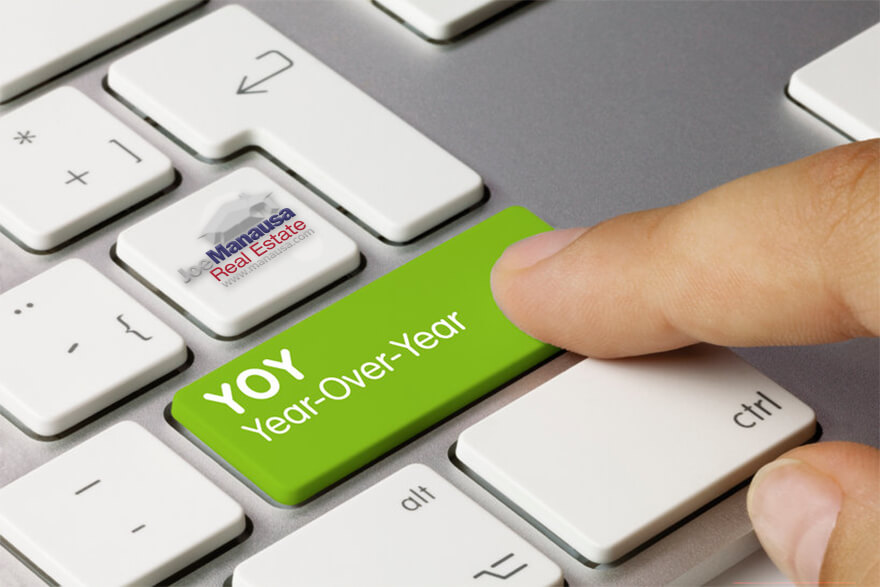 When the year began and I produced my annual forecast, I warned that home values were going to move much higher this year.
I called for double-digit appreciation, and I warned that unless builders cranked up production, we were at risk of hitting 20% appreciation this year.
Thus far in 2021, home builders have produced about 1/2 the number of homes built at this point in 2020, and real estate inflation is through the roof. Today's report is going to examine how values have moved each month and where we think the market will move next.
New Construction Homes For Sale In Tallahassee
The following is the list of all new construction homes for sale in Tallahassee. Pay attention to how many listings are showing artist renderings and sketches as the homes have not yet been built!
Deficit Of Homes In 2021
Thus far in 2021, home builders have produced about 1/2 the number of homes built at this point in 2020, and real estate inflation is through the roof.
The following graph compares home values each month with home values from the same month in the year prior. So we compare January values to January 2020 values and July values with July 2020 values, thus eliminating any concern about the seasonal effects that work their way through the housing market.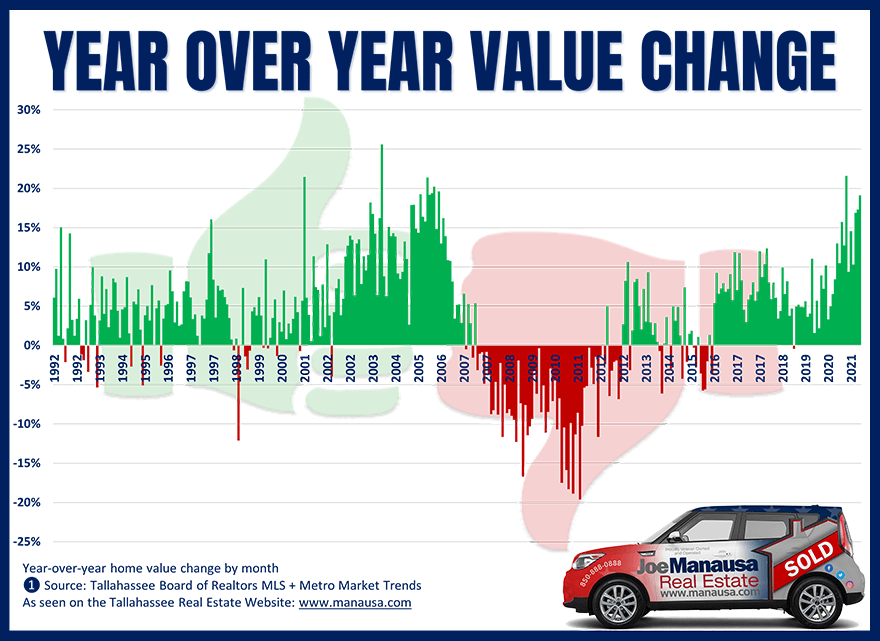 As the inventory of homes for sale has fallen, home values have risen rapidly. The value of the homes sold in July 2021 was 20% higher than the values of the homes sold in July of last year.
This level of growth is not sustainable and is a threat to homeownership. We need more homes soon, or we're going to need to start seeing wage inflation trying to keep up with housing inflation (and we know that won't happen any time soon).
The housing market is heading down a dark road and I fear that we'll come to a point where only the wealthiest among us can afford to own a slice of the
American dream.
Recent Housing Market Reports Top 10 Tallahassee Neighborhoods
If you want to know where homebuyers chose to live in 2021, then this video was produced specifically for you. Follow along as I share the top-ten selling communities in Tallahassee in 2021, with insight on what it costs to live in each neighborhood as well as the number of homes that sold.
Will New Homes Show Up In Time
There is some good news on the new home construction front. The number of building permits filed in the first five months of 2021 is the strongest we have seen in thirteen years.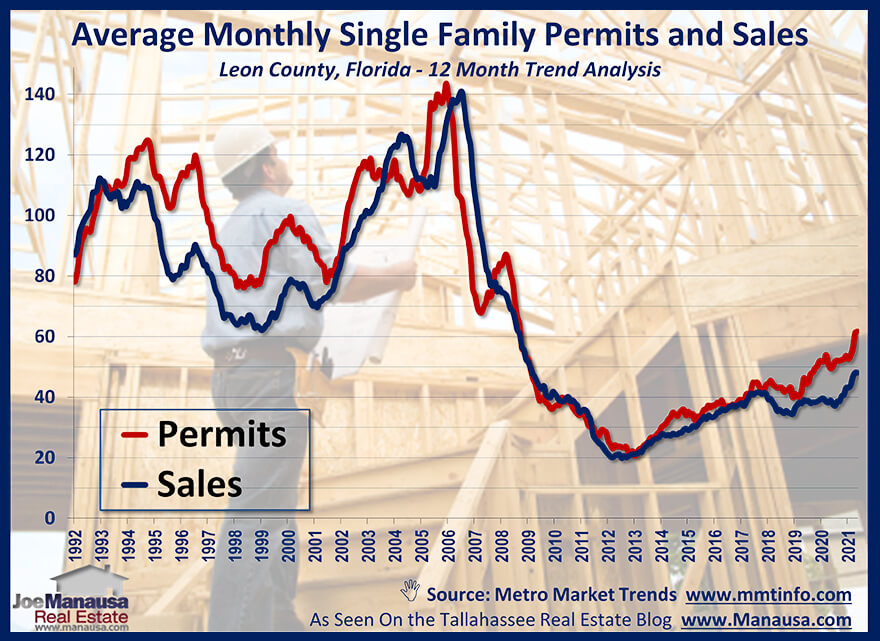 In the graph above, the red line plots the one-year trend of monthly permit filings while the blue line measures the one-year trend of new home construction sales. The fact that permits are moving higher rapidly is a great sign, but there's something that this graph reveals that is wonderful news as well.
Look at the separation between permits and sales during the 1990s and up to the crash of the market in 2008. This separation, the difference between permits and sales, represents speculation in the new construction market. A little speculation is necessary to keep up with the population growth and to give buyers a choice between new and used when they go to buy a home.
But excessive speculation in 2005 and 2006 caused many builders to get financially destroyed, and it hurt local banks as well. The memories of those losses are hard to shake, and the graph makes it clear that speculation was not welcome after the crash.
Look how closely the permits and sales trend lines follow each other from 2008 to 2018. There's not much of it at all. Fast forward to 2019, and it looks like we've got a healthy new construction market brewing (finally). The market balanced in 2016, so it would have been nice to see that speculation begin a few years earlier, but I'm happy to see it back in the market.
Builders need to get homes built, and they must also pay attention to the supply and demand for homes. Right now, they'll be able to sell anything with four walls and a roof, but that could change once mortgage interest rates begin to rise. Our market remains grossly under-supplied, but this acceleration in permitting (and soon building) could help the market appreciation slow down.
Your Local Expert In Tallahassee
When moving to, in, or from Tallahassee, you will fare better if you work with a local expert. We are here to help. If you have further questions on the Tallahassee real estate market, you can leave a comment below, give us a call at (850) 366-8917, or drop us a note and we'll give you the local information needed to ensure a successful, smooth transaction.
As a local born and raised in Tallahassee with a focus on customer service, I promise you'll find great success when working with Joe Manausa Real Estate, just as have our past customers. You can read thousands of their reviews reported on Google, Facebook and Zillow right here: Real Estate Agent Reviews Tallahassee.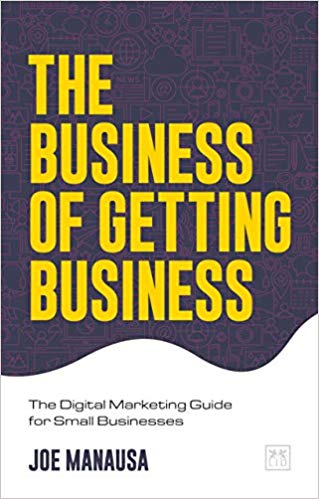 Have you heard about my new book "The Business of Getting Business?" It's a comprehensive guide for small businesses to help them make the move to digital. For those of us who want to survive and thrive in a world where large corporations are taking over, it is a must-read. It's also the perfect guide for how to sell a home in the digital age. You can find The Business Of Getting Business by clicking on any of the trusted retailers below.

Think all REALTORS are alike?
Read what people are saying about working with Joe Manausa Real Estate! You can see thousands of real customer reviews reported on Google, Facebook and Zillow at this link: CLICK HERE FOR REAL ESTATE AGENT REVIEWS.