Will Rising Mortgage Interest Rates Bring Falling Home Prices?
Posted by Joe Manausa on Tuesday, July 5, 2022 at 5:51 AM
By Joe Manausa / July 5, 2022
Comment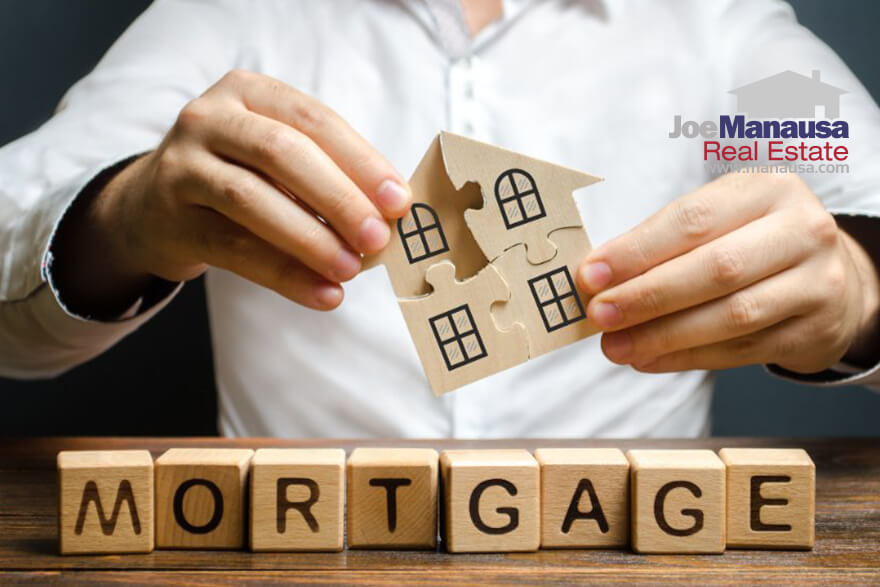 If you have been waiting for home prices to drop, this is a timely article for you to read. Mortgage interest rates have risen significantly and many people have made logical assumptions about how the housing market will respond.
Logic might lead us to believe that rising mortgage interest rates should drive down home prices. Here's how it might play out. We know that the majority of homebuyers finance the purchase of their homes. When mortgage interest rates rise, home affordability declines, and the demand for homes comes down.
With falling demand comes a shift to a buyer's market, and eventually, home prices come down. So let's see how well this logic has played out over the past fifty years!
Today's article offers 4 simple graphs that will help you understand exactly where home prices are heading for the next three to five years. Stick with me to the end, and you'll have the confidence to do what you need to do in the housing market.
There are so many scary headlines and "news" stories and studies that serve to scare homebuyers who are trying to figure out what to do today. Now that rates are 2+% higher than earlier in the year, some buyers are waiting for rates to come down.
In order to test the real estate logic that has home prices dropping when mortgage rates are rising, I went to the Federal Reserve Economic Data (or FRED) to see what historically happens. The results were not what I expected at all!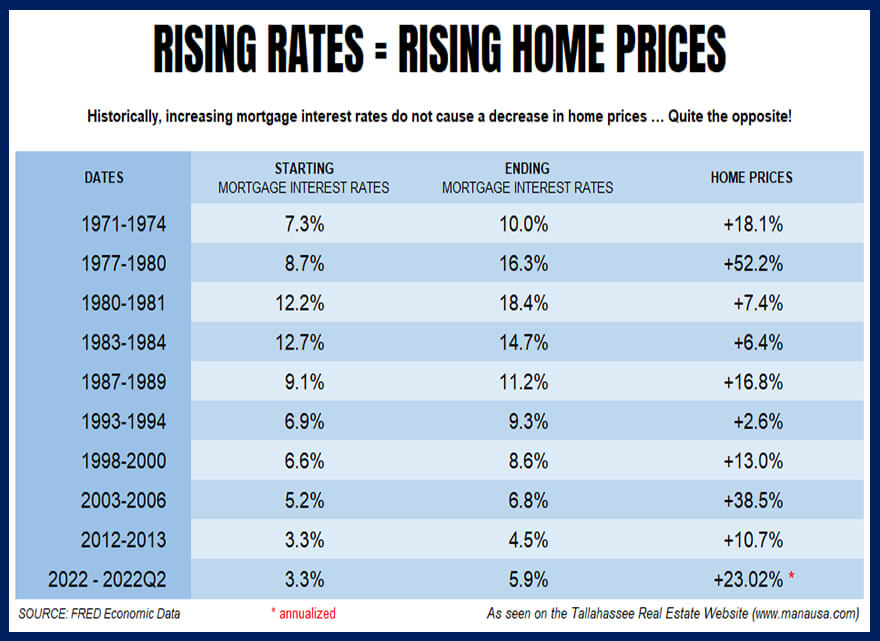 When you look back fifty years, there have been ten significant rate hikes that the mortgage market has delivered. From 1971 through 1974, interest rates went from 7.3% to 10%, home prices jumped 18%.
You can see from 1977 to 1980, we started at 8.7% and soared up to 16.3%, yet home prices exploded 52% higher. That was the end of the Jimmy Carter era, inflation went through the roof, and caused a very volatile recession. I suspect we might be heading to one again.
When we look at 1980 to 1981, rates shot up fifty percent, from 12% to over 18%, yet home prices rose again. From 1983 to 1984, 1987 to 1989, and 1993 to 1994, every time mortgage rates rose over a sustained period of time, we saw home prices rise.
From 2003 to 2006, we saw interest rates come back after they fell following 9-11. The government manipulated rates higher trying to slow down the housing boom. Rates went CRAZY, but it did not slow down home prices which rose nearly 39%.
Now here we are today when just in the first five months of the year rates have gone from 3% to at one point over 6%, and home prices have moved higher at an annualized rate of more than 23%!
So yeah, people are waiting for mortgage rates to drop, but home prices are moving higher. Now here's the thing, I am not certain that mortgage rates will rise, fall, or stay the same, but there is plenty of evidence to show that home prices will continue to rise.
If you are somebody who has been led to believe that home prices drop regularly as part of a cycle, you should watch my video that explores how often home prices have dropped in the past 100 years.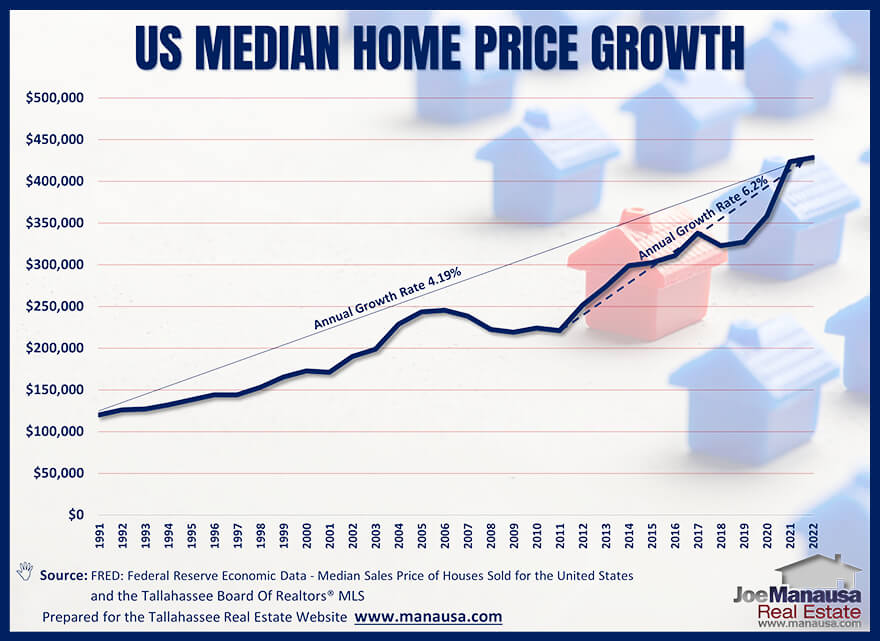 Over the past thirty years, the average home price movement is a gain of just under four point two percent each year. Though not shown on this graph, the average price movement over the past 130 years is a gain of about three and one-half percent.
This graph shows that we should generally expect home prices to rise, but what about today? What about rising mortgage interest rates? Well, we have addressed that rising mortgage interest rates do not correlate to falling house prices, in fact, the opposite is most often true. So to forecast the future of home prices, we need to look at the supply and demand curve for housing today.
Let's examine the evidence that supports home prices continuing to rise. Remember, as in any other market, the supply and demand relationship determines price movement.
When the supply is high and the demand is low, there is pressure on home prices and we see them drop. Of course, the opposite is true too. When demand outpaces the supply of homes for sale, home prices rise. So when we see the gross supply imbalance today that favors sellers, real estate price growth must move higher at a faster pace.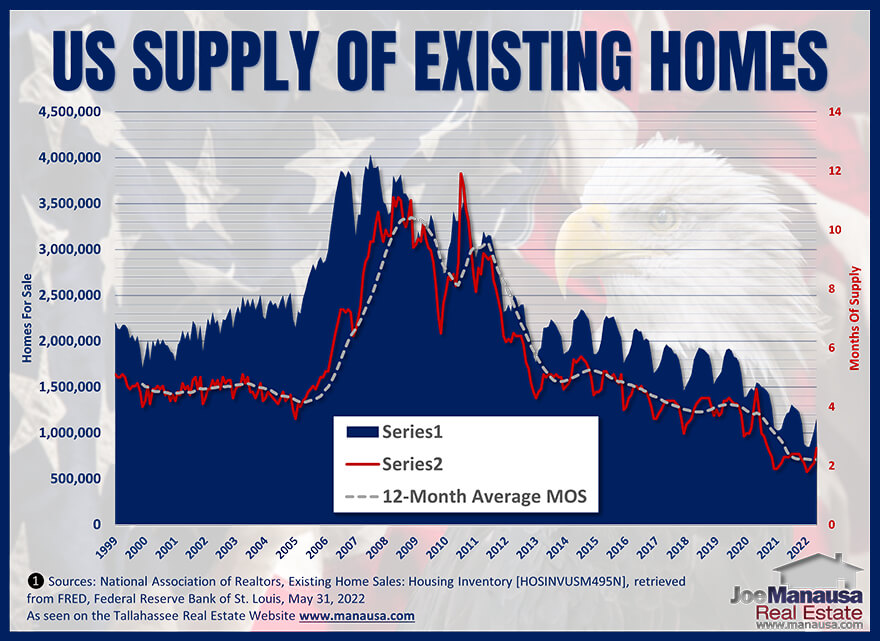 This graph plots the current supply and demand for homes in the US. From what I'm hearing from real estate agents from coast to coast, their markets are very much like what you are seeing here. I can tell you this data mirrors what you would find in Tallahassee. And what does it tell us?
It tells us that through May, there are just over one million homes for sale in the US and that is a record-low for any month of May! To put it into perspective, there were over four million homes on the market back in the summer of 2007 and more than two million homes on the market in 1999 when the population was 20% fewer people than there are today. The US is growing, but the number of homes being built for the past 15 years has been declining, and it has led us to an inventory shortage. How short?
The red line in this graph plots the month of supply of homes for sale, and "6" is the magic number that historically has delivered a growth rate of just under 3.5% for home prices. But look where the red line has been hiding for the past ten years, it's well below the optimal six months of supply. The gray-dashed line plots the twelve-month average of the months of supply of homes and we're sitting at an all-time low of just two months of supply. This means that we KNOW that home prices are going to rise. If interest rates fall, prices will rise. If interest rates rise, prices will rise. If interest rates stay the same, prices will rise.
It is the supply and demand dynamic that controls home price movement, not mortgage interest rates. Interest rates DO impact home affordability and can work to increase or decrease demand, but we need to see the whole picture, not just part of it, to determine home price movement.
We are in highly inflationary times, wages are moving higher so we know that cost of building materials will be pushing higher too. Even as the COVID-related supply chain issues that have made building materials explode higher might be easing, it's not like we're going to see costs come back down to pre-COVID levels, there has been too much real inflation for that to occur.
No, the cost of building homes is at an all-time high, so bringing the needed inventory to the housing market is going to come at higher costs. This higher cost of supply is going to curb demand, but it will not bring home prices down!
If you have been waiting for home prices to come down, you have missed the market. Home prices are going higher. If you are waiting for 2023, you will be disappointed. So either you own a home that you're going to stay in, or you are renting. And if you are renting, this next graph might send a chill down your spine.
Historically, when people who wanted to buy a home were priced out of the market, they turned to the rental market. Rental rates were typically favorable and easier to qualify for most people. But times have changed. You see, the supply imbalance in the for-sale market has impacted the supply in the for-rent market too!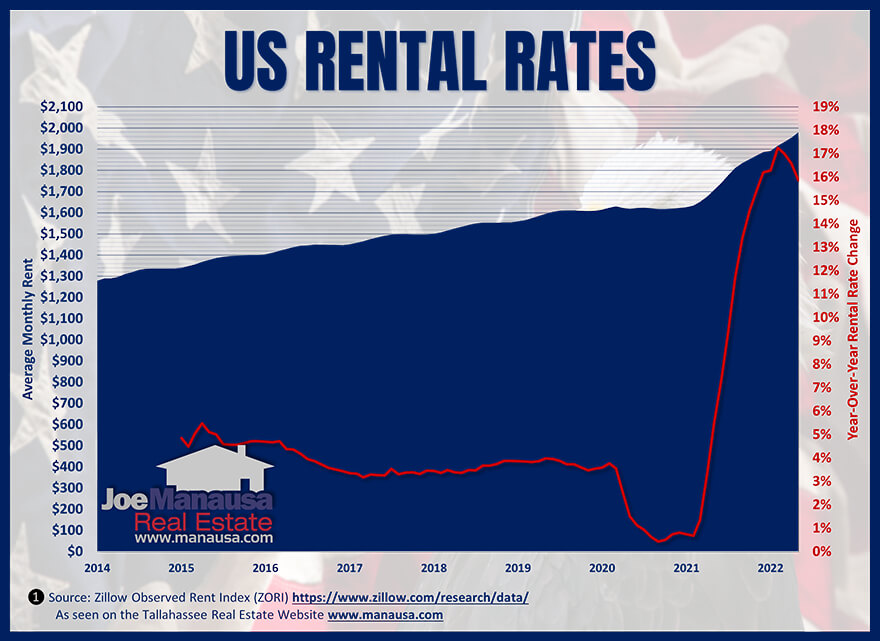 This graph shows a rough estimate of the median rental rate in the US since 2014. The blue bars record the measured median while the red line plots the year-over-year change of the median rental rate.
For the past ten months, the year-over-year change in the median rental rate has grown by double-digits. To put that into perspective, somebody who was paying a little more than seventeen hundred dollars per month in rent last may is now paying nearly two thousand dollars per month. That does NOT sound like relief from being priced out of the for-sale market!
The fact is that the supply imbalance has caused home affordability to tank. Our long-time subscribers have seen it coming as I have been warning about declining home affordability for years. I have warned that the limited supply of homes for sale and homes for rent was going to turn our market into one of haves and have-nots. We're not quite there yet but don't for a second think that it is not going to get worse because the worst of it is still in front of us.
Our population growth percentage has slowed in the US, but our population IS STILL GROWING. We have significantly more people who need shelter today than we did thirty years ago, yet we have been building as if the country was shrinking.
Now that it is obvious to all parties that we need more homes, the cost of construction is through the roof. This means the future supply of new homes will come at a far higher cost than what the market is seeing today, and this is why we are facing a very tough nut in housing for the foreseeable future.
If you have been waiting for mortgage interest rates to drop, I would urge you to consider that home prices are moving more than 1% higher each month while you wait. And remember, you won't find relief in the rental market, rates there are soaring too. My advice for all adult Americans remains unchanged. You must decide and act on your housing future today.
I gave this advice two years ago and had mixed results. The people that followed my advice thank me today as they have a home with sub-3% financing that is now worth more than 20% above what they paid. Those that mocked me, calling me a salesperson who was telling people to buy homes at a bad time, are now sitting with a big hole in their "could have been" housing plan.
If you are leasing and want to continue leasing, see if you can execute a long-term lease. This is important because we're seeing rental rates soar. If you leave it to the market, you might find your rent rising by more than 15% per year until supply levels balance.
If you own a home and think it will work well for you and your family for the foreseeable future, then smile, your work is done. You have already determined your housing future. Your home is going to appreciate greatly over the next five years and likely far longer. Whatever mess the housing market finds itself in, you will have weathered the storm, taking advantage of soaring home prices.
If you do not own the right home for you and your family, you absolutely must go buy it today. It will be cheaper today than it will be tomorrow, so go make it happen. Don't get so caught up in the negotiation that you let the right home slip away. Remember, homes are going up in value by more than 1% each month, so even if you feel like you overpaid by a few percent, you will still see your value up more than the historical norm one year later.
Now, I'm not advising you to haphazardly throw money at a home, rather I'm saying I wouldn't recommend you back away over a few percent (which would be regained over the next few months. Housing is going to get far more expensive over the next five years, so my strong advice is to fix your housing situation today if you can. The longer you let it go without an optimal solution, the more that you will pay. And that brings up a big question many homeowners are asking themselves lately. What do you do if you sell your home but you don't have one under contract for you to buy? Will you end up homeless?
That could cause a lot of stress were it to happen to you. Well, we have a solution to this problem for homeowners in the Tallahassee area. We'll get your home sold with a provision you can stay until you find the replacement home. If you never find the right one, you don't have to move at all! Ask us about our stress-free move program, it's the best way to get from here to there!
Your Local Expert In Tallahassee
When moving to, in, or from Tallahassee, you will fare better if you work with a local expert. We are here to help. If you have further questions on the Tallahassee real estate market, you can leave a comment below, give us a call at (850) 366-8917, or drop us a note and we'll give you the local information needed to ensure a successful, smooth transaction.
As a local born and raised in Tallahassee with a focus on customer service, I promise you'll find great success when working with Joe Manausa Real Estate, just as have our past customers. You can read thousands of their reviews reported on Google, Facebook and Zillow right here: Real Estate Agent Reviews Tallahassee.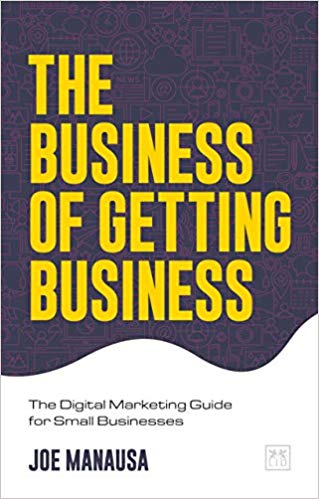 Have you heard about my new book "The Business of Getting Business?" It's a comprehensive guide for small businesses to help them make the move to digital. For those of us who want to survive and thrive in a world where large corporations are taking over, it is a must-read. It's also the perfect guide for how to sell a home in the digital age. You can find The Business Of Getting Business by clicking on any of the trusted retailers below.

Think all REALTORS are alike?
Read what people are saying about working with Joe Manausa Real Estate! You can see thousands of real customer reviews reported on Google, Facebook and Zillow at this link: CLICK HERE FOR REAL ESTATE AGENT REVIEWS.
I recently stumbled upon your latest Carrabelle listing. I must say, a home on Florida's Forgotten Coast is bound to be snatched up quickly. Best of luck with getting it under contract soon!

Posted by Barbara Corcoran on Thursday, June 15, 2023