Housing Market Report Warns You To Prepare
Posted by Joe Manausa on Monday, February 10, 2020 at 5:55 AM
By Joe Manausa / February 10, 2020
Comment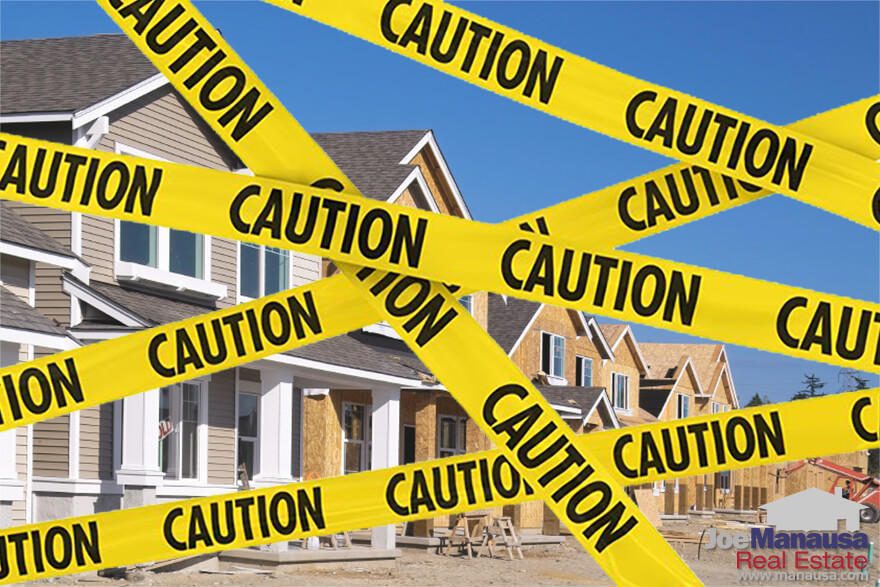 Is there another bubble forming in the real estate market? Are home values about to plummet as they did in 2006? What's the forecast for the Tallahassee real estate market and what should we expect as summer approaches?
These are some of the more common questions we get each week from people looking to buy a home or sell a home, so today we've assembled some simple graphs that will provide sound evidence of the current (and near future) conditions in the Tallahassee real estate market.
Activity In The Housing Market
The graph below measures the current activity in the housing market and compares it with what was recorded in the past. It looks as the percentage of the inventory that is selling each month.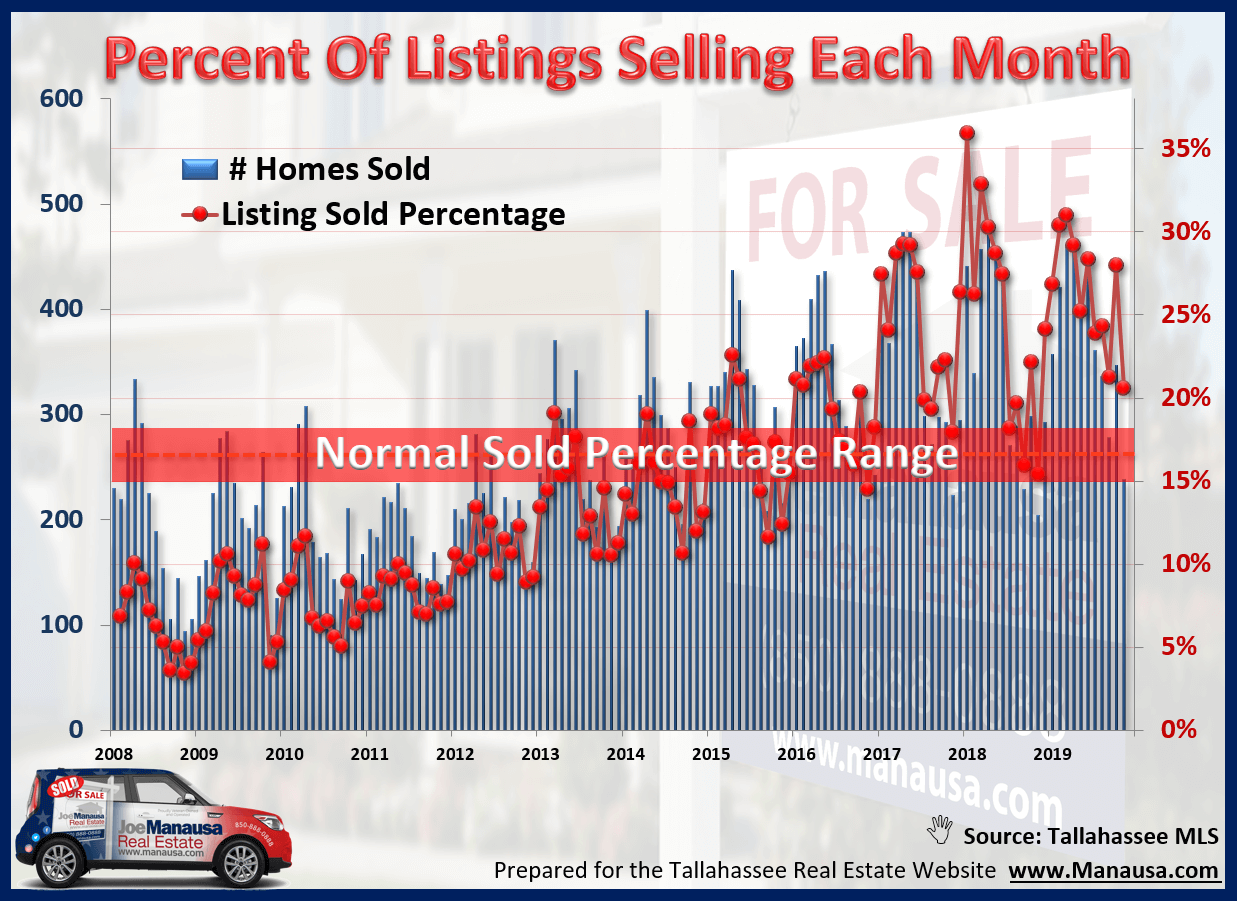 The percentage of existing inventory that is selling each month is on the rise. In the graph above, the red lines report the percentage of homes that sold each month, while the blue columns report the actual number of homes sold.
Historically, industry experts believed the market was balanced (or what we'll call "normal") when six month's of supply of homes were available. That means we expected, on average, 1/6th of the homes to sell each month.
Of course, with real estate seasonality in play, we actually expect some months to be above average, some months being average, and some months to be below average. In a normal year, we might see January and February sell fewer than average homes, while March through August would see average to more than average the number of homes sold, and September through December would report average to below-average numbers.
But that is not what we are seeing. Last year, every single month showed above-average results, meaning inventory is moving much faster than normal.
Inventory Of Homes For Sale
This next graph is busy, with seemingly a lot of information to take in. Fortunately, what we're really interested in is that yellow line which measures the non-seasonal relative supply of homes. That's the months of supply of homes averaged-out over the past twelve months.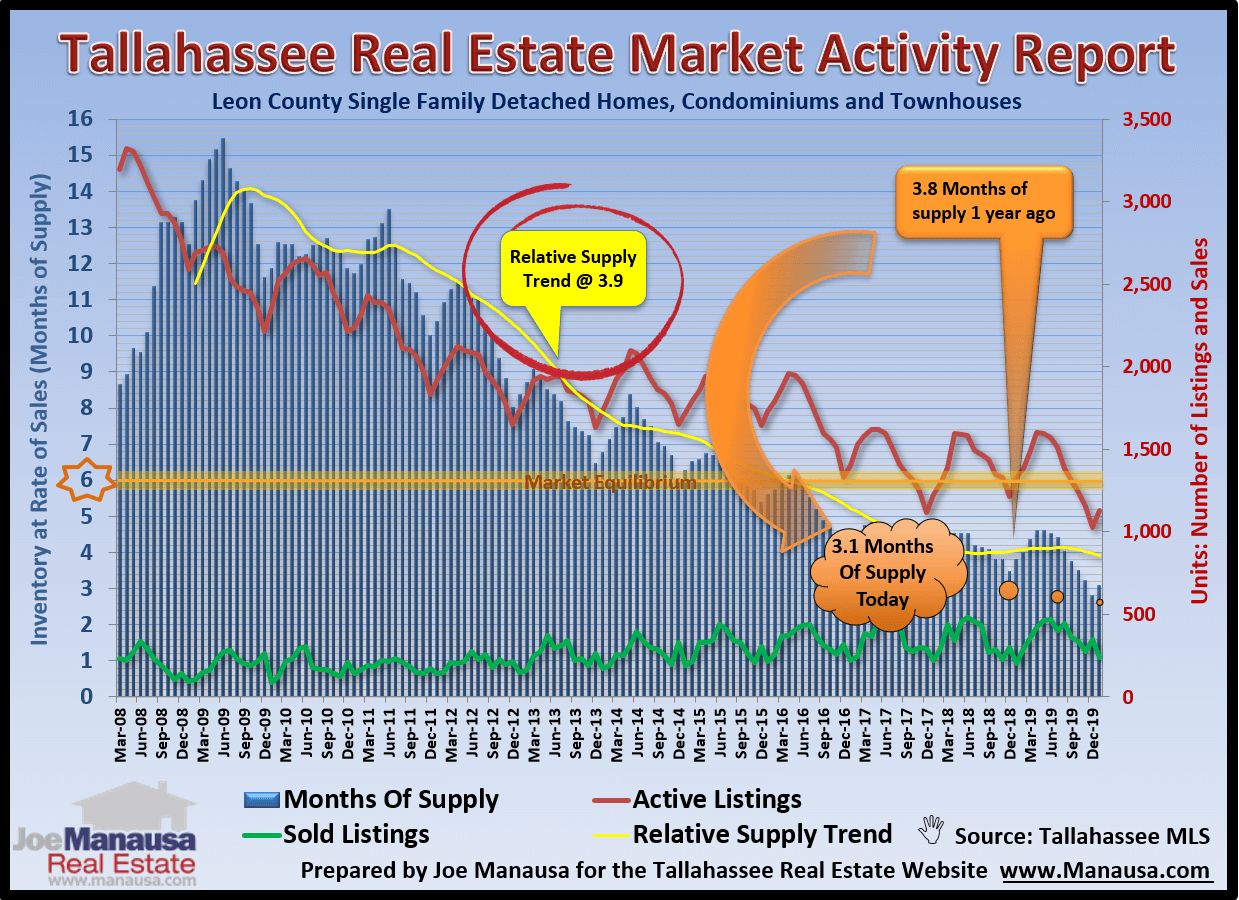 This graph shows that we've reached a new low on the graph for the relative supply of homes. Last year, there were 3.8 months of supply in January, but this year that number has fallen to 3.1 months of supply. On average over the past twelve months, the relative supply has been 3.9 months.
To put this in context, 6.0 months of supply is the level that delivers a balanced market, so 3.9 months means we are grossly under-supplied.
For all of our readers who do not have degrees in economics, guess what happens in a market when demand outpaces supply?
PRICES GO HIGHER! - Expect To See Appreciation Accelerate
When I need real estate advice in Tallahassee, I call Joe Manausa. His innovative marketing attracts hundreds of buyers every month which creates more demand for your home, selling it faster and for more money. He guarantees to sell it on your timeline or he'll buy it! Call the agent I trust, Joe Manausa, and avoid the drama.
Competition Among Buyers Leads To Bidding Wars
The graph below measures the current inventory of homes for sale each month and identifies how many active listings are already under contract with buyers.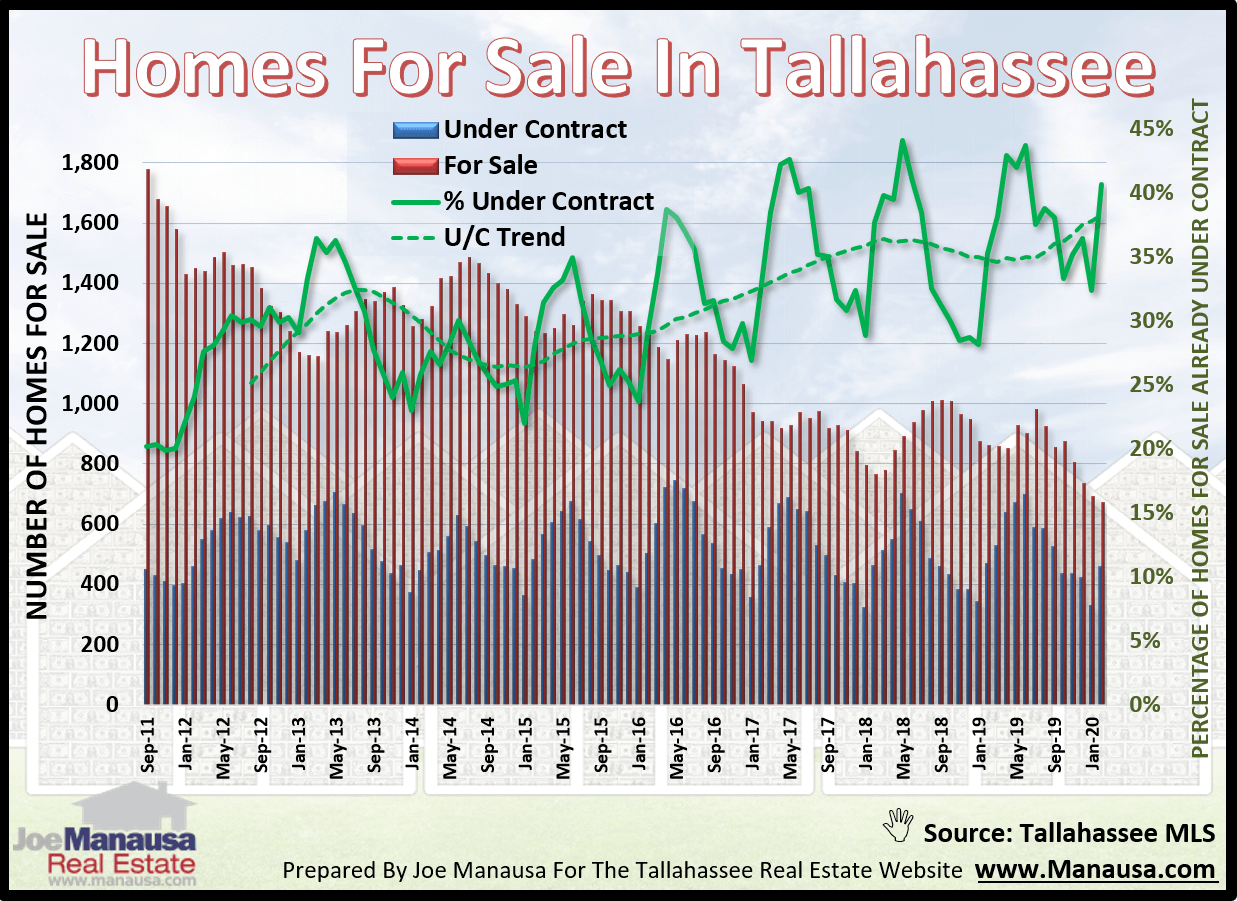 The solid green line reports the percentage of homes for sale that are already under contract each month, while the dotted line reveals the one-year average of this percentage. It has reached a new high of nearly 38%.
This means that over the past year when buyers have searched the homes for sale, more than one of every three (nearly 4 of every 10) was already under contract. Ultimately, there is far less available for buyers today than what we have been used to in the past.
Of course, all three graphs above measure all price ranges and areas in Leon County. so some areas and price ranges are not accurately reflected here. Homes priced above $600K remain in a buyer's market, but homes priced below $400K are even scarcer.
Housing Market Answers
OK, when we started this post, we identified several questions that had been asked by our customers. Here are the answers:
No, there is no housing bubble in sight. Why? Because this market is the opposite of a housing bubble. Bubbles burst when inventory outraces demand due to either high supply or low demand.
No, home values are not going to plummet. Why? Right now, inventory is too low and our concerns is for home values running out of control higher, not lower. Demand is not historically high, but it is solid. But inventories are lower than we've seen and builders are not building as many homes as are needed.
Expect to see competition for homes for the bottom 90% of the market - Only the homes priced at the top of the real estate pyramid are going to see a "normal" summer. The 90% of homes priced below the top 10% are going to have buyers competing for the right to buy them. See my advice below.
How To Use This Housing Market Information
If you aren't planning on moving, this information can be useful in understanding the future value of your home. If you own it, it is growing (faster) in value, which means you are building a nice nest egg.
If you are planning to move, you should expect more competition for the home you are next going to buy. That means you'll need to be decisive. The best way to ensure that this does not work against you is to prepare ahead of time and establish the date for when you would like to move.
Don't enter the market unprepared or you might miss your dream home (or worse), end up over-paying for the home you buy. Buyers who mistakenly try to wait-out the market are going to be hit with a double whammy. Homes will be priced higher, and mortgage interest rates will be higher too. When they finally get off the fence, they will end up with less than they could get now for the same money and payment.
If you have a home to sell, you will be attempted to believe that it will be easy to sell (and you'll be correct!). But don't confuse the ease of finding a buyer with the goal of selling your home for top dollar. To get the most money from your home sale, you need to attract multiple buyers in order to get the home bid up to its full potential. Ensure you hire the real estate agent who delivers the best, omnichannel marketing plan for your home.
Remember, Real Estate Is Local
Was our February 2020 housing report insightful? Do you have further questions on the Tallahassee real estate market? If so, you can leave a comment below, give us a call at (850) 366-8917, or drop us a note and we'll give you the local information needed to ensure a successful, smooth transaction.
As a local born and raised in Tallahassee with a focus on customer service, I promise you'll find great success when working with Joe Manausa Real Estate, just as have our past customers. You can thousands of their reviews reported on Google, Facebook and Zillow right here: Real Estate Agent Reviews Tallahassee.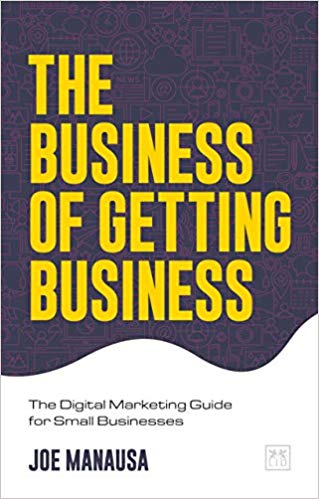 Have you heard about my new book "The Business of Getting Business?" It's a comprehensive guide for small businesses to help them make the move to digital. For those of us who want to survive and thrive in a world where large corporations are taking over, it is a must-read. It's also the perfect guide for how to sell a home in the digital age.
You can find it on Amazon (UK) for immediate delivery, or you can go to Amazon (US) to reserve a copy at a pre-US published rate.
Real Estate Market Information Can Be Overwhelming
That's why Joe breaks the data down into easy-to-understand concepts. Whether you're buying, selling, investing or just interested in the market, sign up for Joe's blog to get the latest Tallahassee real estate updates, straight to your inbox.