New Construction Listings (Listen To What Builders Are Hearing)
Posted by Joe Manausa on Friday, February 16, 2018 at 8:54 AM
By Joe Manausa / February 16, 2018
Comment
Tallahassee homebuilders are going to have their best year going back more than 7 years, as the growing number of buyers are discovering inventory shortages in many areas and numerous price ranges.
I was asked to provide my outlook for new construction to the Tallahassee Builders Association yesterday, so we recorded the presentation and have shared it in both video and rough transcription below.
But first of all, here are all the new construction homes for sale in the Tallahassee MLS:
Presentation To The Tallahassee Builders Assocation
The following video is a recording of my presentation to TBA members yesterday (February 15, 2018). You should note that the forecast is in stark contrast to what I had shared with them just six years ago.
Housing Market Activity
New construction represented 9% of all homes sold in 2017, up about a percent from the year prior and the best "market share" for builders since 2011.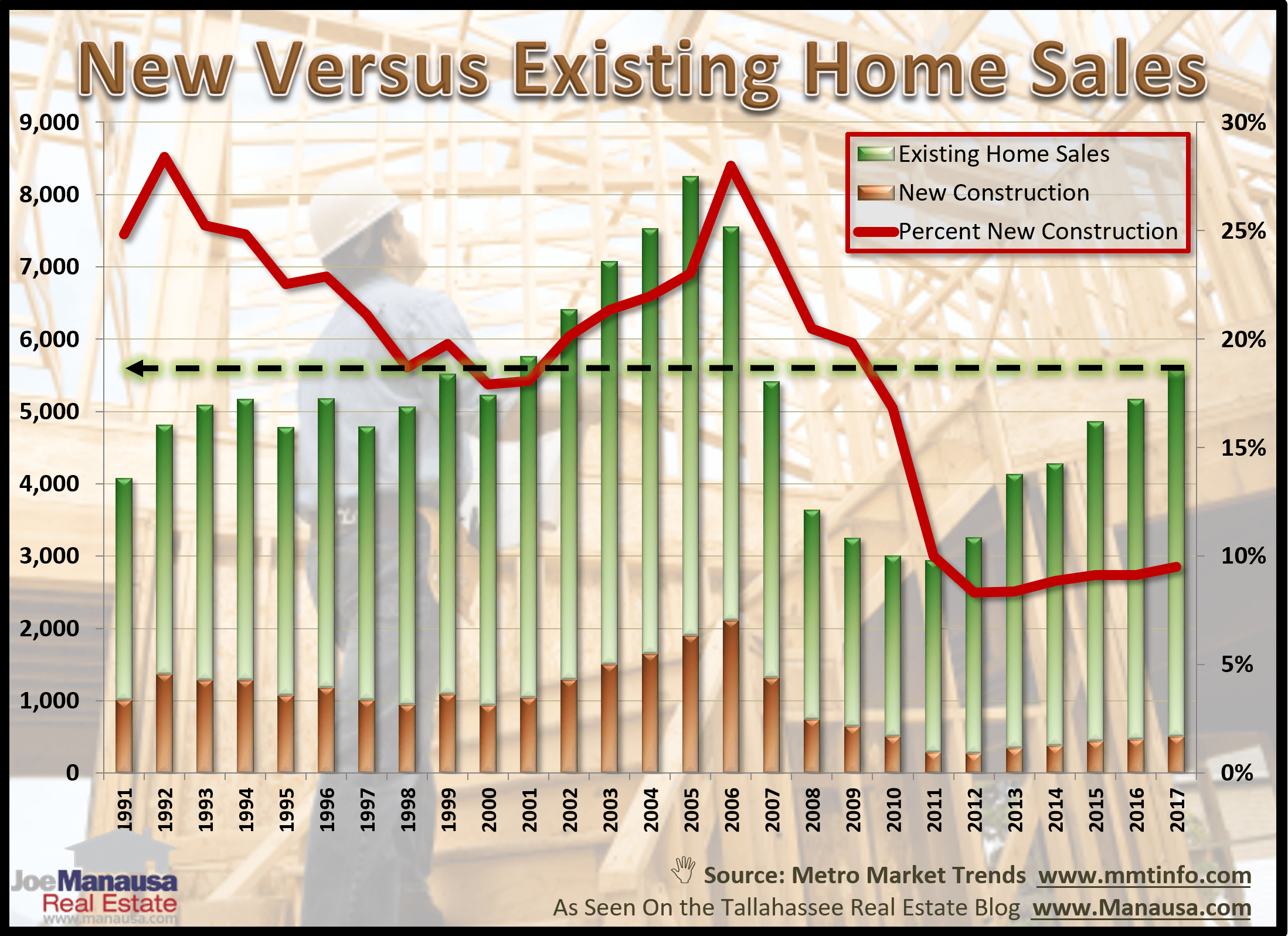 When you look at the red line in the graph above, you should see that the average market share for builders in the 1990s and 2000s was 21%! Much higher than today's levels.
So where have all the buyers gone? Why haven't new homes been needed over the past 10 years?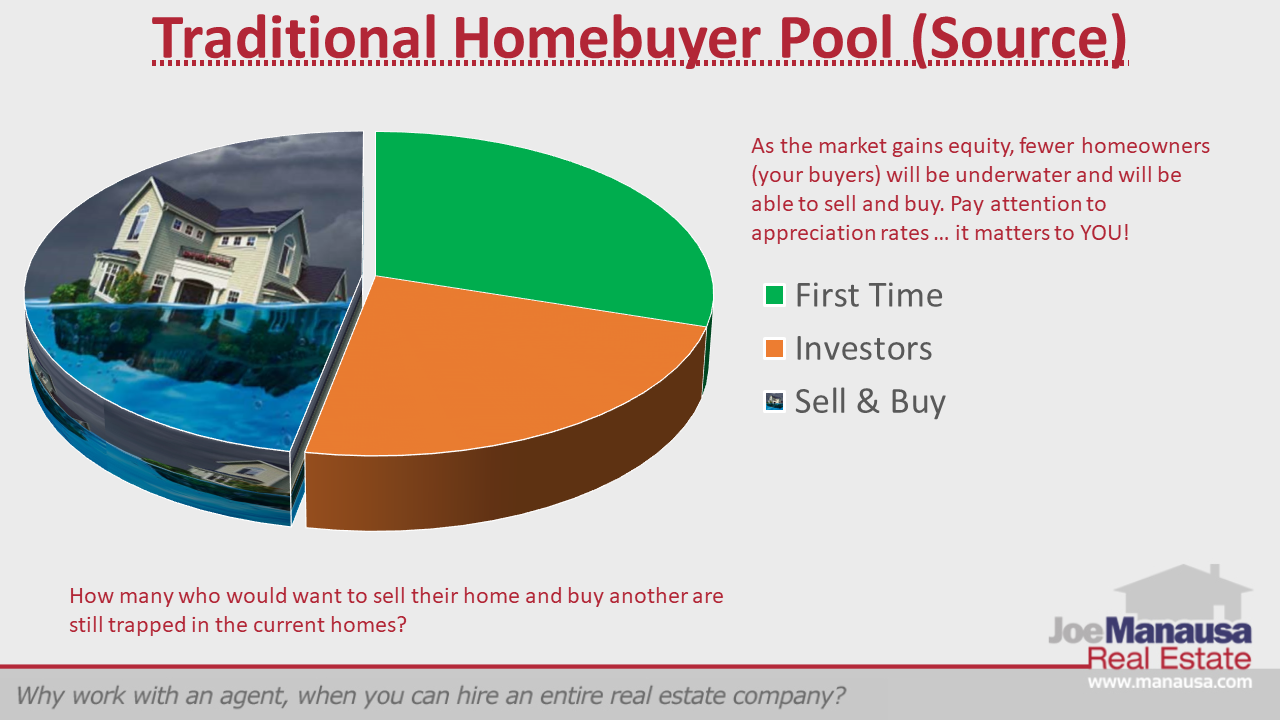 Historically, more than a quarter of all buyers are first-time homebuyers (defined as somebody who has not owned a home in the past 3 years). Less than a quarter are investors, leaving roughly 45% of the buyer pool as people who have a home to sell before they buy the next one.
This final group has been weighted down with negative equity due to falling values. So how large is the pool of potential buyers who are trapped in their homes?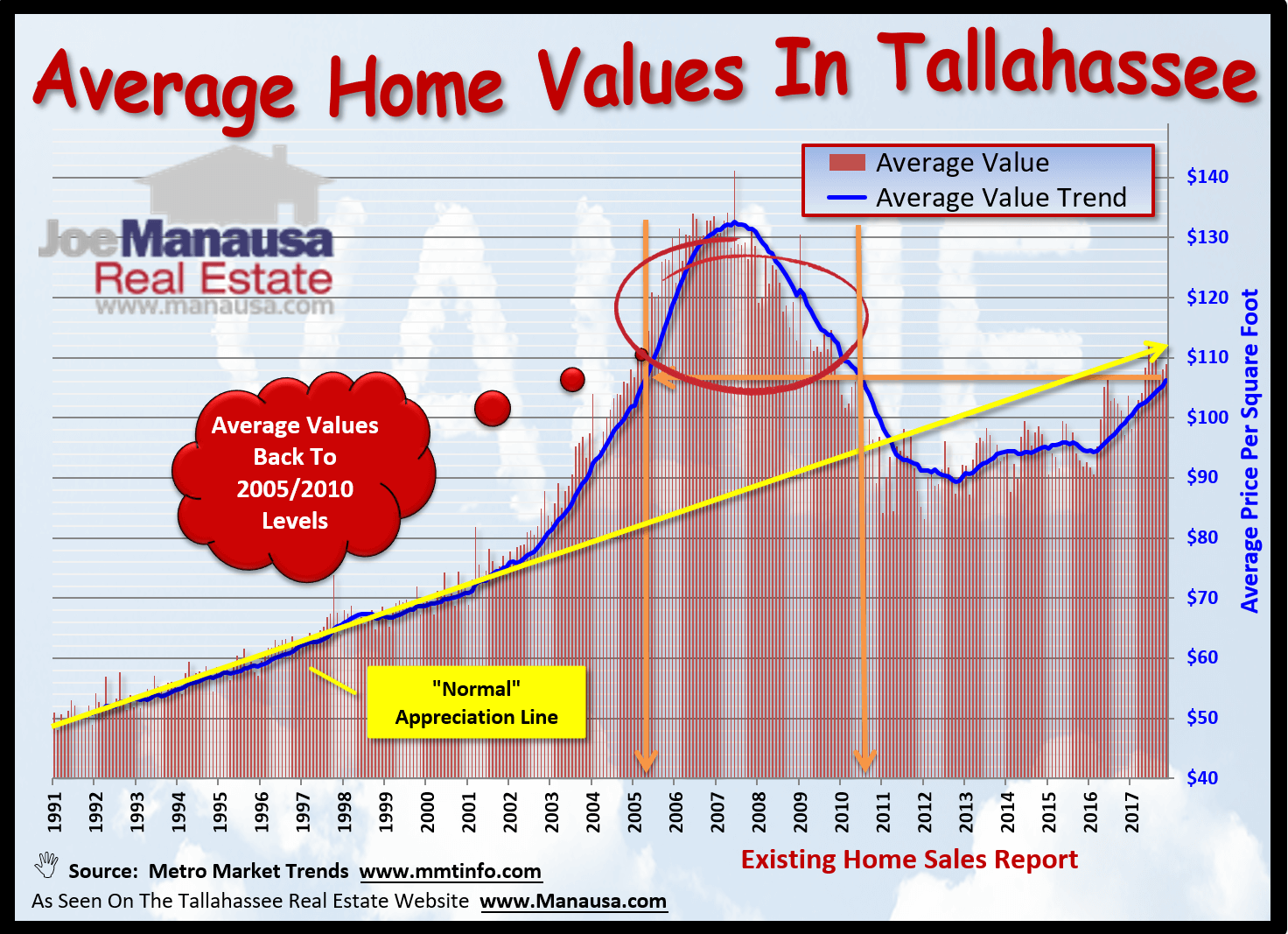 There are 29,000 home sales in the circled area in the graph above. Subtract from that the people who have already sold (short sales and foreclosures), but add to it all the people who refinanced during that same period of time.
That circle represents all homeowners who purchased their homes when they were worth more than the homes are worth today. Starting in 2005, there are people who have already hit their natural move cycle but are awaiting the return of home values.
Real Estate Supply And Demand
This next one is perhaps the graph that I examine most often of the hundreds that I create to monitor the Tallahassee real estate market.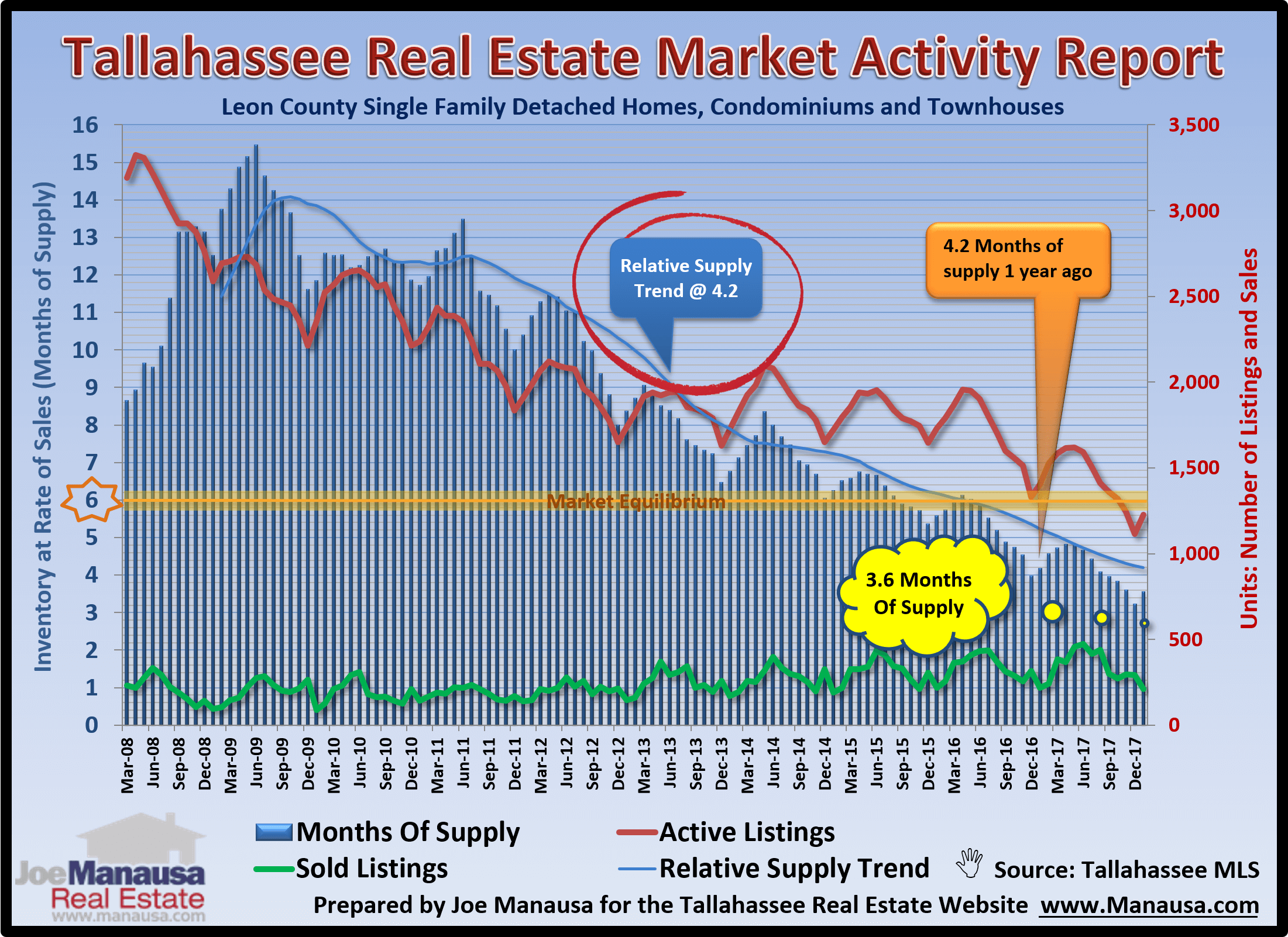 This graph is covered in great detail in the video above, but what it says is the we do not have enough homes for sale right now, and the inventory is declining. The one-year average months of supply of homes has dropped to 4.2 (a very strong seller's market).
But overall market conditions do not apply to everybody equally. Take a look at the same graph, limited to high end homes ($600K+).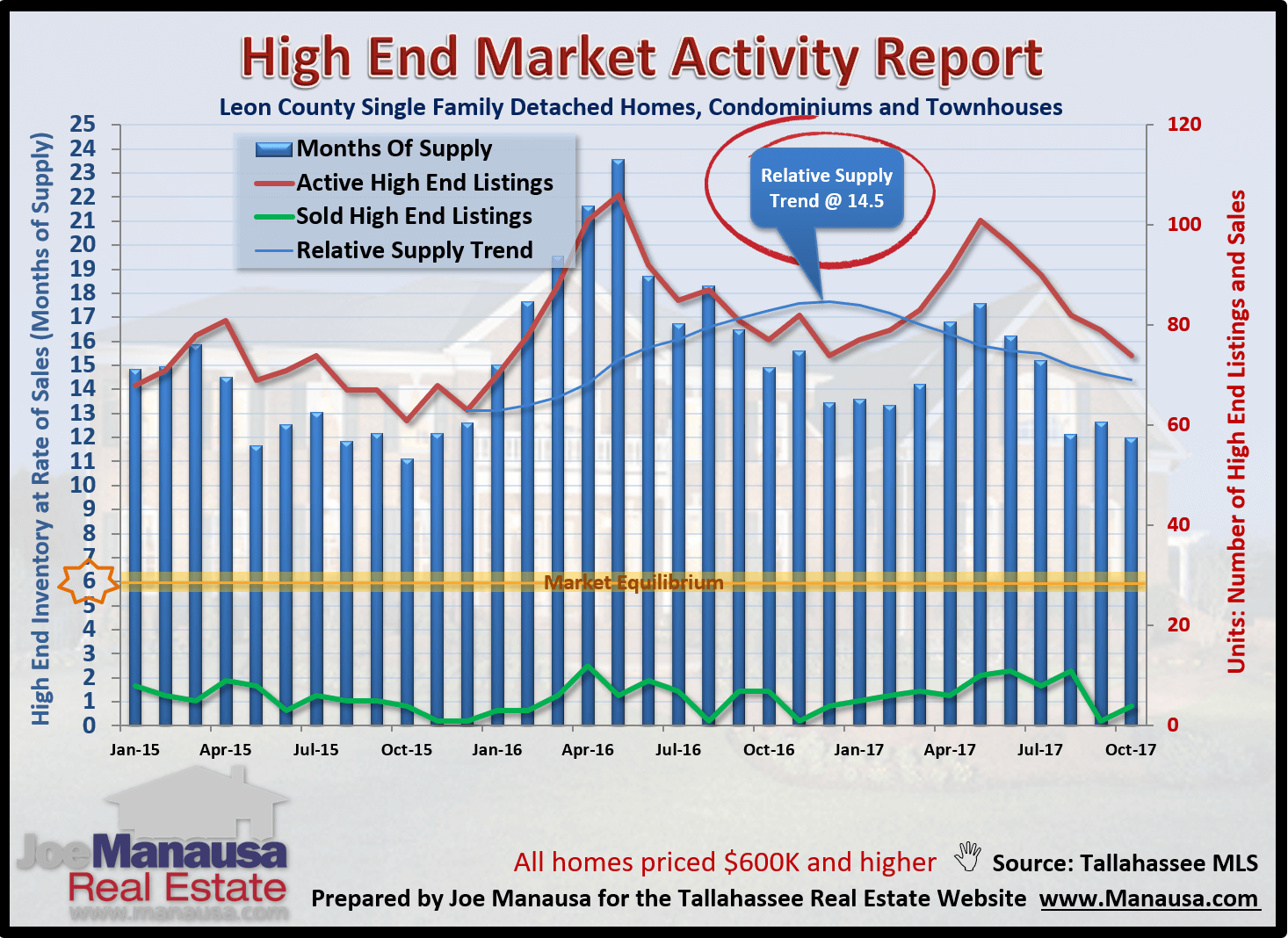 Seasonally adjusted relative supply is at an all-time low of 13.5 months of supply for homes price above $600K ... this is way too high, more than double the number of homes need at our current rate of demand. Not only is their a glut, but many high-end sales are new (more than 30%), so inventory is declining at a slower rate than the rest of the market.

Speak To An Expert!
The average agent in Tallahassee sells fewer than 6 homes per year.
Joe and his team (led by military Veterans) are on track to sell 600 homes this year.
Don't you want that kind of dedicated commitment working for you?
Is Today's Market Like 2005?
One big question I get from concerned homebuilders when discussing the growth of the Tallahassee real estate market is "how similar are current conditions to those we experienced in 2005?"
If you weren't in Tallahassee or if you were not paying attention to the housing market in 2005, we were going through "irrational exhuberrance" and our market was on fire. People were often buying more than one home because "real estate always goes up in value."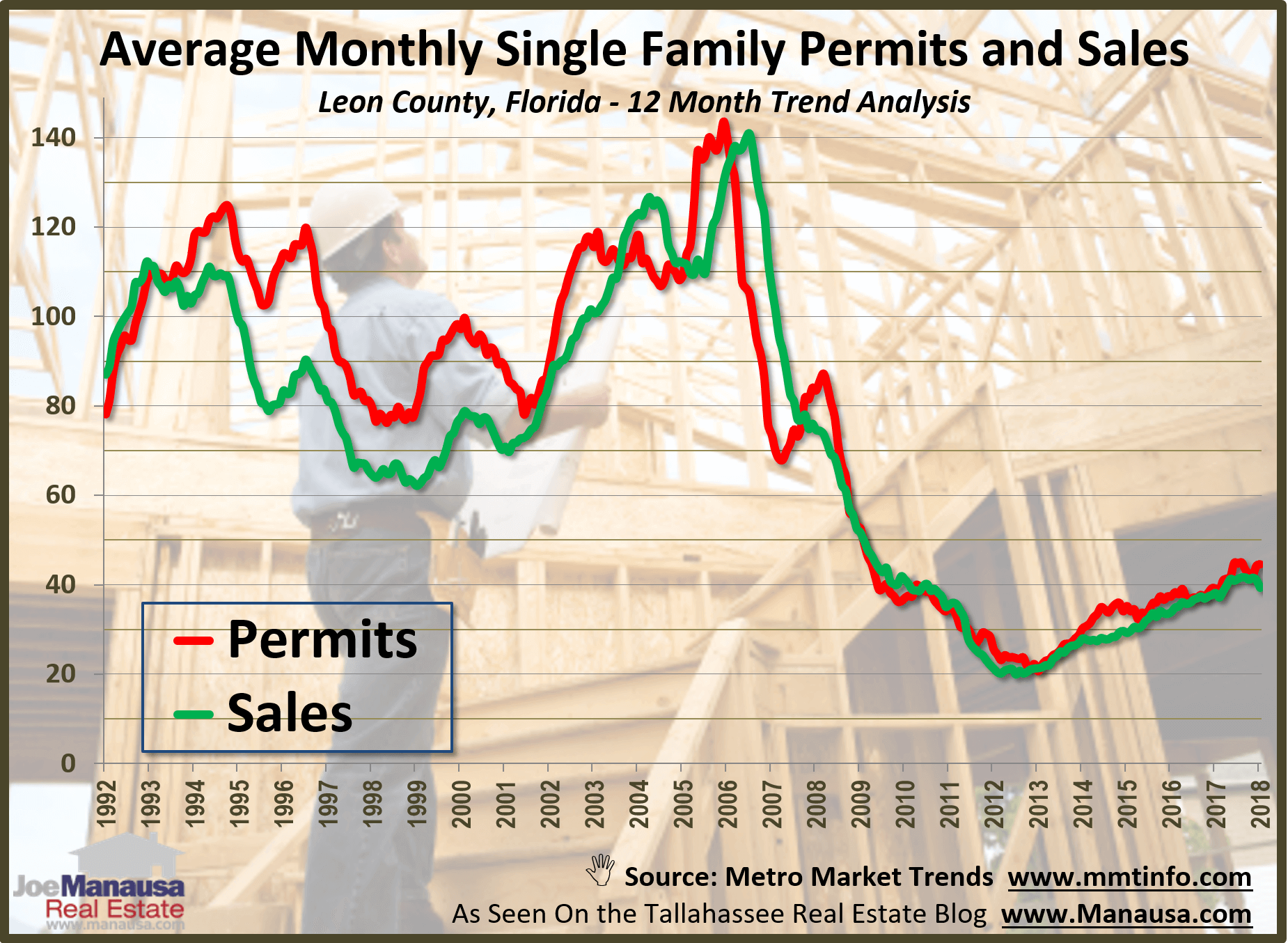 The graph above shows the annual trend of permits and sales, and I explain this in better detail in the video.
The graph shows us that Tallahassee builders are not speculating enough right now, and it has led to a severe inventory shortage. This shortage is what seperates (significantly) our current market conditions with those we experienced in 2005.
The inventory was flush in '05, it's bare in '18. Most significantly, we are on pace for about 6,000 home sales in 2018, where we hit more than 8,200 in 2005 (with a smaller population back then). So the short answer is "no, conditions now are not like they were in 2005."
Builders Must Listen To The Market
I strongly urged the builders to do a better job of listening to the market, as this will ensure that they do not build themselves into a trap.
This is an area that I spent some time on in the video above, as these are critical elements of a sound tactical plan for homebuilders. Even if you fast-forward to this point, it's worth the listen if you are selling homes (or even "a" home).
How Builders Should Proceed Right Now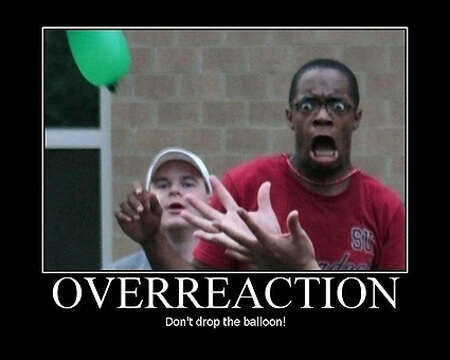 It's important to understand that in any market, real estate included, consumers do not react to market cycles. They are late, then they over-react. Unfortunately, this is often true about suppliers too.
Psychological factors suggest that there are systematic patterns of over-reaction and under-reaction based upon prior beliefs.
Too many builders want to avoid the mistakes made in 2005. They are idled down, not building enough homes. They are going to watch new builders come in and clean up for several years. By the time our builders' confidence is restored, they will end up entering the market too late. NOW is the time to build.
Banks need to loosen qualification requirements for established homebuilders so that they can build speculative housing. Builders need to build more homes.
Final Thoughts
The video above is 22 minutes long, but contains a wealth of information for homebuilders. If you want to skip the video and only take away one message ...
Builders need to build more homes!
Believe The Hype!
Check out our most recent review on Google. Thanks Alex!

This concludes our early 2018 forecast for home sales in Tallahassee. Questions? Please give us a call at (850) 366-8917 or drop us a note if you have questions not covered in this report. If you think we cover more in-depth information about Tallahassee and its most popular neighborhoods than any other real estate website, please be sure to share us with your friends!