Redfin Report: First Yearly Dip in Home Prices
Posted by Joe Manausa on Monday, May 15, 2023 at 6:00 AM
By Joe Manausa / May 15, 2023
Comment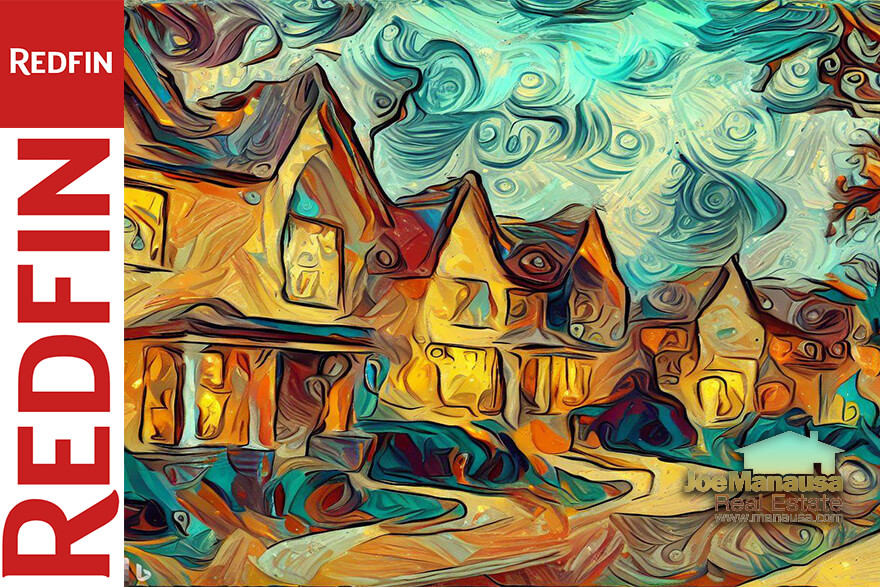 Step into the world of real estate, and you'll find a market that's as enigmatic as a Van Gogh painting.
Some view it as a bleak landscape where only the wealthy can find a place to call their own, while others see it as a vibrant landscape of opportunity. Regardless of your viewpoint, the latest Redfin Housing Market update provides a unique perspective on current affairs.
Unlike the usual reports from Zillow or MLS, this update draws its insights from one of the larger real estate portals on the web. It's a view of the market that's as rich and colorful as any of Van Gogh's masterpieces.
Median Home Sales Price Breaks 10-Year Run
Our first graph in today's report shows that something occurred over the past two months that has not happened in the past ten years.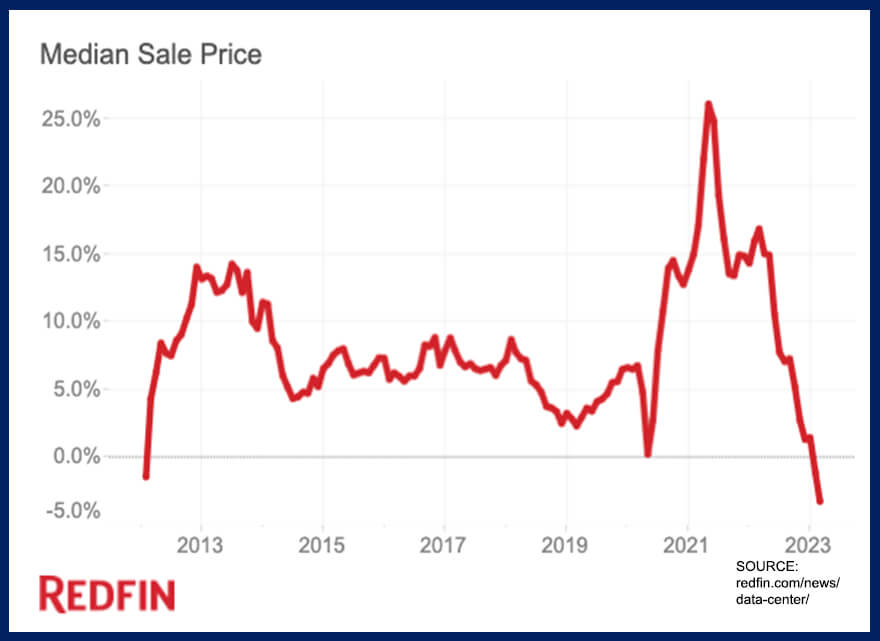 This graph plots the median home price change each month.
In March, the median price of homes sold in the United States dropped to $400,528, a 3.3% decline from the previous year. This is the largest year-over-year decrease since 2012. In February, the median home sale price decreased by 1.2% from the previous year, marking the first annual decline since 2012.
Home prices dropped significantly in cities that saw a surge in demand during the pandemic, such as Austin and San Jose. Meanwhile, more affordable areas continued to experience price increases.
The demand for homes decreased due to high mortgage rates and limited inventory, resulting in the lowest pending home sales since the pandemic began. Homeowners also held onto their low mortgage rates, causing new listings to hit a pandemic-era low. As a result, bidding wars continued in many markets due to the lack of available homes for sale.
Redfin also included a statement about a dubious real estate statistic:
Just 28.5% of U.S. homes sold for more than their final list price in March, down from 54.1% a year earlier.
If you read my recent article on misleading housing statistics, you'll understand that the structure of MLS systems makes it impossible to measure the sales price to list price ratio accurately. Therefore, Redfin's reported statistic is fabricated and unreliable.
Get Our Free Market Update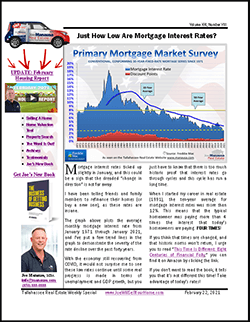 Other buyers, sellers, lenders, and real estate agents have this critical information, and now you can too!
Get immediate access to our most recent newsletter.
Let more than 30 years of experience work for you with charts, graphs, and analysis of the Tallahassee housing market.
Each Monday morning we send out a simple, one-page report that provides a snapshot of the Tallahassee housing market. It only takes 2 minutes to read, but it gives you better market intelligence than most real estate agents possess. Just tell us where to send it below!
Median Home Price Moving Higher?
When we adjust our graph of the median home price to monthly values in a few key metro areas (as well as the national plot), we find that there is a recent rise at the US level and most large metropolitan areas too.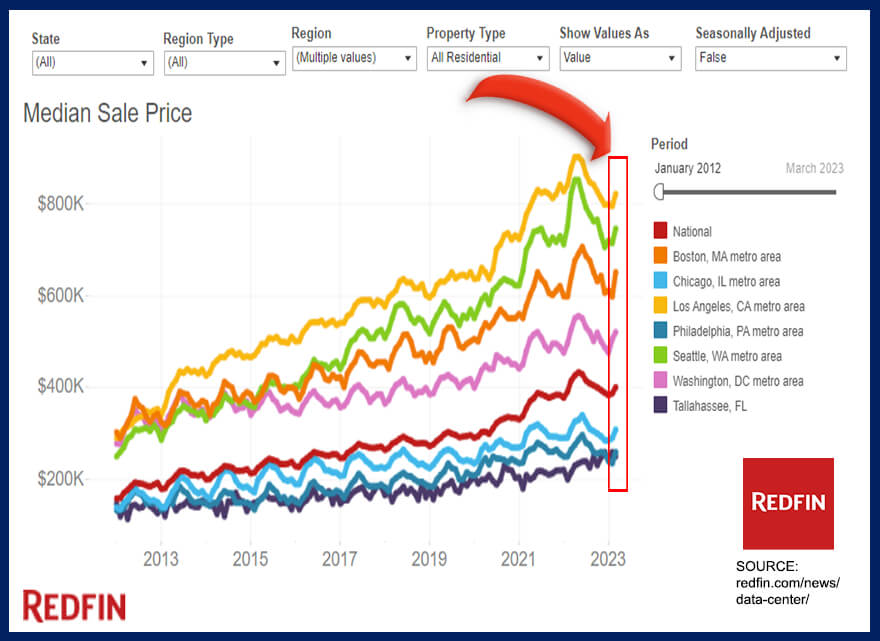 I have boxed in the previous three months to isolate this period from all others. Unlike expectations from speculators, most markets are seeing the median move higher.
Long-time readers of the Tallahassee Real Estate Blog probably expected this move. Every year, we report that the second quarter of the year is when we see the largest gains in appreciation, as the spring buying season produces the greatest demand for homes.
This year (like in recent years), the available inventory of homes for sale is so low that buyers of all but the top third of all homes are finding themselves in bidding wars. Why? Because we have not built enough homes!
Months Of Supply Of Homes
The way we evaluate the appropriate supply of homes for sale is to compare the average number of listings to the average number of sales. When we do the division, it provides the months' supply of homes, and the target that has been considered "balanced" is about 6 months of supply, though I believe modern home-selling methods will show us that four months is ample.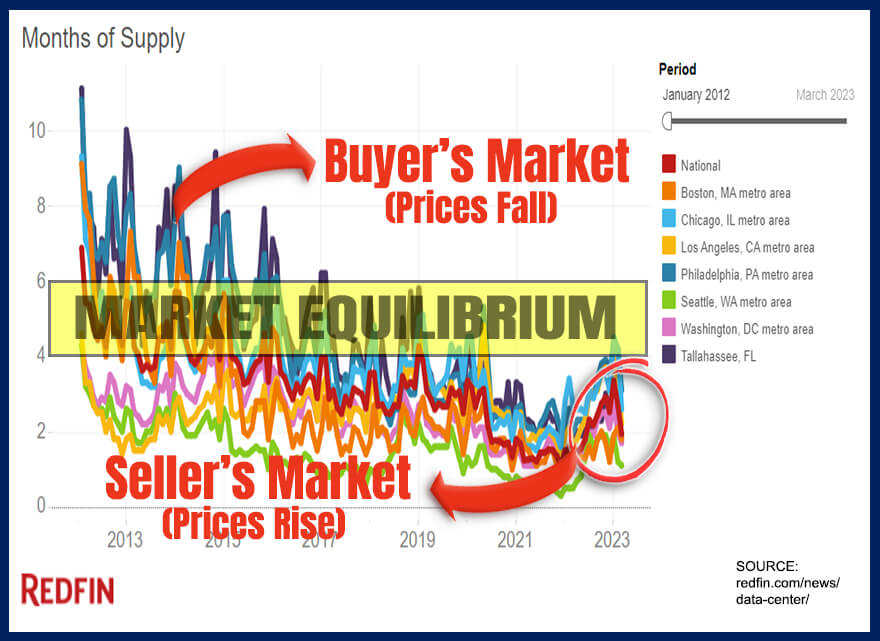 This graph shows that the US housing market is grossly undersupplied. Whether you believe the old standard of six months of supply is normal or the new standard of 4 months, either way, there are just 1.9 months of supply of homes in the US and that is why we expect home prices to continue higher.
So not the 30% to 50% decline that many YouTubers claim. Instead, we anticipate home prices to move higher. It's simple. Even with 30% fewer buyers in the market, there are not enough homes to house the growing population in the US. So if demand is so hot, why are builders not producing more homes?
New Construction Premium Points To Higher Prices
This graph was produced from my Tallahassee data set, which allows me to be very recent with my analysis. It plots the five-year trend of the monthly median price per square foot of both new and existing homes and then calculates the difference between the two. The difference is the new construction "premium" buyers pay to get a new home.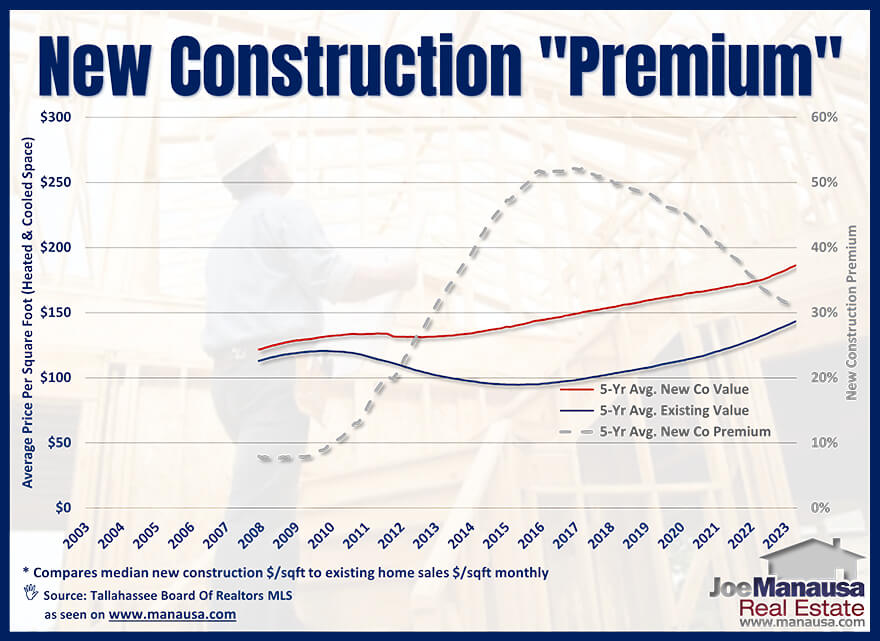 This graph starts with data from 2003 and shows the new construction premium trend was below 10% until after 2011, and then the cost of construction moved higher while the cost of existing homes declined. Builders shut production down as they could not compete with the existing homes market.
Even as home prices recovered, builder costs remained well above the existing homes market, peaking at more than 51% in 2016. So you have to wonder, why is it so expensive to build new homes, when historically they could be produced at roughly a 10% higher cost than existing homes?
Prior to COVID, the differential was greater than today. With roughly a quarter of all States voting for minimum wage acceleration, we should not be surprised. Since 2020, wage growth and COVID-related supply disruptions have made homebuilding very expensive. We might see some relief from elevated material costs, but as one local builder pointed out, "We won't see labor costs come down. In fact, they are soaring."
Among all the graphs presented in this report, I believe that this particular graph provides the strongest evidence that home prices will continue to rise, despite the possibility of a slowing trajectory. I anticipate a pattern of jagged, intermittent increases similar to those observed in the past.
Of course, there is one other factor that is pushing up home prices, and it's one that you can help to fix.
It is important to remember that higher labor costs have a ripple effect on material costs, including transportation. Furthermore, the cost of land is also increasing due to NIMBYism (as explained in the video above), which is making it challenging to develop new homes.
With the inventory of homes in the US failing to keep pace with population growth, the new homes entering the market will be priced much higher than before. As long as this inventory shortage persists, the upward trend in home prices is expected to continue.
There are a lot of people who endorse Joe for the job of selling your home, from Barbara Corcoran (Star of ABC's Shark Tank) to Preston Scott (host of Tallahassee's top daily "Audio Magazine," as well as the thousands of happy customers Joe has helped in the past. Listen why!