3 Pro Tricks To Find Great Real Estate Investment Properties
Posted by Joe Manausa on Monday, May 25, 2020 at 5:55 AM
By Joe Manausa / May 25, 2020
Comment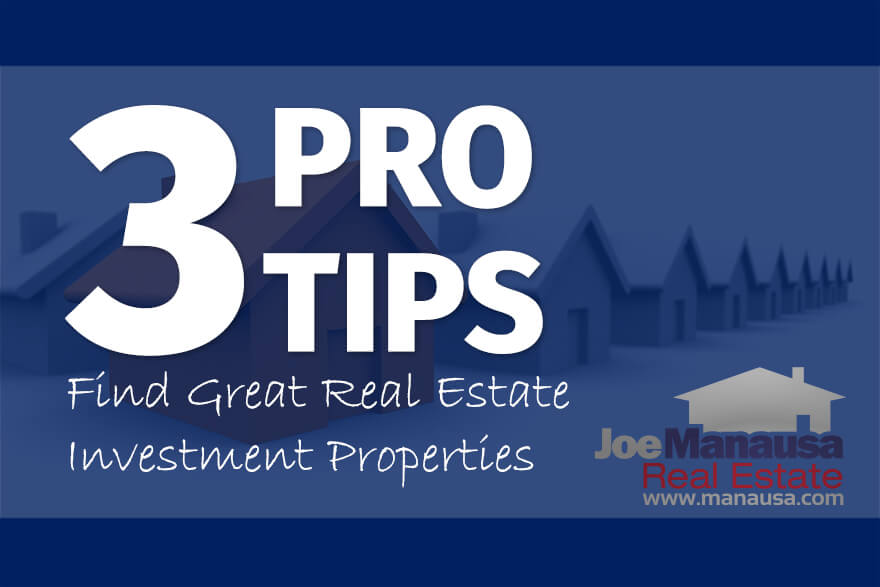 If you want to be a successful real estate investor, you need to have a strategy and the tools to ensure you maintain the perfect portfolio of properties.
Everybody's needs are different, but there are some great ways to ensure that when you buy an investment property, it is poised to beat the market for appreciation in the years to come.
Take a look at a select group of properties below that are likely to beat the market in appreciation, then follow below for the tips on how you too can produce a list like this.
Tallahassee Real Estate Investment Properties
3 Pro Tips For Finding Great Real Estate Investments
Whether you are just starting out as a real estate investor, or you are ramping up to acquire more properties, just follow these three rules and you will safely invest your hard-earned money into an income-generating real estate investment portfolio.
Know The Rules
Before you start looking at homes to add to your income-producing real estate portfolio, you should establish some rules that you will abide by.
For example, one investor I know wants to stick to a specific part of town so that he does not have to travel far to do "drive-bys" and visit tenants when the need arises. Another example is an investor who will only buy single-family detached homes, she has no interest in condominiums or townhouses.
The key is to establish the rules you want to follow, and then follow them! This might sound simple, but having no rules means you are susceptible to an emotional purchase because you can "get a great deal." Great deals are great, but not if you end up owning a good property that falls outside of what you want to own.
One great way to establish your rules is to work with an experienced real estate agent who has purchased investment properties and has helped many others do so as well. It is very likely that you will not spend any more money working with an expert as you would with any other real estate agent, so be smart, hire a valuable ally.
Let Data Drive Your Search
This is one that I rarely see investors use, and that is why most great deals go to people within the real estate industry. We use data daily, and the data makes great deals stand-out fast.
The way you do this (after establishing your rules to follow) is to set up a saved search that isolates the properties that might fit your needs. The following short video shows how to create a saved search, and you should know that you can create multiple saved searches. This way, you can really isolate each opportunity that you would like to explore.
How To Save Your Real Estate Investment Search Criteria
If you set the searches correctly, you will be notified every time a new property that meets your initial criteria hits the market. In today's low-inventory market, there is a very real need for reaction speed! If the right property is listed, you need to make an offer within minutes in order to have the chance to secure it.
If you think this is overstated, go back to the properties identified above and look at how many of them are already under contract! Good properties sell very fast, and you need to work with the right agent who will help you successfully negotiate the property.
SUCCESSFUL INVESTMENT IS WARFARE!
There are fundamental concepts that apply to the real estate investment industry that have also been found true consistently on the battlefield throughout history.
Prudent investors could strengthen their positions by taking a lesson from our military history and doctrine.
This brief paper, assembled by a West Point-educated US Army combat veteran, attempts to explain how investors can alter their strategic plans by using the same analytical techniques as would be applied by our modern warriors.
Use A Cost-Approach When Determining Value
How does an investor safeguard against over-paying for a property? After all, it is highly likely that you will pay ABOVE asking price when a great property hits the market, but how high is too high?
One way is to look at the property from a replacement value standpoint. For example, let's say you were looking at a 2,000 square foot home, and it was in excellent (but used) condition, and it was priced at $200,000. How good of a deal is that?
Well, if you take a cost-approach, you would evaluate what it would cost you to replace the property by building a new one. Obviously, a new home would be in better shape and have modern improvements, so we're not doing this to compare apples to oranges, rather we do it to establish the discount you are getting by buying used.
In the 2,000 square foot home example, you might discover the land would cost $100K to replace, and the home would cost $125 per square foot to replace. So your replacement cost analysis would show that the home you can buy today for $200K would cost you ($100K + 2,000 X $125) $300,000 to replace. If you do this for each property you evaluate, you'll start to get a feel for finding the diamond in the rough.
How And Why The Saved Search Above Was Created
The following graph shows the neighborhoods selected in the saved search at the beginning of this article.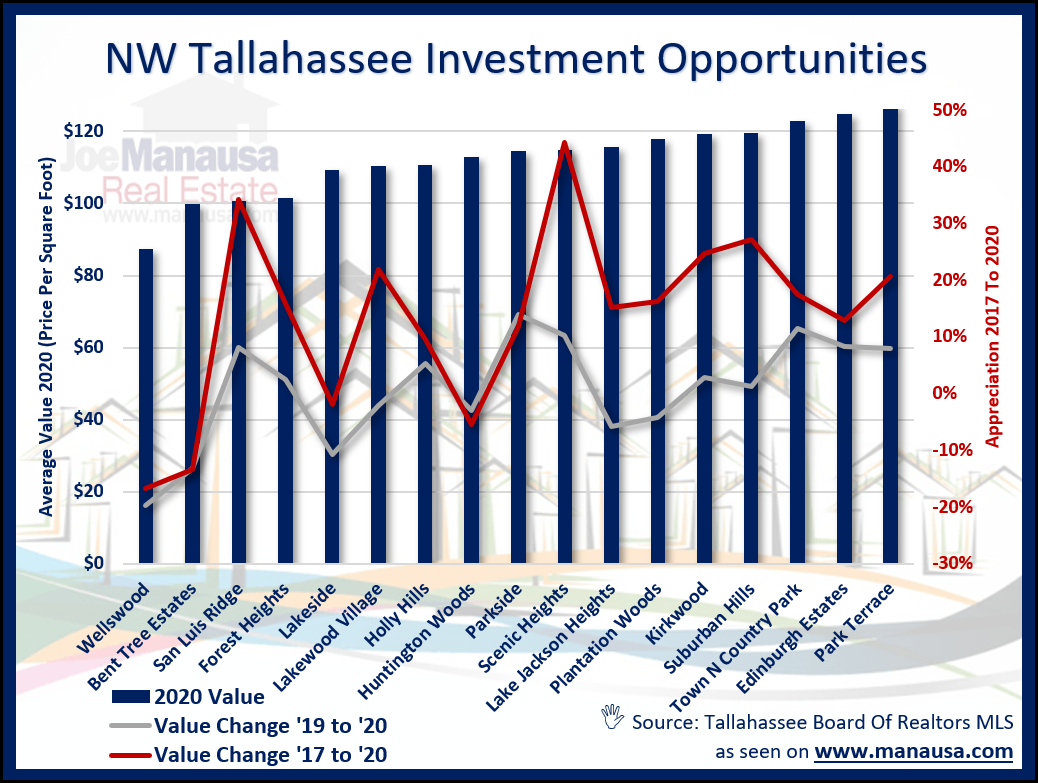 I did some data mining to find neighborhoods that were most-likely beat the market for homes that are priced from $150K to $250K in NW Tallahassee. I am very bullish on this side of town because of several dynamics that I mention in many earlier articles.
From left to right in the graph, the neighborhoods that I selected are sorted by average price per square foot of a home sold in 2020. The red line shows the appreciation rate for the neighborhood over the past three years, while the gray line shows the appreciation rate for 2020 alone (not that some exceed 10%!).
There is no guarantee that any home above is a good buy, but what we've done is isolate the ones most likely to outperform the market by choosing neighborhoods that have mostly underperformed the market during the recovery from 2012.
Right now, I would say that homes in Wellswood and homes in Bent Tree Estate should be closely monitored as having home run potential, and San Luis Ridge, Forest Heights and a few others interesting too. San Luis Ridge values are up more than 30% over the past three years, but they are still far too cheap when looking at a cost-approach valuation.
Let data be your friend, it will guide you to some properties that you might not have considered. Remember, if you work with a real estate buyer's agent that you trust and that you know is an expert in the market, it will allow you to sleep soundly knowing that your real estate investment is a wise decision.
Your Local Expert In Tallahassee
When moving to, in, or from Tallahassee, you will fare better if you work with a local expert. We are here to help. If you have further questions on the Tallahassee real estate market, you can leave a comment below, give us a call at (850) 366-8917, or drop us a note and we'll give you the local information needed to ensure a successful, smooth transaction.
As a local born and raised in Tallahassee with a focus on customer service, I promise you'll find great success when working with Joe Manausa Real Estate, just as have our past customers. You can read thousands of their reviews reported on Google, Facebook and Zillow right here: Real Estate Agent Reviews Tallahassee.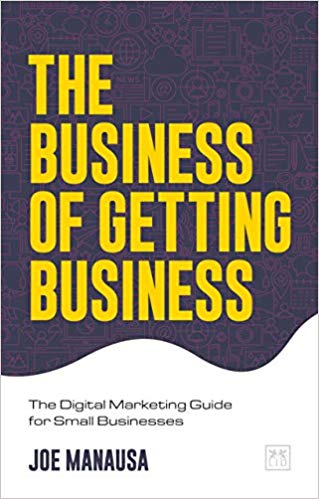 Have you heard about my new book "The Business of Getting Business?" It's a comprehensive guide for small businesses to help them make the move to digital. For those of us who want to survive and thrive in a world where large corporations are taking over, it is a must-read. It's also the perfect guide for how to sell a home in the digital age. You can find The Business Of Getting Business by clicking on any of the trusted retailers below.

Think all REALTORS are alike?
Read what people are saying about working with Joe Manausa Real Estate! You can see thousands of real customer reviews reported on Google, Facebook and Zillow at this link: CLICK HERE FOR REAL ESTATE AGENT REVIEWS.
I recently stumbled upon your latest Carrabelle listing. I must say, a home on Florida's Forgotten Coast is bound to be snatched up quickly. Best of luck with getting it under contract soon!

Posted by Barbara Corcoran on Thursday, June 15, 2023