Real Estate Market Forecast For 2021
Posted by Joe Manausa on Monday, January 11, 2021 at 5:58 AM
By Joe Manausa / January 11, 2021
Comment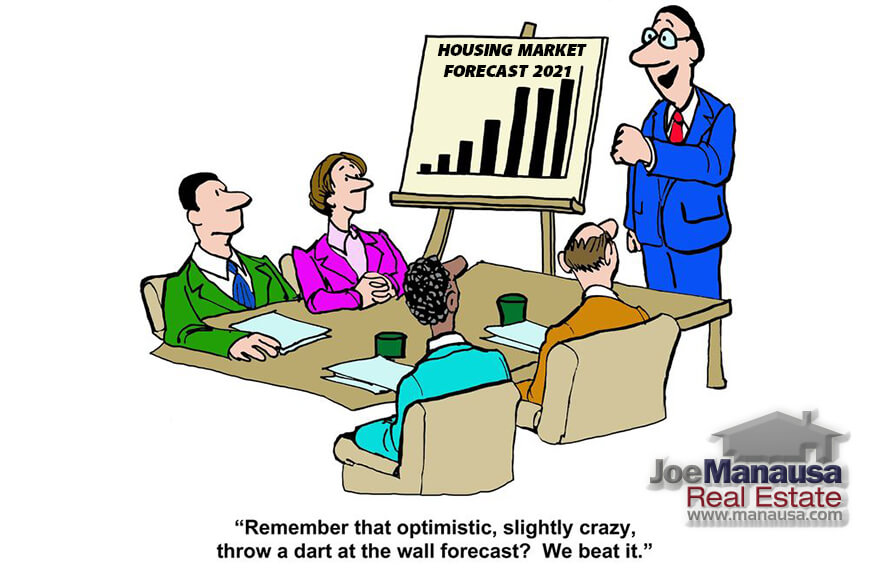 The housing market in 2020 performed as expected, despite a global pandemic that slowed Summer sales. The Fed's move to drop interest rates restored demand, and by the end of the year, the market was up a solid 2% over the previous year.
As we start the 2021 year, the housing market continues to have interest-rate fueled heightened demand, but historic-low inventory levels. This report will begin with a summary of what transpired in 2020 and then will conclude with a forecast for home sales in 2021.
So just how hot is the demand in the market? Check out the following list of all the homes for sale in Tallahassee and you will find that nearly one-half of them are already under contract with buyers.
Listings In The Tallahassee Real Estate Market
VIDEO Housing Market Forecast For 2021
2020 - The Fourth Most-Active Year For Home Sales
So how good was 2020 for home sellers? The graph below shows that 2020 trailed only the booming years from 2004 through 2006 for the number of homes sold.
Annual Home Sales Graph
This graph plots the number of homes sold each year in the Tallahassee MLS from 2002 through 2020.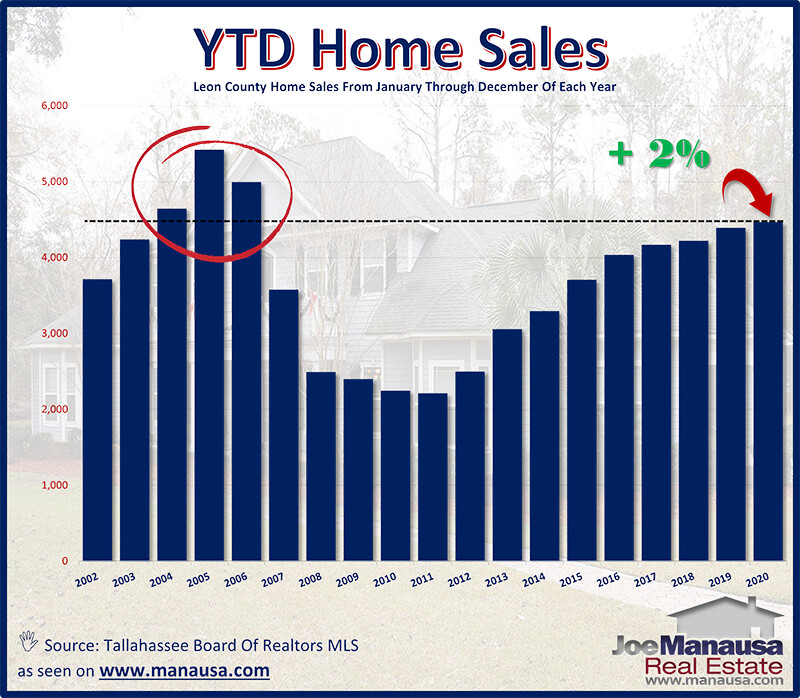 Despite the fear and uncertainty generated by a global pandemic, the housing market managed to rise more than 2% in 2020.
The Year Finished Strong - Demand Remains High
Just as we forecast back in April (with a nod to Ron Rice who first voiced this expectation back in March 2020), the buyers who opted out in the Spring and early Summer came back to the market in the fourth quarter.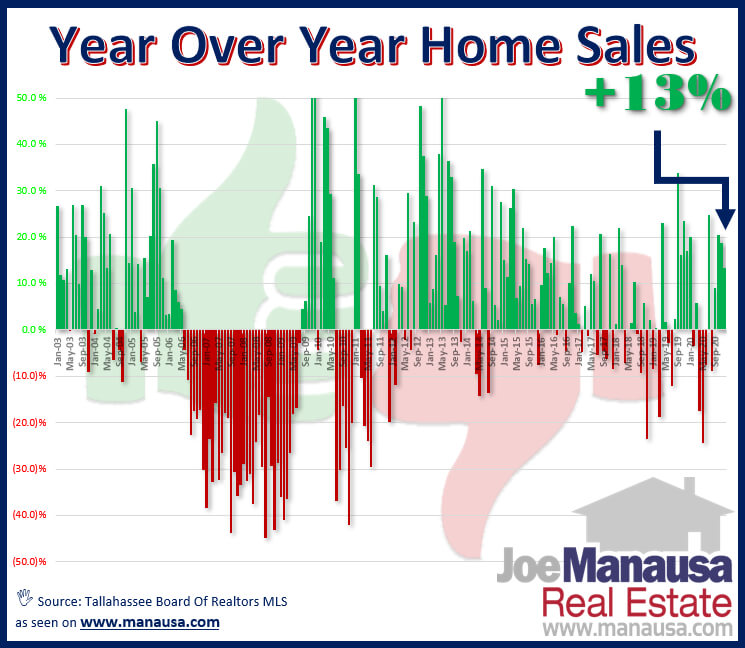 This graph shows how each month's sales compared with the same month the year prior. We refer to this as the year-over-year home sales report. Year over year home sales comparisons provides insight into the market changes by removing the seasonal changes in the market.
Year over year home sales rose more than 13% in December, registering the fourth-straight month of gains and a growth streak in five out of the past six months.
The past two graphs help us understand the demand-side of the housing market, and it is apparent that demand is sky-high.
If there were more homes listed for sale, we would have seen even more sales. Right now, the supply-side of the housing market is slowing sales.
Supply Of Homes Is Too Low
Before we examine the current state of supply and demand in the housing market, let's take a quick look at the inventory that entered the market in 2020 and in previous years.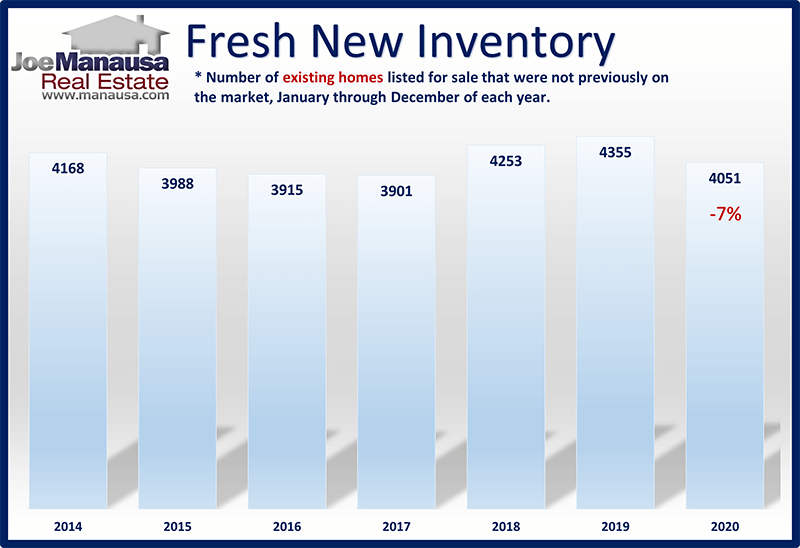 This graph counts the number of fresh existing homes entering the market. The term "fresh" is used to identify these homes as new to the market, not having been recently listed prior, and "existing" refers to the fact that we have omitted new home construction from this graph.
The number of fresh listings entering the market declined by 7% in 2020, even though sales rose. Remember, more than one-half of all homebuyers in Tallahassee have a home to sell when they move, so we expect a rise in sales to result in a rise of listings too. That was not the case.
I believe there were several hundred sellers who opted out of the market in 2020 who will be listing their homes early this year. We very well could have a strong run on existing inventory streaming into the market any time now.
But existing homes are only part of the market, we also need to look at what the builders have been providing.
New Construction Is Heating Up
Much like the previous graph which showed fresh listings on the resale side of the housing market, this next graph shows new construction listings entering the market.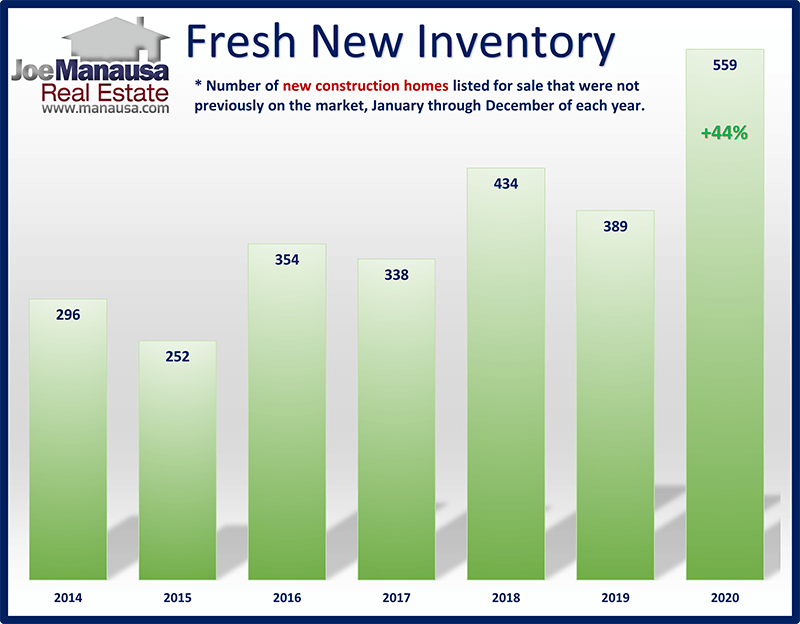 New construction was up 44% in 2020, helping to bring much-needed inventory to the market. But was it enough?
Record-Low Months Of Supply
The relative supply is the supply of homes for sale relative to the current rate of demand and it's measured in months of supply.
This table shows the non-seasonal relative supply of homes for sale.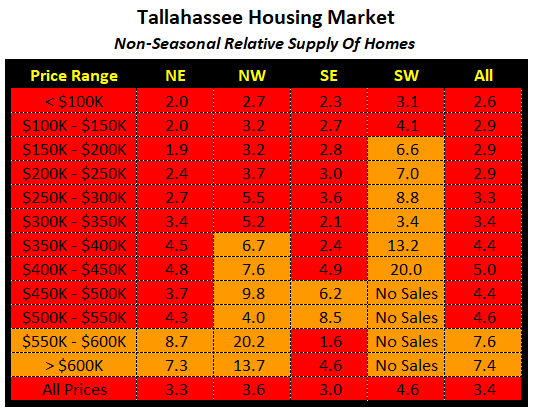 Summarizing Current Market Conditions
The previous graphs showed that demand is up and supply is down, so we have a market where prices and values are moving higher at an extreme rate of progression.
Where does this leave us for 2021?
My forecast for 2021 continues down below.
Please Do Us A Small Favor
We work very hard to produce daily content for our long-time readers and first-time visitors. We provide this information for free, hoping to earn your respect and trust and the right to one-day help you when selling or buying a home. Can we get your help spreading the word about our blog?
If you like the content, would you please like it or share it using the Facebook button at the beginning of the post? This simple action will be greatly appreciated! THANK YOU!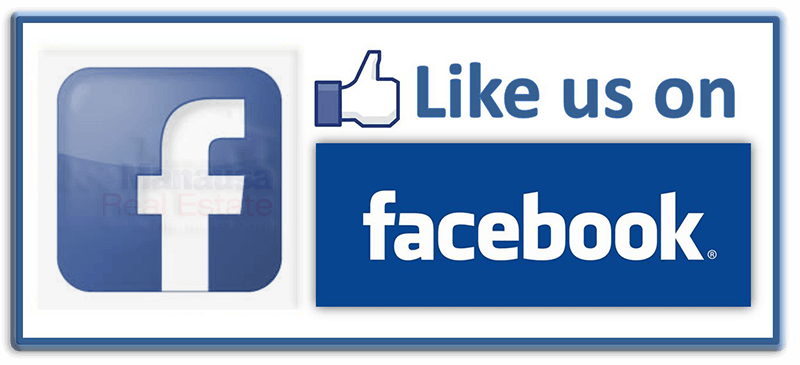 Also like us on Facebook at https://www.facebook.com/joemanausarealestate/
Conflicting Market Forces Impact 2021 Housing Forecast
The big variables for the housing market in 2021 include the impact of the pandemic on jobs, the change in mortgage interest rates, and the influx of new listings of homes for sale.
It seems like everybody has an opinion on how well the pandemic is being managed and what we should expect in 2021. Unfortunately, this falls outside of my expertise, but my opinion is that we'll be dealing with COVID far beyond 2021. It will have an impact on our economy and that means jobs for many industries will continue to be at risk for the foreseeable future.
The big headlines on Youtube (for real estate anyway) claim a housing-bust will happen in 2021, but I think the majority of these reports stem from video-creators seeking viewers, not so much from factual, evidence-based reporting.
Anybody who uses 2006 as a reference to current market conditions does not study supply and demand and therefore is likely to miss the boat completely.
Forecasting The 2021 Housing Market
I have posted real estate market forecasts each year for the Tallahassee real estate market going back to 2007. Generally speaking, I have been spot-on in these looks into the crystal ball. But 2021 is different.
2021 is the most difficult forecast that I have prepared, as the variables that will determine its fate are far more volatile than they have been in the past. In order to help provide clarity on this point, I will address each of these variables and then conclude with my forecast for 2021.
Mortgage Interest Rates Are At Historical Lows
This next graph shows just how low current mortgage rates have dropped, and I'll explain exactly what that does to the housing market.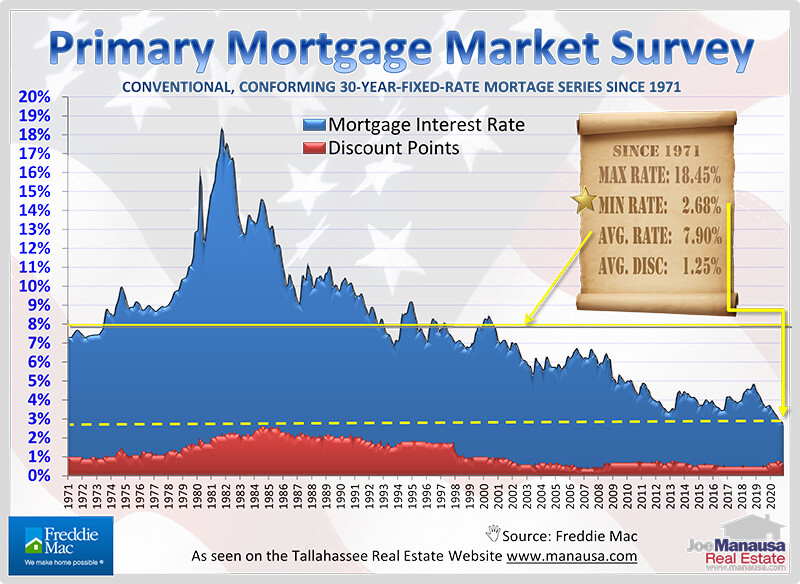 More than 50 years of monthly mortgage interest rates are plotted in blue above, and this is a perfect example of where a picture is worth a thousand words! The yellow dash line shows today's current rate, while the solid yellow line shows the 50-year average.
Today's rates are so low that home affordability has improved, even during the huge price and value growth observed in the market. So how does this impact our forecast?
I believe our fallen economy needed the Fed to keep interest rates low to help businesses recover from the impact of the pandemic. I also believe this will be the case in 2021 and likely 2022 as well.
I also believe that mortgage interest rates will generally follow the Fed's move on the Federal Funds Rate, meaning if the Fed cuts rates, mortgage interest rates will fall.
With that being said, I find it hard to believe we will see mortgage interest rates rise substantially over the year or so. If I were to have to bet, I would expect more rate cuts at least through mid-2021.
So low mortgage interest rates which are currently fueling heightened demand in the housing market are not likely going away any time soon. When I make my forecast for 2021, it will be done assuming rates stay below 3.25% for all of 2021.
Inventory Is Scarce - We Need More Homes
There are not enough homes for sale in Tallahassee (and most other US housing markets), we need more sellers to enter the market.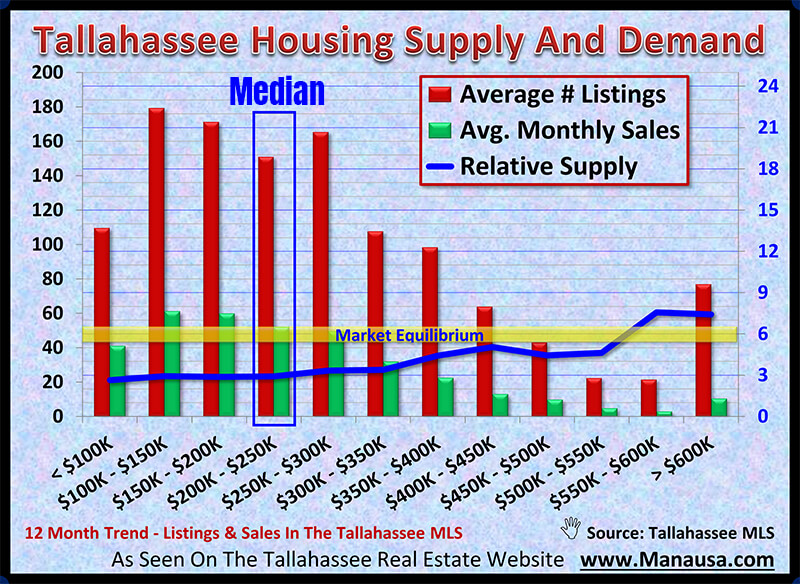 This graph shows the average number of listings in each price range (red), the average monthly number of sales (green), and then plots the relative supply of homes for sale (blue).
The middle of the market is the hottest and it is where more homes are most needed. I have the middle outlined in blue above, and with its price being south of $250K, this creates a big problem.
Builders cannot deliver $250K homes to the market, they are struggling to stay below $300K right now. Yet this is what the market needs!
The big challenge for builders will be to deliver the inventory the market needs at prices the market can afford.
Additionally, we need to see the pent-up supply (people who chose not to sell due to the pandemic) stream back into the market as early as possible this year.
Distressed Homes Will NOT Overwhelm The Market
I have seen videos and read articles where people are projecting a housing market collapse in 2021, fueled by lost jobs and people losing their homes to foreclosure.
While this might seem like a realistic scenario if you have a good memory of the market from 2006 through 2012, today's facts make this highly unlikely. If the market is going to melt-down, there are many steps that will need to occur before any foreclosure crisis hits us.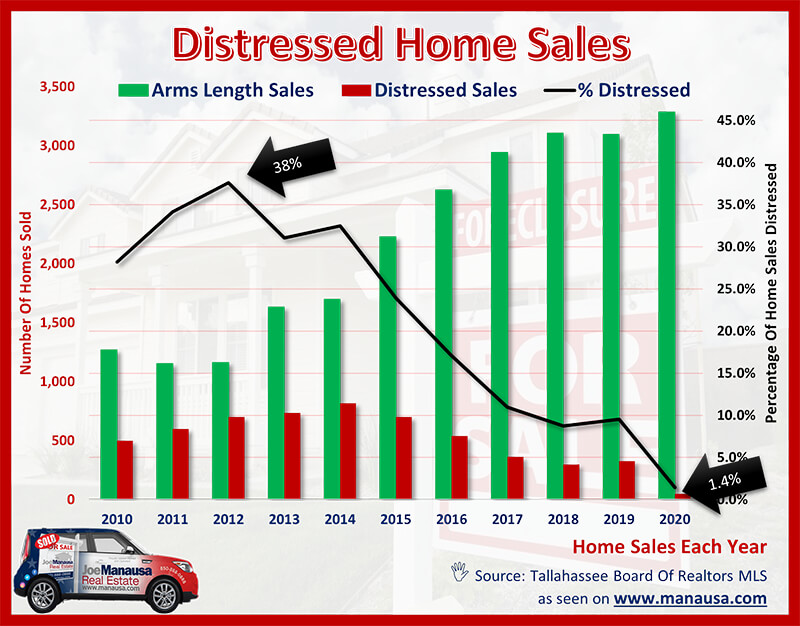 This graph reports all home sales each year, with healthy, arms-length sales plotted in green, and distressed home sales plotted in red. Clearly, the trend shows the market improving greatly.
The black line shows the percentage of all home sales that are distressed. We saw a high of 38% back in 2012 but saw the market improve each year to a new low of 1.4% in 2020.
Unlike the market in 2008, when distressed homes were coming in and home values were plunging due to the oversupply of homes for sale, 2021 is starting from an inventory-starved position. Additionally, a lot of equity was lost from the market when foreclosures were rampant from 2010 through 2015, but today's market has equity and foreclosures will be consumed fast.
2021 Housing Market Forecast
This graph shows my forecast for home sales in the Tallahassee real estate market in 2021.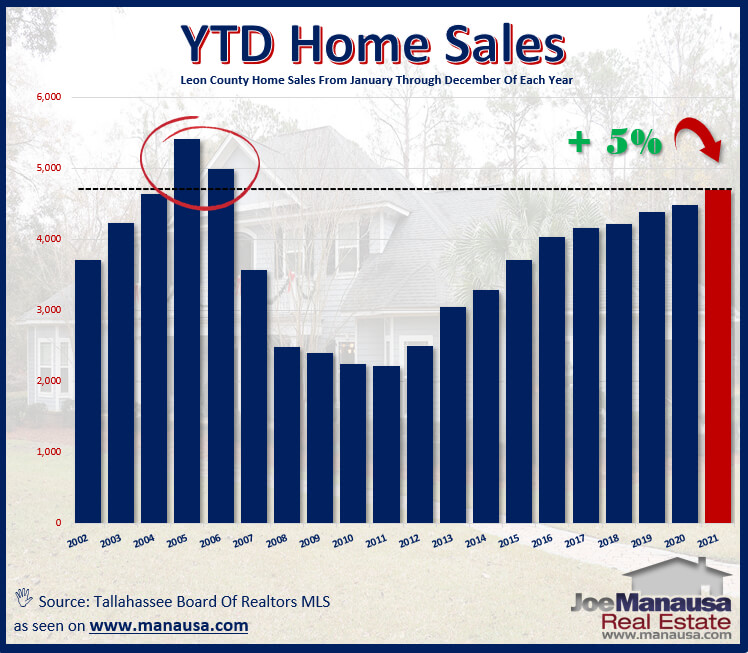 My forecast for home sales in 2021, as shown in the graph, is for the market to finish about 5% higher than in 2020, making it the 3rd-best year on record. A big-push by home builders could have us exceed this forecast, but I don't think it will happen.
On the other hand, the Fed could raise interest rates in order to slow inflation coming from the housing market, but I also don't think this will happen either. A slight increase in mortgage interest rates will hardly impact the market, though further large declines could push my forecast higher too.
I'll stick with 4,700 homes listed and sold in the Tallahassee MLS, and if you happen to be one of those 4,700, give us a call and let us show you why we've earned more 5-star reviews than any other company in Tallahassee. We'll work very hard to ensure that you are happy too!
Your Local Expert In Tallahassee
When moving to, in, or from Tallahassee, you will fare better if you work with a local expert. We are here to help. If you have further questions on the Tallahassee real estate market, you can leave a comment below, give us a call at (850) 366-8917, or drop us a note and we'll give you the local information needed to ensure a successful, smooth transaction.
As a local born and raised in Tallahassee with a focus on customer service, I promise you'll find great success when working with Joe Manausa Real Estate, just as have our past customers. You can read thousands of their reviews reported on Google, Facebook and Zillow right here: Real Estate Agent Reviews Tallahassee.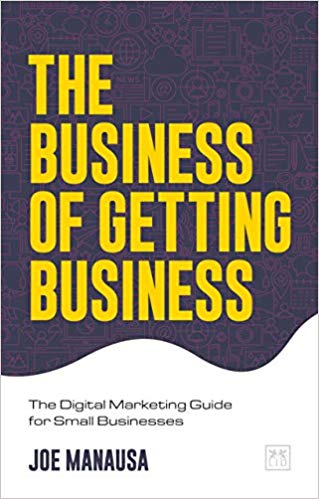 Have you heard about my new book "The Business of Getting Business?" It's a comprehensive guide for small businesses to help them make the move to digital. For those of us who want to survive and thrive in a world where large corporations are taking over, it is a must-read. It's also the perfect guide for how to sell a home in the digital age. You can find The Business Of Getting Business by clicking on any of the trusted retailers below.

Think all REALTORS are alike?
Read what people are saying about working with Joe Manausa Real Estate! You can see thousands of real customer reviews reported on Google, Facebook and Zillow at this link: CLICK HERE FOR REAL ESTATE AGENT REVIEWS.