Neighborhood Turnover Rates Are Speeding Up
Posted by Joe Manausa on Monday, November 18, 2019 at 5:50 AM
By Joe Manausa / November 18, 2019
Comment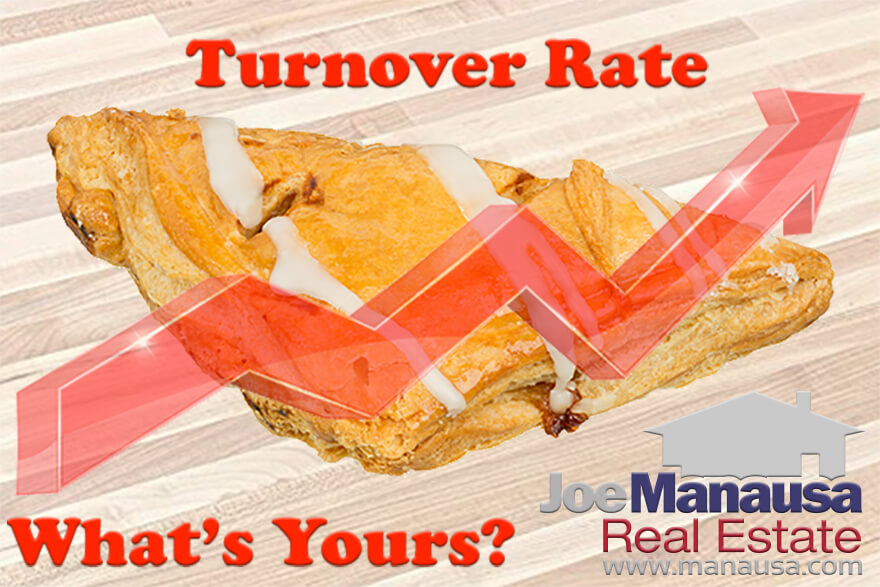 Neighborhood turnover rates are hastening in Tallahassee, though it is no big surprise now that we are coming out of the housing market recovery cycle that began seven years ago.
Today, we're going to look at the turnover rates of the most active neighborhoods in the Tallahassee real estate market, and attempt to explain how these measurements are used in determining the market value of a home.
First, let's take a look at the homes listed for sale in the 15 most active areas in Tallahassee, as it will be these neighborhoods that we examine in our full report that follows.
Homes For Sale In The Most Active Neighborhoods
What Is A Neighborhood Turnover Rate?
A neighborhood turnover rate is merely the percentage of homes in a neighborhood that sell each year. For example, if a neighborhood has 100 homes and roughly 8 homes sell each year, then that neighborhood would have an 8% turnover rate (8/100).
The inverse of the turnover rate yields the average length of homeownership in an area. So using the example above of 8%, we can calculate that the average duration of homeownership there is (1/8% = 12.50 years).
How Do We Use Turnover Rate Information?
We can use neighborhood turnover rates to compare one area to another. For example, we would expect a subdivision that attracts first-time homebuyers to have a higher turnover rate than one that attracts mature families. Of course, if this is a bad assumption, our monitoring of the turnover rates for all Tallahassee neighborhoods will show us where we're wrong.
Another benefit of tracking turnover rates over time is that we can get a feel for the coming supply of homes for sale in an area. If a subdivision has recorded fewer sales than the historical norm would predict, then we likely have pent-up supply and should expect more homes to enter the market in the coming years.
The opposite is true as well. If the last few years have blown away the traditional turnover rate in an area, we might then forecast fewer sales and tighter inventory in the coming months and years. This is great information for homebuilders who are considering building speculative homes, and for existing homeowners who might be contemplating a move.
Keep Up With New Trends In Tallahassee!
Get The Tallahassee Real Estate Newsletter
Don't be the one that doesn't know what's going on when you sell a home or buy a home in Tallahassee.
Other buyers, sellers, lenders, and real estate agents have this critical information, and now you can too!
Get immediate access to our most recent newsletter.
Let nearly 30 years of experience work for you with charts, graphs, and analysis
of the Tallahassee housing market.
Tallahassee Neighborhood Turnover Rates
The following graph shows the top fifteen subdivisions in Tallahassee based upon the number of homes sold thus far in 2019. Each has the current turnover rate as well as the average rate measured since 2003.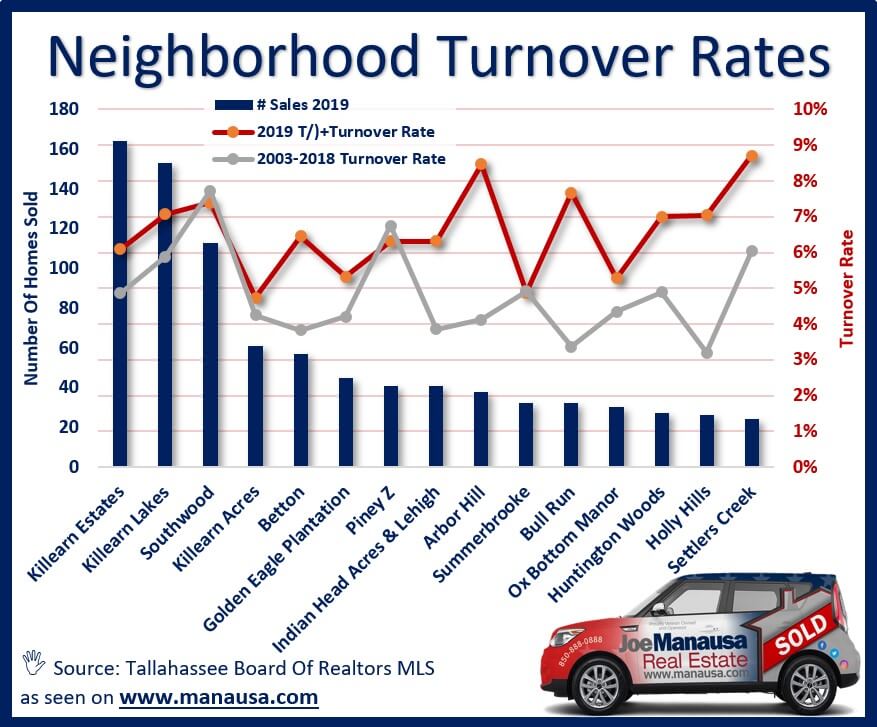 In the graph above, the number of homes sold in each neighborhood in 2019 is plotted in navy-blue and measured on the left vertical axis. The 2019 turnover rate is shown in red, while the average from the past sixteen years is shown in gray and both are measured on the right vertical axis.
One key takeaway from the neighborhood turnover rate graph is that 13 of the 15 most active neighborhoods in town are turning-over faster this year than they have averaged in the previous 16.
On average, these neighborhoods have owners keeping their homes for 22.4 years historically, but for just 15.7 years lately. Both of these numbers are much higher than one might expect, but considering the chaos that has run through the housing market since 2003, this actually makes a lot of sense.
So many people were trapped in their "upside-down" homes, owing more on them than they were worth. Now that equity has returned to the housing market, we should expect faster turnover in most neighborhoods as the long-holding residents are able to move.
Tallahassee Housing Report
Did our November 2019 housing report provide you the information you were seeking? If not, you can give us a call at (850) 366-8917 or drop us a note and we'll help you with your specific Tallahassee real estate needs.
As a local born and raised in Tallahassee with a focus on customer service, I promise you'll find great success when working with Joe Manausa Real Estate, just as have our past customers. You can thousands of their reviews reported on Google, Facebook and Zillow right here: Real Estate Agent Reviews Tallahassee.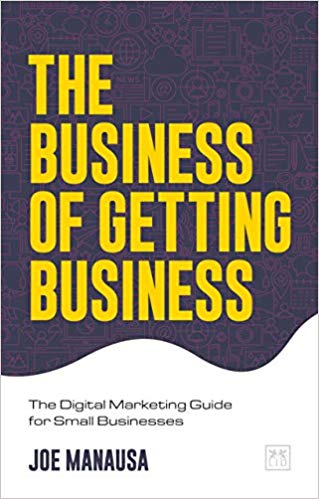 Have you heard about my new book "The Business of Getting Business?" It's a comprehensive guide for small businesses to help them make the move to digital. For those of us who want to survive and thrive in a world where large corporations are taking over, it is a must-read.
You can find it on Amazon (It will be published in Feb 2020, reserve your copy today at a pre-published rate).
Real Estate Market Information Can Be Overwhelming
That's why Joe breaks the data down into easy-to-understand concepts. Whether you're buying, selling, investing or just interested in the market, sign up for Joe's blog to get the latest Tallahassee real estate updates, straight to your inbox.