How Is The Housing Market In May 2021?
Posted by Joe Manausa on Monday, May 17, 2021 at 5:55 AM
By Joe Manausa / May 17, 2021
Comment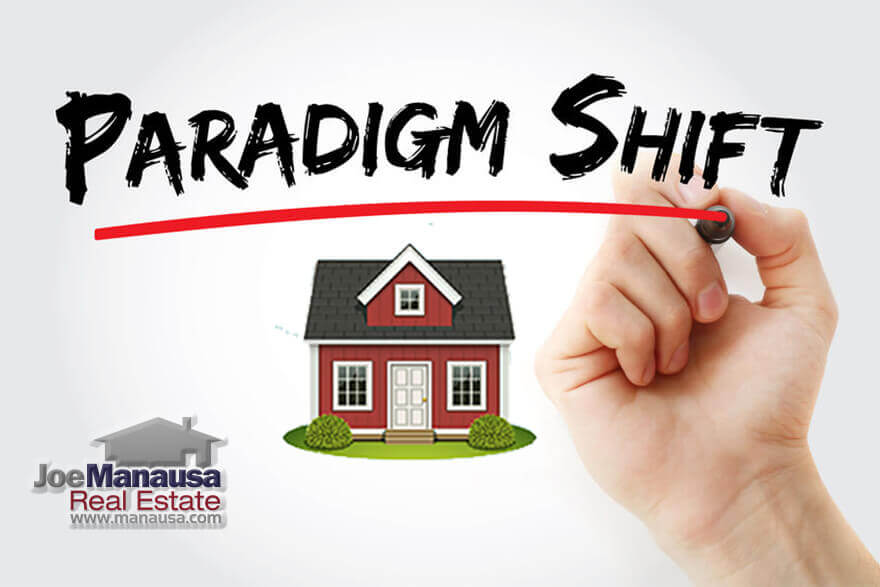 Are you wondering how the housing market is faring through mid-May in 2021? If so, today's real estate market update will be perfect for you.
Through the use of five graphs and a table, I will walk you through current housing market conditions and reveal to you exactly what you will encounter if you were to sell and/or buy a home today.
The analysis includes year-over-year and year-to-date comparisons, mortgage interest rates plus the months of supply of homes for sale, and concludes with a paradigm shift in the market that has changed how homeowners should go about selling their homes and buying their next ones.
First, we start with a list of the current homes for sale in Tallahassee, and you should take note of how many of them are already under contract with buyers.
Homes For Sale In Tallahassee
The following dynamic list of homes for sale is updated every fifteen minutes, so it is the most accurate source of listings in the Tallahassee real estate market.
The New Paradigm For Home Sellers
To understand the paradigm shift in the housing market, you first have to understand the conditions that have led to this change. We'll start with activity in the market and work towards revealing an understanding of the overall conditions today.
Year-Over-Year Home Sales
The first graph in today's report shows how each month's sales compared with the same month the year prior. We refer to this as the year-over-year home sales report. Year over year home sales comparisons provide insight into the market changes by removing the seasonal changes in the market. For example, we only compare April to April or August to August, so the time of year fluctuations are not a factor in the changes that we find.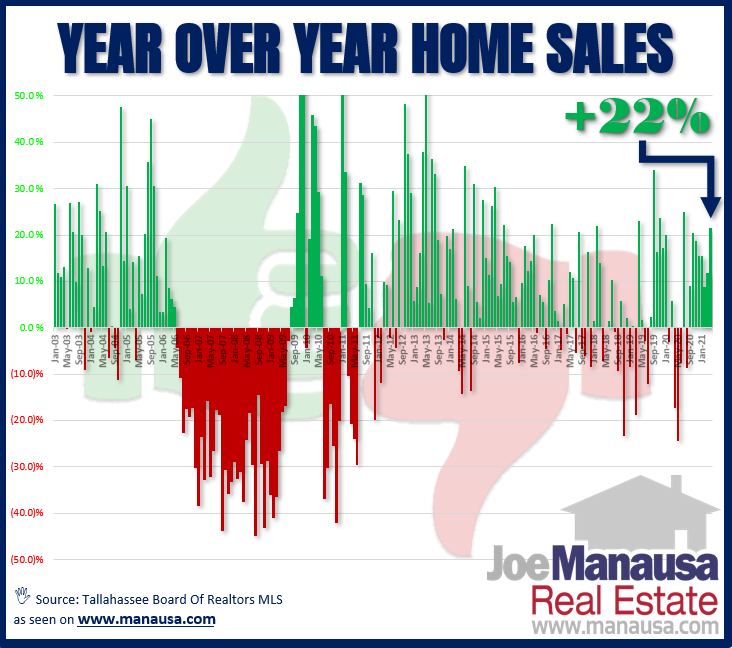 Year over year home sales rose 22% in April, registering the eighth-straight month of gains and a growth streak in nine out of the past ten months. Considering how COVID was sweeping through Tallahassee at this time last year, I expect to see the streak continue in May and June at least.
Year To Date Home Sales
The next graph in our report measures the total number of home sales in Tallahassee from January through April of each year. We call this the "year-to-date" home sales report, and it lets us know how the current year's market compares with those from the past.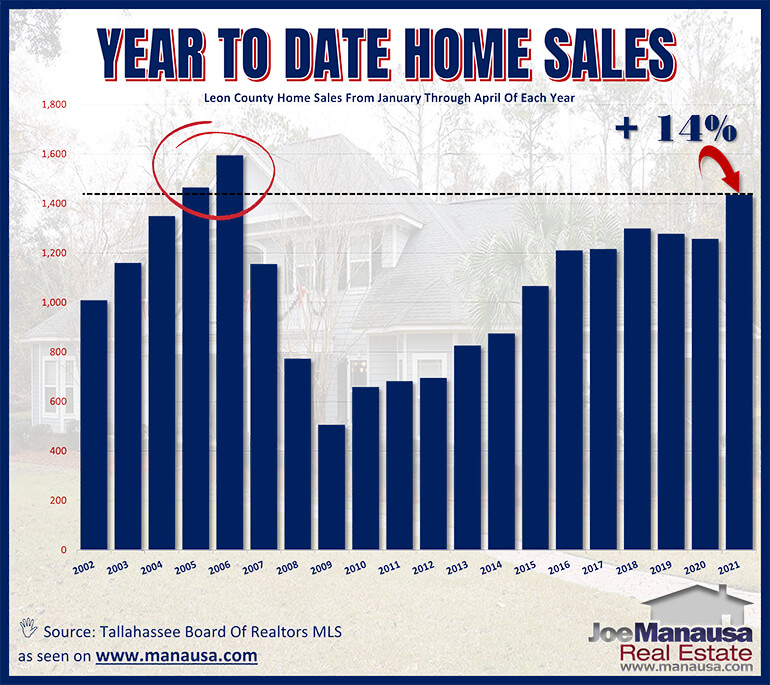 The first thing that grabs my eye is that the market is very strong in 2021, as there have been 14% more homes sold through April in 2021 than there were through April in 2020. Following the dashed line from right to left shows that the current rate of sales makes 2021 (through April) the third-best year on record, and very close to #2 (2005).
The biggest difference that I am seeing on the streets today versus what I observed in 2005 is the number of speculators in the market. Back in 2005, many baby boomers had recently pulled their money out of the stock market and were buying real estate to flip, often buying new construction homes and selling them right away for a profit. This increased inorganic demand only increased the pace of new construction, and when homes could no longer be flipped for a profit, we saw inventory stockpile to very unhealthy levels that resulted in a housing bubble.
The majority of today's buyers are organic; they are buying the home for their personal use. This means that when demand declines in the future, it won't leave the market flush with supply as we saw in 2006. So it was investors who created the crazy demand nearly 20 years ago, but something different is fueling demand today.
In the next section, we'll explore the primary driver of the demand in the market.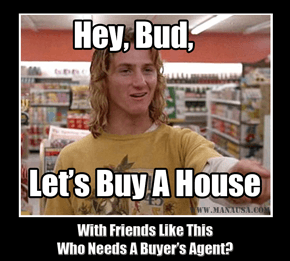 Your Agent Matters!
74% of homebuyers work with the first agent they speak to, so they typically don't understand that it is in their best interest to first interview a qualified buyer's agent before they commence with the rest of the home search and home buying process. But they learn.
They learn when they ...
lose out on the perfect house
pay excess third-party fees during the transaction
over-spend for a home that they could have bought at a lower price
the home is not the best fit for what they need
So join the 26% of homebuyers who are smart enough to put themselves first. Here's how to do it.
Low Mortgage Interest Rates
Demand is very high due to the excellent home affordability that is the result of historic low mortgage interest rates.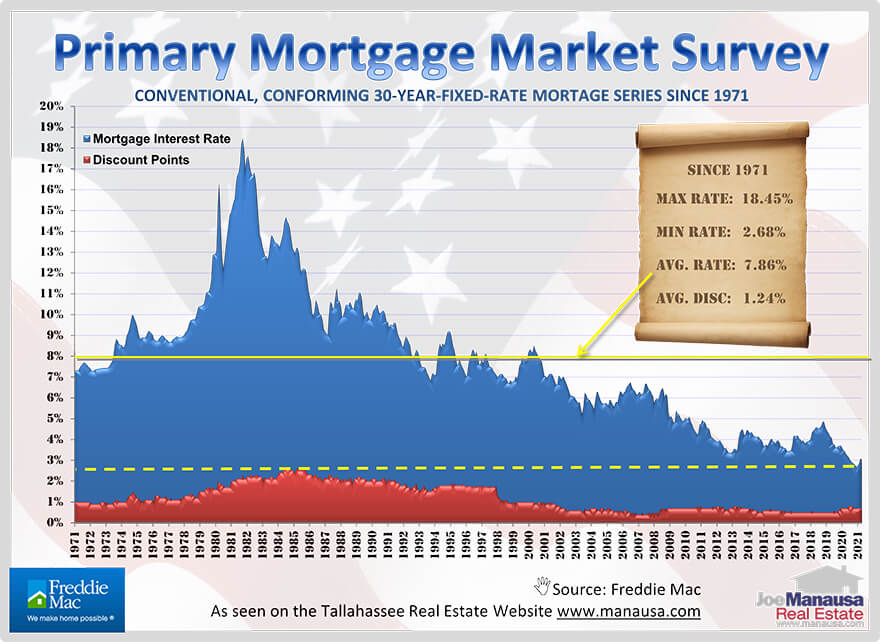 With the economy still recovering from COVID, it would not surprise me to see these low rates continue until some real progress is made in terms of unemployment and GDP growth, but you just have to know that there is too much historic proof that interest rates go through cycles and this cycle has run a long time.
When I started my career in real estate (1991), the ten-year average for mortgage interest rates was more than 12%. This means that the typical homeowner was paying more than 4 times the interest that today's homeowners are paying.
FOUR TIMES! Take that for perspective, money is VERY cheap today and it is helping buyers purchase more home for the money. There are some who think that we are now in a new age where interest rates will be low forever, but they have not done their homework.
If you think that times have changed and that historic norms won't return, I urge you to read "This Time Is Different: Eight Centuries of Financial Folly," you can find it on Amazon by clicking the link. The book explains how many smart people over the past 800 years (wrongly) concluded that the cycles were no longer in place.
Supply And Demand For Homes Remains Imbalanced
The inventory of homes for sale in Tallahassee has gone from far too low to even lower. To say that there are not enough homes for sale is a gross understatement!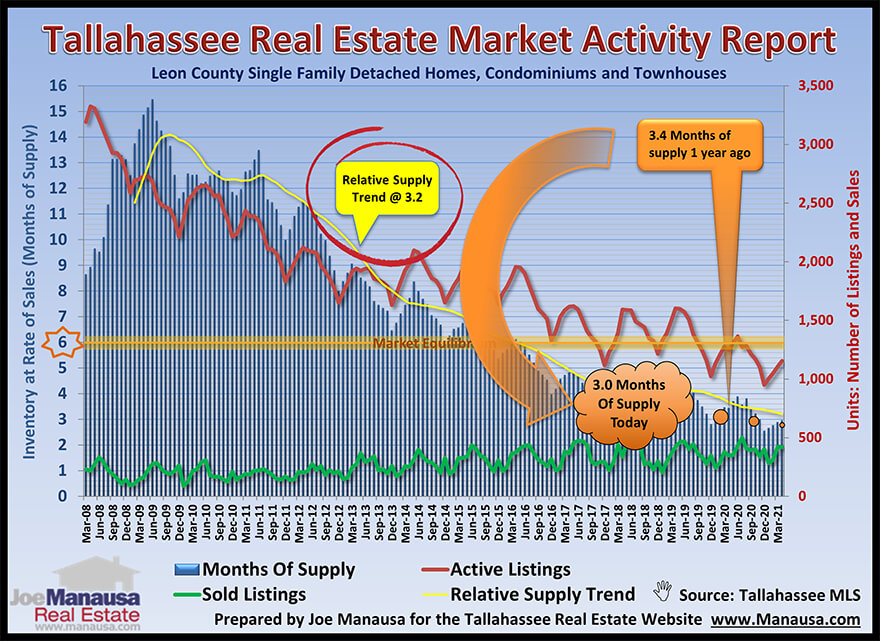 This graph measures the relative inventory of homes for sale, meaning the current supply of homes relative to the current rate of demand, expressed in months of supply.
One interpretation is that the current 3 months of supply of homes for sale is only enough to satisfy a quarter of the homebuyers for the next 12 months. Typically, we like to see 6.0 months of supply, which we refer to as market equilibrium (represented by the gold band in the graph).
When relative supply exceeds 6.0 months, we call this a buyers' market. When relative supply falls below 6.0 months, we refer to this as a sellers' market. What you are viewing here is a sellers' market for the ages!
Months Of Supply Of Homes
This table shows the non-seasonal relative supply of homes for sale in Tallahassee by area and price range, meaning the average relative supply over the past twelve months.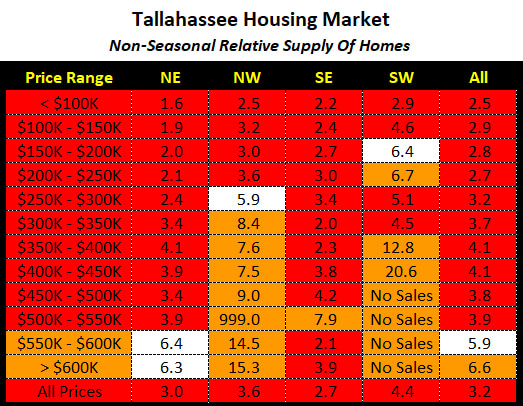 Areas shaded in red reveal severe sellers' market conditions where more inventory is severely needed. Areas shaded in orange are severe buyers' markets where more buyers are needed (and we have all the supply we need for quite some time). Unshaded areas are in equilibrium, where neither sellers nor buyers have an advantage in the market.
The bottom line shows overall conditions for each area, with the entirety of Leon County experiencing severe sellers' market conditions. The right column shows that the overall market at prices below $550,000 also exists in a sellers' market.
Today's Housing Market Conditions
The final graph in today's report shows us visually what it is like trying to buy or sell a home in Tallahassee today. It shows the status of all listed properties with blue lines measuring the listed homes that are under contract, while the red lines show listings that are still available. The green line reports the percentage of current listings that are under contract with buyers.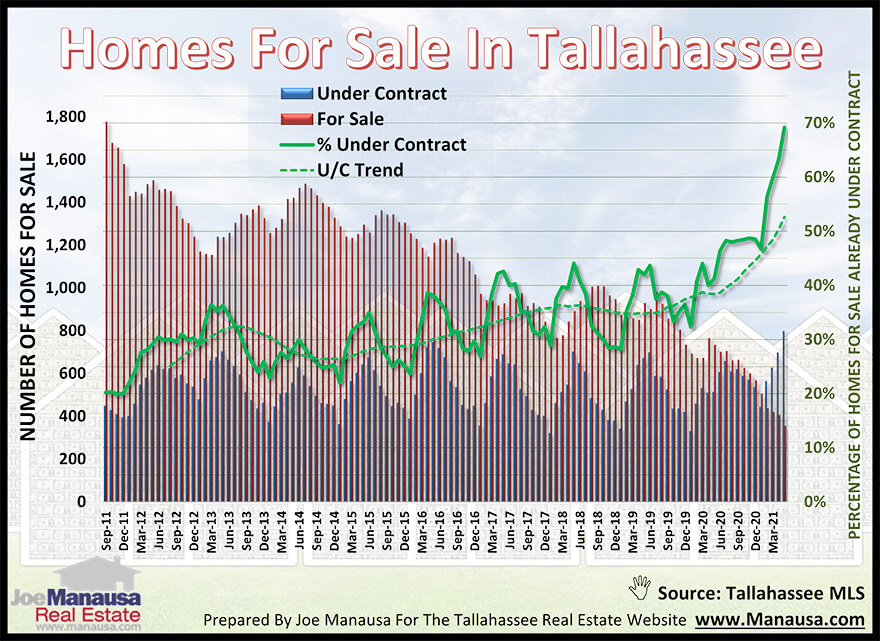 The supply of homes is woefully short of meeting the current demand from buyers, thus the majority of homes for sale are already under contract with buyers.
70% of active listings have contracts with buyers versus just 40% one year ago. This means that when buyers go online and look at homes for sale, 7 out of every 10 listings are not really available. The supply of homes for sale is far too low for buyers to be able to casually shop for a home. And the situation is getting worse, not better.
The dashed green line plots the 12 - month average of the "under-contract" trend, and we've now seen it exceed 50%. We had never seen this trend hit 40% until last year, and now it is exploding through the roof.
As crazy as it sounds, I think next month's report will show even a higher percentage of homes under contract. This is why there are bidding wars among buyers for most homes when they hit the market, and it is causing a fairly new dynamic to form in the market.
Historically, it was fairly normal for us to advise sellers to wait until their home was under contract before they went under contract to buy their next home. If they needed to sell their home as a condition to purchase, they really had no other choice.
But today, we have sellers not wanting to list their home until they first get the next one under contract, because they are concerned they will sell their home and have no place to go. It's an interesting paradigm shift for somebody like me who has been selling homes in Tallahassee for the past thirty years!
If you find yourself in this position, come in and talk to us about solutions we have provided for many of our recent clients. We can help you enjoy a low-stress move without the worry of having nowhere to go once your home is sold. We look forward to speaking with you and making you as happy as all our other past clients!
Great Advice For Homebuyers
Your Local Expert In Tallahassee
When moving to, in, or from Tallahassee, you will fare better if you work with a local expert. We are here to help. If you have further questions on the Tallahassee real estate market, you can leave a comment below, give us a call at (850) 366-8917, or drop us a note and we'll give you the local information needed to ensure a successful, smooth transaction.
As a local born and raised in Tallahassee with a focus on customer service, I promise you'll find great success when working with Joe Manausa Real Estate, just as have our past customers. You can read thousands of their reviews reported on Google, Facebook and Zillow right here: Real Estate Agent Reviews Tallahassee.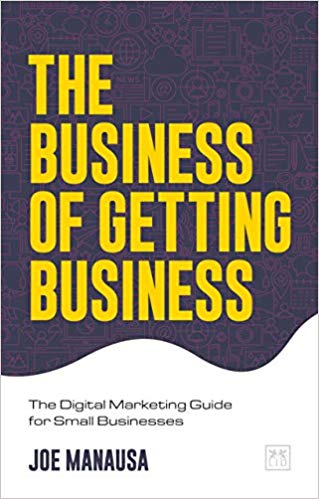 Have you heard about my new book "The Business of Getting Business?" It's a comprehensive guide for small businesses to help them make the move to digital. For those of us who want to survive and thrive in a world where large corporations are taking over, it is a must-read. It's also the perfect guide for how to sell a home in the digital age. You can find The Business Of Getting Business by clicking on any of the trusted retailers below.

Think all REALTORS are alike?
Read what people are saying about working with Joe Manausa Real Estate! You can see thousands of real customer reviews reported on Google, Facebook and Zillow at this link: CLICK HERE FOR REAL ESTATE AGENT REVIEWS.
I recently stumbled upon your latest Carrabelle listing. I must say, a home on Florida's Forgotten Coast is bound to be snatched up quickly. Best of luck with getting it under contract soon!

Posted by Barbara Corcoran on Thursday, June 15, 2023