Homes For Sale On More Than One Acre February 2021
Posted by Joe Manausa on Thursday, February 11, 2021 at 5:56 AM
By Joe Manausa / February 11, 2021
Comment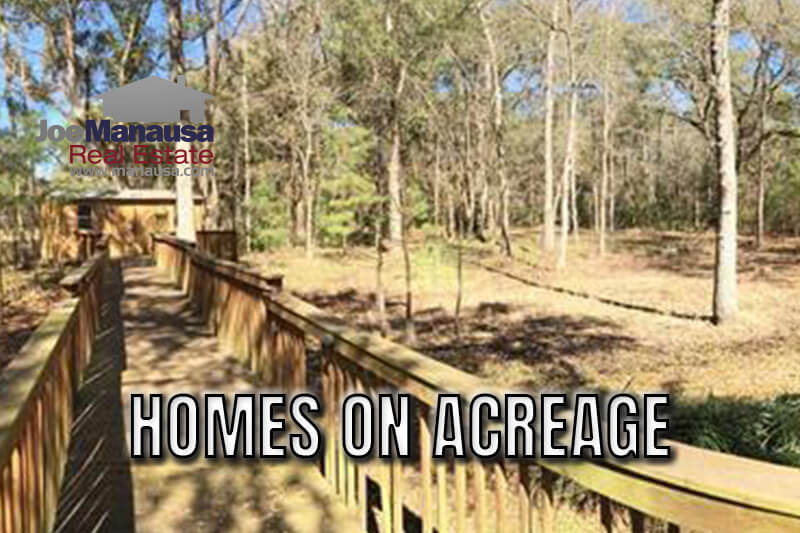 An exciting niche of homes in Tallahassee is those that have an acre or more of land beneath them. Some people just love to have extra space to use and enjoy on their property, so this report and listings will show how this segment of the market is performing.
We start by looking at 91 listings of homes for sale on acreage, followed by a study of unit sales followed by an analysis of average prices, average values, and average sizes of these homes.
Homes For Sale In Tallahassee On Acreage
Here are all the available homes listed for sale on more than one acre. This is a dynamic list that updates every 15 minutes or so, and (as I write this) includes homes priced below $100K all the way up to nearly $3M. Please note that you can sort the list in many different ways!
Unit Sales Of Homes On Acreage
The sale of homes on acreage has been robust for the past five years. When compared to the overall market, this segment has recovered faster.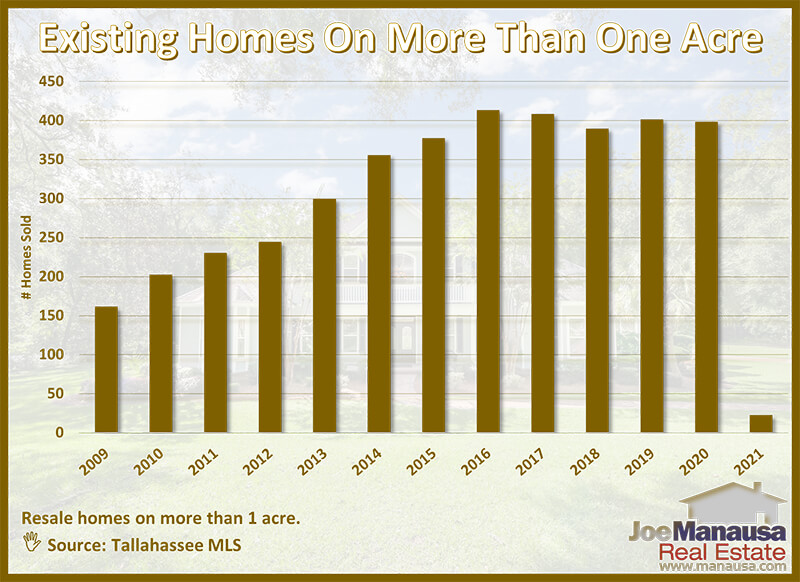 There were 150% more homes on acreage sold in 2020 than there were in 2009, with each of the past five years averaging around 400 homes sold. We've learned that when the market tanks, these might be the most resilient properties out there.
The Price Of Homes On Acreage
The following graph measures the average sales price of existing homes on acreage from 2009 through the first week of February in 2021.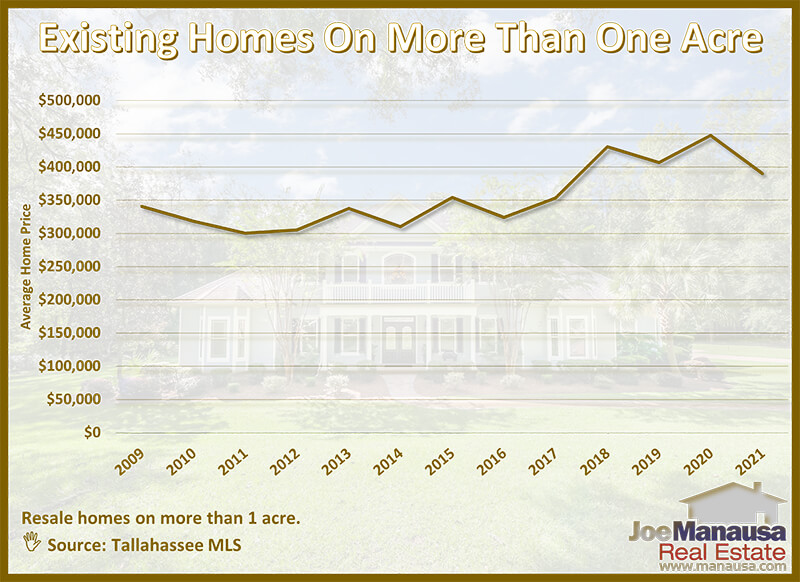 The most interesting thing that I see when I look at the average price of homes sold on acreage is that there was not a significant dip from 2009 through 2012 that we saw with other homes in Tallahassee. 2020 finished the year with an average price right around $450K for existing homes sold on acreage.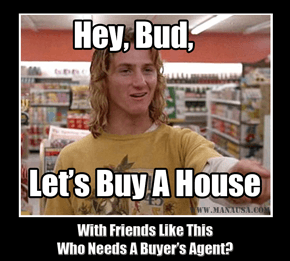 Your Agent Matters!
74% of homebuyers work with the first agent they speak to, so they typically don't understand that it is in their best interest to first interview a qualified buyer's agent before they commence with the rest of the home search and home buying process. But they learn.
They learn when they ...
lose out on the perfect house
pay excess third-party fees during the transaction
over-spend for a home that they could have bought at a lower price
the home is not the best fit for what they need
So join the 26% of homebuyers who are smart enough to put themselves first. Here's how to do it.
The Value Of Homes On Acreage
The following graph measures the average value of existing homes on acreage, measured as price per square foot of heated and cooled space, from 2009 through the first week of February in 2021.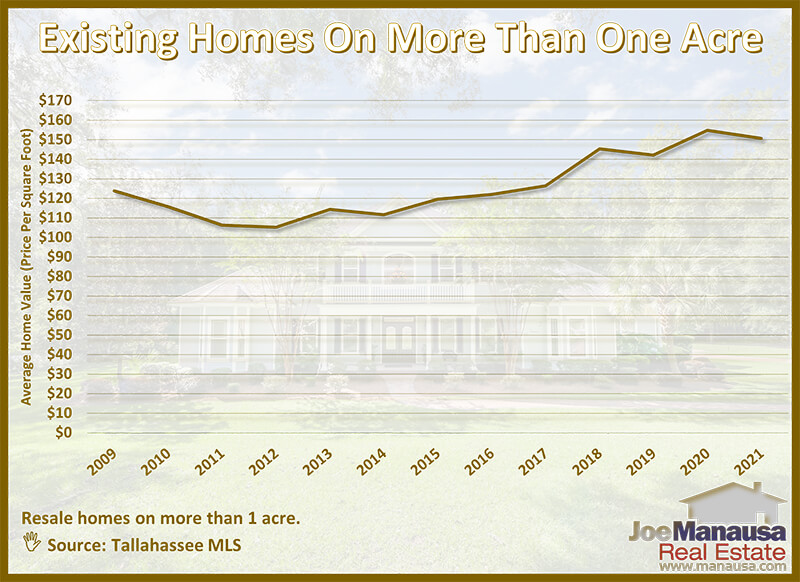 You would never want to use this graph to determine an estimated value of a specific home, because it uses price per square foot (of house) to determine value. Imagine a home on 100 acres being compared to a home on 1 acre, yet both homes were 3,000 square feet. This technique would have them worth the same!
But studying values this way with a good bit of data does deliver the movement of the market, which is what we are trying to ascertain. Much like we saw with average prices, average values did not plunge as far as did the rest of the market, though the recovery has been strong and swift. A new market has was reached as early as 2017, whereas most neighborhoods hit all-time highs recently.
The Size Of Homes On Acreage
The following graph measures the average sales size of existing homes on acreage from 2009 through the first week of February in 2021.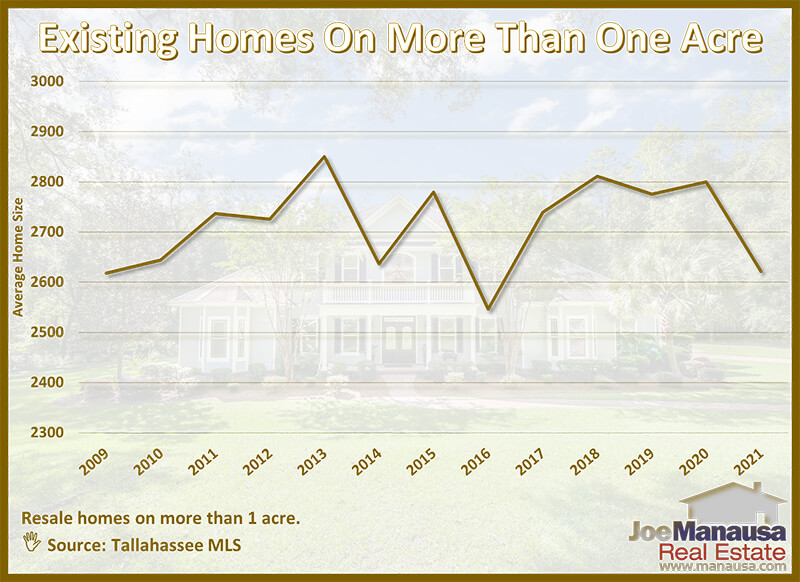 Though this graph is chaotic, it does show us important information. First, the range of home sizes (for homes on acreage) is fairly tight from 2,550 square feet to 2,850 square feet.
Secondly, the biggest homes (on average) sold near the very bottom of the market back in 2013. This is not a surprise, as prices were very accommodating back then.
If you have any further questions about homes on acreage in Tallahassee, just give us a call or pop us a text or email and we'll gladly get back to you pronto!
Your Local Expert In Tallahassee
When moving to, in, or from Tallahassee, you will fare better if you work with a local expert. We are here to help. If you have further questions on the Tallahassee real estate market, you can leave a comment below, give us a call at (850) 366-8917, or drop us a note and we'll give you the local information needed to ensure a successful, smooth transaction.
As a local born and raised in Tallahassee with a focus on customer service, I promise you'll find great success when working with Joe Manausa Real Estate, just as have our past customers. You can read thousands of their reviews reported on Google, Facebook and Zillow right here: Real Estate Agent Reviews Tallahassee.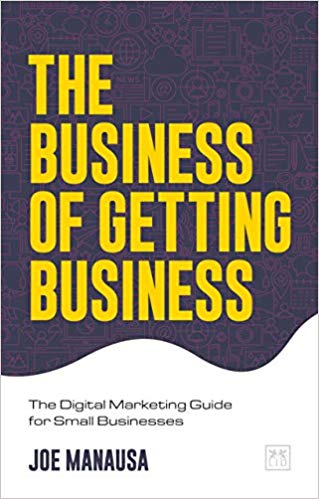 Have you heard about my new book "The Business of Getting Business?" It's a comprehensive guide for small businesses to help them make the move to digital. For those of us who want to survive and thrive in a world where large corporations are taking over, it is a must-read. It's also the perfect guide for how to sell a home in the digital age. You can find The Business Of Getting Business by clicking on any of the trusted retailers below.

Think all REALTORS are alike?
Read what people are saying about working with Joe Manausa Real Estate! You can see thousands of real customer reviews reported on Google, Facebook and Zillow at this link: CLICK HERE FOR REAL ESTATE AGENT REVIEWS.
I recently stumbled upon your latest Carrabelle listing. I must say, a home on Florida's Forgotten Coast is bound to be snatched up quickly. Best of luck with getting it under contract soon!

Posted by Barbara Corcoran on Thursday, June 15, 2023