For Sale By Owner
Posted by Joe Manausa on Tuesday, October 1, 2013 at 11:29 PM
By Joe Manausa / October 1, 2013
Comment
Selling a home on your own requires that you think like a buyer.
When you put yourself in a buyers' shoes you realize that every home for sale competes with each other.
The competition includes all the other "For Sale By Owners" as well as the professionally listed homes in your market area… short-sales, foreclosures, real estate owned (REO's) must be factored into this competition. Regardless of the level of competition for homes like yours, this book is all you need to know.
In order to be successful selling on your own you need to have a proven plan in place to capture that elusive "right buyer" at the right price.
IF you have the knowledge,
IF you have the marketing expertise, and
IF you know the process involved getting a home sold on your own then you will have an above average chance to do just that… and literally save thousands of dollars in commissions.
YOU CAN SELL A HOME ON YOUR OWN!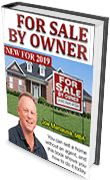 One thing you need to understand right up front is that the only differences between you and a real estate professional or another "For Sale By Owner" are knowledge and experience. Experience is tough to gain but knowledge is available right here.
Tell us to whom and where to send our 59-page resource book below, and we'll help you get started gaining the knowledge you need.
Take a look at our resource for people who are selling "For Sale By Owner" and you will realize that you can certainly sell your home without a real estate agent.
We have shared "what to do to sell your home" exactly as we do it for our customers.
If you have any questions not covered in our 50+ page manual, please drop us a note here and we'll be in touch right away.