Inventory Of Foreclosed Homes In Tallahassee Is Declining
Posted by Joe Manausa on Wednesday, February 14, 2018 at 6:17 AM
By Joe Manausa / February 14, 2018
Comment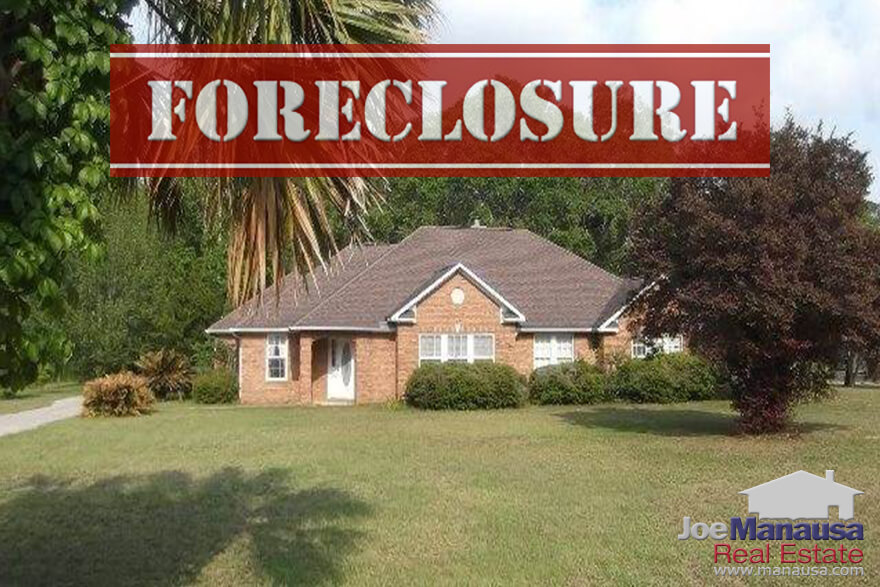 Historically, foreclosures in Tallahassee have represented a very small percentage of the homes for sale, but the crash of the market changed that significantly.
Fortunately, the inventory of foreclosed homes is on the decline, and this post shows you the remaining 60 foreclosure listings as well as a report on how lis pendens and foreclosure sales are impacting the Tallahassee real estate market.
Home Foreclosure Tracking
One way to keep an eye on the health of the market is to track the number of foreclosures that occur at any given time. We can do this on two different ways, as the foreclosure process starts with a legal filing (Lis Pendens) and ends with a foreclosure sale on the Leon County Courthouse steps.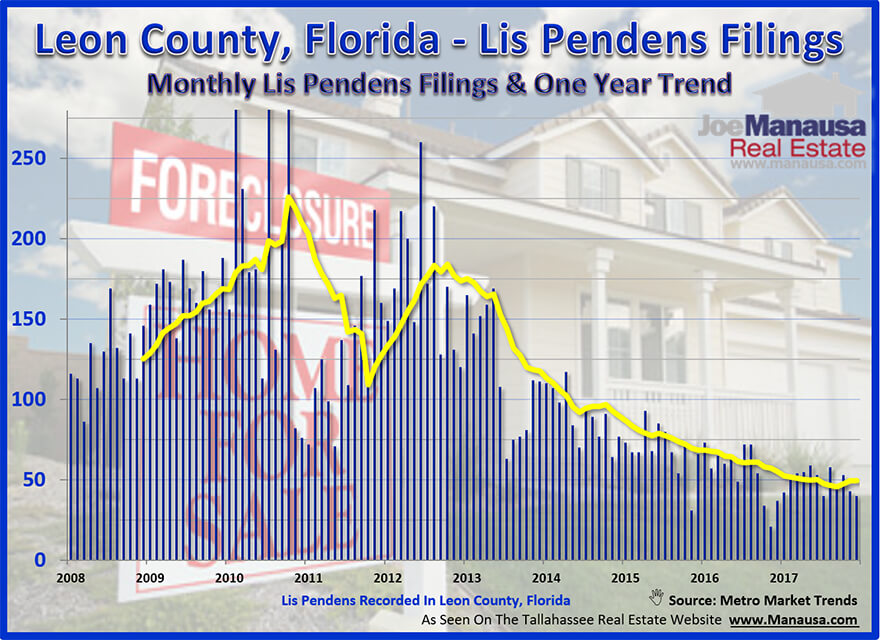 In the lis pendens graph above, we record the number of lis pendens filed each month (blue bar) and then calculate the one-year average of the filings (yellow line).
The trend is the lowest we've reported in more than ten years (very good news), but it has begun to move higher over the past few months. Time will tell if this is just random or if a new trend of distressed properties is emerging.
Foreclosure Sales In Tallahassee
While lis pendens represent the start of the process, foreclosure sales are the end of the road for many, which end up feeding the inventory of Bank Owned Homes. The following graph shows the number of foreclosures in Tallahassee each month going back ten years.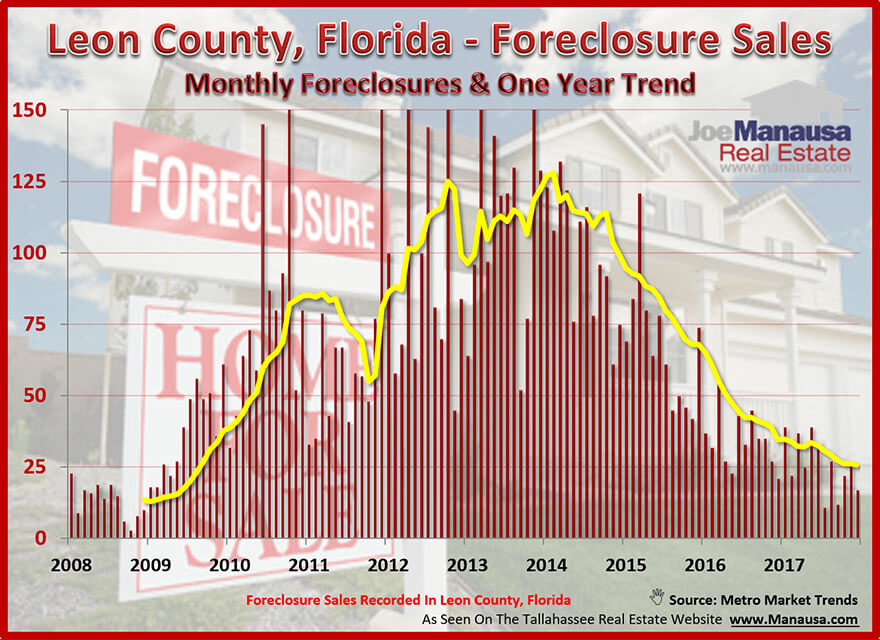 The foreclosure graph above plots the number of foreclosure sales each month for the past ten years, while the yellow line shows the one-year average number of foreclosure sales.
If the current trend continues, the foreclosure market will soon return to levels last seen before the housing market recovery, which began (roughly) in 2007.
Please Do Us A Small Favor
We work very hard to produce daily content for our long-time readers and first-time visitors. We provide this information for free, hoping to earn your respect and trust and the right to one-day help you when selling or buying a home. Can we get your help spreading the word about our blog?
If you like the content, would you please like it or share it using the Facebook button at the beginning of the post? This simple action will be greatly appreciated! THANK YOU!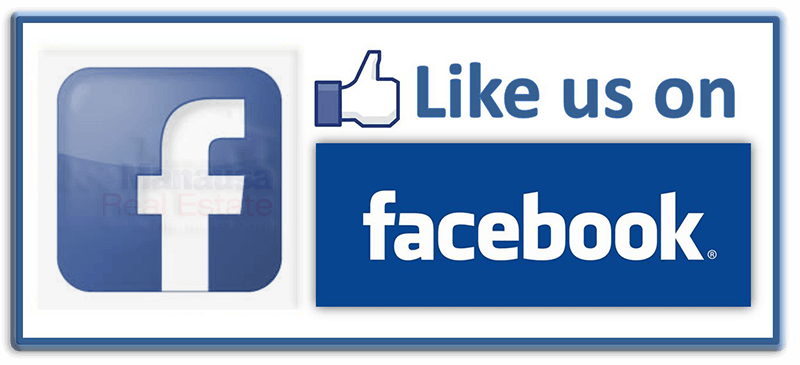 Also like us on Facebook at https://www.facebook.com/joemanausarealestate/
Tallahassee Foreclosures And Lis Pendens Filings
One way to view the health of the Tallahassee housing market is to observe "what is happening" to distressed properties.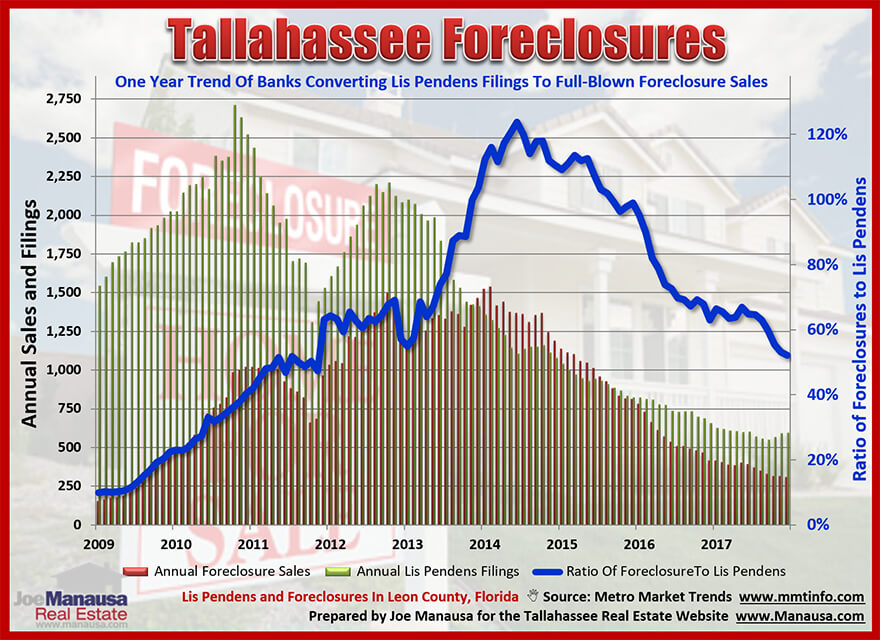 Ratio Of Foreclosures To Lis Pendens
The graph above calculates the ratio of foreclosure sales to lis pendens filings. So why is this so important?
When the market had equity (homes were rising in value each year), a lis pendens filing did not have to result in a foreclosure sale. There were other remedies for the distressed homeowner. Below are a few examples:
Use the equity in the home to get current on mortgage payments
Refinance
Sell the home and repay the mortage and liens in full
Conduct a Short Sale, approved by the bank
But as home values declined, equity in the market went away. Homeownes in distress who no longer had equity were left with either doing a short sale or letting the bank take the home in foreclosure.
The graph above shows that currently, 53% of all lis pendens filed last year ended up in a foreclosure sale. While significantly improved since the peak of despair in 2014, today's ratio is still far above the 9% recorded prior to 2010.
Thus, the health of the Tallahassee real estate market is "fair and improving," but we still have a ways to go.
We are expecting record-setting appreciation this year due to high demand and low inventory, thus increased values will provide some of this year's distressed sellers to use one of the remedies listed above.
Buyers should consider this a "last call" for finding multiple foreclosures that could fit their needs, as we will see the numbers decline with rising equity in the market.
Would You Like To Buy A Foreclosure?
If you are interested in knowing more about buying a foreclosure in Tallahassee, we would love to help you.
All you need to do is give us a call at (850) 366-8917 or drop us a note and we will be in touch right away.
If you think we cover more in-depth information than any other of real estate website about Tallahassee, its homes, and its most popular neighborhoods, then please be sure to share this article with your friends!
p.s. >>CLICK HERE<< to read what recent homebuyers have to say about working with us!
Your Local Expert In Tallahassee
When moving to, in, or from Tallahassee, you will fare better if you work with a local expert. We are here to help. If you have further questions on the Tallahassee real estate market, you can leave a comment below, give us a call at (850) 366-8917, or drop us a note and we'll give you the local information needed to ensure a successful, smooth transaction.
As a local born and raised in Tallahassee with a focus on customer service, I promise you'll find great success when working with Joe Manausa Real Estate, just as have our past customers. You can read thousands of their reviews reported on Google, Facebook and Zillow right here: Real Estate Agent Reviews Tallahassee.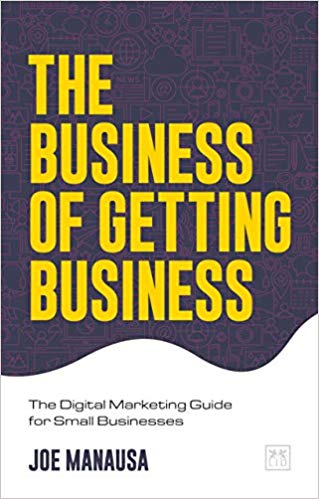 Have you heard about my new book "The Business of Getting Business?" It's a comprehensive guide for small businesses to help them make the move to digital. For those of us who want to survive and thrive in a world where large corporations are taking over, it is a must-read. It's also the perfect guide for how to sell a home in the digital age. You can find The Business Of Getting Business by clicking on any of the trusted retailers below.

Think all REALTORS are alike?
Read what people are saying about working with Joe Manausa Real Estate! You can see thousands of real customer reviews reported on Google, Facebook and Zillow at this link: CLICK HERE FOR REAL ESTATE AGENT REVIEWS.
I recently stumbled upon your latest Carrabelle listing. I must say, a home on Florida's Forgotten Coast is bound to be snatched up quickly. Best of luck with getting it under contract soon!

Posted by Barbara Corcoran on Thursday, June 15, 2023