Evening Rose Listings And Home Sales Report August 2022
Posted by Joe Manausa on Wednesday, August 31, 2022 at 5:56 AM
By Joe Manausa / August 31, 2022
Comment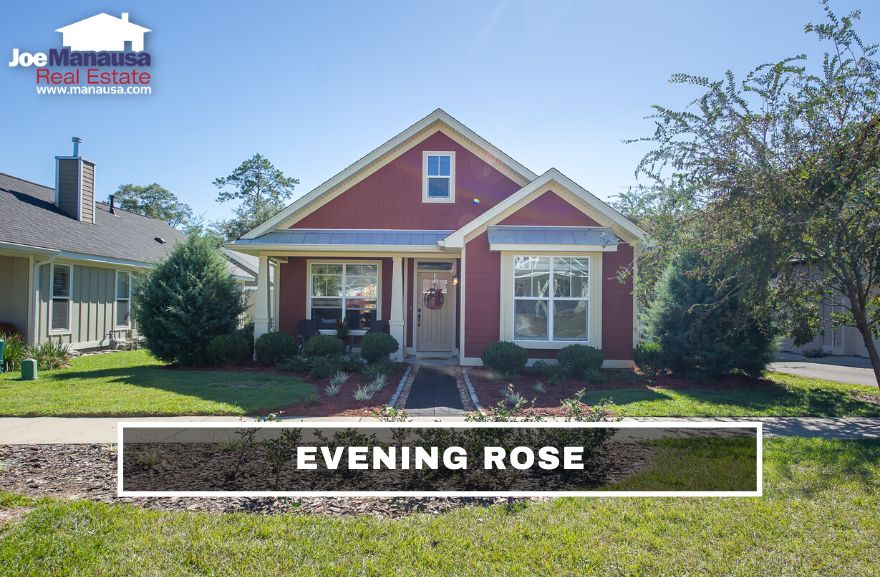 Evening Rose contains a blend of retail, commercial, educational, and roughly 80 four, three, and two-bedroom homes built from 2007 through today.
Located near the intersection of Mahan Drive and Capital Circle Northeast, Evening Rose residents enjoy quick access to downtown Tallahassee.
Homes For Sale In Evening Rose
No Matching Listings
Try a new search, or click below to get notified when matching listings become available.
Evening Rose Schools
Evening Rose is zoned for the following Leon County public schools:
This Evening Rose neighborhood report includes charts and graphs that display average home prices, home values, and home sizes, as well as a list of the most recent closed home sales in Evening Rose.
For each of the three real estate graphs found in this Tallahassee housing report, you will find the number of closed home sales for each year (red columns, measured on the left vertical axis), and an important real estate statistic shown in blue (measured on the right vertical axis).
It is important to note that the narrative contained below is for sales through December for previous years but through August in 2022. The graphs and the closed sales table will be continuously updated in the future (meaning bookmark this page if you always want to know the current status of homes in Evening Rose).
Evening Rose Home Prices
The average home price in Evening Rose in 2022 has risen nearly 14% to $373K.
Currently, there are three homes for sale in Evening Rose, and just one of them is under contract with a buyer.
Home Values In Evening Rose
The average home value in Evening Rose in 2022 has risen more than 27% despite falling slightly since our last report on Evening Rose.
The average home value in Evening Rose thus far in 2022 is $252 per square foot.
Keep Up With New Trends In Tallahassee!
Get The Tallahassee Real Estate Newsletter
Don't be the one that doesn't know what's going on when you sell a home or buy a home in Tallahassee.
Other buyers, sellers, lenders, and real estate agents have this critical information, and now you can too!
Get immediate access to our most recent newsletter.
Let more than 30 years of experience work for you with charts, graphs, and analysis of the Tallahassee housing market.
Evening Rose Home Sizes
The average size of homes sold in Evening Rose typically falls between 1,450 to 1,700 square feet, and this year has been no different.
The seven homes sold thus far in 2022 were measured at an average size of 1,488 square feet.
Recent Home Sales In Evening Rose
The following list shows more than 110 home sales in Evening Rose since 2007, the first year that sales began here. Note that you can arrange the list by simply clicking the column heading for the data you wish to sort by.
| Address | Price | Price/SQF | Closing Date | Year Built | SQF | Sale Type |
| --- | --- | --- | --- | --- | --- | --- |
| 1729 Cottage Rose Lane | $425,000 | $266 | 2023-08-25 | 2021 | 1,598 | Resale |
| 1721 Cottage Rose Lane | $435,000 | $277 | 2023-04-28 | 2020 | 1,569 | Resale |
| 1634 Cottage Rose Lane | $440,000 | $259 | 2023-03-21 | 2020 | 1,697 | New |
| 1744 Cottage Rose Lane | $424,980 | $250 | 2023-02-03 | 2023 | 1,698 | New |
| 1650 Cottage Rose Ln | $345,500 | $208 | 2022-11-08 | 2020 | 1,660 | Resale |
| 1660 Brush Hill Road | $449,000 | $230 | 2022-10-14 | 2017 | 1,955 | Resale |
| 1741 Cottage Rose | $381,000 | $240 | 2022-10-07 | 2021 | 1,590 | New |
| 1626 Cottage Rose Lane | $364,900 | $228 | 2022-08-29 | 2007 | 1,601 | Resale |
| 1739 Brush Hill Road | $360,000 | $226 | 2022-07-18 | 2018 | 1,590 | Resale |
| 3449 Austin Davis Avenue | $364,100 | $256 | 2022-06-01 | 2016 | 1,420 | Resale |
| 1676 Cottage Rose Lane | $420,000 | $268 | 2022-05-18 | 2022 | 1,569 | New |
| 1672 Cottage Rose Lane | $405,000 | $239 | 2022-04-01 | 2022 | 1,698 | New |
| 1675 Brush Hill Road | $354,900 | $249 | 2022-03-31 | 2013 | 1,428 | Resale |
| 1683 Brush Hill Road | $355,000 | $275 | 2022-03-29 | 2013 | 1,293 | Resale |
| 1686 Brush Hill Road | $352,000 | $248 | 2022-02-28 | 2014 | 1,420 | Resale |
| 1733 Cottage Rose Lane | $361,480 | $227 | 2021-12-30 | 2021 | 1,590 | New |
| 1668 Cottage Rose Lane | $354,980 | $226 | 2021-11-01 | 2021 | 1,569 | New |
| 1737 Cottage Rose Lane | $348,980 | $219 | 2021-09-28 | 2021 | 1,590 | New |
| 1729 Cottage Rose Lane | $339,900 | $217 | 2021-08-26 | 2021 | 1,569 | New |
| 1657 Cottage Rose Lane | $282,500 | $172 | 2021-08-23 | 2009 | 1,646 | Resale |
| 1699 Brush Hill Rd | $280,000 | $193 | 2021-07-01 | 2019 | 1,444 | Resale |
| 1690 Brush Hill Road | $384,000 | $168 | 2021-06-18 | 2017 | 2,290 | Resale |
| 1741 Cottage Rose Lane | $337,900 | $213 | 2021-06-03 | 2021 | 1,590 | New |
| 1669 Cottage Rose Lane | $334,000 | $149 | 2021-06-01 | 2008 | 2,247 | Resale |
| 1738 Brush Hill Road | $302,400 | $209 | 2021-05-21 | 2017 | 1,444 | Resale |
| 1701 Cottage Rose Lane | $330,689 | $211 | 2021-04-15 | 2021 | 1,569 | New |
| 1745 Cottage Rose Lane | $329,900 | $210 | 2021-03-31 | 2021 | 1,569 | New |
| 1653 Cottage Rose Lane | $299,000 | $143 | 2021-03-24 | 2008 | 2,087 | Resale |
| 1725 Cottage Rose Lane | $325,900 | $208 | 2021-02-04 | 2020 | 1,569 | New |
| 1686 Brush Hill Road | $297,000 | $206 | 2021-01-25 | 2014 | 1,442 | Resale |
| 1724 Cottage Rose Lane | $290,000 | $205 | 2020-12-28 | 2018 | 1,418 | Resale |
| 1719 Brush Hill Road | $277,000 | $188 | 2020-12-11 | 2019 | 1,472 | Resale |
| 1721 Cottage Rose | $322,900 | $206 | 2020-12-11 | 2020 | 1,569 | New |
| 1713 Cottage Rose Lane | $321,900 | $202 | 2020-12-09 | 2020 | 1,590 | New |
| 1709 Cottage Rose Lane | $342,900 | $202 | 2020-10-30 | 2020 | 1,698 | New |
| 1634 Cottage Rose Lane | $342,900 | $202 | 2020-08-25 | 2020 | 1,697 | New |
| 1717 Cottage Rose Lane | $322,400 | $205 | 2020-07-30 | 2020 | 1,569 | New |
| 1646 Cottage Rose Lane | $346,900 | $204 | 2020-05-18 | 2020 | 1,697 | New |
| 1713 Brush Hill Road | $285,500 | $198 | 2020-04-30 | 2015 | 1,442 | Resale |
| 1650 Cottage Rose Lane | $346,900 | $204 | 2020-04-24 | 2020 | 1,698 | New |
| 1642 Cottage Rose Lane | $415,000 | $165 | 2020-03-31 | 2008 | 2,520 | Resale |
| 1638 Cottage Rose Lane | $334,900 | $197 | 2020-02-28 | 2019 | 1,698 | New |
| 3464 Genevieve Park Drive | $296,611 | $187 | 2020-02-28 | 2020 | 1,590 | New |
| 1747 Brush Hill Rd | $280,000 | $154 | 2020-01-16 | 0 | 1,816 | New |
| 1715 Brush Hill Road | $259,900 | $226 | 2019-12-13 | 2019 | 1,148 | New |
| 1699 Brush Hill Road | $269,300 | $187 | 2019-12-04 | 2019 | 1,442 | New |
| 1626 Cottage Rose Lane | $259,000 | $162 | 2019-11-01 | 2007 | 1,601 | Resale |
| 1630 Cottage Rose Lane | $335,000 | $153 | 2019-10-30 | 2009 | 2,190 | Resale |
| 1695 Brush Hill Road | $279,198 | $194 | 2019-09-13 | 2019 | 1,442 | New |
| 1699 Brush Hill Road | $272,900 | $189 | 2019-07-18 | 2019 | 1,442 | New |
| 1691 Brush Hill Road | $267,900 | $190 | 2019-07-12 | 2019 | 1,412 | New |
| 1665 Cottage Rose Lane | $242,000 | $147 | 2019-06-28 | 2009 | 1,646 | Resale |
| 1687 Brush Hill Road | $272,900 | $193 | 2019-06-17 | 2019 | 1,412 | New |
| 1727 Brush Hill Road | $269,900 | $183 | 2019-04-26 | 2019 | 1,472 | New |
| 1705 Brush Hill Road | $272,123 | $189 | 2019-04-19 | 2019 | 1,442 | New |
| 1743 Brush Hill Road | $279,900 | $176 | 2019-04-05 | 2018 | 1,590 | New |
| 1739 Brush Hill Road | $279,900 | $176 | 2019-04-05 | 2018 | 1,590 | New |
| 1742 Brush Hill Road | $275,000 | $176 | 2019-02-28 | 2016 | 1,560 | Resale |
| 1719 Brush Hill Road | $269,010 | $183 | 2019-02-15 | 2019 | 1,472 | New |
| 3449 Austin Davis Avenue | $253,500 | $179 | 2018-11-27 | 2016 | 1,420 | Resale |
| 1675 Brush Hill Road | $265,000 | $186 | 2018-09-28 | 2013 | 1,428 | Resale |
| 1635 Cottage Rose Ln | $275,000 | $164 | 2018-06-29 | 2017 | 1,676 | Resale |
| 1690 Brush Hill Road | $333,000 | $145 | 2018-06-20 | 2017 | 2,290 | New |
| 3473 Genevieve Park Drive | $248,500 | $193 | 2018-03-30 | 2012 | 1,286 | Resale |
| 3461 Genevieve Park Drive | $242,500 | $186 | 2018-03-27 | 2013 | 1,306 | Resale |
| 1724 Cottage Rose Lane | $266,550 | $189 | 2018-03-18 | 2018 | 1,412 | New |
| 3456 Genevieve Park Drive | $256,000 | $180 | 2018-02-28 | 2015 | 1,420 | Resale |
| 1664 Brush Hill Road | $389,000 | $172 | 2018-02-28 | 2017 | 2,262 | New |
| 3461 Austin Davis Avenue | $276,760 | $178 | 2018-02-01 | 2018 | 1,557 | New |
| 1694 Brush Hill Road | $319,900 | $151 | 2017-12-14 | 2017 | 2,120 | New |
| 3453 Austin Davis Avenue | $262,900 | $182 | 2017-11-30 | 2017 | 1,442 | New |
| 3454 Austin Davis Avenue | $253,900 | $194 | 2017-10-23 | 2017 | 1,310 | New |
| 3460 Genevieve Park Drive | $283,701 | $182 | 2017-10-13 | 2017 | 1,560 | New |
| 1660 Brush Hill Road | $359,000 | $180 | 2017-09-25 | 2017 | 1,998 | New |
| 1637 Jaydell Circle | $254,110 | $194 | 2017-08-25 | 2017 | 1,310 | New |
| 1683 Brush Hill Road | $250,000 | $191 | 2017-07-28 | 2013 | 1,308 | Resale |
| 1635 Cottage Rose Lane | $275,000 | $164 | 2017-06-07 | 2017 | 1,676 | New |
| 3449 Austin Davis Ave. | $256,900 | $181 | 2017-03-28 | 2016 | 1,420 | New |
| 1738 Brush Hill Rd. | $247,900 | $172 | 2017-03-03 | 2016 | 1,442 | New |
| 1742 Brush Hill Rd. | $262,900 | $169 | 2017-01-26 | 2016 | 1,560 | New |
| 1642 Cottage Rose Ln | $379,500 | $151 | 2017-01-13 | 2008 | 2,520 | Resale |
| 3473 Genevieve Park Dr | $243,000 | $189 | 2016-12-09 | 2012 | 1,286 | Resale |
| 1746 Brush Hill Road | $247,900 | $172 | 2016-11-18 | 2016 | 1,442 | New |
| 1651 Brush Hill | $305,000 | $160 | 2016-07-08 | 2016 | 1,904 | New |
| 1720 Cottage Rose Ln Road | $244,900 | $170 | 2016-06-30 | 2016 | 1,442 | New |
| 3469 Genevieve Park Drive | $249,900 | $167 | 2016-04-25 | 2012 | 1,500 | Resale |
| 3479 Austin Davis Ave | $256,000 | $164 | 2016-03-18 | 2015 | 1,560 | New |
| 1713 Brush Hill Road | $240,900 | $167 | 2016-03-11 | 2015 | 1,442 | New |
| 3456 Genevieve Park | $244,900 | $170 | 2015-09-18 | 2015 | 1,442 | New |
| 1698 Brush Hill Rd | $254,900 | $163 | 2015-04-14 | 2014 | 1,560 | New |
| 3452 Genevieve Rd. | $261,800 | $168 | 2015-02-17 | 2014 | 1,560 | New |
| 3465 Genevieve Park Dr | $248,000 | $165 | 2015-01-30 | 2013 | 1,500 | Resale |
| 1710 Brush Hill Rd | $236,900 | $181 | 2014-12-17 | 2014 | 1,308 | New |
| 1704 Brush Hill Rd | $235,900 | $164 | 2014-10-13 | 2014 | 1,442 | New |
| 1686 Brush Hill Rd | $233,900 | $162 | 2014-08-01 | 2014 | 1,442 | New |
| 1669 Cottage Rose Ln | $245,000 | $139 | 2014-02-19 | 2008 | 1,763 | Resale |
| 1675 Brush Hill Rd | $239,900 | $168 | 2014-01-09 | 2013 | 1,428 | New |
| 1642 Cottage Rose Ln | $355,000 | $147 | 2013-11-27 | 2008 | 2,411 | Resale |
| 1683 Brush Hill Rd | $225,900 | $175 | 2013-10-23 | 2013 | 1,293 | New |
| 3465 Genevieve Park Dr | $239,900 | $160 | 2013-09-30 | 2013 | 1,500 | New |
| 3469 Genevieve Park Dr | $239,900 | $160 | 2013-08-22 | 2012 | 1,500 | New |
| 3461 Genevieve Park Dr | $219,900 | $168 | 2013-05-14 | 2013 | 1,306 | New |
| 1679 Brush Hill Rd | $248,200 | $159 | 2013-04-11 | 2013 | 1,560 | New |
| 3473 Genevieve Park Dr | $215,000 | $167 | 2012-10-31 | 2012 | 1,286 | New |
| 1657 Cottage Rose Ln | $150,000 | $91 | 2012-08-07 | 2009 | 1,646 | New |
| 1661 Cottage Rose Ln | $160,000 | $97 | 2012-08-01 | 2009 | 1,646 | New |
| 1665 Cottage Rose Ln | $150,000 | $91 | 2012-07-27 | 2009 | 1,646 | New |
| 1669 Cottage Rose Ln | $221,500 | $135 | 2012-06-29 | 2008 | 1,646 | Resale |
| 1626 Cottage Rose Ln | $160,000 | $100 | 2011-09-02 | 2007 | 1,601 | New |
| 1667 Brush Hill Rd | $340,000 | $140 | 2011-07-14 | 2008 | 2,420 | Resale |
| 1642 Cottage Rose Ln | $341,700 | $142 | 2010-09-03 | 2008 | 2,411 | Resale |
| 1716 Cottage Rose Ln | $189,000 | $101 | 2010-06-28 | 2010 | 1,866 | New |
| 1639 Brush Hill Ln | $289,000 | $209 | 2009-05-27 | 2009 | 1,385 | New |
| 1714 Brush Hill Ln | $215,000 | $229 | 2009-02-28 | 2008 | 940 | Resale |
| 1653 Cottage Rose Ln | $330,000 | $158 | 2009-02-26 | 2008 | 2,087 | New |
| 1669 Cottage Rose Ln | $318,000 | $193 | 2008-10-20 | 2008 | 1,646 | New |
| 1705 Cottage Rose Ln | $376,200 | $207 | 2008-09-18 | 2008 | 1,817 | New |
| 1668 Brush Hill Ln | $433,700 | $229 | 2008-01-22 | 2007 | 1,890 | New |
| 1630 Cottage Rose Ln | $425,000 | $225 | 2008-01-07 | 2007 | 1,890 | New |
| 1714 Brush Hill Ln | $250,000 | $266 | 2008-01-07 | 2007 | 940 | New |
| 1642 Cottage Rose Ln | $340,000 | $96 | 2007-12-24 | 2008 | 3,558 | New |
| 1663 Brush Hill Ln | $466,000 | $228 | 2007-12-07 | 2007 | 2,045 | New |
| 1667 Brush Hill Rd | $342,000 | $98 | 2007-09-24 | 2008 | 3,490 | New |
| 1654 Cottage Rose Ln | $369,700 | $196 | 2007-08-21 | 2007 | 1,890 | New |