Foreclosure: Update On The RECESSION You've Been Warned About
Posted by Joe Manausa on Monday, June 13, 2022 at 5:55 AM
By Joe Manausa / June 13, 2022
Comment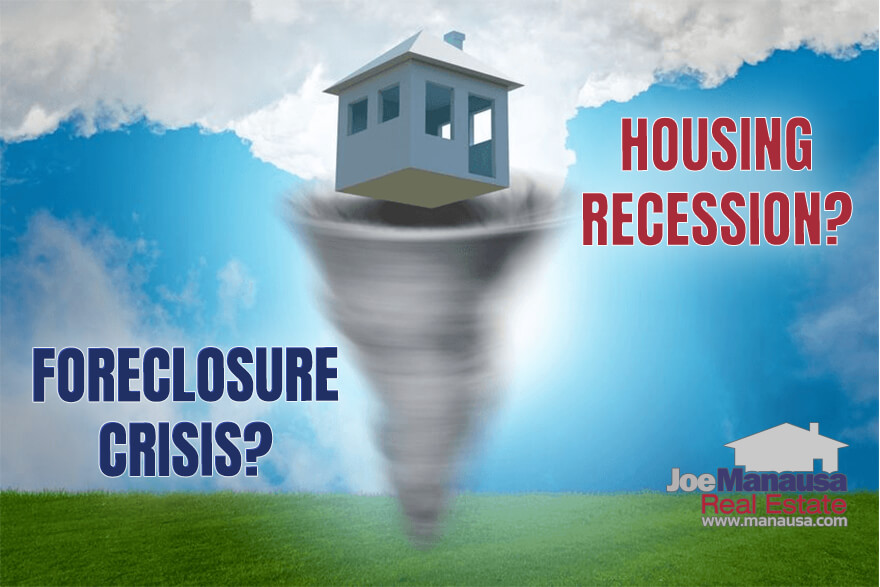 If you want to know what's going on with foreclosures, here's what you would find in the first three videos on YouTube: The first one warns you to get ready for a recession because foreclosures are up 39%, the second claims that the share of delinquent mortgages remains well above pre-COVID levels, while the third warns that foreclosures have increased by 700%.
Just reading the headlines makes me want to build a bomb shelter in my back yard and load it with enough food for five years. Is the world really coming to an end due to a foreclosure wave that will wipe out the US economy?
Now, before we address the issue of foreclosures, I do want to remind you that we are truly in a major housing crisis due to the crashing affordability of homes, but today's post serves to address the issue of a foreclosure wave that is currently (and always?) being hyped on YouTube.
The majority of information in today's report comes from the recent Black Knight Mortgage Monitor Report. If this is an organization that you are unfamiliar with, I encourage you to add them to your favorite data source list.
Black Knight's monthly mortgage update is a key report that exposes the health of the pipeline of mortgage loans in America, the best source I have found to unearth the critical data required for forecasting current and future foreclosure activity.
Before we start the report, I've embedded ALL of the foreclosures for sale in Tallahassee. What used to be several hundred is now but a few. You'll note that nearly all of them are already under contract with buyers!
Real Estate Foreclosures For Sale
Overview Of US Mortgage Market
The first chart in our report is a simple overview that Black Knight uses as the cover of April's "Mortgage Monitor." At first blush, are we seeing a strengthening US mortgage market? How does this lead to a foreclosure crisis?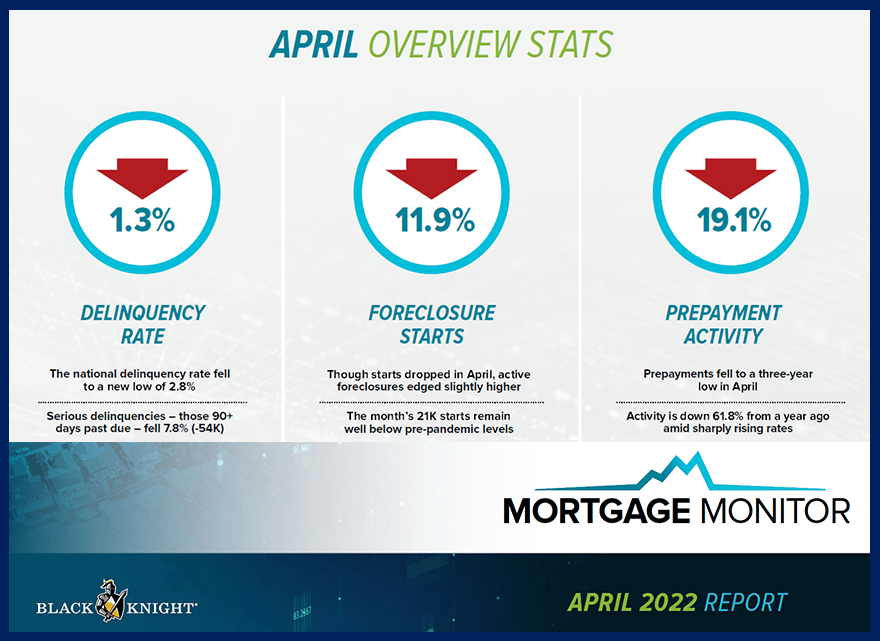 The mortgage delinquency rate fell again and at 2.8%, delinquencies have not only returned to pre-pandemic levels, they have actually set a new low! Whoa! This is not what we seeing on YouTube?
Black Knight reports that foreclosure starts dropped nearly 12% and April's 21K starts were well below pre-pandemic levels. Considering the foreclosure moratorium was believed to hold a huge backlog of foreclosures (and it concluded at the end of 2021), this year has shown that foreclosures are no threat to the US housing market.
Here we are two years later, and the end-of-the-world scenario that continues to be painted by so many so-called real estate experts on YouTube just didn't happen. Just as we forecast, the supply and demand dynamic was poised to consume any and all distressed properties that fell from the foreclosure funnel.
Prepayment activity hit a three-year low, which is understandable as the dwindling supply of distressed property (coupled with rising mortgage interest rates) have cooled the refinance activities that had been the top solution for delinquent borrowers.
Before we move on, let me emphasize the importance of each ensuing step in today's report. It will give you the FACTS, not hype, and you will clearly understand the truth of the potential for a foreclosure wave in the near future.
National Delinquency Rate On First-Lien Mortgages
This graph plots the national delinquency rate on first-lien mortgages, and there are four important observations we can take away from it.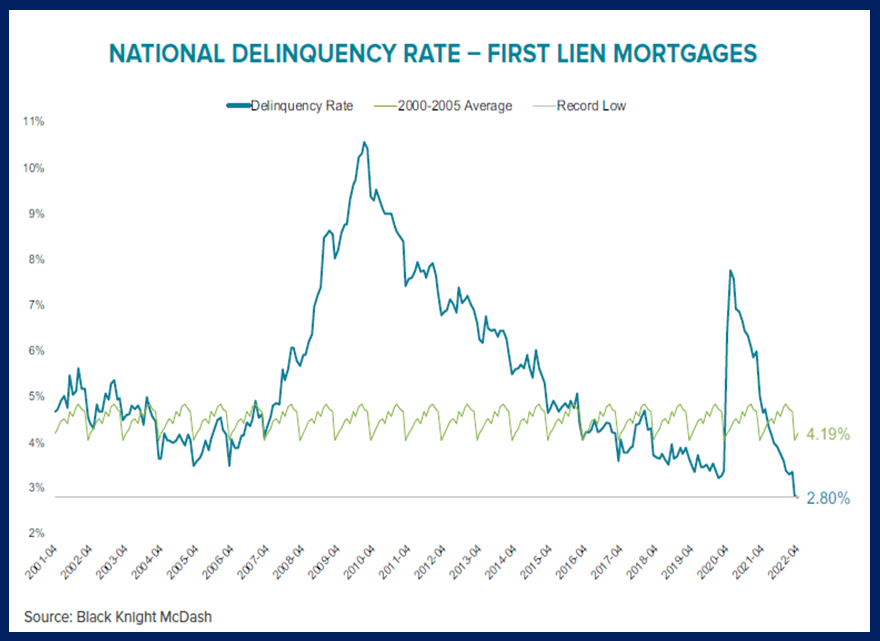 In the graph above, the dark line plots the quarterly delinquency rate, the light-green line plots the average recorded from 2000 through 2005, and the gray line plots the record-low delinquency rate. Here's what Black Knight reports:
The national delinquency rate fell to 2.8% in April, down four basis points from March, hitting a new record low for the second consecutive month.

While delinquency rates typically see seasonal increases in April following declines in March, the increase in 30-day delinquencies was offset by continued improvement in serious delinquencies.

The national delinquency rate is now nearly a third lower than the pre-Great Recession April average of 4.19%.

Despite a month-over-month rise in new delinquencies, the number of borrowers rolling from current to 30-days past due remains 15% below pre-pandemic levels, while new serious delinquencies were equivalent to April 2019.
These four observations demonstrate the strength of the current housing market in terms of distressed properties and any threat that a flood of foreclosures are heading our way. But let's dig deeper!
Current Delinquencies By Severity
This next graph segments mortgage delinquencies by severity.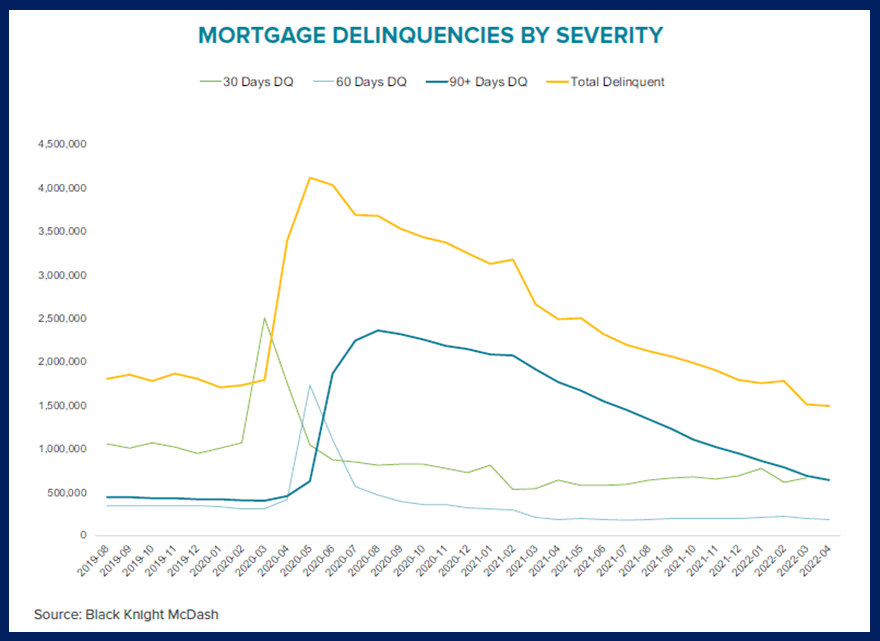 Overall, the trends are very positive, with the worst delinquencies showing huge declines and only new delinquencies showing gains. Again, with foreclosure moratoriums lifted in January, it's not a big surprise to find loans 30-days delinquent on the rise.
This is a very important point that most YouTube Hypsters either fail to understand or perhaps purposely overlook in their reporting. Banks were not allowed to foreclose on the majority of home loans that were delinquent during the pandemic until recently, so if a foreclosure wave was heading our way, we would have seen a huge number of foreclosure filings beginning in January. But we did not. And here is why:
The total number of delinquencies has been reduced by more than half since the start of the pandemic two years ago and delinquencies are now lower than pre-pandemic levels (yellow line). Serious delinquencies (those that have been delinquent for more than 90 days) have declined by 6% to 12% in each of the past 14 months and are approaching the pre-pandemic level.
Foreclosure Starts Versus Foreclosure Sales
The term "foreclosure" is used loosely in most reports, and it is often misunderstood because data exists on both foreclosure filings as well as foreclosure sales. When I use the term "foreclosure," I'm referring to the actual foreclosure sale, where ownership of a home has changed as the result of a lender taking action against a delinquent homeowner.
The next graph serves to show the outcome of new foreclosure starts. Specifically, how many new starts resulted in actual foreclosure sales?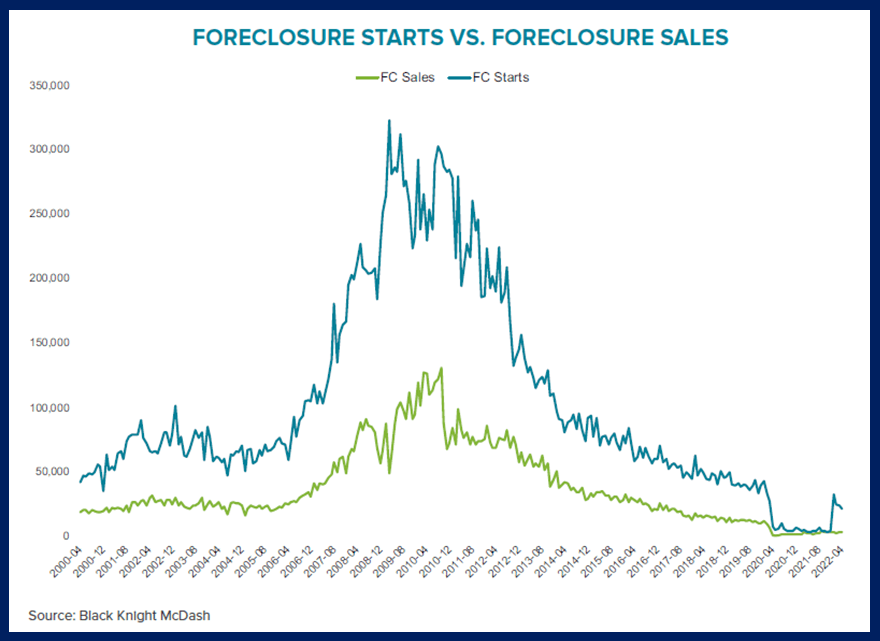 The jump in January starts really stands out in this graph, but again, that was due to the ending of the foreclosure moratorium and lenders were finally allowed to pursue unsalvageable loans.
Notice the green line in the graph, it shows foreclosure sales at an all-time low and hovering just above ZERO! We'll address this in greater detail as we move through this report.
With other reports warning of a foreclosure wave and Black Knight reporting historic lows, we need to evaluate another segment of potentially distressed loans to see if they will serve to empower this future foreclosure wave.
We must examine the status of the more than 8+ million forbearance plans that many self-proclaimed real estate experts told us would crash the housing market back in 2020, perhaps they are surfacing now?
Forbearance Plans (ALSO) Did Not Kill Housing
This graph provides information about the number of loans on active forbearance plans. As a reminder, a forbearance plan is an agreement between a borrower and a lender that, for a period of time, allows the non-payment (or partial payment) of a loan to help the borrower retain the home.

There were nearly five million borrowers who went into forbearance at one point early in the pandemic. This action caused many self-proclaimed real estate experts to come out and call for a foreclosure wave that would cause massive home price declines in 2020, 2021 and then 2022. Obviously, they were wrong each time. Just as I had warned, home prices soared during those years due to the limited supply of homes for sale.
Forbearance plan volume fell by nearly 37K over the past thirty days, a decline of more than 5%. Only 1.2% of all mortgages are currently on a forbearance plan (roughly 645K loans compared to the more than 4.1M at their peak in 2020).
The remaining pipeline of loans in forbearance should decline by about 70K per month and soon be a footnote in the housing market history. As you'll see in the following pie chart, the Forbearance plan was successful in protecting homeowners during the initial days of the pandemic.
Keep Up With New Trends In Tallahassee!
Get The Tallahassee Real Estate Newsletter
Don't be the one that doesn't know what's going on when you sell a home or buy a home in Tallahassee.
Other buyers, sellers, lenders, and real estate agents have this critical information, and now you can too!
Get immediate access to our most recent newsletter.
Let more than 30 years of experience work for you with charts, graphs, and analysis of the Tallahassee housing market.
COVID Related Forbearance Plans Did Not Destroy Housing
This pie chart makes for a great picture as it shows what has happened to the 8.1 Million loans in forbearance that were COVID related.

8.1M borrowers have now been in forbearance at some point since the onset of the pandemic. 92% have since exited their plans, with more than half returning to making mortgage payments and another 30% having paid off their mortgages in full.
The backlog of loans in post-forbearance loss mitigation decreased by 35K, a 9.5% reduction over the past 30 days, but 333K borrowers are still working through options with their servicers. In short, lenders are working it out with borrowers who are able and any concerns about inventory spikes from forbearances have been put to rest.
As we move on in our report, I want to mention that I occasionally get comments about being a saleman who only serves to make everything look "fine" while washing over real concerns like housing bubbles and such. For example, when I do my quarterly Zillow housing market reports, I get (only a few) comments about "how could I trust information from Zillow."
I always respond that I don't trust Zillow, they are my competition. But Zillow's data parallels what I find elsewhere. I believe that if anybody relies on just one dataset to interpret housing market movements, they open themselves up to gross errors if the data holder makes mistakes or does something with the intent to deceive.
So if this is your first time viewing one of my reports, I urge you to go back and look at others I have shared. I'm not suggesting that Black Knight is the only place to get data to report on the housing market, it is just one of many that I use to ensure that I'm not missing an important observation about home sales.
When it comes to reporting on home prices, I would not say that Black Knight is the best source of information to garner average home prices around the US, but I can tell you that their take on home prices looks awfully familiar!
Black Knight Home Price Index Jibes With Others
The following graph is the Black Knight Home Price Index which I've included to demonstrate that Black Knight's data on home prices parallels my findings from several other data sources.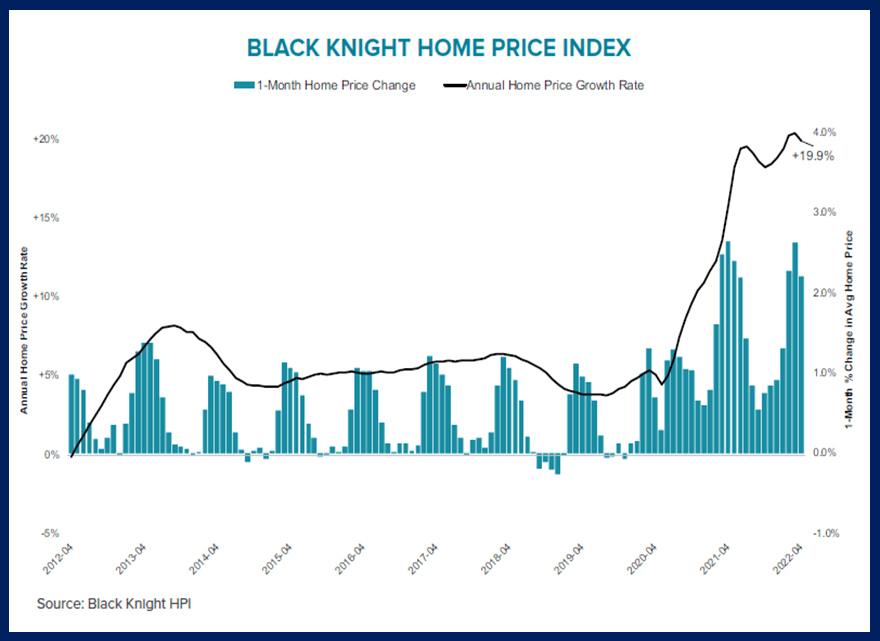 This graph plots the 1-month percentage change in home prices in blue (recorded on the right vertical axis) as well as the annual home price growth rate in green (recorded on the left vertical axis). Just as our previous reports have shown, home prices are soaring with the current rate approaching 20% per year!
Home price growth showed modest signs of cooling in April, in what may be the beginning of a broader slowdown driven by sharply rising 30-year rates. Bear in mind (and to be crystal clear), home prices DID NOT FALL, it was the rate at which they were rising fell slightly in April.
Home prices were up 19.9% year-over-year in April, slightly cooler than the record 20.4% seen in March. The average home value is up 8.7% over the first four months of 2022!!!
All major markets saw home prices rise by double digits year-over-year for the third consecutive month. I want to remind our readers that historically, home prices move up just under 3.5% each year. These growth rates are toxic for home affordability and the Black Knight report confirms our fears of a home affordability crisis in America.
The Picture Of Home Affordability Tanking
One way to measure home affordability over time is to examine the ratio between monthly mortgage payments and the income of borrowers.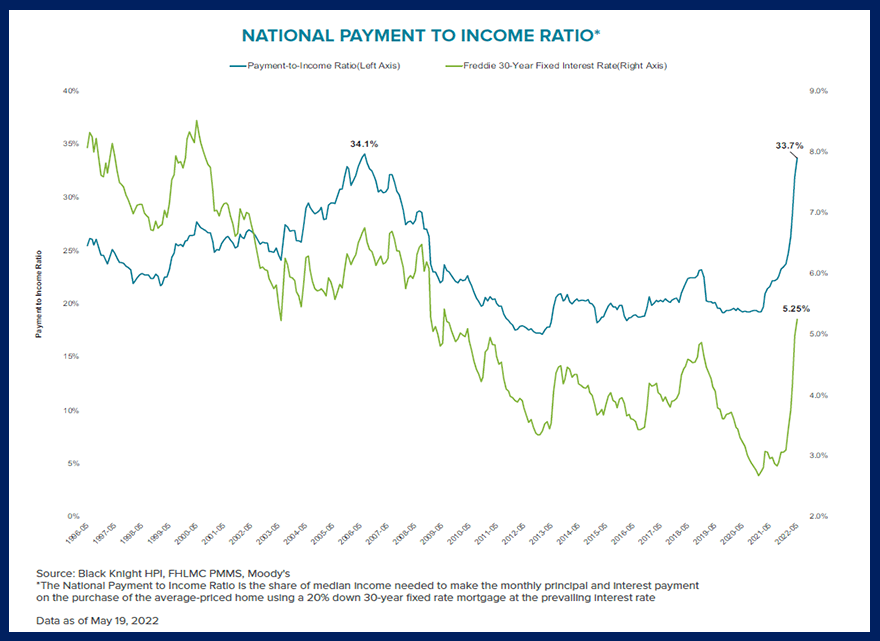 This graph plots the National Payment-to-Income Ratio. It is measured as the share of median income needed to make the monthly principal and interest payment on the purchase of the average-priced home using a 20% down, 30-year fixed-rate mortgage at the prevailing interest rate.
The monthly payment required to purchase the average price home with 20% down jumped another $100 through mid-May, and is now up nearly $600 (+44%) from the start of the year and $865 (+79%) from the start of the pandemic.
When comparing the rise in housing costs to current income levels, it now takes 33.7% of the median household income to purchase the average priced home, within a whisper of the 34.1% all time high at its peak in June 2006.
Since the data for this graph was pulled in early May, we likely have already reached a new peak. Regardless of having reached a new peak or hovering closely nearby, the market continues to run extremely tight from an affordability perspective.
US Supply Of Existing Homes For Sale
This graph plots the current supply and demand for homes in the US. The blue bars measure the number of active home listings on the left vertical axis, while the red line plots the months of supply of homes by using current sales data (and reported on the right vertical axis). Finally, the gray dashed-line measures the one-year average of the months of supply.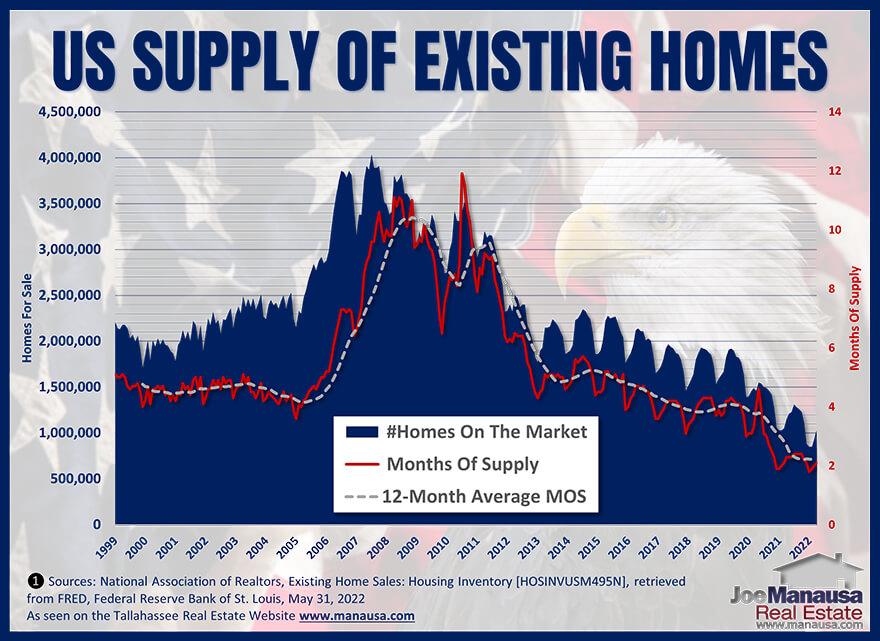 Unfortunately, we still see the trend falling in the supply of homes relative to the current rate of demand. The numerous reports across the internet that have been warning of rising inventories are either wrong, or very local to specific markets (which we address below).
Currently, the supply of homes for sale (relative to the current rate of demand) is still falling. When we look at the far right of the graph, the blue bars show that the current inventory of homes is right at one million homes.
Contrast today's supply with the four million plus homes in inventory at it's highest point back in June of 2007. That means today's supply is 75% lower than what the market observed at its peak and lower than any time going back 23 years.
Shortage Of Homes Listed For Sale
I've been screaming/begging for more inventory from builders since 2017, and I have produced MLS reports and graphs from FRED to support my concerns. Today, we'll look at a Black Knight graph that also confirms a major inventory shortage.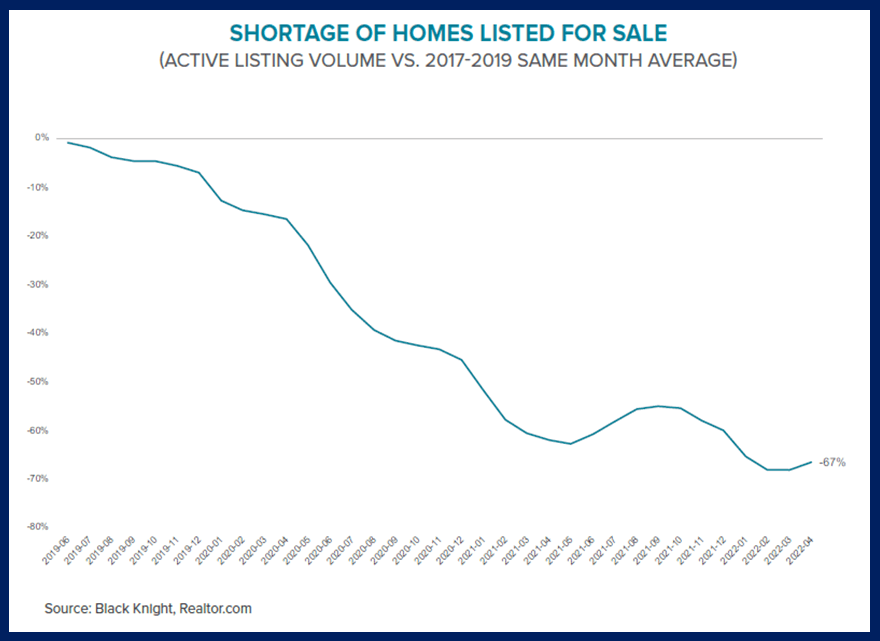 Active listings remain 67% below pre-pandemic levels, with 820K fewer listings than would be typical at this point in most home buying seasons.
New listing volumes were up 1% from the same time last year but remained 11% below pre-pandemic levels for the month of April, suggesting that the number of homes hitting the market remains well below what would be considered "normal" levels.
The continued lack of supply continues to weigh on home sales and serves to keep prices higher than they might otherwise be given current affordability metrics.
US Map Of Deficit Of Active Listings
While the overall US housing market is grossly undersupplied, inventory shortages are not equally distributed across all market areas. This map compares today's inventory of homes to the average reported for the three years prior to the pandemic (treating those years as "normal").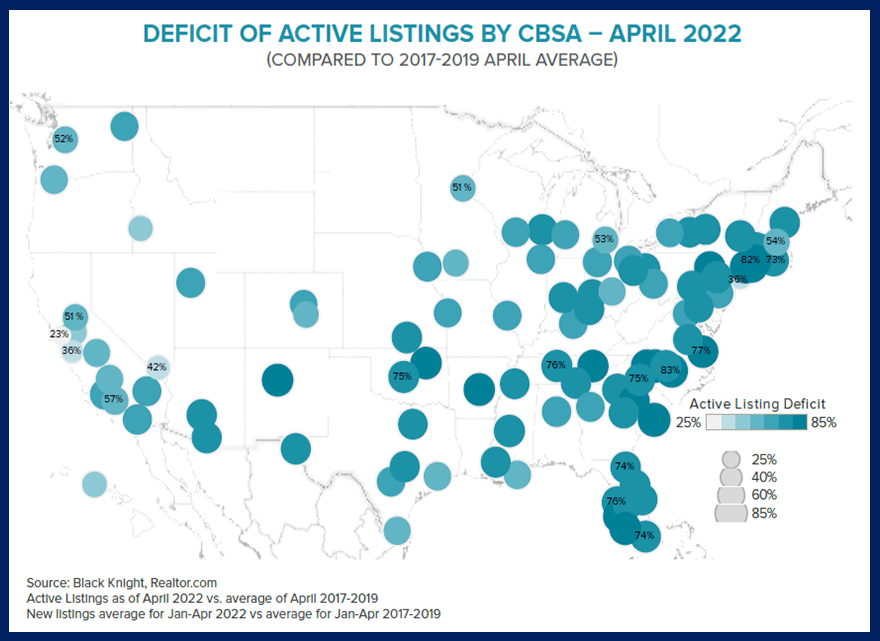 Unshaded areas in the graph are reported less than a 25% inventory deficit, while dark green areas are reporting up to an 85% inventory deficit. I'm guessing that some of the readers who have disagreed with my reports on the limited supply of homes must live in unshaded areas of the country!
Black Knight reports that Raleigh, N.C., which has experienced the highest home price growth, is also facing the biggest deficit, with the number of homes for sale down 83% from pre-pandemic levels.
San Francisco, San Jose and New York are seeing some of the smallest deficits, as remote work has shifted housing demand away from less affordable urban markets and toward more affordable markets, including Providence, R.I., Virginia Beach, Va.; and Tampa, Fla.
San Francisco and San Jose are also among the few markets seeing new listings exceed pre-pandemic levels, suggesting more balanced inventory may be on the horizon. On this final point, I would add that it could be a sign of out-migration too.
Equity In The Housing Market
This next graph was not part of the Black Knight report, but it reveals why we're not worried about a foreclosure crisis today and why the current market is vastly different from conditions observed in 2009.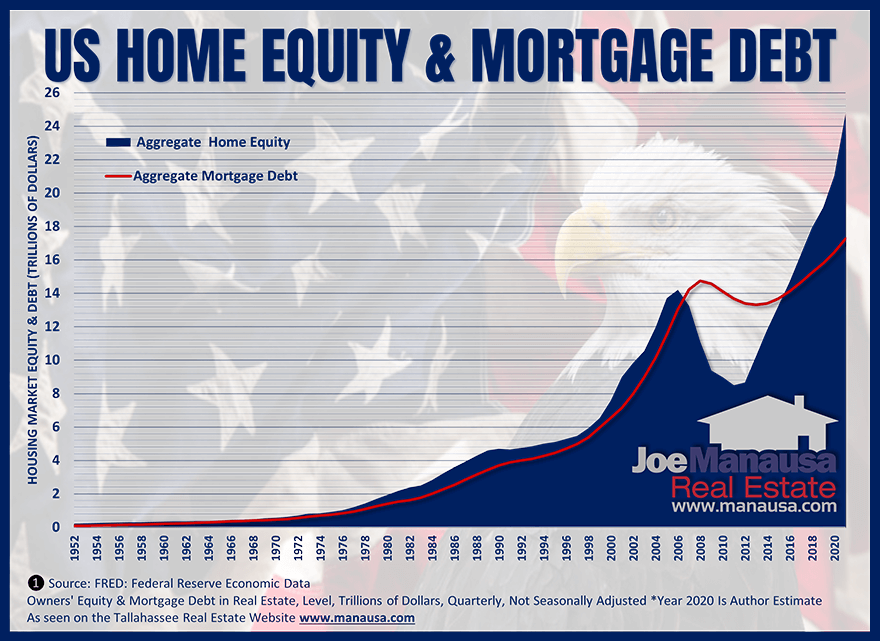 The graph above plots both equity and debt in the housing market, and all we need to do is a "now versus then" study to see why today's environment is so different from the housing market recovery more than ten years ago.
From 2006 through 2014, there was no equity in the housing market. Simply put, Americans owed more on their homes than the homes were worth. If a homeowner became delinquent, no solution made lenders whole again. Foreclosures resulted in losses to the borrower and the lenders.
Today is completely the opposite. There is equity again in the housing market, and more so than at any time in the past! For most borrowers who become delinquent today, the remedy does not have to be a foreclosure sale. Instead, delinquent borrowers can sell their homes on the open market, repay their debt, and many will walk away with cash!
What You Should Be Concerned With For Housing
The Black Knight report provides all the data and visual evidence to show that foreclosures are not a concern for the US housing market. Again, I reiterate that there is a housing crisis, but it is not one of foreclosures streaming in, rather it is one of limited supply, soaring home prices and soaring rents, and the devastating decline of home affordability.
I expect to see people who have great credit being forced to the "for rent" market simply because there are not enough homes to be found at affordable prices. This increase in demand in the rental market will continue to push rents higher at an unhealthy rate, and we'll see lower wage earners struggle to find adequate housing.
Wall Street is making a big push into housing, and what has traditionally been a greatly decentralized housing market is going to see "BIG BUSINESS" come in and start to implement controls that will make it harder to afford a home. Big corporations like Amazon are not only hurting local retail businesses, they are now attacking housing, perhaps the last of the untouched small business community.
Foreclosures and forbearance loans were protected by rising prices and diminished inventories of homes for sale, but what is going to protect us from Big Business coming in and buying up a large segment of our local housing markets? This should be your primary concern for housing, not the distracting hype about foreclosures.
If you think I've presented a sound argument in this video, please share it with your close friends and family members. If you think I've missed something important, please tell me how by posting a comment below.