BEWARE! Did All Of These 17 Homes With Swimming Pools Just Hit The Market?
Posted by Joe Manausa on Thursday, July 25, 2019 at 5:59 AM
By Joe Manausa / July 25, 2019
Comment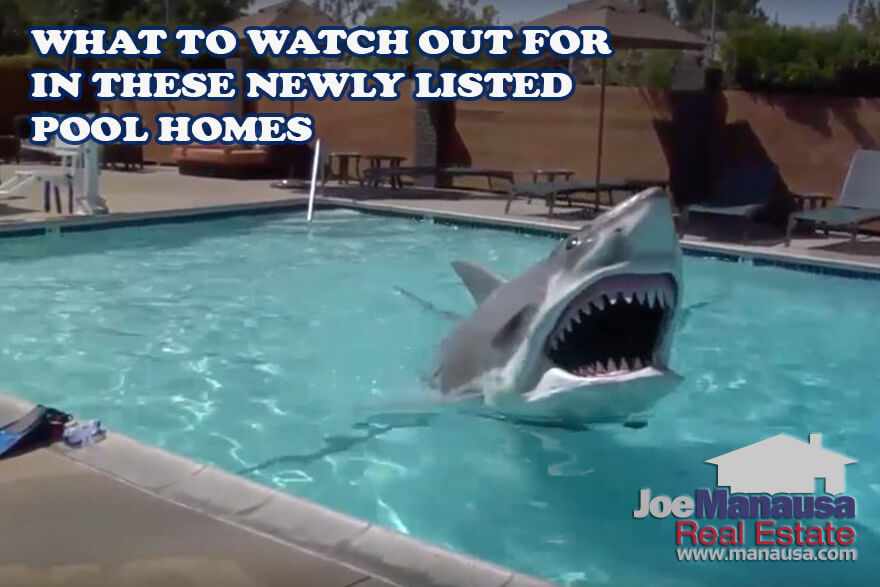 If you are looking to cool off by buying a home with a swimming pool, then this is exactly where you need to be.
It features the most recently listed homes with pools (all have a list date within the past seven days), and it will always be current whether you found this article the day it was posted or several years after!
Following the listings, discover why some "new" listings have been on the market much longer than just a few days and why some agents try to trick you.
Just Listed Homes For Sale With Swimming Pools
A Little Secret You Should Know About New Listings
When agents don't know what to do when marketing a home for sale, they often cancel the listing and re-list it with the hopes that it will fool a buyer on its "newness" to the market. Sometimes, they'll list it twice at the same time thinking you will see it more often and therefore want it more. Of course, they really don't understand what you (a prospective homebuyer) really do.
If you are brand-new to shopping pool homes for sale in Tallahassee, these tricks might fool you. Of course, if you are new to the market, then you are only gathering information and getting a feel for what is out there. It's not like you'll be making a decision today.
But buyers who have been shopping for months have already seen the home, and they have already rejected it. They don't need to see multiple copies of it and they don't care about its status any long. They have rejected the home. In fact, we regularly get asked: "why is that home on your just listed page, it's been on the market for more than a year!" Ultimately, the only people that get fooled by old listings showing up new are buyers who are not ready to make a decision. It's just an annoyance for the rest of us.
On the day I wrote this post, there were 17 just-listed homes for sale with pools, but these ones were merely old listings that were canceled and relisted:
There are lots of tricks that buyers will face as they go through the process of buying a home with a swimming pool. The best bet to stay safe from tricksters is to work with the best real estate buyers agent in the market.

Speak To An Expert!
Joe has created a process that was designed to save you money on the purchase of a new home.
His past customers speak volumes (you will see Joe's buyer reviews after you submit the form) on why you should have Joe be your buyer's agent.
Talk to us today about helping you negotiate a better deal, with better terms, when buying your new home. You'll be glad you did!
I hope our report on just listed homes with swimming pools has given you the information you were looking for. If not, you can give us a call at (850) 366-8917 or drop us a note and we'll help you with your specific Tallahassee real estate needs.
As a local born and raised in Tallahassee with a focus on customer service, I promise you'll find great success when working with Joe Manausa Real Estate, just as have our past customers. You can thousands of their reviews reported on Google, Facebook and Zillow right here: Real Estate Agent Reviews Tallahassee.
Real Estate Market Information Can Be Overwhelming
That's why Joe breaks the data down into easy-to-understand concepts. Whether you're buying, selling, investing or just interested in the market, sign up for Joe's blog to get the latest Tallahassee real estate updates, straight to your inbox.