Everything You Should Know About $350,000 Homes For Sale In Tallahassee
Posted by Joe Manausa on Monday, March 18, 2019 at 5:31 AM
By Joe Manausa / March 18, 2019
Comment
We have thousands of people using our property search tool on the Joe Manausa Real Estate Website, and a disproportionately large segment of them seem to be looking at homes priced near $350,000.
Due to this high level of interest, we have prepared an in-depth report that includes all homes for sale with an asking price near $350K, 15 years of sales data for homes priced within 5% of $350K, and finally a look at the supply and demand for homes priced between $300,000 and $400,000.
If you plan on buying or selling a $350K home in the near future, this is a great foundational report to help you do well in your transaction.
$350K Homes For Sale In Tallahassee
The following list of homes for sale in Tallahassee has MLS listings with an asking price from $325,000 to $350,000.
$350K Home Sales Since 2004
The $350K price range graph below was generated by looking only at homes that sold for a price within 5% of $350,000. The number of homes sold from 2004 through today is segmented by area of town.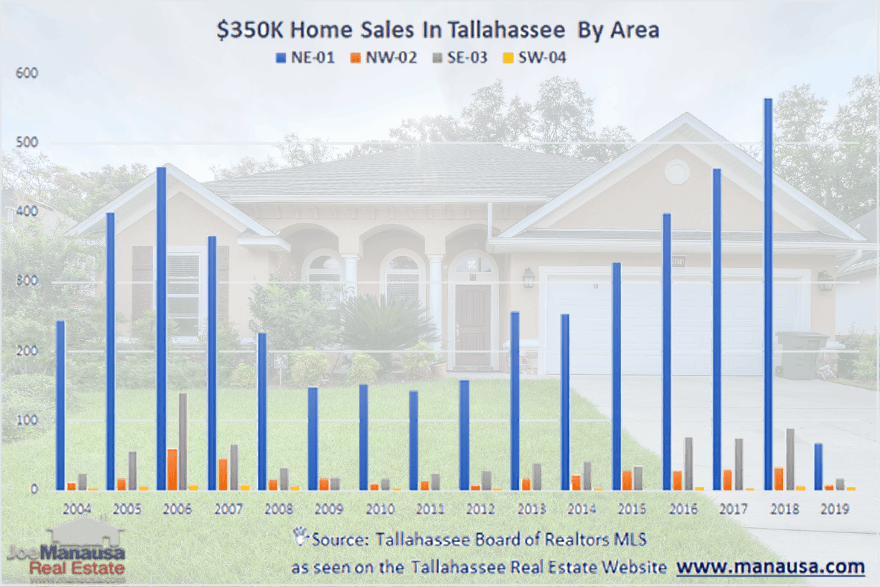 The graph above shows that roughly 80% of all $350K home sale since 2004 have been in the NE quadrant, 13% have been in the SE quadrant, 6% were in the NW quadrant, while just 1% were in the SE quadrant. Simply put, most $350K homes are in Northeast Tallahassee.
When it comes to buying or selling a $350,000 home in Tallahassee, it is important that you understand how competitive the market is going to be for the specific area in question. Currently, if you are planning on purchasing or selling in the NE, there are far more buyers than sellers so you should anticipate a fast sale and the potential for multiple offers.

Speak To An Expert!
Joe has created a process that was designed to save you money on the purchase of a new home.
His past customers speak volumes (you will see Joe's buyer reviews after you submit the form) on why you should have Joe be your buyer's agent.
Talk to us today about helping you negotiate a better deal, with better terms, when buying your new home. You'll be glad you did!
Supply And Demand For $350,000 Homes
The following table has some very important information regarding the $350K homes for sale in Tallahassee. In order to adequately cover our targeted price point, we pulled supply and demand information for all homes listed between $300,000 and $400,000 in the Tallahassee MLS.

The table above shows that $350K homes exist in all three market cycles, depending upon where you shop. $350K homes in NE Tallahassee (4.1 months of supply) are in a strong sellers' market. $350K homes in SE Tallahassee (5.7 months of supply) are in a balanced market, while $350K homes in NW and SW Tallahassee (8.7 months of supply and 18 months of supply respectively) are in a very strong buyers' market.
Right now, you would expect buyers to find the most home for the money on the west side of town and they should be prepared to compete for one on the NE side of town.
Home sellers can look to the bottom line of the table to see how many homes are likely to sell this month. For example, if you have a home between $300K and $400K in NW Tallahassee, only 3 are expected to sell while 23 sellers are looking for buyers. If you want to be one of the lucky 3, make sure your home is being massively marketed to pull in all of those buyers.
If you plan on buying or selling a $350K home in 2019, give us a call at (850) 366-8917 or drop us a note and we'll set you up with a $350K home specialist. If you are wondering how well we'll take care of you, take a quick time to read our reviews from past customers. You can see thousands of reviews reported on Google, Facebook and Zillow right here: http://www.manausa.com/testimonials.
Real Estate Market Information Can Be Overwhelming
That's why Joe breaks the data down into easy-to-understand concepts. Whether you're buying, selling, investing or just interested in the market, sign up for Joe's blog to get the latest Tallahassee real estate updates, straight to your inbox.