Here Is When Home Prices Will Fall
Posted by Joe Manausa on Monday, March 21, 2022 at 5:51 AM
By Joe Manausa / March 21, 2022
Comment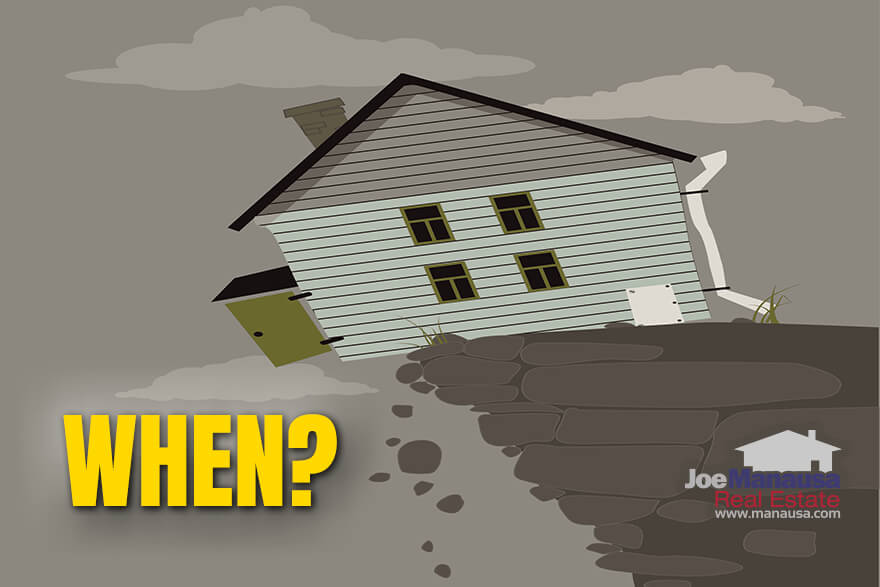 There is a major question about the housing market among consumers who remember the last time the housing market rose high so quickly.
They remember 2004 through 2006 when home prices roared higher at double-digit appreciation rates. And they remember 2007 through 2012 and the wailing and gnashing of teeth as home values fell by more than 30%.
Now that we've seen about three years' worth of skyrocketing home prices, prudent buyers with memories are asking when home prices are going to start falling again. After all, it happened 14 years ago, so when will home prices turn this time?
If you study history (specifically the history of home prices), then you know that home prices rarely drop. There are times when home prices fall, but there are some key indicators that we have to spot before real estate enters a depreciation stage.
Historic Home Prices Graph
This graph plots the average US home price since 1890, derived from the S&P/Case-Shiller home price indices.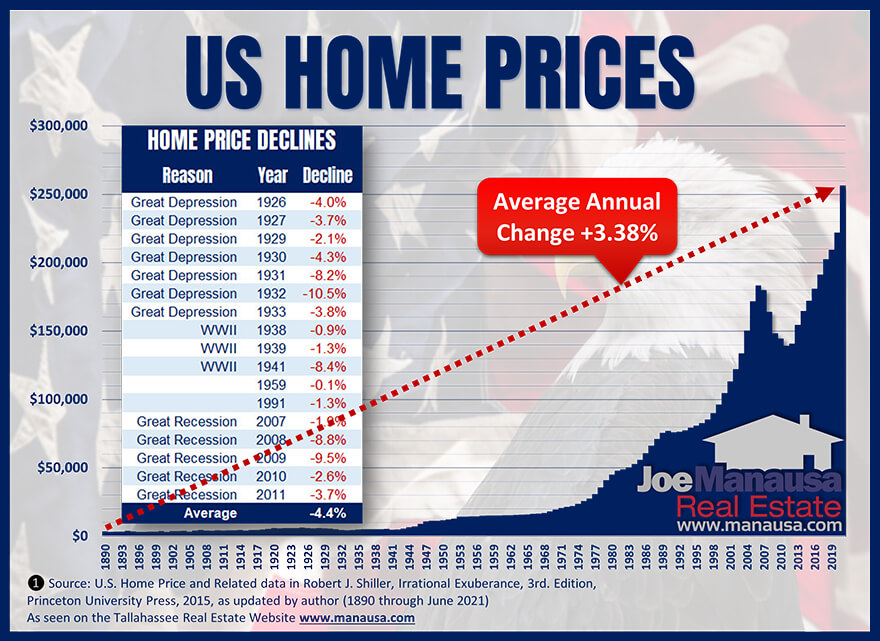 For the past 131 years, we have seen home prices (on average) move 3.38% higher annually. The red-dashed line plots the average annual growth, but there were times when home prices actually fell.
When we analyze the declining prices over the past 100 years, we find that prices fell on just four occasions, and two of them were small one-year shifts.
1. The Great Depression - The longest and deepest downturn in the history of the United States and the modern industrial economy lasted more than a decade, beginning in 1929 and ending during World War II in 1941 (from the Federal Reserve History).

2. The Great Recession - The 2007-09 economic crisis was deep and protracted enough to become known as "the Great Recession" and was followed by what was, by some measures, a long but unusually slow recovery (from the Federal Reserve History).

3. 1959 - The average home price fell by just one-tenth of one percent.

4. 1991 - The average home price fell by 1.3%
One could argue that it takes a rather large economic event for home prices to drop, so that is why it is always prudent to keep a close eye on the economy to forecast home price declines.
It's important to note that there have been twelve recognized economic recessions since the end of World II and only 1991 and the years 2007 through 2011 saw home prices decline. This means that a recession alone is not enough reason to expect falling home prices, rather home price declines require additional factors.
Is Recency Bias Distorting Housing Market Forecasts?
Today's skyrocketing home prices should have you concerned as it qualifies as a major economic move that is large enough to trigger falling prices. But one also needs to consider that "recency bias" has most "real estate experts" too expectant of price declines.
According to Wikipedia, recency bias is a cognitive bias that favors recent events over historic ones. A memory bias, recency bias gives "greater importance to the most recent event", such as the final lawyer's closing argument a jury hears before being dismissed to deliberate. Recency bias can skew investors into not accurately evaluating economic cycles.
If you believe that home prices are going to fall, history suggests that you are right, but you're also wrong! You are right in that we should expect a time in the future that home prices will fall, but you're wrong to believe that it will happen without the traditional triggers that cause real estate depreciation.
Get Our Free Market Update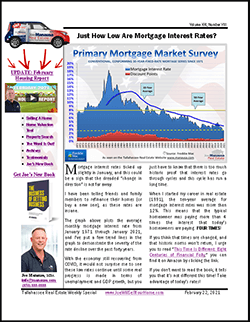 Other buyers, sellers, lenders, and real estate agents have this critical information, and now you can too!
Get immediate access to our most recent newsletter.
Let more than 30 years of experience work for you with charts, graphs, and analysis of the Tallahassee housing market.
Each Monday morning we send out a simple, one-page report that provides a snapshot of the Tallahassee housing market. It only takes 2 minutes to read, but it gives you better market intelligence than most real estate agents possess. Just tell us where to send it below!
Pay Attention To Supply And Demand
Whenever I read a report (or watch a YouTube video) that warns of falling home prices, I'm always amazed that NONE of them ever reference the supply and demand dynamic for homes. These reports are prepared by people who want to create a shocking story to attract attention, but they are based upon a recency bias that has them believe that home prices always fall after rising. History has shown this simply is not the case.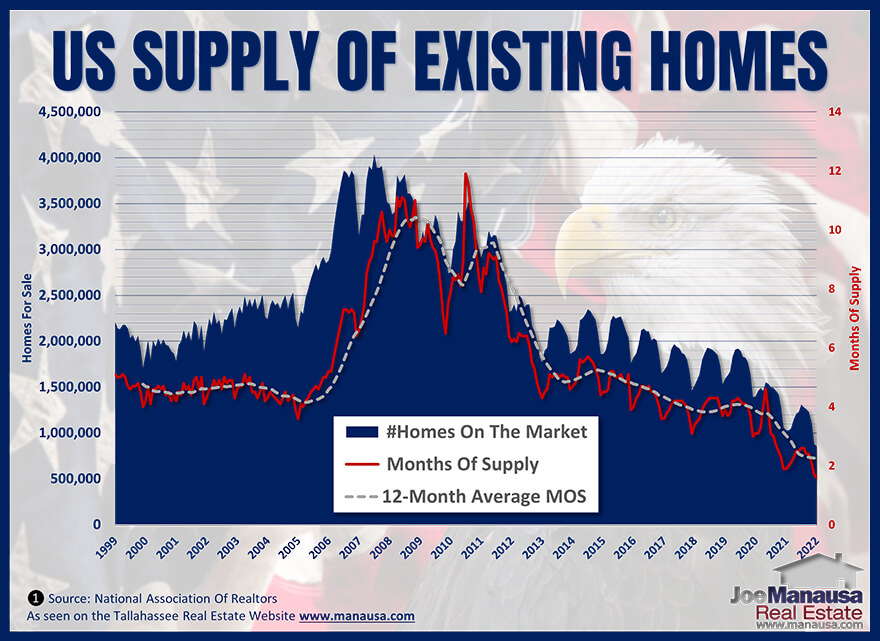 The graph above shows the supply of homes for sale in the US over time. It also incorporates recent home sales activity to include demand. The blue bars measure the number of existing homes for sale in the US (measured on the left vertical axis) while the relative supply (months of supply) is shown in red and reported on the right vertical axis. The relative supply represents the current supply of homes relative to the current rate of demand.
The gray-dashed line reports the one-year trend of the relative supply of existing homes for sale, which right now is measuring at its lowest level on record at roughly two months of supply.
Historically, it has been six months of supply that has resulted in an annual appreciation rate of 3.38%, so we can see that today, the housing market is grossly under-supplied and that is why home prices are soaring (and more importantly, why prices will continue to soar until the supply imbalance is resolved.
The Supply And Demand For Homes
Anybody who forecasts falling home prices in the foreseeable future is ignoring today's housing market conditions. Home prices must continue to rise. But history does tell us that home prices will fall at some point in the future, so what do we need to be monitoring to anticipate market changes?
To best answer this question, let's break it down into the two primary components of price change, Supply and Demand. Today, it's not enough to say that demand is far outpacing supply or that high demand for homes is causing home prices to soar. Why?
Because today's level of demand is not astronomically high, it is actually where we would expect it to be during a vibrant, growing economy. The real problem is on the supply side, US homebuilders have not produced the homes that our growing population needs.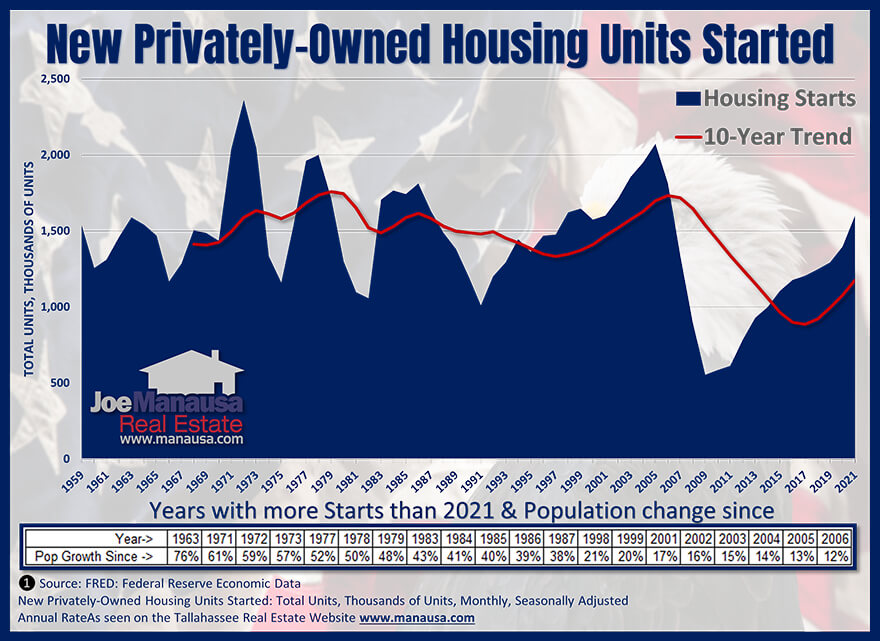 The graph above plots housing starts in the US since 1959. The red line shows the ten-year average and it was, and still remains far lower than the historical norm for the past ten years. While some reports came out in 2021 claiming new construction was building at a frenzied pace, the reality is that the number of new homes started in 2021 was lower than starts recorded in twenty of the past sixty-two years.
Simply put, there have not been enough homes built for the past ten years to account for our growing population, and this is why both home prices and rental rates are soaring. The "for sale" market needs more homes, but so too does the "for rent" market. You can read this report for more information on the rapid rise of US home rental rates.
Why Aren't Builders Producing More Homes?
I have been reporting on the under-production of new construction homes for many years, well before the COVID pandemic swept the world into significant supply channel disruptions.
Prior to COVID, one could argue that builders were still stinging from losses from the Great Recession and were overly cautious about over-supplying the market. When you combine that conservatism with the rising cost of land and the increased difficulty of developing lots for homes, builders were undersupplying the market with the homes that were needed.
Unfortunately, COVID struck in 2020 and added more fuel to the fire.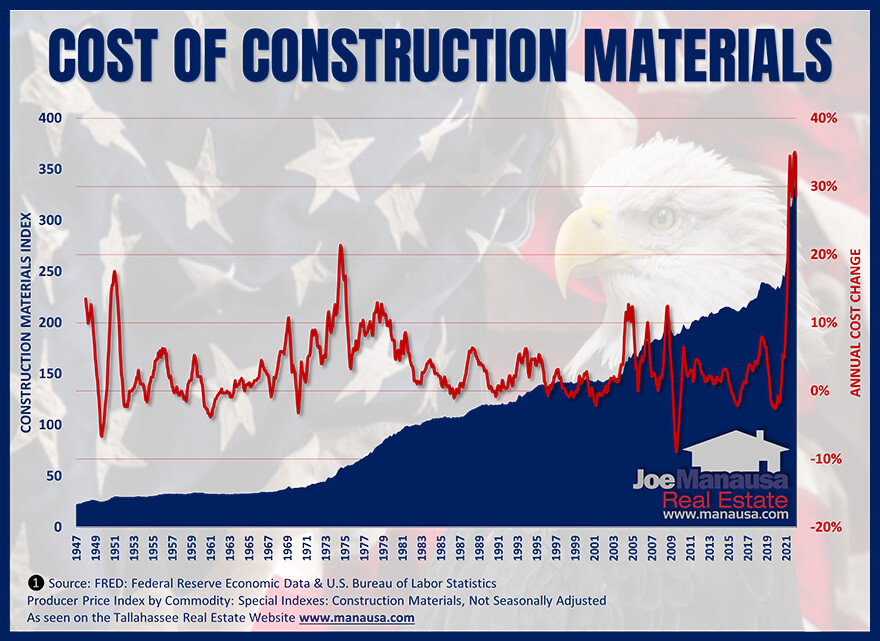 The graph above plots the index of construction material costs in blue (where 1982 = 100), and the annual cost percentage change in red. Note how the cost of materials has soared upwards of 30% in the past year alone!
The pre-COVID imbalance was something that could have been corrected fairly quickly, but the COVID (post-COVID?) supply channel disruptions make this a difficult problem to fix.
Currently, there is a shortage of homes in the US that already exceeds 5 million homes. The high material costs above mean that builders can either start building very expensive homes en masse today or wait until the supply chain issues are resolved to bring less expensive homes to the market. Either way, it will be many years before builders can reach equilibrium or possibly oversaturate the market with new homes.
Remember, the demand for homes today is not at an all-time high, the major problem for US housing is the inability to bring new homes to either the "for sale" or the "for rent" markets. Our population is growing and we need more homes to restore the housing markets to balance.
US Housing Market Conditions
When Will Home Prices Fall?
Now that we understand the current supply and demand dynamic in the housing market, we know what to monitor to forecast the next decline in home prices. Here's what we should expect (barring wars or plaques that could have a significant impact on population change and thus reduce the demand for homes).
We know that home prices will fall when supply exceeds demand. I believe a combination of activities on each side of the ledger will bring these conditions sometime in the far future.
Supply: Homebuilders must produce more housing units until we see the relative supply of homes normalize and then imbalance to the supply side. Current production levels remain SLOWER THAN CURRENT DEMAND, meaning the supply imbalance is GROWING, not receding.

Demand: Rising mortgage interest rates and rising home prices will reduce demand in the "for sale" market, but increase demand in the "for rent" market. This will NOT cause falling home prices, rather it will cause a change in focus in the production of new housing units. It will also increase investor activity in the acquisition of homes.
The most likely outcome that I can see in the next few years is homebuilding slowly recovering to a pace that will be controlled by the speed at which supply chain issues are resolved. This means that our market will be undersupplied for the foreseeable future.
The demand side of the market will see great change too. The intrusion of the large institutional investors who will buy great quantities of homes to rent to those that can no longer afford to buy them will be the greatest change. We'll see fewer players in the "for sale" market and a great expansion of the "for rent" market and a long-term trend towards a return to a renter nation.
Homeownership will be for the "haves," while tenancy will be for the "have nots." It will take a great war or a great recession to bring about the next protracted period of home value declines. The foreseeable future continues to show demand outpacing the ability of the supply side of the US housing market.
Yes, there are some local markets inside of the US that will face different scenarios, but it will be because of declining population levels that are tied to economic issues and home prices. So maybe your local market might be different, but the majority of the overall US housing market is certainly in this position.
So, when will home prices fall?
Think about the process, not the outcome! We know the process required to produce falling home prices. Focus less on the fear mongers, and more on the plentiful data that will forecast a change in the home price direction.
Home prices will fall when there are more homes for sale than the current rate of demand will consume. We will get to this point when the supply imbalances in both the "for sale" and the "for rent" markets have been fixed. People have to live somewhere.
My best advice is to get your housing plans set in stone today. If you think you might want to move within the next ten years, it will make better financial sense to make it happen today. You'll avail yourself of cheaper home prices and lower mortgage interest rates than what you'll likely find in the future.
If you are happy for the long-term in the home that you are in, you should explore refinancing to a new 30-year fixed-rate mortgage loan. Even if your current rate is slightly smaller, there might be a large chunk of equity that you can acquire to reduce your debt or grow your assets at a better rate.
We are facing a generational change in the housing market. Do your homework, consider your options, and make the best decision that you can today for you and your family.
There are a lot of people who endorse Joe for the job of selling your home, from Barbara Corcoran (Star of ABC's Shark Tank) to Preston Scott (host of Tallahassee's top daily "Audio Magazine," as well as the thousands of happy customers Joe has helped in the past. Listen why!
I recently stumbled upon your latest Carrabelle listing. I must say, a home on Florida's Forgotten Coast is bound to be snatched up quickly. Best of luck with getting it under contract soon!

Posted by Barbara Corcoran on Thursday, June 15, 2023