How New Home Construction Is Impacting Appreciation
Posted by Joe Manausa on Monday, September 27, 2021 at 5:50 AM
By Joe Manausa / September 27, 2021
Comment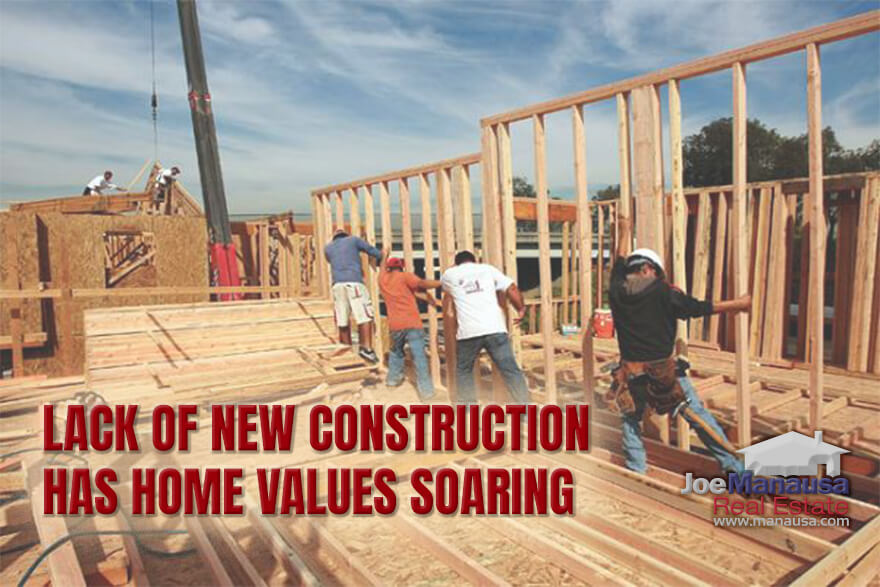 The lack of new home construction in Tallahassee has home values soaring at rates not seen since the housing bubble. Does this mean we are setting up the next bubble today?
You might be surprised when you see what the data says, and today's report yields the evidence we need to understand the future of home values in Tallahassee.
First, let's start by looking at the list of new construction homes for sale in Tallahassee, taking note of how often at just how many are already under contract with buyers (especially after you scroll down below the high-end of the market).
Is A New Housing Bubble Forming?
The Difference In Values Between New And Used Homes
I like to track the average value of both new and existing homes that have sold in order to see how far apart they are. In this graph, we've plotted the average new home value (in price per square foot) in red, and existing home values are plotted in blue. The difference (the Delta) is plotted in gray (highlighted in yellow) and is reported on the right vertical axis.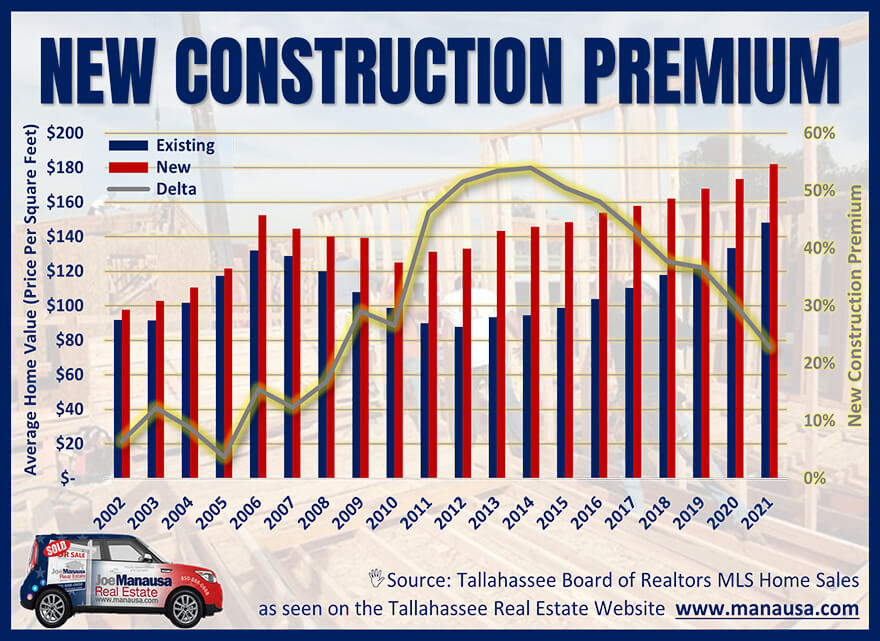 What I'm looking for in this graph is found by following the delta between the two, and it has fallen to 23%, the lowest we've seen in twelve years! Simply put, relative to used homes, new homes are more affordable than we've seen since 2009!
What's interesting is that from 2000 through 2007, the average difference in values between new and used was less than 10%. This is an important fact that explains the big difference between today's soaring market and the market that formed the housing bubble of 2006.
Twenty years ago, builders were able to produce homes that a large portion of the homebuyer pool could afford. As loan qualification standards declined, more buyers entered the market, and builders were able to deliver the products they wanted. In fact, due to the tight delta between new and used homes, builders were able to flood the market with inventory. When the crazy loan products were canceled, a solid portion of the demand was squashed, leaving the market with a glut of homes, many of which were brand new construction.
Now contrast that period of change with that of today. Builders have not been able to produce for the vast majority of buyers, as the delta has been far too large due to increased costs of construction and a diminished supply of affordable lots. Instead of building for the masses, builders have been restricted to building for a much smaller segment of the population.
This has left us with a supply imbalance that is completely opposite of the housing bubble years. Back then, there were so many speculators in the market, oftentimes buying new construction homes and then flipping them to other buyers after the homes were completed. The majority of the inventory today is homes being sold so that the owners can buy another home.
When mortgage interest rates rise, we will see a similar effect as the change in available loan programs had on the 2006 market. We will see demand decline, but this time we are going to see supply diminish too as the majority of today's inventory is from sellers who are also buyers. So when they no longer qualify for what they wish to buy, they will depart the market taking their potential homes to sell with them. In other words, declining demand will also result in declining supply.
Ultimately, what this graph shows is that the high cost of new construction has been pulling up the average value of existing homes, as the lack of supply that is not being replaced by new homes has created the scarcity that provokes runaway appreciation. The next graph reinforces this observation.

Speak To An Expert!
Joe has created a process that was designed to save you money on the purchase of a new home.
His past customers speak volumes (you will see Joe's buyer reviews after you submit the form) on why you should have Joe be your buyer's agent.
Talk to us today about helping you negotiate a better deal, with better terms, when buying your new home. You'll be glad you did!
How Appreciation Rates Differ Between New And Used Homes
This graph plots the change in the average price per square foot of new and used homes. New homes values are plotted in red, while used home values are plotted in blue.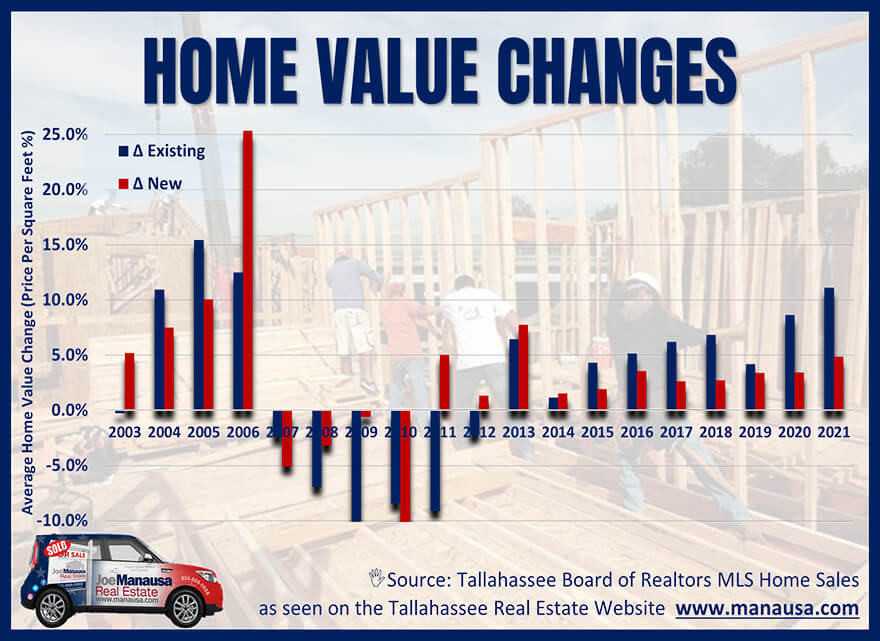 This graph shows some interesting points. First, look at 2006 where the average value of new homes shot up 25%! Builders were making money hand-over-fist, and they kept shooting up prices because buyers couldn't get enough of them. Until they could.
In 2006, more new homes were sold (for 25% more than those sold in 2005) than all the homes sold in the five-year period from 2009 through 2013. The 1,942 new homes sold in 2005 and 2006 were more than the 1,708 new homes sold in the eight years from 2009 through 2016. Let's just put this to rest by saying that new home sales took a dive after that fateful 2006 explosion of new homes.
When we look at the graph, we see that existing home values fell much harder than did new home values. This makes perfect sense, as the only real declines in new home values came from the excess builder homes that were foreclosed upon. After that, builders were very careful when bringing homes to the market and ensured they did not build homes that would not be consumed.
Unlike existing homes, the cost of construction is always a factor for builders. If it costs too much to build, they shut down production. When the market can consume homes above builder cost, they ramp back up. This isn't true in the existing homes market. If somebody is moving out of town, they typically have to sell their home regardless of what buyers are willing to pay.
Sometimes, existing homeowners do not anticipate this reality. I spent so many years after the housing bubble burst explaining to home sellers that "cost" does not matter. The glut of homes for sale had driven prices so low (and obviously values as well), that sellers who needed to move needed to price their home with the market. And the market was down.
Many would explain that they owed more than the value in the market and that they "couldn't sell" at that price. They had to learn that buyers did not care what they owed, and many had to choose a short sale option to get rid of the home.
But times change. And so too do market cycles. We're not seeing short sales in 2021. New home costs have surged higher, and they have been dragging existing home values higher towards the natural alignment of new and used home values.
Our market hit equilibrium (when supply and demand balanced) in 2016, and take a look at what we've seen from existing home values over the past 7 years. They have been rising faster than has the cost of construction. The blue bars are moving higher at a much faster rate than what the builders are charging.
I expect to see this trend continue, and I expect to see the first graph continue towards new and used values reaching (and surpassing?) the ten percent threshold that was common in the 1990s through 2005. Take note, it won't be new home prices (values) dropping, it will be existing homes appreciating up towards the cost of new construction.
With interest rates remaining near historical lows, we should expect to see existing homes appreciate at a rate far higher than what has been observed in the past. It's likely the future includes mortgage interest rate hikes that will slow demand and help balance the relationship between buyers and sellers.
Recent Housing Market Reports
Your Local Expert In Tallahassee
When moving to, in, or from Tallahassee, you will fare better if you work with a local expert. We are here to help. If you have further questions on the Tallahassee real estate market, you can leave a comment below, give us a call at (850) 366-8917, or drop us a note and we'll give you the local information needed to ensure a successful, smooth transaction.
As a local born and raised in Tallahassee with a focus on customer service, I promise you'll find great success when working with Joe Manausa Real Estate, just as have our past customers. You can read thousands of their reviews reported on Google, Facebook and Zillow right here: Real Estate Agent Reviews Tallahassee.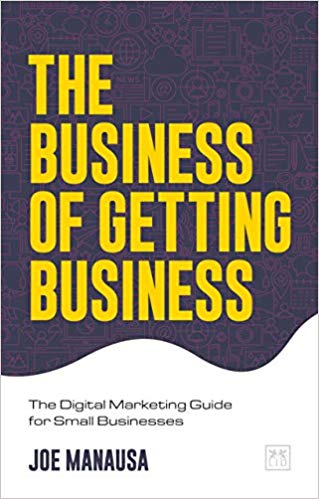 Have you heard about my new book "The Business of Getting Business?" It's a comprehensive guide for small businesses to help them make the move to digital. For those of us who want to survive and thrive in a world where large corporations are taking over, it is a must-read. It's also the perfect guide for how to sell a home in the digital age. You can find The Business Of Getting Business by clicking on any of the trusted retailers below.

Think all REALTORS are alike?
Read what people are saying about working with Joe Manausa Real Estate! You can see thousands of real customer reviews reported on Google, Facebook and Zillow at this link: CLICK HERE FOR REAL ESTATE AGENT REVIEWS.
I recently stumbled upon your latest Carrabelle listing. I must say, a home on Florida's Forgotten Coast is bound to be snatched up quickly. Best of luck with getting it under contract soon!

Posted by Barbara Corcoran on Thursday, June 15, 2023