Buying A Home? Think Long-Term Value
Posted by Joe Manausa on Friday, April 23, 2021 at 5:55 AM
By Joe Manausa / April 23, 2021
2 Comments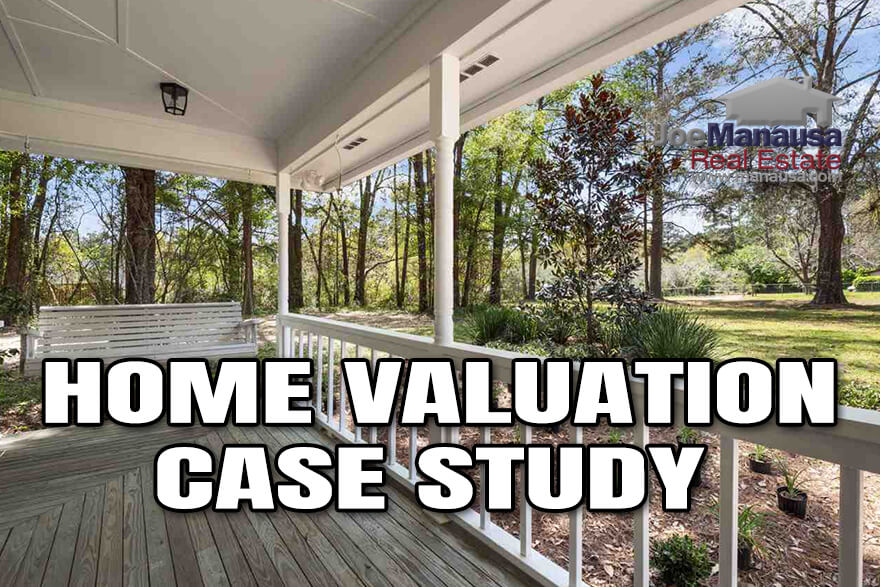 We will help many hundreds of buyers purchase a home in 2021, and one bit of advice we will share with each is to focus on the long-term components of value when selecting a home.
Popular television shows have influenced homebuyer behavior, and perhaps the greatest change I've seen over the past five years is the shift towards the finishing touches of the home, versus those things that will have a greater impact on appreciation over the years.
Today's case study looks at a home that has a lot going for it that might not show up on a buyer's radar if one is locked in on just kitchens and bathrooms.
Value-Buy Homes For Sale
The following list of homes for sale includes the "value-buy" considerations that we will cover in this case study.
Think Long Term Value When Buying A Home
There are many reasons that people have for buying a home, and my recommendation is to factor in the long-term components of value when making a decision.
Just as with clothing, cars, and consumer items, there are trends in real estate that drive buyers to make decisions that change over time. When we spend $100 on skinny slacks, we know that these pants will be worn until they either wear out or until they go out of style. But the same is not true for a home.
When we buy a home, we don't intend to wear it out. Instead, we plan to live in it for a period of time, and then sell it when life requires us to make a move. For this reason, we should consider the parts of the home that have shown to bring top value over the years, regardless of the current styles and trends in the market. Here are a few of my favorites:
LOCATION - If you have ever heard anybody talk about value in real estate, then you've heard "location, location, location!" When you buy a home, spend a little time educating yourself on the surrounding area and ask yourself whether or not you think the location is getting better, getting worse, or staying the same. You don't want to pay a premium for a location that is hot today but that will be less so in the near future.
DIRT - Popular TV shows love to show you the new trend for improvements to kitchens and baths, and today's buyers are paying a premium for these modern finishing touches. But beware, these modern touches will not be modern in ten years. But you know what will be? The dirt! That's right, as a general rule, bigger is better when it comes to the amount of land that you get with your purchase. This does not mean you should not buy in a zero lot line community, but know that over the twenty years, acreage will hold up better in value than will a maintenance-free yard. Of course, I'm at the age where I'm starting to think about a maintenance-free yard, and it will mean more to me than long-term value considerations. Factor in what you are looking for in a home, but know that more dirt is likely to be better than less dirt!
BEDROOMS & BATHROOMS - A lot of people tend to look at the price per square foot measurement of a home as a way to gauge value, but I can tell you with thirty years of experience selling homes that buyers have a tendency to value the number of bedrooms and bathrooms more than they value the square footage of a home. When in doubt and when you have the option, get more bedrooms and more bathrooms, they will deliver more value over time. Of course, if you are looking to downsize, then downsize! You should not make your home selection purely on long-term value considerations, you should just know what they are and bear them in mind when you can.
SWIMMING POOL - Roughly 9% of the homes for sale in Tallahassee right now have swimming pools and 75% of them are already under contract with buyers. 69% of homes without pools are under contract with buyers, so homes with pools typically perform a bit better than those without pools. As a general rule, buyers want swimming pools and in future markets with the potential for high inventory levels, you want every advantage you can get. Of course, if you do not want a pool, you should not get one. Why carry the extra cost of pool maintenance and electricity if you don't want a pool. But if you do want a pool, it will be a whole lot cheaper if somebody else paid to put it in!
CONDITION - There's no such thing as a perfect home, so the home that you buy will require you to spend money on maintenance over time. One way to ensure you spend less money on maintenance is to buy one that has been recently maintained. Items such as the roof and HVAC system are where the big bucks are hiding. It also will lower your cost of ownership if some or all of the appliances have been replaced recently. And if you do get a home with a pool, check the age of the liner and pool equipment, that could save you tens of thousands of dollars over time too!
Great Tips For Homebuyers
Value Buy In Hot 32309 Zip Code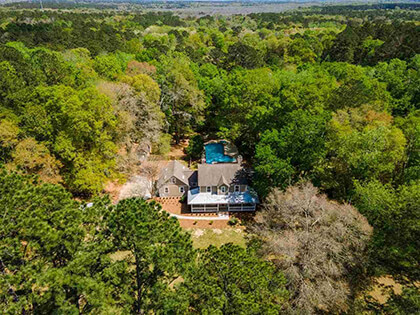 Here's a home that checks the boxes for today's value-buyer.
Location - A+ The 32309 zip code not only has an excellent reputation today but it is poised to do very well for the foreseeable future. With A-rated schools and plenty of shopping and restaurants, combined with quick access to all major transportation hubs, the 32309 zip code is a safe bet for long-term value considerations.
Dirt - It's normal to find homes on lots of 1/3rd of an acre in the 32309 zip code. There are even a good amount of homes on 1/2 acre to be found. But how about a home on nearly 2 acres? This home sits on a $100K+ piece of land that is only going to become more valuable as Tallahassee's population grows and as builders continue to build on smaller parcels of land. If you can swing a 2-acre plot of dirt today, it will pay you very well in the future when it comes time to sell.
Bedrooms & Bathrooms - While many families do not need more than three bedrooms, nearly ALL families love to have the extra rooms. This home has four bedrooms (plus a huge bonus room that could easily be a fifth bedroom) and 2 and 1/2 bathrooms. Again, even if you don't need the extra rooms, you open your future market to buyers who might need the additional rooms.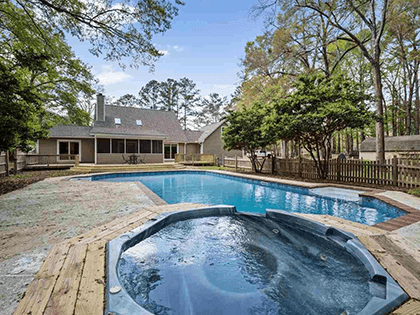 Swimming Pool - They say that a picture is worth a thousand words, and that certainly is true of this pool and spa combination in a wonderfully private backyard setting. If you are the type of homeowner who knows you want a pool, you'll get this one for pennies on the dollar of what you'd have to spend to add it to a home with no pool. And as expensive as new pools are today, they'll only be more so in the future when you sell this home to another pool-loving family!
Condition - This home is as close to "maintenance-free" as you will find. Recent updates to this meticulously maintained home include a new roof and skylights, new Hardy siding, new windows and sliding glass doors, a new screened-in back porch, a new pool liner and pool pump, and a new wraparound poolside deck. There are other updates as well, including a new dishwasher, refrigerator, and stove! While this home is just over 30 years old, its effective age is under 5!
Final Thoughts On Value
If you want the HGTV Kitchen, you'll have to put that in on your own. The same is true for a 2021 master bathroom. Fortunately, you can do both of these and still do well when you sell the home as you will have saved on maintenance and locked in on the major components of value that will be important in the future when you sell.
Imagine owning this home for the next ten to fifteen years. What do you think it will cost to acquire 2 acres of land in the 32309 zip code? That alone will be several hundred thousand dollars. A swimming pool will be a six-figure addition to any home and the location will be harder to attain as the developable land will be all gone.
Focus on the primary value drivers in the home that you buy, and make sure you check the box on as many as you can (while still getting the exact type of home that you want). You'll be grateful that you did when you sell your home and rake in the equity you accumulated.
Your Local Expert In Tallahassee
When moving to, in, or from Tallahassee, you will fare better if you work with a local expert. We are here to help. If you have further questions on the Tallahassee real estate market, you can leave a comment below, give us a call at (850) 366-8917, or drop us a note and we'll give you the local information needed to ensure a successful, smooth transaction.
As a local born and raised in Tallahassee with a focus on customer service, I promise you'll find great success when working with Joe Manausa Real Estate, just as have our past customers. You can read thousands of their reviews reported on Google, Facebook and Zillow right here: Real Estate Agent Reviews Tallahassee.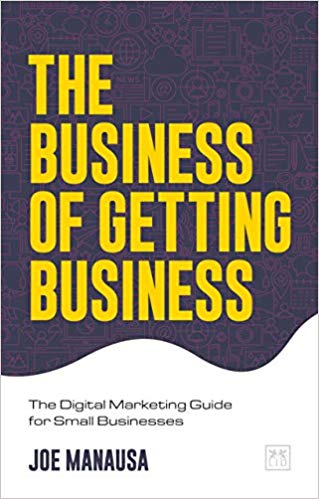 Have you heard about my new book "The Business of Getting Business?" It's a comprehensive guide for small businesses to help them make the move to digital. For those of us who want to survive and thrive in a world where large corporations are taking over, it is a must-read. It's also the perfect guide for how to sell a home in the digital age. You can find The Business Of Getting Business by clicking on any of the trusted retailers below.

Think all REALTORS are alike?
Read what people are saying about working with Joe Manausa Real Estate! You can see thousands of real customer reviews reported on Google, Facebook and Zillow at this link: CLICK HERE FOR REAL ESTATE AGENT REVIEWS.