5 Reasons to Check Out the 2018 Tallahassee Parade of Homes
Posted by Joe Manausa on Friday, May 11, 2018 at 5:53 AM
By Joe Manausa / May 11, 2018
Comment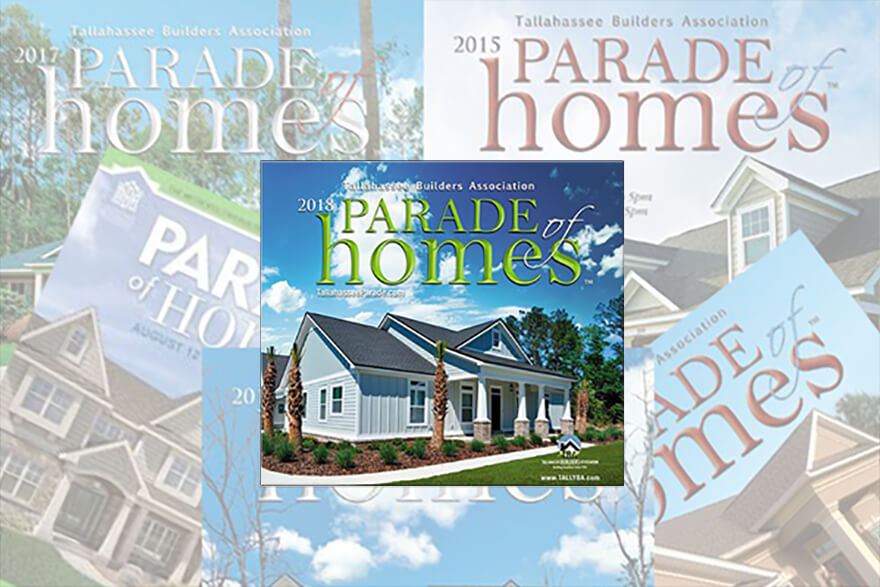 Like 'noles football, Springtime Tallahassee and Bradley's Country Store, the Builders Association Parade of Homes is a Tallahassee tradition.
When the Mother's Day advertising starts, the magazines for the Parade of Homes start showing up all around town, and that's when the excitement bubbles over for homebuyers.
New Construction Homes For Sale
You can find all new construction homes for sale in the Tallahassee MLS listed below, and then we follow with some quick Parade history and information about this year's parade. Enjoy!
A Brief History of the Tallahassee Parade of Homes
For those of you who aren't long time Tallahassee residents, the Parade of Homes began 63 years ago. There have been as many as 90 entries (think back to the hay day, when builders were a dime a dozen), and even weathered through the years when the economy tanked and everyone was just scraping by.
This year, there will be 26 homes in the Parade. 22 builders across 3 counties (Leon, Jefferson and Wakulla) will showcase the latest in new home construction to compete for the coveted Best in Show Award.
Gold medals will also be given out to the top homes in each of the 5 categories, which are divided up by price point. This year, the houses range in price from $199,000 to $950,000 and are located across a variety of popular Tallahassee neighborhoods.There will also be a Realtor's Choice award and a Green Award given to those homes that meet certain energy efficiency requirements like having low-flow showerheads, drought-tolerant landscaping, healthy flooring and minimal carpet use.
On Friday, May 11, ten judges comprised from various fields that make up the construction industry, will come in from other cities across the state to award the gold medals to the best homes. Then, over the next two weekends, the homes are open to the public.

Speak To An Expert!
Elevate your confidence by trusting Joe and his team led by US armed forces Veterans. Unmatched dedication, expertise, and professionalism drive their success, as their thousands of 5-star reviews confirm.
Their proven track record showcases precise navigation of the market. Choosing Joe means gaining access to extensive knowledge and networks and prioritizing YOUR unique needs. Experience the power of dedicated commitment in real estate. Trust Joe and his team of military Veterans to be your partners in achieving your dreams.
As promised, here are five great reasons for you to attend the 2018 Tallahassee Builders Association Parade of Homes. Enjoy!
5 Reasons to Attend the Parade of Homes
You're looking to renovate. As you may remember from my previous blog posts, many of the homes located in NE Tallahassee, where most of the A-rated school zones are located, were built in the 70's and 80's. Just like shoulder pads and big hair went out of style, so did shag carpet and tile countertops. So if you're looking to do a few updates to your home this summer, the Parade is a great place to get ideas and scope out contractors who do the best work.
You're looking to sell. Remember the saying "keep your friends close and your enemies closer"? The same applies here. If you've got one of those 80's-style homes that I mentioned above, it may be hard to compete for buyers when HGTV homes are popping up all over the place. But understanding what is on the market and what homes (new and resale) are selling for is a good step in the right direction. And for more tips on getting ready to sell, check out my post about it here.
You're looking to buy in the next 1-2 years. If buying is still a few years off, the Parade is a good opportunity to see what you can get for new construction in Tallahassee versus what you'd get in the resale market. Since you're still in the planning phase, you have time to decide what's more important to you - an older home that will need updating with a large fenced-in yard, or a turnkey house with a zero lot line. It's important to weigh the pros and cons of buying new, because just like buying a brand new car, there is a premium when buying a brand new house as well.
You like to keep a pulse on the real estate market. You may not be in the market to buy or sell, but if you just like to know what's going on with the local Tallahassee industry, you will see it firsthand this weekend. The builders and other industry vendors will be there too, giving you the opportunity to talk with experts about the future of the construction industry in Tallahassee. Alternatively, you can read about it in your pajamas in my recent blog post, too.
You're looking to buy now. If you're looking to buy a home right now, the Parade is arguably the best weekend to be out looking for homes. Why? Because good local realtors know that people are out driving around neighborhoods looking at homes and will take advantage by holding open houses. Below are just a few of the open houses taking place near Parade homes this weekend that you should go check out.


Notable Open Houses:
128 Tumbling Oak Way is a new construction home located right down the street from Parade of Homes entry #8. The home is staged and turnkey ready. The builder is also offering $3,000 in closing cost assistance to help you get into this home now. The model will be open during the same hours as the Parade of Homes.
2160 Orleans Drive will have an open house on Saturday, May 12 from 12-3 PM. While not newly constructed, it is a whole lot of house and land for the money. It is located near Parade entry #21. This upscale, gated community home recently had a price reduction and has had many updates over the years while retaining its original charm; including hardwood floors, natural lighting and a gorgeous brick fireplace.

When is the 2018 Parade of Homes:
May 12 & 13 and May 19 & 20
Saturdays: 10 AM - 5 PM
Sundays: noon - 5 PM
Where to pick up a map:
The easiest way to see the most homes is to pick up a map, which is found inside the Tallahassee Parade of Homes magazine.
The magazines are being distributed at the following locations, during normal office hours:
All Capital City Bank locations
Tallahassee Board of Realtors office on 1029 Thomasville Road
Tallahassee Builders Association office on 3231 Capital Medical Blvd.
or you can view the magazine online at www.tallahasseeparade.com