How New Construction Is Evolving: New Homes Forecast
Posted by Joe Manausa on Monday, May 10, 2021 at 5:50 AM
By Joe Manausa / May 10, 2021
Comment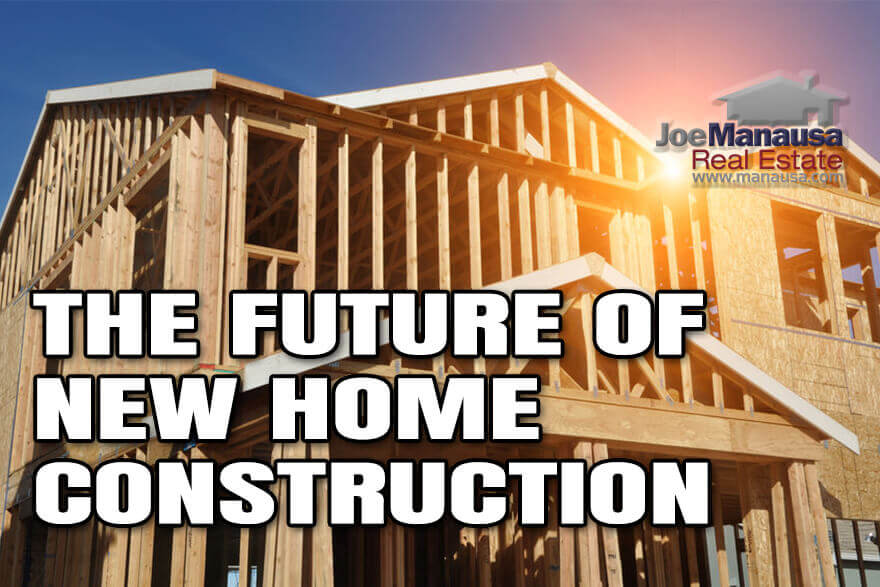 For the past five years, we've been reporting that there are not enough homes for sale and that we need more inventory. The situation has now become dire.
In today's new construction report, I'm going to walk you through the evidence that points to a very clear picture of where the Tallahassee real estate market is heading and what is going to happen to the new home construction market specifically.
I've included the list of new homes for sale today, and you should note that most of the ones available have not yet been built!
New Construction Homes For Sale In Tallahassee
The following dynamic list shows all the new construction listings in the Tallahassee MLS at the time you view this article, including those located outside of Tallahassee. You are able to sort and refine the search parameters if you are seeking something specific.
VIDEO: New Home Construction Report
In order to take you from A to Z for the new homes market, we're going to provide a top-down analysis of the housing market, including both new and existing homes. They must coexist, there is just one housing market.
Homes Are Selling Fast
Ask any buyer active in the market and they will tell you "there's nothing for sale!" Though that is an exaggeration, it's not far off.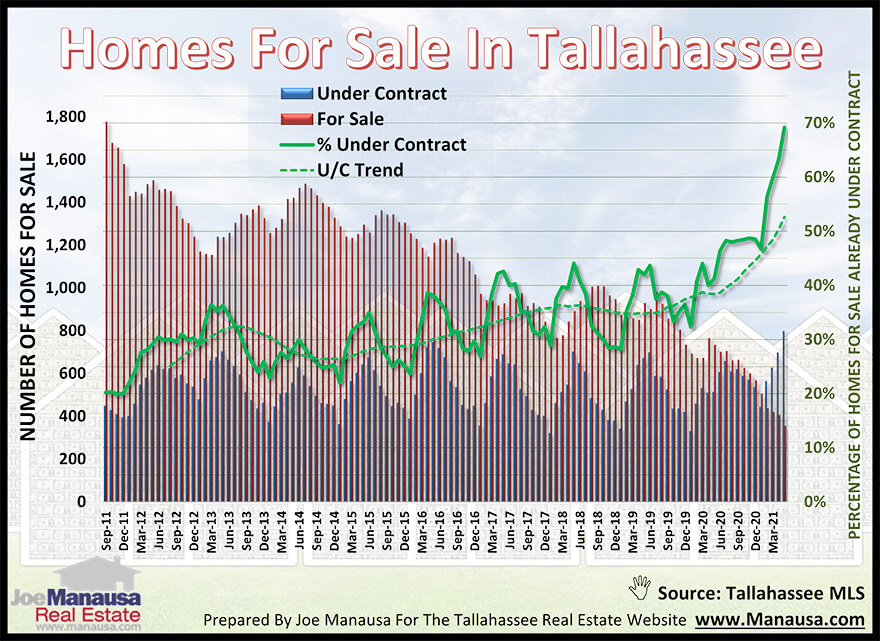 This graph plots the number of homes for sale, segmented into two groups. Properties that are already under contract with buyers are shown in blue, while those not yet under contract are shown in red.
Notice how the blue has seasonal fluctuations, but we really haven't seen a whole lot of deviation in the peaks and valleys until this year. It almost seems like the number of homes under contract follows a steady, consistent plan based upon the time of year.
But the same is not true for the rest of the inventory of homes for sale. On the far left of the graph, there were thousands of homes not under contract. Now contrast that will the right side of the graph where there are twice as many homes under contract as there are those without contracts.
Also from left to right, notice how the total number of listings has dropped. Times have changed! We went from too many listings to not enough listings and that is why we are seeing home prices soaring.
We will come back and address soaring home prices, as this is (and will) have a huge impact on the future of new home construction sales.
Home Sales Trending Lower Over Past 30 Years
The linear trend of the total number of homes sold each year has been declining for the past 30 years.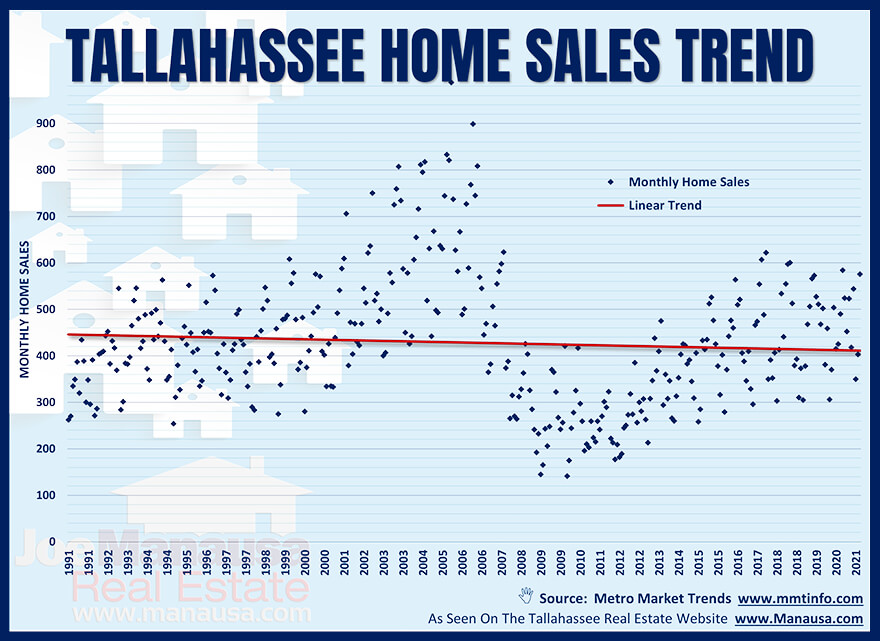 When most people first see this graph, they are surprised. Most locals know that the Tallahassee area is growing, so most assume home sales are growing too. But that is not the case.
Existing Home Sales Trending Higher
When we remove new construction home sales from the data, we get the picture that most people expect to see.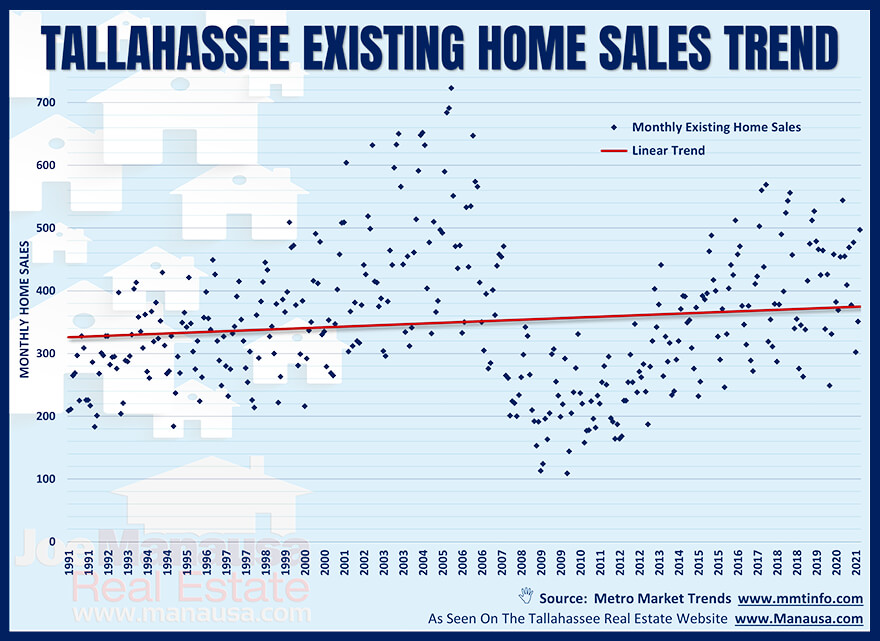 This graph plots the number of existing homes (used homes) sold each month and then the linear trend line in red shows us that this side of the market is growing. So why is this expected?
Existing Home Sales Growth Makes Sense
We all expect moderate growth in the housing market that tracks along the population growth enjoyed in our Capital City.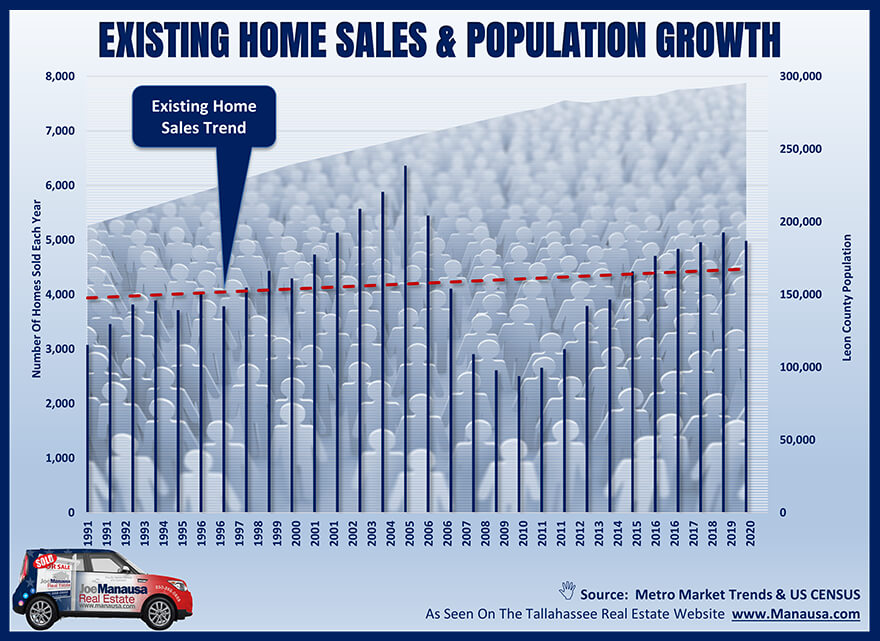 Simply put, we're growing. The US is growing. Tallahassee is growing. And more people living here means more homes are needed. It really is that simple.
Sure, there are many other factors that come into play, like the development and demand for multifamily housing, but it's still a safe bet that larger populations will typically have a larger demand for homes than will smaller populations.
New Home Sales Trending Lower
So if overall home sales are trending lower, and existing home sales are trending higher, then new home sales must be trending lower.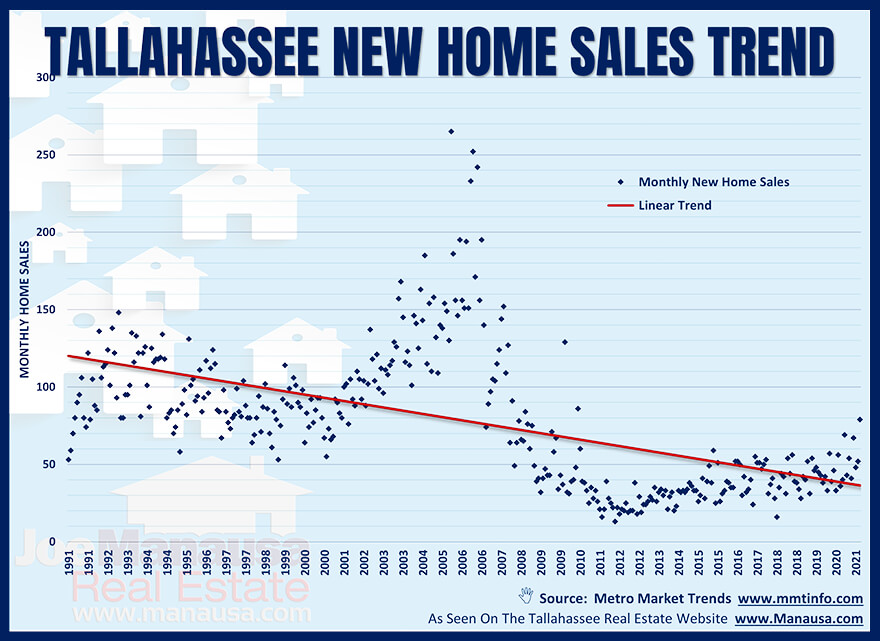 Not just lower, but far lower! The construction of new single-family homes has declined significantly though it is finally on the rise. Look at the middle of the graph and you can see how crazy the new home construction market became from 2002 through 2007.
This huge expansion phase created a large surplus of homes that stagnated in the inventory until 2016. Unfortunately, under-building for the past 5 years has us dealing with the lowest inventory levels I've seen in my 30 years selling homes in Tallahassee.
New Versus Existing Home Sales
When we put both new and existing home sales on the same graph, it is very easy to see the overreaction that has occurred in the new home construction market.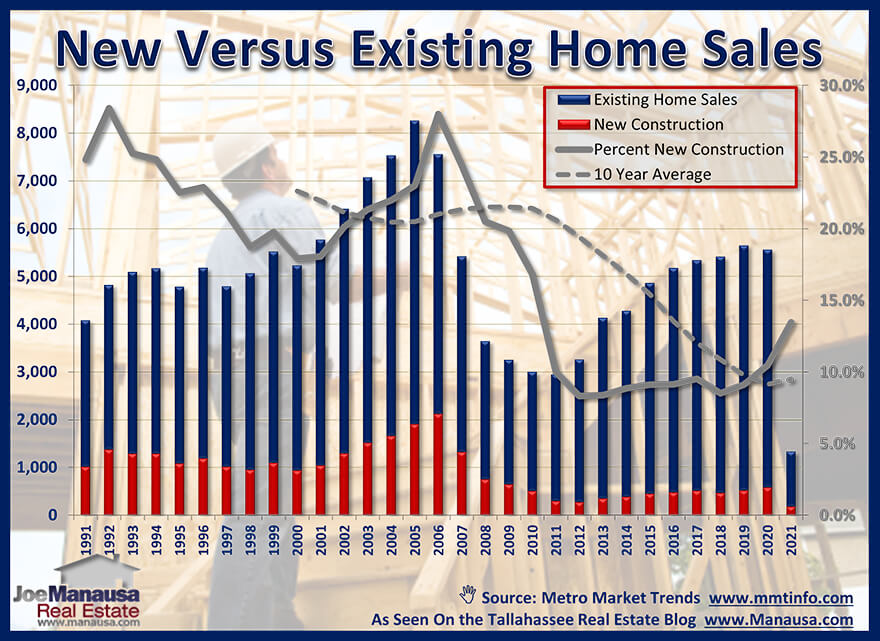 In this graph, we see the number of new homes sold each year plotted in red, while existing home sales plotted in blue. The gray line reveals the new construction share of the market.
In the 1990s, new construction averaged about 23% of all homes sold. That's nearly 1 in 4 homes! From 2010 through 2019, we saw the new construction share of the market drop to less than 9% (roughly 1 in 11 homes). The difference is pretty extreme.
In 2021, the new construction share of the market has shot up to nearly 14% in the first quarter, and we'll hopefully see the rising share trend continue.
New Versus Existing Home Prices
This graph reveals an interesting dynamic that has helped the new construction market grow.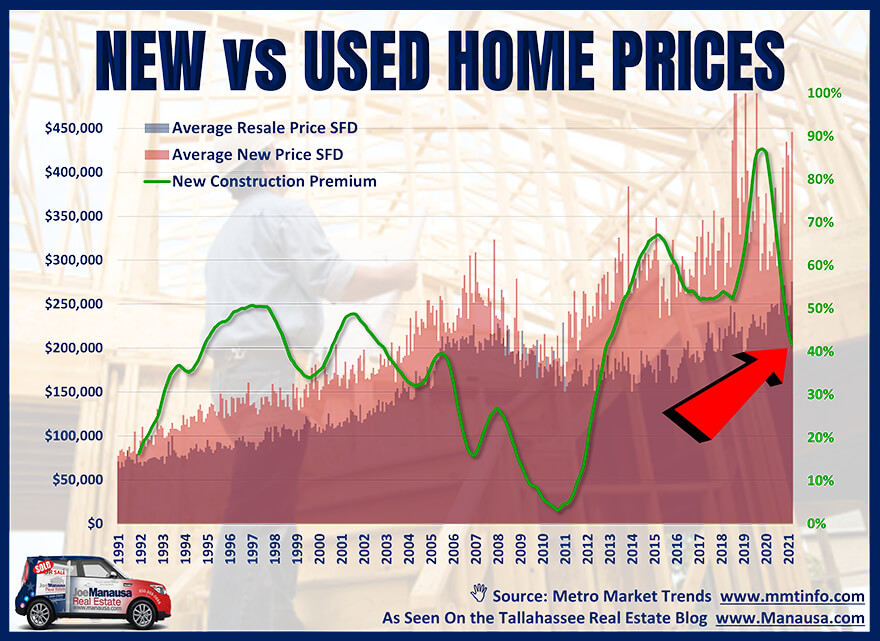 This graph is key to understanding where new home construction fits in the housing market. It shows that the cost differential between new construction and the existing homes market was so significant that most buyers were drawn to the better values among the existing homes.
But the shortage of homes for sale has pushed existing home values higher, so much so that they have restored the relationship between new home prices and existing home prices.
Follow the green line in the graph. We know that the new construction market was healthy and vibrant in the 1990s. The green line shows new construction home prices ranged from 20% to 50% higher than existing home prices in the 1990s, with an average just below 40%.
Now, look at the red arrow. Existing home prices have surged higher and restored this relationship between new and existing homes. Perhaps we'll see this move a bit lower as the year progresses because inventory levels have bottomed to (as we saw in the first graph in this report) to where 70% of the inventory is already under contract with buyers.
It was important for existing home prices to move higher because builders could not (can not) lower their prices. Builders can no longer produce a $100K product, the $200K product is nearly extinct, the $300K product is limited, so I'm expecting a median new home price to start with a "4" when most new homes are built upon recently developed lots.
Let's explore this more in order to glimpse the future of the Tallahassee housing market.

Speak To An Expert!
Joe has created a process that was designed to save you money on the purchase of a new home.
His past customers speak volumes (you will see Joe's buyer reviews after you submit the form) on why you should have Joe be your buyer's agent.
Talk to us today about helping you negotiate a better deal, with better terms, when buying your new home. You'll be glad you did!
Are New Homes Selling?
I have been tracking single-family permits and sales for more than 30 years. It allows us to look for spikes in either one that could indicate an issue in the new home construction market.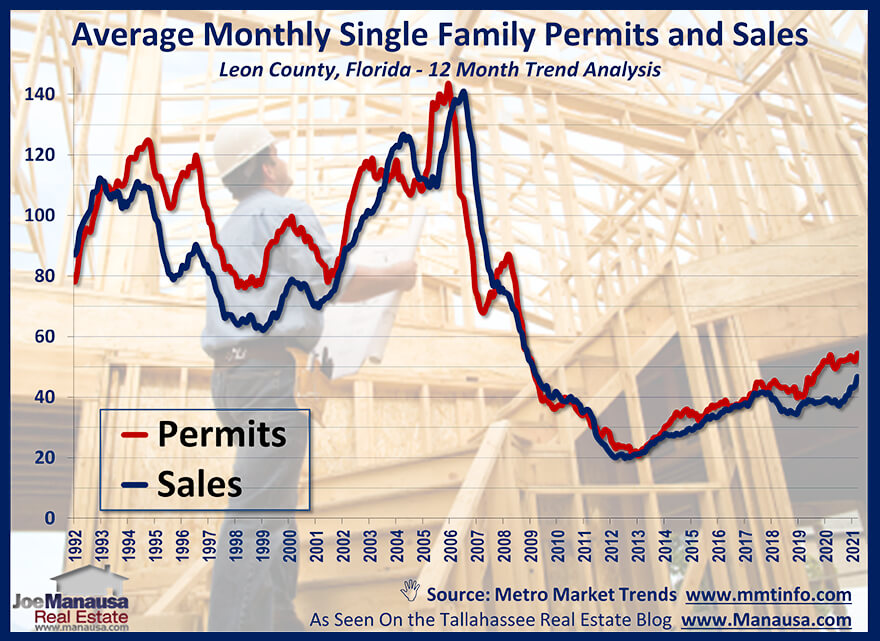 This graph shows the number of permits pulled each month in red and the number of new construction homes sold in blue. Do you see what I see?
Notice how far apart the two lines are in the 1990s versus how tightly they have hung together over the past ten-plus years! The former indicates a looser climate where speculative building was the norm, while the latter shows tight purse strings and far less risk be taken by builders.
But the past few years appear to be showing signs that new construction might be loosening back up.
Tallahassee Is Growing
And it should be loosening up. Remember, our population is growing!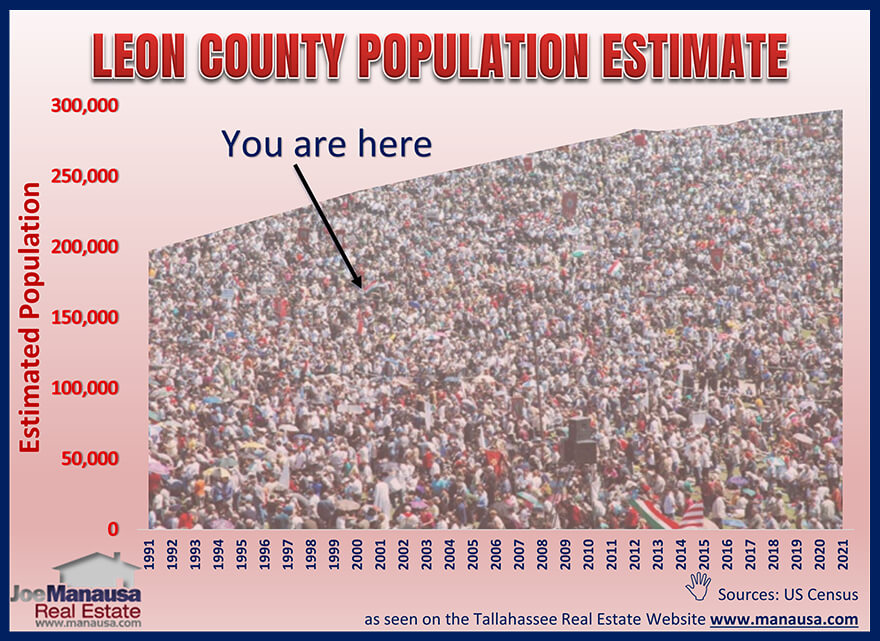 Tallahassee does not have explosive growth, but we do enjoy a fairly continuous, predictable growth rate. Our annual population growth rate over the past 30 years has been about 1.38%, meaning today's population is 51% larger than it was in 1991!
Remember, if we have more people living here, it is likely we need more homes to house them.
Single Family Building Permits Lag
If we want to catch an early glimpse of new home construction, all we have to do is track the volume of building permits being pulled in Tallahassee.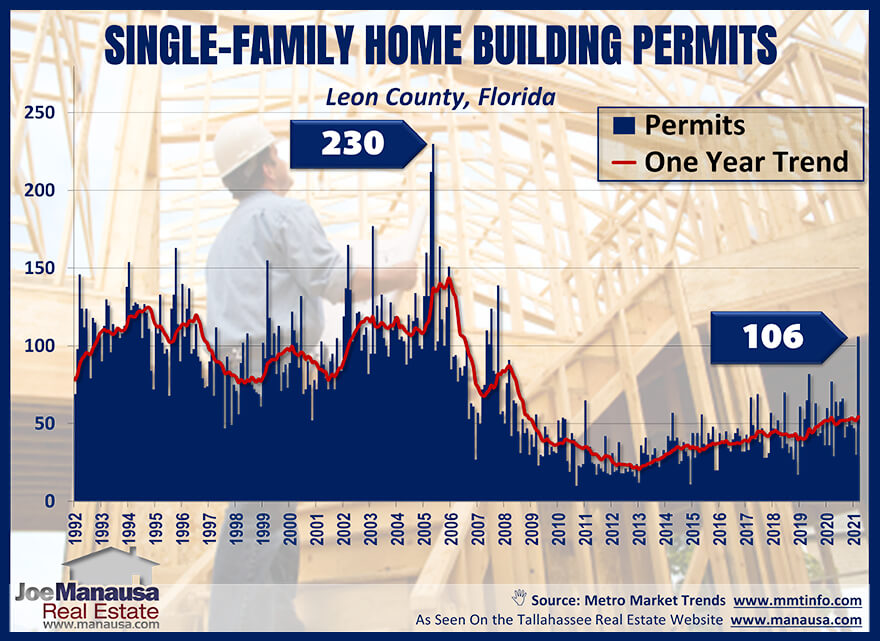 This graph plots the number of building permits for single-family homes each month from January 1991 through March of 2021. Last month's 106 permits were the highest number we have seen since 2007, a great sign that local builders might be attacking the housing shortage. Now if you are getting worried about over-building the market, you can see that the permits in March were less than ½ the number of permits in the record-high month of May 2005.
The red line in the graph shows the twelve-month average of new permits now sits at just over 50 per month, the highest the trend has been since 2008. This is just what the market needs (more homes!). Hopefully, we see the trend of new permits continue to rise.
Lot Prices Moving Higher
As expected, the price of newly developed lots is exploding higher, taking the price of new homes with it!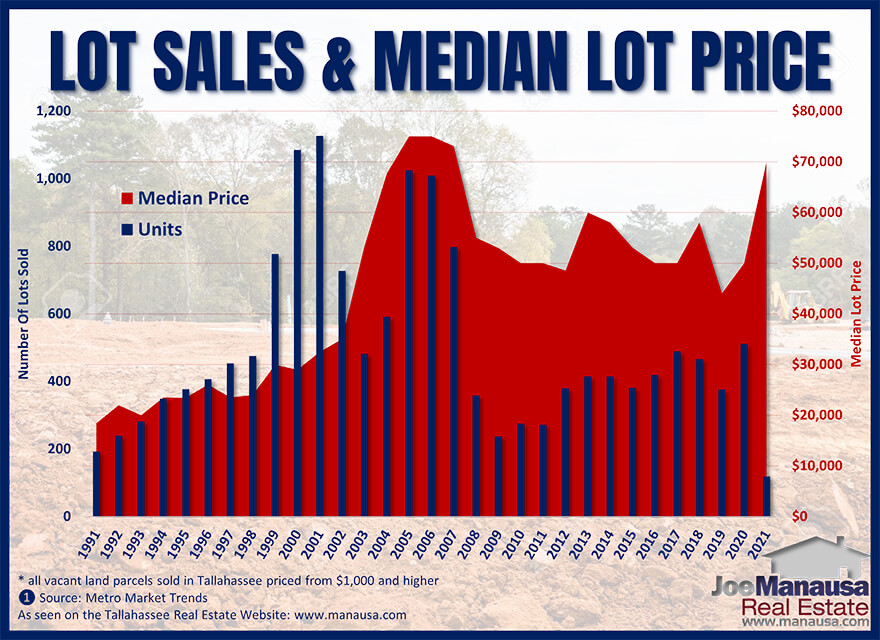 This graph plots the number of land parcels sold each year (in blue), and the median lot price in red. Thus far in 2021, the median lot price has risen 40% over 2020 prices.
If you follow the median price of lots from left to right, you can spot a foreboding fact. From 1991 through 2000, the median home price rose a grand total of 58%, or just 5.2% per year. Tallahassee was flush with residential developments, the result of a lot of activity due to the initiation of the Florida Comprehensive Land Use Plan in the mid-1980s.
But look how things changed once those developments ran out of inventory. The rate of growth for the next five years was 21% annually until the market collapsed, and then lot values fell and leveled off during the recovery. It has been these lots on which builders have been producing inventory for the past fifteen years, and the lot prices are artificially low because of foreclosures. Some of the lots built upon over the past five years had been foreclosed upon multiple times, with the final acquisition price a mere fraction of the cost of development 15 years ago and even lower still versus the cost to produce lots today.
This is why we're seeing soaring land costs now because the foreclosures are gone and builders are paying what it takes for developers to produce lots today. This is one of those "hidden stories" that most people do not understand about the comprehensive land-use plan and all the new rules and laws developers face bringing buildable lots to the market.
Future market cycles might bring about price fluctuations, but the days of cheap lots in Leon County are in the rearview mirror. And land is not the only aspect of new home construction getting costlier!
Lumber Prices Moving Higher
To say that the cost of new construction is on the rise is a gross misrepresentation of what is happening. Let's take a look at lumber prices as an example.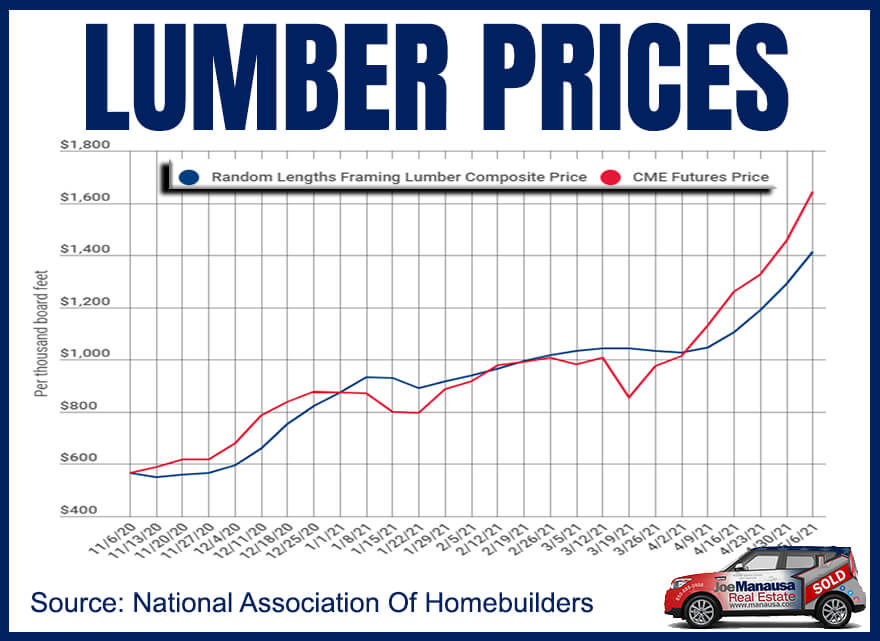 The graph above comes from a report published by the National Association of Homebuilders (NAHB) and it shows just how explosive lumber prices have become. In April, the NAHB reported that year-over-year lumber prices had grown 250%, and I hate to think what they will report when May numbers are all in.
NAHB also reports a decline in the number of construction workers across the US and in Florida, the new minimum wage laws will take the minimum wage up 75% over the next five and a half years!
So when you compound rising land costs, material costs, and labor costs, you now understand the future homes are going to be far more expensive than what we've seen in the past. The rate at which new home prices rise will blow away historic norms.
The US housing market, just as we see in Tallahassee, has far too few homes for sale for the demand created by low mortgage interest rates. The only way to balance the supply and demand in the market is to either build more new homes or significantly weaken demand with a large rise in mortgage interest rates.
With the economy still recovering from the COVID epidemic, I just don't see the Fed raising rates significantly any time soon. This means that we should continue to expect strong demand in the housing market, and thus a strain on the supply resulting in soaring home prices. If you are worried about the market getting flooded by homes currently in forbearance or new foreclosure actions, you should watch THIS VIDEO to understand how distressed properties will likely be handled in a post-COVID economy.
Lifecycle Of A Neighborhood
A good way to understand the future of the Tallahassee housing market can be seen with an analysis of the lifecycle of a large neighborhood. The parallelism between an area like Tallahassee and one of the larger neighborhoods contained within (like Southwood in SE Tallahassee) gives us the structure to forecast the future.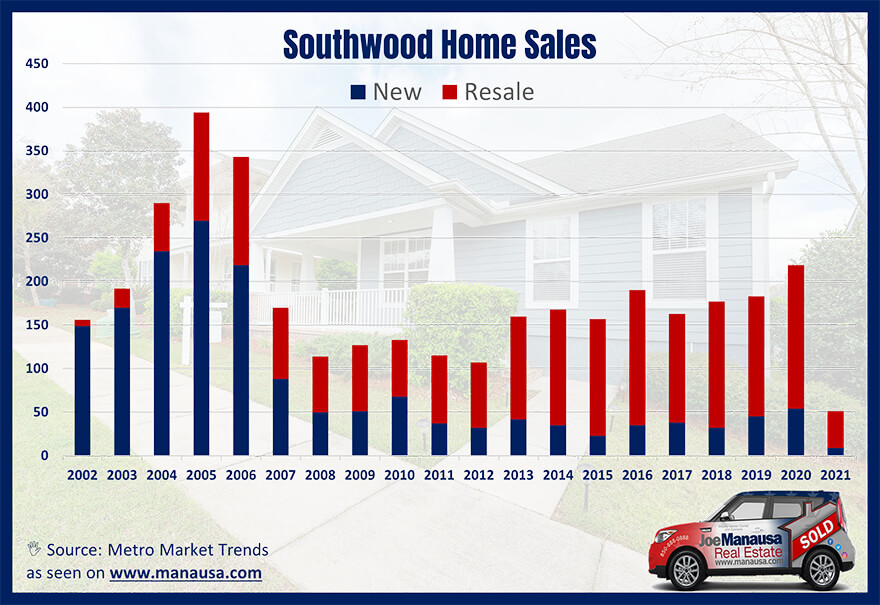 This graph shows the number of home sales in Southwood each year since it was established in 2002. The blue bars measure new home sales, while the red bars measure the number of existing homes sold.
There is a great variance in the new home sales, as 2002 through 2006 saw a flurry of activity as new homes became available. Over time, as fewer lots were available in Southwood, the existing homes market took over and we've seen moderate growth in the number of existing homes selling each year.
Some day in the near future, all of the lots will be gone, and it will be existing homes that represent all real estate sales activity which will rise and fall with the market cycles. Of course, there never again will be the flurry of activity that new construction brings. Southwood still has some remaining lots, and they will go up in value faster as fewer remain until all the buildable lots are consumed.
And therein lies the parallel to Tallahassee. We have seen the majority of land developed and sold for new homes. Future developments will be scarce and come at a higher cost, pricing out all but the top-end of the market. Demand at the top is not fierce, so we'll see developments for many more years, but only at prices that the top of the market can carry.
Yet Tallahassee is growing, so where do we put all the new people?
The Future Of The Tallahassee Real Estate Market
The evidence I've presented is pretty clear.
Tallahassee is growing and we need to house more people. But the cost of new construction is going to go up far faster than are the wages for most people who live here. Specifically, government workers.
I expect that Tallahassee is going to follow the trend that larger neighborhoods follow. Over time, there will be less new construction and rising home prices. Prime locations will draw premium prices, and the median wage earner is going to be pushed to several different options.
They will be priced out of the new homes market in Leon County and most of the single-family home market here too. They will have to choose between location (convenience) or standard of living. If they choose the former, they will either be purchasing multi-family or renting, if they choose the latter, they will be buying homes in our neighboring counties where the cost of land will be far cheaper.
These are the normal growth cycles that communities experience as land becomes scarce. New homes escalate to far higher prices, and existing homes follow suit. The future of new construction is in our surrounding counties, and the cost of living in Tallahassee is only going higher.
Right now, with interest rates near historic lows, people who want to live in Tallahassee should secure the nicest home possible and expect to live in it for a long time. Gone are the days of "affordable" homes in Tallahassee, so when interest rates finally do rise, the total number of home sales in Tallahassee, like Southwood, will come primarily from the existing homes market.
New construction in Tallahassee is not going away, but it will soon represent a continually decreasing share of the overall housing market.
Great Tips For Homebuyers
Your Local Expert In Tallahassee
When moving to, in, or from Tallahassee, you will fare better if you work with a local expert. We are here to help. If you have further questions on the Tallahassee real estate market, you can leave a comment below, give us a call at (850) 366-8917, or drop us a note and we'll give you the local information needed to ensure a successful, smooth transaction.
As a local born and raised in Tallahassee with a focus on customer service, I promise you'll find great success when working with Joe Manausa Real Estate, just as have our past customers. You can read thousands of their reviews reported on Google, Facebook and Zillow right here: Real Estate Agent Reviews Tallahassee.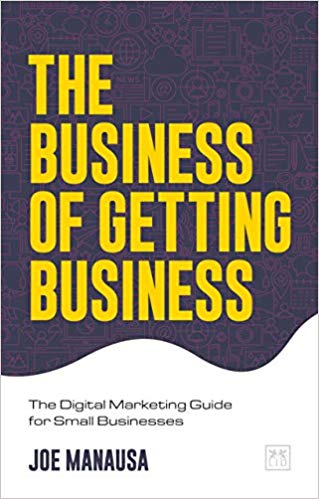 Have you heard about my new book "The Business of Getting Business?" It's a comprehensive guide for small businesses to help them make the move to digital. For those of us who want to survive and thrive in a world where large corporations are taking over, it is a must-read. It's also the perfect guide for how to sell a home in the digital age. You can find The Business Of Getting Business by clicking on any of the trusted retailers below.

Think all REALTORS are alike?
Read what people are saying about working with Joe Manausa Real Estate! You can see thousands of real customer reviews reported on Google, Facebook and Zillow at this link: CLICK HERE FOR REAL ESTATE AGENT REVIEWS.
I recently stumbled upon your latest Carrabelle listing. I must say, a home on Florida's Forgotten Coast is bound to be snatched up quickly. Best of luck with getting it under contract soon!

Posted by Barbara Corcoran on Thursday, June 15, 2023