Median Home Price Hits Record High
Posted by Joe Manausa on Monday, March 2, 2020 at 5:55 AM
By Joe Manausa / March 2, 2020
Comment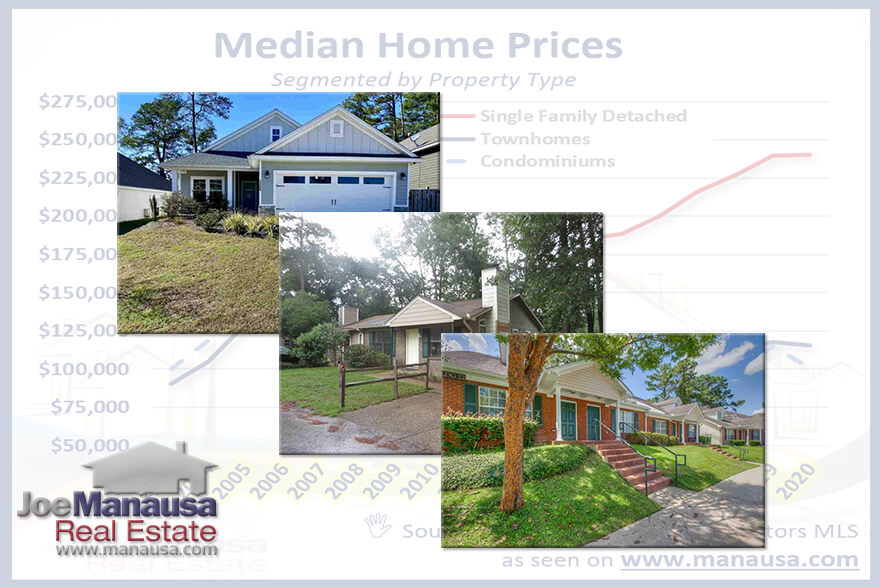 The median home price in Tallahassee is something that we monitor on a regular basis. In fact, we monitor so much more than just price, we also track the median home size and the median home value.
Today's post shows all the median-priced homes for sale in Tallahassee, segmented by property type. We also include graphs of the median home price, value, and size in order to provide our readers with better insight into the transforming Tallahassee real estate market.
Median Price Single-Family Detached Homes For Sale
The following list of single-family detached homes for sale contains those priced very near the current 2020 median single-family detached home price.
Median Home Price Report
The following real estate graph shows each median price for single-family detached homes, townhomes, and condominiums.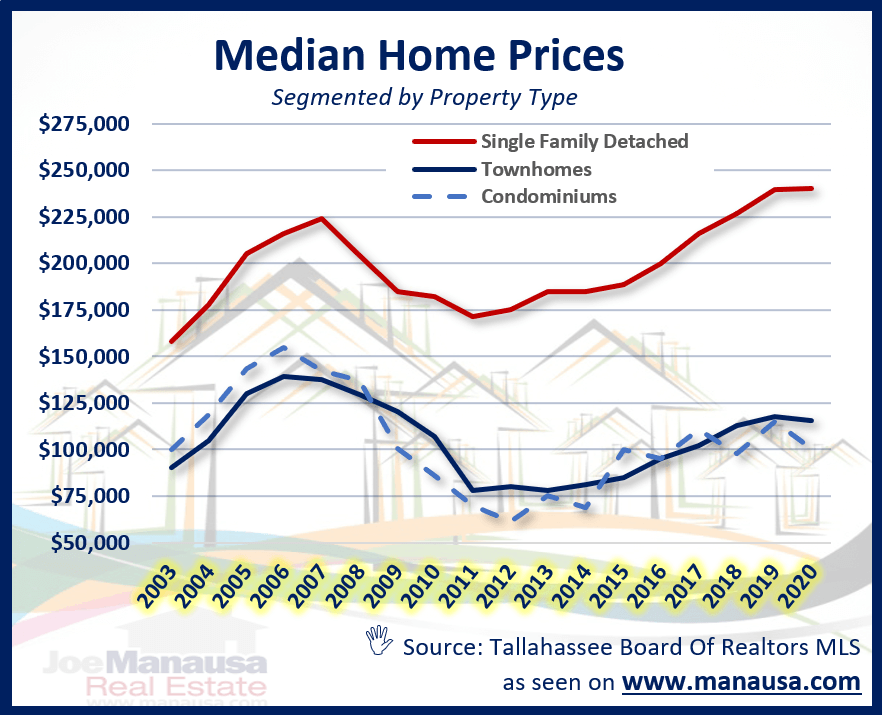 The median price for a single-family detached home in Tallahassee has hit an all-time high at $240,000. Condominiums and townhomes, on the other hand, are still struggling to catch up to peak prices posted more than ten years ago.
I believe this graphic shows that the separation of prices between attached and detached homes is inconsistent with what we've seen in the past. Because of this, I believe that there is great upside potential for attached homes and that we'll see them appreciate faster than detached homes over the next five years.
Median Price Townhomes For Sale
The following list of townhouses for sale contains those priced very near the current 2020 median townhome price.
Under Contract 2203 Sandpiper St
Tallahassee, FL 32303
Median Home Values In Tallahassee
The following graph displays the median home value, measured in price per square foot, for each property type.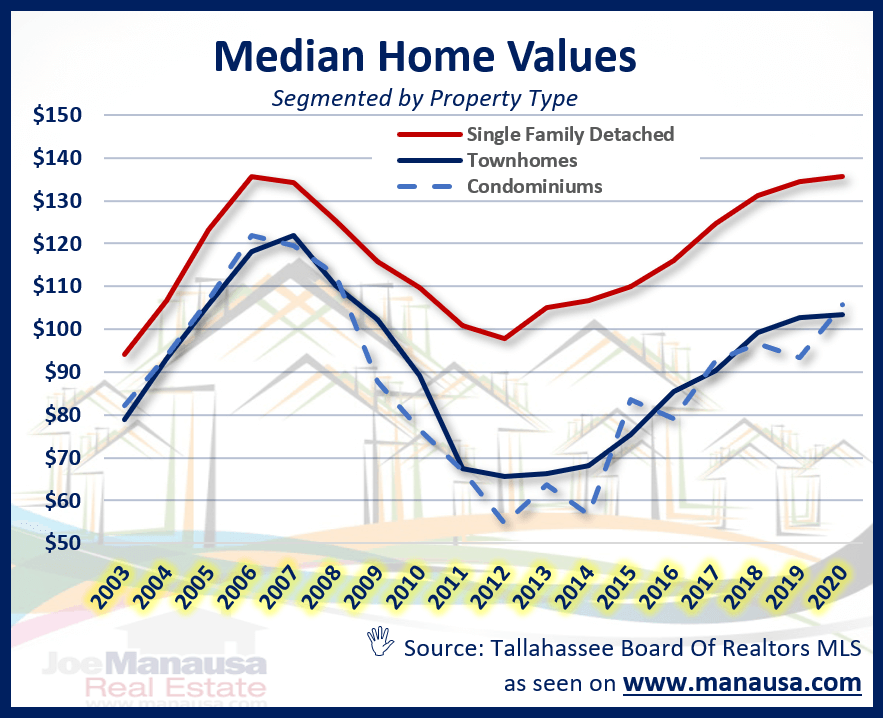 The first thing that I notice about the graph above is that values have not recovered as strongly as have prices. In fact, this graph shows that detached homes have reached the same values as we saw during the peak of the market (whereas prices are much higher today).
In order to understand how prices and values are moving at different paces, we need to look at one final graph to ensure that we're comparing "apples to apples."
Please Do Us A Small Favor
We work very hard to produce daily content for our long-time readers and first-time visitors. We provide this information for free, hoping to earn your respect and trust and the right to one-day help you when selling or buying a home. Can we get your help spreading the word about our blog?
If you like the content, would you please like it or share it using the Facebook button at the beginning of the post? This simple action will be greatly appreciated! THANK YOU!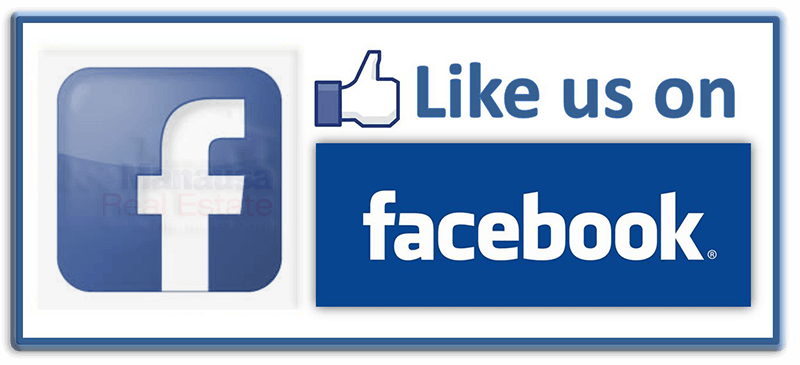 Also like us on Facebook at https://www.facebook.com/joemanausarealestate/
Median Price Condos For Sale
The following list of condominiums for sale contains those priced very near the current 2020 median condo price.
How Big Are Tallahassee Homes?
In order to ensure that we do not confuse price (what buyers are spending) with value (what sellers are receiving), we also need to graph home sizes. After all, if people are spending more money today by purchasing bigger homes, it does not mean that smaller-home sellers are getting more money, right?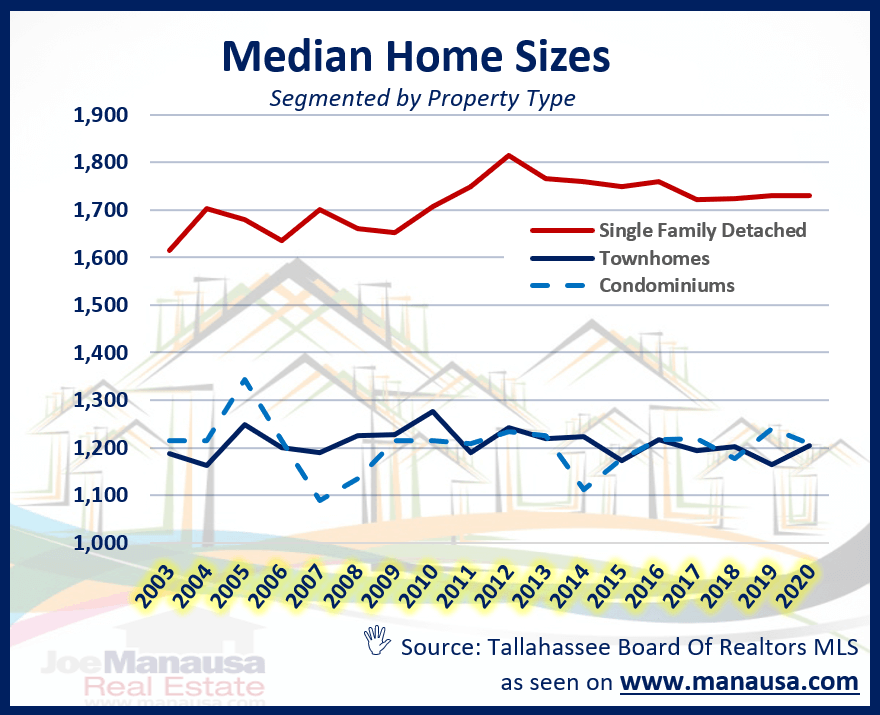 The red line in the graph above shows an interesting change in home sizes for the detached properties.
At the peak of the market back in 2004 through 2006, this was a lot of new construction and they were building smaller homes. After the market crashed, prices (and values) plummeted, so buyers were able to get more home for their money.
Today, buyers are purchasing homes that are larger than those that were sold at the peak of the market, but smaller than those that were sold at the market bottom. Sellers today should expect to get about the same money as their home was worth in 2006, while buyers purchasing a median home will be spending more money than ever.
Your Local Expert In Tallahassee
So do you like our update on median-priced homes? Do you have further questions on the Tallahassee real estate market? If so, you can leave a comment below, give us a call at (850) 366-8917, or drop us a note and we'll give you the local information needed to ensure a successful, smooth transaction.
As a local born and raised in Tallahassee with a focus on customer service, I promise you'll find great success when working with Joe Manausa Real Estate, just as have our past customers. You can thousands of their reviews reported on Google, Facebook and Zillow right here: Real Estate Agent Reviews Tallahassee.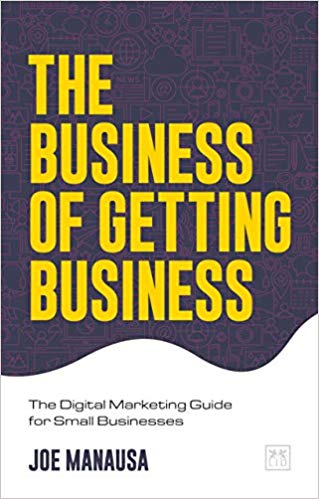 Have you heard about my new book "The Business of Getting Business?" It's a comprehensive guide for small businesses to help them make the move to digital. For those of us who want to survive and thrive in a world where large corporations are taking over, it is a must-read. It's also the perfect guide for how to sell a home in the digital age.
You can find it on Amazon (UK) for immediate delivery, or you can go to Amazon (US) to reserve a copy at a pre-US published rate.