How To Find A Home In A Gated Community
Posted by Joe Manausa on Thursday, September 19, 2019 at 5:42 AM
By Joe Manausa / September 19, 2019
Comment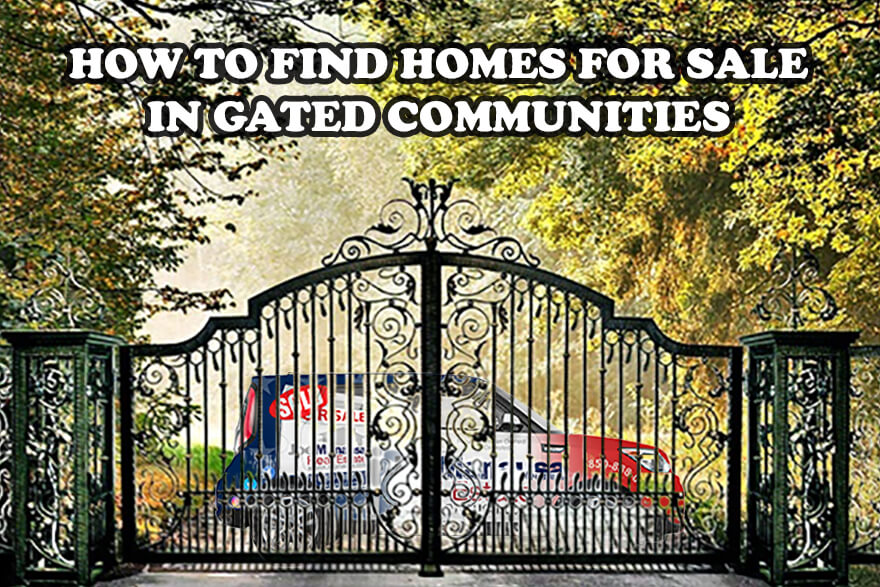 If you are interested in buying a home in a gated community in Tallahassee, you're going to have to do some work (or hire a local real estate agent who truly knows the market).
The MLS includes listings in 72 gated communities in Tallahassee. Unfortunately, we don't actually have that many, so pay close attention to where you are shopping.
Homes For Sale In Gated Communities
The following listings are all that appear in the Tallahassee MLS and tagged as being located within gated communities.
Where Homes Are Selling In Gated Communities
There are more than forty neighborhoods in the Tallahassee where a gated community sale has been reported within the past three years. The graph below shows the most common.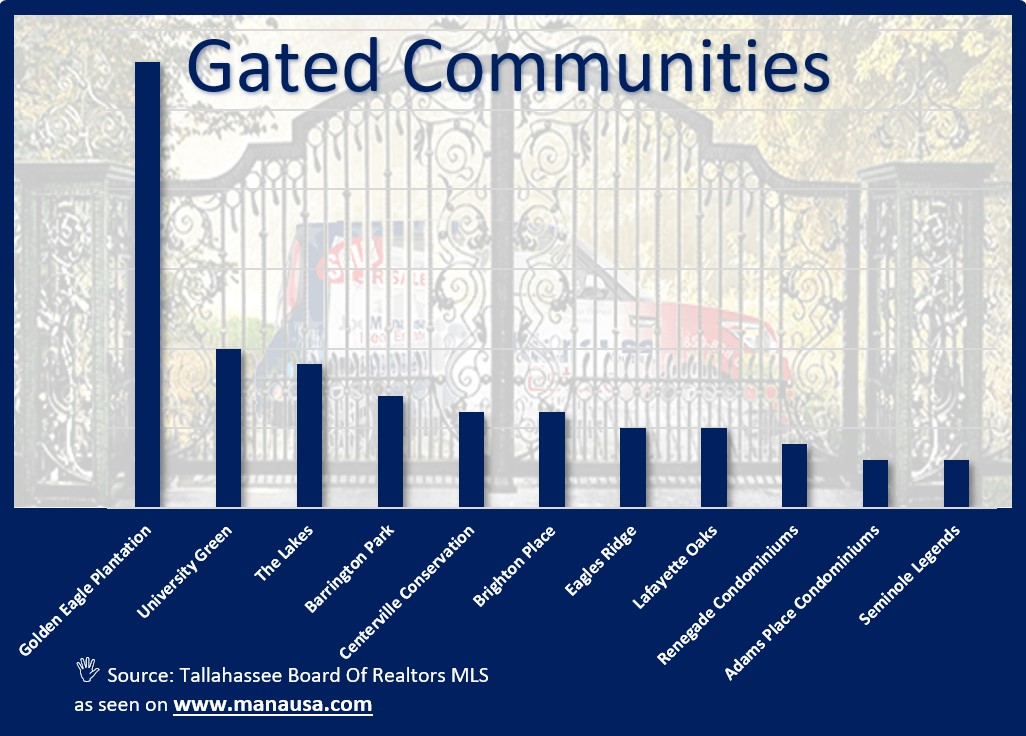 Unlike South Florida and Central Florida where gated communities are more prevalent, Tallahassee has relatively few. The graph above shows every gated community that has recorded home sales at a rate of one per year or higher over the past three years.
I should mention that this graph was compiled from sales reported in the Tallahassee MLS, and often times agents make mistakes through addition or omission of details. If you plan to sell a home in a gated community, ensure your agent gets that detail right. There are websites and webpages (like this one) that feature homes for sale in gated communities, and you would not want yours to fail to appear due to a real estate oversight.
There are people actively looking for homes in gated communities, and by my estimation, more than 1/3rd of all homes listed for sale behind gates do not mention this in the MLS marketing. My quick audit of the listings in Golden Eagle Plantation found that 38% of them failed to mention those homes were located within a gated community.
There are a lot of people who endorse Joe for the job of selling your home, from Barbara Corcoran (Star of ABC's Shark Tank) to Preston Scott (host of Tallahassee's top daily "Audio Magazine," as well as the thousands of happy customers Joe has helped in the past. Listen why!
I recently stumbled upon your latest Carrabelle listing. I must say, a home on Florida's Forgotten Coast is bound to be snatched up quickly. Best of luck with getting it under contract soon!

Posted by Barbara Corcoran on Thursday, June 15, 2023
How Secure Are Gated Communities?
You will find that the majority of Tallahassee's gated communities are not secure. They do not have security personnel attending to the gates and they often have passcodes that have not changed for many years.
From a security standpoint, Golden Eagle Plantation seems to lead the field by far, and it is a true gated community in that the gates are always closed and require an access code or confirmation from the guard on duty to enter. Many of Tallahassee's gated communities have open gates, so it's important to ask your Realtor which ones provide security and which ones are merely decorative.
If you are not concerned about security, you should still find out as the homeowners are the ones that foot the bill for secured gates. If you are reading this article and are not from Tallahassee, it probably seems crazy that we have "open gates" in our gated communities. You might be right :).
Local Real Estate Agents Have Local Knowledge
When it comes time to sell and/or buy a home, make sure your agent is local. The law allows any agent licensed in Florida to "help" you, but do they really have the same knowledge of the Tallahassee real estate market as somebody who is here and has been here for a long time?
Real estate transactions are typically the largest expenditure a family will make, so ensure you arm yourself to the teeth with the best assistance you can get. If our report on gated communities has given you the information for which you were looking, great! If not, you can give us a call at (850) 366-8917 or drop us a note and we'll help you with your specific Tallahassee real estate needs.
As a local born and raised in Tallahassee with a focus on customer service, I promise you'll find great success when working with Joe Manausa Real Estate, just as have our past customers. You can thousands of their reviews reported on Google, Facebook and Zillow right here: Real Estate Agent Reviews Tallahassee.