From Home Prices to Job Growth: The Real Story Behind Foreclosure Concerns
Posted by Joe Manausa on Monday, October 9, 2023 at 6:00 AM
By Joe Manausa / October 9, 2023
Comment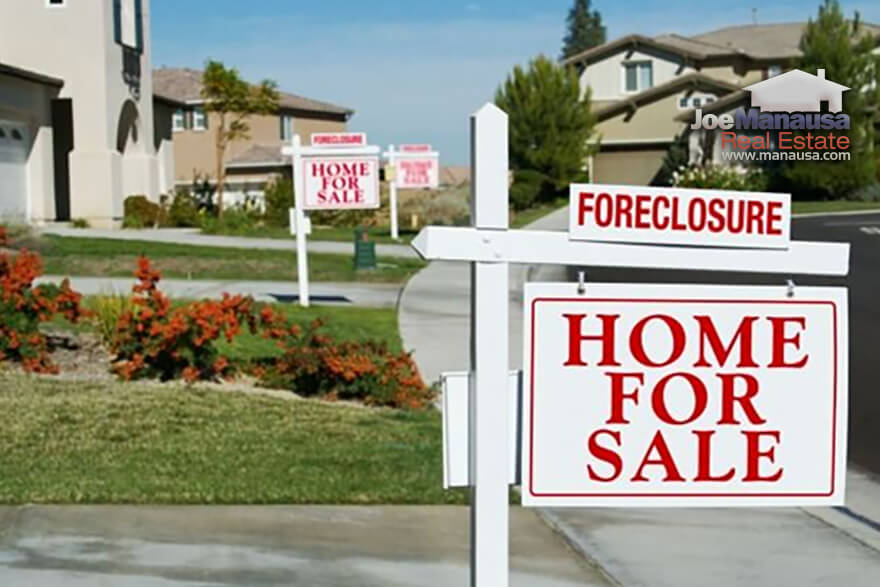 I continue to hear whispers of an impending wave of foreclosures echoing throughout the corridors of the real estate market, particularly on YouTube and other social media channels. Homeowners, investors, and industry professionals alike are casting anxious glances at the horizon, wondering if a storm is brewing.
But is this concern grounded in reality, or is it merely the product of collective anxiety? A shared case of recency bias or the wise anticipation of the next housing bubble? This article delves deep into the data, separating fact from fiction, to comprehensively analyze the current state of foreclosures in the housing market.
To get us started, the following list shows the distressed homes for sale today in Tallahassee. For our long-time readers who remember this list exceeding several hundred entries 15 years ago, you might wonder where they all are!
Foreclosures And Distressed Property Listings In Tallahassee
Most of the data in today's report comes from ICE/Black Knight, a leading provider of integrated software, data, and analytics solutions that facilitate and automate many of the business processes across the homeownership life cycle.
Regional Home Price Changes
We start our analysis of the US housing market to find that home prices are growing again.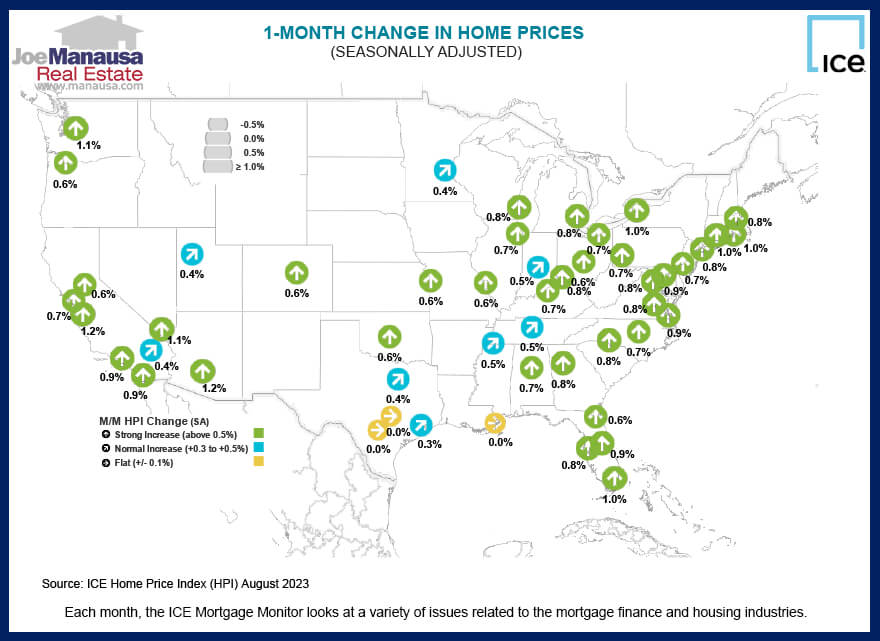 In the majority of markets, we observe significant appreciation in home values.
A smaller segment reports moderate growth, and a mere three markets indicate stagnant pricing. It's crucial to underscore that home prices are not experiencing a downturn. Historically, a prolonged period of depreciating home values precedes a surge in foreclosures.
When Home Prices Change During The Year
In the preceding chart, it was evident that home prices were escalating rapidly. The current graph delineates the specific periods during the year when an upward movement in home prices can be anticipated.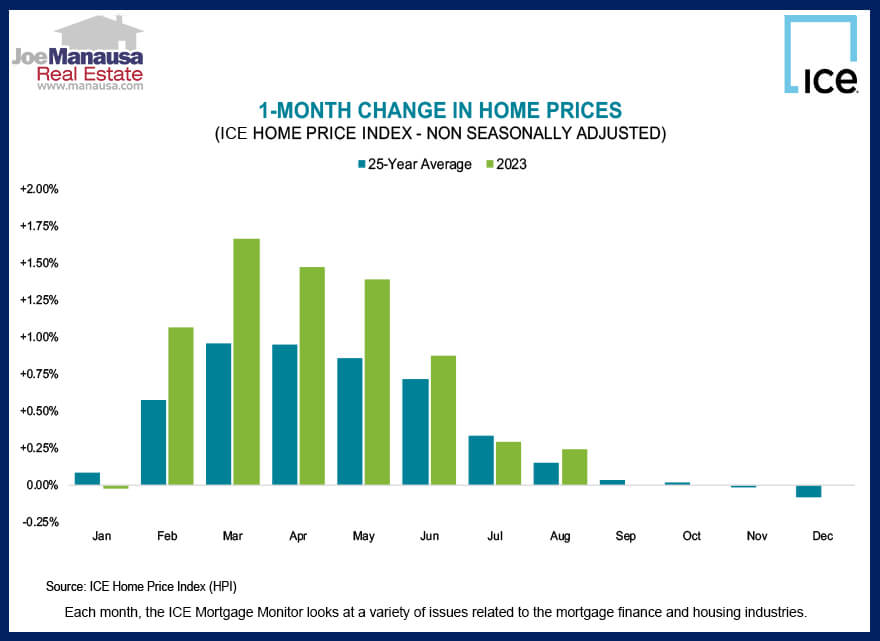 Upon examining the data for the recent month of August, it is evident that home prices surged at almost twice the historical average rate. It's worth reiterating that we usually anticipate pricing pressures to manifest before the onset of a significant wave of foreclosures.
US Home Price Change Over Time
Our next graph reveals the third successive month where home price growth regained momentum. This comes after a period earlier in the year when annual home price growth had nearly stagnated, and many started calling for a major market collapse.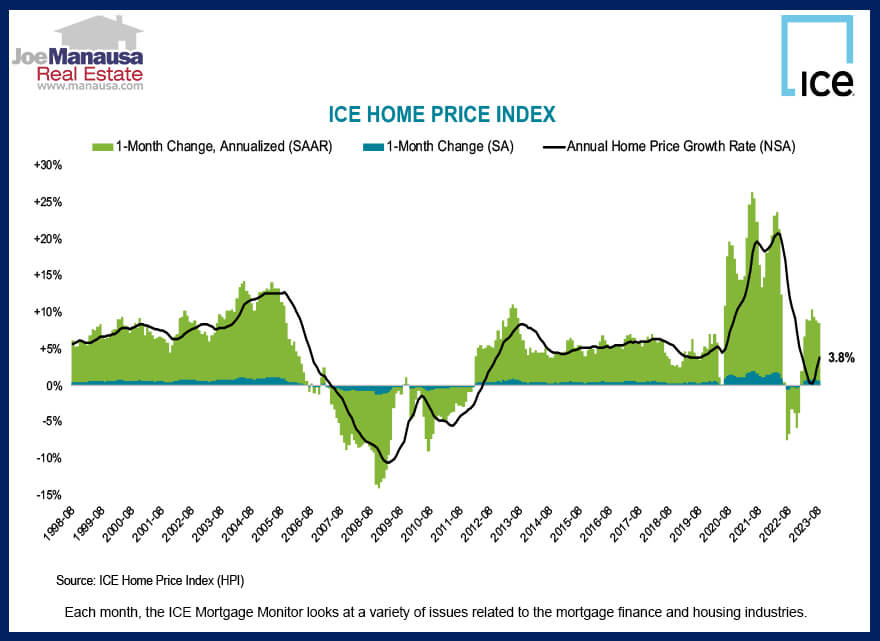 Nationally, prices have reached an unprecedented high for the fourth month in a row, registering a 2.5% increase over the peak seen in 2022, once seasonal adjustments are accounted for. It's significant to note that two-thirds of the primary markets have surpassed their earlier peak values.
From the data presented in our report up to this point, there is no indication of a market downturn. Instead, there appears to be robust support for the sustained growth in home prices.
Real Estate Supply & Demand
This chart analyzes the supply and demand dynamic for residential properties in the U.S.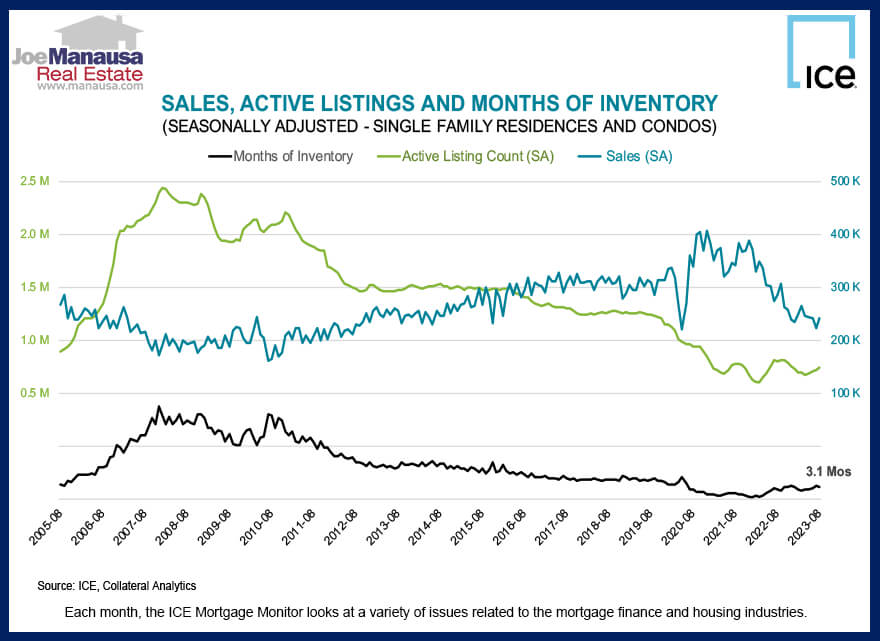 The black line in the graph above shows a 3.1-month supply of homes for sale. Historically, we have considered 6.0 months of supply "market equilibrium," where neither sellers nor buyers had an advantage in the market, thus 3.1 months of supply is considered a very strong sellers' market.
The months of supply, also referred to as the relative supply of homes for sale, is the best smoking gun to forecast a brewing foreclosure trend. When the months of supply soars, buyers control the market, home prices decline, and the possibility of a foreclosure crisis grows. Right now, we are seeing the opposite of that.
Keep Up With New Trends In Tallahassee!
Get The Tallahassee Real Estate Newsletter
Don't be the one that doesn't know what's going on when you sell a home or buy a home in Tallahassee.
Other buyers, sellers, lenders, and real estate agents have this critical information, and now you can too!
Get immediate access to our most recent newsletter.
Let more than 30 years of experience work for you with charts, graphs, and analysis of the Tallahassee housing market.
Active Mortgages Interest Rate Distribution
This graph shows that most active mortgages have interest rates well below today's rate.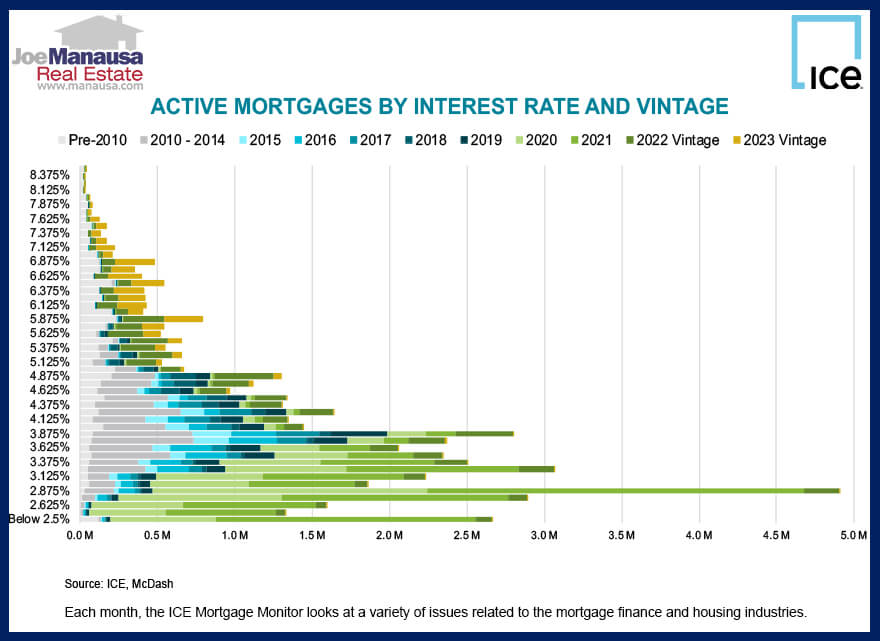 The foreclosure crisis trajectory appears elusive due to the notably low interest rates prevalent among most U.S. borrowers and encouraging employment statistics. This graph illustrates that a significant majority of borrowers are benefiting from interest rates below 4% compared to those subjected to higher rates, and those are rates that most buyers are not going to walk away from.
National Delinquency Rate On Mortgages
The concluding chart in today's analysis aims to decisively address and dispel any lingering concerns regarding an imminent foreclosure crisis.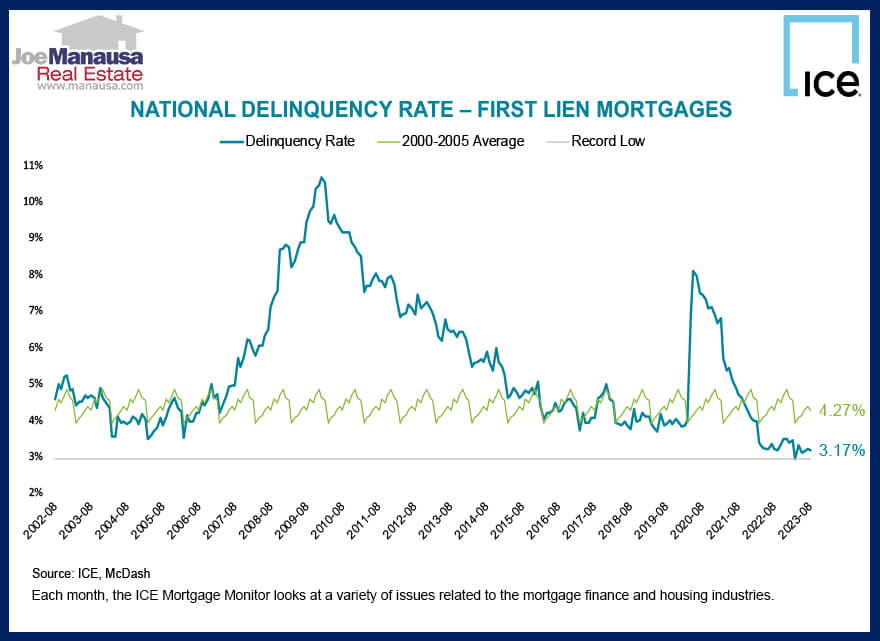 The chart presented delineates the national delinquency rate for first-lien mortgages. The light-green line represents the seasonal average observed from 2000 to 2005. In contrast, the thin black line marks the historical low. The dark-teal line, most crucially, indicates the current delinquency rate. Observe our current position.
The national delinquency rate is just above its lowest level ever. It stands substantially below the average of the 2000 to 2005 period and is merely a fraction—less than one-third—of the rate witnessed during the last foreclosure crisis.
There's no looming foreclosure crisis on the horizon. Those in the media suggesting otherwise are arguably more inclined towards sensationalism and garnering attention than they are towards responsible journalism and accurate reporting.
Facts, Not Hype
Similar to other sectors, the real estate market dynamics are influenced by cyclical patterns, variable trends, and external factors. While apprehensions regarding a potential upswing in foreclosures are understandable, addressing these concerns with analytical rigor and emphasizing empirical evidence is imperative.
Our comprehensive analysis underscores a current market scenario that starkly contrasts the precursors typically associated with a foreclosure crisis. Rather than witnessing a decline in home values, there's a discernible appreciation. In lieu of an oversaturated market with an abundance of homes for sale, most markets are characterized by a housing shortage. Economically, instead of grappling with a sluggish job market, indicators point towards a robust employment landscape marked by low unemployment rates and consistent job growth.
As we navigate the ever-evolving landscape of housing, let's remain vigilant, educated, and proactive, ensuring that our actions are based on facts rather than fears.
There are a lot of people who endorse Joe for the job of selling your home, from Barbara Corcoran (Star of ABC's Shark Tank) to Preston Scott (host of Tallahassee's top daily "Audio Magazine," as well as the thousands of happy customers Joe has helped in the past. Listen why!