Buckhead Real Estate Report February 2022
Posted by Joe Manausa on Wednesday, February 16, 2022 at 5:58 AM
By Joe Manausa / February 16, 2022
Comment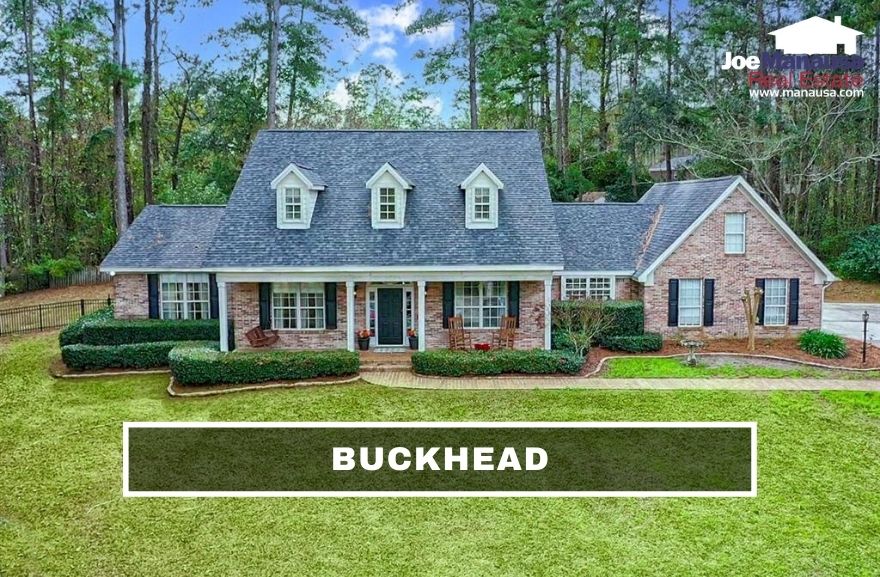 Buckhead is a small but popular Northeast Tallahassee neighborhood containing roughly 160 larger-sized homes on half-acre sized lots in the 32309 zip code.
Located on the east side of Centerville Road across from Killearn Estates, just north of I-10, Buckhead offers rare (newer) upscale homes in the Killearn Estates area.
Homes For Sale In Buckhead
Buckhead Schools
The following Leon County Schools serve the Buckhead neighborhood:
Buckhead Real Estate Report
For each of the three real estate graphs found below, you will find the number of closed home sales for each year (red columns, measured on the left vertical axis), and an important real estate statistic shown in blue (measured on the right vertical axis).
It is important to note that the narrative contained below is for sales through December for all previous years but through two weeks of February in 2022. The graphs and the closed sales table will be continuously updated into the future (meaning bookmark this page if you always want to know the current status of homes for sale in Buckhead).
Average Home Prices In Buckhead
The average price of the homes sold in Buckhead in 2021 rose to $640K, up more than 22% from the average sales price recorded in 2020.
Home sales activity in Buckhead blistering hot. Currently, there are two homes for sale in Buckhead and both are already under contract with buyers.
Average Home Values
In recent reports on the Buckhead neighborhood, we advised that these homes were undervalued and that they would appreciate faster than the market in 2021.
The average value of a home sold in Buckhead in 2021 was $199 per square foot, up nearly 20% from the average recorded in 2021.
Keep Up With New Trends In Tallahassee!
Get The Tallahassee Real Estate Newsletter
Don't be the one that doesn't know what's going on when you sell a home or buy a home in Tallahassee.
Other buyers, sellers, lenders, and real estate agents have this critical information, and now you can too!
Get immediate access to our most recent newsletter.
Let more than 30 years of experience work for you with charts, graphs, and analysis of the Tallahassee housing market.
Average Home Sizes
The average size of the homes sold in Buckhead typically falls in a range of 2,500 to 3,500 square feet, and those sold in 2021 were no different.
The 14 homes sold in Buckhead in 2021 were measured at an average size of 3,254 square feet.
Buckhead Home Sales
The following list shows more than 290 home sales in Buckhead going back to 1994, the first year homes were sold here.
| Address | Price | Price/SQF | Closing Date | Year Built | SQF | Sale Type |
| --- | --- | --- | --- | --- | --- | --- |
| 4537 Timberloch Drive | $712,500 | $250 | 2022-12-30 | 2014 | 2,849 | Resale |
| 4500 Rangewood Drive | $600,000 | $190 | 2022-11-18 | 1999 | 3,156 | Resale |
| 4551 Hedgewood Drive | $649,900 | $227 | 2022-09-14 | 2003 | 2,863 | Resale |
| 2831 Hannon Hill Drive | $830,000 | $252 | 2022-08-12 | 2019 | 3,295 | Resale |
| 2831 W Hannon Hill Dr | $830,000 | $251 | 2022-08-12 | 2019 | 3,295 | Resale |
| 2868 Hannon Hill Drive | $787,500 | $224 | 2022-07-18 | 2008 | 3,514 | Resale |
| 2683 S Hannon Hill Dr | $835,000 | $215 | 2022-07-12 | 1997 | 3,881 | Resale |
| 4522 Timberloch | $828,000 | $210 | 2022-04-14 | 2002 | 3,935 | Resale |
| 2690 S Hannon Hill Drive | $555,000 | $233 | 2022-03-22 | 1996 | 2,386 | Resale |
| 2728 W Hannon Hill Drive | $549,000 | $206 | 2022-03-15 | 1999 | 2,665 | Resale |
| 4503 Thaxton Court | $700,000 | $188 | 2022-03-01 | 1994 | 3,722 | Resale |
| 2781 W Hannon Hill Drive | $575,000 | $189 | 2022-02-11 | 1995 | 3,043 | Resale |
| 2789 W Hannon Hill Drive | $515,000 | $186 | 2022-01-14 | 1994 | 2,768 | Resale |
| 4543 Hedgewood Drive | $535,000 | $174 | 2021-12-30 | 2003 | 3,076 | Resale |
| 4618 Forest Ridge Drive | $724,900 | $159 | 2021-12-09 | 2006 | 4,550 | Resale |
| 4519 Hedgewood Drive | $520,000 | $190 | 2021-11-30 | 1999 | 2,744 | Resale |
| 2864 Hannon Hill Drive | $829,000 | $217 | 2021-10-29 | 2013 | 3,820 | Resale |
| 4609 Oakshire Court | $700,000 | $204 | 2021-09-23 | 2011 | 3,433 | Resale |
| 4635 Whitetail Pass | $740,000 | $264 | 2021-09-03 | 2021 | 2,800 | New |
| 2727 W Hannon Hill Drive | $510,000 | $186 | 2021-08-13 | 1994 | 2,741 | Resale |
| 2831 W Hannon Hill Drive | $759,000 | $230 | 2021-07-29 | 2019 | 3,295 | Resale |
| 4537 Timberloch Drive | $650,000 | $219 | 2021-07-16 | 2013 | 2,971 | Resale |
| 4604 Sparrowhawk Ct | $575,000 | $198 | 2021-06-11 | 2009 | 2,909 | Resale |
| 4608 Whitetail Pass | $520,000 | $197 | 2021-06-10 | 2005 | 2,646 | Resale |
| 2606 S Hannon Hill Dr | $510,000 | $193 | 2021-05-19 | 1998 | 2,642 | Resale |
| 4536 Timberloch Drive | $755,000 | $158 | 2021-05-05 | 2005 | 4,787 | Resale |
| 4630 Forest Ridge Drive | $630,000 | $200 | 2021-04-19 | 2007 | 3,153 | Resale |
| 4614 Whitetail Pass | $467,900 | $157 | 2020-09-25 | 2005 | 2,987 | Resale |
| 4611 Oakshire Court | $510,000 | $174 | 2020-09-04 | 2006 | 2,931 | Resale |
| 2852 Hannon Hill Drive | $485,000 | $177 | 2020-06-30 | 2006 | 2,742 | Resale |
| 4614 Whitetail Pass | $357,000 | $125 | 2020-05-07 | 2005 | 2,834 | Resale |
| 4602 Whitetail Pass | $493,700 | $115 | 2020-04-29 | 2020 | 4,257 | New |
| 2802 W Hannon Hill Drive | $606,000 | $168 | 2020-04-29 | 2007 | 3,611 | Resale |
| 2802 Hannon Hill Dr | $606,000 | $167 | 2020-04-28 | 2007 | 3,611 | Resale |
| 2830 W Hannon Hill Drive | $500,000 | $178 | 2020-04-22 | 2006 | 2,805 | Resale |
| 2683 S Hannon Hill Drive | $625,000 | $161 | 2020-04-03 | 1997 | 3,881 | Resale |
| Xxxx Whitetail Pass | $628,700 | $237 | 2020-03-31 | 2020 | 2,655 | New |
| 2883 N Hannon Hill Drive | $420,000 | $131 | 2020-03-05 | 1999 | 3,200 | Resale |
| 2831 W Hannon Hill Drive | $670,000 | $204 | 2020-03-03 | 2019 | 3,285 | New |
| 2667 S Hannon Hill Drive | $425,000 | $159 | 2020-01-30 | 1998 | 2,674 | Resale |
| 4617 Forest Ridge Drive | $508,000 | $168 | 2019-11-12 | 2007 | 3,024 | Resale |
| 2830 W Hannon Hill Drive | $491,500 | $176 | 2019-10-28 | 2006 | 2,800 | Resale |
| 2830 Hannon Hill Dr | $491,500 | $176 | 2019-10-28 | 2006 | 2,800 | Resale |
| 2675 S Hannon Hill Dr | $499,000 | $162 | 2019-10-18 | 2001 | 3,068 | Resale |
| 4500 Thaxton Ct | $455,000 | $154 | 2019-09-25 | 2001 | 2,948 | Resale |
| 4611 Oakshire Court | $510,000 | $174 | 2019-06-04 | 2006 | 2,931 | Resale |
| 4612 Forest Ridge Drive | $494,000 | $175 | 2019-06-03 | 2013 | 2,829 | Resale |
| 4536 Timberloch Drive | $695,000 | $145 | 2019-05-03 | 2005 | 4,782 | Resale |
| 4519 Timberloch Drive | $438,000 | $160 | 2018-10-19 | 1999 | 2,732 | Resale |
| 2773 W Hannon Hill Drive | $465,000 | $166 | 2018-10-01 | 1995 | 2,803 | Resale |
| 2876 Hannon Hill Drive | $498,000 | $181 | 2018-08-29 | 2014 | 2,748 | Resale |
| 4623 Forest Ridge Drive | $500,000 | $169 | 2018-07-25 | 2007 | 2,950 | Resale |
| 4506 Hedgewood Dr | $635,000 | $174 | 2018-07-20 | 2010 | 3,652 | Resale |
| 4507 Rangewood Dr | $400,000 | $135 | 2018-07-18 | 1999 | 2,965 | Resale |
| 2643 S Hannon Hill Drive | $445,000 | $157 | 2018-05-25 | 2002 | 2,843 | Resale |
| 4505 Rangewood Drive | $540,000 | $132 | 2018-02-20 | 2000 | 4,089 | Resale |
| 2757 W Hannon Hill Dr | $380,000 | $129 | 2017-12-01 | 1994 | 2,936 | Resale |
| 2835 W Hannon Hill Drive | $464,404 | $180 | 2017-11-29 | 2017 | 2,587 | New |
| 2643 S Hannon Hill Drive | $425,500 | $149 | 2017-11-10 | 2001 | 2,857 | Resale |
| 4602 Oakshire Ct | $435,000 | $157 | 2017-08-28 | 2012 | 2,766 | Resale |
| 4605 Forest Ridge Drive | $450,000 | $167 | 2017-07-03 | 2013 | 2,689 | Resale |
| 4503 Thaxton Court | $479,000 | $133 | 2017-06-30 | 1994 | 3,597 | Resale |
| 2876 Hannon Hill Drive | $470,000 | $171 | 2017-05-26 | 2014 | 2,748 | Resale |
| 2852 Hannon Hill Drive | $429,900 | $159 | 2017-05-26 | 2006 | 2,704 | Resale |
| 4541 Timberloch Drive | $566,000 | $165 | 2017-05-05 | 2017 | 3,439 | New |
| 4620 Whitetail Pass | $435,000 | $170 | 2017-02-24 | 2006 | 2,562 | Resale |
| 4607 Oakshire Court | $567,500 | $181 | 2016-10-28 | 2006 | 3,131 | Resale |
| 2668 S Hannon Hill Dr | $354,000 | $138 | 2016-08-15 | 1998 | 2,562 | Resale |
| 4618 Forest Ridge Drive | $594,000 | $131 | 2016-08-11 | 2006 | 4,550 | Resale |
| 2849 Hannon Hill Drive | $450,000 | $164 | 2016-07-29 | 2013 | 2,744 | Resale |
| 4622 Sparrow Hawk Court | $430,625 | $167 | 2016-07-21 | 2016 | 2,582 | New |
| 2852 Muirwood Ct | $360,000 | $145 | 2016-05-31 | 1997 | 2,483 | Resale |
| 4629 Whitetail Pass | $550,000 | $186 | 2016-04-25 | 2016 | 2,954 | New |
| 4508 Rangewood Dr | $450,000 | $154 | 2016-04-07 | 2000 | 2,930 | Resale |
| 2827 W Hannon Hill Drive | $415,000 | $159 | 2016-01-28 | 2015 | 2,612 | New |
| 4600 Forest Ridge Dr | $462,500 | $156 | 2015-12-18 | 2006 | 2,969 | Resale |
| 4626 Whitetail Pass | $402,500 | $149 | 2015-11-13 | 2005 | 2,697 | Resale |
| 4739 Buckhead Court | $405,000 | $119 | 2015-10-09 | 2002 | 3,393 | Resale |
| 4559 Hedgewood Drive | $350,000 | $133 | 2015-09-23 | 2000 | 2,627 | Resale |
| 4629 Whitetail Pass | $485,000 | $173 | 2015-08-31 | 2015 | 2,800 | New |
| 4630 Forest Ridge Drive | $480,000 | $152 | 2015-08-14 | 2007 | 3,153 | Resale |
| 2610 S Hannon Hill Drive | $421,500 | $142 | 2015-08-14 | 2001 | 2,960 | Resale |
| 2876 Hannon Hill Drive | $415,000 | $151 | 2015-07-14 | 2014 | 2,743 | Resale |
| 4549 Timberloch Drive | $465,000 | $166 | 2015-06-15 | 2015 | 2,806 | New |
| 2834 W Hannon Hill Drive | $447,000 | $149 | 2015-05-15 | 2006 | 2,995 | Resale |
| 4627 Sparrowhawk Ct | $174,300 | $58 | 2015-04-07 | 2005 | 2,962 | Resale |
| Xxxx Forest Ridge Court | $529,000 | $171 | 2015-03-31 | 2015 | 3,100 | New |
| 2619 S Hannon Hill Dr | $450,000 | $128 | 2015-02-26 | 2002 | 3,505 | Resale |
| 4566 Forest Ridge Court | $444,351 | $160 | 2015-02-13 | 2014 | 2,785 | New |
| 4629 Forest Ridge Dr | $410,000 | $153 | 2015-01-09 | 2014 | 2,672 | New |
| Hannon Hill Dr | $530,000 | -- | 2014-12-22 | 2014 | -- | New |
| 4615 Oakshire Ct | $495,000 | $149 | 2014-11-03 | 2014 | 3,319 | New |
| 4565 Forest Ridge Dr | $328,295 | $80 | 2014-07-28 | 2014 | 4,123 | New |
| 2868 Hannon Hill Dr | $540,000 | $154 | 2014-07-11 | 2008 | 3,514 | Resale |
| 2781 W Hannon Hill Dr | $394,000 | $129 | 2014-05-02 | 1995 | 3,043 | Resale |
| 2876 Hannon Hill Dr | $398,000 | -- | 2014-04-23 | 2014 | -- | New |
| 4537 Timberloch Dr | $275,000 | $70 | 2014-02-03 | 2013 | 3,911 | New |
| 4604 Sparrowhawk Ct | $340,000 | $121 | 2013-09-27 | 2009 | 2,811 | Resale |
| 4559 Hedgewood Dr | $310,000 | $120 | 2013-09-25 | 2000 | 2,583 | Resale |
| 4624 Forest Ridge Dr | $365,000 | $133 | 2013-08-29 | 2006 | 2,740 | Resale |
| 4500 Thaxton Ct | $455,000 | $154 | 2013-08-14 | 2001 | 2,948 | Resale |
| 4627 Sparrowhawk Ct | $350,000 | $118 | 2013-08-09 | 2005 | 2,962 | Resale |
| 2849 Hannon Hill Dr | $414,000 | $151 | 2013-06-21 | 2013 | 2,739 | New |
| 4771 Buckhead Ct | $310,000 | $98 | 2013-06-14 | 1999 | 3,163 | Resale |
| 4507 Rangewood Dr | $330,000 | $113 | 2013-05-24 | 1999 | 2,914 | Resale |
| Forest Ridge Dr | $377,000 | $133 | 2013-04-25 | 2013 | 2,829 | New |
| 4626 Whitetail Pass | $360,000 | $139 | 2013-04-12 | 2005 | 2,592 | Resale |
| Forest Ridge Dr | $415,000 | $154 | 2013-03-15 | 2013 | 2,689 | New |
| 4614 Oakshire Ct | $385,000 | $114 | 2012-10-30 | 2005 | 3,382 | Resale |
| 4633 Sparrowhawk Ct | $375,000 | $102 | 2012-10-01 | 2008 | 3,690 | Resale |
| 4622 Oakshire Ct | $415,000 | $105 | 2012-08-31 | 2006 | 3,948 | Resale |
| 2812 Hannon Hill Dr | $368,000 | $88 | 2012-08-20 | 2012 | 4,168 | New |
| 2626 S Hannon Hill Dr | $360,000 | $152 | 2012-08-20 | 1998 | 2,376 | Resale |
| Oakshire Ct | $410,000 | $155 | 2012-07-31 | 2012 | 2,638 | New |
| 4533 Timberloch Dr | $400,000 | $128 | 2012-06-29 | 2006 | 3,119 | Resale |
| 2652 S Hannon Hill Dr | $336,000 | $120 | 2012-06-27 | 2001 | 2,802 | Resale |
| 4630 Forest Ridge Dr | $440,000 | $140 | 2012-06-19 | 2007 | 3,153 | Resale |
| Hedgewood Dr | $380,000 | $155 | 2012-03-13 | 2012 | 2,456 | New |
| 4536 Timberloch Dr | $652,500 | $150 | 2011-10-27 | 2005 | 4,341 | Resale |
| 4533 Timberloch Dr | $400,000 | $128 | 2011-10-04 | 2006 | 3,119 | Resale |
| 4571 Forest Ridge Dr | $200,000 | $59 | 2011-10-03 | 2011 | 3,414 | New |
| 4606 Oakshire Ct | $428,000 | $147 | 2011-08-17 | 2006 | 2,919 | Resale |
| 2630 S Hannon Hill Dr | $303,900 | $118 | 2011-06-14 | 1999 | 2,567 | Resale |
| 4611 Whitetail Pass | $368,000 | $88 | 2011-06-13 | 2011 | 4,166 | New |
| 2728 W Hannon Hill Dr | $350,000 | $147 | 2011-01-03 | 1999 | 2,377 | Resale |
| 2852 Hannon Hill Dr | $340,000 | $126 | 2010-10-25 | 2006 | 2,704 | Resale |
| 4609 Sparrowhawk Ct | $294,000 | $112 | 2010-10-20 | 2006 | 2,625 | Resale |
| 2659 S Hannon Hill Dr | $332,700 | $133 | 2010-08-02 | 2002 | 2,499 | Resale |
| 2659 S Hannon Hill Dr | $389,000 | $156 | 2010-06-24 | 2002 | 2,499 | Resale |
| 4604 Sparrowhawk Ct | $385,000 | $137 | 2010-04-29 | 2009 | 2,811 | Resale |
| 4518 Hedgewood Dr | $368,000 | $152 | 2010-03-26 | 1998 | 2,425 | Resale |
| 4519 Hedgewood Dr | $409,000 | $163 | 2010-03-26 | 1999 | 2,509 | Resale |
| 4616 Sparrowhawk Ct | $230,000 | $66 | 2010-03-15 | 2010 | 3,508 | New |
| 4506 Hedgewood Dr | $365,000 | $80 | 2009-11-02 | 2009 | 4,580 | New |
| 2749 W Hannon Hill Dr | $385,000 | $152 | 2009-07-31 | 2005 | 2,537 | Resale |
| 4617 Whitetail Pass | $535,000 | $159 | 2009-07-30 | 2005 | 3,356 | Resale |
| 4618 Oakshire Ct | $610,000 | $146 | 2009-07-10 | 2007 | 4,171 | Resale |
| 4502 Thaxton Ct | $350,000 | $122 | 2009-04-10 | 2003 | 2,876 | Resale |
| 4779 Buckhead Ct | $295,000 | $117 | 2008-12-23 | 1995 | 2,515 | Resale |
| 4739 Buckhead Ct | $500,000 | $147 | 2008-11-13 | 2002 | 3,393 | Resale |
| 4619 Oakshire Ct | $460,000 | $168 | 2008-07-21 | 2006 | 2,737 | New |
| 4615 Sparrowhawk Ct | $300,000 | $114 | 2008-07-15 | 2008 | 2,628 | New |
| 2630 S Hannon Hill Dr | $410,000 | $160 | 2008-06-16 | 1999 | 2,567 | Resale |
| 4508 Rangewood Dr | $510,000 | $174 | 2008-05-16 | 2000 | 2,930 | Resale |
| 4533 Timberloch Dr | $495,000 | $159 | 2008-03-13 | 2006 | 3,119 | Resale |
| 2839 Hannon Hill Dr | $510,000 | -- | 2008-01-31 | 2007 | -- | New |
| -- | $498,000 | -- | 2007-12-14 | 2007 | -- | New |
| 4503 Thaxton Ct | $509,900 | $155 | 2007-11-21 | 1994 | 3,282 | Resale |
| 4543 Hedgewood Dr | $459,500 | $161 | 2007-11-09 | 2003 | 2,856 | Resale |
| 2868 W Hannon Hill Dr | $636,837 | $134 | 2007-09-04 | 2007 | 4,748 | New |
| 4600 Forest Ridge Dr | $599,000 | $129 | 2007-08-24 | -- | 4,628 | Resale |
| 4611 Oakshire Ct | $525,000 | $179 | 2007-07-13 | 2006 | 2,931 | New |
| 4630 Forest Ridge Dr | $599,000 | $190 | 2007-07-05 | 2007 | 3,153 | Resale |
| 4519 Timberloch Dr | $490,000 | $179 | 2007-06-29 | 1999 | 2,732 | Resale |
| 2802 Hannon Hill Dr | $727,000 | -- | 2007-04-30 | 2007 | -- | New |
| 4618 Forest Ridge Dr | $599,000 | -- | 2007-04-12 | 2007 | -- | New |
| 2826 W Hannon Hill Dr | $675,000 | $178 | 2007-04-06 | 2005 | 3,787 | Resale |
| 4617 Forest Ridge Dr | $585,000 | -- | 2007-03-15 | 2007 | -- | New |
| 4621 Sparrowhawk Ct | $616,000 | -- | 2007-02-28 | 2006 | -- | New |
| 4550 Timberloch Dr | $552,000 | $133 | 2007-02-27 | 2007 | 4,136 | New |
| 4572 Forest Ridge Dr | $535,000 | $118 | 2007-02-20 | 2006 | 4,530 | New |
| 2838 W Hannon Hill Dr | $426,000 | $93 | 2007-02-06 | 2006 | 4,594 | New |
| 2844 W Hannon Hill Dr | $644,000 | -- | 2007-01-17 | 2006 | -- | New |
| 4633 Sparrowhawk Ct | $550,000 | $95 | 2007-01-16 | 2008 | 5,796 | New |
| 4606 Oakshire Ct | $545,000 | $187 | 2006-12-13 | 2006 | 2,919 | New |
| 2760 W Hannon Hill Dr | $425,700 | $180 | 2006-11-27 | 1996 | 2,370 | Resale |
| 2652 S Hannon Hill Dr | $465,000 | $166 | 2006-10-27 | 2001 | 2,802 | Resale |
| 4559 Hedgewood Dr | $397,000 | $154 | 2006-09-29 | 2000 | 2,583 | Resale |
| 4630 Forest Ridge Dr | $450,000 | $111 | 2006-08-10 | 2007 | 4,050 | New |
| 4607 Oakshire Ct | $530,000 | -- | 2006-07-31 | 2006 | -- | New |
| 4747 Buckhead Ct | $396,644 | $96 | 2006-07-20 | 2006 | 4,142 | New |
| 4519 Timberloch Dr | $465,000 | $170 | 2006-07-17 | 1999 | 2,732 | Resale |
| 4519 Hedgewood Dr | $410,000 | $163 | 2006-07-14 | 1999 | 2,509 | Resale |
| 4610 Oakshire Ct | $315,000 | $80 | 2006-07-10 | 2006 | 3,944 | New |
| 2619 S Hannon Hill Dr | $585,000 | $167 | 2006-06-30 | 2002 | 3,505 | Resale |
| 2872 W Hannon Hill Dr | $500,000 | $118 | 2006-06-12 | 2006 | 4,252 | New |
| 4527 Timberloch Dr | $530,000 | $150 | 2006-06-07 | 1999 | 3,536 | Resale |
| 4571 Hedgewood Dr | $624,000 | -- | 2006-05-26 | 2006 | -- | New |
| 2834 W Hannon Hill Dr | $559,000 | -- | 2006-05-23 | 2006 | -- | New |
| 4609 Sparrowhawk Ct | $474,000 | $181 | 2006-05-09 | 2006 | 2,625 | New |
| 4608 Whitetail Pass | $480,000 | $181 | 2006-02-28 | 2005 | 2,646 | Resale |
| 2891 N Hannon Hill Dr | $443,000 | $153 | 2006-02-23 | 1996 | 2,896 | Resale |
| 4622 Oakshire Ct | $578,800 | $147 | 2006-02-09 | 2006 | 3,948 | New |
| 4620 Whitetail Pass | $470,200 | -- | 2006-01-31 | 2005 | -- | New |
| 4600 Forest Ridge Dr | $575,000 | $124 | 2005-12-21 | 2005 | 4,628 | New |
| 4533 Timberloch Dr | $535,000 | $137 | 2005-12-21 | 2006 | 3,893 | New |
| 4545 Timberloch Dr | $522,000 | $163 | 2005-12-20 | 2005 | 3,207 | New |
| 4605 Whitetail Pass | $497,900 | $175 | 2005-12-20 | 2005 | 2,853 | Resale |
| 4627 Sparrowhawk Ct | $495,000 | $167 | 2005-11-08 | 2005 | 2,962 | Resale |
| 4624 Forest Ridge Dr | $433,000 | $110 | 2005-11-04 | 2006 | 3,927 | New |
| 4603 Sparrowhawk Ct | $427,000 | $118 | 2005-10-03 | 2005 | 3,612 | New |
| 4610 Sparrowhawk Ct | $244,441 | $66 | 2005-09-26 | 2005 | 3,702 | New |
| 2741 W Hannon Hill Dr | $400,000 | $147 | 2005-09-16 | 1994 | 2,718 | Resale |
| 4614 Whitetail Pass | $491,200 | $173 | 2005-07-11 | 2005 | 2,834 | New |
| 4550 Timberloch Dr | $146,000 | $51 | 2005-06-29 | 2007 | 2,856 | New |
| 2643 S Hannon Hill Dr | $392,500 | $150 | 2005-05-31 | 2001 | 2,615 | Resale |
| 2630 S Hannon Hill Dr | $380,000 | $148 | 2005-05-11 | 1999 | 2,567 | Resale |
| 2826 W Hannon Hill Dr | $282,000 | $52 | 2005-04-06 | 2005 | 5,472 | New |
| 4623 Whitetail Pass | $382,300 | -- | 2005-02-17 | 2004 | -- | New |
| 2809 W Hannon Hill Dr | $401,500 | $86 | 2004-12-21 | 2004 | 4,654 | New |
| 4608 Whitetail Pass | $375,000 | $100 | 2004-12-13 | 2005 | 3,758 | New |
| 4503 Thaxton Ct | $399,900 | $122 | 2004-08-30 | 1994 | 3,282 | Resale |
| 2611 S Hannon Hill Dr | $395,000 | $130 | 2004-08-06 | 2001 | 3,027 | Resale |
| 2667 S Hannon Hill Dr | $364,000 | $136 | 2004-07-23 | 1998 | 2,674 | Resale |
| 2888 N Hannon Hill Dr | $379,900 | $133 | 2004-06-25 | 1994 | 2,853 | Resale |
| 2749 W Hannon Hill Dr | $250,000 | $70 | 2004-06-23 | 2005 | 3,550 | New |
| 4771 Buckhead Ct | $250,000 | $79 | 2004-02-12 | 1999 | 3,163 | Resale |
| 4518 Hedgewood Dr | $315,500 | $130 | 2003-09-25 | 1998 | 2,425 | Resale |
| 2728 W Hannon Hill Dr | $324,200 | $128 | 2003-08-29 | 1999 | 2,525 | Resale |
| 4502 Thaxton Ct | $357,500 | $124 | 2003-07-23 | 2003 | 2,876 | Resale |
| 2760 W Hannon Hill Dr | $305,000 | $129 | 2003-07-18 | 1996 | 2,370 | Resale |
| 4512 Hedgewood Dr | $325,000 | $117 | 2003-07-13 | 2001 | 2,789 | Resale |
| 4770 Buckhead Ct | $625,000 | $128 | 2003-07-12 | 2001 | 4,898 | Resale |
| 2610 S Hannon Hill Dr | $325,400 | $111 | 2003-04-30 | 2001 | 2,925 | Resale |
| 4527 Timberloch Dr | $362,500 | $114 | 2003-04-25 | 1999 | 3,182 | Resale |
| 2682 S Hannon Hill Dr | $344,900 | $122 | 2003-04-23 | 1996 | 2,824 | Resale |
| 4503 Rangewood Dr | $426,500 | $130 | 2003-03-28 | 2002 | 3,280 | Resale |
| 2651 S Hannon Hill Dr | $316,000 | $115 | 2003-02-14 | 2001 | 2,740 | Resale |
| 2619 S Hannon Hill Dr | $364,300 | $104 | 2003-01-10 | 2002 | 3,505 | New |
| 4500 Thaxton Ct | $395,000 | $134 | 2002-12-05 | 2001 | 2,948 | New |
| 4514 Timberloch Dr | $214,773 | $60 | 2002-10-15 | 2002 | 3,574 | New |
| 4739 Buckhead Ct | $352,700 | $104 | 2002-07-30 | 2002 | 3,393 | New |
| 4551 Hedgewood Dr | $225,000 | $65 | 2002-07-26 | 2002 | 3,460 | New |
| 4559 Hedgewood Dr | $288,500 | $112 | 2002-06-28 | 2000 | 2,583 | Resale |
| 2887 N Hannon Hill Dr | $284,500 | $103 | 2002-05-31 | 1995 | 2,767 | Resale |
| 4507 Rangewood Dr | $283,000 | $97 | 2002-05-30 | 1999 | 2,903 | Resale |
| 2773 W Hannon Hill Dr | $365,000 | $130 | 2002-05-10 | 1995 | 2,807 | Resale |
| 4522 Timberloch Dr | $310,000 | -- | 2002-04-25 | 2002 | -- | New |
| 4748 Hedgewood Dr | $272,000 | $57 | 2002-04-10 | 2002 | 4,778 | New |
| 4503 Rangewood Dr | $250,000 | $62 | 2002-03-05 | 2002 | 4,030 | New |
| 2611 S Hannon Hill Dr | $298,800 | $99 | 2002-01-10 | 2001 | 3,027 | New |
| 4779 Buckhead Ct | $251,000 | $100 | 2002-01-07 | 1995 | 2,515 | Resale |
| 2659 S Hannon Hill Dr | $247,000 | $78 | 2001-11-30 | 2002 | 3,160 | New |
| 2652 S Hannon Hill Dr | $290,700 | $104 | 2001-10-31 | 2001 | 2,802 | New |
| 4503 Thaxton Ct | $300,000 | $91 | 2001-09-12 | 1994 | 3,282 | Resale |
| 2610 S Hannon Hill Dr | $309,900 | $106 | 2001-09-07 | 2001 | 2,925 | New |
| 2699 S Hannon Hill Dr | $265,000 | $103 | 2001-08-31 | 1996 | 2,584 | Resale |
| 4512 Hedgewood Dr | $295,000 | $106 | 2001-07-16 | 2001 | 2,789 | New |
| 2891 N Hannon Hill Dr | $298,000 | $103 | 2001-07-10 | 1996 | 2,896 | Resale |
| 4518 Hedgewood Dr | $280,000 | $115 | 2001-06-26 | 1998 | 2,425 | Resale |
| 2643 S Hannon Hill Dr | $262,500 | $100 | 2001-04-18 | 2001 | 2,615 | New |
| 2651 S Hannon Hill Dr | $286,000 | $81 | 2001-02-05 | 2001 | 3,550 | New |
| 2638 S Hannon Hill Dr | $325,000 | -- | 2001-01-25 | 2000 | -- | New |
| 4508 Rangewood Dr | $291,500 | $99 | 2000-12-15 | 2000 | 2,930 | New |
| 4523 Timberloch Dr | $275,000 | -- | 2000-12-04 | 2000 | -- | New |
| 4504 Rangewood Dr | $258,000 | $64 | 2000-09-25 | 2000 | 4,006 | New |
| 2607 S Hannon Hill Dr | $265,000 | $71 | 2000-08-24 | 2000 | 3,720 | New |
| 2736 W Hannon Hill Dr | $258,000 | $97 | 2000-08-02 | 1996 | 2,666 | Resale |
| 2600 S Hannon Hill Dr | $314,200 | $72 | 2000-06-27 | 2000 | 4,336 | New |
| 4518 Hedgewood Dr | $267,000 | $110 | 2000-06-05 | 1998 | 2,425 | Resale |
| 4770 Hedgewood Dr | $400,000 | $70 | 2000-05-09 | 2000 | 5,688 | New |
| 4780 Hedgewood Dr | $306,000 | $66 | 2000-01-19 | 1999 | 4,642 | New |
| 4542 Hedgewood Dr | $284,200 | $100 | 1999-12-30 | 1999 | 2,847 | New |
| 4513 Timberloch Dr | $186,000 | $57 | 1999-12-03 | 1999 | 3,238 | New |
| 2607 S Hannon Hill Dr | $150,000 | $40 | 1999-12-03 | 1999 | 3,720 | New |
| 2600 S Hannon Hill Dr | $150,000 | $35 | 1999-12-02 | 1999 | 4,336 | New |
| 4505 Rangewood Dr | $313,000 | $64 | 1999-11-19 | 1999 | 4,892 | New |
| 4567 Hedgewood Dr | $350,000 | $49 | 1999-10-25 | 1999 | 7,188 | New |
| 4559 Hedgewood Dr | $147,650 | $44 | 1999-09-03 | 2000 | 3,358 | New |
| 2618 S Hannon Hill Dr | $255,000 | $106 | 1999-08-31 | 1999 | 2,405 | New |
| 2630 S Hannon Hill Dr | $255,000 | $99 | 1999-07-27 | 1999 | 2,567 | New |
| 4527 Hedgewood Dr | $264,000 | $106 | 1999-07-09 | 1998 | 2,482 | Resale |
| 4519 Hedgewood Dr | $259,900 | $104 | 1999-06-25 | 1999 | 2,509 | New |
| 4500 Hedgewood Dr | $192,000 | $81 | 1999-03-31 | 1998 | 2,358 | New |
| 4507 Rangewood Dr | $152,000 | $41 | 1999-03-16 | 1999 | 3,718 | New |
| 4535 Hedgewood Dr | $166,000 | $52 | 1999-01-15 | 1998 | 3,204 | New |
| -- | $230,000 | -- | 1998-11-20 | 1998 | -- | New |
| 2728 W Hannon Hill Dr | $128,000 | $36 | 1998-11-16 | 1999 | 3,550 | New |
| -- | $234,900 | -- | 1998-10-19 | 1998 | -- | New |
| -- | $246,500 | -- | 1998-07-20 | 1998 | -- | New |
| -- | $244,000 | -- | 1998-07-02 | 1998 | -- | New |
| 2894 N Hannon Hill Dr | $320,000 | $92 | 1998-05-26 | 1994 | 3,487 | Resale |
| 2691 S Hannon Hill Dr | $215,000 | $71 | 1998-04-06 | 1998 | 3,048 | New |
| 4560 Hedgewood Dr | $210,000 | $59 | 1998-01-27 | 1997 | 3,576 | New |
| 2879 N Hannon Hill Dr | $212,000 | $93 | 1997-12-01 | 1997 | 2,285 | New |
| 2765 W Hannon Hill Dr | $265,000 | $96 | 1997-11-18 | -- | 2,763 | Resale |
| 2852 Muirwood Ct | $175,000 | $58 | 1997-08-29 | 1997 | 3,014 | New |
| 2741 W Hannon Hill Dr | $233,000 | $86 | 1997-07-31 | 1994 | 2,718 | Resale |
| 2736 W Hannon Hill Dr | $259,000 | $97 | 1997-06-25 | 1996 | 2,666 | New |
| 2690 S Hannon Hill Dr | $217,900 | $90 | 1997-05-30 | 1997 | 2,417 | New |
| 2895 N Hannon Hill Dr | $250,000 | $69 | 1997-05-22 | 1997 | 3,630 | New |
| 2760 W Hannon Hill Dr | $239,000 | $101 | 1996-12-10 | 1996 | 2,370 | New |
| 2699 S Hannon Hill Dr | $270,000 | $104 | 1996-11-26 | 1996 | 2,584 | New |
| 2698 S Hannon Hill Dr | $225,000 | $96 | 1996-10-29 | -- | 2,356 | Resale |
| 2682 S Hannon Hill Dr | $210,000 | $74 | 1996-09-25 | 1996 | 2,824 | New |
| 2894 N Hannon Hill Dr | $320,000 | $92 | 1996-08-19 | 1994 | 3,487 | Resale |
| 2752 W Hannon Hill Dr | $245,000 | $98 | 1996-07-23 | -- | 2,496 | Resale |
| 2887 N Hannon Hill Dr | $241,500 | $87 | 1996-06-28 | 1995 | 2,767 | New |
| 2899 N Hannon Hill Dr | $191,000 | $59 | 1996-06-11 | 1996 | 3,232 | New |
| 4779 Buckhead Ct | $250,000 | $99 | 1996-04-30 | 1995 | 2,515 | New |
| 2765 W Hannon Hill Dr | $265,000 | $96 | 1996-03-28 | 1996 | 2,763 | New |
| 2757 W Hannon Hill Dr | $240,000 | $92 | 1995-09-14 | 1995 | 2,619 | New |
| 2752 W Hannon Hill Dr | $231,900 | $93 | 1995-07-15 | -- | 2,496 | Resale |
| 2880 N Hannon Hill Dr | $272,500 | $97 | 1995-06-30 | 1995 | 2,805 | New |
| 2773 W Hannon Hill Dr | $269,800 | $96 | 1995-06-23 | 1995 | 2,807 | New |
| 2797 W Hannon Hill Dr | $263,000 | $71 | 1995-03-23 | 1995 | 3,693 | New |
| 2880 N Hannon Hill Dr | $190,000 | $56 | 1995-02-03 | 1994 | 3,422 | New |
| 2888 N Hannon Hill Dr | $239,900 | $84 | 1994-12-27 | 1994 | 2,853 | New |
| -- | $181,000 | -- | 1994-10-24 | 1994 | -- | New |
| 2851 Muirwood Ct | $150,000 | $46 | 1994-10-18 | 1994 | 3,236 | New |
| 2781 W Hannon Hill Dr | $150,000 | $44 | 1994-08-03 | 1995 | 3,412 | New |
| 4503 Thaxton Court | $125,000 | $29 | 1994-06-16 | 1994 | 4,382 | New |
| -- | $224,000 | -- | 1994-05-25 | 1994 | -- | New |
| -- | $227,000 | -- | 1994-05-02 | 1994 | -- | New |
| 2727 S Hannon Hill Dr | $175,500 | $47 | 1994-01-03 | 1993 | 3,754 | New |